Editor's Note From Rivera Sun
In Nonviolence News this week, you'll find stories about how a student occupation is offering solidarity with striking Minneapolis teachers. In the United Kingdom, ferry workers and their allies are protesting the firing of 800 workers – for the purposes of hiring lower wage workers in their place. Social welfare workers in India are mobilizing for fair wages, uniting across government programs to make a shared demand that the government honor their work.
Several campaigns for racial justice erupted this week. Native Americans in South Dakota protested against a manager's threat to ban them from a Rapid City hotel. Other tribal members and allies lifted an outcry against Disney's racist chants for a cheerleading team. Jamaicans demonstrated during the visit of British royals, demanding reparations for slavery and colonization. Meanwhile, two years after the massive George Floyd Protests, lawsuits and studies are proving that police response to the 2020 Black Lives Matter protesters was brutal misconduct.
Climate activists of all ages mobilized for both protests and dramatic direct action. Tens of thousands of young people went on school strike and marched for climate action with Fridays for the Future. Grandparents joined in with intergenerational solidarity. In the United Kingdom, the direct action group Just Stop Oil disrupted sports games and locked down to goal posts. The satirical film Don't Look Up prompted tens of thousands of people to march for climate action in France. And US veterans are decrying the greedy oil companies who are using Russia's invasion of Ukraine to spike prices and plunder public lands for further extraction.
Thousands of citizens and peace activists moved into action by protesting in cities across Europe and beyond, denouncing the continued attack of Ukraine by Russia. In an effort to counter lopsided media spins, Serbian sports fans lifted up giant banners that listed NATO invasions and finished with the message "give peace a chance". Italian airport workers refused to ship weapons labeled as "humanitarian aid" to Ukraine. And a group of hardcore protesters occupied the rooftop of a Raytheon weapons factory to halt the war industry's business-as-usual.
My favorite story this week? It's small and quirky: a man who was disgusted at the poor service of a certain dental center picked up his electric guitar and launched a musical protest outside their offices. It reminded me that we can all protest the grievances, small and large, that are causing pain and suffering – including bad dentistry.
In solidarity,
Rivera Sun
PS Nonviolence News Brings Hope: Last week, I had the chance to speak with students in a college-level "Media & Communication" course who were using Nonviolence News in their final project. They shared that reading the weekly round-up showed them that nonviolence is more than just protests and marches. They spoke about the courage they saw in the people taking action. They said that they felt a sense of hope and possibility, knowing that change is happening all over the world. This is why Nonviolence News exists!
Help us keep opening eyes and uplifting hearts. Donate here>>
How Equitable Strategies In Harm Reduction Are Keeping Communities Safe: From legal action networks to businesses that employ returning citizens, there is a growing network of initiatives committed to combatting the negative legal, social and economic impacts of drug use, specifically in vulnerable communities. They're working at the intersection of socioeconomic justice, racial equity, and addiction support. Read more>>
'Big News' for Climate As Global Insurance Giant Shifts Away From Fossil Fuels: After Swiss Re, the world's second-largest reinsurer, announced that it is moving to end coverage for most new oil and gas projects, climate justice campaigners who have long pushed for the insurance industry to shift away from fossil fuels offered cautious praise. The new policy by Swiss Re "is not perfect yet," said one campaigner, but the world's second-largest reinsurer "is headed in the right direction." Read more>>
How A Cincinnati Preschool Became Worker-Owned: When this pre-school owner decided to go back to school and start a new phase of her life, she did something unexpected. Rather than sell her business to the highest bidder, she sold it to five of her workers, turning it into a worker cooperative. Read more>>
Site Of Japanese Internment Camp To Become a US National Park: The area of the former Grenada Relocation Center — called Camp Amache by the thousands of Japanese Americans who were taken there against their will at the height of World War II — to become Amache National Historic Site and part of the national park system as a historic designation. Read more>>
Howard University Faculty Win Tentative Agreement Just Hours Before Planned Strike: Since full-time lecturers at Howard University originally voted to unionize, they have spent nearly four years bargaining with the university administration to get their first contract. On March 23, just hours before lecturers and nearly 200 adjunct professors were set to strike, the union secured a historic tentative agreement with the university. Read more>>
US Funds Unarmed Peacekeeping: In great news from Washington D.C., the – very delayed – Appropriations Bills for 2022 have passed, once again with recognition of the importance of Unarmed Civilian Protection, and for funding that supports sustainable peace. At this critical time in global affairs, this acknowledgement is something to be celebrated. Read more>>
Federal Jury Awards $14 Million To 12 People Injured By Denver Police Officers During George Floyd Protests: A federal jury Friday awarded $14 million in compensatory and punitive damages to 12 people who were injured by Denver police officers while protesting the death of George Floyd in 2020, according to court documents.After deliberating for nearly five hours, the jury decided that Denver police response during protests in May and June 2020 violated these protesters' constitutional rights. Read more>>
Protests Lead To Cancellation of Pig & Calf Scrambles At Winter Fair: Following protests by animal welfare groups, the Provincial Exhibition of Manitoba has cancelled the pig and calf scrambles at this year's Royal Manitoba Winter Fair. The move follows public outcry and opposition from the Winnipeg Humane Society and national animal law organization Animal Justice. Read more>>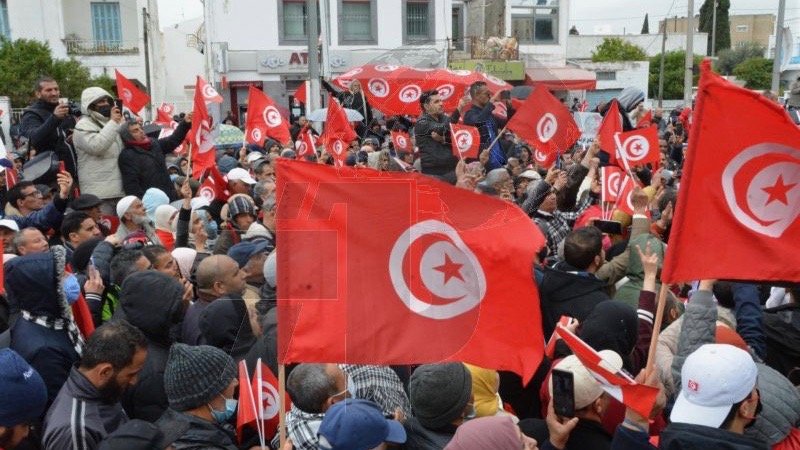 Tunisians Protest Authoritarian Moves By President Saied: This past weekend, protests calling for the resignation of President Kais Saied were organized in Tunisia's capital Tunis. They are demanding that the government immediately hold legislative and presidential elections. Read more>>
Students Organize Occupation In Solidarity With Striking Teachers: Temperatures are below freezing in Minneapolis with rain and snow falling as teachers enter their third week on strike. Negotiations are occurring at the Davis Center for a living wage or accept other demands. Outside, hundreds of teachers are dancing, chanting and picketing. Students are joining in support. "We have decided to organize an occupation. We are going to have students here 24-7. We are going to be here all the time. And this is to increase awareness of the strike," said one of the students. Read more>>
Starbucks Workers Have Now Filed to Unionize at Over 150 Locations: Workers have been filing to unionize nearly every day; at the end of February, the union marked its 100th store filing, meaning that an average of about two stores has filed to unionize every day over the past month. Read more>>
Thousands of Sacramento Educators Strike: Thousands of Sacramento City Unified teachers, staff and union members are protesting again, this time at the Sacramento County Office of Education. It's the second day on the picket lines for teachers – and the second time in three years they have gone on strike. Pay, health and safety protocols, and staffing shortages are among the sticking points with the district. Read more>>
Canada's CP Rail Shuts Down As Railroad Workers Strike: Canadian Pacific Railway halted operations and locked out workers over a labor dispute early on Sunday, with each side blaming the other for a halt that will likely disrupt shipment of key commodities at a time of soaring prices. Read more>>
Immigration Policy Protest Denounces Double Standards: A rally in Northampton on Monday called on the Biden administration to lift a policy that bans immigrants from seeking asylum. This policy is called Title 42 and was invoked at the start of the pandemic on the basis of public health safety, and immigration activists say COVID is no longer an excuse. Read more>>
In Kerala, India, Protesters Uproot Survey Markers For Controversial Rail Line: The project, also known as K-Rail, is a semi-high-speed rail project being opposed by parties, including the Congress and the BJP, as well as by the local people in some parts of the State. Calling the proposed rail line an "ecological disaster', the protestors uprooted 12 survey stones laid by the K-Rail officials. Read more>>
Protests Erupt At Ports Over Sacked Ferry Workers: Protests have taken place at ports over P&O Ferries' sacking of 800 workers in favour of lower-paid replacements. Unions rallied at Dover, Hull and Liverpool, chanting slogans such as "seize the ship"
Jamaicans Protest Visit from Royal Family and Demand Reparations For Slavery: Demonstrators gathered Tuesday in Kingston, Jamaica to protest the official visit of Prince William and Kate to the former British colony and demand the monarchy apologize for its role in the slave trade. Read more>>  
Protests and Legal Action Mobilize Over Threat To Ban Native Americans From South Dakota Hotel: Protesters held a rally and prayer meeting in a Rapid City park then walked the streets in response to a social media post by a Grand Gateway Hotel owner who said she would not allow Native Americans on the property. Demonstrators marched to sounds of drums and carried tribal flags and signs. Red Elk Zephier, the hotel manager, said the entire staff at the hotel bar and some hotel workers quit over the proposed ban. Read more>>
Hundreds Protest Racist Strip Search 15-Year-Old Girl: Hundreds of people gathered at short notice on Friday afternoon outside Stoke Newington Police Station in Hackney after the publication of a report by the City and Hackney Safeguarding Children Partnership (CHSCP) which identified racism as an 'influencing factor' in the decision to undertake a strip search on a menstruating 15 year old girl at her school. Watch here>>
Disney "Regrets" Texas High School Drill Team's Chant of "Scalp 'em, Indians, Scalp 'em." The Port Neches Grove High School's drill team that goes by the name of "Indianettes" drew the ire of Native Americans on social media for the blatantly racist chant. Read more>>
US House of Representatives Passes the CROWN Act: After years of activists fighting against natural hair discrimination, on Friday March 18, the United States House of Representatives passed the CROWN Act. The act, which stands for "Creating a Respectful and Open World for Natural Hair," is legislation that prohibits discrimination based on hair texture and protective hairstyles, like braids, twists, locs, and knots. Read more>>
100+ NYPD Officers Found Guilty Of Misconduct During BLM Protests: An NYPD watchdog has found that 104 officers were guilty of misconduct during Black Lives Matter protests in the summer of 2020. The Civilian Complaint Review Board (CCRB) oversight agency released the report on Tuesday, almost two years after the protests prompted by the death of George Floyd. Read more>>
Climate Activists Invade Soccer Field & Lock Down To Goal Posts: Just Stop Oil supporters ran onto the field at futbol (soccer) games all over the United Kingdom and locked down to goal posts and interrupted the games in other ways, too. Read more>>  
Mexico's Indigenous Fishermen Challenge Oil Giant For Decades of Pollution: Indigenous fishermen traveled hundreds of miles to officially file a legal challenge that they and the presidents of several Veracruz cooperatives are pursuing after decades of complaining and asking for government action to address toxic mud and dead fish in their waterways. Read more>>  
In Pictures: Youth Take To Streets For Climate Action: Youth around the world walked out of school with Fridays For the Future. The protests demanded immediate climate action to end the climate crisis. See photos here>>
Veterans Group Rebukes Big Oil for Exploiting War to 'Plunder' Public Lands: A nonpartisan organization representing more than 1.5 million veterans, military families, and their civilian supporters launched a nationwide ad campaign on Monday condemning the fossil fuel industry for attempting to exploit Russia's war on Ukraine to expand its drilling operations on U.S. public lands. "Today, we are calling them out on their greed and calling on America to move quickly towards a clean energy future." Read more>>
"Don't Look Up" Movie Inspired Tens of Thousands To March In France: On top of being Netflix's second-most watched movie and racking up four Oscar nominations, Adam McKay's star-studded political satire "Don't Look Up" also inspired tens of thousands to march against climate change in France. Read more>>
Hollywood Stars Ready To Cash-Out If Bank Continues To Finance Pipeline: Dozens of celebrities are voicing their opposition to the Coastal GasLink pipeline slated to run through unceded Wet'suwet'en territory in northern B.C. by demanding the Royal Bank of Canada divest its financial support from the project. They're also ready to close their accounts. Read more>>
Young People Are Risking Everything For Climate Action: Youth climate activists are taking matters into their own hands, using innovative tactics and literally putting their bodies on the line to say the time for change is now. In recent months, young activists across the globe have undertaken a hunger strike outside of the White House for climate reform, sued the government in the United Kingdom for not acting swiftly and clearly enough on climate change, and formed blockades around old-growth forests on Vancouver Island. Read more>>
Hundreds of Indian Workers Demand Minimum Wage: 'Modi government says our work is essential, but calls us volunteers.' 500 social welfare workers, primarily women who provide services in poor and rural areas, gathered in protest in New Delhi demanding recognition of their work, minimum wages, social security, and that the Narendra Modi-led BJP government fulfill its 2018 promise of a wage hike. Watch here>>
New York's Essential Workers Stop Traffic to Secure Benefits, Pandemic Relief: Their action stopped traffic for good reason: to secure $3 billion more for New York's groundbreaking Excluded Workers Fund and a permanent unemployment program for excluded workers in the state's budget. Read more>>
Chevron Workers Walk Out: Nearly 600 oil workers at Chevron's Richmond, California refinery walked out on strike early Monday morning after rejecting two local contract proposals pushed by the United Steelworkers (USW) union. The refinery workers are demanding higher wages, shorter work hours and better health and safety protections after laboring up to 70 hours a week and risking their lives as "essential workers" throughout the pandemic. Read more>>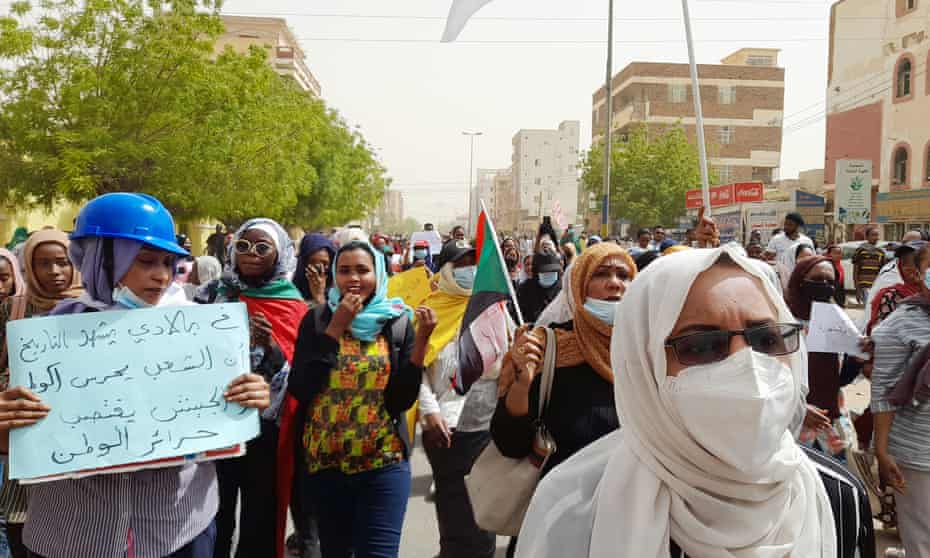 Protests Erupt in Sudan After Assault of Young Woman By Security Forces: After an attack on 18-year-old in Khartoum, women fear the use of sexual violence as a repressive 'tactic' against those protesting the coup. Read more>> 
Trans Women Turned Back at Ukraine's Borders: Trans women are reportedly being denied passage to safer countries by Ukrainian authorities, despite their legal status as women and the danger posed by Russia's transphobic policies. Read more>>
Disney Workers Walk Out Over Company's Response To 'Don't Say Gay' Bill: Hundreds of employees walked out to protest what they said was the company's tepid response to a Florida bill that would restrict discussion of gender and sexuality in schools. Read more>>
The Taxi Bike Rider Breaking Uganda's Taboos: Allen Kisakye Butundu faced shock, abuse and shame when she became a boda boda driver, but hopes to inspire other women. Read more>>
Blockade Of Raytheon Facility Protests War Profiteering From The Ukraine To Yemen: On March 22nd, a group of people took over the roof of a Raytheon's facility in Cambridge, Massachusetts. Raytheon's parking garage was also blockaded and a disruption took place in the facility's main lobby. Protesters demanded that Raytheon stop profiting from war, genocide and colonial violence. Read more>>
Building Global Solidarity: Kids in New York Would Like to Send You a Card: An afterschool program in Brooklyn is learning about war and its impacts. To do this, they're writing cards and letters to people around the world. Read more>>
Say No To War In Ukraine: Anti-war activist groups are organizing in Ukraine, Russia, Belarus and countries bordering Ukraine to confront the Putin government's brutal military aggression. We can do much more to support local nonviolent movements and organize a global solidarity movement. Read more>>
Italian Airport Workers Stop Arms Shipment to Ukraine: In Italy, workers discovered that weapons were being shipped to Ukraine under the pretense of sending "humanitarian aid" and have refused to hand them over. Their example should serve as a model for all workers on how to take action against the war. Read more>>
Italians Protest Against NATO Warmongering Policies: For the third time during the past three weeks, thousands of Italian people in Rome held rallies in support of peace in Ukraine and against the NATO and the US' double standards. People were chanting "Italy must not engage in war" and "Italy must exit NATO," among other slogans. Read more>>
In Photos: Worldwide Protests Against Russian Invasion of Ukraine: From Mexico to Belgium, people continue to protest against the war in Ukraine. See photos here>>
Serbian Fans Remind USA About Its Number of Military Interventions During Game: Fans of Red Star Belgrade rolled out banners featuring the number of US military interventions during a sport's game. The banners featured the number of all military operations US forces have participated in since the Second World War, including the first Gulf War, the bombing of Yugoslavia, as well as the invasions of Iraq and Afghanistan, ending with one reading "All we are saying is give peace a chance." Read more>>
These Lego Rebels Are Taking a Stand Against the Climate Crisis: As part of his first Lego Rebellion project, Woody used second hand Legos that he bought online to build a mock-up of the iconic pink activist boat placed by Extinction Rebellion in Oxford Circus in 2019. He went on to recreate more scenes, including protests outside Coca-Cola's headquarters, as well as actions against the planned HS2 rail line that environmentalists claim will irreversibly damage key wildlife habitats along its path. Read more>>
Scott Morrison's Coal Speech Has Gone Viral On TikTok During A Climate Change Disaster: A TikTok video has gone viral after dubbing footage from Australia's various climate change-fueled disasters with the sound of Prime Minister Scott Morrison spruiking (extensive oration) coal as the answer to our problems. Read more>>
Anonymous Disrupts Kremlin's Propaganda With Anti-Putin Printer Attack: 'We have been printing anti-propaganda and Tor installation instructions to printers all over #Russia for 2 hours, and printed 100,000+ copies so far. 15 people working on this op as we speak.' Read more>>
Scottish Youth Are Challenging the Language of Power Onstage: Young Glaswegians worked to re-design Glasgow City Council's climate-related practices, advocating for transportation and neighborhood planning policies that would reduce emissions and address inequities based on income, race, age, geography, and ability. The group came together via a process called Legislative Theatre (LT), which is a branch of the Theatre of the Oppressed methodology, first practiced in Brazil by Augusto Boal. Read more>>
8 Games for the Labor Revolution: Board games and RPGs about disputes, disruptions, strikes, riots, and, at times, very good chants – here's a selection of games that feature strikes, organized workforces, and labor disputes. They run the mechanical gamut from LARPs to cards to dice, and some of them are even free. These games often dive into history and take inspiration from real-world events—even though labor disputes are not, as we all know, just stories from the past. Read more>>
Kids Create A Pep Talk Hotline: A group of California elementary school students launched a free hotline featuring on-demand inspiration and advice for anxious souls. With joy in short supply these days, the tiny school's project has since gone viral, receiving thousands of calls hourly. Dial 707-998-8410* and you'll hear a cheerful voice listing your options: "If you're feeling mad, frustrated or nervous, press one. If you need words of encouragement and life advice, press two. If you need a pep talk from kindergarteners, press three. If you need to hear kids laughing with delight, press four." Read more>>
Star Trek Makes Stacey Abrams President of United Earth – And Stokes Conservative Anger: The Georgia gubernatorial candidate and voting rights campaigner Stacey Abrams has been made president – of United Earth in the new Star Trek series. Abrams is a self-confessed Star Trek superfan. Conservatives are incensed. Read more>>
Man Protests Terrible Dental Office With Electric Guitar: A man in California got so fed up with his dental office that he decided to protest by shredding an electric guitar outside the establishment while holding up a sign that said, "Western Dental Sucks." Read more>>
How To Intervene If Someone Is Being Harassed: Across the United States, there's an increase in state legislatures considering and passing anti-Trans, anti-Black, and other oppressive bills. This amplifies and emboldens an atmosphere of harassment and violence in a wide array of public settings. Have you ever wondered what should you do if you witness public instances of interpersonal violence or harassment? Use American Friends Service Committee's tips to assess how to intervene while considering the safety of everyone involved. Read more>>
Why Resistance Matters – Resistance & Regeneration: The growing movement for regeneration offers a much needed reframe of how to fully show up in our humanity at this critical moment in our planet's history. Read more>>
Pulling Away Putin's Pedestal – Opportunities and Challenges for Nonviolent Resistance: "I do not ask that you place hands upon the tyrant to topple him over," wrote Etienne de la Boétie in the 1500's, "only that you support him no longer." La Boétie knew then, as do the Russians driving civil resistance in the cities and towns of Russia today, that the tyrant is one man. By himself he cannot do anything. Understand Putin's sources of power and peel away the pillars of support that prop him up, and the man's rule will collapse. Read more>>
From 'Dead Man Walking' To Working To Abolish The Death Penalty – Sister Helen Prejean's Journey: Activist nun and world-famous author of "Dead Man Walking" Sister Helen Prejean discusses her new memoir and the deep historical roots of the racist, colonialist violence embodied in the US prison-industrial complex. Read more>>
#JustStopOil Needs YOU: Join the Just Stop Oil Campaign to force the
government to halt investment in new fossil fuels. These weekly virtual meetings offer training, organizing, and support. Learn more>>
Extinction Rebellion Is Recruiting. Take Action Now: XR's strategy is one of non-violent, disruptive civil disobedience – a rebellion for climate justice. "We need you – whoever you are, however much time you have to offer. Together we're building a powerful movement that is participatory and inclusive. Together we're unstoppable". Learn more>>
Negotiate For Peace in Ukraine! The U.S., which played a major role in exacerbating the conflict that led up to Russia's invasion of Ukraine, must now play a major role in the negotiations between Ukraine and Russia to achieve a ceasefire. Add your name to the following letter to President Biden and Congress. Learn more>>
No "No-Fly Zone"! Some people, including members of Congress, seem not to know what a no-fly zone is, thinking that by pushing a button, a telekinetic invisible force field — think Star Wars, the movie — can be erected over Ukraine to repel Russian bombs. Spoiler alert: That's not how it works. A no-fly zone would mean U.S. fighter jets shooting down Russian planes, which means a U.S.-Russia war—possibly a nuclear one. Learn more>>
Author Rivera Sun Explores How Writers Call People to Action – Stories for a Changing World: Tumultuous times draw out the heroic in the most unlikely candidates, but where do human beings find the roadmaps as they contemplate their own hero's journey? Author/activist Rivera Sun believes that writers are uniquely suited to provide them. (March 28) Learn more>>
​​​"Civil Resistance Struggles – How Ordinary People Win Rights, Freedom, and Justice": More than 250 participants have taken this course since it launched in 2017, and now you have the opportunity to join this large community of learners. (April 19 – June 6, 2022; Application deadline: March 31, 2022) Learn more>>
Ayni Schools' Seasonal Organizing Course: The Leadership and Organizational Seasons framework is about the cyclical patterns that exist in our leadership and social movement organizations. Seasons and cycles help us to understand, appreciate and protect the ebbs and flows that occur throughout our time in this work. This online, self-paced course will guide you through these concepts. Learn more>>
Dr. King's Breaking Silence Readings: Many organizations have come together to promote national and local readings of Dr. King's "Breaking Silence" speech in communities across the country to study the lessons of this speech and to convene local coalitions working for justice. You can host one in your local area. (April 4th) Read more>>
If every reader gave $10 (the cost of one month of Netflix, or 3 cups of coffee),
we'd be funded for the whole year. Pitch in today! Donate here>>