Editor's Note From Rivera Sun
What a week! You'll be amazed by the profuse abundance of stories in Nonviolence News. Argentine climate activists (above) are celebrating the suspension of off-shore oil exploration. 50,000 Mexican women protested femicide on Women's Day. In Kenya, women marched on the police station after a female driver was assaulted. Chile's first same-sex couple got married. Haitian garment workers are on strike. Nail industry workers are organizing to get hard-won protections upheld. The Minneapolis teachers' strike is widening, bringing in solidarity from St. Paul teachers and cafeteria workers. In Palestine, Idaho, and Colorado, people are pushing for housing justice.
For the love of the Earth, climate protesters disrupted Bafta's red carpet film awards. Across the channel, 80,000 people protested in France. The Just Stop Oil campaign is targeting petrol stations, fuel depots and refineries to demand an end to fossil fuel investment. 74 Insulate Britain activists were arrested for gluing themselves to roads while demanding a nationwide insulation program. Activists campaigning to get rid of dams organized 11-city actions along the Snake River. And even more people took action in Uganda, South Africa, Ukraine, Bangladesh, Belgium, Scotland and beyond.
Across the globe, enormous protests denouncing the invasion of Ukraine continue. Anonymous hacks Russian databases. International sports community has ramped up its boycotts of games and competitions with Russia. Meanwhile, people in London took over a Russian oligarch's mansion. But don't overlook the massive antiwar movement inside Russia. On primetime television, a producer had a crisis of conscience and held up a sign behind the newscaster that warned viewers not to believe propaganda.
These are just some of the many inspiring and impressive stories. Check out the full round-up. You'll be glad you did.
In solidarity,
Rivera Sun
Photo Credit: Argentinians protest for women's rights and climate justice.
Special thank you to Andy Moss for supporting Nonviolence News!
He writes "Such an essential and rich source — more essential than ever! Thank you."
Donate here>>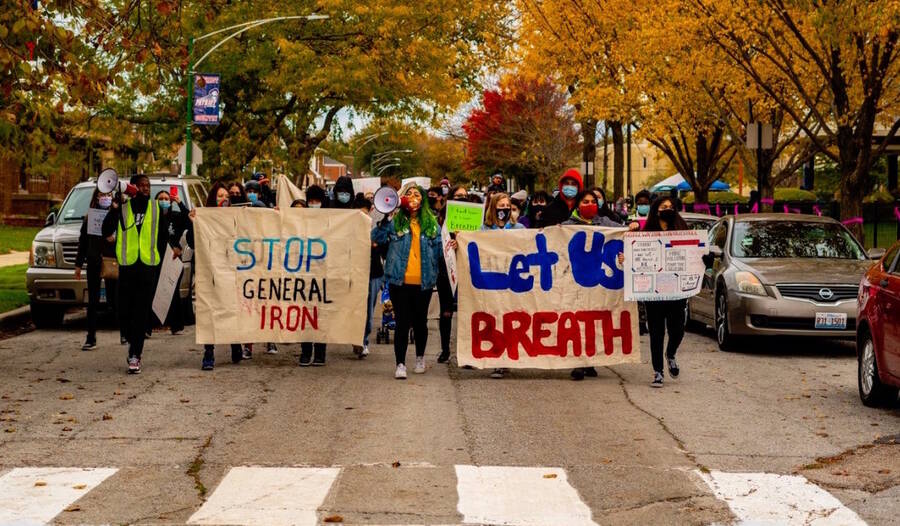 "Solidarity Is How We Win" – After Years of Fighting Toxic Scrapyard, Activists Celebrate a Victory in Chicago: By protesting and going out on hunger strike, environmental justice advocates helped stop a controversial metal scrapper from being built on Chicago's Southeast Side. Read more>> 
Argentine Climate Activists Win Suspension of Offshore Oil Exploration: Days after the Global Coastal Rebellion that saw an alliance of activists rise up to protect their oceans from extraction, an Argentinian court suspended all oil exploration off the country's coast. Read more>>
Following Outrage, Guatemalan President Reverses Controversial "Life And Family Protection" Bill: The bill would have increased prison sentences for women seeking abortions, banned same-sex marriages, and prohibited educational institutions from teaching about sexuality and gender. Read more>>
Nurses Celebrate Decision Blocking 'Insidious' Texas Probes Into Parents of Trans Kids: The largest nurses' union in the U.S. joined civil rights groups late Friday in celebrating a judge's decision to temporarily bar the state of Texas from investigating the parents of transgender children, an effort launched last month by Republican Gov. Greg Abbott. "Criminalizing parents for supporting their children—whether they are trans or cis, gay or straight—is a heinous breach of any sense of ethics." Read more>>
Wave of US Union Victories: The recent, much-publicized wave of union victories in the US at companies as varied as the giant coffee chain Starbucks, trendy outdoor outfitters REI and media group the New York Times is spurring hopes that this will somehow turn into a much larger unionization wave that lifts millions of Americans. This is an unusually promising moment for unions, labor strategists say, as they strain to figure out how best to build a larger wave, although they acknowledge it won't be easy because US corporations fight so fiercely against unionization. Read more>>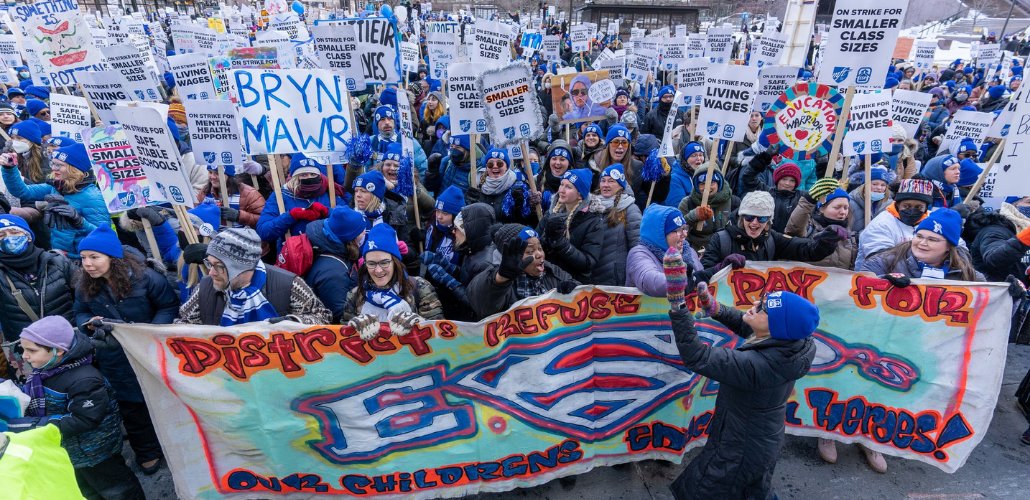 Minneapolis Strikers Demand Living Wage For Lowest Paid Educators: Labor is on fire in the Twin Cities. Educators in Minneapolis are wrapping up their second week on strike, and cafeteria workers are poised to join them. St. Paul educators have led the way with a tentative settlement that wins the same demands that Minneapolis is asking for. Workers in both cities are being paid poverty wages and living out of cars. The strikers are demanding a living wage, along with more mental health workers and smaller class sizes—all of which they say translates directly into stability and supportive learning opportunities for students. Read more>> 
Sudanese Resistance Committees Reject UN Calls To Negotiate With Coup Leaders: Sudan's Resistance Committees are not pleased with the United Nations' call to negotiate with coup leaders. "No negotiation, No compromise, No partnership with the military" remains the main slogan in the unrelenting mass-protests, rallies, and barricades organized in cities across Sudan since the military coup on October 25, 2021. Read more>>
Student-Community-Labor Coalition Grows In New York City: #NewDeal4CUNY shut down the Brooklyn Bridge today. We shut it down because our students, our faculty, & our staff deserve more than the #CrumblingCUNY that they have today. Read more>>
Extinction Rebellion Connects Climate & Women's Rights: Women are consistently affected more by climate change than men, particularly in the global south. Activists took action in Uganda, South Africa, Ukraine, Bangladesh, Belgium, Scotland, and more. Find stories and photos here>>
Tens Of Thousands Take Part In Climate Protests Across France: Demonstrations call for greater focus on environmental crisis in run-up to presidential election next month. Organizers said 80,000 protesters took part across the country, including 32,000 people in Paris. Read more>>
Climate Change Protestors Disrupt Bafta Red Carpet, Block Traffic Routes: The Bafta Film Awards red carpet has been disrupted by a group of protestors campaigning against new fossil fuel projects in the UK. Four protestors made it on to the red carpet area, where they repeated loud chants including "Just Stop Oil" – the name of the protest group. Read more>>
Climate Activists Plan Direct Action Against UK Oil Infrastructure: Just Stop Oil campaign to target petrol stations, fuel depots and refineries to demand end to fossil fuel investment. Read more>>
Kent Police Charge 74 people Over Insulate Britain Road Protests: Seventy four people have been charged over Insulate Britain road blockade protests in Kent, the county's police force has said, in what is believed to be the first criminal proceedings against the activist group. They carried out a campaign of disruptive protests between September and October, blocking roads at rush hour, gluing themselves and causing traffic chaos in an effort to pressure the government into a national program to insulate every home in the country by 2030. Read more>>
On Int'l Rivers Day, Backbone Campaign Mobilizes Actions Against Snake River Dams: Those who love salmon, orca, and wild rivers held banners at overpasses, intersections and other iconic spots across the NW. Actions occurred in Olympia, Seattle, Boise, Tacoma, Edmonds, Spokane, Bend, Portland, Wenatchee, Vashon and Walla Walla – to tell Senators Cantwell and Murray and Governor Inslee that there is no other option but to breach the dams on the Lower Snake. Read more>>
Three Years After First Global School Strike, Youth Climate Movement Is Growing: Instead of succumbing to obstacles, young climate activists are adapting and building on their past actions. Read more>>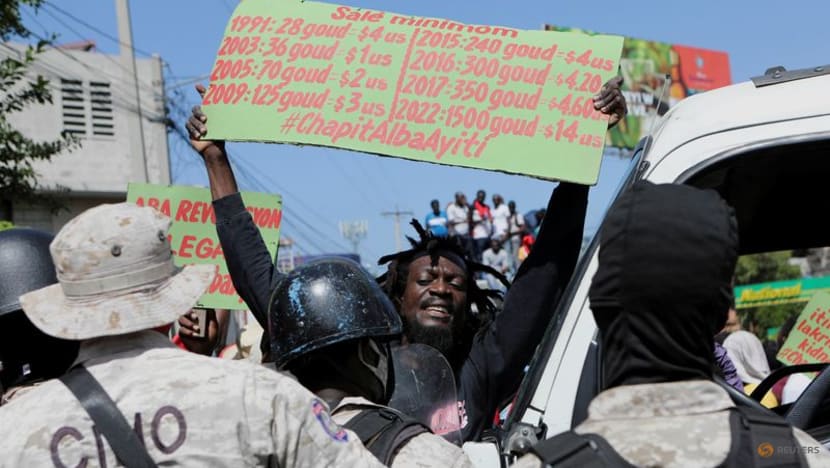 Haitian Garment Workers Strike: A consortium of unions led garment industry workers to strike for two consecutive days in Port-au-Prince, less than one month after organizing demonstrations in the northeast of the country at the Caracol Industrial Park, to demand approximately $15 per day to produce apparel for brands and stores such as Hanes, New Balance, Champion, Gildan Activewear, Gap, and Walmart. Read more>>
Activists Occupy Russian Oligarch's Mansion In London: Activists stormed a Russian oligarch's mansion in London and unfurled a sign saying the property had been 'liberated'. The group intends to "house Ukrainian refugees and refugees from all nations," one member told reporters. Read more>>
Nail Industry Workers Push for Council of Workers And Protections: In 2019, workers organizing in the nail salon industry succeeded in their fight for a $15 minimum wage, eliminating the tipped minimum wage in the industry that was driving wages down, but there are still many employers who aren't following the law or have found other ways to cut corners at the expense of workers. Read more>>
The Minneapolis Teachers Strike Is Part Of a Wider Labor Struggle For US Educators: Between pay gaps, the pandemic, growing class sizes and legislative directives, "the pressure on teachers right now is so formidable," one expert said. Read more>>
Nobel Laureates, World Leaders Mark Two Years of Covid With Simple Call: End the Patents: "Rich country leaders are protecting pharmaceutical monopolies on Covid-19 vaccines, diagnostics, and therapeutics over the health and lives of billions of people," said the former U.N. chief. Read more>>
Indigenous Pueblos, Environmentalists Fight Back Against Los Alamos Nuclear Laboratory's Expansion: Los Alamos has faced criticism for decades for its environmental abuses, its role in nuclear proliferation, and its ignoring of Native New Mexican peoples. As it plans to expand nuclear production, opposition to their toxic impact on sacred lands reinvigorates. Read more>>
Denmark Offers Official Apology For Racist Social Experiment On Greenlanders: As part of a social experiment program in 1951, the Danish government sent 22 Inuit children from Greenland to Denmark. Many of them remained separated from their families, lost their mother tongue and struggled with identity issues, facing severe trauma throughout their lives. Read more>>
Hawaiian Group Emphasizes Humanity Over Law in Repatriating Ancestral Remains from Museums Abroad: In order to secure the return of 58 stolen skulls of Native Hawaiian ancestors from museums in Europe last month, an Office of Hawaiian Affairs (OHA) delegation appealed to museum employees' humanity. "We've been successful because we go around the world asserting our cultural responsibility," a 32-year-volunteer for OHA's repatriation efforts, Edward Haleloha Ayau, told Native News Online. "It's not a matter of jurisdiction. It's a matter of duty." Read more>>
Palestinians Observe General Strike Denouncing Illegal Home Demolitions: Palestinians in the occupied East Jerusalem neighborhood of Jabal al-Mukabir organized protests and observed a general strike on Thursday, March 10, against home demolitions planned by the Israeli municipal authorities. The Israeli municipality of Jerusalem reportedly plans to demolish around 800 Palestinian-owned homes in the area. Read more>>
Occupy-Style Protest in Boise Highlights Brutal Conditions Faced by the Unhoused: The injustice of homelessness — a human rights crisis of immense proportions in the United States — is on stark display in Idaho's modestly sized capital of Boise, just as it is across the nation. Read more>>
Unhoused Community & Advocates Take Over Denver Recreation Center: On Thursday evening, March 10, community members who are without permanent housing and their advocates arrived at the Carla Madison Recreation Center in an attempt to take over the public facility overnight to be out of the below freezing weather. Read more>>
50,000 Mexican Women Say No to Femicide: As many as 50,000 women took to the streets of Mexico City on International Womens Day in a fiery march against rape and femicide. While the action exposed the role of patriarchal culture, its anger was mostly directed at President Andres Manuel Lopez Obrador and a government that protestors charge does nothing to protect women. Read more>>
Kenyan Women March On Police HQ After Sex Attack Video: A female driver was stripped and sexually assaulted by a mob of men. Now Kenyan women are calling out the gender-based violence they regularly face. Read more>>
Chile's First Same-Sex Couples Get Married As Equality Law Comes Into Effect: Javier Silva and Jaime Nazar were the first couple to get hitched, tying the knot together in the Civil Registry of Providencia of Santiago, the capital of Chile. "We never imagined we would experience this." Read more>>
Women Are Leading Russia's Antiwar Protests — and They're in Putin's Crosshairs: As feminist antiwar activists face brutal arrests, they're organizing support for those who've been incarcerated. Read more>>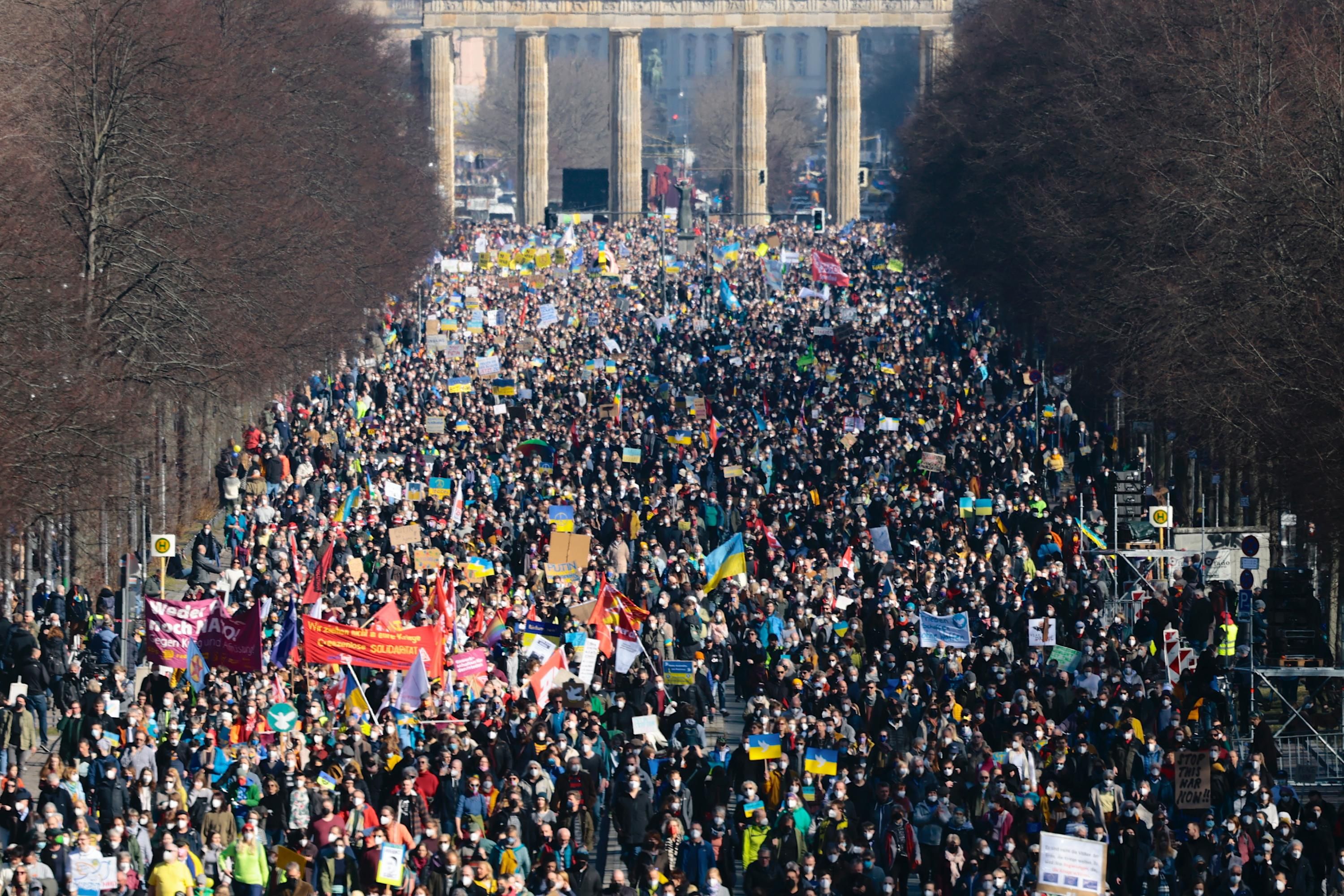 Mass Anti-War Protests Held Across Europe as Russia's Assault Continues: In addition to protests in Berlin and London, people took to the streets in occupied Ukrainian cities and in Moscow, despite the threat of arrest. Read more>>
Anonymous & Its Affiliates Hacked 90% of Russian Misconfigured Databases: Russia has come under the radar of hacktivists, particularly the Anonymous collective, after the country invaded Ukrainian territories on February 24th, 2022. Since then, Russian IT infrastructure is being targeted every other day including government websites, State-run TV channels, online video streaming platforms, etc. Read more>>
EZLN Launches World Campaign Against The Wars of Capital: "If they touch some of us, they touch us all," pronounced thousands of members of the Zapatista Army of National Liberation (EZLN) in the peaceful march this Sunday through the streets of San Cristóbal de Las Casas, Chiapas, to protest against the invasion Russian in Ukraine and all other wars. In Spanish but translates in browser. Read more>>
11 Years After Fukushima, Campaigners Double Down on Push for 'Peaceful, Nuclear-Free World': "The pain, struggles, and bravery of the people affected by the incident still continue," said Greenpeace E.U. "We should never forget them, nor allow another disaster like this to happen again." Read more>>
Can A Global Sports Boycott Puts Pressure On Russia Over Ukraine? The power of sports to legitimize a regime also means they have the power to delegitimize one. Putin's efforts to promote Russia through sports have left him open to the kind of blowback that could turn people against the war in Ukraine — against him. If it works, expect other human rights abusers to face calls for sports boycotts — and get ready to support them. Read more>>
Russian State TV Editor Interrupts Live News Broadcast With Anti-War Message: During an evening news broadcast on March 14, Channel One editor Marina Ovsyannikova ran on stage with an anti-war banner that read, "No War. Stop the war! Don't believe the propaganda! They're lying to you here! Russians against war." Read more>> 
Russian Cosmonauts Arrive At International Space Station In Colors of Ukraine Flag: Three Russian cosmonauts arrived at the International Space Station last night in flight suits made in the yellow and blue of the Ukrainian flag, in what appeared to be a daring statement against the war. Coincidence? No one's really sure. Read more>> 
DR Congo Film Empowers Sexual Abuse Survivors to Speak Up: The film reunites over 60 women through the DRC Movement of Survivors, who decided to create the film based on tragedies that had unfortunately happened. Read more>>
SF Photographer Captures How the "Other Half" Lives: The best documentary photography has long been packaged and showcased, along with its fine art cousin, in so-called "coffee table" books. But Robert Gumpert's Division Street, a study of homelessness in San Francisco, may be a hard sell as a glossy addition to the living room furniture of Californians all too familiar with real-life views of people sleeping on the streets. Read more>>
Inspired by Oligarch Plane Tracker, Greenpeace Follows Russian Oil Tankers Funding Putin's War: "The huge number of tankers criss-crossing our seas loaded with Russian oil and gas is a tangible sign of our dependence on fossil fuels and proof that it is the biggest contribution to Putin's war chest." Read more>>
Comic Books for the Next Generation of Civil Rights Activists: Ashley C. Ford interviews political aide Andrew Aydin, whose idea for a thrilling new retelling of Congressman John Lewis' life and role in the Civil Rights struggle is helping a whole new generation of students and activists connect with their past. Dive into the power of writing, of storytelling — and the magic that happens when you shine a light on the ongoing struggle for justice. Read more>>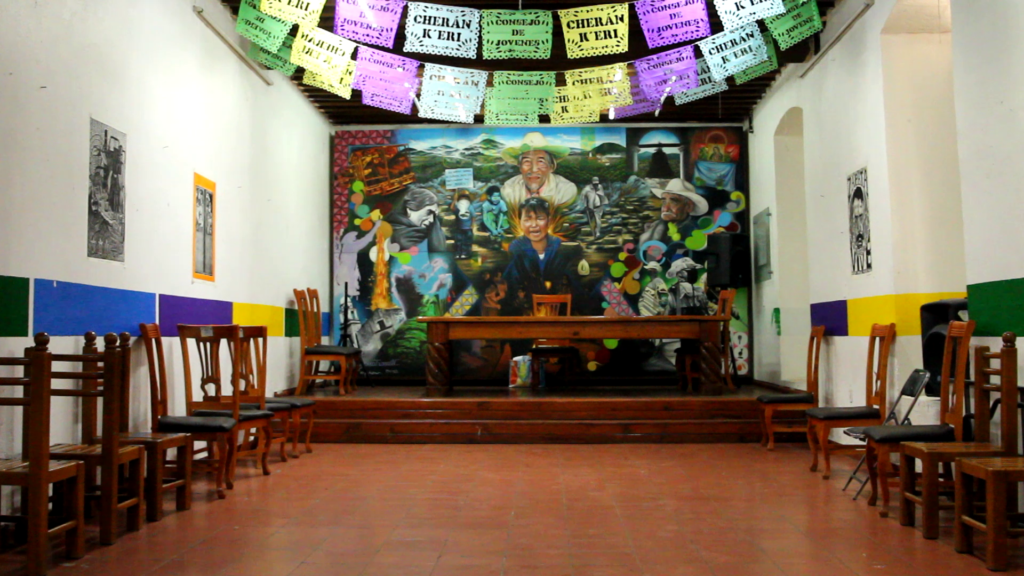 This Mexican Town Kicked Out The Government 10 Years Ago … And Is Thriving: Recently, two members of the Nevermore team traveled to the autonomous town of Cheran in Michoacan, a state which has long been a hotspot in Mexico's bloody drug war. After years of being terrorized by narco-traffickers who operated with conjunction with the state government, the inhabitants of Cheran revolted in 2011, successfully expelling both the government and other organized crime from their municipality. Read more>>
30 Nonviolent Things Russia Could Have Done and 30 Nonviolent Things Ukraine Could Do: The war-or-nothing disease has a firm grip. People literally can't imagine anything else — people on both sides of the same war. Read more>>
Will Protests Against Russia's Invasion of Ukraine Work? People around the world are protesting the Russian invasion. Will their protests work? Within Ukraine, Russia and elsewhere, here's what we know about civil resistance. Erica Chenoweth weighs in. Read more>>
Stories From the Movement – Transition Toronto: The principle in Transition of focusing your energy on what you are passionate about is beautifully captured in the work of Transition Toronto in Canada. While COVID meant that some of their key projects, such as their annual EcoFair, which they co-present with the Green Neighbors Network, had to go virtual, two key projects, TreeMobile and Food Up Front really came into their own. Read more>>
Chile Shows How Social Movements Can Win Elections: Nearly 50 years after Chile's democratically-elected, socialist President Salvador Allende was ousted in a military coup, a young left-wing legislator rocketed into the country's top office. He owed his victory to a center-left coalition against the far right, energized by militant and persistent social movement organizing that has put the country on the road to a new constitution. Read more>>
Take Action To Stop Violent Repression Of Western Saharan Activists: In addition to the oppression of peaceful protestors, since November 2020, Moroccan occupation forces are forcibly confining the Khaya Sisters to their home and the family is facing many forms of abuse, including home invasions, sexual violence and injections of unknown substances. We cannot allow this abuse and violence to continue. We are called to expose these human rights injustices and join together to build peace in Western Sahara. Take action>>
Negotiate For Peace in Ukraine! The U.S., which played a major role in exacerbating the conflict that led up to Russia's invasion of Ukraine, must now play a major role in the negotiations between Ukraine and Russia to achieve a ceasefire. Add your name to the following letter to President Biden and Congress. Learn more>>
No "No-Fly Zone"! Some people, including members of Congress, seem not to know what a no-fly zone is, thinking that by pushing a button, a telekinetic invisible force field — think Star Wars, the movie — can be erected over Ukraine to repel Russian bombs. Spoiler alert: That's not how it works. A no-fly zone would mean U.S. fighter jets shooting down Russian planes, which means a U.S.-Russia war—possibly a nuclear one. Learn more>>
US Media Censorship of Voices For Peace: As U.S. media reports a narrow narrative on the war in Ukraine, social media platforms are increasingly censoring critical voices for peace. Join CodePink this Monday, March 21st at 5pm PT/8pm ET for a discussion between Abby Martin, Lee Camp, Chris Hedges, and Jodie Evans on the impacts and implications of this censorship. (March 21) Learn more>>
A Labor History Teach-in for Organizers: An interactive and discussion-based session, led by scholar and organizer Naomi R Williams. It is geared towards organizers currently engaged in worker struggles and labor organizing. Alongside a study of history, we will also share and discuss the current context. (March 26) Learn more>>
Author Rivera Sun Explores How Writers Call People to Action – Stories for a Changing World: Tumultuous times draw out the heroic in the most unlikely candidates, but where do human beings find the roadmaps as they contemplate their own hero's journey? Author/activist Rivera Sun believes that writers are uniquely suited to provide them. (March 28) Learn more>>
​​​"Civil Resistance Struggles – How Ordinary People Win Rights, Freedom, and Justice": More than 250 participants have taken this course since it launched in 2017, and now you have the opportunity to join this large community of learners. (April 19 – June 6, 2022; Application deadline: March 31, 2022) Learn more>>
Extinction Rebellion Is Recruiting. Take Action Now: XR's strategy is one of non-violent, disruptive civil disobedience – a rebellion for climate justice. "We need you – whoever you are, however much time you have to offer. Together we're building a powerful movement that is participatory and inclusive. Together we're unstoppable". Learn more>>
Dr. King's Breaking Silence Readings: Many organizations have come together to promote national and local readings of Dr. King's "Breaking Silence" speech in communities across the country to study the lessons of this speech and to convene local coalitions working for justice. You can host one in your local area. (April 4th) Read more>>
Thank you to our recent donors! You are the best.
Want to pitch in? Donate here>>