Editor's Note From Rivera Sun
With all eyes on Ukraine, antiwar protests have risen up around the globe. More than 8,000 Russians have been arrested for protesting the invasion of Ukraine. Meanwhile, amidst the armed struggle happening on the ground in Ukraine, civilians are using nonviolent action to move soldiers out of the area, protect buildings and infrastructure, and provide aid to those in the conflict zone. These actions include changing road signs, getting Russian soldiers to defect, blocking roads with unarmed groups, turning back tanks and soldiers, and more. Our friends at Metta Center for Nonviolence are maintaining an updated list of the many examples.
In other news, Sudanese mothers and fathers held a march in support of the younger activists who are pushing for democracy. Incarcerated organizers in the United States are on hunger strike against horrid conditions in prisons. Indigenous Guatemalans are resisting oil and gas extraction. Kazakh environmentalists opposing a gold mine are facing prison. Mexico is aiming for zero-waste and California is trying to stop the pile-up of microplastics. Grocery workers, metal workers, tech workers, teachers, and baseball players are all on strike across the United States.
In an interesting twist, a group of restaurant workers (pictured) who successfully went on strike against sexual harassment (winning robust anti-harassment policies and training for staff) quit en masse, shifting into organizing work to push for justice in other workplaces. Success doesn't always mean "going back to normal". Sometimes, it means moving forward to the next challenge, building on our experiences to ensure justice for everyone.
In solidarity,
Rivera Sun
Photo Credit: A former ACME worker speaks out on past experiences with the owner of ACME during the strike.
Readers like you keep Nonviolence News going. Thanks for supporting us.
Donate here>>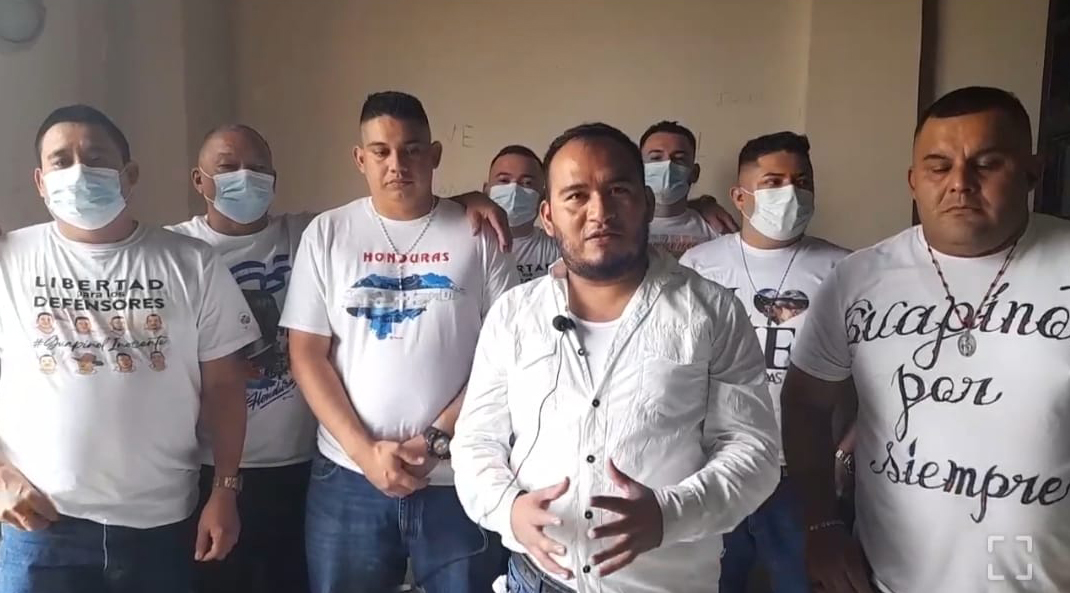 Guapinol Environmental Defenders Released From Prison After Long Battle For Freedom: Environmental activists from the Guapinol village in northern Honduras had been arbitrarily detained since 2019 for protesting against a mining project. Read more>>
Acme Workers End Successful Strike: After nearly three months, Acme Food & Beverage Company workers ended their strike on Feb. 17 — and most of them are vacating their positions at the restaurant. Although the strike was successful many of the strikers will redirect their work toward more broad change for workers. Read more>>
Inside the Record-Breaking Offshore Wind Sale: After days of bidding, six companies emerged as winners last week in a record-breaking auction for the rights to develop offshore wind in federal waters off New York and New Jersey. The total of the winning bids was $4.37 billion for 488,000 acres spread across six lease areas. The process was overseen by the Bureau of Ocean Energy Management. Read more>>
Indiana's Anti-Critical Race Theory Bill Defeated: The passage of legislation in Indiana that attempted to ban "Critical Race Theory" and related concepts in K-12 education appeared inevitable. But instead, the bill was killed this week by the Indiana Senate. "For those fighting these bills in other states, take note: public engagement can make a difference." Read more>>
American International Group (AIG) Will Stop Insuring Coal, Tar Sands, And Arctic Drilling: Climate justice advocates celebrated Tuesday in response to insurance giant AIG's announcement that it will no longer invest in or provide insurance coverage for any new Arctic drilling activities nor will it finance or underwrite the construction of any new coal-fired power plants, thermal coal mines, or tar sands projects, effective immediately. Read more>>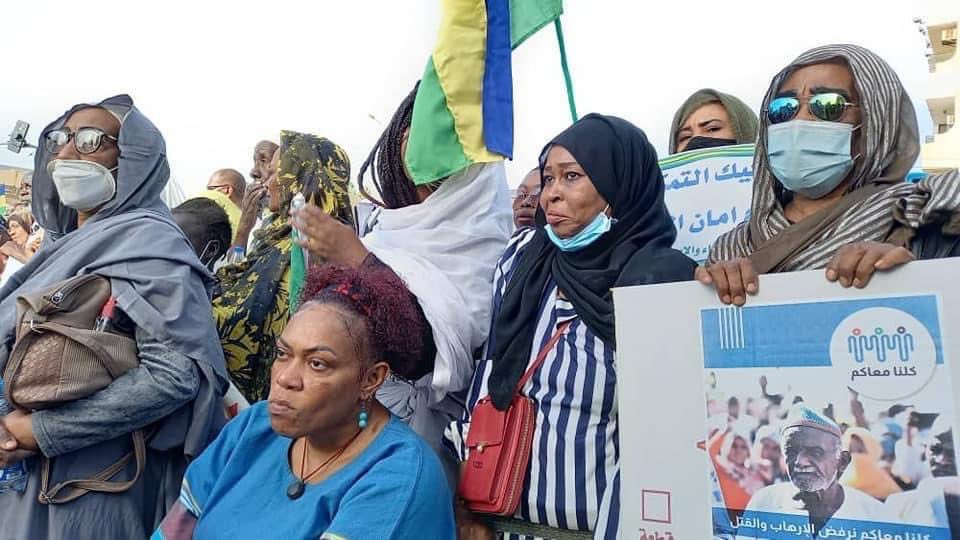 'Mothers and Fathers March' Stands Firmly Behind Sudanese Youth Resisting Coup Leaders: Elderly people across Sudan took to the streets in a show of support for the youth who are resisting the military junta. Meanwhile, the neighborhood Resistance Committees are set to announce a united political vision for the country. Read more>>
Activism Grows In US In Response To School Book Bans: A wave of book bans in K-12 schools has led to new organizations and to a change of focus for existing groups. Katie Paris, an Ohio resident and the founder of Red, Wine & Blue, a national network of politically engaged "PTA mamas and digital divas" founded in 2019, said that last year she began receiving calls from members begging for help as debates over "critical race theory" erupted. Read more>>
More Sacramento-Area Teachers Walk Out Over District Rollbacks of COVID Mask Mandates: Nearly 200 Rocklin Unified School District educators called in sick or took leave Monday, protesting their district's last-minute defiance of state-imposed K-12 mask mandates. Read more>>
Amazon Workers Unveil List of Demands: Workers behind the first union push at an Amazon retail store just sent management a list of demands, including a starting wage of $25 an hour. They will join Target, Costco and many other retailers that have increased wage rates. Read more>>
Palestine Action's Tactics Intensify With Local Support in Staffordshire: With police stationed outside intending to protect the site from protesters, activists have stormed, occupied and are currently dismantling Elite KL's property, as part of their demand for an end to British complicity in Israeli apartheid. Read more>>
Incarcerated Organizers Are Resisting Amid Deteriorating Conditions: While officials spin false narratives blaming violent crime on bail reform, and police insist too many people are getting out of jail, conditions in U.S. jails and prisons remain nightmarish. In this episode of "Movement Memos," Kelly Hayes talks with organizer Brooke Terpstra about a hunger strike at the Santa Rita Jail in California, and about some of the complexities and political dynamics of organizing in jails and prisons. Read more>>
Indigenous Peoples In Guatemala Demand Sovereignty Over Oil And Mining Resources: A Mayan community in Guatemala is taking the government to court in a case that could recognize the right of indigenous peoples to control oil, gas and mining resources on their land. The case could set an international precedent for indigenous people to control resources on their land, which they say is critical to climate action. Read more>>
Campaign Opposes Lincoln Park's Name: On a warm and breezy President's Day, the Long Beach Change The Name Coalition hosted a protest announcing their campaign to "Change the Name, Ditch the Penny," at Lincoln Park in Long Beach, CA. The majority of Abraham Lincoln's policies and actions towards Native Americans spanned from detrimental to genocidal. Read more>>
United Nations Says Refugees Have Faced Racism At Ukraine Borders: The United Nations has admitted that some non-Europeans refugees have faced discrimination while trying to flee to safety at Ukraine borders after their experiences were dismissed as lies and "Russian disinformation" by online commentators. Read more>>
Removing Racism One Statue At A Time: With axes, hammers and ropes, a group of activists called by the Supreme Indigenous Council of Michoacán demolished part of the monument called Los Constructores (The Builders). This action joins a global movement that has torn down and defaced monuments in dozens of cities around the world for the same reasons: to stop extolling the symbols of slavery and exploitation of indigenous peoples and to start writing a new history where oppressed indigenous peoples claim their dignity. Read more>>
Facing Mexico's Zero-Waste Challenge: Grassroots organizations in Mexico are promoting inclusive recycling by helping usher trash pickers, or pepenadores, into the salaried workforce. Read more>>
Kazakhstan: Environmentalists Face Prison Over Opposition To Gold Mine: Two villagers who campaigned against a gold mining project in northern Kazakhstan are facing prison as prosecutors strain to link them to a banned opposition movement. Read more>>
Greta Thunberg's Climate Activist Group Will Launch Protests Against Russian Invasion of Ukraine: Fridays for Future, the global youth movement launched by Swedish climate change activist Greta Thunberg, is launching a series of events to protest Russia's invasion of Ukraine. Read more>>
California Tackles Microplastics: California is becoming the first US state to put in place a comprehensive plan for tackling microplastics. The roadmap of 22 actions is focused on preventing plastic particles from getting into the environment, intercepting plastics pollution and educating the public about the problem. Read more>>
Grocery Workers Seek Better Pay And Conditions As Chains Reap Huge Profits: Kroger workers asking for $5 raise while CEO's salary is 904 times the median employee wage. Ahead of the expiration of their union contract, 60,000 grocery workers at subsidiaries of Kroger and Albertsons in California are holding actions outside stores, demanding at least a $5 wage increase over three years, improved safety and security for workers, improved staffing and eliminating the two-tier system of workers. Read more>>
Metal Workers Strike Hits Day 150: Tensions remain high as workers at Warren Buffett's Special Metals reach a new milestone in their strike. They've now been on the picket lines for 150 days. "We've got 450 people inside the tri-state area right now," said Special Metals striker, Sequoyah Redman. "450 families that are completely and utterly out of money." Read more>>
Gizmodo Media Group Writers Go On Strike: Newsroom workers at Jezebel, The Root, Lifehacker, Kotaku, Jalopnik and Gizmodo organized through the Writers Guild of America, East (WGAE), took collective action by going on strike after the union's second contract expired Monday, February 28. Read more>>
Major League Baseball Players Strike and Cancel Games: Major League Baseball has canceled Opening Day, with commissioner Rob Manfred announcing Tuesday that the sport will scrap regular-season games over a labor dispute for the first time in 27 years after acrimonious lockout talks collapsed in the hours before management's deadline. Read more>>
Portland Mobilizes To Defend Homeless Camp From Sweeps: On Thursday, February 17th, park rangers and Portland police showed up to the PDX Houseless Radicals Collective's Fallout Camp on Park's land in southeast Portland, Oregon. Their intended eviction of the camp was prevented. Read more>>
Massachusetts Is Not For Sale, Says Campaign Opposing Big Tech: As the organized opposition to the "Big Tech loophole law" ballot initiative grows in Massachusetts, a number of key consumer, community, and civil rights groups have joined with workers' rights advocates to announce their commitment of activating and growing the coalition opposing that initiative under a new name: Massachusetts is not for Sale. Read more>>
Huge Crowds In Europe & US March In Solidarity With Ukraine: From Berlin to Washington DC, protesters express solidarity with Ukraine as Russia steps up assault on its neighbor. Hundreds of thousands of people have taken to streets of cities across Europe and North America to denounce Russia's invasion of Ukraine. Read more>>
Resistance to War in Ukraine: Actions, News, Analyses, and Resources for Nonviolence: On this page, Metta Center is keeping track of nonviolent resistance actions that taking place around the war in Ukraine and other news, actions, and resources. Read more>>
Anti-War Rally Draws At Least 100,000 In Berlin: A massive crowd gathered in the German capital to protest Russia's invasion of Ukraine while the German parliament is holding a special session. An alliance of labor unions, religious institutions, local initiatives, environmental protection organizations, and peace activists organized the massive demonstration, under the motto "Stop the war: Peace for Ukraine and all of Europe." Read more>>
Mass Arrests As Belarus Confirms Ditching Non-Nuclear Status In Referendum Vote: The vote sparked the biggest protests in months as thousands took to the streets in Belarus, where President Alexander Lukashenko has imposed a sweeping crackdown on dissent after a contested election challenged his grip on power in 2020. Read more>>
Russians Fire On Civilians Blocking Road To Nuclear Plant: Video footage from the ground Wednesday showed Russian forces firing on ordinary Ukrainians who were blocking a road with their bodies and makeshift barricades in the town of Enerhodar in an effort to prevent Russian troops from advancing on the Zaporizhzhia Nuclear Power Plant, the largest nuclear power facility in all of Europe. Read more>>
8,000 Russian Anti-War Protesters Arrested: Thousands of Russians have protested the invasion of Ukraine. This list keeps track of the protesters who have been arrested. Read more>>
Hackers' Collective Anonymous Throws Weight Into War Effort: What part is hackers' collective Anonymous playing in the war effort against Russia? The hacker collective Anonymous has claimed credit for several cyberattacks that took down Russian government websites and state-backed news outlets in recent days. Read more>>
'The Mirror of the People' – Sudan's Artists Document Street Protests: Artists across the country have been chronicling the violent political upheaval that has roiled the country since 2018. This a short video series shows artists' attempts to draw attention to Sudan's most recent protests, as the countrywide movement that toppled a 30-year dictatorship in 2019 continues into its third year of uprising. Read more>>
Arts & Culture Journal Ceases Publication In Opposition to War: As of last Friday, The Calvert Journal, which supports a culture of peace, ceased publication until further notice. The journal is the world's leading publication for culture, innovation, photography and travel in the New East: Eastern Europe, the Balkans, Russia, the Caucasus, and Central Asia. "At a time when Russian acts of war are being committed in Ukraine, we cannot in good conscience continue our work covering culture and the arts like business as usual. We are against this war in Ukraine and call for its end." Read more>>
10 New Albums To Resist a World At War: From songs for Australian water protection to music for Turkish gay rights, here's a list of the best protest music released in February 2022. Read more>>
The Stunning And Heartbreaking Street Art Painted In Solidarity With Ukraine: Walls around the world are being transformed into tributes to Ukraine amid Russia's invasion. Read more>>
Our Fight for Disability Justice Must Also Confront War and Militarism: Most of the mainstream disability community's advocacy efforts related to the military have centered around veteran rights, having disability inclusion in military service, or disabled refugee rights under the Americans with Disabilities Act. While these priorities may benefit individual rights, they do not tackle deeper issues of militarized violence against marginalized communities, how militarism divests community resources, and the broader cycle of injustice and inequity in which militarism and colonialism are active participants. Read more>>
Ukraine's Secret Weapon May Prove To Be Civilian Resistance: Unarmed Ukrainians changing road signs, blocking tanks and confronting the Russian military are showing their bravery and strategic brilliance. Read more>>
Nonviolence & Social Change: An Introduction For Everyone: Join this 4-session course on how to make social change with nonviolence. There is a science (and an art) to how people work together for justice, respect, dignity, equality, and safety. In this course, you will learn about the 300+ methods of nonviolent action, how to design smart campaigns, the dynamics of power and struggle, and how to engage community participation in your efforts. This course is for everyone (invite friends to attend with you!). (Sliding scale, starts March 7) Learn more>>
Extinction Rebellion Is Recruiting. Take Action Now: XR's strategy is one of non-violent, disruptive civil disobedience – a rebellion for climate justice. "We need you – whoever you are, however much time you have to offer. Together we're building a powerful movement that is participatory and inclusive. Together we're unstoppable". Learn more>>
Tell Chase Bank To Divest From War & Fossil Fuels: Can you send an email to JPMorgan Chase's executives, board members, and CEO, demanding that they immediately cut all ties with Gazprom, the gas company that is fueling the war on Ukraine? Learn more>>
Love Knows No Borders: AFSC's Pedro Rios will explore how his lifelong work is dedicated to upholding the dignity of border residents and migrants who cross through the region, as well as the ways this work challenges the troublesome border narrative used to create detrimental public policy. Pedro will share personal stories that have guided his journey as a human rights defender, and how these are connected to his commitment to a vision where the power of love overcomes borders. (March 7) Learn more>>
Building Community Alternatives To Police: Are you interested in how communities are responding to emergencies without involving the police? Join our eight-week participatory workshop to learn more. See what community-based programs are working across the country. Assess the needs and assets for emergency response in your own community. Get trained in de-escalation and mental health crisis response. And develop a concrete plan to move toward community-based justice. (Starts March 12) Learn more>>
Women's Climate Strike: Women carry the weight of the climate crisis and the burden of waiting for the world to act. Women in most affected regions of the world are already suffering from human caused climate change. Women in every part of the world will disproportionately suffer in a world of mass suffering and extinction. "We call on all women to take climate action on International Women's Day – 8th March 2022 – under the theme 'The Wait of the World'. (March 8) Learn more>>
​​​"Civil Resistance Struggles – How Ordinary People Win Rights, Freedom, and Justice": More than 250 participants have taken this course since it launched in 2017, and now you have the opportunity to join this large community of learners. (April 19 – June 6, 2022; Application deadline: March 31, 2022) Learn more>>
World BEYOND War's 2nd Annual Virtual Film Festival! This year's festival explores the intersection of militarism & water, survival & resistance, in the lead-up to World Water Day on March 22. Learn more>>
From Art To Action: Join Chris Jordan, photographic artist and filmmaker, and Jenny Price, writer and artist, for our online event: From Art to Action: Finding Beauty and Protecting What You Love. We'll explore why a reverence for natural beauty can be an important motivating factor in what we deem important—and as a result, how we choose to act. Learn more>>
The Gift of Chaos: Join Highlander for a 3-part donor education series and deepen your skills and storytelling for peer-2-peer fundraising. Topics include cultural organizing, solidarity economics, and social media. (Online – Mar 9, Mar 16, Mar 23) Learn more>>