Editor's Note From Rivera Sun
Like many of you, the invasion of Ukraine by Russia is on my mind. I've been getting a lot of requests for "nonviolent strategies" that could be (or are being) used in Ukraine. I'm keeping my eyes and ears open, but I think a key struggle to lift up at this moment is the Russian antiwar movement. 1800+ Russian protesters have been arrested amidst thousands-strong antiwar demonstrations. Wherever you are in the world, stand in solidarity with them and call for peace, diplomacy, a ceasefire, and negotiations.
As for nonviolent resistance to occupation and invasion, George Lakey offered this article with historic struggles that you might find useful. I also urge you to look up case studies in the Global Nonviolent Action Database (Norway, Denmark against the Nazis; Latvia, Lithuania, Estonia's independence campaigns against the Soviets; and Ukraine's own history of nonviolent campaigns.) This article by Maciej Bartowski was written in Dec 2021, but is still relevant to ideas on how Ukranians have and can resist with nonviolent action. I also recommend that you take this opportunity to read about civilian based defense here and find Gene Sharp's book here.
The key reason I'm sharing these is to remind us all that nonviolent struggle has been used powerfully to resist invasions and occupations. It shows that there are other options. If you're new to this idea, take this opportunity to learn about these campaigns. It's heady and exciting stuff, but please remember that it can very obnoxious to have someone (especially US citizens) preachily telling Ukrainians how they should be defending themselves and their families right now. Rather than assuming we have the answers for everyone else, I recommend applying what you're learning to your own situation. Think about what you and your community and nation can do to make sure your nation stays committed to non-military solutions and peace.
Beyond Ukraine, there are dozens of other noteworthy struggles happening this week. They are impressively intersectional, meaning that the campaigns address many entwined issues. In Brooklyn, NY, community activists are trying to halt a pipeline that is a classic example of environmental racism – it was literally re-routed to avoid white neighborhoods and go through communities of color. Meanwhile, in Oakland, CA, port workers are resisting school closures and gentrification that threaten the mostly Black neighborhoods. In Atlanta, GA, the Cop City resistance is bringing together forest defenders, anti-militarism and anti-militarized police activists, and racial justice organizers to stop the construction of a massive cop training academy.
Be sure to read the whole round-up to catch more great stories. Haitian workers won a 54% increase in the minimum wage. Workers strikes are rising in Vietnam. Australian nurses and midwives marched for better conditions in hospitals. Take a few minutes to learn about these stories – in a world wracked with war and violence, they remind us that another approach is happening, right here and right now.
In solidarity,
Rivera Sun
Photo Credit: People attend an anti-war protest in St. Petersburg on February 24, 2022.
We do a lot on a shoestring budget. Thanks for keeping us going.
Donate here>>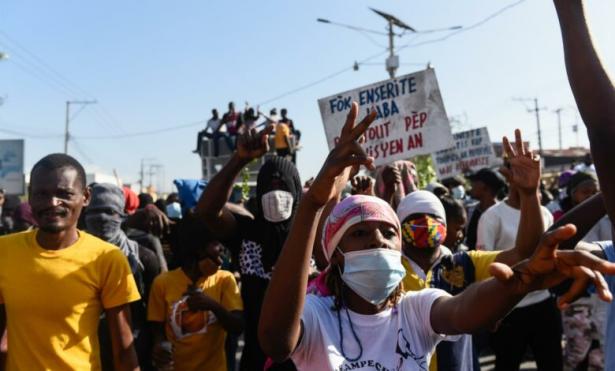 Haiti Hikes Minimum Wage by Up to 54% Following Worker Protests: Workers over the years have complained that pay is too low to cover basic goods, which are often more expensive than in other countries due to weak infrastructure and gang violence. Read more>>
2,700 Artists in New York State Will Benefit from New $125M Guaranteed Income Program: A new program spearheaded by the Andrew W. Mellon Foundation will provide guaranteed income and jobs for up to 2,700 artists living throughout New York State. The $125 million initiative, Creatives Rebuild New York (CRNY), will issue monthly, no-strings-attached payments to up to 2,400 artists with financial need over the next three years. Read more>>
Iceland To Hang Up Her Harpoons For Good, Issuing No More Whaling Permits: Whales off the coast of Iceland will be left alone by the end of next year after the nation's Fisheries Minister announced a cancelation of all new permits for commercial whaling. Read more>>
The U.S. National Women's Soccer Team Wins $24 million In Equal Pay Settlement: The U.S. Women's National Soccer team has reached a proposed settlement in its class action equal pay lawsuit against the U.S. Soccer Federation. Read more>>
Federal Court Rejects Massive Montana Coal Mine Expansion: Citing the impacts of coal mining to clean water and water supplies in the Yellowstone River, a federal judge late last week preliminarily ruled the Trump administration illegally approved an expansion of the Rosebud strip mine in southeast Montana. Read more>>
Over 660 Places on Federal Lands to Be Renamed: The Department of the Interior is seeking public comment on proposed name changes for the more than 660 geographic places on federal lands that use a Native American slur, the Department announced on Tuesday. Read more>>
Colombia Decriminalizes Abortion In First 24 Weeks: Colombia's constitutional court has decriminalized abortions within the first 24 weeks of pregnancy. Under the new rules, no one will be prosecuted for having an abortion within that time frame. The ruling was welcomed by pro-choice groups, who called it "a historic achievement". Read more>>
Nurses and Midwives Strike Outside New South Wales Parliament: The New South Wales Nurses and Midwives Association (NSWNMA) took strike action. More than 5000 nurses and midwives from across the Sydney basin marched to NSW Parliament to hear speakers recount their stressful work days and the unsustainability of the public system even before the pandemic hit and made things worse. Rallies were organized in many regional centers across NSW. Read more>>
Over 100 Starbucks Locations Have Filed for Unionization: On Monday, Starbucks Workers United announced that they had officially surpassed 100 locations filing for union representation, marking a milestone despite the company stepping up its union-busting efforts. Read more>>
Veteran Hershey's Workers Lead Union Drive to Benefit New Hires: Longtime workers at a Hershey's plant in Stuart's Draft, Virginia are leading a union drive to ensure newer employees are afforded the same benefits and working conditions they had before the candy company changed its policies in recent years—resulting in what one worker compared to prison-like conditions with little time off for many workers. Read more>>
Oakland Port Workers Union Fights School Closures & Gentrification: ILWU Local 10 is the only predominantly African American longshore union on the entire West Coast. Local 10 has a history of social justice, activism, and solidarity with the oppressed and the working class, at home and abroad. They're currently resisting development plans and school closures. Read more>>
Behind The Strikes In Central Vietnam: Workers disagree with the wage payment format and salary raises, which is the main reason for the strikes and labor conflicts. Some strikes also stem from the management's inappropriate attitude toward workers, rigid regulations, poor quality of meals, and others. Read more>>
The Fight For $20 And a Union – Another California Minimum Wage Earthquake? California is the epicenter for a nationwide grassroots movement to raise the wage floor for American workers. On January 1st, the state set $15 an hour as the floor for large employers and $14 an hour for small ones (rising to $15 for all in 2023). Meanwhile, thirty-nine California cities and counties have established higher rates, with Emeryville the highest at $17.13 an hour and most well above $15. Read more>>
Whistleblower Reveals That "Bank of Spies" Credit Suisse Catered to Global Intelligence Figures: During the War on Terror, international strategy relied on intelligence officials from regimes accused of corruption and torture. Several of these spies and their families held large sums at Credit Suisse. Read more>>
Inside the Campaign to Abolish the Subminimum Wage in 25 States by 2026: On Valentine's Day, 2022, One Fair Wage – a national coalition organized around the movement to increase wages for service workers – announced it is embarking on a major campaign to remove the subminimum tipped wage in 25 states by 2026. "This is the only future for the service sector and the economy overall: wages must go up or there will be no future." Read more>>
Fighting The Wealth Vortex: An Iowa entrepreneur determined to help narrow the wealth gap sets off to open the first Black-owned bank in more than 20 years. No part of that is easy. ReShonda Young strode into a church too big for its congregation, in a still-segregated city where economic barriers often strangle Black ambition, on a mission to tackle a tenacious consequence of American discrimination. Article and podcast. Read more>>
Inside Forest Defenders' Blockade of Atlanta's "Cop City" Training Compound: Activists are digging in for the long haul, building barricades and communal living spaces throughout the forest to monitor construction activity and assist tree-sitters. Read more>>
European Citizens Initiative Tries To Stop Trade With Illegal Settlements: More than 100 civil society organizations launch a drive for 1 million European citizens' signatures to stop European trade with illegal settlements in occupied territories in Palestine. Read more>>
Baltimore Sun Publicly Acknowledges Its Racist Past: The Baltimore Sun, which serves a predominately Black audience, recently drew public attention to its past history of racism. Lifting the paywall that usually requires readers to subscribe to read online articles, the Baltimore Sun editorial board released a lengthy apology in article form last week to call out its own legacy rooted in its founder, Arunah S. Abell. Read more>>
Ahmaud Arbery's Murderers Convicted of Hate Crimes: A jury found the three white men who killed Ahmaud Arbery guilty on all counts in the federal hate crimes trial. The jury foreperson — one of the three Black jurors — was emotional during the court's reading the verdict and while the jury was being polled, wiping away tears. Read more>>
Brooklyn Residents Protest Pipeline that Passes White Neighborhoods But Beelines through Black Ones: Brooklyn residents and activists organized, demonstrated and filed a complaint to the Environmental Protection Agency accusing NY's pipeline project of violating their civil rights. Read more>>
Insulate Britain Calls For End To Oil As Storm Franklin Batters Britain: The campaign group responded "#StormFranklin #InsulateBritain #JustStopOil #JUSTDOIT" to an Express.co.uk report on Monday about a stretch of the M1 remaining closed due to flooding. Storm Franklin has sparked evacuations in parts of the UK and caused widespread rush-hour travel disruption with train operators warning customers not to travel. Read more>>
A Struggle To Halt Logging In Northern California Reignites: Native American tribes and allies are kicking off a series of demonstrations along the Mendocino Coast to protest the redwoods' destruction from state-sponsored logging and research. Read more>>
Green Girls City Parks Program Takes On Climate Change: Green Girls is a 20-year-long afterschool and summer program that supports middle-school girls in New York City with STEM learning (science, technology, engineering, and mathematics) through outdoor adventures in parks and along waterways. More recently the program turned its focus to the climate crisis, amending its curriculum to teach girls about climate change, provide space to process the emotional toll, and offer avenues to engage in environmental advocacy. Read more>>
How This Shinnecock Nation Preschool Is Creating a More Diverse Energy Future: Once an inaccessible commodity, rapidly declining costs have made solar energy available to a wider set of communities. On Long Island, NY, one solar project on tribal lands could serve as a model helping other groups diversify their energy future. Read more>>
Climate Activists Block Access To 3 German Airports: Climate activists on Wednesday blocked roads leading to Germany's three biggest airports, gluing themselves to the ground before police arrived. Read more>>
In Photos, Protesters Around The World Rally In Support of Ukraine: Shortly after news broke of the Russian attack against Ukraine, demonstrators gathered outside Russian Embassies and other landmark spots in many parts of the world. People waved yellow-blue Ukrainian flags and chanted pro-Ukraine slogans at the rallies on Thursday. Many of the demonstrators, including Ukrainian expats, held up banners saying "Ukraine will resist" and "Say No to Putin". Read more>>
Europe Pleads Peace; Russian Protesters Arrested: Demonstrators in Moscow are dragged away by police after showing solidarity with protests across the world. Russian officers detained over 700 people during anti war protests in 40 cities across the country. Read more>>
Young Women's Peace Activism in Cameroon: Armed conflict emerged in Cameroon, a country in Central Africa that includes both Anglophone and Francophone regions, in 2016, after teachers and lawyers held a non-violent strike to protest the imposition of French in the two English-speaking regions. Caryn Dasah, a nonviolent organizer and peace activist, offers powerful arguments for grassroots participation: lasting solutions, she reminds us, will only come when women and girls directly affected by the armed conflict are part of the decision-making about how to resolve the crisis. Read more>>
Private Military and Security Companies Undermine Peacebuilding Efforts: The presence of private military and security companies promotes militarization in humanitarian spaces and undermines non-militarized approaches to security. A new study shows the intricacies of this problem. Read more>>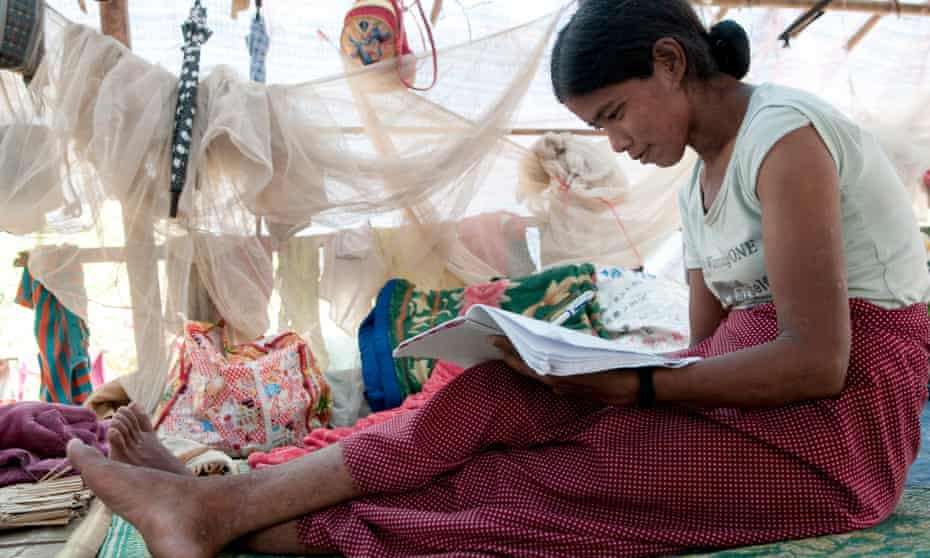 'Is The World Listening?' Poets Challenge Myanmar's Military: Rohingya refugees in Bangladesh and beyond are using poetry to come to terms with atrocities – and as a form of resistance. Read more>>
Artists Unite Against Nuclear Annihilation: Artists of all varieties—songwriters and singers, poets, novelists, short story writers, mural painters, performance artists, cartoonists—have long played roles in either promoting or resisting wars. Today, we desperately need artists to work together with progressive activists and commit to ending existential threats such as climate chaos, racism, and the thousands of nuclear weapons scattered around the globe. Read more>>
International HipHop Artists Help Afghan Musicians: With breakdancers, artists and parkourists facing a bleak future under the Taliban, a global network stepped in to help, drawing on the activist spirit of rap culture. Read more>>
Land-Based Healing in Lebanon: In 2020, the Tariq El Nahl herbal collective was formed to respond to the pain of the explosion in Beirut with collective healing. Learn more about how the herbal collective is using land-based practices – including herbal medicine toolkits and native botanical gardens – to reclaim ancestral knowledge and create spaces for healing. Read more>>
Brownsville Cops Arrest Activist For Anti-SpaceX Graffiti: After she spray painted a little anti-SpaceX graffiti, cops showed up in force to apprehend her. Then the mayor posted about it on social media. Read more>>
6 Common Signs Of Union Busting: No matter how popular the public perception of unions might be, winning union recognition remains an uphill battle. Employers determined to prevent their workers from successfully unionizing typically rely on a series of anti-union tactics often referred to as "union busting." Read more>>
Democracy Rising – A Series of Articles On Deliberative Democracy: Learn more about deliberative democracy: what it is, why it's powerful, why the time is right for it, how it works, and how to get it going in your community. These two posts discuss the critical role of facilitation in ensuring successful deliberative processes and events. Read more>>
How To Dumpster Dive, Eat Free & Fight Waste: Dumpster diving is an easy way to do your grocery shopping while reducing waste. Find out how to get started with this helpful guide and check out our free e-book, Beyond Waste: Community Solutions to Managing Our Resources. Read more>>
Emergency Workplace Organizing Committee Is Helping Workers During COVID: You're a grocery worker. Another COVID surge is ramping up. Hundreds of rotating customers rush in every hour without masks, and you have no plexiglass or basic protections. What do you do? That's where the Emergency Workplace Organizing Committee (EWOC) comes in. Read more>>
Understanding King's 6 Principles Of Nonviolence: By emphasizing virtues such as understanding, love, peace, and learning, King laid out an inspiring vision for sustained collective action as the moral and necessary path toward achieving justice. Read more>>
Peace In Ukraine! Many peace groups are asking you to continue to call for peace, standing in solidarity with thousands of Russian citizens risking arrest to decry the war. Here are some ways to send direct support to Ukrainians (list from Revolutionary Love). And antiwar groups are organizing for an International Week of Actions Against War With Russia planned for March 1-7. Learn more>>
From Art To Action: Join Chris Jordan, photographic artist and filmmaker, and Jenny Price, writer and artist, for our online event: From Art to Action: Finding Beauty and Protecting What You Love. We'll explore why a reverence for natural beauty can be an important motivating factor in what we deem important—and as a result, how we choose to act. Learn more>>
The Gift of Chaos: Join Highlander for a 3-part donor education series and deepen your skills and storytelling for peer-2-peer fundraising. Topics include cultural organizing, solidarity economics, and social media. (Online – Mar 9, Mar 16, Mar 23) Learn more>>
The Science of Nonviolence Online Course: Over six weeks, we'll weave together Gandhi's autobiography with scientific research and methodologies that bring nonviolence to light. This course is part of our 2022-2023 Certificate Track. Learn more>>
Special Free Screening of the Third Harmony: This film is about finding hope and strength in our human capacity for nonviolence. It can be used for class and group discussion or watch it to redirect any fear, anger, or powerlessness you may be feeling into determined action for nonviolent change. Learn more>>
World BEYOND War's 2nd Annual Virtual Film Festival! This year's festival explores the intersection of militarism & water, survival & resistance, in the lead-up to World Water Day on March 22. Learn more>>
War Abolition 101: How We Create a Peaceful World: How can we become more effective advocates and activists for ending particular wars, ending all wars, pursuing disarmament, and creating systems that maintain peace? These questions and more will be explored in this seminar. Learn more>>
Nonviolence News goes out to thousands of people each week.
Thank you for helping us keep doing it.
Donate here>>