Editor's Note From Rivera Sun
There's a lot to lift up in 2021's racial justice gains. More than 20 cities adopted some kind of #DefundPolice policy following the George Floyd Protests in 2020. These shifts included removing cops from public schools, replacing school officers with unarmed peacekeepers from the community, redirecting city funds to mental health responders, putting social workers in subway stations, and more.
In addition, Juneteenth became a national holiday in the United States and reparations are gaining some traction. And, although this special report is titled "80 racial justice gains" based on the number of stories I'm sharing, there are actually even more gains bundled into them – like the 160 Confederate monuments and statues that have been removed since the 2020 George Floyd Protests.
Putting together this special report, I noticed an under-acknowledged trend: #LandBack is happening. At least 41,000 acres have shifted back into tribal control. Across the United States, the Nez Perce, Colville Tribes, Wiyot, Penobscot, Passamaquoddy, Mohicans, Mashpee Wampanoag, Leech Lake Ojibwe, Lower Sioux, Cherokee – as well as tribes in Alaska, Hawai'i, and Montana – all gained land back. Tracking these achievements helps us see that a powerful movement is underway … and it's gaining ground, literally.
We're also seeing the return and repatriation of sacred objects and art from museums that largely stole these items during colonization waves. Thanks to some bold actions by Nigerian activists, German museums are returning stolen art. Dutch museums are also giving back items taken during colonialism. A number of campaigns have succeeded in getting derogatory names and mascots dropped from state parks, mountains, and sports teams.
Here are a few other highlights: a Maori lawmaker overturned New Zealand parliament's dress code by refusing to conform to the "colonial noose" of wearing ties. A statue of an Indigenous woman will replace Columbus in Mexico City. First Nation drummers in Canada saved a suicidal man's life with prayer and music. New Mexico's path to legalize marijuana included expunging the records of 10% of the state's population – a move that dismantles the racist impacts of the drug war.
Where people organize, they're winning changes. It's heartening and helps us continue the struggle for racial justice.
In solidarity,
Rivera Sun
Photo Credit: Black Lives Matter protesters in Austin, TX, after the murder of George Floyd.
THANK YOU! I am so grateful for everyone who donated after reading our last special report.
Your contributions keep these stories coming. Donate here>>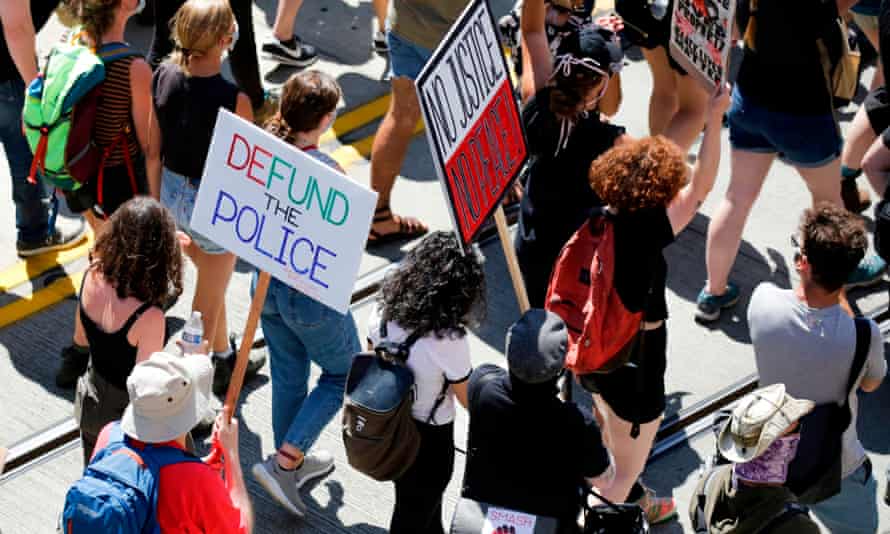 20 Major US Cities Defunded Police: 'We're transferring money to the community'. More than 20 major cities have reduced police budgets in some form, and activists are fighting to ensure that is only the start. Read more>>
NYC Gets Rid of School Cops: New York will reassign 5,000 school police officers. School safety officers will be transferred out of the police department into the Department of Education. Their job descriptions will be shifted, and they will be trained in conflict mediation and restorative justice practices. Read more>>
Chicago Wins Increased Community Control of Police: Chicago's City Council approved a community oversight system this week giving representatives chosen by the community a solid measure of control over Chicago police following years of protests and mobilizations over law enforcement misconduct. The 36-13 vote capped more than two years of struggle by a broad coalition of groups including unions, community organizations, civil rights groups and others. The demonstrations and actions demanding community control of the police, although having gone on for years, increased after the police murder of George Floyd in Minneapolis and the continuation of fatal police shootings by Chicago cops. Read more>>
Nonviolent Security And Cop-Free Schools Are Not A Utopian Dream: Emerge and Twin Cities Nonviolent show us how to use nonviolent security to create safer, more hospitable schools. Replacing cops, young peacekeepers use unarmed peacekeeping skills at a Minneapolis, MN, school. Read more>>
Peace Teams Replace Minneapolis Police At Somali Independence Day Celebration. Police almost always have a presence at a large Minneapolis street festival. This time, organizers came up with their own plan, and turned to the nonprofit Nonviolent Peaceforce to provide unarmed protective accompaniment and de-escalation services. It worked out fine. Read more>>
Black Cop Who Intervened In Brutality Will Receive Backwages & Pension: Cariol Horne intervened in her fellow officer's chokehold. She was fired. Years later, the city banned chokeholds. Finally, she also won a lawsuit for backwages and pension. Read more>>
Mutual Aid — Not Police — Helped New Yorkers in the Wake of Hurricane Ida: Throughout the Bronx, Brooklyn and Queens, community organizers immediately took to the streets to provide care and mutual aid. Read more>
Campaigns To Defund Police Have Seen Major Wins – And They're Not Stopping: "During last year's uprisings against the ongoing anti-Black violence of police, "defund the police" emerged as the demand and rallying cry. Today, as we mark one year since George Floyd was murdered in the Cup Foods parking lot in Minneapolis by police, abolitionist organizers are still issuing that call, waging fights to defund police and invest in their communities — and experimenting with more holistic ways to keep communities safe." Read more>>
Cities Drop Most Charges Against BLM Protesters as Cops Fail to Provide Evidence: Over 90 percent of charges in cities analyzed have been dropped, suggesting police used arrests to suppress protests. Read more>>
With 12 New Laws, Washington State Joins Movement To Overhaul Policing: Calling it a "moral mandate," Washington Gov. Jay Inslee, a Democrat, signed a dozen bills into law on Tuesday that backers hope will improve policing in the state, reduce the use of deadly force and ensure that when deadly encounters do occur, the investigations are thorough and independent. "These bills are all going to work in coordination with one another to create a system of accountability and integrity stronger than anywhere else in the nation," Inslee said in remarks before he signed the bills. Read more>>
Four Minneapolis Cops Charged With Federal Civil Rights Crimes in George Floyd Case: A federal grand jury indicted Derek Chauvin, Tou Thao, Thomas Lane, and J. Alexander Kueng of willfully depriving the unarmed Black man of his constitutional rights. Read more>>
New York City Council Approves Series of Police Reforms, Including Ending Qualified Immunity for the NYPD: The New York City Council passed five bills and three resolutions all aimed at police reform. The most notable includes ending qualified immunity for New York police officers. Read more>>
Denver's #DefundPolice Is Working: A program that replaced cops in responding to mental health calls is showing signs of success. Here's what they did and how it's working. Read more>>
Two Officers Fired Over Breonna Taylor Murder: The Louisville Metro Police Department has formally fired two of the officers involved in the March police raid that killed emergency medical worker Breonna Taylor. Read more>>
BART To Hire Social Workers To Replace Police & Security In Dealing With Social Problems: Bay Area Rapid Transit (BART) plans to use nearly $2 million budgeted to fill six vacant police officer positions to hire social work-trained civilians to respond to homelessness, mental illness and drug addiction that plague the train system. The plan adds a supervisor and 20 social care professionals to the response team for the transit system. Read more>>
Austin Leads the Way in Cutting Police Funding and Using the Money for Housing: The county's District Attorney is also rolling out bail reform and diversion policies. These policy changes point the way forward for a nation struggling to overhaul policing, social supports, and the justice system. Read more>>
After 21 Years Of Protest, Elder Activist Gets Confederate Monument Removed: Willie Hudspeth was protesting before many of the BLM activists were born. Hudspeth – a retired middle school teacher, Vietnam veteran, and leader of the local NAACP – was already 54 years-old when he started his protests against a local Texas confederate monument; by the time he watched it come down, he was 75. Read more>>
160 Confederate Symbols Removed From Public Spaces In 2020, New Count Shows: Southern Poverty Law Center released the latest figures from a project that tracks how many Confederate or slave-owner monuments have been removed from public spaces. Read more>>
Museum to Melt Down Lee Statue That Inspired "Unite the Right" Violence in 2017: A statue of Confederate General Robert E. Lee in Charlottesville, Virginia, will be melted down and turned into a public art exhibit by Swords Into Ploughsahres, four years after white supremacists stormed the city in a rally that resulted in the killing of Heather Heyer, an anti-racist counterprotestor. Read more>>
Charlottesville Rally Organizers Found Liable By Jury: A jury on Tuesday found the organizers of the deadly 2017 "Unite the Right" rally in Charlottesville, Va., to be liable for violence, awarding $25 millions of dollars in damages. Read more>> 
Memorial To John Lewis Will Replace Confederate Statue In DeKalb County, Georgia: Lewis represented the district for decades. Now, a statue at the courthouse will honor him instead of a Confederate monument. Read more>>
City of London Removes Statue Linked to Slave Trade: The City of London on Thursday approved the removal from its ceremonial Guildhall home of statues of two figures that symbolize the financial sector's historic role in slavery. The decision was prompted by the toppling of a statue in Bristol during the summer's Black Lives Matter protests. Read more>>
City of Little Rock Unveils Harriet Tubman Sculpture: Mayor Frank Scott opened the ceremony with detailing the importance of this commemoration taking place during this month. "On this day, the twenty-fourth day of February, we all know we are in Black History Month. We all know that Black history is American history. One of the iconic, critical, everlasting figures in Black history, American history, is the woman by the name of Harriet Tubman," said Scott. Read more>>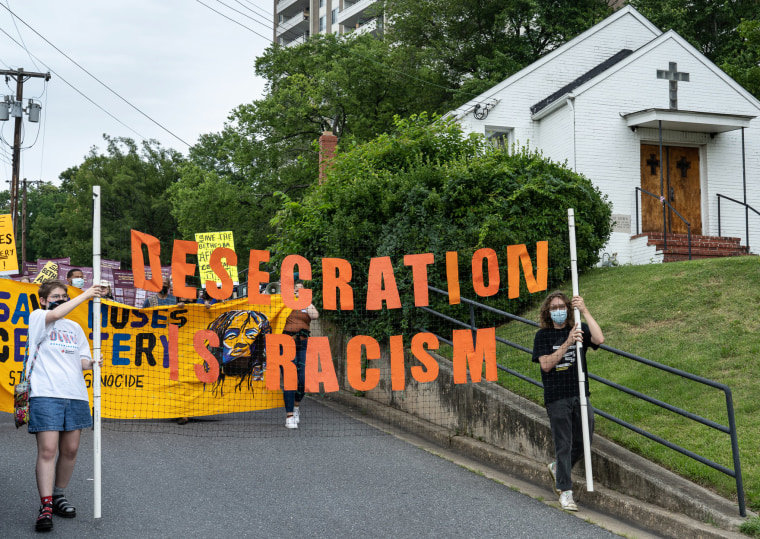 Bethesda Community Protects Historic Black Cemetery From Development: A community coalition has provided "overwhelming evidence" that a portion of a suburban Washington apartment complex was used as a burial ground for freed Black slaves and their descendants and "many bodies likely still remain on the property," a Maryland judge ruled Monday in a case by the group to thwart the sale of the property. Read more>>
Detroit Voters Approve Launch Of Reparations Commission: Detroit voters favored launching a reparations commission, and also approved a proposal to decriminalize psychedelic plants passed by a wide margin. It was spearheaded by Mary Sheffield after talks with activists who pushed for the measure amid nationwide calls to compensate descendants of slaves. Read more>>
Inside The Winning Fight For Reparations in Athens, Georgia: The city seized property and land held by Black families and relocated them. Nearly six decades later, the county began its first attempt to offer redress. Read more>>
Black Family To Regain Ownership Of $75 Million Manhattan Beach Property: In the 1920s, two Black entrepreneurs owned what is now known as Manhattan Beach in Los Angeles. Unfortunately, institutional racism and harassment from the Ku Klux Klan forced them off their property. Shortly thereafter, the county took ownership over the valuable real estate. Now, the original owners are closing in on a deal to regain control over the property. While touted as reparations, a descendant said "This is not reparations what we're getting here," he added. "This is restitution for a criminal act." Read more>>
Federal Judge Approves $626 Million Flint, Michigan Water Settlement: A federal judge on Wednesday approved a settlement worth $626 million for victims of the lead water crisis in Flint, Michigan, in a case brought by tens of thousands of residents affected by the contaminated water.  Read more>>
Black Lives Matter Birmingham Gets Regions Bank To Ditch Private Prison Project: Last summer, racial justice activists got a statement of support from Regions Bank. When they found out the bank was backing a new prison project, they demanded that the bank honor its commitment and ditch the project. They succeeded in getting the bank to pull funding out of CoreCivic private prisons. Read more>> 
Juneteenth Becomes US Federal Holiday: The day commemorating the end of slavery has been officially recognized after 150+ years of being commemorated in African-American communities. It marks the day (two years after the Emancipation Proclamation was issued) that news of emancipation reached Galveston, TX, freeing enslaved African-Americans in the last rebel state. Read more>>
Tokyo 2020 U-turn Allows Olympics' Social Media Teams To Show Photos Of Athletes Taking A Knee: A crude attempt at censorship by the Olympic Committee was overturned. The committee had banned their social media teams from posting any photos of Olympic athletes engaged in a Take A Knee protest for racial justice. The ban was echoed through the media networks, including major newsjournals, and resulted in censorship of Take A Knee protests by athletic teams from Sweden, USA, and New Zealand on opening day. Pushback and outcry reversed the decision. Read more>>
'New Era for Marijuana Justice': New York Legalization Bill Signed Into Law: One advocate said the law is "rooted in racial and economic justice, in an effort to repair harms while also setting a new standard for anti-racist, class-conscious, and gender-expansive policymaking. Read more>>
American Rescue Plan & Black Farmers: Today, one year into the COVID-19 pandemic, a landmark $1.9 trillion relief package was signed into law that will provide desperately-needed relief for millions of working-class people — including direct payments, expanded unemployment benefits, significant child tax credits, and more. The relief package also includes $5 billion in debt relief for Black farmers and other farmers of color, in what is being called "the most significant piece of legislation with respect to the arc of Black land ownership in this country." Read more>>
Stanford Students Finally Win an African American Studies Department: "This was not a gain that was granted, it was a gain that was demanded." Read more>>
How A Black And Latinx Coalition Turned Utilities Back On In LaGrange: A coalition of Black- and immigrant-led organizations, individuals, legal support, and media coverage ended a bevy of policies that kept utilities out of reach for families. Read more>>
Students Halt "You Matter" Campaign, Opposing Cooption of Black Lives Matter Slogan: A campaign aimed at mental health was protested by students for diminishing the impact of Black racial justice efforts. It was dropped by the school district. Read more>>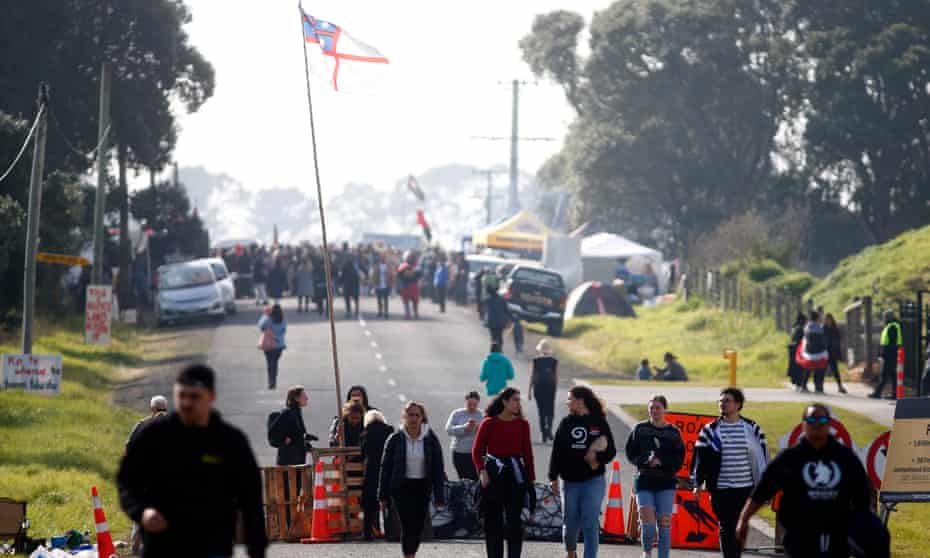 An Unstoppable Movement – How New Zealand's Māori Are Reclaiming Land With Occupations: An estimated 8.3m hectares (20.5m acres) of land in the North Island – nearly 73% of the landmass – as well as almost the entire South Island were taken from Māori through confiscation and inequitable purchases between 1840 and 1939. But occupations – though participants call themselves protectors rather than protesters or occupiers – similar to that in Ihumātao have increasingly cropped up across New Zealand. And they're literally gaining ground. Read more>>
Australian Land Owner Returns Land to Traditional Owners: About 30 people attended a hand-back ceremony recently where Aunty Zarna officially signed the property (30 acres) over to the Nukunu Wapma Thura (NWT) Aboriginal Corporation. As a result, Ms Carter has been welcomed into the Nukunu nation's family and was called Aunty by the elders. Read more>>
#LandBack – Rancher Returns 10,000 Acres of Land To Colville Tribes: Ernie Figlenski returned his 9,243-acre ranch to the Colville Tribes, via the Seattle-based Conservation Northwest, so long as the tribes agreed to a set of ownership stipulations (known as covenants) aimed at conserving the biodiversity of that land. Read more>>
Humboldt County Is Showing How To Give Land Back: Humboldt County's Community Land Trust returns land to the Wiyot people's control. Here's what we can learn from that example. Read more>>
US Returns More Than 18k Acres of Land to Native American Tribes: The U.S. Department of Interior announced Wednesday the restoration of more than 18,800 acres of land, known as the National Bison Range, so it can be returned to Indigenous tribes in Montana. This has been long-promised by the DOI. Earlier in June, the Interior also initiated a land transfer returning Hawaiian lands to the native Hawaiian Community, with the express purpose of using the land for housing for people of Native Hawaiian descent. The Interior is also engaged in the process of restoring land to Alaskan Natives who served in the Vietnam War. Read more>>
Black Hills Land Back Defenders Win Reprieve After Arrests: The charges against the Indigenous Land Defenders arrested on July 3 in the Black Hills will be dropped. This announcement comes after months of political pressure from grassroots groups, including petitions, social media campaigns, and local and national media coverage of the cases. Read more>>
100 Years After Forced Removal, Nez Perce Tribe Celebrate Reclaiming Part Of Their Land: More than 150 Nez Perce (Niimiipuu) people returned and blessed part of their homeland, a hundred years after the U.S Army drove them from the Wallowa Valley in eastern Oregon. For years, the tribe has worked to keep a connection to the ancestral land they were driven from. Now, they've successfully reclaimed part of that land. Read more>>
Burt's Bees Founders Return 735 Acres To Penobscot Nation: The land lies between two parcels already under stewardship of the Penobscot Nation, to the west of the Pleasant River and north of Brownville, and creates a contiguous block of 5,000 acres held by the tribe. The area includes a river ecosystem that is a critical habitat for Atlantic salmon. Read more>>
Passamaquoddy Tribe Regains Pine Island: The island (located in what some call the State of Maine) was stolen 150 years ago through treaty violations. The tribe, with the help of conservation groups, has now reacquired it. Read more>>
Mohicans Reclaim Key Part Of Ancestral Lands: The Stockbridge-Munsee Community Band of the Mohican Indians has regained ownership of a culturally significant 156 acres along the Hudson River that was deeded to a Dutch colonist 386 years ago. The Mohicans had been relocated to Wisconsin by settlers. As part of the announcement of the land's return, the Mohicans and Open Space Institute issued a story map entitled "The Long Journey Home: The Return of New York's Papscanee Island to the Stockbridge-Munsee Community." Read more>>
Indigenous Food Sovereignty Movements Are Taking Back Ancestral Land: From fishing rights off Nova Scotia, to grazing in Oklahoma and salmon habitats on the Klamath River, tribal groups are reclaiming their land and foodways. Read more>>
Feds Drop Legal Battle Against Mashpee Lands: Last fall, Indigenous organizers re-occupied stolen Mashpee Lands as the federal government under Trump tried to seize the land and deny the tribe's existence. Just recently, the Mashpee Wampanoag Tribe scored a legal victory as the Department of Interior withdrew the lawsuit. Read more>>
Leech Lake Ojibwe Win Return of 11,760 Acres Of Homelands: Nearly 12,000 acres taken from the Leech Lake Band of Ojibwe in the 1940s and 1950s will be returned. Legislation that called for the Chippewa National Forest to transfer 11,760 acres to the Interior Department to be held in trust for the northern Minnesota tribe is now law. Read more>>
After Generations, Lower Sioux Community Gets #LandBack: The Lower Sioux Community is celebrating the return of ancestral land with great historical significance. It's the site where the Dakota War of 1862 started after the United States did not honor the Mendota Treaty. Now, the Minnesota Historical Society has returned the land. Read more>>
Presbyterians Return Land To Oklahoma Cherokee Nation: The recent land transaction involves an historic, 86-acre parcel – the first mission to the Cherokee people west of the Mississippi River – that is now being returned to Cherokee Nation, plus the purchase of 120 acres the mission added on over the years. Read more>>
German Museum Repatriates Lakota Chief's Shirt: With German institutions placing a renewed emphasis on the repatriation of various objects in their holdings, the Weltkulturen Museum in Frankfurt said this week that it had given the leather shirt of Chief Daniel Hollow Horn Bear (Mato He Oklogeca), of the Teton Lakota, to his great-grandson Chief Duane Hollow Horn Bear. In a press release, the museum cited "moral and ethical reasons" for the return. Read more>> 
Harvard To Return Standing Bear's Tomahawk: A tomahawk once owned by Chief Standing Bear, a pioneering Native civil rights leader, is returning to his Nebraska tribe after decades in a museum at Harvard. The university's Peabody Museum of Archaeology & Ethnology says it's been working with citizens of the Ponca Tribe in Nebraska and Oklahoma to repatriate the artifact. Read more>>
Sealaska Heritage Settles Ravenstail Coat Case With Neiman Marcus, Other Defendants: A settlement has been reached around a notorious theft of an Indigenous design by fashion giant Neiman Marcus. The settlement reflects changing power dynamics around respecting Indigenous rights and will follow Tinglit law and practices. Read more>>
Tulalip Flag Soars At Every Campus In Marysville School District: For the first time ever, the red, white and black colors of the Tulalip flag are soaring over every Marysville School District campus. Tulalip's iconic orca was raised up at each elementary, middle school, high school, and even District headquarters during the week of November 17th. Read more>>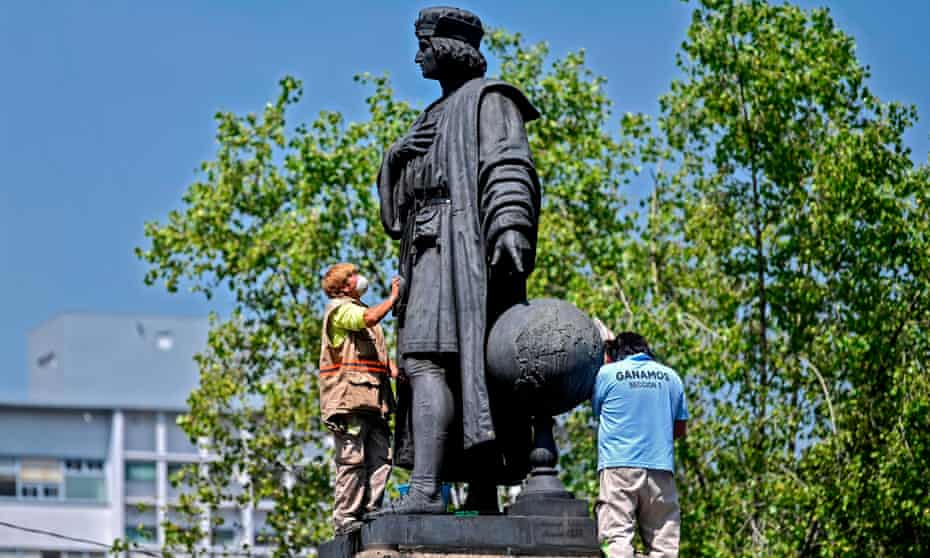 In Mexico City, A Statue of Indigenous Woman Will Replace Columbus: The move is a part to 'decolonize' Mexico city's most prominent boulevard, the Reforma Avenue. The Columbus statue was removed last year as the result of civil action. Read more>>      
Maine's Last Holdout On Derogatory Native Terms Changes Name: The last prominent place in Maine featuring a derogatory reference to Native Americans is in store for a name change. A group of investors working to buy a Greenville ski area called Big Squaw Mountain Resort has vowed to rename the ski area when the sale becomes final. The name is a racist, misogynist reference to Indigenous women. Read more>>
New Nevada Law Bans Racial Mascots In Schools: Nevada Gov. Steve Sisolak signed legislation removing racially discriminatory identifiers or language from schools. Additionally, counties can no longer sound "sundown sirens," which once signified it was time for certain people to leave town. The law will require schools to change any name, logo, mascot, song or identifier that is "racially discriminatory" or "associated with the Confederate States of America or a federally recognized Indian tribe." Read more>>
Cleveland Major League Baseball Team Renamed the "Guardians": The fight to have the "Indians" name dropped by the team began more than 50 years ago by the Cleveland American Indian Movement (AIM) in response to the wishes of the local Native community, elders and leaders in the Nations. Finally, Cleveland's baseball team has shifted its name to the Guardians. Read more>>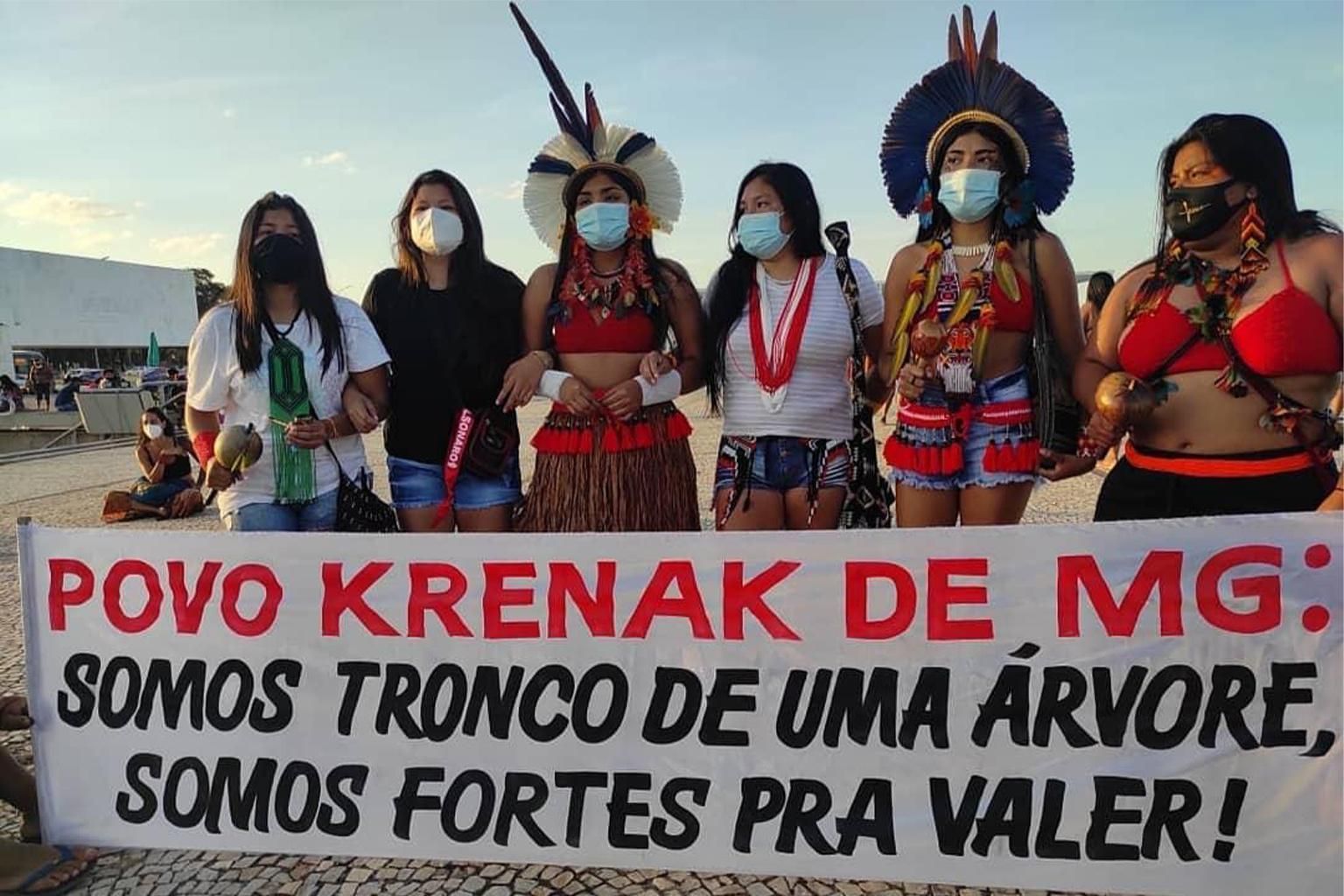 50 Years Later, Finally Justice for Brazil's Indigenous Krenak People: Half a century after Indigenous elder Jacó Krenak and dozens of fellow natives were bound and forcibly taken to concentration camps run by Brazil's military dictatorship, a federal court has ordered the government to apologize and deliver reparations to the Krenak people. Read more>>
First Nations In Ontario Could Receive Billions In Back-Rent After Court Ruling: A treaty reimburses Indigenous communities for wealth extracted from their lands but payment has remained at C$4 a year since 1874. Canada could face compensation payments to Indigenous communities worth billions, after a court found it had willfully deprived First Nations of the immense wealth extracted from their lands. Read more>>
Yurok People See Victory In Decades-Long Effort To Revive Language: The Yurok People are celebrating the renaming of California state park to Sue-meg. The move comes nearly a century after the Yurok language was nearly destroyed. The name restoration is the first in a statewide effort to address discriminatory names, it is also the product of decades of arduous work by Yurok Tribe members in reclaiming and rejuvenating their language – a tongue brought to the edge of destruction by genocide and forced boarding schools. Read more>>
Under Pressure, South Dakota Governor Delays New Curriculum That Erases Native History: Facing bipartisan pressure and calls for her resignation by the South Dakota Education Equity Coalition, South Dakota Gov. Kristi Noem told the state Department of Education to postpone controversial changes to its social studies standards for up to one year to allow for more public input. Tribes from across South Dakota voiced their ire last month after officials from Noem's South Dakota Department of Education scrubbed more than a dozen Indigenous-centered learning objectives from the department's new social studies standards before releasing the document to the public. Read more>>
Hawaiian Elders Arrested During Telescope Protests Found Not Guilty: Four Native Hawaiians arrested in 2019 while protesting against construction of a giant telescope on Hawaii's highest peak were found not guilty of obstructing the mountain's access road. Those who oppose the $1.4-billion project say it will desecrate land on Mauna Kea held sacred to Native Hawaiians. Hundreds of protesters gathered at the base of the mountain in July 2019 to block construction of the telescope. Read more>>
Canada To Implement Historic Fisheries Agreement With First Nations: Years of negotiation to develop a collaborative fisheries governance model between Canada and eight First Nations along the West Coast came to fruition this week. The first of its kind in B.C., the agreement between Canada and First Nations on the north and central coast and Haida Gwaii — whose territories make up 40 per cent of the province's coastal waters — provides the nations an enhanced role in fisheries governance in their regions. Read more>>
First Nation Drummers Save Man's Life: A Saskatchewan drumming group helped save a man's life Saturday evening. The sound of their music kept a man from jumping off a bridge, eventually convincing him to step back from the edge. Read more>>
Native Tribes Win Cancellation Of Columbus Ship Replica At Maine Bicentennial Celebration: Protesting colonization, Wabanaki organizers and allies forced Maine cities to cancel the presence of a replica of Christopher Columbus' ship that was scheduled to appear at several bicentennial celebrations. Columbus had nothing to do with Maine state history. Read more>>
After Blockading A Logging Operation, First Nation Members Create Healing & Language Center: After halting a destructive use of a sacred area, Sherry Moon launched Nawalakw as an alternative enterprise. This language revitalization and healing centre in Hada (Bond Sound) will support and employ the Indigenous community of Kwakwa̱ka̱'wakw and be funded by an adjoining wellness eco-tourism lodge that operates in the summer months. Read more>>
Maori Lawmaker's Civil Disobedience Changes Dress Code: In New Zealand, a Maori lawmaker was thrown out of the building for refusing to wear a necktie. He called it a "colonial noose". His refusal to obey an unjust law resulted in the law being overturned.  Read more>>
Benin Bronzes: Germany To Return Looted Artifacts To Nigeria: British troops looted thousands of artworks known as the Benin Bronzes from the Kingdom of Benin, in present-day Nigeria, in 1897. Campaigns to gain their return from European museums have taken bold direct action, including literally taking the pieces and also putting up "wanted" posters for the artifacts. An effort in Germany has achieved the return of several pieces at an art museum that were stolen through colonization. Read more>>
The Dutch Government Promises to Return Stolen Colonial-Era Objects: The government has agreed to adopt recommendations issued by the country's top museum experts and return stolen colonial-era items back to their countries of origin. Read more>>
Victories For Palestine Were Won On US Campuses In 2020: Despite the challenges of online/remote learning, campus activism has not stopped. Many student chapters have passed significant resolutions around some major issues, from censorship, to the International Holocaust Remembrance Association (IHRA) definition of antisemitism, to divestment and, most recently, the training of campus police by the Israeli military. Read more>>
Nike To End Sales In Israeli Shops: Israel has been dealt a hammer blow by sports clothing manufacturer Nike. The mega-brand has announced that it will end the sale of its products in stores within the occupation state in a move welcomed by social media users as another victory for the international Boycott Divestment and Sanctions (BDS) campaign. Read more>>
Ben & Jerry's Boycott Was A BDS Breakthrough For Palestinian Rights: Ben & Jerry's boycott "may be our most important BDS win to date," says Sandra Tamari, executive director of the U.S.-based Palestinian advocacy organization Adalah Justice Project. "The over-the-top response by Israeli leaders to the company's announcement, including threats to compel U.S. states to apply unconstitutional state laws limiting boycotts against Israel, shows that immaterial victories such as these can make a vast empire tremble, and that is the power of organizing." Read more>>
San Jose Apologizes For It Role In Burning Chinatown & Passing Anti-Chinese Laws: There was a 'tremendous feeling of justice' as San Jose apologized for its discrimination, including in the burning of "Chinatown". The arson fire that destroyed the neighborhood was just one of a shocking list of wrongs for which the city of San Jose formally apologized, marking the first time in about 130 years the city has documented its historical role in passing anti-Chinese policies. Read more>>
San Francisco Renames 40 Schools: The San Francisco Board of Education has decided to kick some presidents' names off of public school buildings in the city, in an apparent bid to challenge racism and oppression. The school board recently approved a resolution to rename 44 of the 125 schools in its district because their names honor people with ties to slavery, racism, genocide and other kinds of oppression. Read more>>
New Mexico Passes Marijuana Legalization — Including Racial Justice Provisions: The legislation includes automatic expungement for those with past cannabis arrests or convictions. This affects 150,000 New Mexicans, 10% of the population. Read more>>
Feeling heartened? Keep the stories coming by donating today.
Thank you. Donate here>>