Editor's Note From Rivera Sun
The student climate strike movement, Fridays For The Future, is back with 1,400 rallies in 80 countries. Over a million people participated, with close to 800,000 protesters in Berlin, alone. Other campaigns also mobilized this week, including direct actions to halt the Mountain Valley Pipeline and Line 3 Pipeline. A bit of good news happened, too: the PennEast Pipeline was cancelled after years of citizen-led opposition.
Meanwhile, a new climate justice campaign is taking the United Kingdom by storm. #InsulateBritain is shutting down roads and doing direct action to get the government to insulate all social housing by 2025, and all private housing by 2030. And, they're not the only ones shutting down traffic – India's farmers are back in action, blockading the main roads to thwart the continued injustices of the new agricultural laws. Forest defenders in Humboldt County, California, are blocking logging roads to halt the logging of old-growth redwoods. Immigration activists blocked the Golden Gate Bridge with a multi-vehicle shut-down demanding massive reform of the immigration system.
Canada marked its first National Day of Truth and Reconciliation aimed at addressing the pain of stolen Indigenous children forced to attend residential schools. With the uncovering of mass graves at Kamloops and other residential schools, thousands of people gathered locally to march, mourn, hold ceremonies, and follow First Nation leadership in acknowledging the injustice. Settler-colonialism is an on-going process, however. On the same day, First Nation land defenders were met with excessive use of force by the police at the Wet'suwet'en blockade of the Trans Mountain Pipeline, which the hereditary chiefs have not granted permission to be built on unceded territory.
Taking the "street heat" to the powerholders' doorstep, an activist flotilla protested at the yacht Sen. Manchin lives on in DC. Meanwhile, in California, farmworkers seeking voting rights marched along a route highlighting the luxuries of Governor Newsom from an expensive restaurant he went to in violation of pandemic lockdowns to his boutique winery.
There's a number of hopeful surges of resistance this week: Berlin voted to take back 240,000 apartments from corporate landlords. In Liverpool, 3,000 people marched against a weapons fair. An entire high school sports team walked out on a game when a teammate was faced with racist discrimination. And, as people across the United States took action for affordable health care, a group that abolishes medical debt announced that they have cancelled $5 billion for people in the last ten years. People are standing up for the rights, helping one another, and drawing a (nonviolent) line in the sand to stop the abuses of people and planet. It's heartening.
In solidarity,
Rivera Sun
Photo Credit: Student climate strike in Berlin with Swedish activist Greta Thunberg.
We keep these heartening stories coming, thanks to donors like you.
Support us today>>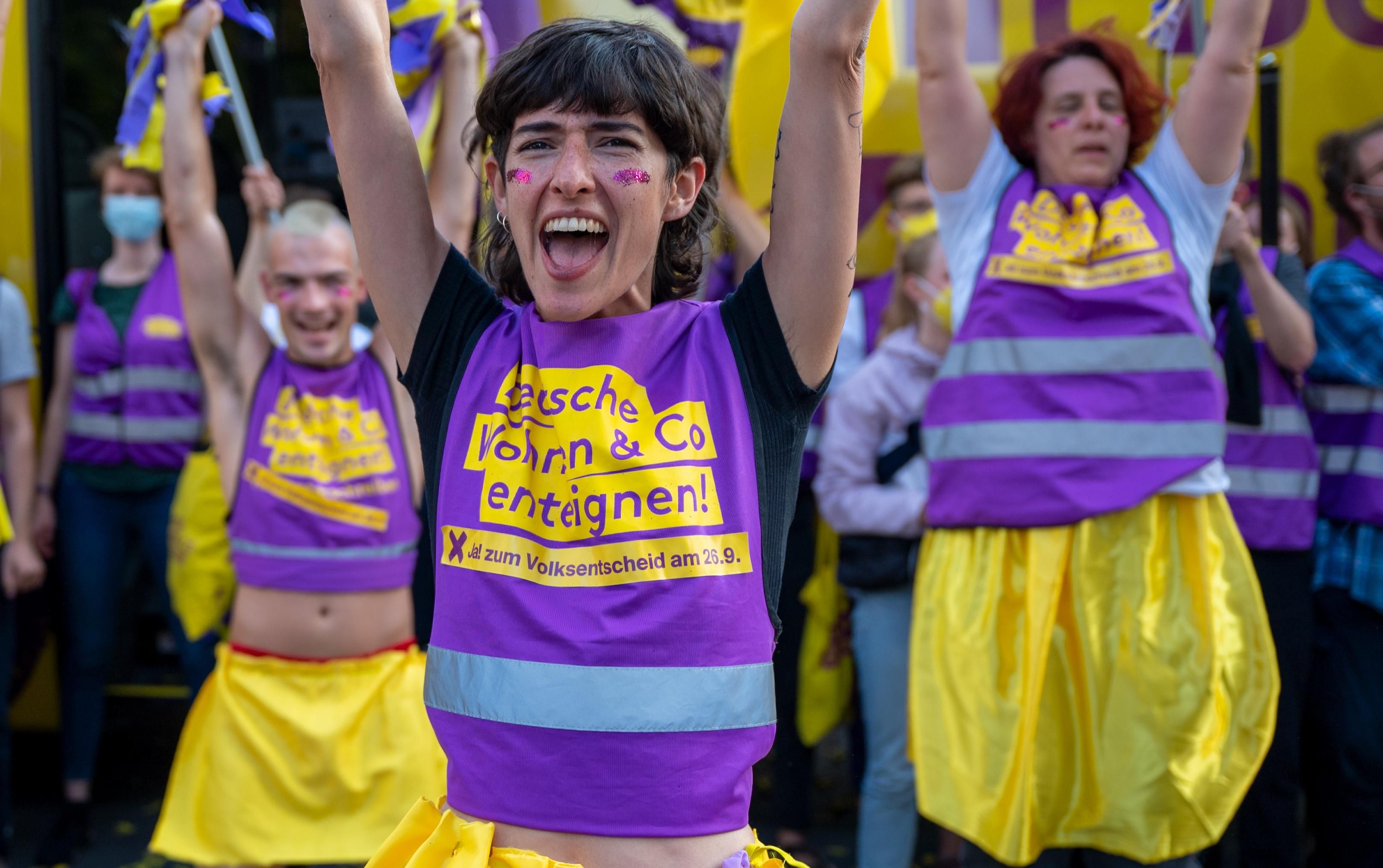 Berlin Votes to Expropriate 240K Apartments From Corporate Landlords: Housing justice advocates are celebrating after residents in Berlin, Germany—fed up with skyrocketing rents driven in part by speculative investments in real estate markets—voted on Sunday to socialize roughly 240,000 homes by expropriating apartments controlled by the city's biggest corporate landlords and transferring them to public ownership. Read more>>
'Momentous Win': Years of Local Opposition Defeats PennEast Pipeline: Opponents in Pennsylvania and New Jersey cheer "cancellation of this unneeded, dangerous fracked gas pipeline." Read more>>
RIP Medical Debt Forgives $5 Billion In Debt: National nonprofit RIP Medical Debt, with the support of data and insights from longtime partner TransUnion Healthcare, reached a new milestone, helping to relieve more than $5 billion in medical debt for patients experiencing financial hardship. RIP Medical Debt has a highly leveraged debt abolishment model that combines the generosity of donors with debt industry expertise to produce a high volume of debt relief return, mitigating significant financial and mental distress for nearly 3 million people to date. Read more>>
Student Pressure Gets University of Minnesota To Phase Out $1.75 Billion of Fossil Fuel Investments: The University of Minnesota plans to withdraw all of its investments in fossil fuel-related companies over the next five to seven years amid pressure from students who want the school to do more to fight climate change. Read more>>
Los Angeles County Returns Beach Property Stolen From Black Family: In a significant move toward justice, Gov. Gavin Newsom signed a bill into law Thursday that will give Los Angeles County the authority to return property once owned by a Black family to their descendants. While touted as reparations, a descendant said "This is not reparations what we're getting here," he added. "This is restitution for a criminal act." Read more>>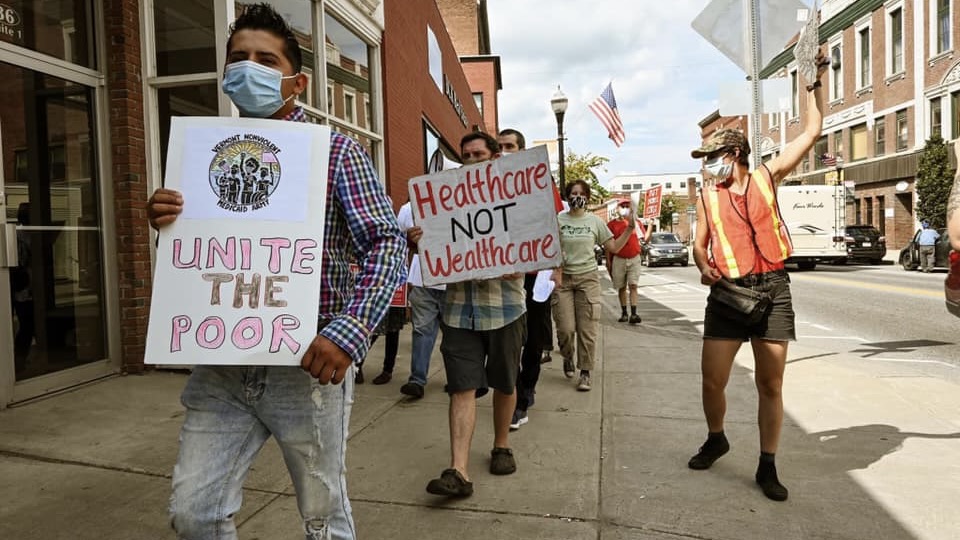 Movements In The US Call To Expand Healthcare Access: Organizations across the United States organized protests, cultural activities, community kitchens, teach-ins, and other actions about the issue of healthcare access in the US from September 13-20 as part of the Nonviolent Medicaid Army Week of Action. Read more>>
Bronx Group Campaigns To Get City To Turn Vacant Lot Into Community Land Trust: Last week, community members in the Bronx held a day of action to demand the city turn a vacant lot into a community land trust, instead of selling it off to private developers. Read more>>
India Farmer Protests Shut Down Main Roads As 'National Strike' Called: Thousands of Indian farmers blocked traffic on major roads and railway lines in the national capital Delhi on Monday as they marked one year since the passage of the federal government's contentious agricultural laws. The farmers called for a nationwide strike to renew their protests against the "black laws" that they believe will bring an end to their livelihood, demonstrations that first began 10 months ago. The government says the changes will benefit farmers, but unions fear they could take away the protections provided by state-run markets. Read more>>
#DeleteInstacart Campaign Launches: Shoppers call upon every customer to delete the Instacart app immediately as a show of support for shoppers' ongoing efforts to end Instacart's long-standing practice of gig worker exploitation.They are asking customers to delete the app today — because they say there is only one thing Instacart and its executives and investors care about: money. Read more>>
Gig Workers Around the World Organize: While the nature of platform work means that workforces are atomized and divided — and platform companies have often refused to recognize workers' groups and unions — the common experience of precarious and often dangerous work has helped to create a genuine, global movement that is taking the fight to the tech companies. Read more>>
Rally To Save the US Post Office: The USPS is being sabotaged by two Trump appointees who are still undermining its efficacy in their long-term quest to privatize the post office. Read more>>
Protest at Joe Manchin's Yacht Demands End to His Obstruction of Reconciliation Bill: A recent survey showed 80 percent of West Virginians polled believe Manchin should support the reconciliation bill. Read more>>
El Milagro Tortilla Workers Walk Out to Demand Fair Wages Amid Staff Shortage: The company has lost staff due to their poor treatment of workers and mishandling of the pandemic, organizers say. Read more>>
Farm Workers March For Voting Rights Targets Newsom's Luxury Lifestyle: Farm workers are marching more than five miles on Saturday from the French Laundry restaurant in Yountville to Governor Gavin Newsom's PlumpJack Winery in Napa. Governor Newsom vetoed UFW-sponsored AB 616, a bill that would make it easier for farm workers to vote in union elections by mail or from their homes, building off of the ways the state of California has made it easier for Californians to vote in elections like last week's recall election. Read more>>
Animal Rights Activists Reveal Cruelty At Chicken Farm: New footage from Foster Farms, California's largest poultry producer, shows the company continuing to engage in similar behavior that activists allege amounts to cruel treatment of live chickens. It was released by an anonymous member of animal rights group Direct Action Everywhere, or DxE. Read more>>
Global Youth Climate Strike Floods The Streets To #UprootTheSystem: After a lengthy pause for most in-person protests amid the COVID-19 pandemic, the Fridays for Future movement is back on the streets, sprouting roots around the world with a reported 1,400 rallies in 80 countries. Cities in the U.S., Germany, the UK, Italy, India, Japan, Africa, Pakistan, New Zealand, and the Philippines participated on Friday, among others. Read more>>
#InsulateBritain" Climate Protesters Defy Court Orders And Block Highway: Insulate Britain campaigners, an environmental group calling on the UK government to implement a better national home insulation program, blocked on Monday the M25 highway encircling London for the sixth time, despite a court order warning them of jail terms if they carried on disrupting traffic on UK's busiest road. Read more>>
Forest Defenders Blockade Logging Roads In Mattole Headwaters: Twenty forest defenders barricaded logging roads in the headwaters of the upper North Fork Mattole River in anticipation of Humboldt Redwood Company (HRC) logging operations. "Road building on steep, unstable slopes and logging of old-growth forest is unacceptable," said a local resident participating in the blockade. Read more>>
Protecting Pando The Trembling Giant: The world's largest organism isn't the blue whale, it's a mycelium named Pando, which is the size of a forest. Unfortunately, Pando is shrinking. And a group has risen up to find out why and help protect the giant. Read more>>
The Youth Climate Movement Is Going After The Banks: "The youth climate movement is saying that we've had enough. We're not going to let the banks bring down the entire planet too. On October 29, young people are occupying and shutting down banks across the globe to demand an end to fossil fuel financing and the beginning of a Fossil-Free Future, and we need you to join us." Read more>>
A Burgeoning Legal Movement Says Rivers, Forests and Wildlife Have Standing, Too: Climate change and environmental destruction have inspired court cases around the country—and the globe—aimed at protecting the natural world. Read more>>
Unions And Climate Activists Find Common Cause In Opposing Airport Expansions: Many climate activists argue that because "green" airplane technologies are uncertain, we should start reducing flights as soon as possible. And some early indications — such as an ongoing union-led fight against an airport expansion in Los Angeles — suggests that the climate movement's most powerful ally against rampant growth in air travel may be labor. Read more>>
Mountain Valley Pipeline Protesters Lock Down, Block Construction: Two Mountain Valley Pipeline protesters locked themselves to construction equipment at a construction site in Lindside, WV. A rally of nearly a dozen supporters gathered nearby. Banners at the site read, "PIPELINES STINK," "SOLIDARITY WITH STOP LINE 3," and "AIN'T SCARED." Read more>>
Over 50 Line 3 Pipeline Protesters Arrested By Governor's Residence: Over 50 water protectors protesting Line 3 were arrested, some violently, outside the Minnesota Governor's Residence in St. Paul on Saturday, August 28, 2021. Those arrested were among hundreds who marched from the Capitol to Governor Walz' mansion attempting to speak to him about their opposition to the Line 3 pipeline construction in northern Minnesota that's nearing completion. Read more>>
Canada Marks First National Day Of Truth And Reconciliation For Indigenous Survivors of Residential Schools: Canada observed its inaugural National Day for Truth and Reconciliation commemorating the long history of abuses perpetrated against its First Nations people, specifically at the government-run residential schools that operated from the 19th century until as recently as the 1990s. Read more>>
Willamette Tribe Reclaims Ancestral Land: After a private blessing and a prayer, the Confederated Tribes of Grand Ronde invited gathered media to watch as an excavator tore into a wall of the old, abandoned paper mill that the tribe says has stood on its ancestral grounds for too long. Read more>>
Minneapolis Marches For Boarding School Victims & Survivors: Hundreds of people marched in solidarity as part of the boarding school survivor and victim memorial event in Minneapolis. Crowds marched through Southside neighborhoods to raise awareness of the legacy of boarding schools that is still felt in the American Indian community today. Read more>>
Entire Team Walks Out After Bus Driver Refuses To Let Sports Player Board With Mexican Flag: A bus driver refused to let an Illinois high school soccer player board because he was carrying a Mexican flag. So, his teammates all got off the bus and missed their game. Read more>>
Gidimt'en Checkpoint Activists Arrested On National Day of Truth And Reconciliation: As Wet'suwet'en members of Cas Yikh and their supporters maintain control of a Coastal GasLink drill site that threatens their unceded territories, the RCMP has utilized excessive use of force and torturous pain compliance for an hour on a land defender. This happened as the "National Day of Truth and Reconciliation" took place across Canada yesterday, putting on full display the ongoing colonialism that Indigenous peoples are facing. Read more>>
Protesters Block Golden Gate Bridge Demanding Immigration Reform: 'This injustice must stop.' Protesters in dozens of vehicles blocked traffic on San Francisco's Golden Gate Bridge early Thursday to demand Senate Democrats "take immediate action to protect all immigrant families," according to a statement from organizers. Read more>>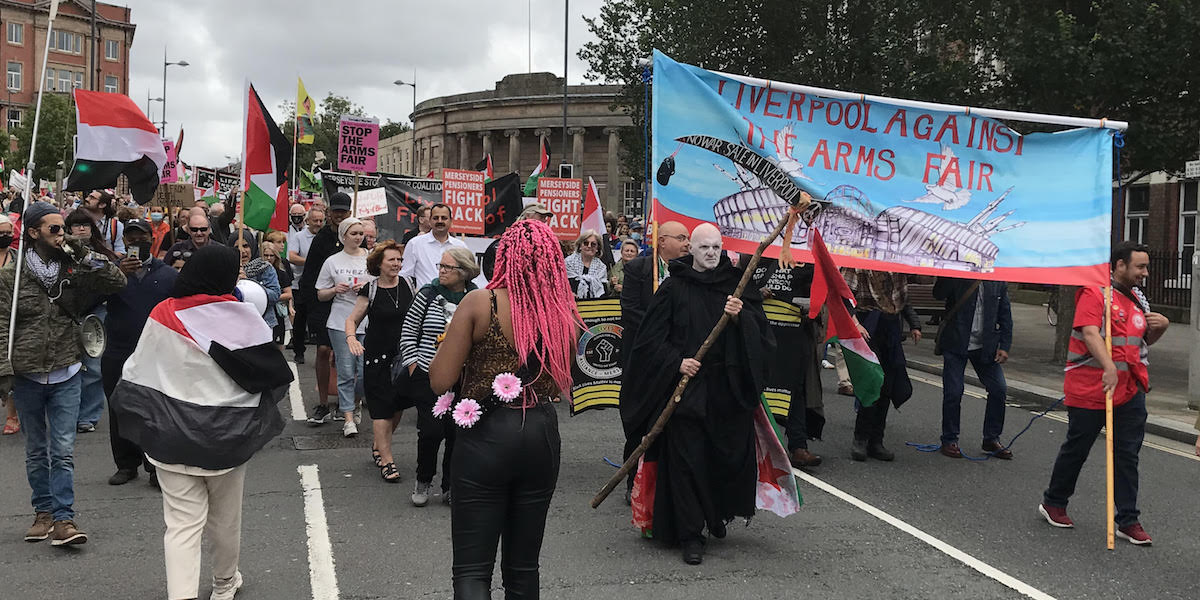 Liverpool Mobilizes Against The Europe Arms Fair: A national protest against an upcoming arms fair took place in Liverpool on 11 September with over 3,000 people in attendance. Read more>>
Support for The Nuclear Ban Treaty Is Rising. Nuclear Nations Are on the Defensive: The nine nuclear-dependent nations and their supporters face a future in which they will be increasingly isolated. Read more>>
Kamloops-Born Artist Paints 215 Portraits To Commemorate Findings At Residential School: Thompson Rivers University held an event ahead of the National Day for Truth and Reconciliation. Hundreds of students and staff attended the event outside on the Campus Commons, which featured drumming and singing of some local Secwepemc songs. Kamloops-born artist Johnny Bandura painted 215 portraits – matching the number of possible gravesites announced by Tk'emlups te Secwepemc back in May – all of which he had on display on the steps of the Campus Activity Centre. Read more>>
Canadian Artist Halted Pipeline By Copyrighting Land Art: Canadian artist Peter von Tiesenhausen has managed to keep pipeline developers off his land for 17 years through a combination of art and legal acrobatics. In 1996, Peter claimed legal copyright over his land as a work of art, forcing pipeline developers to do expensive rerouting around it. To meet with him, he charges land developers $500 an hour. Read more>>
Artist Sculpts Scrap Metal Portraits Of Society's Forgotten: Each piece features subjects who are often forgotten or marginalized by society, much like the scrap metal pieces that comprise the image. Read more>>
The Black Radical Women Who Use Art As Revolution: "We Wanted a Revolution," which is on view through Sept. 17, focuses on the second wave of feminism, highlighting more than 40 black women who were at the forefront of aesthetics, creativity, politics and representation. Read more>>
8 Art Installations and Exhibits Drawing Attention to Climate Change: From parks, to interactive experiences, to underwater landscapes, these displays have a unique capacity to communicate the severity of climate change and our current environmental crisis to onlookers. Read more>>
"PRECARITY": A Short Film On Women Working In the Pandemic: The Covid-19 pandemic and ensuing economic crisis has had a disproportionate impact on women, particularly women of color. This film documents the impact. Watch here>>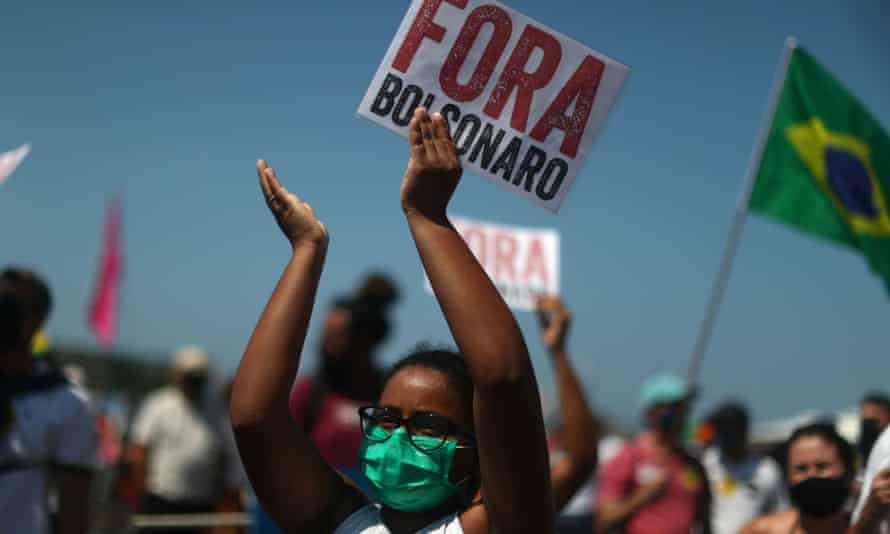 Brazilian Protesters Draw Upon Past Resistance To Dictatorship: Preparing for a massive struggle against Bolsonaro, the protesters are learning from and drawing upon the 1984 resistance to the military dictatorship. Read more>>
Rent Control Is Winning Because It Works: After decades on the defensive, the pro-rent control tenant movement is scoring significant wins despite having to battle constant misinformation from landlords. Washington, Oregon, and California have each expanded rent control measures in recent years; tenant organizations in Minnesota and Illinois are running impressive campaigns for rent control. In 2019, New York expanded its rent control system for the first time in decades and closed major landlord-friendly loopholes that were causing the system to disappear by attrition. Read more>>
Toward More Sustainable Movements – Building Relationships between Social Work and Civil Resistance: Social work experience and perspectives are a valuable resource to support communities engaged in civil resistance. But, the only healthy point of entry for a relationship between civil resistance and social work communities is through solidarity. Read more>>
Join the Stop the Money Pipeline Team: Just three weeks ago, Stop the Money Pipeline launched our Take Action Team. Since then, the team has made nearly 300 calls to Wall Street CEOs, demanding that they stop funding fossil fuels. Now, we want even more people to join the team so we can increase our impact. Can you sign up here to join our Stop the Money Pipeline Take Action Team? Learn more>>
Solidarity with Haitian Asylum Seekers: The violent treatment of Haitians at the US-Mexico border is part of a long history of anti-Black immigration policy and US imperialism in Haiti. Support on-the-ground aid in Texas and join the growing call to action to end the war on Black immigrants. Support mutual aid and speak out>>
Hot D.A.M! The SMA Freedom and Survival School: "Join the Southern Movement Assembly and community members from the region in a 6-month series of focused discussions on Decolonization, Abolition, and Mutual Aid. Together we will study the systems we want to dismantle, assess the root causes of our past and present conditions, develop shared visions, and analyze the possibilities for liberated communities." (September-April – Online | Registration Open) Learn more>>
Bridging Divides – What Can Ahimsa Offer? Can ahimsa serve as a guiding principle for bridging the divides, for promoting inclusion and strengthen the foundation of our multi-cultural and multi-racial society? Can it bring a sense of unity into our classrooms, communities, and workplaces? Learn more>>
Donors like you keep us going. Here's where to pitch in today>>