Editor's Note From Rivera Sun
Well, here's one I've never heard before: A tree in Brazil has requested asylum at the Norwegian embassy. Threatened by the destruction of the rainforest, it – like many other species – is endangered. The Indigenous activists who brought the tree to the embassy say it needs protection. Indeed, the entire planet needs protection from human-wrought destruction.
In Nonviolence News this week, you'll also hear how New York City has reassigned 5,000 cops from policing schools to helping students resolve conflicts with mediation and restorative justice. While some of us may be wondering how the heck NYC had five thousand police officers in schools in the first place, this move is being applauded by many for de-escalating the rising issue of over-policing of Black and Brown youth.
In Thailand, taxis are being idled as pandemic lockdowns plummet ridership. To protest the lack of income, the drivers have "gone green" and planted gardens on the roofs of the pink taxis. In Afghanistan, women are protesting the Taliban's restrictive clothing mandate by posting photos of traditional Afghan dress on social media. In India, autoworkers (pictured) are demonstrating against the closure of the factory. New Zealand banned Australia's nuclear submarines from entering its waters. Striking Nabisco workers won some of their demands. And the kids are back in the streets, with hundreds of thousands demonstrating for immediate climate action.
This is also the Campaign Nonviolence Action Week, Sept 18-26th, with 4,391+ actions and events happening to build a culture of peace and active nonviolence. We've been doing daily virtual teach-ins on social media, sharing stories, correcting misperceptions about nonviolence, showing how it works, and offering some inspiration along the way. Check out our recordings below.
In solidarity,
Rivera Sun
PS Special thanks to our recent donors! It's heartening to see readers pitching in to keep this unique project going. The best way to end violence is to give people viable alternatives. By sharing Nonviolence News stories, we give people better ideas for how to make change.
Photo Credit: Indian autoworkers protest plant closure.
Hundreds of Viewers Watch the Nonviolence News Virtual Teach-ins
It's the Campaign Nonviolence Action Week, Sept 18-26th. Every day this week, we've been holding virtual teach-ins on Nonviolence News, disrupting social media with creative, effective, and uplifting stories of a nonviolence in action. As with everything we do, these teach-ins are designed to popularize nonviolence, inspire people to use it, and see the power and inventiveness of nonviolence in action, everywhere. Watch one of our recent posts here>>
You Can Have Your Oreo's Now. Nabisco Strike Ends as Union Members Approve New Contract. A strike that started last month in Portland, Oregon and spread to other Nabisco bakeries and distribution centers across the United States ended Saturday after unionized workers voted "overwhelmingly" in favor of a new collective bargaining agreement. Read more>>
NYC Gets Rid of School Cops: New York will reassign 5,000 school police officers. School safety officers will be transferred out of the police department into the Department of Education. Their job descriptions will be shifted, and they will be trained in conflict mediation and restorative justice practices. Read more>>
Trans Mountain Pipeline Loses Another Insurer – #16: The world's biggest publicly-traded provider of property and casualty insurance, Chubb, has become the 16th insurer to declare that it won't back the controversial Trans Mountain pipeline, a coalition of climate and Indigenous campaigners announced yesterday. Read more>>
Mutual Aid — Not Police — Helped New Yorkers in the Wake of Hurricane Ida: Throughout the Bronx, Brooklyn and Queens, community organizers immediately took to the streets to provide care and mutual aid. Read more>>
Whistleblower Against Money Laundering Won Reforms, But Remains Imprisoned: The global investigation on how trillions in dirty money flows through major banks has been widely credited for key anti-money laundering reforms currently being implemented in the U.S. But, as reforms sparked by FinCEN Files roll out a year on, the key whistle-blower source is behind bars. "I'm absolutely proud of what I did," she said. Read more>>
China Pledges Not To Build New Coal Plants Abroad: Chinese leader Xi Jinping said on Tuesday that China would not build new coal-fired power projects abroad, using his address at the United Nations General Assembly to add to pledges to deal with climate change. Xi provided no details, but depending on how the policy is implemented, the move could significantly limit the financing of coal plants in the developing world. Read more>>
Under Pressure, South Dakota Governor Delays New Curriculum That Erases Native History: Facing bipartisan pressure and calls for her resignation by the South Dakota Education Equity Coalition, South Dakota Gov. Kristi Noem told the state Department of Education to postpone controversial changes to its social studies standards for up to one year to allow for more public input. Tribes from across South Dakota voiced their ire last month after officials from Noem's South Dakota Department of Education scrubbed more than a dozen Indigenous-centered learning objectives from the department's new social studies standards before releasing the document to the public. Read more>>
New Zealand Bans Australia's Nuclear Submarines: The New Zealand Government's announced continuation of its anti-nuclear policy, which will ban any future Australian nuclear submarines from entering New Zealand waters or ports, has been welcomed by long term peace activists, the International Affairs and Disarmament Committee of the Aotearoa /New Zealand Peace Foundation. New Zealand's world-leading Nuclear Free legislation was hard fought for by Peace Squadron sailors confronting nuclear warships, grass roots activists and the David Lange government. Read more>>
A Canadian Amazon Warehouse Could Soon Be the First to Unionize in North America: Workers at the relatively new facility in Nisku, Alberta, which employs between 600 to 800 Amazon "associates," have described rampant favoritism and discrimination against marginalized workers of color and immigrants. Read more>>
Hundreds of Ford India Workers Protest Plant Closure: Hundreds of workers at a Ford Motor Co (F.N) factory in India's western Gujarat state protested outside the automaker's plant on Tuesday, demanding that the factory's closure plan be scrapped or workers be provided other jobs. Read more>>
4,391+ Actions For Campaign Nonviolence: From Sept 18-26, tens of thousands of people are taking action for a culture of peace and active nonviolence, free from war, poverty, racism, and environmental destruction. During Campaign Nonviolence Action Week, more than 4,391 actions and events will take place across the country and around the world. It is the largest, broadest Action Week since its inception in 2014. There will be marches, rallies, vigils, protests, demonstrations, prayer services, walks for peace, webinars, public talks, and more. Read more>>
Tens of Thousands March In El Salvador: Salvadorans marched through the streets of the capital by the thousands on Wednesday, in the largest anti-government protest since Nayib Bukele took office. On the Bicentennial of Central America's independence from Spain, social movements and organizations from across the political spectrum protested in rejection of Bukele's authoritarianism, militarization, political persecution, the removal of judges, pacts with gangs, and the Bitcoin law, amid mounting discontent. Read more>>
300 Namibians Protested Germany's Genocide Reparations Deal: In 1908, Germany conducted a genocide of Herero and Nama tribes in Namibia. As the current parliament voted on accepting a billion-dollar reparations payment from Germany, members of the two groups protested their exclusion from the process and argued that the amount was too low. Read more>>
Colombian President Duque is Rejected At The Madrid Book Fair: During the last few days, hundreds of citizens have held rallies in Madrid to denounce the violation of human rights and other crimes committed by the Duque administration. On Thursday, about 30 bookstores rejected the presence of President Ivan Duque at the Madrid book fair, where the far-right politician was expected to take part. Read more>>
Disney Land Workers Sue Company Over Poverty Wages: Amid reports of homelessness and food insecurity, 25,000 employees sue Disneyland for better pay. The 25,000 cast members, as Disneyland calls its employees, who are participating in the class action lawsuit against Disneyland allege the company is legally obligated to pay a living wage. 11% of Disneyland employees reported experiencing homelessness in the previous two years, 68% were food insecure and 73% said they do not earn enough for basic living expenses. Read more>>
"Change That Is Long Overdue" – Why the Stage Craft Union (IATSE) May Strike: Workers in the 150,000-member Hollywood crafts union are frustrated with low pay and marathon workdays that are no longer viewed as a "badge of honor," while asking for stricter penalties for missed meal breaks and greater compensation for streaming projects. Read more>>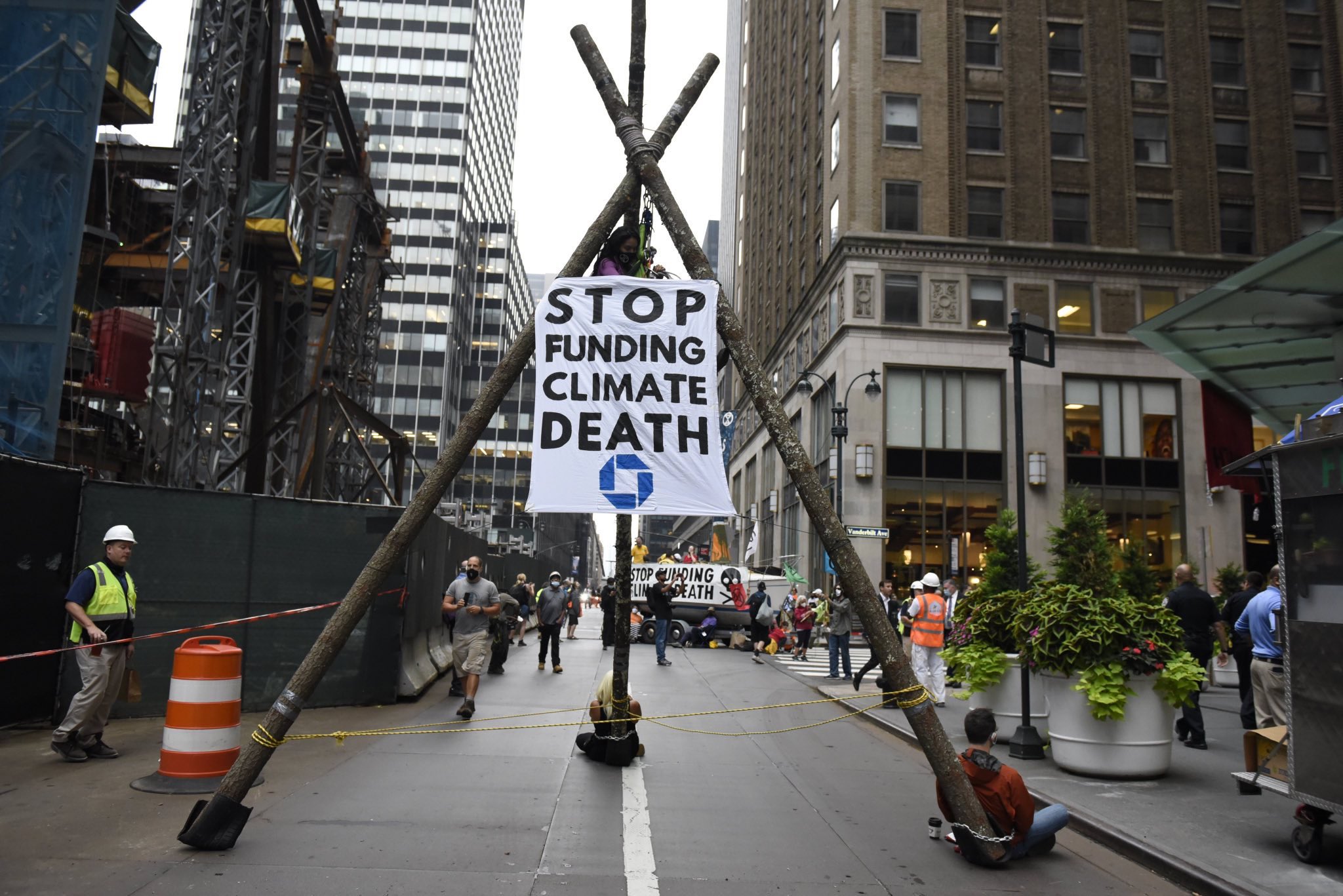 40+ NYC Activists Arrested for Protests Against Banks Fueling Climate Emergency: "We're sending a message loud and clear that the little action that politicians and greenwashing CEOs have taken so far does not begin to deal with the magnitude of this crisis." Read more>>
Hundreds of Thousands Take To The Street To Uproot The System: From Pakistan to Italy to Germany to the Philippines, the worldwide "Uproot the System" actions marked the largest climate demonstrations since the coronavirus pandemic forced campaigners to take their protests online last year. Read more>>
German Activists Starve Themselves to Make Politicians Face Climate Crisis: The German activists starving themselves to make politicians face the climate crisis. In a cluster of tents close to the Reichstag building in Berlin are a group of activists. The Last Generation, who have said they are prepared to starve themselves to death to highlight the lack of ambition among Germany's main political parties to confront the climate emergency. They want to talk with the leading candidates prior to the election on 26 September. Read more>>
Water Protectors Challenge Minnesota AG Keith Ellison's Silence on Line 3 Pipeline: Water protectors fighting to stop Enbridge's Line 3 tar sands pipeline expansion interrupted a Thursday evening speech by Minnesota Attorney General Keith Ellison to challenge the Democrat's silence on the multi-billion-dollar project, which violates Anishinaabe treaty rights while endangering local ecosystems, Indigenous communities, and the global climate. "What is your plan?" one demonstrator asked while interrupting a speech by Ellison. "Are you going to take a stand?" Read more>>
Thousands Call For Fossil Fuel Non-Proliferation Treaty: More than 2,000 academics from around the world signed an open letter calling for a Fossil Fuel Non-Proliferation Treaty, as the United Nations' 76th General Assembly kicks off its annual meeting. Read more>>
States Are Buying Hotels To Counter Wildfires: Some wildfire-prone areas are reworking emergency pandemic housing initiatives to shelter residents affected by extreme weather. Oregon and California are renting and purchasing hotels to house residents who have lost their homes to wildfire, as well as unhoused people living in fire-prone areas. They're also converting some of the units into transitional and permanent affordable housing, depending on the needs of the community. Read more>>
Keep Pushing – Campaigns Against Fossil Fuels Are Rising, Renewable Energy Prices Are Falling: Good news on climate: we're reaching a tipping point on fossil fuel prices. While renewables are falling in cost, fossil fuels are rising, largely due to activist pressures and harder-to-extract fuels. Read more>>
Black, Latinx, Asian, and Pacific Islander Women Care Workers Demand Federal Support as First Responders in Climate Crises: The movement of care workers is led by Black, Latinx, and Asian and Pacific Islander women workers, who have visionary solutions for people and the planet. "We must create a culture of collective care for our workers as well," she says. "Building a healthy economy includes visibilizing and investing in women workers who play such a critical role in the well-being and stability of all our families and communities." Read more>>
Hundreds Demand Resignation of South Dakota Public Officials Over Indigenous Erasure: NDN Collective's Education Equity team led hundreds of Indigenous people and allies from across the state in the Oceti Sakowin March for Our Children, demanding the resignation of numerous SD Public Officials for their roles in the newly proposed social studies standards that blatantly erase Oceti Sakowin history. Read more>>
Xochitl-Quetzal Aztec Dance Group Continues 500+ Year Tradition: The music and dance dates back more than 5 centuries in what was once known as Tenochtitlan in ancient Mexico. It's those same rituals and traditions that the Chicago group Xochitl-Quetzal Aztec Dance carries on across the city and suburbs. "These dances are not choreographed, they are passed on from generation to generation. So each dance tells a story, each song literally will tell you a little bit about who we are and where we come from.," said Henry Cervantes, founder and director of Xochitl-Quetzal Aztec Dance. Read more>>
#CommunitiesNotCages Hold Actions In 25 Cities: Detention Watch Network, FIRM Action, Mijente, United We Dream and the We Are Home campaign coordinated a "Communities Not Cages" National Day of Action with 25 actions taking place across the country hosted by local partners, including a press conference and rally in Washington, DC (watch the livestream here). Advocates called on the administration to take immediate action to shut down immigration detention centers, release all people from detention and stop deportations. Read more>>
Welcome With Dignity Campaign Decries Discriminatory Treatment of Haitian Migrants In United States: The #WelcomeWithDignity campaign expressed its disgust with Customs and Border Protection's treatment of Haitian people seeking asylum at Del Rio, Texas. The campaign joined dozens of other national organizations and expressed steadfast solidarity with Haitian communities and Haitian-led organizations. The US deployment of border agents on horseback against Haitian migrants stems from abusive and racially discriminatory immigration policies by the administration of President Joe Biden. Read more>>
Hunger Strike Erupts in Notorious Florida Jail as Haitians Fight Deportation: The Glades County Detention Center is run by a local sheriff in Moore Haven, Florida, and incarcerates immigrants under a federal contract with Immigration and Customs Enforcement (ICE). At least 100 people are staging a hunger strike at the jail. Read more>>
Afghan Women Share Colorful Photos of Traditional Clothes In Protest Against Taliban: The latest worrying order from Taliban leadership decreed that female university students be separated from men and "observe hijab according to [the Taliban's interpretation of] Sharia" law. In response to this mandate, Afghan women around the world have taken to Twitter to share images of their traditional, colorful clothing in protest of the Taliban telling women what to wear. Read more>>
Marcela's Story – Planting Autonomy, Resisting Patriarchy: Marcela, an indigenous healer and organizer, reflects on the role of traditional knowledge and medicine in her personal and collective struggles for liberation. Read more>>
Former Afghan Soccer Captain Helps Junior Women's Team Members Escape to Pakistan: Khalida Popal said that she told members of Afghanistan's national junior women's soccer team that if they wanted to stay alive they'd have to flee the country. Popal is the former national team captain, who was forced to seek asylum in Denmark in 2016 after threats to her life. At the end of August, she helped many national team members get flights out of the country. Read more>>
How Working Fathers Are Helping Paid Parental Leave Gain Steam: A growing number of U.S. companies are offering gender-neutral paid parental leave, prompting more fathers to take advantage of a benefit often assumed to primarily serve women. Read more>>
CODEPINK Launches 100 Days of #CutThePentagon Actions: A protestor holds a sign during the "Cut the Pentagon" protest in Lafayette Park in Washington, DC on Sunday, September 12, 2021. Code Pink and Food Not Bombs sponsored the event to launch a campaign called, "Cut the Pentagon" for people, peace, and the planet marking the beginning of 100 days Of action. See photos here>>
Prescott Peacebuilders Use Theater To Oppose Nukes: Impersonating renowned anti-nuclear activists like Jane Addams, Ava Helen Pauling, Joan Baez and activists at Greenham Commons Anti-Nuke Camp, the Prescott Peacebuilders theatrically and creatively taught about the decades of anti-nuke organizing since the inception of the atomic bomb. Their presentation also raises awareness about the International Treaty On the Prohibition of Nuclear Weapons, and the US' refusal to sign it. The Prescott Peacebuilders are located in Prescott, AZ. Read more>>
Costa Rica March For a World Without War And Violence: On the Bicentennial of Central America's independence from Spain, Costa Ricans and others organized a televised "march" for a world without war and violence, featuring speakers and music. Read more>>
Noam Chomsky – Average People Still Have the Power to Stop Wars: Noam Chomsky on why the US withdrawal from Afghanistan won't change US imperialism, the many war crimes of George W. Bush, and why he still believes in average people's ability to push back against the war machine. Read more>>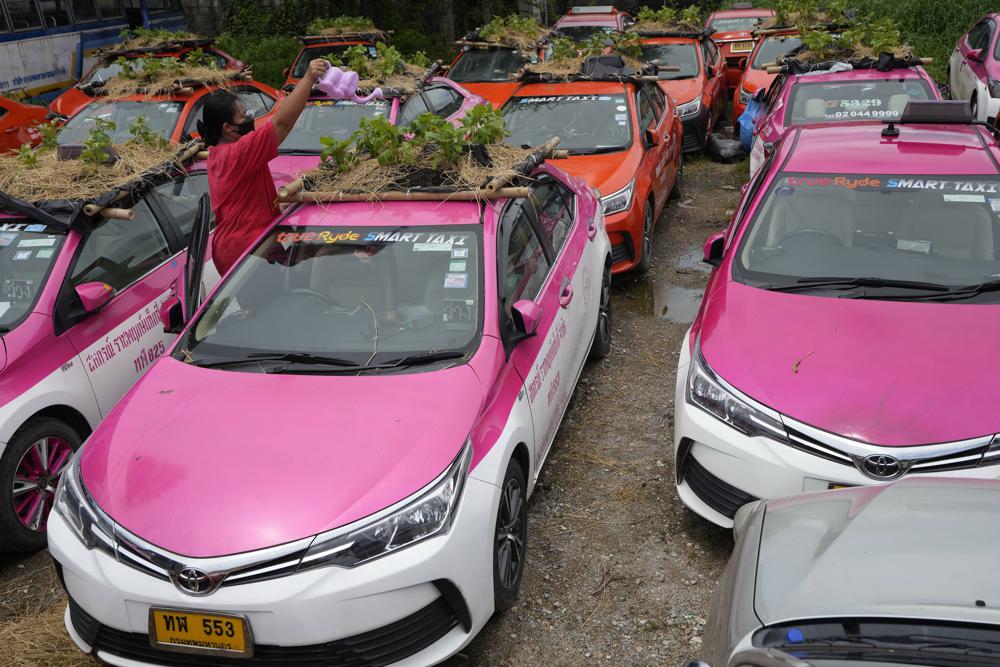 Idled Thai Taxis Go Green With Mini-Gardens On Car Roofs: To draw attention to the plight of taxi drivers and operators who have been badly hit by coronavirus lockdown measures, taxi fleets in Thailand are giving new meaning to the term "rooftop garden," as they utilize the roofs of cabs idled by the coronavirus crisis to serve as small vegetable plots. Read more>>
Brazil's Indigenous Activists Deliver Tree to Embassy, Seeking Refugee Status For the Rainforest: Indigenous activists delivered a Jatoba tree to Norway's embassy in Brasilia on Tuesday, seeking "refugee" status for it in a symbolic protest against the destruction of Brazil's Amazon rainforest. Read more>>
The Art of Obstruction – Art Project Uses the Legal System To Block Extraction: A new art project uses the legal system of mineral rights as a means to block oil and gas extraction. And it is a great educational and organizing tactic. Read more>>
An Exhibit of Worker Power – Art Institute of Chicago Workers Join the Museum Union Wave: Employees at the historic museum are organizing for pay fairness and transparency, part of a growing movement to unionize cultural institutions across the country. Read more>>
Patient Group Launches Ad Campaign Targeting Democrats for 'Selling Us Out to Drug Companies': A national patient organization launched new ads on Friday targeting Reps. Scott Peters and Kathleen Rice for opposing a plan to let Medicare directly negotiate prescription drug prices, a centerpiece of the Democratic Party's popular agenda to lower sky-high medicine costs. Read more>>
Museum Workers Are Joining the Growing Labor Movement: Workers at Chicago's Art Institute are unionizing for better pay, more transparency and a voice in management matters. Read more>>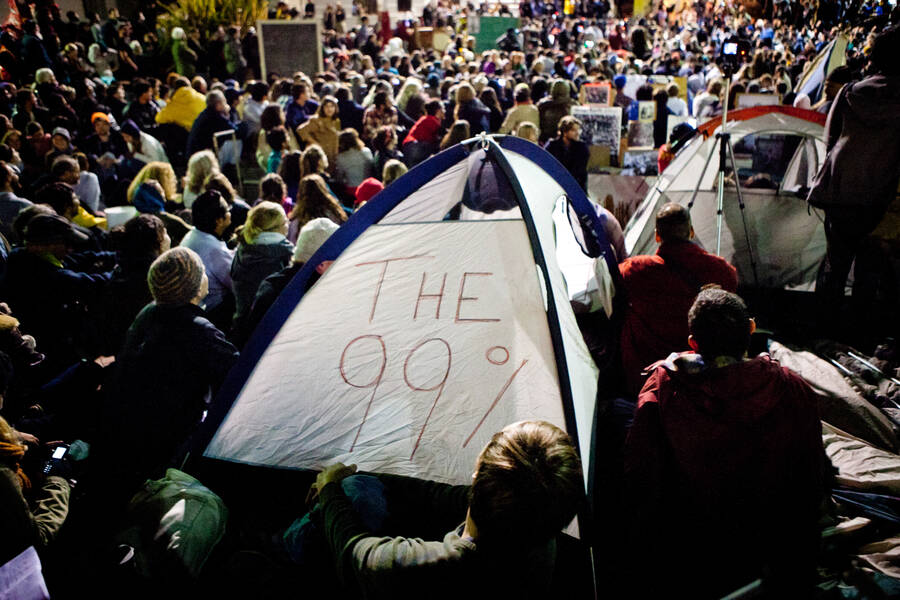 Occupy Wall Street Trained a Generation in Class War: In popularizing the terms 99% and 1%, Occupy achieved the no mean feat of popularizing the idea of economic class. Occupy taught a generation of activists how persistent protest could pressure politicians, corporations, and cops in a way that sign-carrying, speech-droning weekend marches never could. And it created a new rapid-response social media-driven protest that upped nonviolent militancy. Read more>>
How Denmark Made McDonald's Dance To Its Worker-Friendly Tune: Every few months, a prominent person or publication points out that McDonalds workers in Denmark receive $22 per hour, 6 weeks of vacation, and sick pay. This compensation comes on top of the general slate of social benefits in Denmark, which includes child allowances, health care, child care, paid leave, retirement, and education through college, among other things. In these discussions, relatively little is said about how this all came to be. Read more>>
How Nonviolent Movements Increase Pressure on a State Through Demand Escalation: In places as diverse as Algeria, Chile, Ecuador, Hong Kong, France, Haiti, Nicaragua, and Sudan, people first came together to seek redress in a certain policy area only to then escalate their demands for a leader's removal or seeking greater systemic change. Watch the recorded video of the webinar here>>
How One Organization Is Keeping The Spirit Of Occupy Wall Street Alive: Learning important lessons from Occupy, Momentum has helped incubate new movements that have reshaped the political landscape over the last decade. Read more>>
New Research Shows The Power of Putting Your Opponent In a Bind: A study of 44 dilemma actions over the last 90 years examines the many benefits of creative protests for social movements. Read more>>
Resisting The Corrosive Power Of Consumerism: Nonviolence Radio interviews Ela Gandhi, the granddaughter of Mahatma Gandhi. She discusses growing up in her family's intentional community and the importance of self-sufficiency. Read more>>
Overcoming Martin Luther King Jr.'s 'Three Evils Of Society': Poverty, racism and militarism remain stubbornly entrenched and compounded by a mounting ecological crisis. But we can still bend the arc of history through a ceaseless pursuit of beloved community. Read more>>
Nonviolence Cafe on Khudai Khidmatgar: Join Safoora Arbab, scholar of feminist nonviolence, for a conversation on how we can move away from militarism as our first (and often only) option in a crisis. She will draw on her expertise on women in the Khudai Khidmatgar movement that took place in what is now Afghanistan. (Sept 30) Learn more>>
Teach Central America Week: More than four million Central Americans reside in the United States and migration from the region is headline news. However, most schools teach very little about Central America, including the long history of U.S. involvement in the region. Read about responses to the Teach Central America Week from educators across the U.S. and join the effort to #TeachCentralAmerica. (Oct 4-10) Learn more>>
Shut Down Creech: Members of Veterans For Peace, Code Pink, Ban Killer Drones, and ally organizations are taking action outside of Creech Drone Air Force Base, north of Las Vegas, in opposition to militarized drones. Want to come? (Sept 26-Oct 2) Register here>>
Regenerative Communities Summit: The summit is offered on a 'pay what you can' sliding scale and will feature a broad range of content including expert plenaries, workshops, 'lunch and learns,' and film screenings. Six distinctive program tracks will explore: emergency preparedness & disaster response, food sovereignty, just transition, inner resilience, economy, and cultivating leadership. (Sept 24-Oct 10) Learn more>>
Dandelion Insurrection Book Group on Activism: Join Author Rivera Sun for a special, 4-session, small group book club on The Dandelion Insurrection, a novel that some call "THE handbook for the coming revolution!" Proceeds benefit Backbone Campaign. (Oct 4, 11, 18, 25) Learn more>>