Editor's Note From Rivera Sun
A mermaid is a myth, but like all myths, it brings our attention to the story we need to hear right now. Our oceans and planet are in danger. Humanity cannot survive without them. This theatrical climate action (pictured above) of dead mermaids washing up on the shore near the G7 Media Center brings an eerie reminder of our tenuous predicament as a species.
A great photo can go a long way for your movement. I think every nonviolent action should be #BYOP – Bring Your Own Photographer. Don't rely on journalists alone. Ask a photographer who supports your cause to shoot the action with skill and passion. It can make a startling difference, especially in the digital age when a picture is worth a thousand words – and is often the only thing people see besides a headline.
In other Nonviolence News this week, you can read more about how anti-police brutality activists have been dropping banners throughout Los Angeles that read "Google LASD Gangs". They're revealing how the Los Angeles Sheriff's Department has several officer gangs. One is called "The Executioners". You can imagine why. Or you can google it.
Other stories that caught my eye include the North Brooklyn residents refusing to pay their gas bills in protest of an opposed gas pipeline, the light projectionists on the Snake River beaming a light message about removing the dams onto the concrete walls, and the contrast between Brazilians taking to the street to impeach Bolsonaro over COVID deaths while Colombian national strike organizers just called off protests due to COVID spikes. Julliard music students went on a – wait for it – musical strike with marches and performances. Meanwhile, the Zapatistas have "invaded" Spain to challenge colonialism. Enjoy this week's Nonviolence News.
In solidarity,
Rivera Sun
Photo Credit: Near the G7 Media Center, dead mermaids "washed up" on the coast of Cornwall, tangled in fishing nets as part of protests for climate action.
From Rivera: I'd like to thank our recent $30 donor! These contributions are tremendously helpful. Whether you give once or monthly, it is appreciated. We have a small (but growing) donor circle, and I'd love to have you be part of it. Donate here>>
Belgium Court Declares Inadequate Climate Policy A Human Rights Violation: A Brussels court on Thursday ruled that Belgium's climate policy breaches its duty of care and human rights obligations. Read more>>
Chicago Amazon Workers Help Win Megacycle Pay Nationwide: The Megacycle is a 10.5hr shift designed to allow consumers to order late and receive 1-2 day shipping. For workers, it's a nightmare. In resistance, Chicago Amazon workers organized petition campaigns, built community through social events, marched on the boss, and struck. Eventually, they won increased pay for all US Amazon workers. Read more>>
Who Saved Alberta's Mountaintops and Precious Clean Water? Albertans: The Grassy Mountain coal mine project is dead. Citizens of all stripes formed a loose coalition to defend water quality and the beauty of the Rockies' eastern slopes. A giant public wave of protest, probably the largest and longest demonstration for water security and the environment in the history of Alberta, forced the Kenney government to backtrack on its many backroom deals with Aussie coal miners. Read more>>
Delaware Raises Minimum Wage To $15/hr: Wage advocates and workers are celebrating after Delaware joined the growing ranks of states requiring a $15/hr minimum wage. Last month, Rhode Island passed the same legislation. Read more>>
Juneteenth Becomes US Federal Holiday: The day commemorating the end of slavery has been officially recognized after 150+ years of being commemorated in African-American communities. It marks the day (two years after the Emancipation Proclamation was issued) that news of emancipation reached Galveston, TX, freeing enslaved African-Americans in the last rebel state. Read more>>
'Bolsonaro Out!': Massive Protests As Brazil's Covid-19 Death Toll Tops 500,000: "We are on the street to defend our country, our people, our lives, our culture, our education, our economy. We can no longer die of Covid." Read more>>
'Everything Is Collapsing' – Colombia Battles Third Covid Wave Amid Unrest: Protest leaders have agreed to pause mass marches as hospital ICUs struggle to cope with surging coronavirus cases. Read more>>
Family Dollar Retail Workers Walk Off And Quit: Family Dollar workers quit en masse to protest poor working conditions. They are part of a nationwide trend where fast-food and retail workers have been spontaneously walking off the job and posting photos (that later go viral) of the protest signs they've taped on the doors. Read more>>
Washington State Cold Storage Workers Strike: In Bellingham, Washington, over 100 cold storage workers, members of Teamsters Local 231, went on a 30-hour strike Friday to protest a lack of progress in contract negotiations. Workers hope that the short strike, which was unanimously authorized by the union's membership, is a warning shot to management that a longer strike may be in the works if they don't get serious at the bargaining table. Read more>>
Tenants Call For Public Housing Boss To Be Fired: "Get Russ out!" public-housing tenants from around the city chanted outside the New York City Housing Authority headquarters in Lower Manhattan June 9, demanding the ouster of Gregory Russ, who was appointed by Mayor Bill de Blasio to head NYCHA in 2019. Russ, who previously headed public-housing authorities in Minneapolis and Cambridge, Massachusetts, has come under fire from tenants for his advocacy of bringing in private investors and managers to finance and run the city's public housing, which has been plagued by underfunding. Read more>>
Los Angeles Police Gangs Facing Scrutiny: Racial justice activists have been using banner drops and graffiti taggings with the simple message: GOOGLE LASD GANGS. The campaign aims to challenge the LA Sheriff's Department gangs. One is called "The Executioners" due to their high levels of brutality and murdering of citizens. Read more>>
Unanswered Questions Fuel Protests Against Police In Minnesota: Since Winston Smith was killed nearly two weeks ago in a secretive federal raid, no video evidence or any names of officers involved have been released. Minneapolis has seen another wave of protests not only because Smith was denied due process and executed while he sat in his car, but also due to the complete lack of accountability surrounding his death. Read more>>
Creating Safe Haven For Black Trans Youth: Baltimore Safe Haven stands in a class of its own when it comes to community work. The non-profit, which prioritizes providing vulnerable Black young adult trans people in the city — with an emphasis on those who are in the survival sex work field — with health services, housing, food, access to computers, and an overall space to safely convene, has only been in existence for a bit over two years. And, in that span, it's been able to become an all-encompassing beacon for the city's LGBTQ+ community, which has been historically neglected by city government. Read more>>
LGBTQ Freedom Fund Bails Out People In US Jails And Immigration Facilities: Nearly 1 in 3 LGBTQ persons will face incarceration and 1 in 6 transgender people will be sexually assaulted while incarcerated. Statistics like these paired with the fact that most suicides occur in the first week of a person's incarceration highlight why the LGBTQ Freedom Fund is working to secure the safety and release of LGBTQ-identified people who are in jail and immigration detention. Read more>>
Black Gardeners Bloom On TikTok and Instagram: 'Plantrepeneuers' are springing up on social media to dig out space for black people in the natural world. "We deserve this peace and joy', says one Black gardener. Read more>>
Extinction Rebellion Newsletter – Tangled Mermaids & Koreans Against Greenwashing: The latest round-up of global climate action includes news from G7 protests, mermaid actions against ocean garbage and debris, Brazilians stark reminder of the plight of the oceans on World Ocean Day (above), and news of how Koreans are resisting greenwashing. Read more>>  
Activists Withhold Gas Bill Payment To Protest National Grid Pipeline: Environmentalist launched a gas bill strike Tuesday, pledging to withhold money from their monthly utilities in protest of National Grid's controversial pipeline project beneath the streets of Brooklyn. "We will not pay for National Grid's racist, dirty, North Brooklyn fracked gas pipeline. We will not pay for our communities and our climate to be destroyed," said Lee Ziesche, an organizer with the activist group Sane Energy Project. Read more>>
Fairy Creek Activists Persist, Say Moratorium Isn't Enough: Activists trying to save old-growth forest on Vancouver Island say the recent temporary moratorium on logging at Fairy Creek is not enough to force them from the treetops, where they're waging a war against an industry they say will irrevocably damage a rare ecosystem. Read more>>
Old-Growth Logging Protesters On Day Seven Of Hunger Strike: Two Canadian Extinction Rebellion activists are on day seven of a hunger strike aimed at ensuring an end to old-growth logging. The hunger strike is in solidarity with the protesters trying to stop logging at the Fairy Creek watershed near Port Renfrew. Read more>>
Sunrise Ends 400-Mile Climate March With Arrests at Ted Cruz's House: Sunrise Movement's Gulf South marchers demand that Congress and the Biden White House pass bold climate jobs legislation, including a bill to create a Civilian Climate Corps. Read more>>
Light Projectionists Demand Removal Of Dams On Snake River: Projecting a light-based message onto massive dam walls, Backbone Campaign activists demanded that the four dams that endanger the Snake River in Washington State be removed. Read more>>  
Activists Pressure Insurers To Drop Trans Mountain Pipeline: Climate activists across the world took part in a global week of action against insurers of Canada's Trans Mountain pipeline and its expansion project. The protests, calling on its insurers to cut ties with the federally owned pipeline, spanned 25 actions across four continents. Over the course of the week, Indigenous rights and climate activists from Vancouver to Kiribati to Sierra Leone called on eight major insurers to publicly pledge to refrain from doing any future business with the project. Read more>>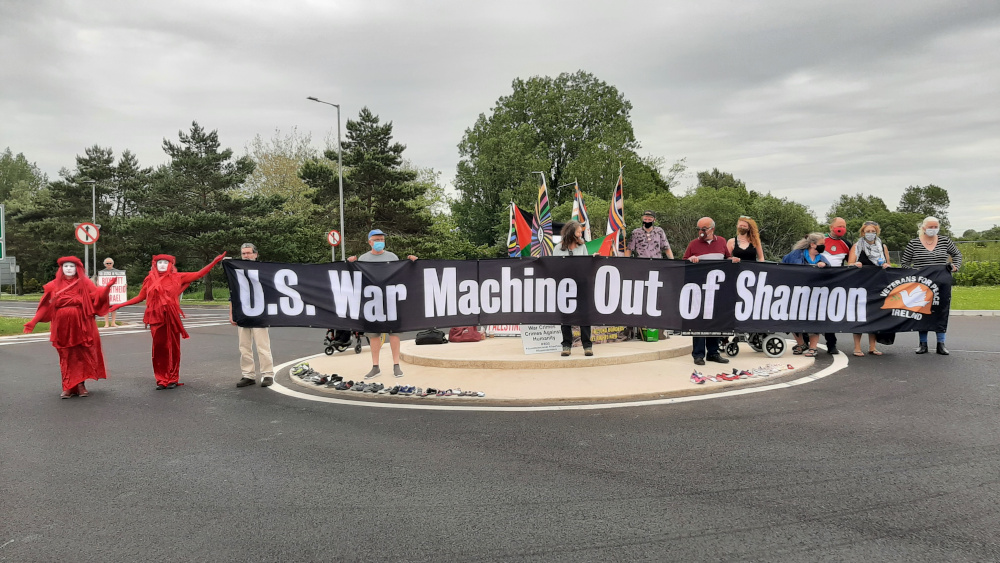 Solemn Vigil At Shannon Remembers Child Victims Of War: Irish peace activists held a solemn vigil for victims of war. The event was poignant and emotional as we commemorated the more than 70 Palestinian children killed recently. Two members of Red Rebels Clare, which is a theatre group that accompanies Extinction Rebellion and other action in Clare, joined us in silent, solemn protest, while others read out the list of the children killed in Palestine. Read more>> 
Draft Registration Demands Resistance: Aside from being a form of extortion and an affront to individual rights, draft registration is part of a system destroying human life. Resistance should be seen as part of a broader movement for survival of the planet. Read more>>
Veterans For Peace Launches "Climate Crisis and The War Machine" Music Contest: Veterans For Peace is asking artists to write songs and create music videos around the theme of "Climate Crisis and The War Machine." The contest is intended to help people make the link between ending war and breaking the chains of big oil. First prize wins $1000 USD. Read more>>
'The Zapatistas Have Invaded' – Indigenous Activists Sail From Mexico to Spain: "They did not conquer us; we are still here resisting," the group said following their seven-week trans-Atlantic voyage marking the 500th anniversary of the conquest of the Aztec capital Tenochtitlán. The group was delayed from disembarking while they awaited the results of COVID tests. "Well, if we've already waited 500 years … " one of the activists quipped. Read more>>  
Juilliard Students Protest Tuition Increase With Marches And Music: After occupying parts of the school, some students were barred from entering the building. So they took the demonstration outside. Read more>>
Liberating the Captured Imagination: What does the climate crisis have to teach us? Are we listening to what the Earth is telling us, as planetary systems necessary for the maintenance of life continue to unravel? This article explores the unexpected questions of how the climate crisis can activate our imaginations and liberate our minds. Read more>>
How U.S. Makerspaces Are Recovering From The Pandemic: Makerspaces are returning, some stronger than ever. More than a year after the pandemic arrived in the U.S., makerspaces are reinventing community and creativity for a post-pandemic world. Read more>>
'Suffocated' Art Becomes Form Of Protest Against Olympics: Miwako Sakauchi stands in her studio and brushes spinning swirls on torn cardboard and drawing paper, using the five colors designated as symbols of the modern Olympiad. Titled 'Vortex', her paintings show the "anger, fear, sense of contradiction and state violence" over the residents evicted and the trees felled so enormous Olympic stadiums could be built. Read more>>
Over 16,000 Artists Sign Letter In Solidarity With Palestine: Over 16,000 artists have signed their names in support of a letter that condemns Israel's recent attack on Gaza and denounces the country's apartheid system. The letter also calls on other countries "to cut trade, economic and cultural relations" with Israel. Read more>>
10 World Changing Protests You Should Know About: Chile, Nambia, Guatemala, Italy, India, and more … here are ten important, recent protest movements that have changed everything. Read more>>
"Beyond the Protest Square" – A Conversation With Tanya Lokot: In this interview, media scholar Tanya Lokot speaks about how we need to rethink our impressions of protests. Her new book, "Beyond the Protest Square: Digital Media and Augmented Dissent," argues that "the augmented reality of protest goes beyond the bodies, the tents, and the cobblestones in the protest square, incorporating live streams, different time zones, encrypted conversations, and simultaneous translation of protest updates into different languages." Read more>>
How Sinophobia Is Used In Kazakhstan As A Form Of Oppositional Politics: Protests against the growing Chinese influence are increasingly being used as a pretext to oppose the government. Read more>>
Global Solidarity Economy Policy: How can public policy support co-ops and a solidarity economy? Learn from organizers in Puerto Rico, New York, Canada and Spain about the history and impact of SE policy in their homes: "We see the importance of legal guarantees and public policy that protects and supports cooperative organization. Because cooperation is without doubt essential and inherent to the human condition." Read more>>
How TikTok Is Exposing Dissent And Repression In Israel-Palestine: Videos and images from East Jerusalem have seen a significant level of exposure on TikTok, raising prospects of new channels for solidarity. Read more>>
Women In Russia and the US Played a Pivotal Role In Stopping The Cold War: After ending the last Cold War, women in both countries are keenly aware that something must be done to stop the next cold war. Read more>>
#ReparationsJune: In honor of the 100th Anniversary of the Tulsa Race Massacre, the 2020 Uprisings, the 50th Anniversary of the War on Drugs, and Juneteenth, the Movement for Black Lives is sponsoring a month of activities focusing on reparations for slavery and its afterlives in the US. Learn more>>
14-Day Global Campaign Demands Justice For Victims Of Bolivia Coup: On 10 November 2019, the democratically elected government of Evo Morales in Bolivia was overthrown by a US-government supported military coup. 14 Days of Resistance is a two-week long series of events that will discuss Bolivia's coup, the role of foreign powers, and the continuing search for justice for its victims. Learn more>>
The Future of Peacebuilding: Nonviolent Peaceforce next Thursday for an interactive discussion! Co-Founders Mary Lou Ott, David Hartsough, and Mel Duncan will hold a conversation honoring NP's past, and how you are a part of co-creating a future free of violence. (July 1) Learn more>>
Anti-Militarism Organizing: We know that more money for war, cops, cages, and all forms of militarism only means safety for the ruling elites. We know that real safety comes from caring for each other and our environment. So, let's get organized. (July 10) Learn more>>
Sixth Annual Virtual Korea Peace Advocacy Week: Join hundreds of people across the country in nationally coordinated virtual advocacy meetings to urge your Member of Congress to support a Peace Agreement to end the Korean War. (July 12-16, 2021) Learn more>>
How Can Walking Lay a Path For a World Beyond War? The Abraham Path Initiative (API) has been developing walking trails in Southwest Asia (aka "the Middle East") since 2007. This U.S.-based NGO promotes walking as a tool for economic development, intercultural experiences, and fostering friendships across the challenging divides of our times. This webinar explores the work, successes, and challenges of creating walking trails in a region known for conflict. (July 27) Learn more>>
Campaign Nonviolence Skillbuilding Webinar – Media Matters: Learn how to do skillful outreach. Dig into simple tricks for greater impact. Explore how to have fun while doing it. We'll look at how everything from press releases to action roles can help get media to cover your actions and events. (June 29) Learn more>>
Introduction to Engaging Nonviolence: This eight week online course provides the basics of principled and strategic nonviolence. It will familiarize participants with the overall contents of the Engaging Nonviolence Study Program which will serve to foster personal growth, healthy relationships and work for world peace. (Starts July 1) Learn more>>
Growing A Nonviolent Community – a 6-week Training with the Nonviolent Cities Project: This 6-week, online course will explore how you can start building a nonviolent community in your neighborhood, city, or region. We will look at nonviolent solutions to social challenges. We will share real stories of how people have replaced systems of violence with bold, nonviolent alternatives. Participants will gain hands-on tools for helping friends and neighbors understand the possibilities that exist. (Starts July 8) Learn more>>
Cop-Free Schools – How Twin Cities Nonviolent & The Brothers Created Nonviolent Security at Ascension Catholic School: Faced with the mandate to provide security, the principal refused to hire cops and instead hired the Brothers, a group of community members who de-escalate conflicts. At a time when two thirds of US students want cops and private security off their school campuses, this endeavor should inspire us all—and help us take similar actions in our communities. (July 13) Learn more>>
MK Gandhi Institute's Nonviolence Retreat: Join us from near and far (virtually) to explore the wonders of the world of Nonviolence within, between, and among ourselves. Participants will spend part of each morning learning about and discussing different aspects of Nonviolence. We will continue in the afternoon to include several practice and debrief sessions. (Aug 9-13) Learn more>>