Editor's Note From Rivera Sun
This week in Nonviolence News, India's Farmer Protests gained a suspension of the farm laws they've been protesting against en masse. They vow to continue the struggle until all demands are permanently met. Meanwhile, Mongolians forced their negligent prime minister to resign over failure to deal with the pandemic. A thousand Malians protested French military presence in their country. A Nigerian in Dresden boldly put up "Missing" posters for works of art stolen from Nigeria through colonialism and now held in art museums in Germany.
My favorite story this week? Those pink seesaws at the US-Mexico border wall won a prominent design award, just as the long campaign against the Trump administration's xenophobic, anti-immigrant project lost its funding. Indeed, President Biden's first day in the Oval Office paid tribute to the relentless persistence of social movements as he overturned the Muslim Ban, rejected the KXL pipeline, rejoined the Paris Accords, and more.
As Pace e Bene's newsletter mentions, "His actions on these issues would not have happened without visionary persistence by grassroots movements. They came about because tens of thousands of people signed the Pledge of Resistance to stop the KXL pipeline. They came about because we protested the abhorrent Border Wall. They came about because millions of school children have gone on School Strikes on Fridays."
Sculptures of Rosa Parks, Cesar Chavez, and Dr. King now grace the Oval Office. This stirs up many feelings; it's surreal, hopeful, and perhaps hollow all at once. Ken Butigan wrote this nuanced article on what the presence of these nonviolence figures in the Oval Office might portend. He boldly challenges the hypocrisy of honoring nonviolence icons in an office notorious for state violence. Read it here.
We already know that 2021 is a year of advancing our causes. There is no honeymoon period for politicians. There is no slacking off from movements. Just as a new report (see the Knowledge Section below) shows that 2020 broke 2019's record-setting amount of protests, this unfolding year will need to see staggering, strategic movement organizing in order for humanity to respond to the many crises it faces.
We can do it. We will do it. We must.
In solidarity,
Rivera Sun
Photo Credit: India's farmers celebrate a suspension of the farm laws.
Thank you. Donate here>>
Short on money? Still want to help? There are many ways to support us!
One way to support us is to invite Nonviolence News to speak on your local radio station or podcast! Editor Rivera Sun was recently on Chico Peace & Justice Radio (@30mins). Listen here>>
India's Farmers Just Won A Suspension Of The Law They've Been Protesting: The world's largest protests (paired with strikes, boycotts, road blocks, occupations, industry solidarity actions, and more) just won a temporary suspension of the laws that threatened their livelihood. The farmers unions have vowed not to participate in further negotiations over key issues. They will continue mass action until full victory is permanently achieved. Read more>>
Mongolian Prime Minister Resigns After Protests Object To COVID-19 Policies: A video of mistreatment of a mother and baby prompted protests against the Mongolian Prime Minister's handling of the pandemic crisis. The minister resigned. Read more>>
Muslim Ban Ends: Biden is ending what is variously known as the "travel ban" or the "Muslim ban," one of the first acts of the Trump administration. Trump in January 2017 banned foreign nationals from seven mostly Muslim countries from entry into the country. After mass protests shut-down airports over it, a watered-down version of the rule was upheld in 2018. Now, the policy is being overturned by executive order. Read more>>
KXL Permit Revoked By Biden's Executive Order: In a big win for a long-running campaign to save the planet, the KXL Pipeline was struck down again when President Biden signed an executive order revoking its permit. Read more>>
The Illinois Legislature Just Voted to End Cash Bail: Thanks to organizers, Illinois is poised to become the first state in the country to completely end the use of money bond. Opponents view cash bail as punitive and unjust toward lower income persons. Here's how they got it abolished. Read more>>
UK Soccer Star Shames Government Over (Literal) Scraps Of Food Sent As Relief To Hungry Children: It should have taken a soccer star to feed the children properly, but this athlete's actions embarrassed the government into changing. Read more>>
Nonviolent Activists Laid the Groundwork To Stop A Coup; They May Have Saved the Country: Trump's election lies and the Jan 6th assault on the Capitol might have succeeded if citizens hadn't shored up major institutions with nonviolent campaigns to prevent a coup. Read more>>
New York Bans Glyphosate On Public Property: The toxic pesticide has been banned from all public parks, lawns, and gardens around public buildings. this includes city parks, schools, and more. Read more>>
City of London Removes Statue Linked to Slave Trade: The City of London on Thursday approved the removal from its ceremonial Guildhall home of statues of two figures that symbolize the financial sector's historic role in slavery. The decision was prompted by the toppling of a statue in Bristol during the summer's Black Lives Matter protests. Read more>>
National Day of Housing Action Mobilizes: In over a dozen cities nation-wide, tenants and owners expressed these demands from the incoming administration. They are calling for a universal eviction moratorium and are also asking that real estate corporations that are granted funds for back rent commit to forgoing rent debt and refrain from hiking rents. Read more>>
Anti-Kremlin Protest Organizers Arrested: After trying to organize unauthorized street protests in support of Putin's major critic, the organizers were arrested in a crackdown. Read more>>
California Truth And Healing Council Begins Historic Work: "This Truth and Healing Council is historic in its scope and nature, and potential for impact, but it is really just the beginning," Myers wrote. "What this council finds will shape how we move as one state and many tribes that together deliver on a promise for all people." Read more>>
Teamsters In Minnesota Strike For Safety: Operations and maintenance workers at Marathon Petroleum's refinery in St. Paul Park went on strike today. Members of Teamsters Local 120 say they are taking a stand not just for good jobs, but also for the safety of their community.At issue in the dispute is management's ability to replace union members with workers from lowest-bidder subcontractors, including firms from outside Minnesota. Read more>>
School District Recruits Subs to Bust Teachers' Strike: Teachers in the Seattle suburb of Bellevue went on a "sickout" strike this week to protest being forced to teach in person. The Bellevue School District has already sued the union claiming it was an illegal strike. Now, the district is recruiting substitute teachers to help break the strike. Read more>>
Ohio Auto Parts Workers Strike: In Norwalk, Ohio, auto parts workers, some making as little as $13 an hour, went on strike to demand that their company Borger recognize their decision to unionize with SEIU. Read more>>
"Biden Jubilee 100″ Go On Student Debt Strike: It's not your typical strike. There is no picket line. They still go to work. But these 100 strikers are refusing to pay their student debts and demanding that President Biden forgive student loans. Read more>>
Argentinians Die-In, Nambians Resist Fracking, and Israelis Call BullSh*t: Extinction Rebellion's newsletter shares photos and stories of climate action from a dozen countries. Read more>>
Water Protectors Chain Themselves To Enbridge Line 3 Pipeline: Water protectors were arrested Thursday after halting construction at a Minnesota worksite for Enbridge's Line 3 project by locking themselves together inside a pipe segment. Read more>>
How Cascadia's Climate Activists Fought Off Fossil Fuels And Succeeded: During a decade when the region's governments flouted their carbon emissions goals, activists who came together to stop exports surpassed their wildest expectations. Read more>>
Why the Environmental Justice Movement Should Think Locally: Saving the planet starts with saving the communities the fossil fuel industry tends to trample. Read more>>
Des Moines Just Set a New Bar for City Clean Energy Goals: The city's 24/7 energy plan signals a notable change in the way we talk about clean energy goals. Read more>>
Indigenous Peoples In Thailand Oppose How Poorly-Designed Green Goals Threaten Their Existence: Forest dwellers lose their livelihood as the government turns their homes into national parks. "Denying forest dwellers land rights deprives them of their livelihood, their tradition and dignity, while these parks are opened up for city dwellers and tourists to enjoy." Read more>>
Malian Police Disperse 1,000 Protesters Opposing French Military Presence In the Country: France has more than 1,500 troops in Mali, ostensibly to fight terrorists. But Malians object to their presence as an occupying force. Read more>>
Martin Luther King Jr. On America's 'Obnoxious Peace': It's hard to imagine a sentiment more antithetical to the meaning of King's legacy than the calls to simply move on after the Capitol attack. Read more>>
Everything Wrong With the US' Junior Reserve Officer Trainings: From disturbing hazings to hate crimes to funneling youth into the military, here's why some people are organizing to counter youth recruitment as JROTC doubles in size. Read more>>
Trump's Access To Launch Codes Should Remind Us Why We Need To Abolish Nuclear Weapons: Precarious moments like this show that renouncing and dismantling nuclear arms is the only way to achieve true peace, justice and security. Read more>>
Seattle Area Billboards Warn Nuke Base Violates Int'l Law: When the ICAN treaty came into effect, nuclear weapons are now illegal – everywhere. The United States and other nuclear nations are rogue states. These billboards let Seattle area residents know they're now participating in illegal activities by supporting their submarine missile base. Read more>>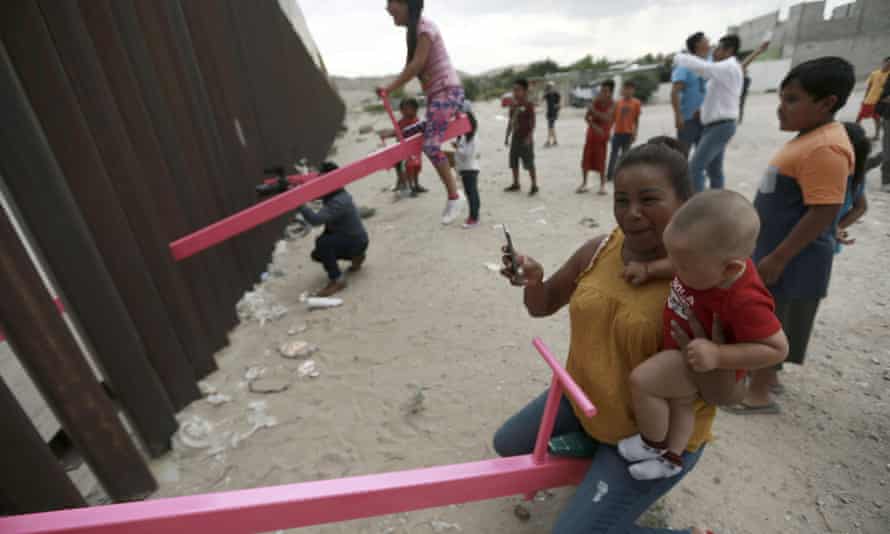 Design Of The Year – Pink Seesaws At The Border Wall: A collection of bright pink seesaws that allowed people to interact over the US-Mexico border has won the prestigious Design of the Year award, with its creators saying they hoped the work encourages people to build bridges between communities. Read more>>
A Nigerian Artist Has Put Up More Than 200 'Missing' Posters Depicting the Benin Bronzes Throughout the City of Dresden: A new project by the Nigerian artist Emeka Ogboh aims to remind the German public about its role in his native country's missing heritage. Dresden holds five notable objects from the former royal palace in Benin. In 1897, the palace was looted and razed by British soldiers during a punitive expedition, and the bronzes are now dispersed throughout major international Western museums. Read more>>
Singer/Songwriter Selena Gomez Tackles Big Tech: The singer has been adding star power to people power in a campaign to get the big tech companies to enforce their "community standards", all of which condemn hate speech, violent threats, and discrimination. The singer is trying to get social media platforms like Facebook and Twitter to ban hate groups. Read more>>
400 Lights For 400,000 Lives: A national memorial was placed along the iconic reflecting pool on the Washington Mall to mourn the 400,000 US citizens who have died of COVID-19 in 2020. Here are Editor Rivera Sun's thoughts on what that stirs up in our hearts. Read more>>
2020 Hindsight: Pandemic Did Not Diminish Protests: Although early reports predicted that pandemic lockdowns would wipe out the record-breaking mass protests of 2019, research shows that actually, 2020 movements simply shifted gears. Read more>>
An Immigrant Hunger Striker Shares Their Story: "I was going to leave alive – or in a body bag." Hunger strikes are often a tactic of last resort for migrants imprisoned in detention centers. Here's the personal story of one immigrant who took drastic action. Read more>>
After the Pandemic Subsides, We May See a Third Wave of the Arab Spring: It's a mistake to view the Arab Spring as a historic event rather than the long-term revolutionary process it really is. Read more>>
When Prayer Meets Principled Nonviolence: Principled nonviolence compels us to reconsider our understanding of familiar terms and practices — and prayer is no exception. Read more>>
Martin Luther King's Vision of an Interconnected World Is More Relevant Than Ever: One of King's last and most overlooked writings, The World House, offers insight into what he would advise after the Capitol attack. Read more>>
We Need To Prepare For Ongoing Insurrectionary Violence And Address Its Root Causes: To prevent future far-right violence, first we need accountability. Then we must build movements capable of transforming our social, political and economic systems. Read more>>
Why We Need To Move Closer To King's Understanding of Nonviolence: Kazu Haga reminds us that nonviolence is not simply the absence of violence, but is also about taking a proactive stand against violence and injustice, and working to repair the harm. Read more>>
How To Learn Nonviolent Resistance As King Did: Dr. Martin Luther King, Jr. didn't invent the nonviolent strategies he advanced. He simply did what any one of us could do: he studied them. Read more>>
About MLK's Gun … He Got Rid Of It: Dr. King got a gun midway through the Montgomery Bus Boycott. But he couldn't get a permit to carry it. Ultimately, he got rid of his gun. Here's why. Read more>>
The Freedom Struggle Is A Labor Struggle – Then And Now: A look at the historic and present connections between racial justice and labor justice. Read more>>
One Reason Why We Need To Overhaul Social Movement Funding: Women's rights and LGBTQI activists in every continent have been developing and using individual, organizational and movement-level care and protection strategies and frameworks. These expand the notion of traditional physical and digital security to a more holistic idea of safety, focusing on care, well-being and the economic sustainability of activists and movements. Funders need to know about these – and fund them. Read more>>
War Abolition 101: This six-week online course provides participants with an opportunity to learn from, dialogue with, and strategize for change with World BEYOND War experts, peer activists, and changemakers from around the world. (Starts March 1) Learn more>>
#CagingCOVID Campaign Organizes Online Petition: You can take action to build pressure for mass clemency. Here's the petition for individuals to sign. Learn more>>
#CagingCOVID Campaign's Clemency Caravan: Take action for prisoner releases on February 1st with the Clemency Caravan. Learn more>>
Stop Excluding Military Polluters From Climate Agreements: As a result of final hour demands made by the United States during negotiation of the 1997 Kyoto treaty, military carbon emissions are exempted from climate negotiations. But the U.S. military is the largest institutional consumer of fossil fuels in the world and a key contributor to climate collapse! Sign this petition. Learn more>>
Stay Informed About AFRICOM Resistance: Sign up to join Black Alliance For Peace's "U.S. Out of Africa Network" to receive the bi-weekly AFRICOM Watch Bulletin in your inbox. Learn more>>
Stand With Families In Takeover Houses: Families have been occupying vacant houses all year, countering evictions and houselessness with bold direct action. You can support them. Sign the "Housing is a Human Right Petition" here>>
How to Start a Climate Assembly: In this People Powered Hub course, leading practitioners and advocates will share best practices and help participants identify next steps to advocate for and start a climate assembly in their home city or country. (Online – Feb 18) Learn more>>
Your support is changing how people see nonviolence at work! Thank you. Donate here>>