Editor's Note From Rivera Sun
Even with the intensity of this year, we have much to celebrate – such as the 70 wins for Earth and climate justice. It's easy to loose track of how many major pipelines we've stopped (at least 6), how many faith groups have divested (128 or so), and that we are achieving the impossible. The take-away from the wins of 2020 is to remember that, though we're up against huge challenges, we're making headway. Don't give up. In campaign after campaign, we're seeing the same dynamics: Direct action gets the goods. Mass demonstrations open the window of possibility. Sustaining pressure is essential. The financial backing for fossil fuels is crumbling – so keep pushing.
A recent report of a humpback whale sighting in New York City Harbor leaping out of the water as the Statue of Liberty looks on is a reminder of why our actions matter. Whales were the energy source of the 18th and early 19th centuries. Hunted for their oil, they were nearly extinct. Then, whaling bans (thank you, Greenpeace and "Save the Whales") protected them. Now, the humpback whale population has returned to pre-whaling day levels.
Our actions can make a difference … and they must. The clock is ticking on the climate crisis. If we're going to turn the tide, we'll need to make 2021 a year full of hundreds of success stories. This special report from Nonviolence News features achievements in Cancelled Pipelines and Projects, Fossil Fuel Divestments, Wildlife Protections, Earth-Friendly Laws, Water Justice, and more. May they offer inspiration and hope to renew your commitment to climate justice.
In solidarity,
Rivera Sun, Editor
Photo Credit: Youth Climate Strike in Mexico blockades street with intergenerational protest, Sept 30, 2020.
If this report on 70 success stories for the Earth and climate justice gives you hope, support us! Nonviolence News takes a big picture look at what's happening and offers a unique view on how people-powered movements are driving extraordinary change. Donate here>>
Pipelines & Projects Cancelled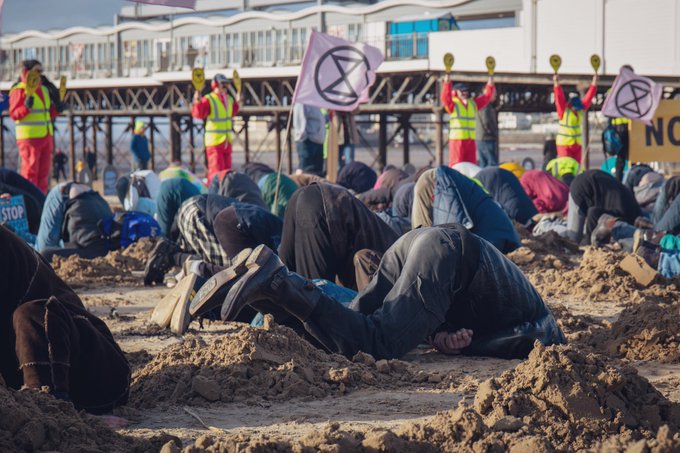 Plan To Expand Bristol Airport Rejected After Climate Protests: Think protests don't work?  Here's proof that they can. Councillors rejected an airport expansion plan because of climate protests. The decision is being hailed as 'historic'. Read more >>
Widespread Opposition Compels Gas Company To Withdraw Permit for LNG Export Terminal:  Jordan Cove, Oregon, has kept out the LNG export terminal for years. Recently, they sent the vampire project back to the grave, using public outcry to compel the company to withdraw their permit application.  Read more >>
New York City Bans All New Fossil Fuel Projects: The climate movement has fought to achieve this for years. It is the direct result of grassroots pressure. Read more >>
Compressor Station Cancelled, Protecting Black Community: A court denied a state permit for the Atlantic Coast Pipeline compressor station in Union Hill, a predominantly Black community that has battled against dangerous and polluting fossil fuel industry projects for years. Read more >>
Port of Richmond Kicks Coal: Richmond, CA, blocked a key coal export route by banning the fossil fuel from being exported via their port, citing climate change as the reason.  As we shift away from coal and other fossil fuels, Just Transitions that support workers while holding CEOs and shareholders responsible will be needed. Read more>>
Shutting Down US Coal Plants Saved 26,000 Lives: The shutdown of hundreds of coal-fired power plants in the United States over the past decade has saved an estimated 26,610 lives, according to a new study published in the journal Nature Sustainability.  Read more>>
20,000 Acres of Everglades Saved From Oil Drilling: The Governor of Florida plans to have the state buy the threatened land to prevent them from being sold to oil and gas developers.  Read more>>
Constitution Pipeline Project Scrapped: Decision is a major win for advocates fighting to protect clean water and our climate. Read more >>
Sweden Closes Its Last Coal Plant Two Years Ahead of Schedule: The country joins Austria and Belgium in going coal free. Read more >>
Saugeen Ojibway Nation Protects Lake Huron from Radioactive Nuclear Waste: On January 31, the Saugeen Ojibway Nation (SON) overwhelmingly voted down the proposed deep geological repository for storing radioactive nuclear waste next to Lake Huron. Read more >>
Papua New Guinea Shuts Down Major Gold Mine: Citizens were surprised in Papua New Guinea when the Prime Minister rejected the renewal of license for a major gold mine, saying "The world will not end if Porgera closes." Read more>>  
DAPL Pipeline Shut Down By Federal Judge: After three years and several spills, the detested pipeline opposed at Standing Rock was shut down by a federal judge until an Environmental Impact Assessment is completed. Editor's Note: The DAPL pipeline was reopened by another judge, but this cessation order is important to remember – pipelines can be shut down … and in 2021, I predict that even more will closed forever. Read more>> 
Atlantic Coast Pipeline Cancelled After Years Of Activist-Driven Delays: The pipeline was delayed for three years by coalitions of activists, including leadership from a historically African-American town."The future does not belong to Big Oil," activists say. Read more>>  
KXL Pipeline Stalled (Again): A recent court decision declined to include the KXL pipeline in its fast-track ruling for fossil fuel projects. This is good news on the pipeline that would open up major tar sands production. Read more>> 
Pebble Mine Denied Permit: Remember the "Pebble Tapes" that revealed corner-cutting and massive corruption in an Alaska mining project? Well, they had an impact. The Army Corp of Engineers denied a critical permit to the project, likely terminating it. Read more>>
Formosa Plastics Denied Permit For Toxic Plant In Cancer Alley: The Army Corp of Engineers will deny the plastics corporation a necessary permit that would have led to continued and increased pollution by the company. Read more>>
California And Oregon Join With Indigenous Nations To Dismantle Dams: In a historic agreement, California Governor Gavin Newsom today joined with Oregon Governor Kate Brown, leaders of the Yurok and Karuk Tribes and Berkshire Hathaway-owned PacifiCorp to remove four dams on the Klamath River and advance the most ambitious salmon restoration effort in history. The project, when completed, will address declines in fish populations, improve river health and renew Tribal communities and cultures. Read more>>
Solomon Islands Residents Block Massive Open-Pit Mine:  A remote community in the Solomon Islands has scored a huge victory against a mining company, which had planned to dig an open-pit mine on their tiny island. Read more>>
Pipeline Activists Defeat Controversial Fracked-Gas Pipeline in New York Harbor: The Williams Pipeline, the target of years of organized resistance, is dead.The New York Department of Environmental Conservation today denied a needed water quality permit. Read more>>
Michigan Governor Moves To Shut Down Enbridge Line 5 Pipeline: "Enbridge has imposed on the people of Michigan an unacceptable risk of a catastrophic oil spill in the Great Lakes that could devastate our economy and way of life," said Gov. Whitmer. Read more>>
New Jersey Transit Cancels Plan For Gas-Fired Power Plant: New Jersey Transit has backed off a plan to build a gas-fired power plant in northern New Jersey that drew opposition from environmental groups and surrounding towns. The agency announced at its board meeting Wednesday night that it will repurpose the project to focus on renewable energy sources. Read more>>  
New Hampshire Community Stops Fracked Gas Pipeline: For years, a community group kept the pressure on—holding meetings, marches and a huge rally, collecting over 1,100 signatures against the project, pushing Lebanon, New Hampshire, to remove fracked gas from its master plan, showing up at every hearing and meeting to testify. Even after the Public Utilities Commission officially approved the project, the group never gave up. This summer, Liberty Utilities failed to meet the requirement to start construction on the project within two years of final approval. This pipeline will never be built. Read more>> 
Pressured by Climate Activist Groups, Deutsche Bank Ditches Drilling in the Arctic: The bank joins a list of two dozen others that will not back Arctic drilling projects. Read more>>  
Yet Another Fossil Fuel Pipeline Is Shut Down: The Tesoro High Plains Pipeline in North Dakota becomes the latest in a string of pipelines to be shut down. A judge has also ordered that damages must be paid to the landowners. Read more>>
Wild Life Protections & Restorations
Seed by Seed, This Women's Collective Reforests Brazil: For more than 10 years, the 65 members of the Yarang Women's Movement have collected native seeds and sold them downriver to areas in need of reforestation.  Read more >>
Cuba's Sustainable Farming Turns Green Rivers Blue Again: While a recent report's red flag over high E. coli  levels caught headlines, there's another story to the report: sustainable farming practices have kicked the green out of Cuba's rivers, turning them clean and clear, once again.  Read more >>
Minnesota Pays People To Turn Lawns Into Bee-Friendly Wildflower Meadows: Bees are imperiled.  Mass die-offs have been alarming farmers and researchers, alike. To save bees, Minnesota just rolled out a set of nonviolent solutions, allocating nearly a million dollars in incentives for people to transform their lawns into bee-friendly wildflowers, clover and native grasses; asking citizens to stop spraying herbicide, stop mowing so often, and let their lawns re-wild into a more natural state. Read more >>
Tackling Environmental Problems and Poverty Can Go Hand-in-Hand: This town in Kenya shows how a smart, nonviolent solution like local waste management can address employment, food security, environmental issues, energy needs, and poverty. Read more >>
Mirabeau Wetlands Becomes US' Largest Urban Wetlands: New Orleans nuns converted a monastery ruined by Hurricane Katrina into the nation's largest urban wetlands – a move that will help mitigate climate-change driven flooding in the city.  Read more >>
Giant Sequoia Forest Saved By Crowdfunding: California's largest privately-held giant sequoia forest was saved from development. Editor's Note: Remember this story?  We reported that the fundraising effort was underway.  Now, they've done it! Read more >>
China Passes New Law Banning Illegal Logging Imports: China is the world's largest importer of illegally logged timber – but that may change. Read more >>
Agroforestry Land Restoration Improves Food and Ecological Security in Honduras: Since 2012, the Inga Foundation's revolutionary agroforestry system of Inga alley cropping in Honduras has dramatically transformed the lives of 300 subsistence farming families, planted over 3 million trees, and become a model for true environmental sustainability and ecological resilience. Read more >>  
Proctor & Gamble Shareholders Vote To Protect Forests: In win for advocacy groups, 67% of shareholders split from company's recommendation and vote yes on key proposal to protect boreal forest of Canada, tropical forests in Southeast Asia. Read more>>  
How To Save the Sea – Fishing Lessons From An Italian Village: This small stretch of coastline went from a hotbed of drug smuggling to a model of ecological restoration. Read more>>  
British Columbia Forest Management Practices Now Guided By Biodiversity: B.C. Forests Minister Doug Donaldson today announced the deferral of old-growth logging within more than 350,000 hectares as well as the protection of up to 1,500 giant trees. The move came in response to a highly anticipated report also released today on the management of old-growth forests in the province. Read more>>
US Court Protects Migratory Birds: The court tossed out the Trump Administration's attempt to let polluters wantonly kill bird species. Read more>> 
Elk Return To Kentucky: After a decades-long effort, Kentucky now has the largest elk population east of the Mississippi. Even better: they are living in a mountain terrain of shuttered coal mines. Read more>> 
Seismic Blasting Halted In Atlantic Ocean, Saving Whales & Marine Life: The federal government and fossil fuel industry announced at a legal hearing Thursday that seismic blasting will not be carried out in the Atlantic Ocean this year—and possibly not in the near future either—a development welcomed by conservation groups who lobbied forcefully against what they said would have been an "unjustified acoustic attack on our oceans." Read more>> 
Fossil Fuel Divestments
Cambridge University Divests $3.5 Billion Endowment From Fossil Fuels: In what climate activists worldwide called a "massive victory" after a five-year campaign, the University of Cambridge on Thursday committed to removing all direct and indirect investments in the fossil fuel industry from its £3.5 billion endowment fund by 2030 as part of a broader plan to cut its greenhouse gas emissions to zero by 2038. Read more>>
George Washington University Commits To Divest From Fossil Fuels: Sunrise GW led the successful campaign to fully divest the university endowment from the fossil fuel industry by 2025, achieve carbon neutrality by 2030, and further sustainability measures on campus. Read more>>  
40 Faith Groups In 14 Countries Divest From Fossil Fuels: In May, more than 40 faith institutions committed to divest their finances from fossil fuels while at the same time calling for the post-pandemic economic recovery to shift the world toward a low-carbon future. Read more >> 
4 Dozen Faith Institutions Divest From Fossil Fuels: In November, another four dozen faith institutions committed to divestment. "While government leaders cling to the economic models of yesterday, faith leaders are looking ahead to the energy future we share." Read more>>
TD Bank Group Ditches Arctic Drilling – Now Do Tar Sands, Campaigners Urge: TD Bank Group's announcement that it will not fund fossil fuel projects in the Arctic, including in the Arctic National Wildlife Refuge, as part of its net-zero emissions by 2050 target. Climate justice campaigners are urging them to go even further. Read more>>  
Guardian Journal Pledges to Ban Fossil Fuel Advertising: In yet another sweeping divestment victory, the Guardian said it would no longer accept advertisements from the fossil fuel industry.  Editor's Note: This announcement campaign amidst the direct action campaigns of Extinction Rebellion, following some of the largest student climate strikes yet. Read more >>
Massive Victory! Big Win For People and Planet: The CEO of BlackRock investment firm, which manages nearly $7 trillion in assets, promises to center sustainability and climate in its strategies. Editor's Note: Campaigners remain vigilant, however, and are making sure BlackRock follows through on its promises. Read more >>
Georgetown University Divests from Fossil Fuels: Joining the ever-growing ranks of major wealth holders who refuse to invest in fossil fuels, Georgetown University divests their endowment.  Read more >>
Three Japanese Mega-Banks Move Closer To Quitting Coal: Mizhuo Financial Group will stop new investments and loans for coal power, and Sumitomo also revised its policy. Japan's Bank for International Cooperation, a powerhouse of coal development in Asia, will stop accepting loan applications for coal generation. Read more >> 
British Petroleum Admits Climate Activists Have Tipped the Scales: British Petroleum has announced plans to cut extraction of fossil fuels to 40% below 2019 rates by the year 2030. This, as Oil Change International notes, is the first commitment "from a Big Oil and Gas company to recognize that significant reductions in oil and gas production must occur within this decade." Read more>>  
Kiwibank Becomes First New Zealand Bank To Go Fossil Free: With a big thanks to people-powered campaigns, Kiwibank is the first bank in New Zealand to commit to being fossil free. And it's the first bank in the world that has committed to denying coal, oil and gas companies their financial services altogether. How did the campaigns keep up the pressure? Read more>>
Mayors of 12 Major Global Cities Home to 36 Million People Make Unified Fossil Fuel Divestment Pledge: The announcement from C40 Cities—a global network of communities dedicated to tackling the climate emergency—came on day two of Climate Week NYC, some of which is being held online because of the Covid-19 crisis. Read more>>
Money Managers Are Starting To Urge Fossil Fuel Divestment: The specter of stranded assets is starting to become real. Wary of resistance movements and other market pressures, money managers are ditching oil and gas. Read more >>
Rail Blockades Trigger a Ripple Effect of Pipeline Investors Getting Cold Feet: Warren Buffett's company is the latest to back out of a fossil fuel infrastructure project due to concern over the political situation of climate justice actions in Canada.  Read more >>
Renewables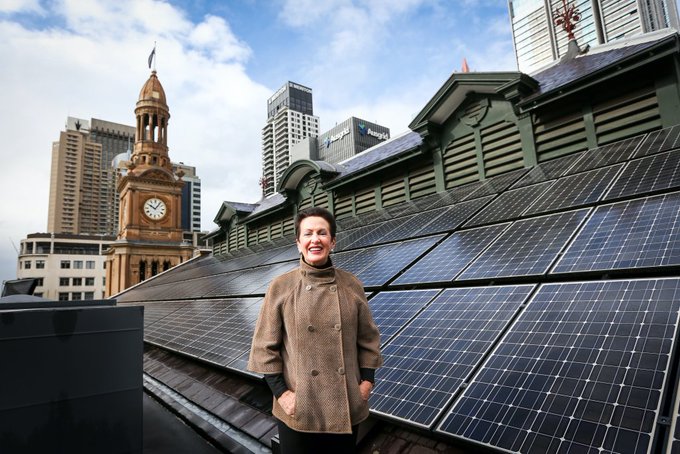 City of Sydney, Australia Goes 100% Renewable: The city proper (115 buildings in the business district, and surrounding areas) will be powered by two solar farms and a wind farm. The greater metropolitan area has not yet transitioned. Read more>>  
Small Electric Coops Pressure Mega-Utility To Ditch Coal: Rural electric coops succeed in pressuring electrical mega-provider Tri-State to close its three coal-fired plants by 2030. Read more >>
#BuildBackBetter Milan Plans To Limit Cars Post-COVID-19: Climate activists from across the globe on Tuesday welcomed an ambitious new plan for Milan that will transform 22 miles of street space currently reserved for cars "with a rapid, experimental citywide expansion of cycling and walking space to protect residents as COVID-19 restrictions are lifted." Read more >>
100 Miles of NYC Pedestrian Streets Go Car Free As City Eases Social Distancing: Will this lead to permanently car-free streets? Read more >>
US Tips The Scales On Coal: For the first time ever, the U.S. is on track to produce more electricity from renewable energy than from coal. Read more >>
New Mexico Power Utility Embraces 100% Renewable Energy for Four Corners: New Mexico Public Regulation Commission (PRC) voted unanimously to replace San Juan Generating Station power with 100% renewable energy when the coal-fired power plant is retired in 2022. This decision will modernize power generation, improve public health, and stabilize the local economy. Read more>>
15 States And Washington D.C. Will Sell Only Zero Emission Trucks and Buses By 2050: These states recently announced an agreement that all new truck and bus sales will be zero emission vehicles by 2050. Read more>>
California Bans Sales Of Gas-Powered Cars By 2035: Gov. Gavin Newsom on Wednesday issued an executive order that would phase out sales of new gas-powered passenger cars by 2035, a move that he said would significantly reduce greenhouse gas emissions and improve air quality. Read more>>
Earth-Friendly Laws
Spain's Climate Emergency:  After declaring an official emergency, ambitious legislation is slated to move forward within the next 100 days—heartening the campaigners who called for "concrete and immediate" action plans. Read more >>
A New Jersey Law Makes a Clean Environment A Right. Other States Should Follow: The far-reaching environmental justice bill acknowledges and aims to reduce harm from pollution on communities of color. Read more>>  
Orange County, FL, Adopts Rights Of Nature Law: Asserting and defending the rights of nature for Florida's numerous waterways, this bold law passed overwhelmingly in Orange County to make it the largest population to pass such a law. Read more>>  
Rights of Nature Law Reverses Fracking Permit: In an extraordinary reversal, the Pennsylvania Department of Environmental Protection (DEP) revoked a permit for a frack waste injection well in Grant Township. DEP officials cited Grant Township's Home Rule Charter and its Rights of Nature Law that bans injection wells as grounds for their reversal.  Read more >>
Costa Rican Suburb Gives Rights To Bees, Flowers, and Trees: A suburb of the country's capital is showing how urban planning can be harnessed to benefit both humans and wildlife. Read more >>
Federal Appeals Court Upholds Endangered Species Protections for Yellowstone Grizzlies: "This decision solidifies the belief of numerous wildlife advocates and native tribes that protecting grizzly bears should be based upon science and the law and not the whims of special interest groups." Read more>>
Water & Other
Citizen Plumbers In India Save Millions of Gallons of Water: With DIY taps, these citizens are conserving water in a city that desperately needs it.  Read more >>
Mexican City Rejects Giant US-Owned Brewery Plans Amid Water Shortages: The vote to reject plans for a huge brewery in border city of Mexicali is unlikely win for farmers and activists over wealthy maker of Corona, Modelo and Pacifico. Read more >>
Editor's Note: Plastic Bag Bans had some setbacks in 2020 due to the pandemic. Many stores forbade the use of renewable canvas bags or even reusing plastic bags from home. But the passage of a plastic bag ban is still a good sign – and worth remembering that the campaigns have succeeded – and will succeed again.
Mexico City Implements Plastic Bag Ban: Mexico City – a metropolis of 21 million people – implemented a  plastic bag ban. Read more >>
China Bans Plastic Bags: In a victory for the effort to end plastics consumption,  the world's largest country passed a ban on plastic bags. Read more >>
If this report on 70 success stories for the Earth and climate justice gives you hope, support us! Nonviolence News takes a big picture look at what's happening and offers a unique view on how people-powered movements are driving extraordinary change. Donate here>>