Editor's Note From Rivera Sun
For an impressive 10 days, Finnish environmental activists blockaded a train carrying imports of Russian oil to oppose both war and fossil fuels. It was a potent action. The visual symbolism of having to put our bodies on the line to stop a freight train load of crises couldn't be more apt. Between war and fossil fuels alone, the terrifying specter of nuclear annihilation and climate extinction should alarm us all. But those aren't the only existential threats we have to worry about – widespread poverty, mass evictions, racist mass shootings, a global pandemic, crumbling democracies and eroding human rights all make the list of things that keep me up at night.
Where can we find hope? In the vision and courage of people pushing for change.
In this week's Nonviolence News, you'll find stories about Filipinos and Angolans pushing for election integrity, Hawaiian mental health therapists striking for better patient care, and Italian factory workers taking over businesses. Atlanta's climate and racial justice movements are joining forces to oppose the plan to turn a forest into a "Cop City" training facility. Azerbaijans are decrying the persecution of political activists and journalists. And beleaguered Ukrainian delivery app workers are organizing against shocking cuts to earnings and safety policies while they continue to work in the war zone.
Meanwhile, Afghan women protested a new burqa law. China's LGBT community is redefining "family". Peace activists lit off flares outside war profiteers offices in the United States. Sudanese resistance committees have endorsed a charter to renew the struggle to end military rule. From London to Bogota, Extinction Rebellion activists launched dramatic direct actions during the Spring Uprising aimed at gaining immediate climate action from authorities, business, and society.
So, take heart in knowing you're not alone. Millions of human beings are standing up to stop injustice, rising to protect the Earth, mobilizing for fairness and dignity. As you move into action, too, know that our hearts send you gratitude and feel your solidarity wherever you are.
Yours toward a nonviolent future,
Rivera Sun
Photo Credit: In Finland, Extinction Rebellion and Greenpeace activists blocked a train bringing Russian coal into the country, calling for their country to oppose war and quit importing fossil fuels. After a 10 day stretch, 5 rebels were finally taken into custody.
What's the Nonviolence News version of a walk-a-thon? Each time you see a story that inspires, uplifts, or gives you hope, donate! Here's where to support us>>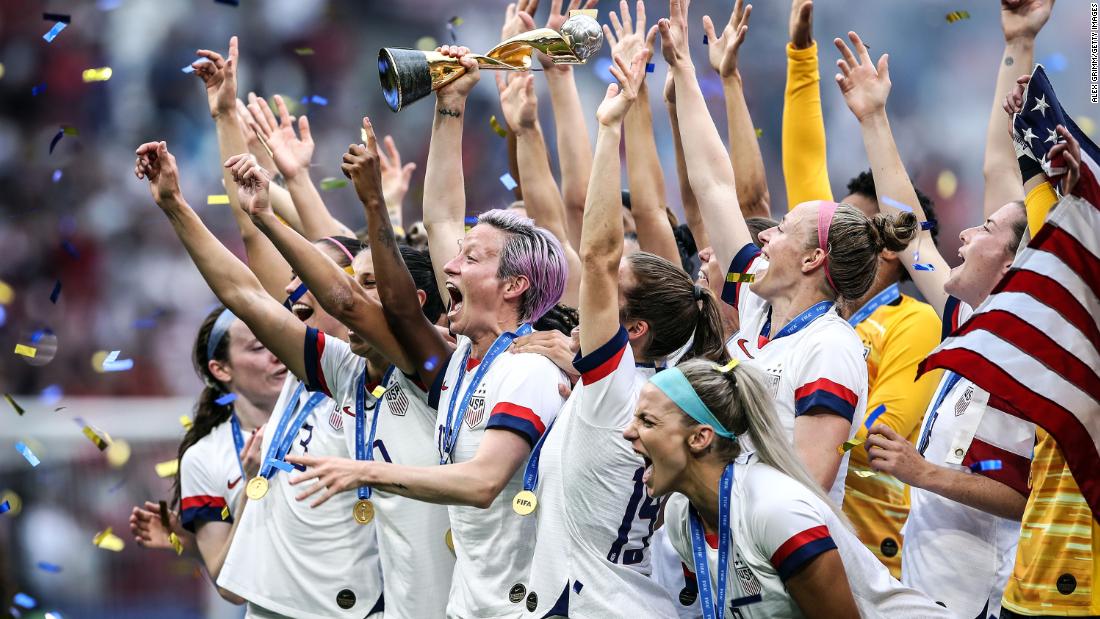 US Soccer Agrees To Equal Pay Deal: The United States Soccer Federation (USSF), the United States Women's National Team Players Association (USWNTPA) and the United States National Soccer Team Players Association (USNSTPA) have agreed to a deal that achieves "equal pay and set the global standard moving forward in international soccer." Read more>>
US Dept of Homeland Security Backs Off On "Disinformation" Board: The Biden administration has put plans for a controversial "disinformation" board under the Department of Homeland Security on "pause" after the board's formation caused a widespread backlash. Read more>>
New 'Oregon Trail' Game Revisits Westward Expansion From Native Perspective: The iconic video game "The Oregon Trail" is back with a new version—and a more nuanced approach to the story of white settlers traveling across the American West in 1848. Developers hired three Indigenous historians to help revamp the iconic educational computer game. Read more>>
This Historic Community Is Pushing the Nation Toward a Wind Power Revolution: Block Island, Rhode Island, off the New England coast, overcame political strife to lead the way on energy independence. They shut down an obnoxious diesel generator system and became one of the first communities in the US to run entirely on wind power. Read more>>
In the Philippines, a Landmark Finding Moves Fossil Fuel Companies' Climate Liability into the Realm of Human Rights: In a damning and lucidly-written report, the commission found that the world's largest fossil fuel companies had "engaged in willful obfuscation and obstruction to prevent meaningful climate action." The companies continue to deny climate science and try to slow a transition away from fossil fuels, the report said, driven "not by ignorance, but by greed." While not binding, the findings of the report by the country's Commission on Human Rights has broad implications for other cases, experts say. Read more>>
'Extraordinary Relief' – Advocates Celebrate Partial Block of Alabama Law Targeting Trans Youth: "This ruling means that we will be able to continue providing our child with the medical care he needs and nothing could be more important or more of a relief to our family," said one parent who was a plaintiff in the case. Read more>>
Clean Car Trade-In For New Zealand Families: New Zealand has announced a new program to help low- and middle-income families trade in their gasoline-powered cars for cleaner hybrid or electric vehicles. Read more>>
Azerbaijans Rally Against Targeting of Activists: On May 14, a group of civil society activists held a rally in Azerbaijan's capital, Baku, demanding an end to impunity against government critics, political activists, and journalists. The organizers of the event said the decision to hold the rally was triggered by the violent targeting of political activists and journalists. Read more>>
Khartoum Resistance Committees Sign Political Charter To Topple Sudan's Military Regime: Fifteen resistance committees in Khartoum State, endorsed a political charter establishing a unified political platform for the neighborhood-based groups that lead the anti-coup protests. Read more>>
Atlanta Fights To Save Its Forest: Activists from throughout the country have converged on Atlanta this week to oppose the construction of the police training facility and the destruction of the forest upon which the project depends. The week's schedule includes meals, discussions and camping in the Atlanta Forest as well as concerts, protests and film screenings in the city. Read more>>
Philippines Protest Election Integrity As Former Dictator's Son Pulls Ahead: Former Senator Ferdinand Marcos Jr. is expected to win the Philippine presidential election based on the unofficial tally from the Commission on Elections (Comelec). However, in light of his apparent victory, protests erupted across the country. The May 9 elections were described by authorities as peaceful and safe despite reports of irregularities that marred the voting process in many areas. Read more>>
Angolan Protesters Face Rising Repression As Elections Loom: Angola is experiencing moments marked by illegal or arbitrary executions, forced disappearances, inhuman treatment, and restrictions on press freedom. After successive protests by activists and opposition parties against the new electoral law, new demonstrations took place once again in the capital Luanda. However, as has been recurrent on other occasions, the police prohibited the demonstration on April 9 from taking place and arrested some of the activists in the past. Read more>>
Nigerian Politicians, Oblivious of Striking University Teachers, Focus On Election Campaigns: The Nigerian government's insensitivity to striking federal-university teachers reflects a fundamental disinterest in public education. However, the incessant strikes are not influencing the tone-deaf government but only keeping students at home. Read more>>
In Tajikistan, At Least One Killed In Pamirs Unrest: Tensions spiked in the eastern town of Khorog on May 14, when around 1,000 people gathered to demand the resignation of the mountainous region's leader and a proper investigation into the police killing of a local resident last year. Internet connections were immediately severed following the outbreak of violence, which eyewitness have said was precipitated by riot police deploying stun grenades and smoke bombs against demonstrators. Read more>>
Kaiser Therapists Strike in Hawaii: In Hawaii, mental health therapists are on strike to protest chronic understaffing. "This strike is about patient care," Daniel Meier, a psychologist at Kaiser's Ala Moana Clinic in Honolulu, said in a press release. "We've hit a crisis point where we're being forced to tell people with serious mental health conditions that they'll have to wait months for their next appointment. Kaiser has gotten away for years with underfunding mental healthcare and we're taking action to put an end to that." Read more>>
Oregon Starbucks Workers Go On Strike Against Union: Starbucks workers at a location in Eugene, Oregon went on strike on Tuesday to protest the union busting at their location and the unlawful firing of three organizers. The workers at this Starbucks store voted 17-0 in favor of unionizing. They are part of the massive Starbucks unionization wave, with 70 other stores nationwide winning union elections and over 250 stores filing to unionize. Read more>>
Extinction Rebellion Spring Uprising: Check out the latest newsletter for great photos, impressive stories of direct action, and an overview of recent actions in Argentina, France, Sri Lanka, Germany, South Africa, United Kingdom, United States, Colombia, and beyond. Read more>>
'Oil Fuels War' – Greenpeace Activists Block Tanker Carrying Russian Diesel To UK: Greenpeace activists have forced a Greek tanker carrying 33,000 tonnes of Russian diesel to the United Kingdom to turn around in the River Thames near London, part of a campaign to pressure British lawmakers and Prime Minister Boris Johnson to stop buying the fossil fuels funding Moscow's war on Ukraine and start focusing on a rapid clean energy transition. Read more>>
Ohio Residents Fight To Get Radioactive Oil And Gas Waste Off Their Roads: At least 13 states allow drilling waste to be used for road de-icing, dust suppression, and maintenance. Cash-strapped towns and counties, meanwhile, are reluctant to look a gift horse in the mouth — to the detriment of their residents' health, according to Cheryl Johncox, an organizer with the Sierra Club and member of the Ohio Brine Task Force, a coalition of activists, scientists, and concerned residents. Read more>>
No Coal, No Gas Activists Sentenced: Four climate activists from No Coal No Gas were sentenced by Judge Andrew Schulman in Merrimack County Superior Court on Friday, May 13th, following their three-day jury trial in March of 2022. This decision comes after the jury found the four guilty of criminal trespass and railroad trespass during a Hooksett coal train blockade in 2019. Over 65 fellow activists supported the defendants in-person and online during the hearing. The 2019 train blockade was a response to the continued use of coal at Merrimack Station in Bow, New Hampshire – the last coal-fired power plant in New England. Read more>>
The 'Insorgiama!' Movement In Italy – Take Back A Factory, Organize A City, Fight For Everything: On Sunday, May 15, a national public assembly organized by the "Insorgiamo!" — "We are Rising up!" — movement will be held in Florence, Italy. The movement began with the struggle against a factory closure and the workers' efforts to reopen it, and from there has taken up other social demands. Read more>>
Delivering During Wartime, Ukrainian Delivery App Workers Organize: Throughout the war in Ukraine, app workers have continued their deliveries. Last week, workers employed by Bolt protested at the company's headquarters in Lviv. "I don't have a place to live here and I don't even have enough money to eat," said a worker in a video released by the Ukrainian Labor Initiative. "Bolt … said they would support favorable conditions. Both for themselves and for couriers. But they simply did not warn anyone, removed the minimum pay, lowered all the ratios." Read more>>
Family Members Picket On Behalf Of BNSF Railway Workers Who Fear They'll Be Fired For Speaking Out: BNSF Railway workers have been stripped of almost all time-off, including weekends, under an extreme new attendance policy. They've been working for 3 years with no contract and no raises. A federal judge barred workers from striking, so their families have been picketing on their behalf. Read more>>
'I Cannot Survive On $260 A Week' – US Retail And Fast-Food Workers Strike: Workers in America's fast-food and retail sectors who worked on the frontlines through the dangers of the Covid-19 pandemic are continuing a trend of strikes and protests over low wages, safety concerns and sexual harassment issues on the job. The Covid-19 pandemic has incited a resurgence of interest and support for the US labor movement and for low-wage workers who bore the brunt of Covid-19 risks. Read more>>
By The Numbers – The Rapidly Growing Starbucks Union: It was in January of this year that the union activity rapidly increased. Between January 1 and May 10, the union filed 251 representation petitions, nearly 2 per day. So far, the NLRB has conducted 60 union elections at Starbucks, with the union winning 54 (90%) of those 60. Read more>>
Afghan Women Activists Protest Against Taliban's New Burqa Decree: Women's rights activists march in Kabul against new face-covering order, despite threats and risk of imprisonment from Taliban. Read more>>
Portland Pride Parade Refuses JP Morgan's Sponsorship Over Anti-LGBTQ Stance: Portland's Pride Parade rejected JPMorgan's offer to sponsor this year's festival, citing concerns over the bank's donations to politicians who support anti-LGBTQ causes. Read more>>
Dads Flock to Hair-Braiding Class: When Annis Waugh offered a hair-braiding class just for dads for a school fundraiser, it rapidly filled up with dads eager to learn how to care for their daughters' hair. As one eager dad observed: "It shouldn't just be one gender doing stuff like this. The more we do and share the load, the better is it for my daughters." Read more>>
Queering the Chinese Family: The current legal, cultural, and social environment in China is far from LGBT-friendly. But the tactics employed by queer Chinese stand testament to the creativity and vitality of queerness. As much as queer people may hope for the legal and social change of same-sex marriage, there's no reason to limit one's imagination about the forms queer families can take. A Chinese queer family is already coalescing and, in the process, transforming understandings of what a family is and can be. Read more>>
Defenders Of Abortion Rights March Nationwide: Activists take part in "The Bans Off Our Bodies" march for abortion access, in Washington, DC on May 14, 2022. Thousands of people took part in the national day of action calling for safe and legal access to abortion. Read more>>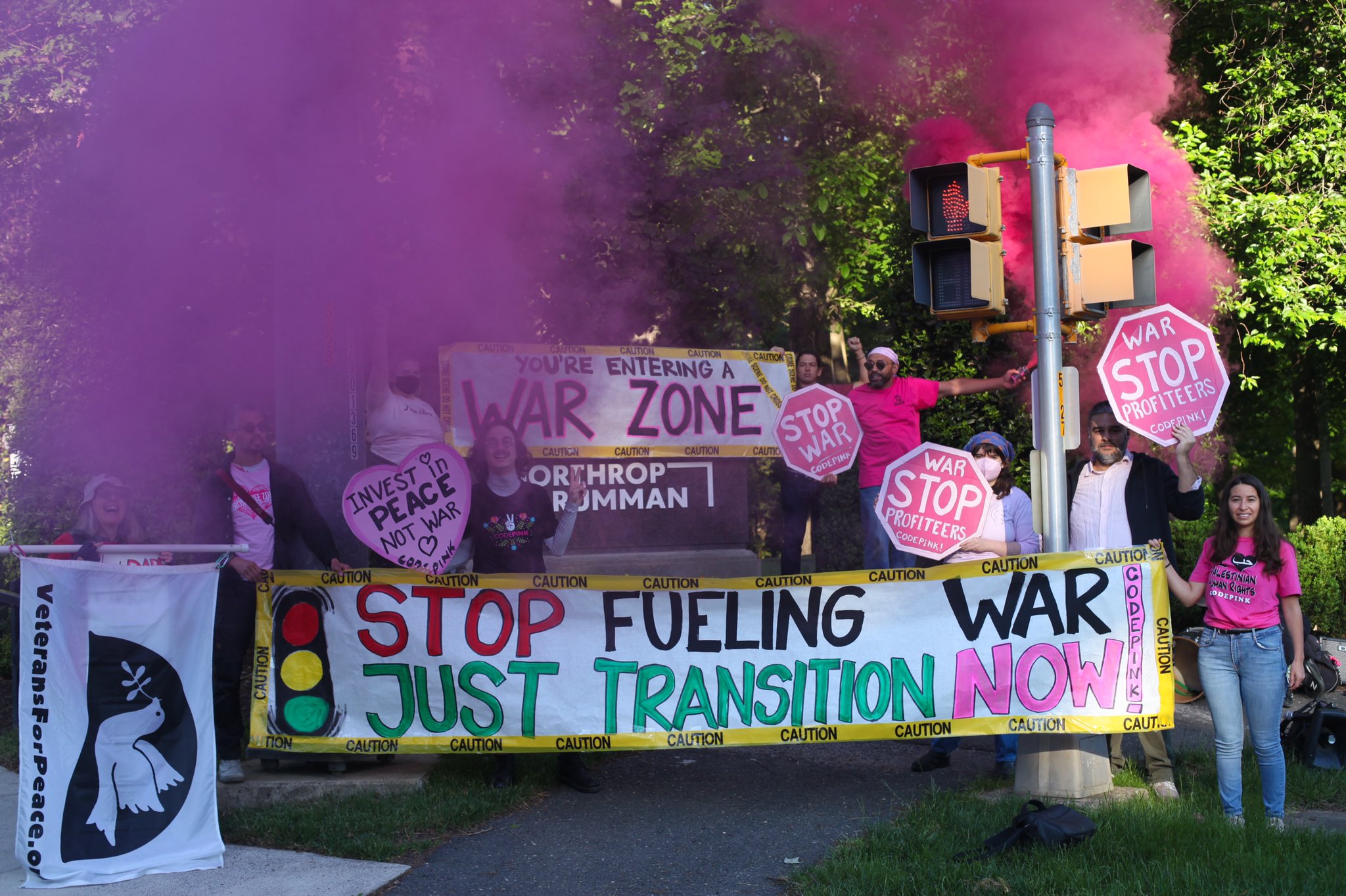 Washington D.C. CODEPINK Protests Northrop Grumman Weapons Manufacturers: This week, CODEPINK's D.C. team and friends disrupted Northrop Grumman's shareholder meeting to demand a just transition away from the brutal war economy. Slogans included: War is not a 'green' industry and War is not a 'sustainable' business. Read more>>
'Poison For The People' — How An Exiled Activist Is Countering Russia's Propaganda Machine: Russian environmental activist Evgeniya Chirikova has lived in exile for more than seven years. She has helped other exiles, political activists, and is now urging people to stop buying Russian oil. Because if you stop buying oil, gas and coal from Putin's Russia it will help you to stop war on Ukraine on the one hand and it will help you to save the climate on the other. Read more>>
General Dynamics Shuts Out Critics, 'Radical Skeptics': On May 4th, General Dynamics held its annual shareholder meeting. This meeting took place virtually, possibly in response to last year when shareholders were able to directly engage with the General Dynamics Board and ask how they justify the destruction and death their weapons cause. Read more>>
Divest Philly Pushes City To Divest From Nukes: The Divest Philly coalition is continuing its work to divest the city from nuclear weapons. On March 31st, the coalition held a powerful teach-in on abolishing nuclear weapons globally and locally — you can watch the recording here>>
Peace Activists Denounce Finland And Sweden Joining NATO, Plan Protest Summit: European peace activists are pushing back against NATO expansions, organizing for a ceasefire in Ukraine, and moving toward a major summit to assert a counter-narrative toward peace. Read more>>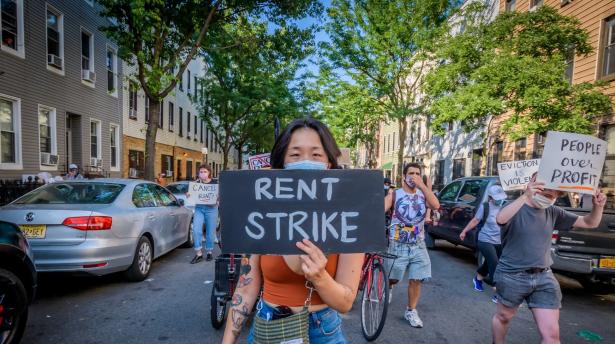 Economic Disobedience – What Is It and How Does It Work? From student debt strikes to withholding rent, working people have a number of ways to fight the oligarchy. Read more>>
From the Doorstep To The Desk, Latinas With Disabilities Share Stories Of Navigating The Pandemic: When isolation measures were put in place around the world at the beginning of the COVID-19 pandemic, Latinas with disabilities were no strangers to handling confinement, loneliness, and figuring out how to care for themselves, day in and day out, in order to survive. To illustrate these experiences first-hand, six women with disabilities from different countries, some immigrants, participated in facilitated conversations. Read more>>
Lessons For Nonviolent Activism In An Era Of Digital Authoritarianism: As autocrats become savvier in using technology to repress dissent, activists are striving to preserve the benefits of digital activism and mitigate the risks. Read more>>
Why Learning From Each Other's Struggles Is Vital To Long-Term Movement Success: Time is too short to reinvent the wheel if we want to win. Movements must take seriously how they train and strategize. Read more>>
In Wake of Buffalo Shooting, Get Food To The Community: Saturday's racially motivated mass shooting in Buffalo has shut down a vital grocery store in the middle of a food desert. Today, we'd like to ask you to support a local charity providing direct support to the community in the wake of this devastating tragedy. Learn more>>
Stop Instagram From Censoring Palestinian Supporters: The killing of Palestinian-American reporter Shireen Abu Akleh by Israeli forces, coupled with violent attacks on her pallbearers and funeral procession, has caused global outrage. This is a time when it's crucial that as many people as possible speak out in solidarity with Palestinians — but instead, social media platforms like Instagram are doubling down on censoring Palestinians and allies across the world. Learn more>>
Divest Chicago From Weapons: The Divest Chicago from the War Machine coalition continues to grow with 12 organizational cosponsors, and is hard at work to move their Divest from War Resolution out of the Finance Committee and into effect. If you live or work in the Chicago area, please sign this petition telling the Chicago Finance Committee to Divest from War! Learn more>>
Join Dissenters For Solidarity + Resistance in Sudan: What does it look like for Black freedom struggles around the world to be in solidarity across borders? How can young people in the United States support the ongoing struggles of Sudanese activists and social movements that took to the streets in mass in response to the military coup in October of last year? (May 26) Learn more>>
Stop The Fast-Tracking Of Fossil Fuel Pipelines: New fossil fuel expansion worsens the climate emergency and threatens the livelihoods and wellbeing of Indigenous and frontline communities. Yet the Biden administration's Army Corps of Engineers continues to greenlight new fossil fuel pipelines that threaten our rivers and wetlands using a shortcut called "nationwide permitting." Join Build Back Fossil Free in demanding an end to the fast-tracking of deadly fossil fuel pipelines before the deadline on May 27th! Learn more>>
Resisting Canadian Arms Exports And Militarization Of Territory: On the eve of the CANSEC arms show in Ottawa, this webinar seeks to build awareness of militarization of territory in Mexico, Colombia and Dene lands in Canada. (May 31) Learn more>>
Healing Through The Music of Nonviolence: Explore the affirmative use of music to express freedom, peace, love, and unity. Tap into the power and gift of music. Delve into healing music, earth songs and protest songs designed to spark awareness towards the journey of self-love, equality, nonviolence, and social change. (June 1 & 8) Learn more>>
The Time Is Right: An Introduction to Kingian Nonviolence: Bianca Pointner and Jonathan Jones will lead this transformational six-week course on the skills and practices that define Martin Luther King Jr's approach to nonviolence. From history and definitions to principles and steps, this course is a wonderful opportunity for growth for anyone interested in bringing nonviolence into their life. As Rivera Sun says, "For everyone on the nonviolence journey, connecting with Kingian Nonviolence is a must." The course begins June 2. Learn more>>
March For Medicare For All: The grassroots, volunteer led activist group March for Medicare for All returns to Washington D.C. on Medicare's birthday for their National Day of Action. (July 30) Learn more>>
Facing Race Conference: The largest multiracial, inter-generational gathering for organizers, educators, creatives, and other leaders, Facing Race is a one-of-a-kind collaborative space for racial justice movement making. For over 15 years, Race Forward has presented this incredible conference experience that has hosted over 4,000 attendees to convene, organize and mobilize for a more equitable future. (Nov 17-19) Learn more>>
New Online Course – Leaving World War II Behind: One of the most common topics of books, films, and other cultural productions, World War II, may also be one of the most misunderstood — with that misunderstanding wildly misused to justify ghastly horrors, and even to take steps that are moving us closer to World War III.Here's a new analysis of well-established facts, presented in an interactive global online course over six weeks. (June 20-July 31) Learn more>>
Thank you to the people who donated this past week!
Every week, a few more people contribute. We're so grateful.
If you feel it's your turn, donate here>>