Editor's Note From Rivera Sun
One thing Nonviolence News offers is the bird's eye view on emerging trends. For example, last week, we reported that Sri Lanka is in the middle of a national strike against a collapsed economy and that Mongolians took action over "empty bellies and empty promises". This week, Albanians are protesting against price hikes and oligarchs. A rural area of India is campaigning against extreme poverty. In the United States, Kansas City tenants formed a union to stop evictions and keep rents affordable. These campaigns are all part of a global push for economic justice for workers, renters, students, and more. They signal both a rising need for change and a growing understanding that the economy's structure needs a serious overhaul.
Meanwhile, other struggles take aim at fundamental rights. Extinction Rebellion protesters, well known for dramatic direct action on the climate crisis, pivoted to defend the basic right to protest as the United Kingdom rolls out new restrictions on demonstrations. Another effort struggling for basic rights are US strippers and sex workers, long denied the same workplace protections expected in other industries.
Indigenous activists continue to hold back development, especially around fossil fuels. Wet'suwet'en water protectors are facing round-the-clock harassment from the Canadian police. A new prayer camp has been set up in Nebraska to thwart a 500-unit housing development project. A totem pole named Spirit of the Waters has begun a 2,300-mile journey to raise awareness about the need to remove dams along the Snake River, and protect the salmon and the orca that rely on them.
Other interesting articles include grandmothers pushing for peace in Ukraine, Nigerians working to end police brutality with principled nonviolence, a Chilean group stopping drought with mats made of human hair, and much more.
Enjoy this week's Nonviolence News!
Rivera Sun
Photo Credit: KC Tenants launch union. Photo by Tammy Ljungblad.
A small gift goes a long way. Thank you! Donate here>>
Significant Land In Washington State Returned to Colville Tribe: The 9,243-acre Figlenski Ranch in Okanogan County was returned to its original stewards, the Confederated Tribes of the Colville Reservation. Read more>>
House Lawmakers Approve Resolution Allowing Their Own Staffers To Unionize: House lawmakers approved a resolution that grants legal protections to staffers who are trying to organize their offices on Capitol Hill. Read more>>
How A Faith Community In Indiana Reinvented Public Safety: With a decade of organizing, Faith in Indiana turned that red state's largest city towards a more preventive approach to crime. Black clergy and churchgoers won the adoption of a violence-prevention program and reforms to police governance. Read more>>
Biden Cancels Three Off-Shore Oil & Gas Leases In Alaska and Gulf Coast: The Biden administration says it is canceling three oil and gas lease sales scheduled in the Gulf of Mexico and off the coast of Alaska, removing millions of acres from possible drilling. Read more>>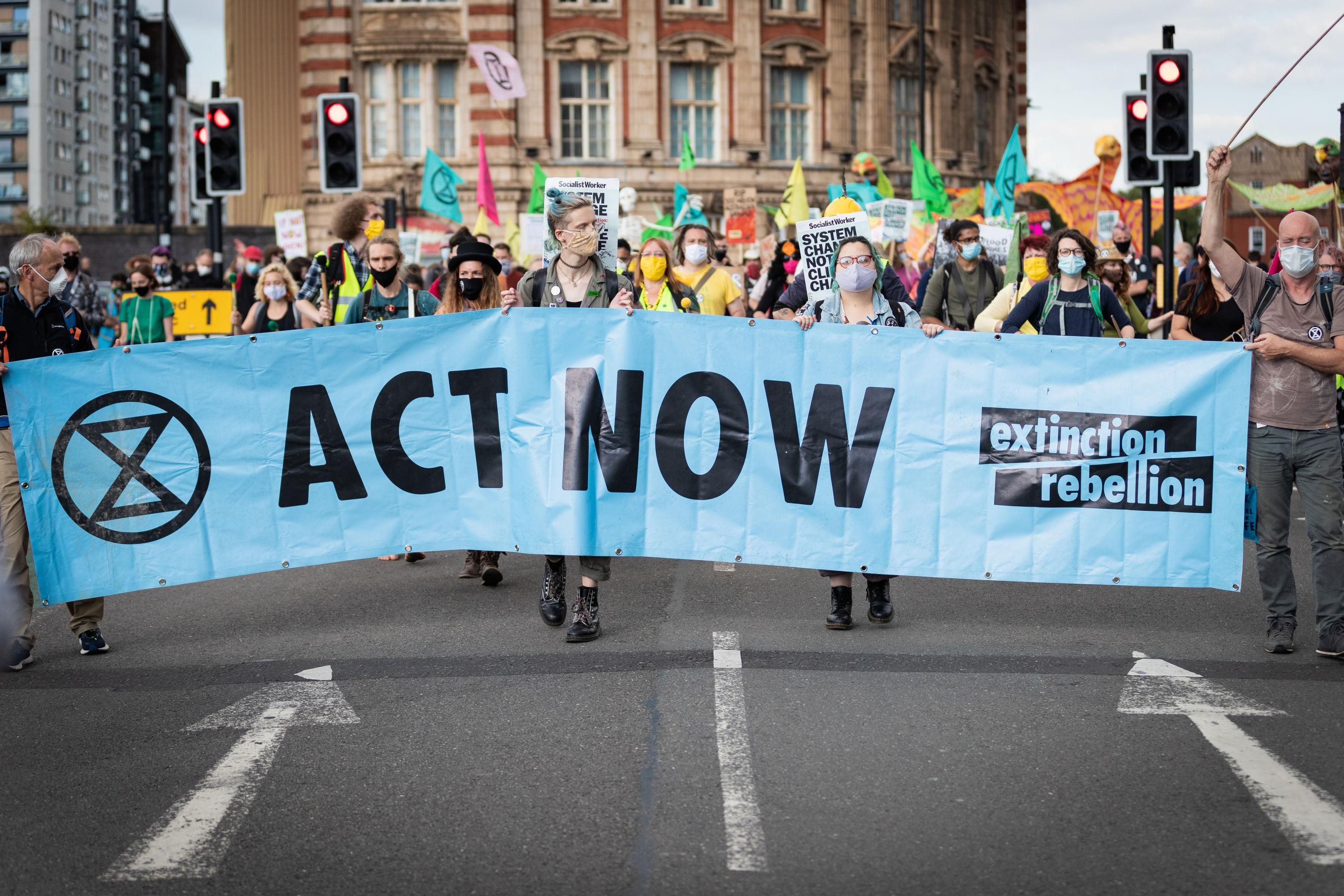 Extinction Rebellion Vows to Fill the Streets in Response to UK's New Protest Limits: The climate movement Extinction Rebellion revealed plans to bring millions of people into the United Kingdom's streets on September 10 in response to the government's latest efforts to enact new limits on protest. "It is foolish to think that announcing new curbs in the Queen's Speech will stop people taking to the streets to demand their government act to ensure a safe future." Read more>>
Hundreds Demonstrate In Support Of Assange: On Saturday afternoon, hundreds of protesters demonstrated outside the Théâtre Royal de la Monnaie in Brussels in support of Julian Assange. The demonstrators called on the United Kingdom to retract its decision to extradite Assange to the United States, where he could face a 175-year prison term. Read more>>
Librarians, Teachers Form Coalition to Fight GOP's Book-Banning Frenzy: The American Library Association, the American Federation of Teachers, and more than two dozen other organizations on Tuesday formed a coalition to fight the far-right's record-breaking censorship barrage—wherein nearly 1,600 books were targeted for removal from public shelves and schools across the United States in 2021. "Book bans are about limiting kids' freedom to read and teachers' freedom to teach," warned the head of the American Federation of Teachers. Read more>>
On A Day Without Child Care, Hundreds Of Providers In 27 States Strike: Hundreds of child care providers in 27 states and Washington, D.C., went on strike Monday to remind policymakers how essential they are, not only to families but to the nation's economy. Early childhood professionals – and the parents they serve – said they're fed up with the lack of progress on policy promises such as better wages and expanded subsidies. Read more>>
Azerbaijani Activists Being Arrested After Deportation From Germany: Germany is the leading destination for Azerbaijanis leaving for political reasons. It's also Europe's leading deporter of Azerbaijanis. Read more>>
Niskithe Prayer Camp Launched In Resistance To Development Project: On May 2nd, in so-called Lincoln, Nebraska, the Niskithe Prayer Camp was established in opposition to the "Wilderness Crossing development project, which would significantly encroach on sacred Native American purification/sweat ceremonies and disrupt an existing pristine nature park." Read more>>
Wet'suwet'en Report Round-The-Clock Surveillance And Harassment By RCMP And Pipeline Security: The RCMP has had a continuous presence on the Wet'suwet'en Yintah (territory) since late 2018, after Coastal Gaslink obtained an injunction against land defenders blocking the right of way for a liquified natural gas pipeline the company is constructing through Wet'suwet'en territory. The RCMP have conducted three heavily armed raids, since 2018. Drilling under the Wedzin Kwa river is expected to begin any day. Read more>>
Campaign Targets 'Toxic' Bond Market for Bankrolling Fossil Fuel Expansion: "Dirty energy companies are using the corporate bond market as the back door to secure large amounts of cash for expansion projects," said one climate activist. "This has so far received too little. scrutiny." Read more>>
'Spirit Of The Waters' Totem Pole Journey Begins: The 2,300-mile journey highlights the vital role of the Snake River, salmon and orca to the lifeways and identities of Tribal communities in the region. Read more>>
In Times Of Climate Crisis, The Future Is A Territory To Defend: Indigenous Futures Network says, "We Indigenous peoples find ourselves among those who have contributed the least to the problem of climate change, and those who offer the most ecosystemic contributions in the struggle against its effects. In spite of this, we are the ones who suffer the worst consequences. We can regenerate the life systems to which our future is linked. But change must be at the root. Because after every crisis, we don't want to return to normality, we want to return to the earth." Read more>>
Against Price Increases and Oligarchs – A New Protest Movement in Albania: A few days after the Russian offensive in Ukraine, the idea of a global crisis that would drastically affect the spending capacity of the most vulnerable categories of society began to spread in Albania and beyond. Following calls on social networks, people gathered in front of the Prime Minister's Office to oppose the unreasonable rise in prices. One of the most striking slogans is "Tax the oligarchs – not the people!" Read more>>
A Rural Protest For Accountability And Transparency Brews In India: Facing extreme poverty and a lack of basic services, a movement in Rajasthan is renewing its push for an ambitious law to hold officials accountable. Read more>>
Hundreds of Cedars-Sinai Workers Walk Out for 5-Day Strike: "If my son can make more than me working at Target, something is wrong with that working here at Cedars-Sinai Medical Center," said one striking worker. Read more>>
Kansas City Tenants Announce Launch of Citywide Tenants' Union: The organization will work with every local neighborhood association with a goal of getting 10,000 union members. Read more>>
Market Box Delivers Food—And Solidarity—To The People: Created at the height the pandemic, Chicago's Market Box began as a direct response to help families pushed into food insecurity access fresh meals. To date, the volunteer-led operation has distributed over 10,000 boxes to families in need, sourcing all of their produce from local small-to-medium sized farms. Learn more about their work and how you can support their mission here. Read more>>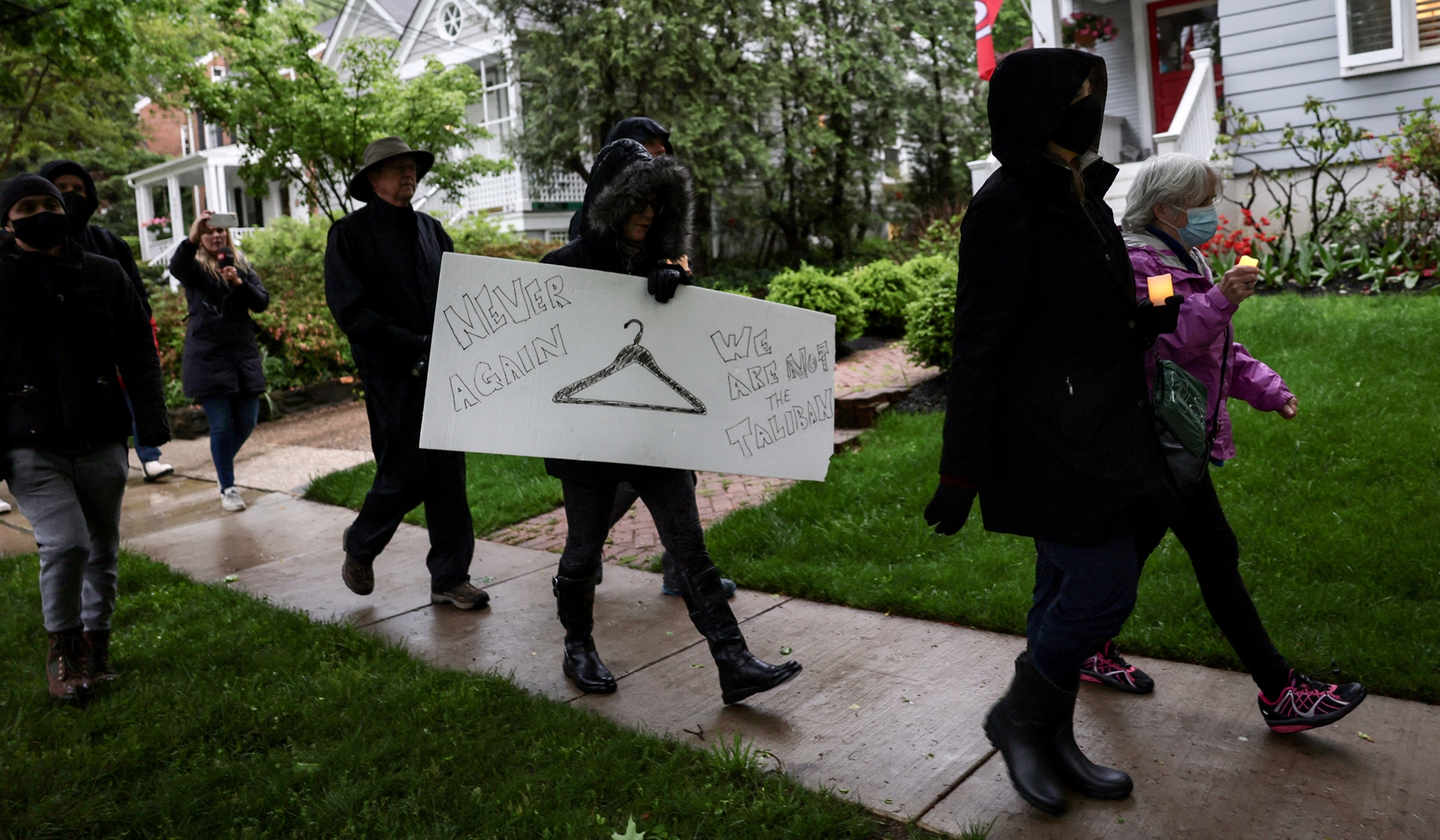 Abortion-Rights Protest Targets Homes of Justices Kavanaugh & Roberts: About 100 protesters marched between two Supreme Court justices' Maryland houses. The action followed the leak of draft opinion overturning Roe v. Wade. Read more>>
Iowa Middle Schoolers Walk Out In Protest of Supreme Court Draft On Abortion: About 100 students at Northview Middle School in Ankeny, Iowa, about 20 minutes outside of Des Moines, walked out of class Thursday afternoon. They say they want to speak out about human rights that could be in danger because of the possible decision by the Supreme Court. Read more>>
Strippers Seize the Moment, Turning a Lockout Into a Picket Line: How many assaults, rapes, and shootings will it take for these performers to be afforded even the basic protections a union could provide? Read more>>
A 'Hamilton' For The Suffrage Movement: Have you heard of the juggernaut musical about the young, scrappy American revolutionary with a surplus of political genius, who's determined to change the course of history with the help of a gang of committed cronies? No, not "Hamilton"—I'm talking about "Suffs," an ambitious new show that sets out to do for the suffragist Alice Paul what Lin-Manuel Miranda did for Alexander H. Shaina Taub's new musical follows Alice Paul's tireless quest to win American women the vote. Read more>>
Mother's Day Demonstration At Trident Nuclear Submarine Base: Over 50 people were present and 9 were arrested on May 7, at the demonstration against Trident nuclear weapons at the Bangor submarine base. Read more>>
Grandmothers For Peace Call For End To Ukraine War This Mother's Day: Activists with the Grandmothers for Peace call on women across the world to unite and re enforce the importance of peace. Read more>>
Challenges Around Inclusion In Peacebuilding Practices: While backlash to inclusive peace processes can be overcome, the failed referendum of the 2016 Colombian peace agreement imparts important lessons for how to operationalize inclusivity in a culturally sensitive, context-specific way. Read more>>
Chilean Group Uses Human Hair Waste To Combat Effects Of Mega-Drought: Chile is on the frontlines of a climate crisis—facing a flailing sustainability sector and a long-standing drought. Now, an improbable instrument is helping to improve the livelihood of local farmers and their crops. Read more>>
5 Ways Public Libraries Are Fighting Food Insecurity: Public libraries have long been thought of as cornerstones of the neighborhoods they occupy—a quintessential piece of community infrastructure. But can these cornerstones be used to address some of our most pervasive social problems? Read more>>
Covered With Night – Pulitzer Winner Portrays A Story of Murder and Indigenous Justice: This 2022 Pulitzer Prize winner in history is a tale of crime, racism, power, and the conflict between punitive and restorative justice in settler-colonial North America. Read more>>
How to Portray Nonviolent Struggle in Fiction – An Interview with Rivera Sun: The Peace Digest Interviews author Rivera Sun about how – and how not to – weave nonviolent action and peacebuilding into novels and fiction. Read more>>
Spreading The Principles And Truth Of Nonviolence In Nigeria: Nigerian activist and author Amos Oluwatoye discusses his path to nonviolence and using ethnic traditions and storytelling to raise awareness among young activists. Read more>>
The Left Must Be Ruthlessly Strategic: There is a difference between political actions that are expressive and those that are tactical. We have to act on the basis of what works, not what feels noble. Read more>>
Yes, Protest Can Influence The Supreme Court: History shows that how the Supreme Court votes on Roe and other critical issues depends on our ability to mobilize and shift public opinion. Read more>>
Nonviolence International Launches New Study Guide To Tactics: Nonviolence International has launched a study guide for my book, Civil Resistance Tactics of the 21st Century. You can see an all-star cast of young people, Rivera Sun, Amber French, and Andrea Palomo-Robles, Nimesh Wijewardane, speaking about the world of nonviolent tactics in a short 41-minute webinar. They praised NVI's tactics database, the book and the study guide to reach students and others all over the world to understand that nonviolent tactics are vital to confronting today's challenges. Read more>>
Organizing, Politics, Mood: Reflections on the 1930s: The interwar period, and especially the 1930s, has much to teach us about labor organizing and its relationship to politics, as well as the role of class-conscious union members in the broad anti-fascist front. We can see the vital role played by committed activists; the complex interweave of shop-floor organizing and electoral politics; and the way that morale—the essence of intangible—becomes a material force. Read more>>
Take Money Out Of Fossil Fuels: Send an email to the CEOs and executives of Chase and Chubb and make it loud and clear: they must end their support of corporations expanding their fossil fuel operations. Learn more>>
What's Happening in Sri Lanka? Join Internationalism From Below, a grassroots, all-volunteer network, for a discussion of the multiplying crises and emergence of a new protest movement in Sri Lanka. Sponsored by Haymarket Books. Free and by donation. (May 16) Read more>>
You Can Do It! Alternative Community Safety, Peace Teams, and Nonviolence: Join Eli McCarthy of the DC Peace Team in an online training on the approachable, versatile, and effective ways you and local friends can stop violence and engage alternative safety programs rooted in active nonviolence. You will learn about peace teams, violence de-escalation, and active bystander trainings. This webinar will prepare you to bring these approaches to your local community in tangible ways. (May 21) Learn more>>
Climate Survival – Emergency & Emotional Preparedness Training: This training seeks to grow resilience for participants by exploring the climate threats we are prone to, increasing our emotional resilience in the face of disaster, and giving participants the tools they need to make a plan today for themselves and their community. (May 23) Learn more>>
Healing Through The Music of Nonviolence: Inspired by healing ourselves so we may heal our world, this 2-session course offers a way to tap into the power and gift of music. Delve into healing music, earth songs and protest songs designed to spark awareness towards the journey of self-love, equality, nonviolence, and social change. (June 1) Learn more>>
The Time Is Right – An Introduction to Kingian Nonviolence: In these times of injustice and upheaval, anchor yourself in the power and philosophy of Kingian Nonviolence. Join facilitators Bianca Pointner and Jonathon Jones for this 6-week course that introduces the skills and understandings of the Kingian tradition. (June 2) Learn more>>
Fierce Vulnerability Network Cohort: The Fierce Vulnerability Network (FVN) is a decentralized constellation of direct action teams committed to racial and climate justice, working to reimagine direct action movements. FVN engages in the critical work of nonviolent direct action to confront systems of injustice face-to-face, while maintaining the vulnerability to speak from our hearts about our yearning to heal. Join the first 6-month cohort! (Applications due June 1) Learn more>>
#NoWar2022: Resistance & Regeneration, World BEYOND War's virtual global conference, is coming up this July 8-10! #NoWar2022 will facilitate international solidarity by bringing together speakers and attendees from around the world. As we resist the institution of war worldwide, from crippling sanctions and military occupations to the network of military bases that encircle the globe, how can we simultaneously "regenerate," building the alternative world that we want to see based on nonviolence and a culture of peace? (July 8-10) Learn more>>
This newsletter goes out to thousands of people each week.
If each person pitches in, we'll be funded 100%. Donate here>>