Editor's Note From Rivera Sun
On May 1st, the international date honoring workers, marches and strikes launched around the world. Many countries' laborers used the moment to call for peace in Ukraine, recognizing the longstanding connection between labor justice and anti-war organizing. Cuba held an impressively enormous day of action, mobilizing half its population in marches across the country, including a 700,000-person march in Havana (pictured above).
Sri Lankans are shifting from mass protests to a national strike, escalating their campaign for the government's resignation and economic justice. India ruled that nature has rights on par with humans and humans are required to protect it. (You'll also find a story in this edition about a lake in Florida that is suing the US to protect its rights.) German Amazon workers are on strike, not just over pay, but also over privacy violations.
Showdowns between US anti-abortion and pro-choice protesters are erupting across the United States this week after a draft of a Supreme Court decision reversing longstanding reproductive rights law was leaked to the press. Other noteworthy actions for gender justice include numerous actions for Missing And Murdered Indigenous Women/People, Mexican women holding a demonstration against femicide, and two topless German women jumping into a boxing ring to protest a fighter's brutal beating of his wife.
Don't miss the full edition of Nonviolence News. You'll find that anti-war actions happened around the world. Some focused on Ukraine, such as the US protest against profiteering in the current conflicts. Others aimed at militarism on a large scale, pushing back against college recruitment by disrupting a weapons manufacturer's "career day" and demonstrating against a military fuel depot. Australians also took action to decry Turkey's invasion of South Kurdistan.
I also recommend the many insightful articles in the Knowledge Section. From keeping your spirits high to preventing teen dating violence, you'll discover an excellent collection of stories offering wisdom and practical pro-tips for making change.
In solidarity,
Rivera Sun
Photo Credit: Cuba's massive May Day march in Havana.
Small, medium, or large? Any size donation is welcome! Donate here>>
Britain Moves Ahead With Mandatory Climate Plans For Companies: Britain unveiled a new task force to write rules forcing financial firms and listed companies to publish plans from next year for transitioning to a net zero economy by 2050. Read more>> 
Indian Court Rules That Nature Has Legal Status on Par With Humans—and That Humans Are Required to Protect It: The highest court in one of India's 28 states ruled last month that "Mother Nature" has the same legal status as a human being, which includes "all corresponding rights, duties and liabilities of a living person." The court also said that the natural environment is part of the human right to life, and that humans have an environmental duty to future generations. Read more>>
Nearly Half of Cuba's Population – Over 5 Million People – March On May Day: Led by the slogan, "Cuba Works and Lives," Havana's 2022 May Day parade was attended by more than 700,000 workers and students from across Havana, demonstrating both a joyful celebration and triumphant victory of the Cuban Revolution. Similar marches occurred in other regions, bringing the total number of people up to 5.5 million, almost half of Cuba's population. Read more>>   
Honduras Repeals Laws Giving Corporations Colonialist Powers: President Xiomara Castro fulfilled a major campaign promise last week when she signed the decree to repeal the ZEDEs law. The ZEDES laws gave corporations the rights to effectively create their own nations within Honduras. Read more>>
Hawaii Legislature Calls For Fossil Fuel Non-Proliferation Treaty: Hawaii lawmakers put the state on the path to making history after the Legislature passed a resolution Thursday endorsing a document called the "Fossil Fuel Non-Proliferation Treaty." "Let us hope this triggers other states to help generate the momentum for a wave of international cooperation to end the era of deadly fossil fuels." Read more>>
Open Internet Victory as Telecom Giants Give Up Net Neutrality Fight in California: Associations representing the telecommunications industry on Wednesday dropped their legal fight to block California's "gold standard" net neutrality law following a string of losses in federal courts. "With this victory, we've secured a free and open internet for California's 40 million residents once and for all." Despite the good development, said one advocate, "the effort to enact net neutrality rules nationwide must continue." Read more>>
LA County To Bring High-Speed Internet To Poor, Black, Latino Areas: Los Angeles County is at the forefront among municipalities with a public-private partnership to offer free broadband internet to its poorest residents in Watts, Boyle Heights, Sun Valley and four other communities as soon as year's end. These are neighborhoods that are heavily Latino and Black. Read more>>
Grinnell College Becomes First Fully Unionized Undergraduate School in US: On April 26, student workers at Iowa's Grinnell College elected to create the first wall-to-wall undergraduate student union in the country, expanding their Union of Grinnell Student Dining Workers (UGSDW) to include all hourly student workers. Read more>>
National Strike In Sri Lanka To Demand Government Step Down: Sri Lanka's bus and train networks ground to a halt while offices and factories were empty Friday in a nationwide strike demanding the government's resignation over the island's worsening economic crisis. Read more>>  
Children's Book Authors Are Fighting Back Against Censorship and Book Bans: As the right wing continues to ban books and promote censorship, writers, publishers and free speech activists are stepping up to provide anti-racist and pro-LGBTQIA+ materials to both educators and caregivers. Read more>>
Afghan-American Groups Challenge Illegal Seizure of Billions by US: Condemning the Biden administration's seizure of U.S.-held Afghanistan Central Bank funds as "a deep and grave injustice" that will worsen the humanitarian crisis already being suffered by millions of Afghans, several civil society groups have filed official statements in federal court demanding President Joe Biden's executive order regarding the funds be overturned. "The seizure of funds would be a deep and grave injustice adding to the continued suffering for the Afghan people that would be felt for generations," said one rights advocate. Read more>>  
'Put Patients First' – 70+ Groups Push Senate to Act on Sky-High Drug Prices: A coalition of more than 70 groups representing patients, healthcare workers, unions, and others launched a new campaign Tuesday aimed at pressuring the Democratic-controlled U.S. Senate to finally approve legislation to bring down out-of-control prescription drug costs and rein in the pricing power of Big Pharma. Read more>>
German Amazon Workers Strike Over Pay and Data Protection: The German trade union Verdi on Monday launched strikes at seven Amazon locations across the country, with up to 2,500 workers demanding higher wages and better protection of their personal data. Read more>>
Thousands of Armenians Protest To Demand Prime Minister's Resignation: The protests were triggered by potential government concessions over Karabakh — a long-disputed territory over which Armenia and Azerbaijan fought a 44-day war in 2020. According to local media, some 200 protesters were detained on May 2, as demonstrations continued and police resorted to violence to disperse the crowds. Read more>>
Indigenous Mexicans Stand Up To Multinationals Threatening Their Climate Survival: Indigenous groups, including Nahuas and Otomis, as well as Mexicans, have spent the past month traveling in a convoy to nine different states of the country. Each day they visited multiple towns and regions where mostly European and United States corporations are plundering water and resources. Read more>>  
Raising Awareness For Missing And Murdered Indigenous People: Both local and national events during a May 2-6 awareness week are being held for missing and murdered Indigenous people (MMIP). Indigenous people — particularly women and girls — go missing, are murdered or are victims of violence at disproportionately high rates. Read more>>   
Breaking Down Racial Barriers in Real Estate: The real estate industry has long had a Whiteness problem. An emerging Black developer in Baltimore is challenging the state to help fix the appraisal gap and other injustices. Read more>>
Protesters Try And Stop Deportation By Australian Immigration Authorities: Several people were removed from the Melbourne Immigration Transit Accommodation (MITA) centre in Broadmeadows and taken to the airport on May 3, likely to be deported to Christmas Island. Activists tried to block the exits but police, many in riot gear, and Serco security staff helped bust through. Read more>>   
When Capitalism And Indigenous Rights Collide: A legal dispute involving retail giant Amazon and Indigenous South Africans has highlighted a global dilemma: Are sacred sites more important than job creation? Indigenous groups have been fighting back. Read more>>  
30 Years After the L.A. Uprising, Multi-Racial Organizers Rebuild the City: Most of the progressive changes in L.A. since 1992 have been led by grassroots organizers and community members who have rooted their work in cross-racial solidarity, finding common cause in the abolition of incarceration and police, tackling the housing crisis, uplifting arts and culture, and encouraging civic engagement. Read more>>
How Millennial And Gen Z Organizers Are Moving Mississippi Beyond Jim Crow: Taking on well-funded political machines requires steady engagement. Mississippi Votes uses a year-round engagement and community building model to build the momentum for longer term political shifts. Read more>>
Climate Activists Occupy Wells Fargo Global Headquarters: On the eve of Wells Fargo Bank's annual shareholders' meeting, 19 climate activists were arrested inside the bank's headquarters demanding that it stop lending billions annually to the oil and gas industry, whose products are propelling the planet towards disaster. Read more>>   
A Lake in Florida Suing to Protect Itself: Lake Mary Jane, in central Florida, could be harmed by development. A first-of-its-kind lawsuit asks whether nature should have legal rights. Read more>>
Scientists Explain Why They Glued Themselves To A Government Building: One recent Wednesday, while most scientists around the world were carrying out their research, these scientists stepped away from their day jobs to engage in a more direct form of communication. Read more>>
South Africa's Electricity Workers Can Teach Us About Winning a Green New Deal: South African trade unions have pushed for a just transition that prioritizes workers' jobs and the public good against green neoliberals seeking to privatize the country's energy. Their mission is clear: workers, not capital, must lead the climate movement. Read more>>   
Indigenous Way Of Life Imperative To Solving Climate Crisis: "Defending life means protecting the living conditions of biodiversity in order to continue to exist," Nahuatl journalist Miryam Vargas says. Read more>>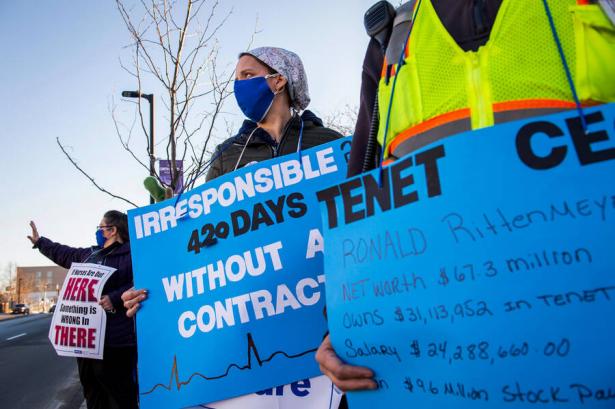 The Nurses Who Wouldn't Come In From the Cold: Nurses wanted a fair contract, not for some, but for all. Here's how holding out for the common good led to the longest strike of 2021. The St. Vincent nurses' strike also reflects the labor movement's rapidly expanding horizons. Read more>>  
Oakland Teachers And Dockworkers Fight For Their Community: On April 29, thousands of teachers, students and parents from Schools and Labor Against Privatization (SLAP) rallied at Oscar Grant Plaza next to City Hall in Oakland, California, then marched to the Port of Oakland where they held a picket line that shut the port down. Read more>>
Media Workers Are Tired of Being Exploited And They're Fighting Back: Clearing the FOG Radio spoke with Stephanie Basile and Brittany Carloni of News Guild, part of the Communications Workers of America, about the many victories they have had in organizing media outlets over the past five years. Read more>>
Community Land Trusts Make Housing More Affordable: Community land trusts have a long history of helping people afford a home. In a time of skyrocketing housing prices, that's more important than ever. Read more>>
Abortion Protests Held Across US After Leaked SCOTUS Decision Reversing Roe v. Wade: Both anti-abortion and pro-choice protesters are out in force after a whistleblower leaked a draft Supreme Court decision reversing the landmark Roe v. Wade decision on women's reproductive rights. Read more>>
Students Stage Nationwide Walkouts for Reproductive Rights: "People might look at us like we're young, but I genuinely feel like we can make the most change," said one Maine high school student. Read more>>    
Two Topless Women Storm Stage To Protest Boxer's Domestic Violence: Back in May 2020, boxer Tom Schwarz avoided a 10-year prison sentence and paid just over $2,700 after breaking his ex-fiancee's jaw in three places. The woman required three operations, four plates, and 16 screws to fix her jaw. Last weekend, Schwarz was set to get back in the ring, but two women wanted to make sure nobody forgot what he did. Two women jumped on stage without shirts and had "End male violence" and "Support Tessa" written across their chests. Read more>>
Women March In Mexico To Protest Femicide: Hundreds of women marched through downtown Mexico City and its suburbs on Sunday to protest the horrifying death of an 18-year-old in the northern city of Monterrey. Protesters also marched in the rough suburb of Nezahualcoyotl, where two women were killed in the last week. The demonstrators, mainly women, carried signs reading "No to Harassment" and "Mexico is a mass grave." Read more>>
Student Flashes Rainbow Pride Flag At Conservative University Graduation: A Brigham Young University (a conservative theocratic school) student flashed a Pride flag at graduation to honor LGBTQ students like herself. Read more>>
May Day Rallies Held Around World With Calls For Peace In Ukraine: Peace was an underlying theme on May Day. Citizens and trade unions have rallied around the world, sending messages of protest to their governments and issuing calls for peace in Ukraine. Read more>>  
College Students, Neighborhood Members Protest Raytheon Career Event At College of Engineering: Students and community members protested a Raytheon BBN career event hosted by the School of Engineering in Halligan Hall on May 2. The protest was the second demonstration against a defense contractor on Tufts' campus in less than a week. Raytheon manufactures missiles, missile protection methods, naval methods, pc software program and different weaponry and know-how. Read more>>
Ukrainians Resist Using the Russian Rouble In Occupied Kherson: Despite being occupied for 60 days, many residents are trying to find small ways to defy the Russian forces – like exchanging any roubles they receive back into Ukraine's currency, the hryvnia. Read more>>
Peace And Environmental Activists Protest Major Department of Defense Fuel Depot: Activists with Ground Zero Center for Nonviolent Action, 350 West Sound Climate Action, Earth Care Not Warfare and other peace and environmental groups met at noon at Manchester State Park. From there, they walked to the Manchester fuel depot, the Department of Defense's largest single-site fuel terminal in the United States, and demanded that the U.S. military reduce its carbon footprint while reducing its global military footprint on the planet. The U.S. military has approximately 750 military bases around the world and emits more carbon into the atmosphere than 140 nations. Read more>>
Antiwar Groups Protest Defense Industry Profiteering in Ukraine: Despite their differences, antiwar organizers are collectively buoyed by a faith in what history has demonstrated: that people, when organized, can still stop wars. Read more>>
Peace Activists Criminalized While War Criminals Go Free – Shannon Airport Activists Fined 10,000 Euros: Judge Patricia Ryan sent a clear message to protesters objecting to illegal U.S. military flights through Shannon Airport today by fining the Shannon Two activists 10,000 euros after they were convicted of interfering with the operation, management and safety of the facility. Read more>>
Protest Against Turkish Invasion of South Kurdistan: Australians gathered to call on the federal government to condemn the Turkish invasion of South Kurdistan (northern Iraq) just as it has condemned the Russian invasion of Ukraine. Read more>>
Saving US Schools Starts With Spending Less On The Military: Public schools have become society's safety nets, and they are suffering for it. Imagine if we invested in them rather than war. Read more>>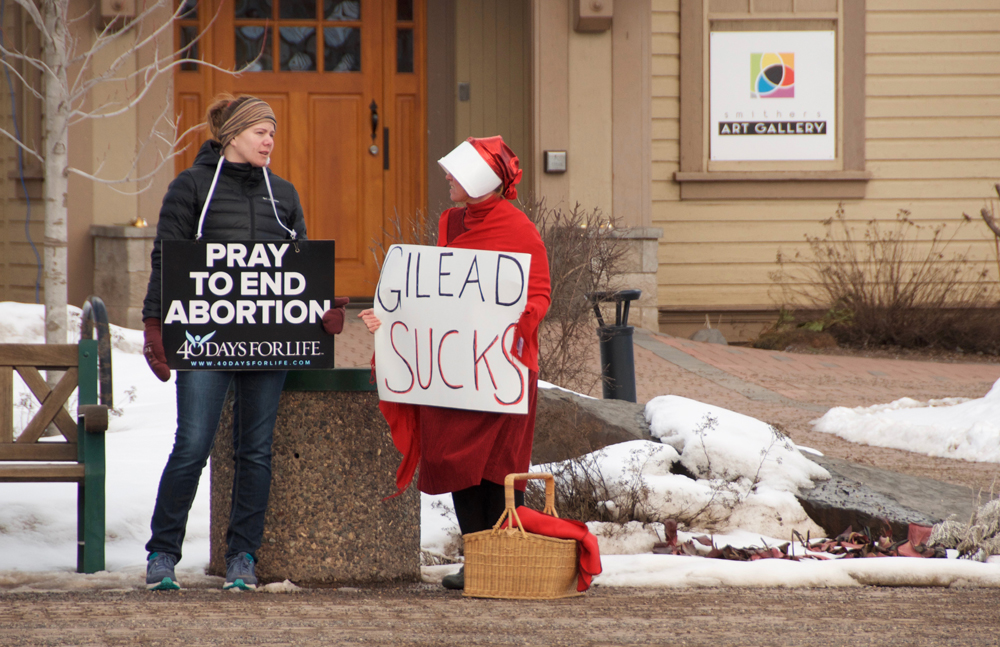 This Woman Disagrees with Protesters against Abortion. So Here's What She Does: While anti-abortion protesters demonstrate, this woman dresses in Handmaid's Tale costume, holds her pro-choice sign that reads "Gilead Sucks" and engages them in conversation. Read more>>   
Posting May Day – The Story of International Workers' Day Through Trade Union Posters: This artist has made May Day protest posters for years. "In 2014, I designed the Glasgow May Day poster and I have been doing it almost every year since. There is always a new theme linked to local and international, past and present, trade union activism. My body of work forms a historical record itself." Read more>>   
Fed Up With The Tech Giants? There's Finally A Social Media Platform For Activists: Meet the two scholar-activists behind the Everyday Peace Community platform — a networking app designed to connect and empower social change actors across the world. Read more>>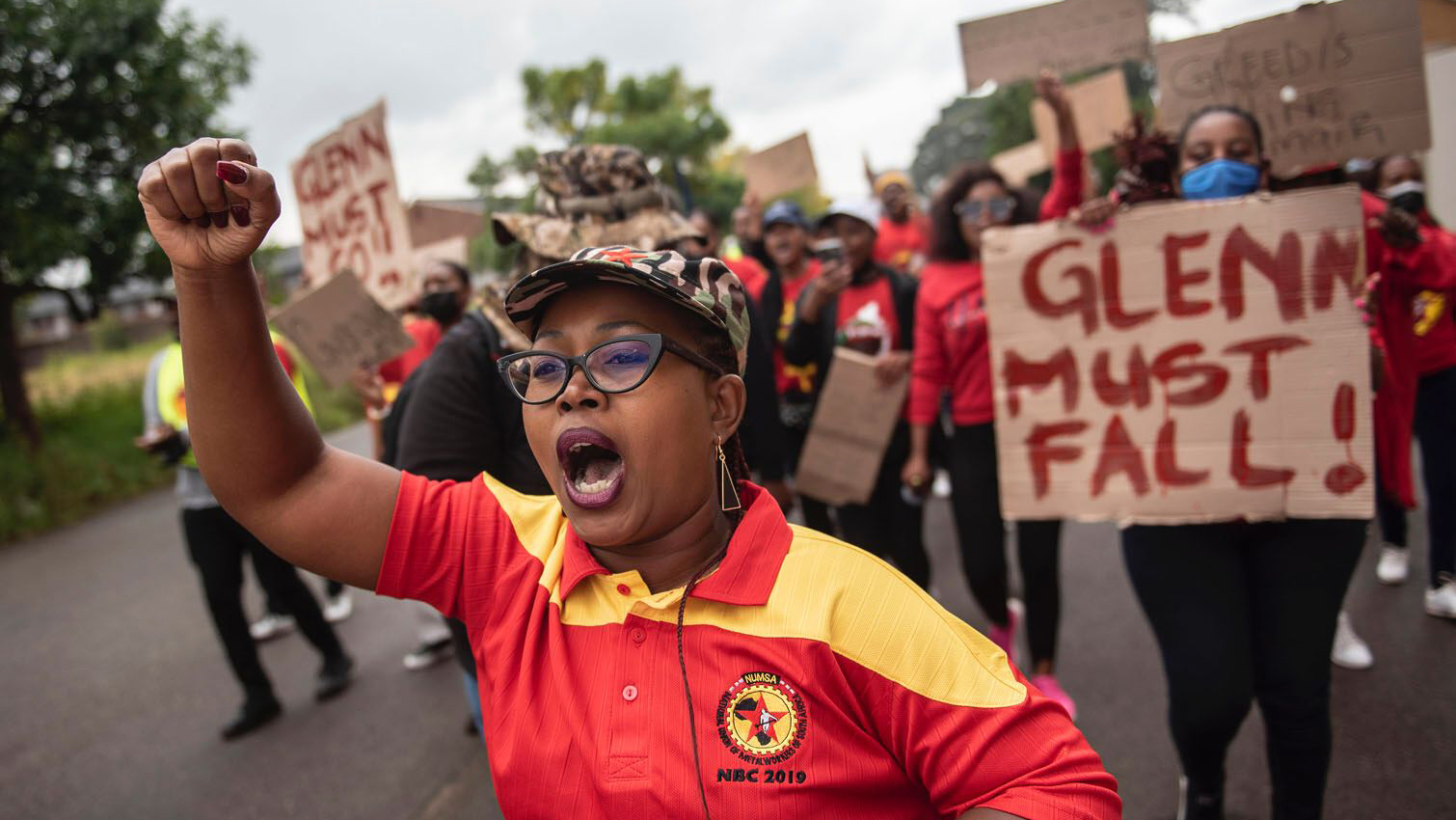 A Momentous Year For Worker Struggles: After a year of ongoing crisis, Peoples Dispatch looks back on some of the most important labor struggles of this past year. Read more>>   
How Activists Can Fight Through Doom And Gloom To Be More Effective: When change seems impossible, activists can still take important steps to empower themselves and build for long-term success. Read more>>
How to Prevent Teen Dating Violence: "As a survivor of teenage dating violence, my passion is to educate children, teenagers, parents, and guardians about healthy relationships and how to have conversations about abuse. Preventing teenage dating violence is not the teenager's burden to carry—it takes a village." Read more>>
Protests Are Wrong Until They're Right: The consistent trend across movements in the U.S., especially but not limited to civil rights and its once reviled avatar, Martin Luther King Jr., is that protests are almost always liked better in retrospect. Read more>>
A Handbook For Abolitionists: Patrisse Cullors' new book offers guidance for personal, as well as systemic, change. Breaking the cycle of harm starts with us. In An Abolitionist's Handbook: 12 Steps to Changing Yourself and the World, Cullors starts with courageous conversations. She says, "We have courageous conversations because our goal is to live inside of a healthy community that values the dignity of every single human being." Read more>>
New Report Shows That FBI Searched Citizens' Data Millions of Times In 2021: The Office of the Director of National Intelligence (ODNI) reported on Friday that the Federal Bureau of Investigation (FBI) searched through the electronic data of Americans 3.4 million times in 2021. Read more>>  
Several people recently donated the price of a Starbucks coffee to Nonviolence News. Were they inspired to support us instead of the coffee company while its workers are trying to unionize? I don't know but it's a good idea! Boycott injustice and donate to us>>