Editor's Note From Rivera Sun
If you were wondering where this week's Nonviolence News has been … the answer is Colorado, Kansas, Missouri, Kentucky, Ohio, Pennsylvania, New York, Massachusetts and finally Maine. I've been on the road this week, moving to Maine, which delayed the release of the new edition. But never fear! Between dodging tornadoes and finding vegetarian road food, I still collected a remarkable set of stories for you.
Puerto Ricans are throwing beach parties to protest the privatization of the island's shorefront. (It's both creative and inviting. I'd go to that kind of protest, for sure.) Mongolians are protesting against empty stomachs, empty political promises, and an empty government building. Sri Lanka is being gripped by what some are calling its "Arab Spring" moment. Mexicans are on a roll, nationalizing the nation's lithium resources and pushing to stop the privatization of electricity. They've also launched the Indigenous Caravan For Life And Water which is marching and protesting the bottling plants that are profiting from water when the area is in a major drought. It's not a drought, they say, it's "looting".
Climate activists in London surrounded an oil truck, locked down on top, and kept the vehicle frozen in the street as they demanded a swift transition off fossil fuels. Wet'suwet'en pipeline blockade continues to face surveillance and harassment as they push for First Nation sovereignty and stopping the Coastal Link Gas Pipeline. US teens are speaking out about climate anxiety and how movement support can reduce the mental health strain of caring about the perilous fate of humanity and planet. Bolivians are striving to change media narratives on the climate crisis, putting the solutions and experiences of rural Indigenous women onto primetime news.
These are just some of the numerous stories in Nonviolence News. Be sure to visit the round-up on our website to find out about the strippers dressing up in costumes based on health and safety laws to push for better industry standards, the Hindu woman in India who saved 15 Muslims from religious-based violence, and the emergency room doctors in the United States who are trying to stop healthcare greed.
Thanks for all your good wishes for the last leg of the journey,
Rivera Sun
Photo Credit: Mexico's Indigenous Caravan For Life And Water begins in Puebla as people march past a Bonafont (Danone) water bottling plant chanting that their water is not for sale.
What's good news worth to you?
Donate here>>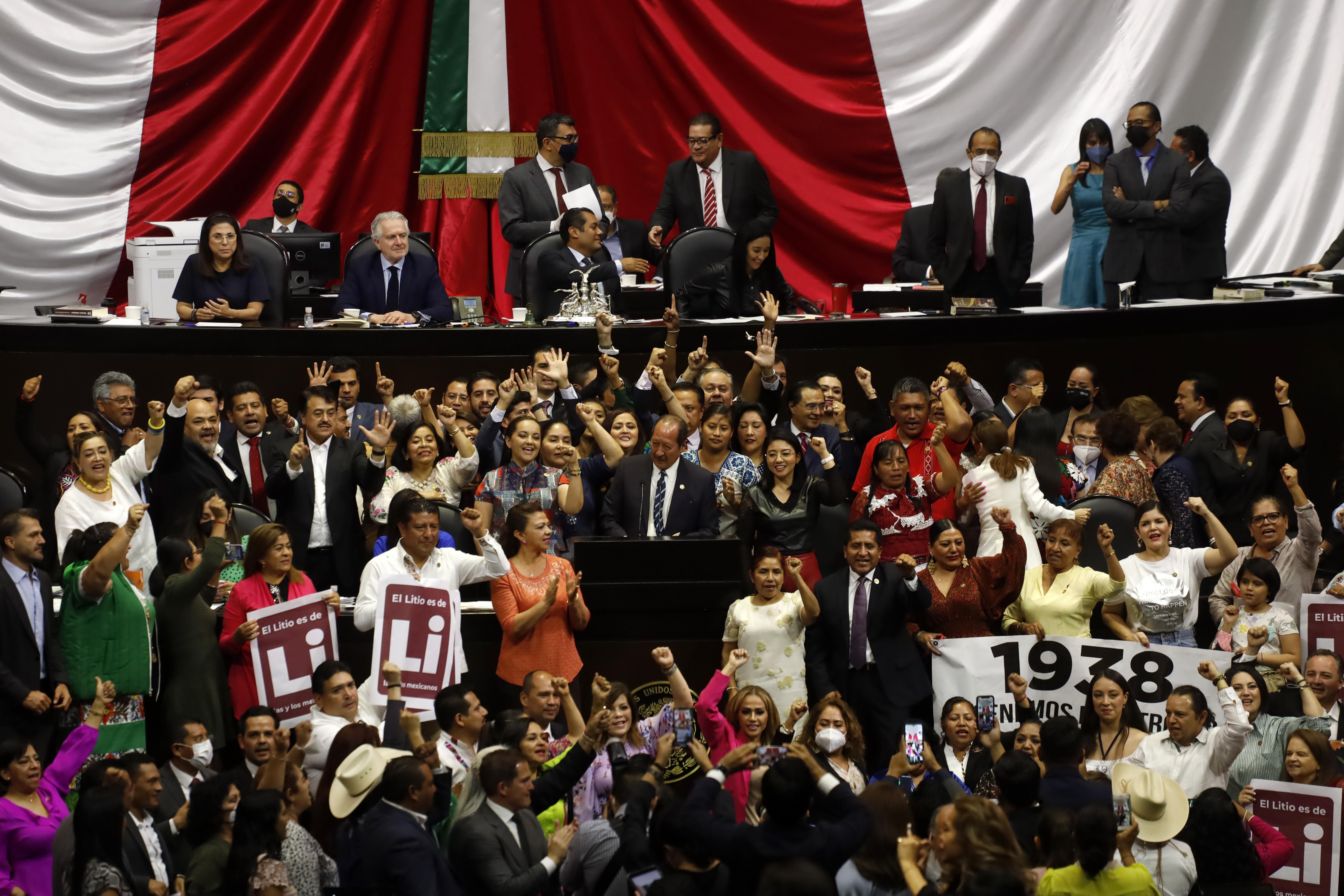 Mexican Lawmakers Approve Bill to Nationalize Lithium: Mexican lawmakers passed legislation to nationalize lithium, a mineral needed to manufacture rechargeable batteries for electric vehicles and other devices. "Lithium belongs to Mexicans, not to transnational corporations," said one legislator. Read more>>
Spaces of Opportunity Is Sowing The Seeds Of Community And Change: In southern Phoenix, a plush urban farmstead serves as a vital resource for a community housed in the middle of a food desert. Since the start of the pandemic, they've distributed over 70,000 pounds of food per year to families in need. Read more>>
Verizon Retail Workers Raise Wages To $20-An-Hour: Last week, Verizon retail workers in Everett and Lynnwood, Washington voted to unionize and announced plans to unionize at more locations. Now, Verizon is raising wages to $20-an-hour at retail stores. "These changes are the direct result of employee feedback and will help us remain an attractive employer in this competitive environment," Krista Bourne, chief operating officer at Verizon Consumer Group told Reuters. Read more>>
Hindu Woman Protects 15 Muslims From Violence: Amid violent riots in India, Madhulika Rajput showed courage and became a human shield for as many as 15 Muslim shopkeepers to save their lives. When the rioters asked whether there was anyone hiding inside, Madhulika locked the doors from inside to save the shopkeepers. Read more>>
Fordham University Grad Students Vote To Unionize; Seeking Wage Increase to $26K in New Contract: Fordham University graduate workers became the latest New York-based employees to successfully unionize in a landslide 229-15 vote — forming a union with the Communications Workers of America. Read more>>
'Another Loss For Big Oil' – CA Lawsuits Against Fossil Fuel Giants Head to State Court: A federal appeals court ruled that climate lawsuits filed by a half-dozen California municipalities seeking to hold fossil fuel corporations accountable for damages they knowingly caused should proceed in state court. "This ruling is a major victory for these California communities seeking their day in court against corporate polluters that spent decades lying about their products' role in fueling the climate crisis," said one advocate. Read more>>
NYC Doormen Avoid Strike, Win Historic Contract: Throughout the pandemic, door attendants worked harder than ever, risking their own lives to help residents better live theirs. Just two days before the strike's scheduled start, management and union reached a historic tentative agreement. The union's show of power and solidarity — in step with recent labor gains elsewhere in New York City, from Columbia University to Amazon's JFK8 warehouse — have helped protect paid time-off and employer-covered premiums and boost wages for 32,000 workers. Read more>>
Puerto Ricans Are Protesting (With Beach Parties) To Protect Their Beaches: Island residents say wealthy newcomers are threatening wildlife and making it harder to access public shores. Many Puerto Ricans feel increasingly unwelcome on their own island as wealthy mainland Americans, social media influencers, and "crypto colonizers" flock to the tropical colony. Their response: Hold a massive beach party protest to remind newcomers that the beaches are for everyone. Read more>>
500-Worker Chevron Strike Enters Second Month: Chevron Corp (CVX.N) and the United Steelworkers union (USW) rejected each other's proposals to end a month-long strike at the company's Richmond, California, refinery, a union official said on Monday. Read more>>
Adoptees Are Using TikTok to Critique the U.S. Adoption System: "Adoptees are told to just be grateful that we were chosen. And yet so many of us are struggling." There is a growing community of adoptees who use the social media platform to shed light on the trauma and economic pressures that have shaped their adoption experience. The hashtag #adopteesoftiktok has garnered tens of millions of views. Read more>>
Apple Retail Workers Union Launched: More than 230 Starbucks stores have moved to unionize according to a tracker run by More Perfect Union. Now, workers at an Apple retail location in Grand Central Station in New York City are seeking to unionize with Workers United, an SEIU affiliate that has unionized Starbucks workers. They are calling their organization Fruit Stand Workers United. Read more>>
Shot, Tortured, Facing Jail – Can Kazakhstan Deliver Justice After Bloody January? Over 1,000 people are awaiting trial related to protests, property destruction, and rioting in the unrest now known as "Bloody January" in Kazakhstan. Many were simply onlookers injured in the crossfire. They are now navigating a criminal justice system weighted firmly against them. Read more>>
Virginia's Rank-And-File Educators Unionize: On Saturday, members of the Virginia Caucus of Rank-and-File Educators (VCORE) voted to unionize schools in Richmond, the state's capital. The vote took place over two days, with 99 percent of educators in favor. Read more>>
Why Students Are Walking Out At Iowa Schools: In light of recent education bills at the Iowa Legislature, whether it's promoting vouchers for private schools or restricting what teachers are allowed to mention in class, many Iowa students are getting fed up. And they're standing up. Friday afternoon in Johnston, a group of close to 100 students walked out of class and stood on school grounds to talk about those bills. Read more>>
In Mongolia, Protesters With Empty Stomachs Are Denouncing Empty Promises: Mongolia has seen a wave of protests in response to soaring inflation. The demonstrators have rallied around the slogan "we want to live" — damning the disappointed promises of the country's postsocialist transition. Read more>>
Emergency Room Doctors Organize Against Profit-Driven Health Care Greed: Doctors in the US are rarely unionized. But in the face of staff shortages, patient surges, and the chaos of COVID-19, emergency room doctors are starting to organize. Read more>>
In Australia, Precarious University Workers Are Stepping Up the Fight: Australian universities have been hit hard by decades of neoliberal austerity. Now, after countless job losses and rising workloads, university workers are taking the fight to managers and vice chancellors. Read more>>
MK Gandhi Institute Curbs Violence Through Youth Programs: From podcasts to community gardens addressing food deserts, the MK Gandhi Institute is using creativity to curb violence as its works with youth. Read more>>
Mexicans Mobilize In Support of President Obrador's Electricity Reform: Hundreds of Mexicans marched from the Zócalo to the Chamber of Deputies in support of the electrical reform in Mexico City on April 12. The electricity reform promoted by President Andrés Manuel López Obrador (AMLO) seeks to nationalize Mexico's energy industry by rolling back the process that opened it up to foreign and private investment In 2013. Read more>>
New Unionization Effort Could Rewrite How Theater Industry Operates: For the first time in over 20 years, the Actors' Equity Association is attempting to unionize a workplace. Inspired by recent wins at Amazon and Starbucks, actors and stage managers on the non-union national tour of the musical Waitress are moving to unionize after being contacted by Equity, as the union is known in the theater industry. This attempt represents one of the biggest developments in labor organizing within the theater industry in years and has the potential to largely rewrite the way that the theater industry operates. Read more>>
A New Effort in San Francisco Aims To Debate Rent at the Bargaining Table: The city's 'Right to Organize' ordinance requires landlords to recognize tenant associations in their buildings. Read more>>
Indiana University Graduate Workers Go on Strike for Union Recognition: Around 1,000 graduate student workers at Indiana University's Bloomington campus are on strike to demand the school recognize them as a union. Read more>>
Alabama Warrior Met Strike Continues: This month marks one year since 1,100 members of the United Mine Workers of America went on strike at Warrior Met Coal in Alabama following the failure of the union and company to agree on a labor contract. The strike continues today. Read more>>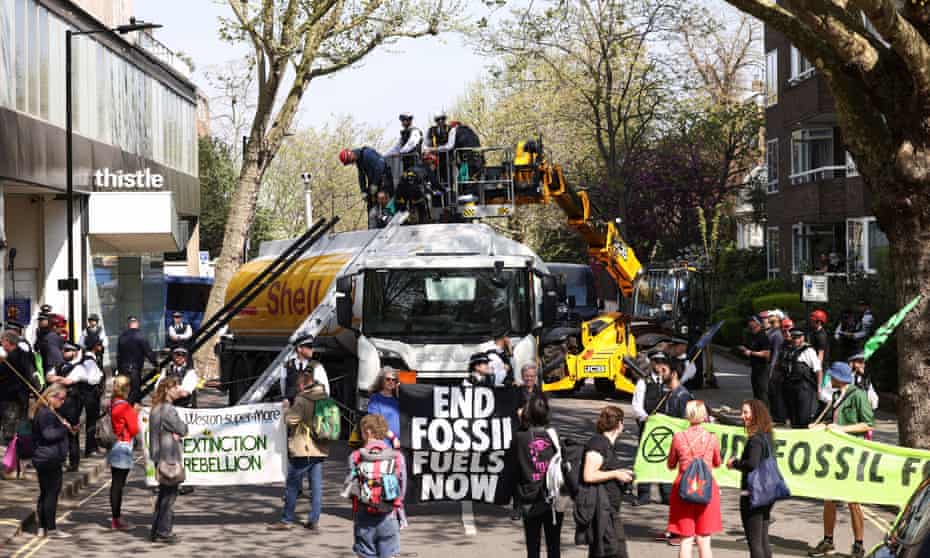 Six Arrested After Climate Activists Scale Oil Tanker In Central London: Images from the scene show campaigners holding Extinction Rebellion flags. The Metropolitan police said six individuals had been arrested for vehicle interference and added that the road was reopened by noon. The incident was the latest in a coordinated series of Easter protests by demonstrators who are calling for a halt in all investment in fossil fuels in the UK. Read more>>
"It's Not a Drought, It's Looting" – Water Rights Activists Organize in Mexico: Activists with the Indigenous Caravan for Water and Life argue that it is multinational corporations, often with governmental support, that are responsible for causing climate change, environmental damage and water shortages — rather than the regular dry season. The activists caravan, one of the biggest demonstrations in recent years of Indigenous people's defense of the environment, will cover nine states and visit Indigenous communities across Mexico each day for 34 days. Read more>>
'No Wars, No Warming' – Extinction Rebellion Marches On NYC: Members of Extinction Rebellion (XR) marked Tax Day with the "No Wars, No Warming" demonstration outside a federal building in NYC where various agencies, including the Internal Revenue Service (IRS), have offices. Demonstrators perched on top of and locked themselves to two 15-foot tripods installed near the Charging Bull sculpture to block traffic on Broadway, according to organizers. Nine activists were arrested. Organizers planned the event to "demand that our tax money stop fossil-fueling endless war, and start funding healthcare, green jobs and infrastructure, other climate adaptation measures, and housing." Read more>>
Auto Workers, Climate Groups Team Up To Demand Union-Made, Electric Postal Vehicles: The United Auto Workers and climate groups joined together to push the USPS to buy electric postal vehicles to replace their old, gas-guzzling fleet. Read more>>
10 Ways To Celebrate Earth Day With Permanent Change: Let Earth Day serve as a seed for creating a lasting, positive impact in your corner of the planet. Here are 10 how-to's to get you started. Read more>>
How Rights Of Nature And Wild Rice Could Stop A Pipeline: Rights of Nature is an innovative legal movement that protects water, animals and ecosystems by giving them legal rights. In Minnesota, these rights might stop a pipeline. An Ojibwe attorney is using the unusual legal strategy to fight a Line 3 expansion that threatens Indigenous rights and the environment. Read more>>
Reframing Narratives About Climate Change In Bolivia's Gran Chaco Region: A key missing ingredient in media reporting is the perspective of local people, in particular those from Indigenous and other rural communities, and of women, who tend to bear the brunt of the effects of climate changes. Including local perspectives, or making space for local people to contribute their stories, allows the media to reframe existing narratives and promote a deeper understanding of the consequences of environmental damage and climate change and the steps needed to mitigate these effects. Read more>>
Climate Anxiety and High School – How Young People Are Coping: For teens everywhere, this is the reality as they come of age during a time of climate crisis. In a recent 10-country survey of 10,000 young people ages 16 to 25 published in The Lancet, 45% of respondents said their feelings about climate change had "negatively affected their daily life and functioning." Here are some of their stories. Read more>>
Youth Climate Activists Say Community Helps With Mental Health Strain: It makes sense that the stakes feel so high for young climate activists. Climate activism centers on an existential crisis — the end of the world as we know it. But these same activists are also human. All that pressure can test the limits of their mental health. And when that happens, they turn to the people who can understand what they're going through — their peers who are going through the very same thing. Read more>>
Activists Are Working to Decarbonize Public Pension Funds: Financial asset managers have faced pressure campaigns from climate change activists to divest from fossil fuels. There is now a network of state-based activists who recognize that they can exercise real power over pension assets controlled by the states — and they don't need the permission of Joe Manchin or anyone else at the federal level to use that power. Read more>>
Colonialism & the Climate Crisis: After years of organizing by Indigenous communities and land and water protectors, the Intergovernmental Panel on Climate Change has finally named colonialism as a historical and ongoing driver of the climate crisis. This Earth Day, learn about the urgency of putting decolonization at the core of the global response to the climate crisis, and the radical roots of the climate justice movement via our friends at Climate Justice Alliance. Read more>>
Activists Blockade Corporate Newspapers Over Inadequate Climate Coverage: Corporate media outlets are "enabling the government's gaslighting of the public" by failing to cover the climate emergency with "the frequency it deserves," the campaigners argued. Read more>>
Indigenous Communities Worldwide Are Rising Up Against Big Coal and Big Oil: A Diné filmmaker discusses how fossil fuel companies are devastating Indigenous lands — and how people are resisting. Read more>>
Fighting Off a Petrochemical Future in the Ohio River Valley: They fought fracking, but now there's another threat lurking at the door: a plastics manufacturing plant that Shell Oil is constructing just an hour away, on the banks of the Ohio River. Read more>>
From Alcatraz To Moss Lake, The Land Back Movement Is Not New: Land Back! is a popular slogan among Natives on social media in the form of memes, hashtags and posts advocating decolonization. It is spray painted on the sides of buildings and bronze statues of euroamerican colonizers (preferably in red), as well as appearing as a talking point on an episode of Reservation Dogs. Although the term has gained popularity via social media and perhaps viewed as a recent trend, Land Back! actions have been in effect since the Red Power movement of the 1960's and 1970's. Read more>>
Wet'suwet'en Protesters Face Surveillance And Harassment: As the Indigenous anti-pipeline resistance against the Coastal GasLink (CGL) continues in the Wet'suwet'en lands in Canada, the police have been intimidating the protesters and residents of the land and conducting surveillance. Read more>>
Hundreds Rally Against Israeli Raids: Hundreds of protesters took part in a rally yesterday at Wells & South Michigan Avenue in downtown Chicago in protest of the recent Israeli raids on the Al-Aqsa Mosque in occupied Jerusalem. The protest in Chicago came in the aftermath of a series of raids since April 15 in which the Israeli Police used brutal force against Muslim worshipers praying at the Al-Aqsa Mosque compound in occupied Jerusalem in an attempt to empty the holy site to make way for Israeli radicals to celebrate Passover there. Read more>>
Boycott, Divest, Sanction (BDS) Fight Heats Up Across Campuses: BDS aims to end Israeli oppression of Palestinians with nonviolent boycotts, divestments, and sanctions by institutions and corporations. Here is recent BDS news from Ohio State and Princeton, as well as ongoing fallout from the Middle East Studies Association's endorsement of BDS. Read more>>
Studying Abroad On The Frontlines of México's Migrant Struggle: A school trip to migrant shelters in Chiapas helped one Chicano student discover a future in social work, while also reconnecting with their roots. Read more>>
Doctors Group Urges Biden to Redress Victims of Trump-Era Family Separation: Parents forcibly separated from their children during then-President Donald Trump's "zero tolerance" immigration crackdown continue to suffer enduring trauma and should be justly compensated by a Biden administration that's instead defending its predecessor in court, according to a report published Tuesday by a prominent human rights group. "Reparation is not a policy choice; it is the fulfillment of the U.S. government's obligation owed to victims as a result of its unlawful breach of international and domestic law." Read more>>
Biden Administration Considers Extending "Failed" Immigration Policy, Title 42: The news sparked frustration among immigration advocates, who are already aggrieved that Biden has kept the policy, originally invoked by Donald Trump in March of 2020, for so long into his tenure. Read more>>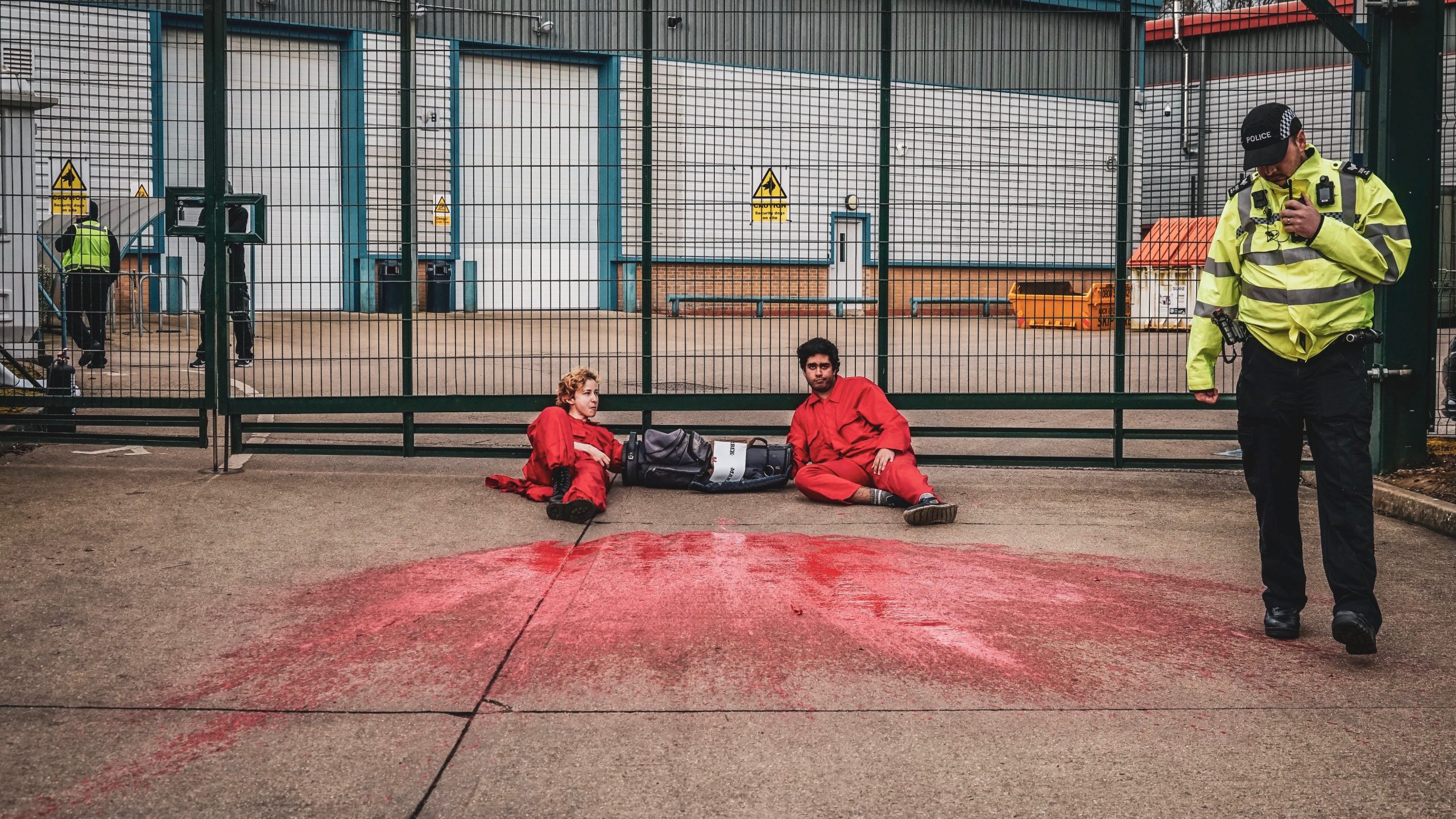 Activists From Palestine Action Force Israeli Arms Factory In UK To Shut Down For The Second Time: Just days after disrupting work at the London headquarters of Israeli weapons manufacturer Elbit Systems, activists from the Palestine Action group once again successfully blocked work at the arms manufacturer's UAV Tactical Systems factory in Leicester on Thursday, April 14. The direct action saw two activists arriving at the site early in the morning and attaching themselves to the factory gates by fixing themselves to a body 'lock-on'. This resulted in the site becoming inaccessible to employees and halted production completely for several hours. Read more>>
Global Mobilization Kicks Off To #StopLockheedMartin: Today, the day of Lockheed Martin's annual meeting, begins a week of actions around the world. These included a demonstration and a petition delivery at the company's headquarters in Bethesda, Maryland, this morning. Reports, photos, and videos from actions around the world are being posted at act.worldbeyondwar.org/stoplockheedmartin. Activists delivered a petition to Lockheed Martin's headquarters during its (virtual) annual general meeting, calling on Lockheed to begin work on conversion to non-deadly industries. Read more>>
US Peace Activists Tried For Antiwar Actions In Ireland: The trial of US peace activists Kenneth Mayers and Tarak Kauff who are members of Veterans For Peace is due to begin in Ireland. On St. Patrick's Day 2019 Kenneth and Tarak entered Shannon Airport to attempt to search and investigate any aircraft associated with the US military that were at the airport. When they entered the airport there were two US military aircraft at the airport and one civilian aircraft on contract to the US military. They were prevented from searching these aircraft by airport security personnel and Gardai and were arrested and detained at Shannon Garda Station overnight. Read more>>
Can Sanctions Ever Be Just — Let Alone Effective? History suggests the West's sanctions on Russia will only hurt vulnerable people. Movements offer a better approach to economic penalties. Read more>>
Feminist Resistance Against War in Sweden: Through decades we have learnt that sustainable peace can never be built through military strategies and militarized worldviews. Read more>>
Vets Push "No War, No Warming" Climate Campaign Amid Russian Invasion of Ukraine: Antiwar and progressive veterans organizations across the country are marking the first Earth Day after the United States' withdrawal from Afghanistan and Russia's subsequent invasion of Ukraine by highlighting the ways in which militarism fuels the global climate emergency, and how the planetary crisis, in turn, impacts service members. Read more>>
Young Nigerian Musicians Use Protest Music To Sing Against Social Injustice: Nigeria has a long history of protest music, and the fire to sing against the ills of Nigeria did not end in the 1970s. Towing the path of older musicians before them — who sang against military dictatorship and demanded the freedom of Nelson Mandela from the then apartheid South African government — young Nigerian singers have continued in that revered tradition of singing against social injustice. Read more>>
Save Salmon & Orcas Rally: At the Olympia Washington "Stop Salmon Extinction" Rally, Backbone provided props for the procession and led a Human Orca Mural on the Washington State Capitol Grounds! Read more>>
North Hollywood Strippers Dress As OSHA Codes To Protest Lack of Safety At Work: Strippers are coming together to paint a clearer picture of labor abuses in strip clubs. On Friday March 18, dancers walked off the job at Star Garden, a strip club in North Hollywood, launching Stripper Strike NoHo. Read more>>
These Coders Are Flooding 'Union-Busting' Companies With Fake Job Applications: Gen-Z for Change is targeting Starbucks and Krogers. For example, when Starbucks opened applications for new employees as a method for diluting the power of the union, the coders group sent more than 140,000 false Starbucks applications to those application sites. Read more>>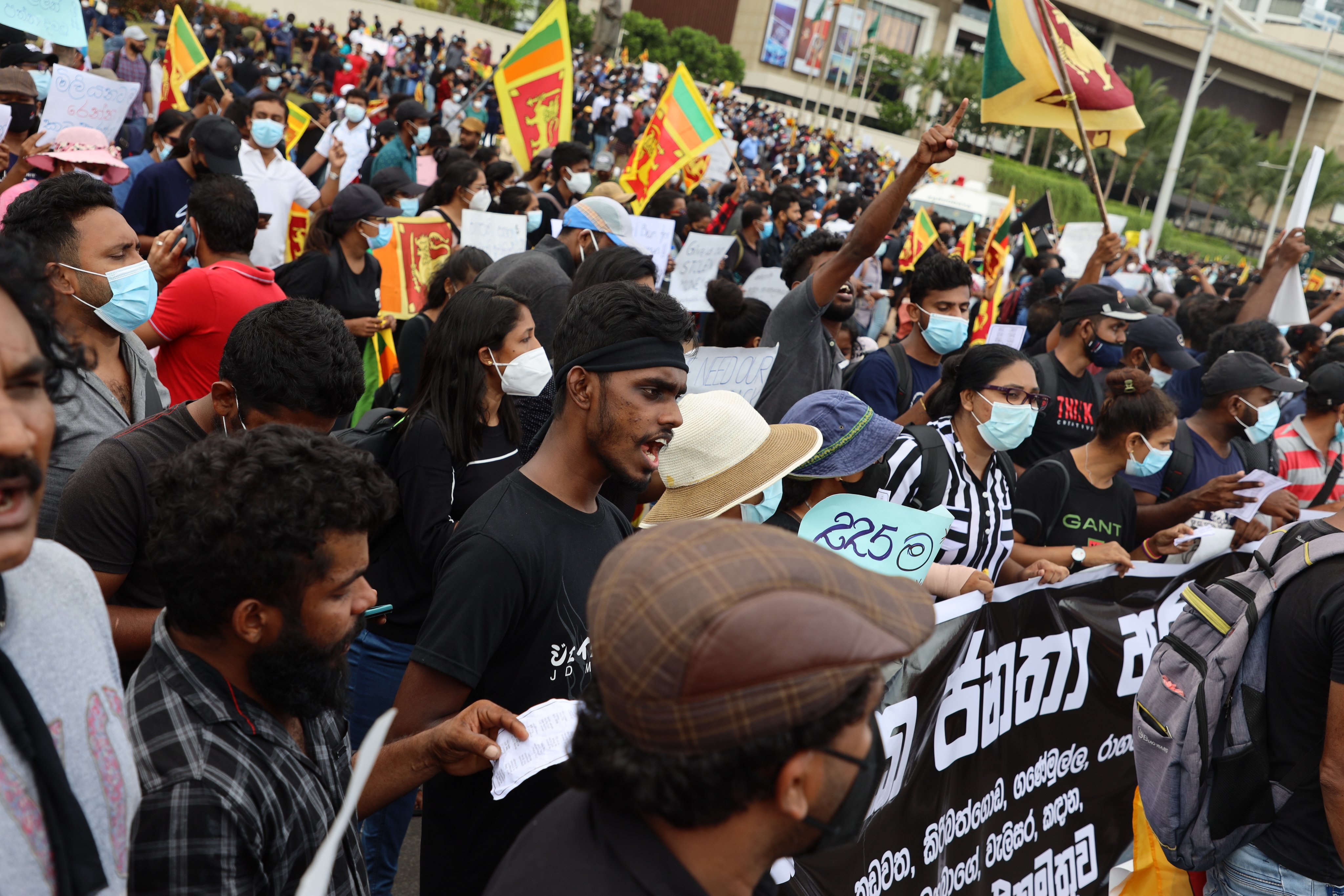 Are Ongoing Peaceful, Creative And Spontaneous Protests Sri Lanka's 'Arab Spring Moment'? Peaceful and spontaneous protests have intensified across Sri Lanka over the past few weeks since March 31, 2022. The general public, including students, teachers, doctors and other professionals as well as the opposition parties organised separate protests across the country, the highlight of which is the protest at Colombo's Galle Front. Their only demand is that President Gotabaya Rajapaksa and his brother Prime Minister Mahinda Rajapaksa should resign immediately over mainly their mishandling of the economy that had led to the current economic crisis in Sri Lanka. Read more>>
How To Build a Culture of Support So Leaders And Movements Can Thrive: Self-sacrifice and isolation are draining movements of powerful and passionate leaders. Personal support teams can help. Read more>>
The Legal Legacy of Colonization With Sherri Mitchell: Indigenous rights lawyer, leader, and author Sherri Mitchell describes how the Christian Doctrines of Discovery made their way from 15th-century European religious leaders into the U.S. legal system. She elaborates on how the U.S. government justified centuries of colonization and dispossession of Indigenous lands, with implications for social justice and environmental health. And Sherri offers important ideas for decolonizing the mind and healing the gaping wound that runs right through the middle of the U.S. Read more>>
New Report That Takes A Hard Look At The Intersections Between COVID-19, Poverty And Race In The United States: Soon after the first pandemic wave subsided, COVID-19 turned from the "great equalizer" to a poor people's pandemic in the United States, shows a recent report published by the Poor People's Campaign (PPC). The report brings a detailed analysis of how the pandemic affected poor and low income communities in the US, asking if their experiences are being taken into consideration at all, regardless of whether we are looking at pandemic response or post-pandemic re-building. Read more>>
International Day of Peasant Struggles: On April 17, we commemorate peasants' struggles around the world, and celebrate their ongoing efforts to build food and land sovereignty. Learn more about La Via Campesina's 30-year-long struggle for food sovereignty. Read more>>
A. J. Muste Was a Prophet of the 20th-Century US Left: This Easter, we should remember the rich tradition of Christian socialism in the US. And one of that tradition's most important figures is the radical leader A. J. Muste, whose religious faith animated his commitment to socialism and nonviolence. Read more>>
Tell Big Banks To Stop Expanding Fossil Fuels: In just a few days, the shareholders of Citi, Wells Fargo, and Bank of America will have an opportunity to make a massive change in how the banks do business, and get them on track to stop expanding deadly fossil fuels. Email them now and tell them to vote YES on the "No Expansion" shareholder resolutions. Learn more>>
May 7th Actions Everywhere To End War In Ukraine: We desperately need a global call for a ceasefire and serious negotiations — meaning negotiations that will partially please and displease all sides but end the horror of war, halt the madness of sacrificing more lives in the name those already slaughtered. Basta! Enough is enough. Let's all turn out on May 7th. No need to travel. Do local events. Do them by the thousands. Even if it's two people with signs on a corner. Do your event and list it on the map of events and send World BEYOND War reports and photos and videos. Learn more>>
Resist, Repair, Reimagine, and Regenerate Workshop Series: Working through and with the themes of Resist, Repair, Reimagine, and Regenerate, come together in co-creation of an intercultural and intergenerational network of regenerative communities working together to design, adapt, and share the messages, models, and resources needed to reimagine and rebuild our world. (April 21) Learn more>>
Averting Climate Catastrophe – No New Arms Race! Following an introductory presentation showing the links between militarism and climate change, a panel of experts will discuss how to proceed in uniting the peace and climate movements to avoid increasing militarism and worsening the climate crisis. (April 22) Learn more>>
"Bye Boeing: Campaigning Against a War Profiteer" Webinar: Join Dissenters and the U.S. Campaign for Palestinian Rights for "Bye Boeing: Campaigning Against a War Profiteer." This online conversation will bring together organizers from around the country running campaigns against Boeing to share recent campaign victories, discuss how they are coming together across communities to resist militarism and corporations profiting from death and destruction, and ways take action. (April 28) Learn more>>
Culture Is Our Weapon – Cultural Organizing 101: Join PeoplesHub to explore – What is cultural organizing? How can art and culture be used in service of collective liberation, values of cultural organizing campaigns, and drafting the cultural organizing campaign? (April 27 & 28) Learn more>>
Militarization Of The Borderland: This webinar will focus on the US-Mexico borderland in Arizona where the US war industry is highly visible and very actively engaged in the business of white supremacy. Presenters will share their first-hand experiences and research into the nature of this profiteering beast and its ongoing predations. (May 2) Learn more>>
Black Worker Bill of Rights Rally: Black workers have a right to fair, safe, and dignified work and those rights should be meaningfully reflected in the law and enforced. Join the National Black Workers Center for a virtual rally and campaign launch. (May 2) Learn more>>
Decision-Making for Racial Equity: This training engages and guides participants through building an organization-wide racial equity decision-making practice and culture that centers Black, Indigenous, Latinx, Asian American, Native Hawaiian, and Pacific Islander staff and communities. Participants are asked to attend with other colleagues from their organization to practice using Race Forward's Racial Equity Decision-making Tool (RED Tool). (May 10 or May 12) Learn more>>
Our readers are wonderful! Thanks for being one of them.
Donate here>>