Editor's Note From Rivera Sun
I love smart campaigns. Strategy is powerful. A group of flower pickers in Washington State held a quickie strike just 2-days before a huge flower festival. Needless to say, the company conceded swiftly, meeting the workers demands. Timing is everything, they say.
Another story that caught my eye this week was the success of the Sacramento Teachers Strike. Similar to recent strategies and successes in Minneapolis, students and parents in Sacramento joined sit-ins in solidarity with a teachers' strike, leading to a victory. It's exciting to see one campaign echoing the tactics of another. We can learn a lot from our fellow organizers. We don't need to reinvent the wheel … we need to get rolling. At this point in human history, we should all understand how to organize a smart, swift, and powerful campaign for justice. The knowledge is out there. Let's use it.
Two major climate action campaigns are going on. In the United Kingdom, a massive campaign is blockading oil terminals, refusing to give up even after more than a hundred arrests. Elsewhere, scientists around the globe are participating in Scientists Rebellion. After decades of being ignored, these stressed-out, despairing and furious scientists are taking direct action to demand climate justice. I watched this short video of a scientist tearing up as he spoke about the anguish of being ignored while our entire species is headed toward disaster. This speech was given while locked down to the front doors of a fossil-fuel financing bank. A few minutes later, police officers arrested them. Strikingly, there were only a few dozen protesters present – but they were confronted with over 100 police officers.
Also, don't miss stories about Debt Collection demanding the cancellation of US student debt or how the Anti-Trust Day of Action targeted tech giants. The new Staten Island Amazon Union is receiving a flood of requests from other warehouses for help in organizing local unions. For two weeks, Greek railroad workers blockaded a shipment of US tanks headed to Ukraine, urging a de-escalation, not escalation of the war.
Last, but not least, the "one to watch"? Sri Lanka. The economy is in utter chaos, and people are protesting by the thousands.
In solidarity,
Rivera Sun
Photo Credit: Dozens of scientists (like these in Madrid, Spain) have been arrested during Scientist Rebellion's direct action campaign for climate justice.
"Nonviolence News is an invaluable resource for many audiences ranging from activists and students all the way to peace and security professionals."
– Patrick Hiller, Peace Science Digest
Do you agree? Donate here>>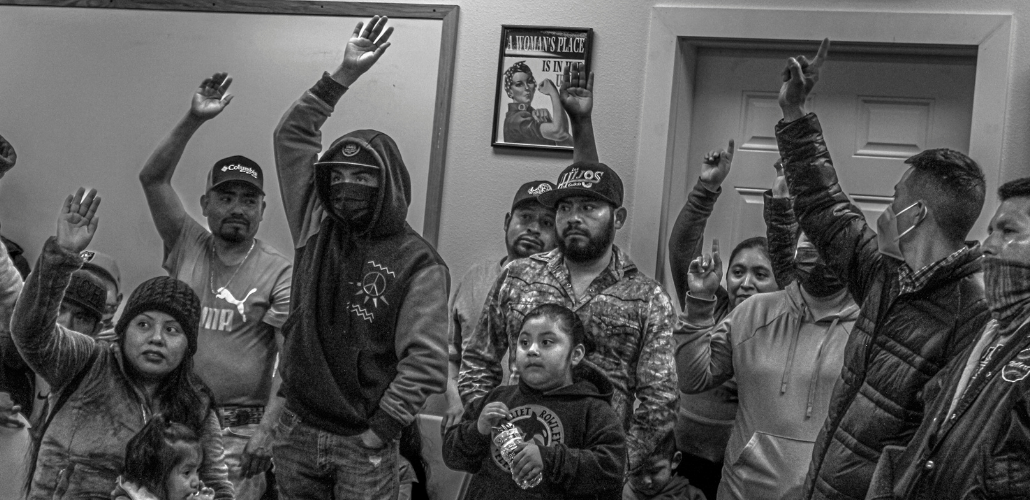 Flower Pickers Win Demands With Quick Strike: Farmworkers who plant and harvest tulips chose a strategic time to strike: shortly before the annual tulip festival. A top demand was to get paid for time spent prepping thousands of rubber bands. Here are all the gains they won. Read more>>
MIT Graduate Students Win Landslide Vote To Form Union: Nearly 2,900 of over 3,800 eligible voters at MIT turned up to vote this week, with 66% putting their support behind unionization. They will be affiliated with the United Electrical, Radio & Machine Workers of America (UE). Read more>>
Angry Shareholders Sanction Ericsson Execs Over Iraq Corruption Scandal: Ericsson's shareholders handed chief executive Börje Ekholm an unusual rebuke on Tuesday, voting to hold him accountable for the telecom giant's mishandling of the Iraq bribery scandal and revelations about possible payments to the Islamic State terror group. The telecom giant's board and CEO are left exposed by an extraordinary vote that could allow them to be held liable for misconduct. Read more>>
After 350 years, the Rappahannock Tribe Gets Land Back: On Friday, the Rappahannock Tribe celebrated a historic win: the reacquisition of 465 acres of their ancestral homeland at Fones Cliffs, a sacred stretch of bluffs on the eastern side of the Rappahannock River in eastern Virginia. Read more>>
Parents And Students Who Sit-In With Striking Teachers Win: The teacher strike that has shut down schools in the Sacramento City Unified School District for eight days is over. The tentative agreement with the teachers union includes ongoing 4% salary increases starting with the current school year; 3% one-time stipends for the 2019-20 and 2020-21 school years; one-time payments of $1,250 in the current school year; 25% rate increases for substitutes who filled in for absent teachers this year; and 14 more sick days for subs who test positive for or have symptoms of COVID-19. Read more>>
Ecuador Gives Legal Rights to Wild Animals: The highest court in Ecuador has ruled in favor of wild animals. A case for Estrellita, a woolly monkey taken from the wild and kept as a pet, is the first case to apply the country's "rights of nature" law to animals. Read more>>
'We Did It': House Passes Bill to Decriminalize Marijuana, Expunge Convictions: "Though it will not erase the pain millions of people have experienced," said one activist, "passage of the MORE Act does provide hope that a better future lies ahead." Read more>>
Mental Health Providers Will Work Alongside Cops in Grand Rapids, MI: The city has won funding for a Grand Rapids Police Department's pilot program that pairs a crisis intervention team officer with a mental health professional to respond to mental health crisis calls. Another sum will go toward the city's Cure Violence program based on the national violence reduction and intervention model. That work, overseen by the Urban League of West Michigan, began in fall 2021. Read more>>
Foreclosures Moratorium Extended In Detroit And Wayne County: A Wayne County judge on March 29 granted a motion by Treasurer Eric R. Sabree extending the ban on owner-occupied homes being placed in jeopardy of seizure and public auction. This decision came in the aftermath of a campaign by the Moratorium NOW! Coalition (MNC) and other housing groups in the city of Detroit. Activists welcomed the decision, but warn that more steps are needed. Read more>>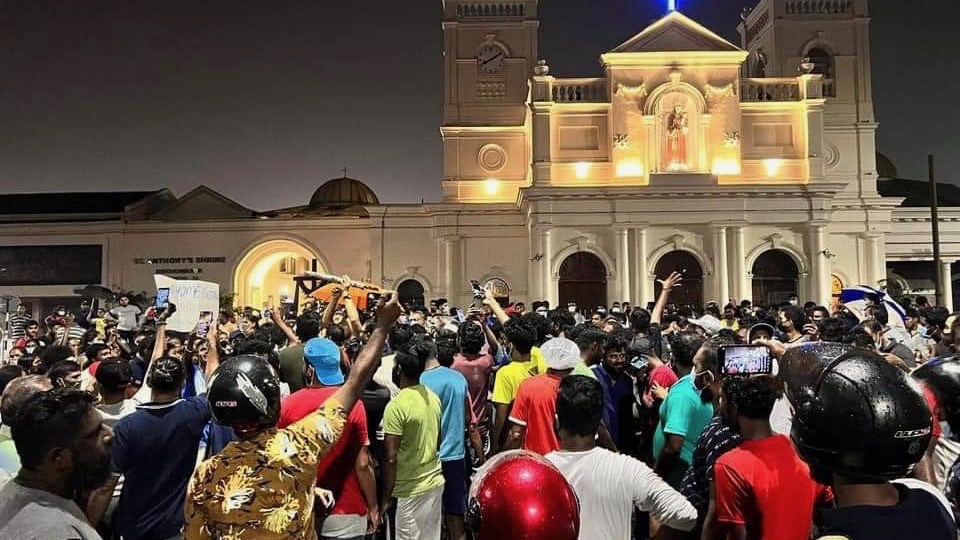 Protests Intensify In Sri Lanka As Economy Goes Off The Rails: Protests continued in Sri Lanka on Monday, including in front of the residence of the prime minister. The entire cabinet quit on Sunday amid the agitations and a massive economic crisis. Read more>>
Tunisia's Suspended Parliament Fights Against President's Coup: In its most defiant move against President Kais Saied, the Tunisian parliament in an online session on Wednesday, March 30, voted to repeal all the extraordinary measures taken by him over the past months to usurp virtually absolute control of the country. Just hours after the suspended parliament passed the symbolic vote by a majority, the president dissolved the body. He had previously suspended the parliament eight months ago. The developments threaten to push Tunisia into further political chaos and instability even as the economy continues to decline. Read more>>
Meet The Doctors Unionizing And Walking Out For Better Conditions: In a year where labor actions seemed more prominent than ever, doctors are still behind their other unionized peers. But that could change. 'There's this growing sentiment that we can do better.' Read more>>
Rise of Violence, Deterioration of Rights Sparks Month-Long Actions Among Health Workers in Haiti: Health workers in major public hospitals in Haiti continue to strike over bad working conditions, as others join them to protest a hike in gang violence and kidnappings. Read more>>
Library Group Launches Anti-Censorship Campaign to Combat GOP Book-Banning Wave: There were more censorship attempts in 2021 than at any time since the American Library Association began tracking more than two decades ago," the organization said. Read more>>
NSW Nurses And Midwives Strike Again For Patient Ratios: Thousands of New South Wales nurses and midwives went on strike for 24 hours on March 31 as part of their ongoing campaign for safe nurse-to-patient ratios in public hospitals. Read more>>
Teen Court Delivers Justice – Restorative Justice: The Teen Court program at Reach For Youth in Indianapolis is a nationally-recognized program that brings youth offenders in front of a jury of their peers who decide which restorative consequences would be best fit to restore the harm that has been caused. Read more>>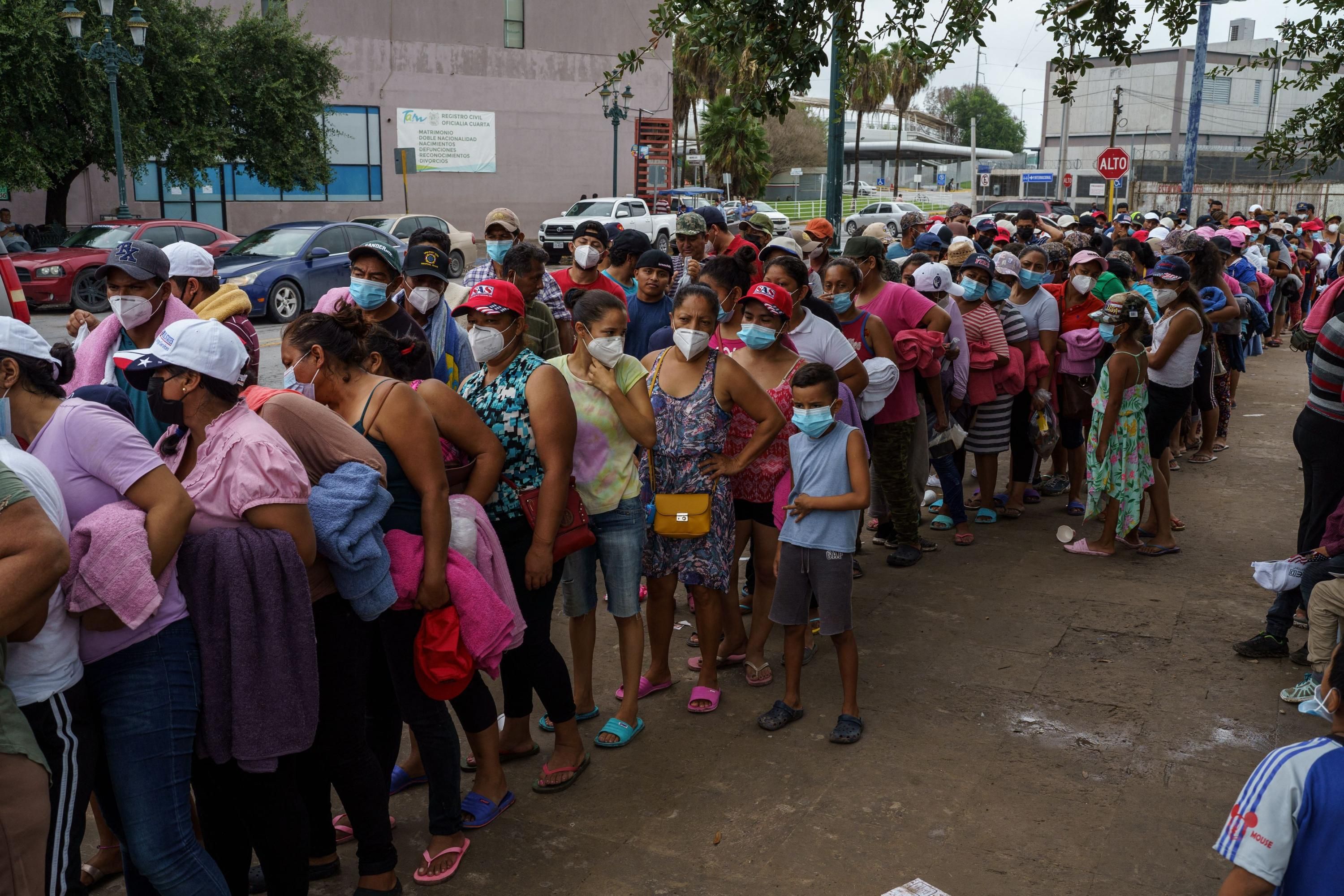 Title 42 Wind-Down Welcomed But 'Not Enough' to Secure Immigration Justice, Say Rights Groups: Immigrant rights advocates welcomed the Biden administration's announcement that it will stop deporting migrants under the Title 42 public health provision—responding to a demand that's been made by rights groups and health experts alike for two years—but warned that the plan to phase out the expulsions in the next several weeks does not go far enough to secure justice for immigrants. Read more>>
Cadbury Chocolates Faces Child Labor Claims On Its Cocoa Farms: The firm which owns Cadbury faces allegations that children, as young as ten, are being used to harvest cocoa on its farms. Footage was released showing youngsters with machetes cutting down cocoa pods on farms in Ghana that supply Mondelez International. Farmers, according to activists, cannot afford to hire adult workers. Read more>>
The Pope Apologized For Residential School Abuses. What next? Indigenous leaders in Canada say Catholic Church must take concrete action to support survivors and prevent more harm. Read more>>
How a New Generation of Black Organizers Changed Atlanta: The model is all about bringing HBCUs together. Contemporary grassroots organizing in Atlanta has been shaped by the community-based, regional ethos of college students and young people like Da'Shaun Harrison. As an Atlanta-based community organizer, Harrison has helped create an infrastructure for issue-based activism working toward liberation and self-determination in the South. Read more>>
How to Talk to Older Relatives About Policing: Hint – Asking questions is key. When we understand the foundational assumptions and experiences that shape our views, we can start to question the policies and systems so fundamental to our society. Read more>>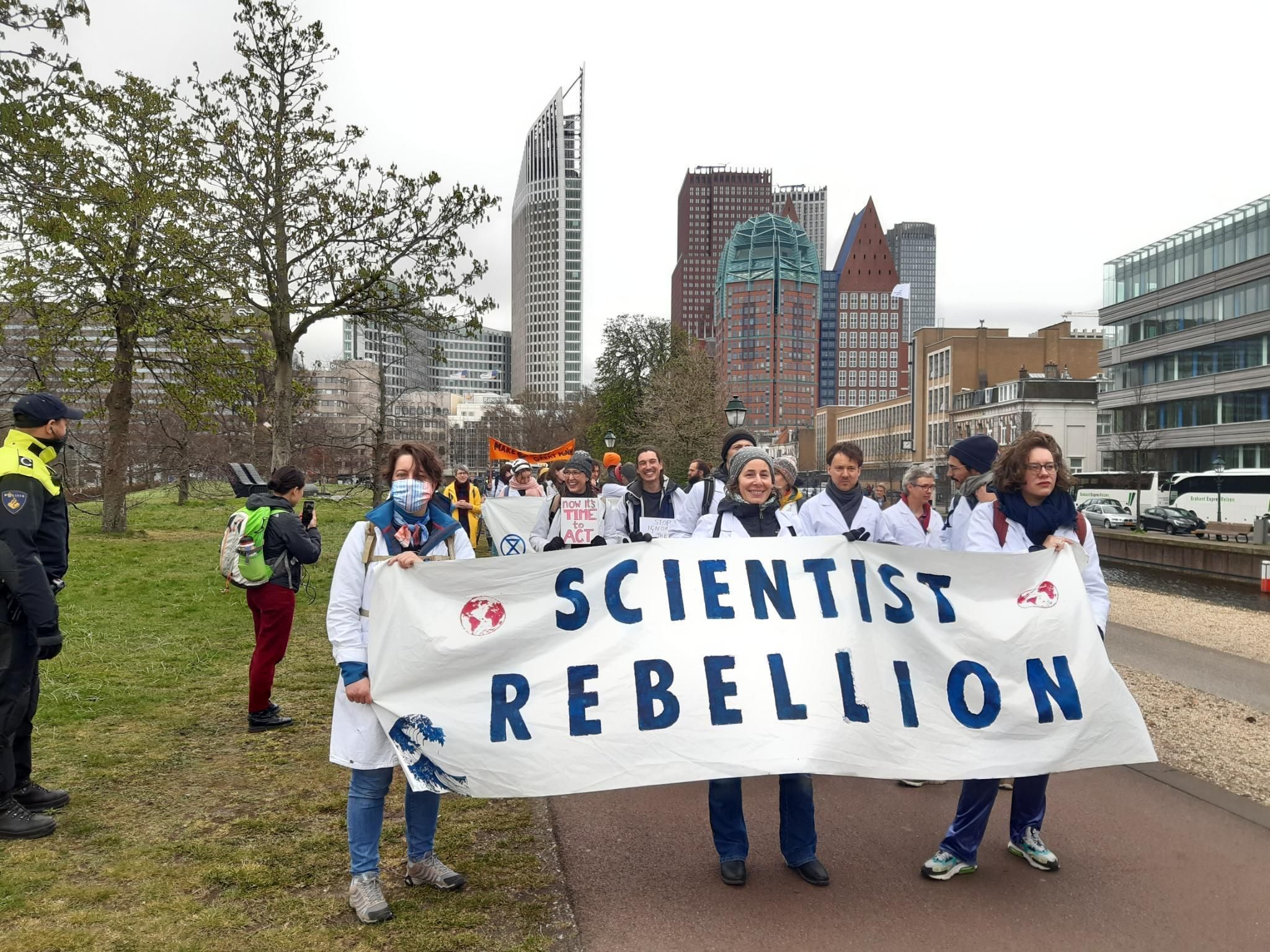 Rebellious Climate Scientists Have Message for Humanity – 'Mobilize, Mobilize, Mobilize': In face of the "escalating climate emergency," the advocacy group Scientist Rebellion warns that IPCC summary to global policymakers remains "alarmingly reserved, docile, and conservative." Read more>>
Online Toolkit Helps Muslims Incorporate Climate Action Into Ramadan: Green Muslims encourages Muslims to consider which steps they can take each day during the month of Ramadan to protect the environment and reduce climate change. To help, the nonprofit offers an online toolkit and a month-long calendar with suggested activities. Those activities range from using less water and reducing food waste to listening to speeches by youth climate activists and praying outside to connect with nature. Read more>>
Protesters Continue To Block UK Oil Terminals Despite More Than 100 Arrests: Just Stop Oil activists have been climbing on to tankers and glueing themselves to roads since Friday. Read more>>
Activists Tell TD And Bank of America – Stop Funding Climate Destruction: Banks that fund fossil fuel operations are just as guilty as the fossil fuel companies themselves: that was the message delivered to TD Bank and Bank of America at their branch locations in downtown Northampton, MA. Read more>>
Salmon Supporters March For Dam Removals: Salmon supporters gathered for speakers, a march and the formation of a human orca mural on the Capitol Campus in Olympia, Washington, calling for the removal of Snake River dams to aid in salmon recovery and survival. Read more>>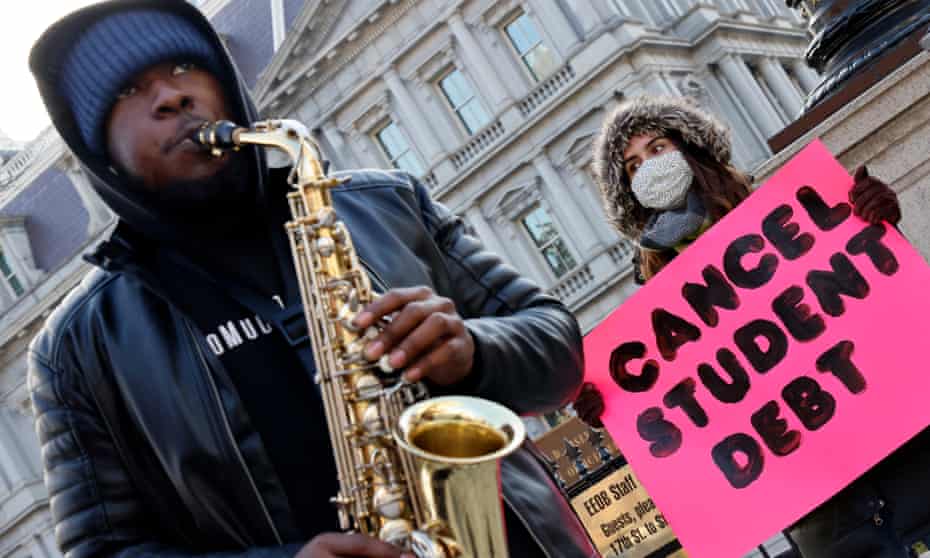 With US Student Loan Payments Pause Set To End, Debtors Seek Cancellation: Hundreds of borrowers headed to Washington DC to protest against student debt and advocate for Joe Biden's cancellation of student loans. Among the 60-plus organizations taking part are MoveOn, the Working Families party, NextGen America and the Hip Hop Caucus. Activists say the expiration of the loan pause and the economy's high rate of inflation mean there is even more urgency to address the student debt crisis. Read more>>
Amazon Workers at Over 50 Buildings Have Contacted the Union About Organizing: After Amazon workers successfully unionized at a warehouse in Staten Island, New York, a flood of Amazon workers across the country contacted the union about organizing their own workplaces, according to the union's president. Read more>>
Debt Collective Day of Action Urges Biden To Cancel Student Debt: The fight to cancel student debt is coming to the president's doorstep. The Debt Collective is upping the ante in their fight for full federal student debt cancellation with their Pick Up the Pen, Joe! rally and day of action. Read more>>
Antitrust Day of Action Takes Aim at Power of Tech Giants: More than 100 advocacy groups were joined by some of Silicon Valley's smaller tech companies Monday as they launched Antitrust Day, a day of action aimed at pressuring federal lawmakers to pass legislation that would rein in tech giants which advocates say "pose an existential threat to democracy" as they stifle competition and disempower consumers. Read more>>
Italian Students Are Rising Up Against Exploitation: Italy's emerging student movement La Lupa is building on a long tradition of student organizing and is taking important steps towards intersectional solidarity. Read more>>
Unions, Scientists Speak Up Against Nuclear Submarine Base: Unions, anti-war activists, scientists are among those speaking out against the federal government's plan to build a nuclear-powered submarine base on the east coast of Australia. Read more>>
Women's Delegation Urges US and Europe to Unfreeze Afghan Funds Amid Crisis: Women in Afghanistan are protesting a number of gender-based restrictions from the Taliban, including an order in March to shut down public high schools for girls. In response, U.S. officials canceled talks with Taliban leaders in Doha, continuing to freeze billions in Afghan assets while Afghanistan spirals into economic catastrophe. Read more>>
Greek Railroad Workers Block US Tank Shipment To Ukraine for 2 Weeks: Workers at TrainOSE, a Greek railroad company, have been refusing to transport U.S. tanks destined for Ukraine from Alexandroupoli, a port in the northern part of the country. After workers there refused, bosses tried to force railroad workers from elsewhere to take on the work. The bosses' desperate effort to find workers who would move the transport forward was unsuccessful. Read more>>
Russian Nobel Peace Prize Winner Donates Medal To Fund That Aids Ukrainian Refugees: Russian journalist Dmitry Muratov, a co-winner of last year's Nobel Peace Prize, said on Tuesday he would donate his Nobel medal to be auctioned to raise funds for Ukrainian refugees. Read more>>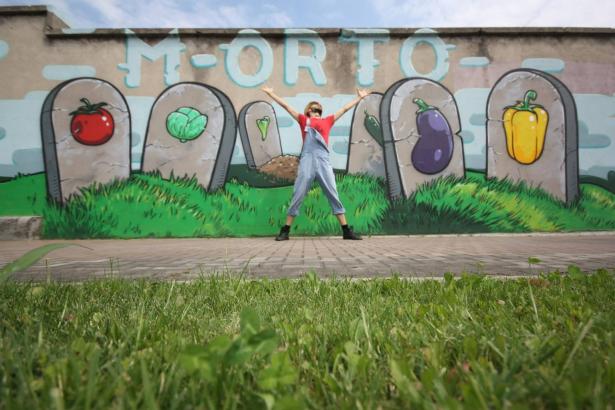 Meet Cibo, the Street Artist Who Covers Swastikas With Food Murals: For more than a decade, Italian street artist Pier Paolo Spinazzè has been covering neo-fascist graffiti and offensive writings with colorful murals depicting all sorts of foods. Read more>>
Russian Artist Depicts Bucha Victims in Photos Staged Around Moscow: As Moscow residents went about their morning early this week, they may have come across an artist laying face-down in front of government buildings and landmarks, recreating widely-seen images of the alleged massacre of civilians in Bucha, Ukraine which have sparked international outrage in recent days. Read more>>
Anonymous Leaks Nearly a MILLION Russian State Media Emails: Hackers have claimed to have released 900,000 emails spanning over 20 years. DDoSecrets co-founder Emma Best said the leak was 'an unprecedented exposure of state-owned media and propaganda which the Russian government considers essential to the state security. Read more>>
Revolutionary Threads In Feminist Art: An art exhibition is featuring work from the Global Gender and Cultures of Equality (GlobalGRACE) project, a four-year research project based in Bangladesh, Brazil, Mexico, the Philippines, South Africa and the UK. In each location, academics, artists and local communities are combining intersectional feminism with arts-based practices to 'help build and sustain more just and equitable societies'. Read more>>
Short TikTok Videos Lift Up The Struggle For Amazon Unionization: Everyone from Bernie Sanders to AFL-CIO is making TikTok videos on the growing effort to form unions at Amazon warehouses. Watch popular content here>>
Earth Day To May Day Boycott of Gasoline: Halt the engines of economic, environmental & military destruction with school & work stoppages, rallies, boycotts, pickets, sit ins, teach ins
& peaceful direct action to heal a violent world. The strike will kick off 10 days of action – Earth Day to May Day – supporting local strikes, building community alternatives & unifying our movements. Learn more>>
Join the Coming Global Mobilization to Stop Lockheed Martin! Lockheed Martin is by far the largest weapons producer in the world. From Ukraine to Yemen, from Palestine to Colombia, from Somalia to Syria, from Afghanistan and West Papua to Ethiopia, no one profits more from war and bloodshed than Lockheed Martin. We call on people around the world to join the Global Mobilization to #StopLockheedMartin starting on April 21, the same day that Lockheed Martin holds its Annual General Meeting. (April 21-28) Learn more>>
Call for Art and Article Submissions for the 2023 Certain Days – Freedom for Political Prisoners Calendar: The Certain Days collective will be releasing their 22nd calendar this coming autumn. In lieu of a 2023 theme, they are doing an open call for abolition-related art and article submissions to feature in the calendar, which hangs in more than 6,000 homes, workplaces, prison cells, and community spaces around the world. They especially seek submissions from people in prison or jail, so please forward this call to any prison-based artists and writers. Learn more>>
WikiLeaks & War Crimes: What is a war of aggression? What is a war crime? What are crimes against humanity? How is the public to know when they occur and by whom they are perpetrated? What and who censors the press and for what reasons? Why didn't we listen when Julian Assange exposed US war crimes? With the war in Ukraine raging and the ashes in Iraq still smoldering, these questions need to be clearly defined before they can be answered completely and truthfully. (April 27) Learn more>>
Join Cure Violence Global's Virtual Gala Celebration! On Thursday, June 2, 2022, at 7 pm EDT/ 6 pm CT, Cure Violence Global will be hosting its second annual virtual gala honoring the extraordinary work being done in communities to break the cycles of violence. Everyone is welcome. Learn more>>
Culture is Our Weapon – Cultural Organizing 101: This is a foundational two-part workshop that covers: what is cultural organizing, how can art & culture be used in service of collective liberation, values of cultural organizing campaigns, and drafting a cultural organizing campaign. (April 27 & 28) Learn more>>
Building a Disability Politic & Access-Centered Cultures: This 2-part workshop is back, hosted by Stefanie & Dustin Gibson! This workshop is for anyone who wants to develop an expansive understanding of disability & ableism that's rooted in historical context — and have opportunities to share, hone, & rethink their approach to access by working through scenarios. (April 21 & 28) Learn more>>
#RaceAnd Femicide Webinar: This webinar will ground us on the roots of femicide, as well as its present day manifestations. Participants will also explore steps we can take as a collective society to find transformative solutions that do not perpetuate violence and further criminalize people, but rather get to the root causes of femicide. (April 14) Learn more>>
Thank you! Last week, people donated $10, $20, and $120 to support Nonviolence News.
Donations of any size are warmly received. Donate here>>