Editor's Note From Rivera Sun
There are signs of hope. You just need to know where to look for them. (Hint: right here at Nonviolence News!) This week, hundreds of thousands of school children went on strike, marching out of classrooms in 750 cities and towns to demand climate action. Students in Kenya (above) even strapped on their rollerblades for a rolling "march". In other climate action news, a new campaign is pushing Bitcoin to stop one of its energy guzzling practices. And, connecting wars for oil with the need for a swift transition off fossil fuels, kayakers blocked the transfer of Russian oil from a massive tanker.
In Ukraine, unarmed protesters in an occupied town near Chernobyl refused to be dispersed by stun grenades and overhead fire. Their courage paid off. The Russian soldiers left and even released the imprisoned mayor. Stories like this remind us that there are more options than "fighting fire with fire" and that even when we're literally outgunned, nonviolent action gives us tools to resist.
You'll be heartened by the dozens of other stories in this week's Nonviolence News. India's trade unions held a 2-day strike with up to 200 million people participating. A multi-decade protest encampment in Bolivia has continued to demand reparations for the old dictatorship's abuses. Sri Lankans have been taking to the streets in protest of the latest economic crisis. And an animal rights group named Animal Rebellion climbed on top of a poultry truck and locked down to bring a slaughterhouse to a standstill.
Lastly, check out the two tales of very disparate convoys. First, the US Truckers Convoy – a spin-off from the convoy that took Canada by storm – has now departed from DC without achieving any of their goals. Second, a convoy of New York City taxi drivers are on their way to Minnesota to protest at the offices of the company that holds the loans on their cabs. The high rates of interest, paired with pandemic slow downs and pressures from other ride services have made it all but impossible to pay down their debts. Will they succeed? We'll let you know in the next editions of Nonviolence News.
My favorite stories this week? I have two. One is about a Black woman who uses her hair to make sculptural statements about gender and race – and the pictures are incredible. The other is also about sculptures. An Italian artist is making underwater sculptures that thwart trawling nets and protect fish and marine life. Pretty brilliant.
Enjoy,
Rivera Sun, Editor
Photo Credit: Rollerbladers join Fridays For Future global climate strike in Kenya.
Thank you to our new, monthly donors!
By giving $10/month (that's the price of a movie ticket or Netflix subscription),
you keep us churning out hundreds of stories. Donate here>>
Russian Soldiers Release Ukraine Town's Mayor And Agree To Leave After Protests: A mayor in a Ukrainian town occupied by Russian forces has been released from captivity and the soldiers have agreed to leave after a mass protest by residents. Slavutych, a northern town close to the Chernobyl nuclear site, was taken by Russian forces but stun grenades and overhead fire failed to disperse unarmed protesters on its main square. Read more>>
Minneapolis Educators Just Showed the Country How to Strike and Win: The Minneapolis teachers' union just won a nearly three-week-long strike. The strike won significant gains on many fronts. Educational support professionals, or ESPs, an especially underpaid and disproportionately non-white workforce, will see major increases in their salaries and hours, bringing most close to the $35,000 salary initially demanded by the union. Strikers won caps on class sizes and contract language exempting educators of color from excesses and layoffs, as well as the hiring of two district mentors for non-white educators. Read more>>
Colorado Community Stops Profit-Driven School Closure: Residents of the Sable Altura Chambers community in Aurora, Colo., won a four-month-long struggle to keep Sable Elementary School from being shut down. This grassroots struggle, its members made up primarily of parents and teachers, has called into question the true motives behind the BOE's "Blueprint APS initiative" and the decision to close Sable Elementary. Read more>>
Houston-Area Student Wins $90,000 Settlement After Teacher Bullies Her For Not Standing for Pledge of Allegiance: In the 2017 suit, the nonreligious student says she was discriminated against and harassed by several teachers after choosing to abstain from saying the pledge out of objection to the words "Under God" and her belief that "liberty and justice for all" is not guaranteed for people of color in the U.S. Read more>>
Anthropology Association Apologizes To Native Americans: For decades anthropologists exploited Indigenous Peoples in the name of science. Now they are reckoning with that history. In November 2021 the American Anthropological Association (AAA) apologized for the field's legacy of harm. Read more>>
Stanford Reaches 100% Renewables: Stanford University's second solar generating plant went online this month, completing the university's years-long transition to 100 percent renewable electricity and marking a major milestone in its larger journey to reach net zero carbon emissions on campus. Read more>>
Title 42 Can End Now – Expulsion of Migrants Should Stop: CDC Director Rochelle Walensky said she decided to terminate the order that authorized the border expulsions because of improving pandemic conditions, including increased vaccination rates in the U.S. and migrants' home countries and the drop in COVID-19 cases and hospitalizations since the Omicron surge this winter. Read more>>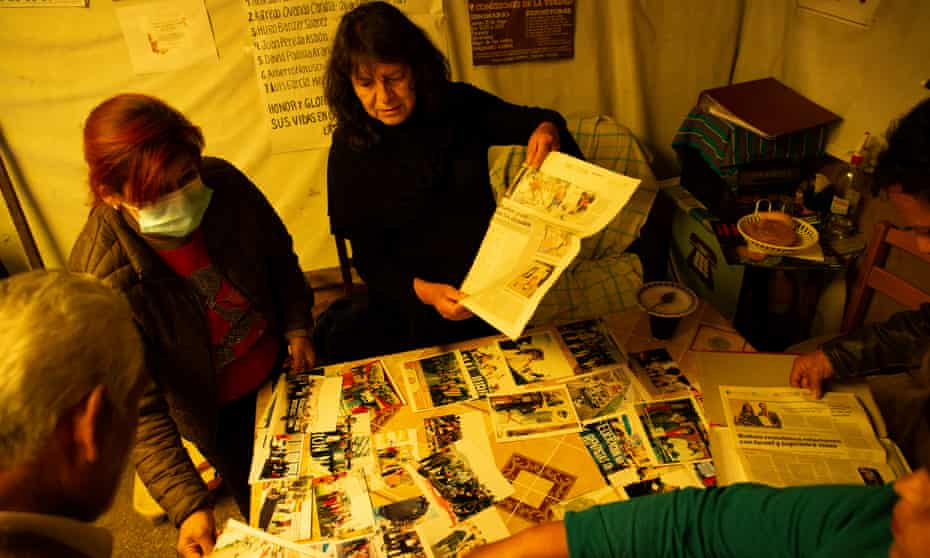 Bolivian Victims of Dictatorships Still Waiting For Justice: The survivors of the dictatorships that ruled Bolivia between 1964 and 1982 have been waiting for justice for years. In 2012, fearing the country was moving on without a reckoning, they built the hut and moved in: a permanent protest to demand justice for the crimes committed against them. Ten years later, they're still there. Almost 50 of them have died since the protest began, and many of the rest are old and ailing. Yet their demands seem no closer to being met. Read more>>
Sri Lankans Protest Economic Crisis: Several parts of Sri Lanka's capital were placed under indefinite police curfew after protests erupted near the residence of President Gotabay Rajapaksa as shortages, blackouts and high inflation emerged from two years of money printed to keep interest rates down. Police used water cannon and tear gassed the crowds that gathered. Read more>>
NYC Cab Drivers Head To Minnesota To Protest Loan Holder of Their Taxi Permits: New York taxi drivers headed for Minnesota to protest the company that holds the loans on their taxi medallions. The group is hoping to put pressure on a company to join the city's debt relief program for taxi drivers. "It's a 2,400-mile journey for a lifetime of justice, because our members cannot remain in the level of debt they are drowning in." Read more>>
Animal Rebellion Locks Down To Chicken Truck: Early this morning, animal rights activists climbed a chicken transportation truck to prevent it from leaving a slaughterhouse. "Together we can shut this slaughterhouse down and transform this place of death into a space for life and community." Read more>>
US Truckers Convoy Retreats From DC: The protest failed to accomplish any of its stated demands and recently saw a dwindling number of participants, fractures among supporters, pushback from local residents and activists and road blockages by D.C. police. Read more>>
Black Lives Matter Protesters Are Shaping How People Understand Racial Justice: Considered to be the largest social justice movement since the civil rights era of the 1960s, Black Lives Matter is more than the scores of street protests. Black Lives Matter has changed how people learn about specific issues that involve race, such as police violence, mass incarceration and other systemic problems in Black communities that would be intolerable in other communities. Read more>>
Breaking Through Dog Whistle Politics With Multi-Racial, Working-Class Solidarity: Organizers with Down Home North Carolina have found a strategy for breaking through the politics of racial resentment that have dominated the deep-red rural state for generations. Read more>>
Great Sioux Nation Issues "Notice of Trespass" Against Owner of Hotel that Banned Native Americans: On Saturday, the Great Sioux Nation in South Dakota issued a "Notice of Trespass (Cease and Desist)" order against Connie Uhre-Grand Gateway Hotel and its subsidiaries with instructions to vacate the premises. The 76-year-old owner of the Grand Gateway Hotel had posted on social media she would ban Native American from the property after a shooting took place in one of the hotel rooms in the early hours of March 19. Read more>>
Protests During the Duke and Duchess of Cambridge's Visit to the Caribbean Highlight Royalty's Pivotal Role in the Slave Trade: Jamaica in the 18th century was described by Charles Leslie as a "constant mine, whence Britain draws prodigious riches." More Africans arrived in Kingston to become plantation slaves than arrived in any other place in the British empire. Read more>>
A Black Feminist's State Of The Union: At the start of Black Feminisms Month, Movement 4 Black Lives held a critical discussion with movement leaders Rukia Lumumba, Marbre Stahly-Butts, and Ash-Lee Woodward Henderson. A Black Feminist's State of the Union broke down Biden's version and shared an on-point assessment of the state of this union for Black people. You can check out the full video here>>
'We Are Unstoppable' – Youth Climate Strikes Return Full Force: Hundreds of thousands of students skipped school on Friday, marching through the streets of more than 750 cities and towns to call for decisive action on climate change and to demand justice for the people most severely affected. Friday's protests, the largest mass youth climate strike since 2019, show that the movement is rebounding from the setbacks posed by the pandemic, which forced young people to do most of their organizing remotely. Read more>>
Climate Groups Push Bitcoin To Stop Energy Guzzling: Climate groups start a campaign to say a change in coding can reduce bitcoin energy consumption by 99%. A simple switch in the way transactions are verified could reduce bitcoin's energy-guzzling mining habits. Read more>>
Dutch Homesteaders Take Their Land Off the Market For Seven Generations: In a small village in the Netherlands, 2,220 square meters of land was taken out of the economic system. It cannot be bought nor sold for at least seven generations to come. "Land is a basic resource, just like the air we breathe." Read more>>
Organizing Across State Lines to Stop a Pipeline: This cross-state collaboration is only one of many where people power is waging a concerted, and increasingly successful, campaign against fossil fuel corporations and the harmful extraction they promise. Read more>>
Up to 200 Million Workers Join Two Day General Strike in India: Central trade unions on March 28 began a two-day nationwide strike to protest against the Government's alleged wrong policies that are affecting farmers, workers and people. Their demands include the scrapping of the labour codes, no privatization of any form, scrapping of the National Monetisation Pipeline (NMP), increased allocation of wages under MNREGA (Mahatma Gandhi Rural Employment Guarantee Act) and regularization of contract workers among others. Read more>>
1,000+ Professors Endorse Call to Cancel All Federal Student Loan Debt: More than 1,000 professors from colleges and universities across the country—including prominent institutions such as Columbia, Yale, and Berkeley—released a letter Tuesday endorsing calls for President Joe Biden to use his executive power to cancel all outstanding federal student loan debt. "Universal debt cancellation would be the first serious step toward the goal of College for All that we have seen in our lifetime." Read more>>
Airport Workers Take Action For Fair Wages: With workers making $8/hr and CEOs making $5,000/hr, is it any wonder workers are protesting? Read more>>
For the First Time in History, Public Television Workers in Chicago Are Out on Strike: At Chicago's Public Broadcasting Station (PBS) affiliate, WTTW (Window to the World), two dozen broadcast technicians have been on strike since March 16 in a battle to preserve their jobs and safeguard quality media production. The walkout marks the first work stoppage in the station's 67-year history. Read more>>
Condé Nast, BuzzFeed, and the Ever-Growing Media Labor Movement: Yesterday, Staffers at Condé Nast announced that they are forming a company-wide union with the NewsGuild of New York, covering more than five hundred staffers across a dozen titles. Read more>>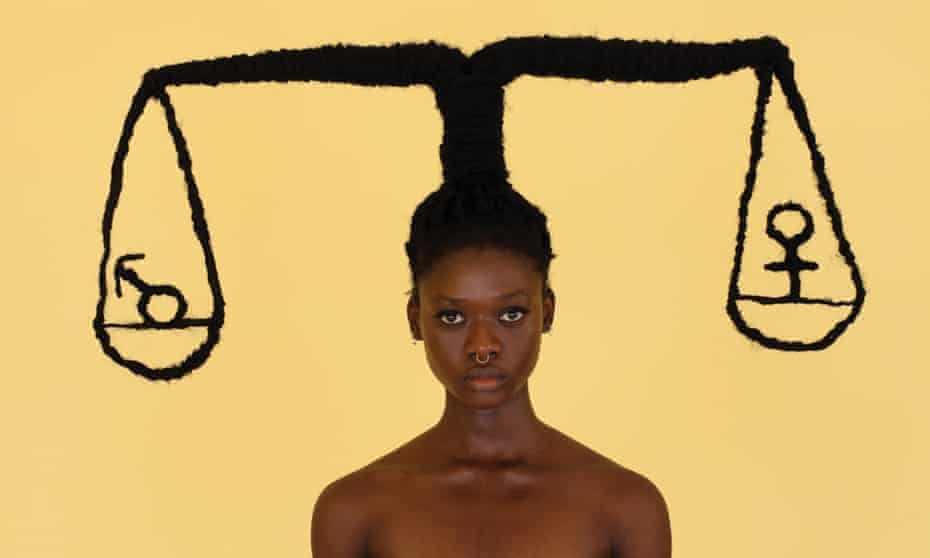 Laetitia Ky Tackles Abortion, Sexism And Race With Her Extraordinary Hair: From vacuum cleaners to menstruation, the Ivory Coast artist and activist creates incredible sculptures with her hair to tackle taboos. She talks about how learning to love her natural hair taught her to love being a black woman – and western criticism of her work. Read more>>
Taliban Blocks Afghan Girls From Returning to School in Last Minute Reversal: Wednesday was set to be the first day back to school for students in Afghanistan, but late on Tuesday night, the Taliban administration made the abrupt decision not to allow girls beyond sixth grade to return. Read more>>
500 Australians Call For Action To End Domestic Violence: Five hundred people rallied on March 29 to call on Australian Prime Minister Scott Morrison to implement changes to stop gendered and domestic violence against women. The protest, called by the group What Were You Wearing shows how angry people are over recent murders. Read more>>
In New Orleans, Hundreds Unite To March Against Anti-LGBTQ+ Legislation: Youth lead 250-person march under banner that says "Hear us! See us! Trans Rights Now." Community members gathered to forcefully voice their opposition to a string of legislation introduced by Louisiana Republicans in recent weeks. Read more>>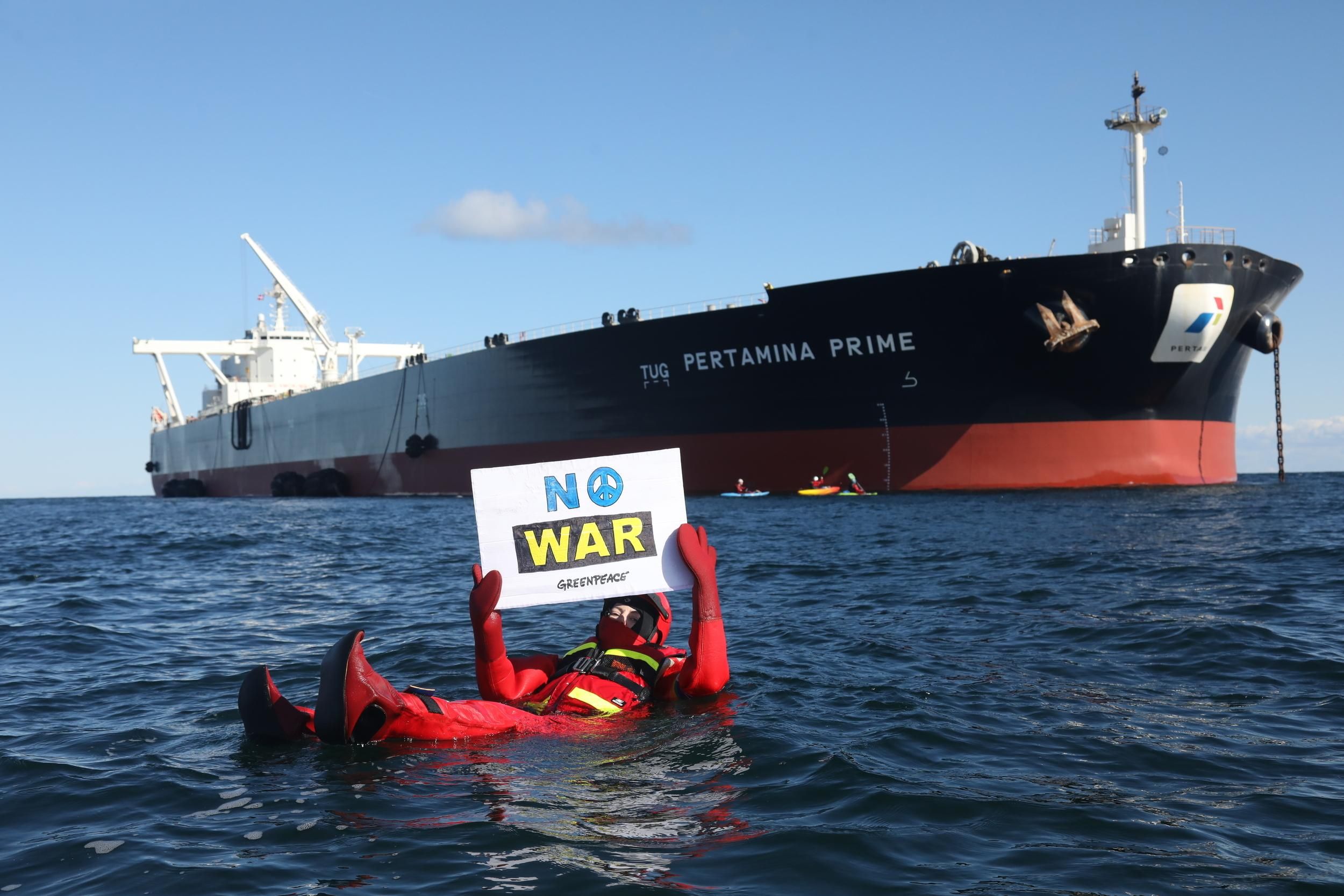 'Stop Fueling the War' – Kayakers Block Transfer of 100,000 Tonnes of Russian Oil:
"Governments should have no excuse as to why they continue throwing money into fossil fuels that profit a few and are fueling war, now in Ukraine," said one Greenpeace campaigner. Read more>>
Ukrainians Could Defeat Russian Occupation By Scaling Up Unarmed Resistance: As scholars of nonviolent resistance, we see four key ways Ukrainians can organize and expand the civil resistance that's already happening. Read more>>
Londoners Campaign Against Arms Trade: A London based group is launching a series of demonstrations against the arms trade and war. They will target a fancy, black-tie dinner held by the arms industry. Read more>>
Protest Actions Across Canada Against War and Weapons Exports: March 26 marked seven years of the war in Yemen, a war which has claimed the lives of almost 400,000 civilians. Protests in six cities across Canada held by the #CanadaStopArmingSaudi campaign marked the anniversary while demanding Canada end its complicity in the bloodshed. Read more>>
Italian Fisherman Uses Underwater Sculptures To Stop Trawling: Inspired by others around the world, Fanciulli began the non-profit Casa dei Pesci, "House of Fish," to stop trawling in its tracks by sinking heavy, immovable objects: marble statues. Read more>>
'Our Traditions Have Been Criminalized' – the Arctic Artists Bringing Protest To Venice Biennale: They're threatened by loggers, miners, global heating and culling laws – but the Sámi are fighting back with art. Our writer meets them in the frozen tundra as they prepare for the art world's biggest global gathering. Read more>>
How Russia's Musicians Are Taking A Stand Against The War In Ukraine: Many Russian musicians are using their platform to campaign against Russia's invasion of Ukraine. "There are tens of millions of Russians who categorically disagree with this war – and that should be said as loudly as possible," said rapper Oxxxymiron while announcing a series of charity anti-war gigs under the banner Russians Against War (RAW). Read more>>
Stories of Indigenous Resistance And Regeneration: Robert Raymond explores Indigenous resistance movements and Native attempts at cultural, spiritual and ecological regeneration. Read more>>
Erica Chenoweth on Hidden Brain Podcast: Does power truly flow from the barrel of a gun? Pop culture and conventional history often teach us that violence is the most effective way to produce change. But is that common assumption actually true? Political scientist Erica Chenoweth, who has studied more than 100 years of revolutions and insurrections, says the answer is counterintuitive. Listen here>>
Big Brands Pulling Facebook Ads Over Hate Speech Will Barely Dent Its Revenue: Companies including The North Face, Patagonia, REI, and Eddie Bauer have thrown their support behind a campaign calling on businesses to pull advertising from Facebook and its Instagram subsidiary through the end of July over allegations that Facebook enables hate speech online. The Stop Hate for Profit campaign is asking businesses to hit Facebook where it hurts: its massive advertising revenue. But is it enough? Read more>>
111th Anniversary of Triangle Shirtwaist Factory Fire Commemorated: Neither a COVID resurgence or construction sheds at the site of the Triangle Shirtwaist Factory fire—Greene St. and Washington Place— stopped committed activists from marking the anniversary of one of the deadliest industrial accidents in U. S. history. Read more>>
How To Start And Participate In a Buy Nothing Group: "Buy less and share more. It makes us all richer and the planet cleaner." Learn how to start (or join) your local gift economy group here. Read more>>
Breaking Silence On Palestine: New study guide compares Dr. King's Breaking Silence on Vietnam to Michelle Alexander's call to break silence on Palestine. Read more>>
Kathy Kelly: War Is Never the Answer — A Free Webinar: Kathy's efforts to end wars have led her to living in war zones and prisons over the past 35 years. Learn more>>
Kingian Nonviolence w/ Kazu Haga: Through role-plays, small group activities, readings and presentations, we will explore: common myths of nonviolence and peace, an analysis of the different types and levels of conflict, and the principles of Kingian Nonviolence. (April 23 & 24) Learn more>>
Dissenters RISE UP! Leadership School: Join Dissenters 2-month organizing school for student organizers to deepen their abolitionist & anti-militarist organizing skills alongside a cohort of other young people. This program includes workshops on strategy, creative resistance tactics, one on one coaching, practice space, and participation in Dissenters campaigns & actions. (April 23-June 16) Learn more>>
Pitch in! We keep the stories coming because of you. Thank you.
Donate here>>