Editor's Note From Rivera Sun
The right to protest lies at the heart of stories from around the globe this week. Londoners are marching to #KillTheBill that limits the right to protest. In Algeria, political prisoners are on hunger strike to oppose the escalating repression of activists. In Thailand, activists who used sit-in blockades of roads to demand land rights for Indigenous groups are facing court trials. In Mexico, police evicted Indigenous organizers who took over a water bottling plant and turned it into a community center.
The Canadian Truckers Convoy is now being broken up with arrests and sanctions. Meanwhile, annoyed Ottawa citizens took a more direct approach to resolving the impasse with the truckers. A thousand neighbors set up a barricade at Billings Bridge, blockading the convoy for 9 hours and only letting them pass if they took down their signs and handed over their extra fuel.
In Turkey, a pink-clad convoy of delivery cyclists rode to demand higher wages. Tunisians are filling the streets in protest of ever-tightening control over judges. Thousands of Puerto Ricans decried austerity during the March of Indignation. These are just some of the many interesting and impressive stories of how people are waging nonviolent struggle for a wide range of causes around the world. I recommend checking out the full round-up that is the treasure-trove of Nonviolence News.
In solidarity,
Rivera Sun
Photo Credit: A coalition of activists including Extinction Rebellion activists rally in London to Kill The Bill. Photo by Crispin Hughes.
A cup of tea, a sandwich … it doesn't take much to keep us going,
but we do need a little bit of support to fuel this wonderful project. Donate here>>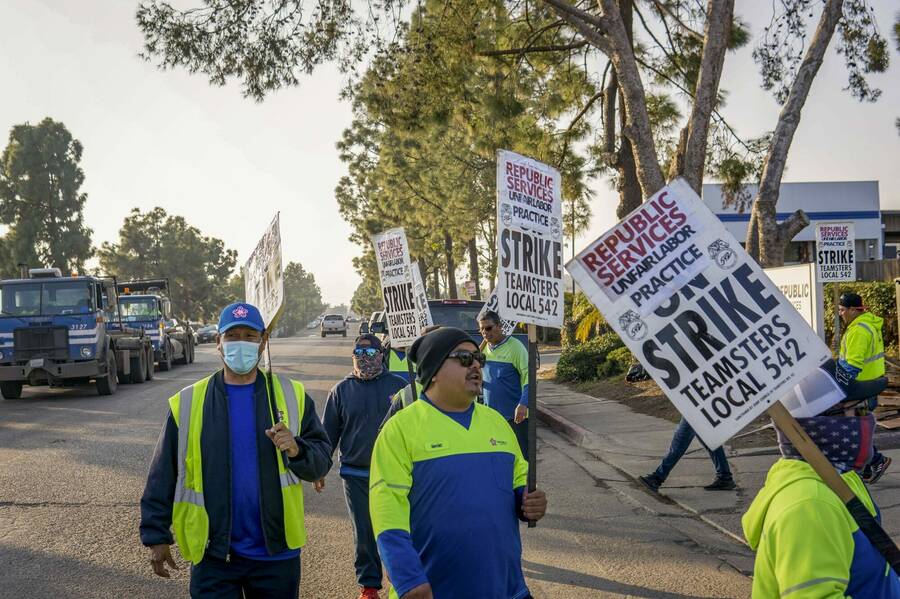 Sanitation Workers Win Pay Raise: Close to 300 workers, many of them Latino or Black, were on strike across three different San Diego County locations. ​Though it falls short of what the striking workers wanted, the new contract includes wage increases and some healthcare benefits. Read more>>
Remington Arms Settles With Families of 9 Victims Of Sandy Hook Massacre: Remington Arms agreed to settle liability claims from the families of five adults and four children killed in the massacre at Sandy Hook Elementary School, according to a new court filing, marking the first time a gun manufacturer has been held liable for a mass shooting in the U.S. Remington agreed to pay the families $73 million. Read more>>
Belgium Approves 4-Day Work Week And Gives Employees The Right To Ignore Bosses After Work: Workers in the gig economy will also receive stronger legal protections under the new rules, while full-time employees will be able to work flexible schedules on demand. Read more>>
Home Improvement Store Workers Win Pay Raise With All-Out Strike: Wincanton B&Q ­workers in the UK have won a 10.75 percent pay deal after striking since November last year.The solid action by ­workers for three months shows the impact walkouts can have. An all-out strike was far better than partial action. Read more>>
Snoqualmie Tribe Acquires 12,000 Acres Of Ancestral Forestland: The Snoqualmie Indian Tribe, a federally recognized Tribe headquartered in King County, has acquired roughly 12,000 acres of its ancestral forestlands in the Tolt River Watershed. The forest has significant cultural, historic, environmental, and economic value to the Tribe. Read more>>
Algeria's Political Prisoners Go On Hunger Strike Amid Escalating Repression: Around 40 political prisoners in Algeria are on hunger strike, demanding their release from illegal and arbitrary detention and a halt to the increasing prosecution of democracy activists on charges of 'terrorism'. Women, youth and trade unionists are among the hunger strikers incarcerated under 'provisional detention', awaiting trail and sentencing. Read more>>
'Battle of Billings Bridge' Thwarts Truckers Convoy: Using disciplined nonviolent action, this Ottawa neighborhood blockaded a bridge for 9 hours and set demands that the truckers had to meet in order to cross (like getting rid of their anti-vax signs). Read more>>
Calls Grow To Release People From Prison Amid Alarming COVID Surge: Prisons in New South Wales and across Australia are rife with COVID-19, according to Brett Collins, a spokesperson for Justice Action. At the end of January, "half of detainees in Alice Springs Correctional Centre had COVID-19. Read more>>
Mexican Government Evicts Indigenous Activists Who Took Over Water Bottling Plant: A coalition of Indigenous activists prevented the extraction of water by transforming the plant into a community space. Read more>>
Puerto Rico's March of Indignation Draws Tens of Thousands: Tens of thousands of teachers and other public workers have taken to the streets of San Juan, Puerto Rico in a March of Indignation to protest a debt restructuring plan given the green light by Judge Taylor Swain of New York. Puerto Ricans call it the "Shakedown Plan". Audio and more. Read more>>
Protests Erupt After Tunisian President Tightens Grip On Judiciary: Thousands of Tunisians have demonstrated in the capital after President Kais Saied granted himself new judicial powers in a decree. Saied can now unilaterally fire and block appointments of judges. Read more>>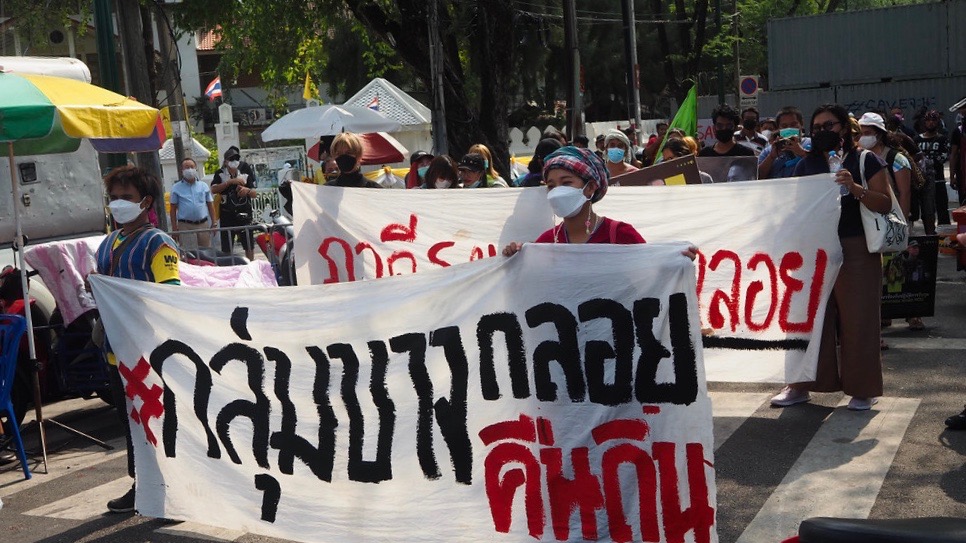 Land Rights Activists In Thailand Face Prosecution For Sit-In Protest In Bangkok: A total of 16 activists have received summons for participating in a two-week long protest in Bangkok for land rights and the rights of the Indigenous Bang Kloi community. Read more>>
#BOYCOTTPUMA Demonstration Happens Outside Sportsware Brand's Flagship Store: Samidoun NY/NJ joined Within Our Lifetime and the Palestinian Youth Movement NY to rally outside the PUMA flagship store in Manhattan. The picket took place as part of the global day of action to boycott PUMA because of the German athletic wear brand's sponsorship of the Israel Football Association. Read more>>
Confronting Right-Wing Attacks On Racial Justice: As of the middle of August, more than two dozen states have introduced — and 11 states have enacted — bills or rules to restrict the teaching of history and contemporary social realities. Read more>>
Indigenous Purépecha Tear Down Statues Of Spaniards In Michoacan: Activists from Mexico's Purepecha people used axes and sledgehammers Monday to knock down statues of their ancestors being forced to haul and work stones by a colonial-era Spanish priest. Read more>>
Students At Top Universities Push 'Legal Imperative' of Fossil Fuel Divestment: "Their investments in the fossil fuel industry—an industry whose actions place the health and future of students and the entire planet at risk—amount to nothing less than complicity in the climate crisis." Read more>>
Major Disruption Expected As Six Protests Converge In Bristol, UK: Climate campaigners, anti-airport expansion activists and Buddhists protesting Barclays are all set to take to the streets on the same day. There will also be a protest opposite Bristol Hippodrome to show support for refugees, which will start by the fountains, another against the cost of living crisis and a final one against clothing brand Puma because of their sponsorship of the Israeli Football Association. Read more>>
Extinction Rebellion Global Newsletter #61: The Global Coastline Rebellion, a multinational day of resistance against a multinational threat, was conceived just a few weeks before its 4th February launch. Yet it ended up drawing together more than 50 movements, organizations, and communities, from 19 different countries. You can find out more about this unprecedented global action by checking out Action Highlights. Read more>>
Cost of Living Protesters Around the Country Say Enough Is Enough: Protests were held in several regions on Saturday 12 February to highlight the injustice of the cost of living crisis. The People's Assembly co-ordinated the demonstrations, supported by trade unions, in towns and cities around the UK. Read more>>
Texas Guardsmen On Border Start Unionizing To Combat Difficult Conditions: The first meeting of the Texas State Employees Union's Military Caucus, which consists of troops on state active duty orders assigned to the border, is scheduled for next week, according to a soldier leading organizing efforts. Read more>>
Italian Co-ops Hire Inmates To Make Food & Fashion: Proudly 'Made In Prison.' Prisoners in Italy have to pay for their own detention, and often leave prison in debt and without skills. A network of co-ops is trying to change this by hiring prisoners (for the same wages as people make on the outside) to be artisanal producers of everything from food to clothing and accessories. Read more>>
Seattle Educators Rally for a "Thriving Wage": Teachers and librarians at Seattle Colleges in AFT local 1789 are fighting for a "Thriving Wage," open negotiations, and a democratic and transparent union. Read more>>
District-Wide School Bus Drivers Hold Sickout: Tensions between the St. Tammany Parish School District and its bus drivers boiled over Friday when dozens of drivers called in sick to work. According to the district, 62 of roughly 398 bus drivers district-wide called in to say they would not be available to take students home. Read more>>
Unionizing REI Workers Launch Petition to Combat Company's Intimidation Campaign: Even though the company consistently touts its supposed progressive values and cooperative working environment, the company has pulled out intimidation tactics and other anti-union moves in recent weeks. Read more>>
African Civil Society Slams Moderna Attempt to 'Derail' Vaccine Project: A coalition of civil society groups on Monday accused Moderna of trying to use patent protections to "derail" South African scientists' nascent attempt to produce an mRNA-based coronavirus vaccine of their own, without the support of the pharmaceutical industry or rich countries. "It's an outrageous act of gaslighting and we won't stand for it," said one public health campaigner. Read more>>
Miners Testify After Year On Strike: After almost a year on strike, unions representing of a group of miners in the United States are testifying at a Senate hearing. The miners say their pay and benefits were cut, while investors were profiting from restructuring at the coal mine in Alabama. The Senate hearing comes amid a wave of attempts to unionize by workers across the US, including at Starbucks and Amazon. Read more>>
Thousands Protest The Killing Of a Congolese Refugee In Brazil: Thousands have protested across Brazilian cities, from Rio de Janeiro to Sao Paulo, after the murder of a 24-year-old Congolese refugee who was beaten to death last month. Beaten to death, Kabagambe's brutal killing sparked a debate over hate violence against Brazil's Black population. Read more>>
Migrants Sew Mouths Shut In Protest: A dozen undocumented migrants on Mexico's southern border sewed their mouths shut on Tuesday in a bid to convince the country's immigration authority to grant them passage toward the U.S. border. Editor's Note: Is sewing one's mouth shut a nonviolent action? People have varying opinions on this, but some distinguish between causing harm to others versus to oneself. Read more>>
"A Day Without Immigrants": U.S. Protests Demand Immigration Reforms: Immigrants from across the United States on Monday walked out of workplaces and schools — and didn't spend any money — as they marked a Day Without Immigrants. Rallies took place in New York, Washington, D.C., San Francisco, Houston and dozens of other U.S. cities. Read more>>
LGBTIQ Students Kicked Out Of School In East Africa Are Fighting Back: Homophobia, religion and the legacy of colonialism are hurting gay and lesbian school students in Kenya and Uganda – but they won't be defeated. Read more>>
Art Installation Shows Female Experience Of Harassment: A team of artists in Belgium wants to teach men how it feels to be a woman subjected to harassment in the street through an immersive art project which plunges visitors into a darkened tunnel full of leering holograms. Read more>>
'Targeted Harassment' – Muslim Girls in India Denounce Hijab Ban: Visuals of Muslim students being shut outside college gates in Karnataka state for wearing the hijab have led to outrage on social media. Read more>>
232-mile Run Will Raise Awareness For Murdered And Missing Indigenous People: The Four Corners Missing and Murdered Indigenous People Prayer Run will take place Feb. 24-27 and traverse 232 miles through area towns and the Navajo and Ute Mountain Ute reservations. 'Each step is a prayer': Murder is No. 3 cause of death for Native women. Read more>>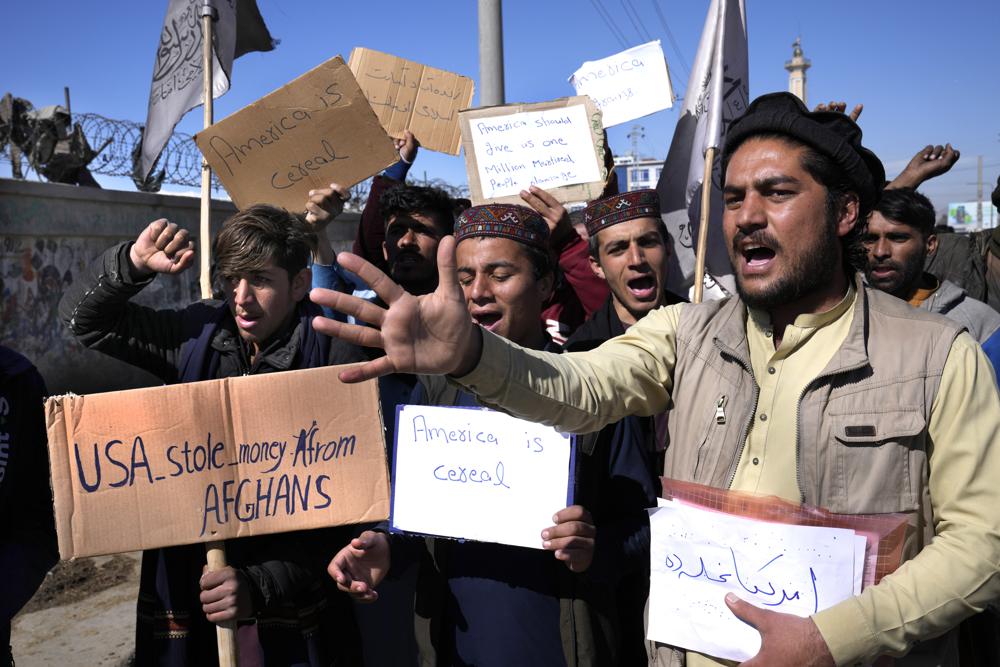 Afghans Protest Against Their Assets Going To US 9/11 Victims: Demonstrators in Afghanistan's capital on Saturday condemned President Joe Biden's order freeing up $3.5 billion in Afghan assets held in the U.S. for families of America's 9/11 victims — saying the money belongs to Afghans. Read more>>
Ukrainian Pacifists Say US, NATO and Russia Share Responsibility to Avoid War: We speak with Yurii Sheliazhenko, executive secretary of the Ukrainian Pacifist Movement, who says, "Both great powers of the West and the East share equal responsibility to avoid escalation of war in Ukraine and beyond Ukraine." Read more>>
New Mexicans Voice Concerns About National Guard Members Becoming Substitute Teachers: Members of the National Guard could be filling in as substitute teachers across the state starting this week – but not everyone is on board with this idea. Read more>>
Small Boat On Big Mission Docks In San Diego: Protests have taken to the high seas for years. Greenpeace ships patrol international waters to expose environmental injustice. The Sea Shepherd fleet plies the oceans to protect marine wildlife. Then there's the tiny, but mighty, Golden Rule peace boat. It is a 34-foot wooden ketch that embarked on its first anti-nuclear arms protest in 1958. Read more>>
Ukrainian Olympic Athlete Calls For Peace: Ukraine's Vladyslav Heraskevych used his moment in the Olympic spotlight to make a gesture of peace regarding the tense situation on Ukraine's border with Russia. After completing his third run, the 23-year-old briefly flashed a paper sign reading "NO WAR IN UKRAINE". Read more>>
Pink-Clad Convoy As Turkish Couriers Strike For Higher Pay: A convoy of hundreds of pink-clad delivery bikers rode through Istanbul's pouring rain on Thursday to protest at their employer's headquarters for higher pay. Read more>>
Young Workers Shed New Light On Life Inside Amazon Warehouses With Viral Videos: Six current and former Amazon warehouse workers say the company's Covid-19 policies opened the door for a flood of TikTok content. Read more>>
A Musical Interpretation Of Climate Change Pays Tribute to Beethoven: If Beethoven were alive today, he would be writing music about the climate crisis, says composer Iman Habibi. Read more>>
Silent Action Protests Gag Order On Railroad Workers: Family members of BNSF railroad workers are staging a silent action to demonstrate against the gag order that's keeping 17,000 workers from speaking to press or striking. Read more>>
Happy Valentine's Day – Hear "I Love You" in Native Languages: The Native American comedic group, 1491s released this video that has Native people from various parts of Indian Country showcasing how they say "I love you" in their Native language. The result is the "Indigenous Love Words Project" video. Read more>>
Lessons Learned From Artists At COP26 Conference: How can artists best complement and expand on the work of scientists and policy experts in tackling climate change? Read more>>
Voluntary Simplicity: From Gandhi to Thoreau to Thich Nhat Hanh to Wally and Juanita Nelson, voluntary simplicity runs through the heart of nonviolence. In this 6-week course, we will examine how—and why—simplifying our lives supports nonviolence as a way of life. (Starts Feb 22) Learn more>>
Belmarch Tribunal On US War Crimes And Julian Assange: The upcoming Belmarsh Tribunal in New York coincides with with the date of the opening of the Guantanamo Bay detention facility by the US in occupied parts of Cuba. (Feb 25) Learn more>>
Women's Day Climate Strike: Women carry the weight of the climate crisis and the burden of waiting for the world to act. We therefore call on all women to take climate action on International Women's Day – 8th March 2022 – under the theme 'The Wait of the World'. (March 8) Read more>>
World-Wide Climate Action Strike Called By Fridays For The Future – March 25: Together with different sectors of society across the world, led by the most marginalized, let's bring back the power to the people whose power has been stolen. Together, let's build a system and home where we prioritize #PeopleNotProfit. (March 25) Learn more>>
Racial Justice Is Climate Justice – and Vice Versa: Join HipHop Caucus and The Solutions Project for Black Climate Week. Kicking off on Monday, February 21st, Black Climate Week will highlight organizations and individuals who are working together with their communities to build a just and equitable future for all. Learn more>>
Add Your Name To Shut Down DAPL! The illegal Dakota Access Pipeline fueled an Indigenous led movement to protect water in the Dakota regions, original homelands of the Oceti Sakowin or Great Sioux Nation and 1851 Fort Laramie Treaty territory. Despite monumental organizing and resistance, Energy Transfer continued construction. In this new phase of resistance, it's imperative we keep the pressure on and declare Mni wičoni, Water is life! Read more>>
Thanks for pitching in and helping us keep going!
Donate here>>