Editor's Note From Rivera Sun
A young boy was born into the struggle – literally. His parents had launched a sit-in strike in India, demanding land rights that the government had denied, when his mother went into labor. She refused to leave and gave birth to him right there on the frontline of the sit-in. Impressive. The government should award the family some land as a birthday present for the newborn, don't you think?
Across the United States, students are organizing walkouts and school strikes to defy COVID-risky back-to-school policies. Meanwhile, in Mississippi, school bus drivers erupted into unexpected – and successful – action. They were earning $10-15/hr when the school board tried to hire emergency drivers at $25/hr. The justifiably annoyed drivers launched a strike. In under an hour, the school board raised everyone's wages to $20/hr. Well played, bus drivers.
Other well-played actions this week include the unhoused community and allies in Idaho who met the hateful protest of bigots with a potluck counterprotest. The joyful event dispersed the hate-based demonstrators. In a similar vein of nonviolent action aikido, Myanmar citizens emptied the streets instead of filling them, launching a Silent Strike against the military coup. US librarians are organizing banned book clubs to challenge narrow-minded politicians about what stories should be read and told.
This week's Nonviolence News also features a number of stories of courageous women organizers around the world. Women in Kenya demonstrated against the murder of an activist. In Uruguay, thousands took to the streets against a recent shocking act of sexual violence. In Afghanistan, the Taliban is tracking women who protest and arresting or abducting them afterward. It's a dangerous time to be a woman, an organizer, or both. Hats off to those who stand up for justice despite the dangers.
With respect for all those taking action,
Rivera Sun, Editor
Photo Credit: Student leads rally during walkout over pandemic policies.
Will you be the one to keep us going this week?
If so, THANK YOU! Donate here>>
15 Starbucks Locations Filed for Unionization: A whopping 26 stores have filed for unionization just over the past week, bringing the total to about 54 stores that are unionizing, according to Starbucks Workers United. Read more>> 
School Bus Drivers In Mississippi Went On Strike And Won In An Hour: When the school district put out a want-ad for emergency bus drivers at $25/hr, the regular bus drivers were justifiably aggrieved. They're barely making $15/hr. After a 1-hr strike, the school board raised their wages to $20/hr. Read more>>
Constitutional Convention Declares Chile a Plurinational State: On Thursday, the Constitutional Convention's Political System Committee approved a norm declaring Chile a "Plurinational and Intercultural State" specifically including in the constitutional draft the Indigenous peoples' right to self-determination and self-government. Read more>>
Four-Day Working Week Pilot Launches in UK With 100-80-100 Model: A four-day working week six-month pilot program has been launched in the UK. Participating companies and organizations will trial a four-day week with no loss in pay for employees based on the principle of the 100:80:100 model. This entails 100 per cent of the pay for 80 per cent of the time, in exchange for a commitment to maintain at least 100 per cent productivity. Read more>>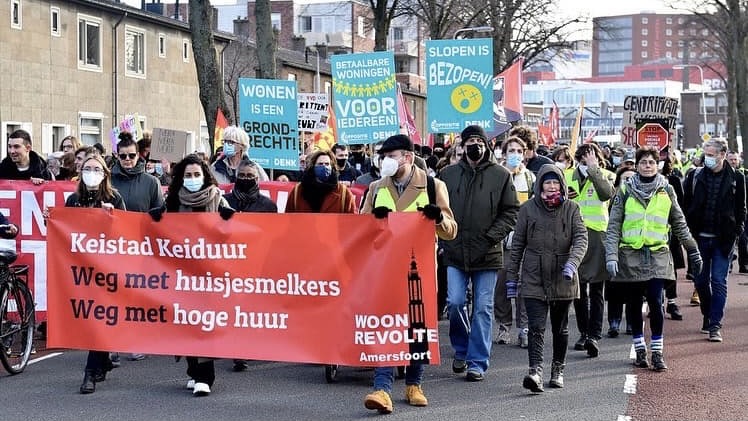 Protests Demanding Affordable Housing Continue In The Netherlands: Major cities in the Netherlands have been facing an acute housing crisis marked by higher rents, skyrocketing property prices, evictions, and homelessness. Read more>> 
Student Walkouts Over COVID Are Sweeping the Country: Teen Vogue speaks to student organizers in Chicago, Oakland, Denver, and more about why they walked out. Read more>>
Kazakhstan Shut Down The Internet. These Programmers Opened A Backdoor: The internet blackout fueled fear, panic and even deaths. Thousands of people in Kazakhstan were able to get online thanks to a crusading band of expat technologists. Read more>>
Birmingham Schools Return In-Person As Teachers Stage Sickout: Birmingham City Schools reported almost 350 staff absences Wednesday- about 13% of staff – with 144 employees out with COVID and 200 more out for "some other reason," according to Superintendent Mark Sullivan. Read more>>
Demonstrations Rage in Sudan to Demand Civilian Rule: Despite an official ban, on Sunday, thousands of protesters took to the streets in the Sudanese capital of Khartoum and other cities to demand civilian rule and urge the authorities to punish killers of protesters during demonstrations in recent weeks. Read more>>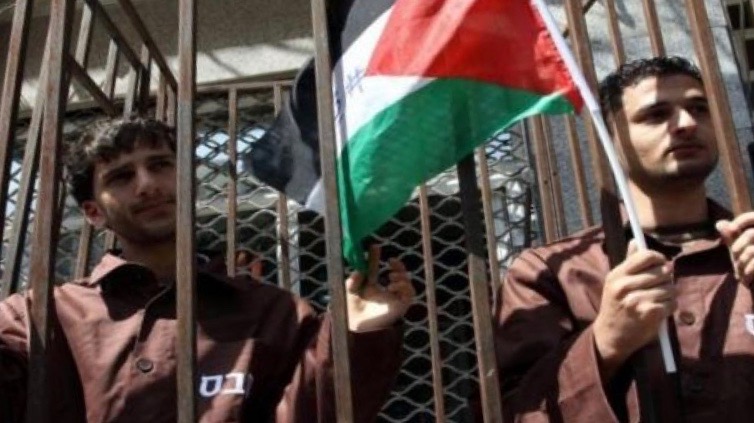 Palestinians Continue Boycott of Israeli Military Courts In Protest of Illegal Administrative Detention: Around 500 Palestinians currently incarcerated in Israel under the illegal policy of administrative detention have been boycotting Israeli military courts to protest their detention since January 1. Read more>>  
Indian Country Responds to the New Washington Commanders Name: Washington's National Football League (NFL) Team announced its new team name as the Commanders. Native Americans had varying responses. While Washington's new name has been largely accepted as a victory, Sharp said the new name, "Without an apology, without any measure of accountability, and without fulfilling the honored commitments they made to tribal nations in 2020 to right this wrong, the NFL and Snyder are simply 'Commanding' a continued course of open, intentional and profit-driven racism and erasure." Read more>>
Protesting Migrants In Southern Mexico Threaten To Form New Caravan: Hundreds of migrants in southern Mexico, mostly from Haiti and parts of Latin America, protested against the slow pace of government visa approvals and threatened to form a fresh caravan that would head to the U.S. border. Read more>>
Amnesty International Condemns Israeli Apartheid: Israeli authorities must be held accountable for committing the crime of apartheid against Palestinians, Amnesty International said today in a damning new report. The investigation details how Israel enforces a system of oppression and domination against the Palestinian people wherever it has control over their rights. This includes Palestinians living in Israel and the Occupied Palestinian Territories (OPT), as well as displaced refugees in other countries. Read more>> 
Standing Rock Withdraws From Ongoing Environmental Assessment of Dakota Access Pipeline: The Standing Rock Sioux tribe has withdrawn as a cooperating agency from the U.S Federal government's ongoing environmental assessment of the Dakota Access Pipeline (DAPL) operations. Standing Rock attributed their decision to the lack of transparency by the U.S. Army Corps of Engineers, who are conducting the court-ordered Environmental Impact Statement (EIS) for the pipeline in the area, as well as Energy Transfer's, the pipeline operator, refusal to engage with tribe. The tribe's oversight committee has yet to see the entire copy of the pipeline's emergency plan in case a crude oil spill occurs. Read more>>  
Bean Or Beef Burrito? Restaurants Try Messages On Menus To Help Diners Order Less Meat: Simple changes to messages on restaurants' menus can double the frequency of customers choosing plant-based options instead of meat, research on the impact of food on the climate crisis has found. Diners who read 'your small change can make a big difference' on their menus chose a vegetarian dish 25% of the time. Read more>> 
A Just Transition For Farmworkers: As agricultural laborers continue to bear the brunt of climate change, activists in Washington chart a new path for climate justice. Read more>>  
Proposed Alaska Gold Mine Worries Area Tribes: 'We are in fear of losing our way of life'. Two Alaska Native corporations are working to develop what would be one of the world's largest gold mines while some of their shareholders oppose it and more than a dozen area tribes have joined in a lawsuit against it. Read more>> 
EU Panned Over Plan to Label Gas & Nuclear Energy "Green": It amounts to an "anti-science plan" that "represents the biggest greenwashing exercise of all time," said Greenpeace E.U. campaigner Ariadna Rodrigo. Read more>>  
Climate Groups Urge Biden Not to Fight Ruling Against Oil and Gas Lease Sale: As the fossil fuel industry clamors for an appeal, the Biden administration on Tuesday faced pressure from environmentalists to adhere to a judge's decision blocking a massive oil and gas lease sale in the Gulf of Mexico, the site of the catastrophic Deepwater Horizon spill. Read more>> 
Climate Fashionistas Want To Overhaul Clothing Industry: Through the organization Fashion Act Now, a growing band of dissident fashionistas want to make the clothing industry more ecologically responsible, relocalized, and culturally in sync with this moment in history, especially with respect to climate change, economic justice, and decolonialization. Read more>> 
Students Protest CalSTRS Retirement Funds' Investment In Fossil Fuels: Youth Vs. The Apocalypse have taken action to get the California State Teachers Retirement System (CalSTRS) to divest from fossil fuels. So far, they have held three protests outside of the California Teachers Association (CTA) building, including one on Jan. 28. Read more>>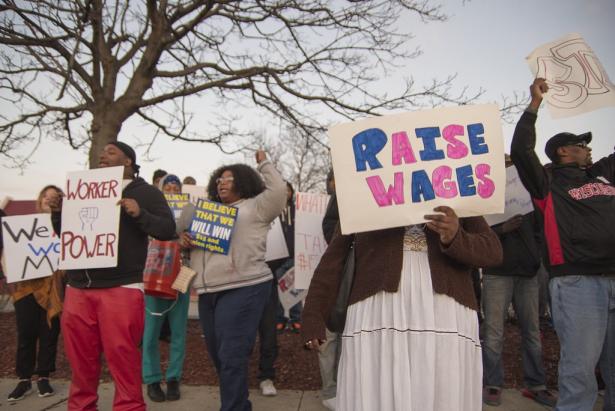 The Fight for $20 and a Union – Another California Minimum Wage Earthquake? California was the first state to implement a $15 minimum wage, and is now at the forefront of raising the wage floor, fast becoming the Fight for $20 and a Union. Can the minimum wage issue impact the mid-term elections? Read more>>  
"First Of Its Kind" Bill Gives California Fast Food Workers Ability To Negotiate For Better Pay: A union-backed fast-food regulation bill, which would guarantee the state's more than half-million foodservice workers the ability to negotiate with franchise owners and corporate giants for better wages and workplace standards, squeezed through the California State Assembly on Monday. Read more>>  
US National Guard Troops Can Now Unionize On State Active Duty: National Guard troops can legally organize and form unions while serving on state active duty orders, the Justice Department said in a court filing last week. Read more>> 
Farm Laborer Wage Board Decides To Lower Overtime Threshold To 40 Hours: The Farm Laborer Wage Board agreed Friday to set a path to a 40-hour work week for farm workers in New York, a landmark decision that was swiftly criticized by the agricultural industry and the Republican Party. The decision, 2-to-1 vote of the panel, would lower the current 60-hour overtime threshold for farm laborers over a 10-year period, which would reach 40 hours by 2032. Read more>>
NYT Stops Talking About Essential Workers As Elites Seek To Discipline Labor Movements: It seems our "essential workers" are no longer that essential. A search of mentions of the labels "essential worker" and "frontline worker" in the New York Times reveals that these terms are rarely used anymore by the paper of record to describe those doing the difficult, thankless jobs necessary to keep our society running. Read more>>  
Kenyan Women March In Protest Of Murder Of Women's & Land Rights Defender: Women rights defenders marched along the streets of Isiolo town on Tuesday to protest the murder of an activist. Elizabeth Ibrahim Ekaru, woman rights and land activist, was found dead on January 3 after an alleged argument with her neighbour. Women rights activists, civil society groups and the public joined in the peaceful procession to protest the killings of other Kenyan women as well. Read more>>
Women In Uruguay Protest Against Gang Rape: Thousands of women took the streets of the Uruguayan capital of Montevideo on Friday, to protest against a rape case that has shocked the country. Read more>>
Indian Woman Continues Sit-In Protest For Land – All The Way Through Childbirth: She deserves a medal – or at least the land her family is requesting from the Indian government. Promised a house and some land two years earlier, a Maha woman and her family launched a sit-in strike. She maintained the strike even though she went into labor, delivering a healthy baby boy as the protest continues. Read more>>
Taliban Arrest Women's Rights Activist After Protests: The Taliban stormed an apartment in Kabul and arrested a women's rights activist and her three sisters, an eyewitness said Thursday. The activist, Tamana Zaryabi Paryani, was among about 25 women who took part in an anti-Taliban protest on Sunday against the hijab. Read more>>
Where Are the Women In Kazakhstan's Protests? Amid the more than 160 reported deaths and 12,000 arrests recently in Kazakhstan, one group was conspicuously missing from the chaotic protests—women. The complete absence of women from protests in the main city of Almaty suggests that the anti-government riots there may have been disconnected from regional protests over a hike in gas prices. Read more>>
'No War on Russia' – Peace Activists Protest Outside White House to 'Disband NATO': The rally was called by some of the United States' most active antiwar groups, including Code Pink, the Black Alliance for Peace, and the Act Now to Stop War and End Racism (ANSWER) Coalition. Read more>> 
100+ Anti-War Groups Demand Biden End Brinkmanship With Russia: Given the thousands of nuclear weapons the U.S. and Russia possess, said one organizer, "the emergency that we now face is literally putting humanity's survival at risk." Read more>>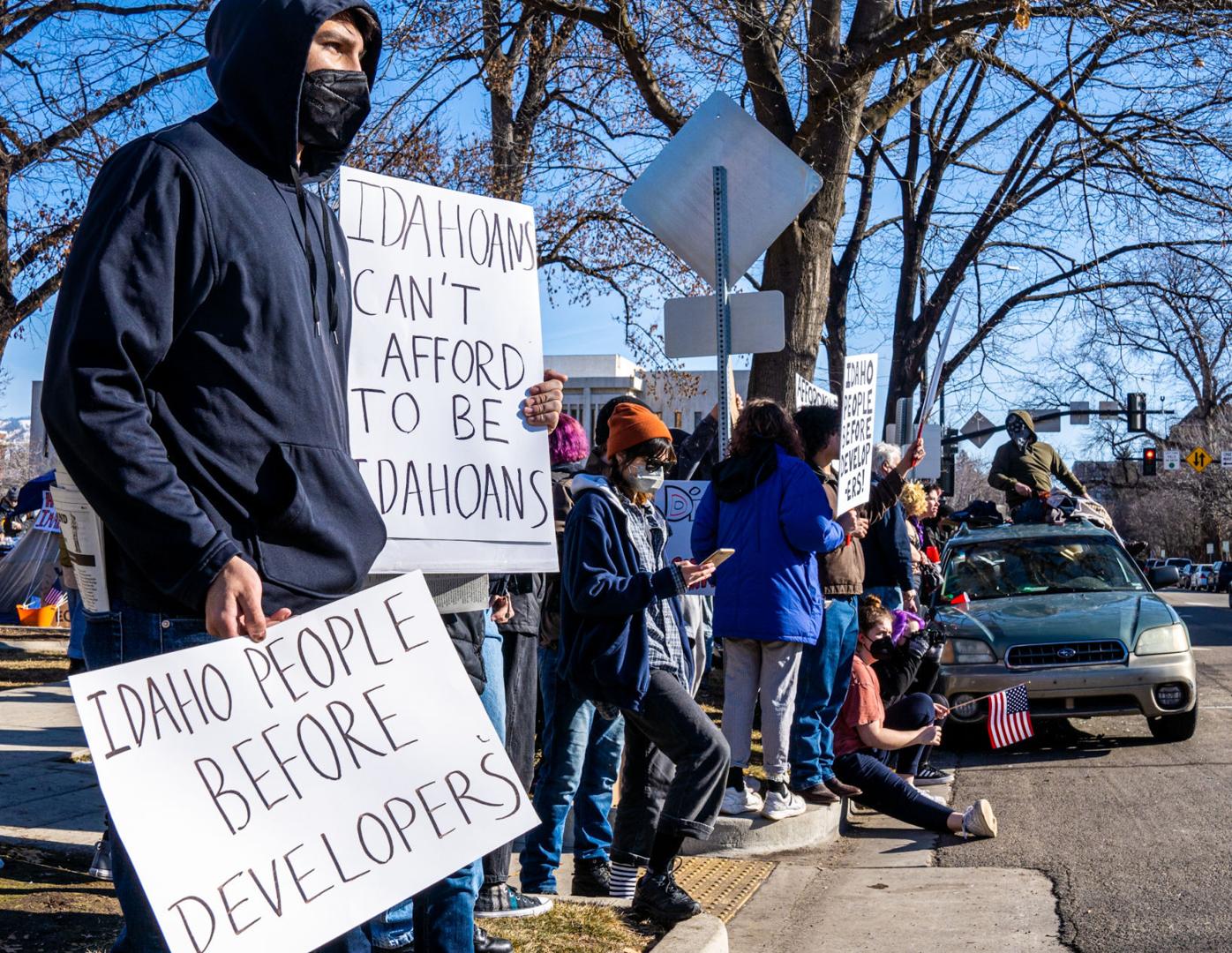 Unhoused Community & Allies Use Potluck To Counterprotest Detractors: A planned rally by the group Idaho Liberty Dogs against a group of unhoused people petered out in the face of mobilized supporters of the unhoused. The counter-demonstration potluck, planned in response to the rally, brought out a couple hundred people to the old Ada County Courthouse lawn. Among the unhoused community's supporters were Interfaith Sanctuary, clergymen, neighbors, teenagers, a group of young conservatives, the Red Republicans, and the Idaho Labor Party Organizing Committee. Read more>>
Silent Strike Empties Streets in Myanmar On Anniversary Of Coup: Streets were deserted and shops abandoned across many of Myanmar's towns and cities on Monday, as the public defied threats by the military junta and stayed at home in a "silent strike" on the first anniversary of the country's coup. Read more>> 
As the Right Censors Public Libraries, Families Are Forming Banned Book Clubs: In the face of increased banned books policies, and concerned about threats to intellectual freedom, a small group of librarians reached out to one another to discuss how best to respond. The Banned Books Reading Club began meeting in a Kutztown bookstore in early January. Its first selection was Animal Farm. Read more>>  
Two Immigrants Found Reusable Water Bottle Company To Fight Water Crisis In Africa: "The reusable water bottle market is growing, and a lot of companies are making a lot of money off this product without helping those suffering," Bility said. "We wanted to change that. We wanted to start something that can be of benefit to the user, and also be a benefit to the world." Read more>>
Growing Community In Vacant Lots: According to the DePaul Institute for Housing Studies, there are nearly 32,000 vacant lots in Chicago. Though many contain debris and trash, they can be an ecological and social opportunity. Planting a garden amid an otherwise empty lot is an opportunity that an increasing number of communities are choosing to pursue, but it is also one that requires hard work to sustain. Read more>>
Young People Are Overcoming Political Polarization: Research shows that participation is the key to achieving a movement's goals. But in environments that are highly polarized, achieving broad and diverse participation is challenging. A key way that youth organizers succeed is by creating movements that bring together a wide range of people across different segments of society. Read more>> 
Why Have Military Courts Become Such a Popular Tool of Repression? Military courts have been a key feature of human rights abuses in India, Pakistan, Libya, Egypt, Tunisia, and many other countries. Why are regimes of all types increasingly turning to military courts as a tool of repression? Read more>> 
Protests At the Pump: A sure-fire way for a government to lose power is over gas hikes. Haiti, Iran, Mexico, Kazakhstan, Zimbabwe, and France have all seen massive, de-stabilizing protests erupt as fuel prices rise. Read more>>
Awakenings – The Collaborations That Create Change: From healers to rebels, here's are four ways movements for justice, equality, and liberation are adapting and evolving toward a new social justice. Read more>>
The Power Of An Apology, According To Desmond Tutu: To Rev. Tutu, the starting point for such a reparations process is clear: "Those who have been hurt must be the ones who have the right to propose what it is that will begin to assuage the anguish, or you'll just be repeating the same cycle of the perpetrator, who is a top dog, prescribing." Read more>>
Secrets of a Successful Organizer: Are you beating your head against the wall trying to get other workers involved? This workshop is for you. Hear success stories from those who've turned their workplaces around and turned apathy into action. Learn practical organizing tools for engaging your co-workers, taking action, and getting results. Learn more>>  
Join the Day of Love For Afghanistan: Join Peace Action and many organizations in calling for the release of humanitarian funds to Afghanistan, and acting to raise awareness and stimulate action on behalf of the civilian population. On February 14, Valentine's Day, Peace Action is organizing local vigils around the US with the theme "Love to Afghanistan."  Here is an action toolkit for organizing a vigil. And here is a sign up sheet to indicate your interest.
Nuclear Power – Myth, Lure, Danger and Reality: Join Massachusetts Peace Action for an informational webinar about the stark choices facing society as we contend with radioactive waste from decommissioned nuclear plants, rising sea levels and more frequent extreme weather events, all amid a 21st century nuclear arms race. Learn more>>  
World-Wide Climate Action Strike Called By Fridays For The Future – March 25: Together with different sectors of society across the world, led by the most marginalized, let's bring back the power to the people whose power has been stolen. Together, let's build a system and home where we prioritize #PeopleNotProfit. (March 25) Learn more>>   
Voluntary Simplicity: From Gandhi to Thoreau to Thich Nhat Hanh to Wally and Juanita Nelson, voluntary simplicity runs through the heart of nonviolence. In this 6-week course, we will examine how—and why—simplifying our lives supports nonviolence as a way of life. (Starts Feb 22) Learn more>>
Donations keep us going. Will you support us today?
THANK YOU! Donate here>>