Editor's Note From Rivera Sun
From US pro-democracy activists thwarting a coup attempt by Trump supporters to Chileans impeaching their president and rewriting the constitution, it's been quite a year. Aside from the 48 Wins For Workers & Wages, 80 Gains For Racial Justice, and 101 Victories For the Earth, here is another impressive collection of "things gone right in 2021".
Citizens from Uzbekistan to Detroit, MI, stood up to protect their right to protest and dissent, pushing back against anti-protest laws and limitations on free speech. The Pandora Papers, Luanda Leaks, and other whistleblower actions sent shockwaves through the world. The EU banned facial recognition technologies. Facebook was forced to erase a billion users' worth of facial data. Students used curiosity to stop an armed school bus hijacker. A teacher used a compassionate hug to stop a school shooter. Non-police first responders are helping people in mental crisis in New York. Baltimore families forced Comcast to double their internet speed.
Scottish neighbors blocked an immigration van from deporting friends. Undocumented workers used a hunger strike to expand COVID relief to include them. Berlin residents took on corporate landlords and won. An unhoused community in Oakland, CA, built a cob village underneath a freeway. Mexico decriminalized same-sex marriage. Legos will remove gender bias from its toys. Transgender persons gained a gender neutral checkbox on US passports. Yemeni women resolved a deadly 30-year-long conflict over water.
From the random (Pablo Escobar's hippos were awarded legal personhood) to creative DIY (community fridges are new fixtures in neighborhood), people have been racking up success stories both small and large. Piece by piece, they're transforming our world for the better. Enjoy.
In solidarity,
Rivera Sun
Photo Credit: A Colombian protester shouts the 72 names of the victims assassinated by police in front of the Tequendama Hotel, where the Inter-American Commission on Human Rights (CIDH) met with union leaders on June 9, 2021.
Where else have you seen 95 success stories like these?
Donate today to keep Nonviolence News going>>
A National Strike Has Reignited in Colombia — and Is Winning Some Victories: The strike forced the government to withdraw a tax on basic necessities and subsidize college for low-income students. Read more>>
Nonviolent Activists Laid the Groundwork To Stop A Coup; They May Have Saved the Country: Trump's election lies and the Jan 6th assault on the Capitol might have succeeded if citizens hadn't shored up major institutions with nonviolent campaigns to prevent a coup. Read more>>
Chilean Legislators Impeach President After The Whistle-Blowing Pandora Papers Revelations: Lawmakers in Chile voted to impeach President Sebastián Piñera Tuesday morning, accusing him of violating the constitution, following revelations in the Pandora Papers about a possible conflict of interest in the sale of a mining company by his children to a close associate. Part of the payment was contingent on the government not moving to enact new environmental regulations that would prevent the mining project. Read more>>
Detroit Citizens Halt Attempts To Squash Dissent: City officials attempted to limit citizens' right to protest and dissent. The move was viewed as retaliatory for anti-police brutality organizing efforts. Fortunately, citizens succeeded in getting the city to back down. Read more>>
'A Win for Civil Rights' – Federal Judge Blocks Florida GOP's Anti-Protest Law: Civil liberties and racial justice advocates are celebrating after a federal judge ruled Thursday that Florida's anti-protest law is unconstitutional and therefore unenforceable. Read more>>
Top Hong Kong Court Rules Against Government Bid To Expand Riot Prosecutions: Hong Kong's top court on Thursday quashed attempts by the city's government to prosecute people for rioting or illegal assembly even without being present at the scene – a ruling lawyers described as a landmark. Read more>>
Coca-Cola and Delta Only Opposed Georgia Election Bill After Public Backlash: The companies have donated tens of thousands of dollars to the lawmakers who sponsored the voter suppression bills. Read more>>
Whistleblower Against Money Laundering Won Reforms, But Remains Imprisoned: The global investigation on how trillions in dirty money flows through major banks has been widely credited for key anti-money laundering reforms currently being implemented in the U.S. But, as reforms sparked by FinCEN Files roll out a year on, the key whistle-blower source is behind bars. "I'm absolutely proud of what I did," she said. Read more>>
Ag-Gag Laws Suppressing Whistleblowers Experience Defeat In Kansas: Ag-gag laws are intended to suppress journalism, whistleblowing, and speech on the food and agriculture industry. The Tenth Circuit Court Of Appeals ruled against the ag-gag law in Kansas, which became the first state to pass such a law in 1990. The Animal Legal Defense Fund (ALDF) was one of the plaintiffs. The ruling comes as Iowa tries to expand their ag-gag laws. Read more>>
Luanda Leaks Whistleblower Leads To Return of $500 Million to Angola: Isabel dos Santos, at one time the wealthiest woman in Africa, must surrender one of her last remaining major assets, a stake in the Portuguese energy company Galp worth an estimated $500 million, an international tribunal in the Netherlands has ruled. An international tribunal ruled that the billionaire and her late husband corruptly obtained a lucrative stake from the state oil company Sonangol. Read more>>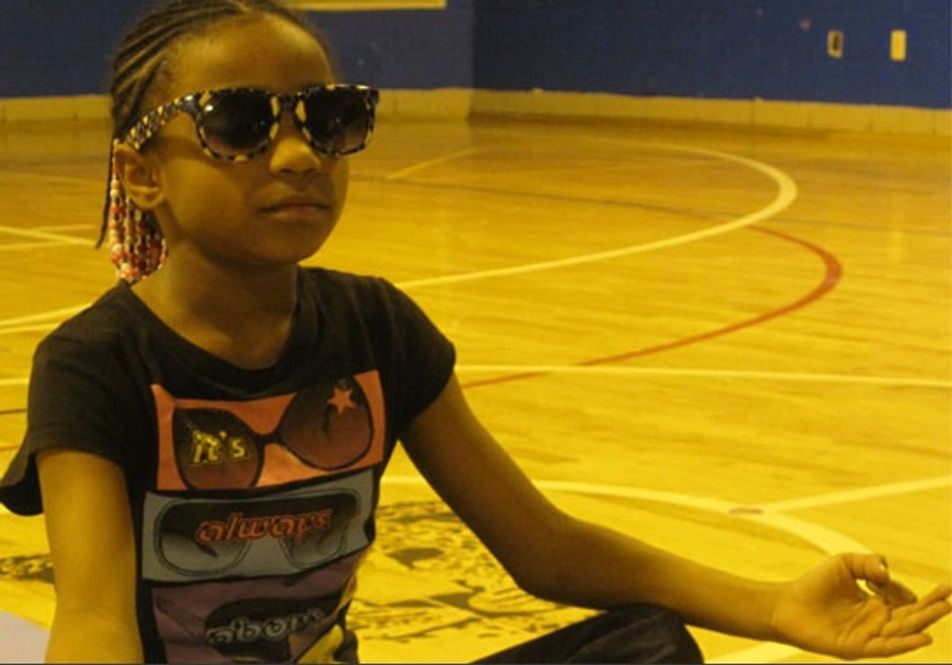 This School Replaced Detention With Meditation – The Results Are Stunning: Robert W. Coleman Elementary School has been doing something different when students act out: offering meditation. Instead of punishing disruptive kids or sending them to the principal's office, the Baltimore school has something called the Mindful Moment Room instead. Read more>>
A Soldier Hijacked Their School Bus. The Kindergarteners Asked So Many Questions, He Let Them Off The Bus: An army soldier commandeered a school bus, trying to get home. The kindergarteners started asking him questions. "Was he a soldier? Why was he doing this? Was he going to hurt them? What about their driver?" Something shifted in the hijacker and he realized he had to let the kids – and the driver – off the bus. The situation was resolved without anyone being harmed. Read more>>
Idaho Teacher Disarms Student Shooter And Hugs Her Until Help Arrives: When a student opened fire at an Idaho middle school, teacher Krista Gneiting directed children to safety, rushed to help a wounded victim and then calmly disarmed the sixth-grade shooter, hugging and consoling the girl until police arrived. Parents credited the math teacher's display of compassion with saving lives. She saw the student and asked the girl: "Are you the shooter?" and then walked closer, putting her hand on the child's arm and sliding it down to the gun. Read more>>
The Drivers Cooperative Built A Worker-Owned Alternative to Uber and Lyft: A union organizer, a Black car driver, and a former Uber executive came together to build a new ride-hailing platform that gives profit and control to drivers. Co-op Ride, the app from the Drivers Cooperative, takes the freedom and independence that Uber and Lyft promised rideshare drivers, and adds in worker ownership. Each driver is also a member who owns one share of the company, with one vote toward leadership and business decisions. And importantly, profits will be shared among all those driver-owners. Read more>>
Community Fridges Are Here To Stay: Community fridges are not a pandemic fad. They've become entrenched in neighborhoods as a way to fight hunger. Despite logistical hurdles and pushback from city officials, organizers are making it their mission to protect community fridges, which have transformed into a combination of social hubs and distribution centers aimed at making sure everyone has access to food. Read more>>
Maine Passes "Right To Food" Law: The voters of Maine passed the "right to food" state constitutional amendment on Tuesday, the first amendment of its kind in the U.S. The amendment to Maine's constitution would "declare that all individuals have a natural, inherent and unalienable right to grow, raise, harvest, produce and consume the food of their own choosing for their own nourishment, sustenance, bodily health, and well-being." Read more>>
Growing Food Justice in Brooklyn: Located in eastern Brooklyn, a culturally diverse and underserved community, East New York Farms! (ENYF!) operates two farms and two community gardens that work to provide solutions to pressing food-justice issues by promoting local, sustainable agriculture and community-led economic development. Read more>>
DIY Mobility Justice Builds a Bench: After officials ignored requests for benches for elderly residents, one man got out his tools and built a bench for his wife during her daily walk. She has osteoarthritis and benefits from a resting spot. Read more>>
Non-Police Mental Health Program Reduces Unnecessary Hospitalizations: A New York City pilot program to respond to 911 calls for mental health crises with social workers instead of cops appears to be reducing unnecessary hospitalizations, while increasing the percentage of people who accept help when offered. Read more>>
After Strong Backlash, NYPD Kicks Robotic Dog "Spot" to the Curb: A spokesperson for New York City Mayor Bill de Blasio, who called the Boston Dynamics device "creepy" and "alienating," said he was "glad the Digidog was put down." Read more>>
In Uzbekistan, Outraged Netizens Win Partial Victory Over Social Media Blocks: The president signed legislation that shuttered the sites. Then, facing public outcry, the president reversed his stance and eased up on the stifling laws. Read more>>
Bowing To Pressure, Comcast Doubled the Speed of Internet Essentials: Baltimore, MD, schoolchildren and community members forced a multibillion dollar corporation to respect their right to a public education. Using meetings, letters, resolutions, shaming and pressure, they forced the company to provide higher Internet speed at the same rate. Read more>>
Facebook To Shut Down Face-Recognition System, Delete Data: Facebook said it will shut down its face-recognition system and delete the faceprints of more than 1 billion people amid growing concerns about the technology and its misuse by governments, police and others. Read more>>
EU Approves Call for Sweeping Ban on Facial Recognition Surveillance: The European Parliament has overwhelmingly approved a call to ban facial recognition surveillance—a development heralded by the technology's foes as a "big win for human rights." Read more>>
Toronto Swaps Google-backed, Not-So-Smart City Plans For People-Centered Vision: A year after ditching a Google design to create a tech-heavy waterside development, Canada's largest city is stressing affordability and sustainability. Read more>>
Delaware State University Uses Stimulus To Cancel $700,000 of Student Debt: Delaware State University will cancel over $700,000 in student debt for pandemic financial hardships. This amounts to about $3,276 in cancellation for each eligible student, which includes recent graduates. The university is using Biden's stimulus funds to deliver this financial relief to its students. Read more>>
UK Soccer Star Shames Government Over (Literal) Scraps Of Food Sent As Relief To Hungry Children: It should have taken a soccer star to feed the children properly, but this athlete's actions embarrassed the government into changing. Read more>>
USPS Begins Postal Banking Pilot Program: The United States Postal Service (USPS) has taken the most dramatic step in a half-century to re-establish a postal banking system. The test allows customers to cash business or payroll checks at the post office and place them onto a gift card. Read more>>
Philadelphia Becomes First Large City To Ban Stops For Minor Traffic Violations: The city council passed a bill that bans traffic stops for minor violations, such as having a broken taillight or not having certain stickers displayed. Drivers who are guilty of those minor violations will instead receive a warning or a citation in the mail. "So that an expired license plate or fuzzy dice in the mirror isn't a death sentence that it can be in some cases." Read more>>
RIP Medical Debt Forgives $5 Billion In Debt: National nonprofit RIP Medical Debt, with the support of data and insights from longtime partner TransUnion Healthcare, reached a new milestone, helping to relieve more than $5 billion in medical debt for patients experiencing financial hardship. RIP Medical Debt has a highly leveraged debt abolishment model that combines the generosity of donors with debt industry expertise to produce a high volume of debt relief return, mitigating significant financial and mental distress for nearly 3 million people to date. Read more>>
The Results Are In – Universal Basic Income Helps: Stockton, CA, launched a program to hand out $500/month in cash to low-income families. A year later, nearly all the applicants report less anxiety. They spent the money on basic needs, like gas, medical care, or shoes for their children Read more>>
Report Shows Stimulus Checks Significantly Reduced Hardship for Families: The checks unanimously slammed by the GOP helped reduce financial instability by 45 percent, a new report finds. Read more>>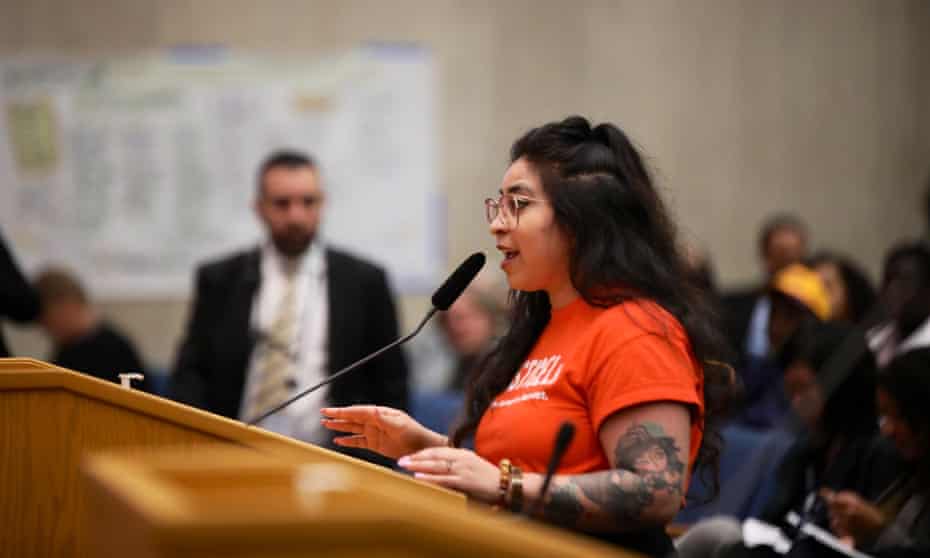 Los Angeles Prison Abolition Coalition Is Racking Up Victories: JusticeLA's activists have halted plans for two jails. And they're not stopping there. Using direct action and bold demands, they're rewiring what justice looks like in Los Angeles. Read more>>
The Illinois Legislature Just Voted to End Cash Bail: Thanks to organizers, Illinois is poised to become the first state in the country to completely end the use of money bond. Opponents view cash bail as punitive and unjust toward lower income persons. Here's how they got it abolished. Read more>>
US Department of Justice Will No Longer Work With Private Prisons: In a huge step forward for prison justice, the Biden Administration ended the Department of Justice's use of private prisons. Read more>>
Oklahoma Governor Halts Julius Jones' Death Penalty Execution: Stitt's decision to grant clemency marks a partial win for a diverse group of Jones activists and supporters who have proclaimed the inmate was wrongfully convicted for the murder of Edmond insurance agent Paul Howell during a 1999 carjacking. Read more>>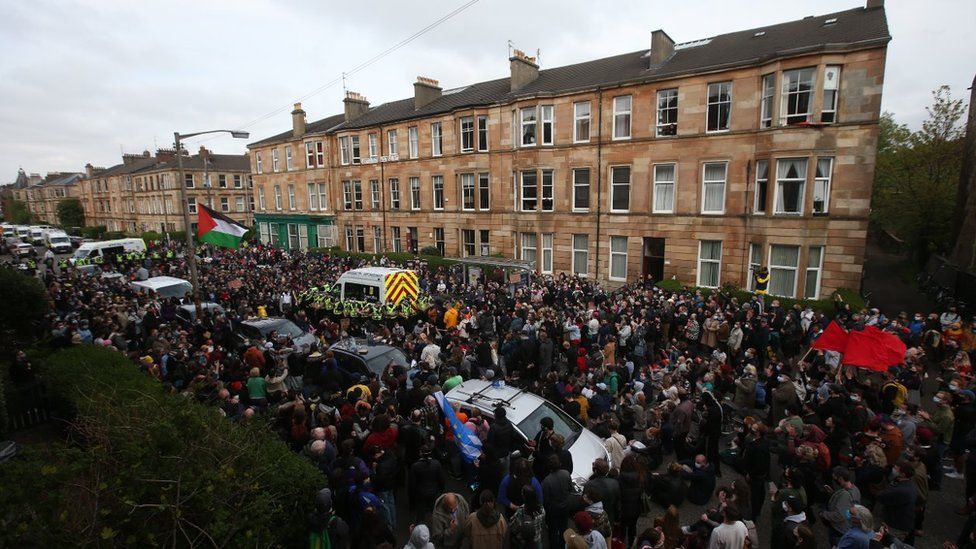 ​​Authorities Tried To Deport Indian Immigrants In Scotland. The Neighbors Surrounded the Van And Stopped Them: The United Kingdom Home Office tried to deport two Indian men in Scotland. The neighborhood rose up in opposition. Hundreds gathered and surrounded the van. One man crawled under the vehicle to prevent it from moving. Protesters shouted "let our neighbors go". After an 8-hour stand-off, the authorities released the two Indians. Read more>>
Muslim Ban Ends: Biden is ending what is variously known as the "travel ban" or the "Muslim ban," one of the first acts of the Trump administration. Trump in January 2017 banned foreign nationals from seven mostly Muslim countries from entry into the country. After mass protests shut-down airports over it, a watered-down version of the rule was upheld in 2018. Now, the policy is being overturned by executive order. Read more>>
Migrant Workers In Malaysia Win Labor Suit Against Goodyear: A Malaysian court on Thursday ruled in favor of 65 migrant workers who sued U.S. tiremaker Goodyear for underpaying them, their lawyer said, calling it a victory for foreign employees. The workers from Nepal, India and Myanmar are entitled to benefits under a collective labor agreement that includes shift allowances, annual bonuses and pay increases. Read more>>
New Jersey Activists Halt Two Deportations: Protesters blocked an ICE van in an attempt to stop the deportation. They were successful in halting the deportation of Marvin Jerezano Peña as well as a Dominican man named Carlos, who was also scheduled for deportation that day. Though ICE was unable to go through with the deportations as scheduled, both men remain in ICE custody and have been transferred to Genesee County Jail in Batavia, New York. Read more>>
Trump Border Wall Projects Cancelled: The Pentagon announced that the Biden administration is canceling all barrier construction projects along the U.S.-Mexico border for which former President Donald Trump used emergency powers to divert billions of dollars in military funds. Read more>>
An End To ICE Contracts In Bristol County, Massachusetts: FANG Collective announced that ICE will be cancelling all contracts with Bristol County, Massachusetts. This includes their 287(g) contract which trains deputies to collaborate with ICE and perform immigration agent duties, and their IGSA contract which turned the Bristol County House of Correction into an ICE detention center. In the summer 2018, FANG launched its Shut Down ICE campaign in Bristol County with a nonviolent direct action that blockaded, and effectively shut down the prison for several hours. That initial action was organized in solidarity with currently detained people holding a hunger strike inside the facility due to the terrible conditions. What followed were three intense years of organizing to end these agreements with ICE in Bristol County and in the other nearby counties that were willingly choosing to tear communities apart through detention and deportation. Read more>>
Undocumented and Formerly Incarcerated People Win Access to COVID Aid in New York: The fund provides $2.1 billion in relief for those who have been excluded from the federal stimulus packages. This victory comes after one year of statewide organizing efforts from the #FundExcludedWorkers Coalition — led by impacted workers, culminating in two hunger strikes, and supported by over 100 organizations. "History is made today!" they tweeted. Read more>>
Water Shutoff Protections Prevented Covid Infections and Deaths: Activists and citizens campaigned hard to halt water shut-offs during the pandemic. New research show, it helped save lives. A new report in The American Journal of Preventive Medicine shows significantly lower Covid infection and death rates in states that imposed water shutoff moratoriums. Read more>>
'Activism Works': EU Returns Covid Vaccines to Africa After Backlash: The European Union has agreed to return to Africa millions of Johnson & Johnson coronavirus vaccine doses that were shipped out of Africa under a contract arrangement that drew widespread backlash from vaccine equity campaigners and African officials. Read more>>
Student Debt Cancelled For Virginia State University Students: Students at Virginia State University have officially joined a wave of other HBCU scholars who have had their student debt cleared. The Petersburg-based university announced it would cover outstanding balances for students who enrolled during the COVID-19 pandemic. "We care about our students and their academic success and want to provide them the privilege of moving forward with a zero balance," said the Senior Vice President of Academic and Student Affairs. Read more>>
How Teachers Fought for Their Safety in the Pandemic—and Won: As the debate over in-person schooling roiled, teachers' unions secured significant protections­—often with parents' support. Read more>>
How One Community Creatively Kept Residents Fed During The Pandemic: Given the lack of substantial response by many governments to food insecurity, it has often fallen to individuals to step in and feed their communities. Here's how Comox Valley turned to people-power, mutual aid and community mobilizing to take care of its community. Read more>>
Mongolian Prime Minister Resigns After Protests Object To COVID-19 Policies: A video of mistreatment of a mother and baby prompted protests against the Mongolian Prime Minister's handling of the pandemic crisis. The minister resigned. Read more>>
After Threatening Strike, Chicago Teachers Set "New Standard" With Safer School Reopening Plan: Hard-fought negotiations and a strike threat led to Chicago teachers reaching the "most comprehensive agreement for reopening schools" in the country, potentially setting a model for other districts nationwide. Read more>>
The Inside Story of How Berlin Activists Took On Corporate Landlords & Won: The city of renters has spoken decisively in a referendum that could have a huge impact not just in Germany's capital but across Europe. Here's how it happened. Read more>>
Austin Will Use Money Cut From Police Budget To Buy Supportive Housing: The City Council voted to buy one hotel and use funds diverted from its police budget to set up wraparound services for the homeless people who will live there. Read more>>
Tenants Took On The Biggest Landlord In Minneapolis — And Won: A four-year campaign coordinated by Inquilinxs Unidxs Por Justicia (Renters United for Justice) organized across the Apartment Shop's 69-unit portfolio. A campaign that began in tenants' kitchens and living rooms ended up winning more than $13,000,000 in collective wealth for tenants, stopped more than 1,000 evictions, and put affordable housing on the map in Minneapolis. Read more>>
Cori Bush, Progressive Lawmakers and Activists Hailed for New CDC Eviction Moratorium: Pressure from progressive lawmakers and grassroots activists to extend the expired federal eviction moratorium paid off Tuesday when the Biden administration took action to shield most—but not all—U.S. renters at risk of losing their homes. Read more>>
Judge Orders Los Angeles City & County To House Unhoused Persons Rather Than Arrest Them: A judge has issued an order that halts persecution of the unhoused in Los Angeles, citing the lack of adequate shelter. The judge's order exempts police from enforcing laws that would criminalize homelessness, halts encampment evictions, and orders the city to provide shelter for everyone by the fall. Read more>>
Miami Will Use Federal Aid To Cover One Year Rent for Struggling Tenants: The City of Miami voted to dedicate about 90% of the city's $14 million in federal COVID-19 relief funds to emergency rental assistance that will provide up to $24,000 for eligible households. About $12.7 million will go toward rent and utility payments. Read more>>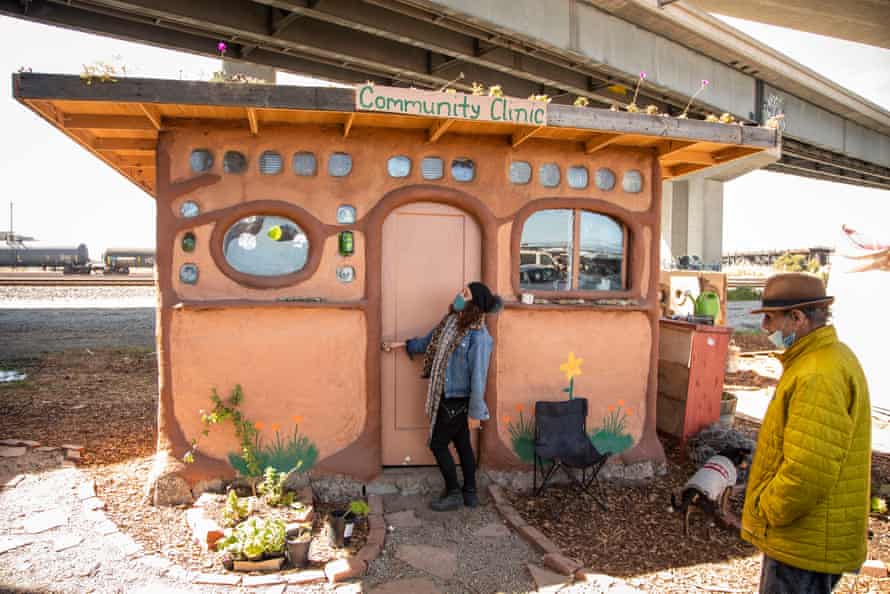 Homeless Oaklanders Build 'Miracle' Village: Tired of waiting for affordable housing, they took matters into their own hands. Under a highway, beautiful structures offer food, healthcare, showers and a free 'store' – as well as a strong sense of community. Read more>>
Restrictive Camping Ban Law Is Rescinded After Protests: People from all corners of Santa Cruz, CA, protested, organized and rallied against the "temporary outdoor living ordinance" that restricted camping in a confusing set of laws that cracked down on the unhoused. Read more>>
People Crowdfunded $150,000 For Mother Who Was Arrested For Having To Leave Her Children In Motel Room To Work: Shaina Bell, a 24-year old mother of three, was arrested in Liberty Township, Ohio, and charged with two counts of misdemeanor child endangerment after she left two of her children alone in a motel room while she worked her job at Little Caesars. Now, a GoFundMe page set up by Bell to help her find permanent housing and other financial support—with a goal of raising only $5,000—has raised more than $150,000 in funds. Read more>>
Lushootseed Tribe Opens Holistic Housing For Unhoused Tribal Members In Seattle: Most of the building's 80 studio apartments will be for the homeless, with 10 reserved for veterans and another 10 for extremely low-income households. Each of the building's floors will be named after traditional medicines, such as Sage and Yarrow Root, and covered in Coast Salish art. The ground floor will feature a traditional Native café, resourced by a local farm. There will also be a primary care health clinic run by the Seattle Indian Health Board. Outside, a 25-foot wooden statue of a Native mother with her hands raised will welcome residents and visitors. Read more>>
Compassionate Model For Street Hygiene Opens in Portland, OR: The Hygiene Hub, under the Morrison Bridge, offers toilets, wind and solar showers, information and other resources. Read more>>
Vancouver Gave 50 Unhoused Persons Nearly $5,000 Each To Get Back On Their Feet. It Worked: Seventy percent of the participants were food stable in one month's time. They were fifty percent more likely to have stable housing than the control group. They reduced their spending on alcohol, drugs, and cigarettes by 40% and at the end of the year, participants had an average of $1,000 still in the bank. Read more>>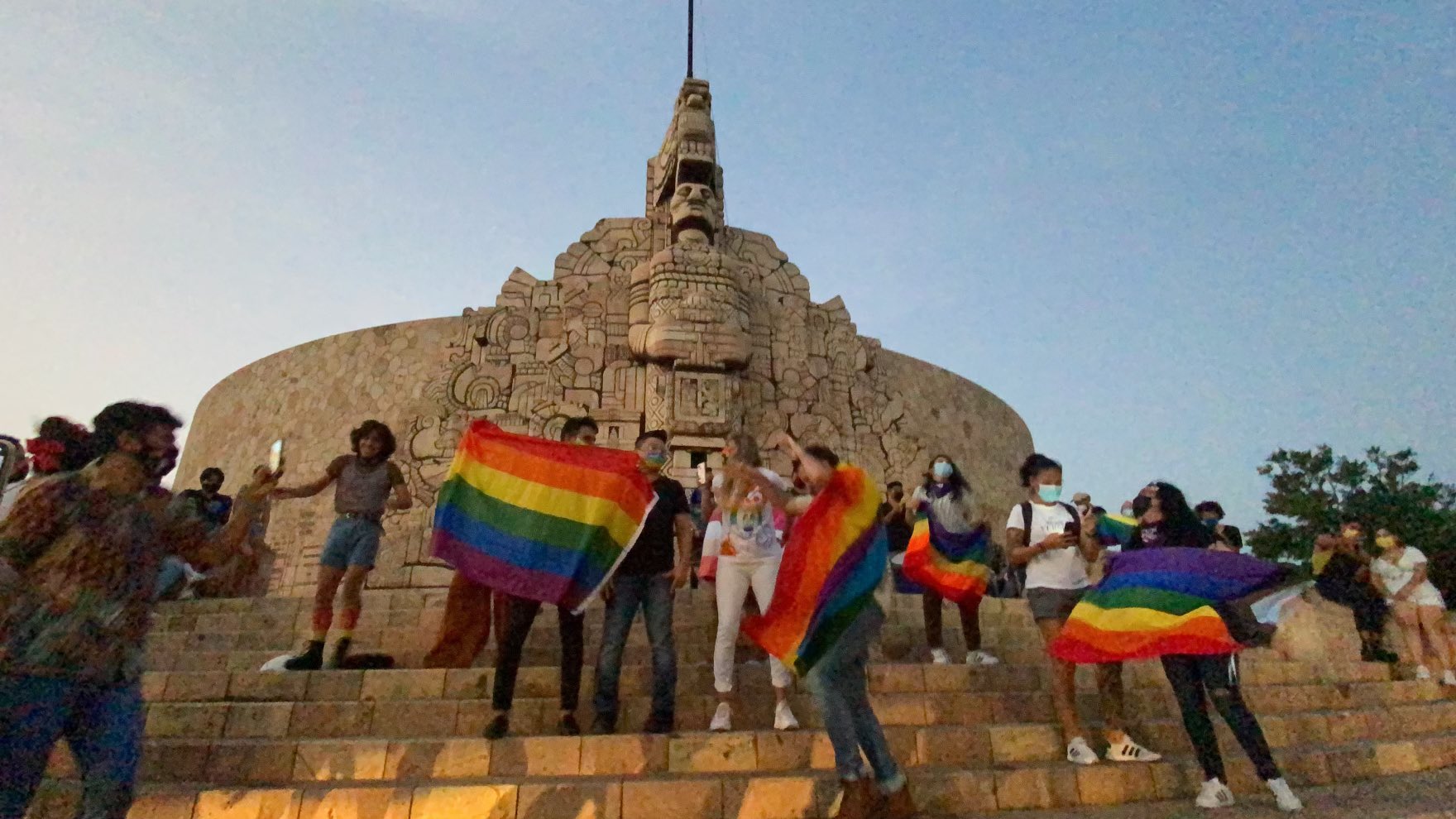 Mexican State of Yucatán Recognizes Gender Diversity & Legalizes Equal Marriage: Yucatán became the third state, after Sinaloa and Baja California in June, to decriminalize same-sex marriage this year, and the twenty-second state to recognize the rights of gender diverse people in Mexico. Read more>>
Honduras Elects First Female President: Honduras' ruling party conceded defeat Tuesday in presidential elections held two days earlier, giving victory to leftist opposition candidate Xiomara Castro and easing fears of another contested vote and violent protests. Read more>>
Bisexual Superman Makes DC Comics History After 'Unprecedented' Fan Response: The comic featuring Superman coming out as bisexual and sharing a kiss with a male love interest has attracted "unprecedented orders" for DC Comics. Read more>>
'We're Back, Baby': How Australia's First Pride Centre Is Restoring the Hope of a Neighborhood: The new Victorian Pride Centre is Australia's first purpose-built LGBTIQ+ community hub. It celebrates the community's achievements, as well as Australia's cultural and social diversity. Read more>>
Lego Toys Will Remove Gender Bias From Its Toys: Lego has announced it will work to remove gender stereotypes from its toys after a global survey the company commissioned found attitudes to play and future careers remain unequal and restrictive. Researchers found that while girls were becoming more confident and keen to engage in a wide range of activities, seventy-one percent of boys surveyed feared they would be made fun of if they played with what they described as "girls' toys" – a fear shared by their parents. Now, Lego is removing gender bias from its toys. Read more>>
Outraged Viewers Force Ivory Coast TV Presenter To Resign Over Glorifying Rape: Yves de Mbella, a television presenter in Ivory Coast, was convicted of glorifying rape and given a one-year suspended prison sentence for asking a convicted rapist he invited onto his prime-time show to simulate a sexual assault using a mannequin. An online petition calling for de Mbella's show to be cancelled received nearly 50,000 signatures. Read more>>
Uzbek Schoolgirls & Families Win Right to Wear – Or Not Wear Headscarves: The strictly secular dress code was ditched after large numbers of petitions from parents. Education authorities in Uzbekistan have decreed that schoolgirls are to be permitted to wear Islamic headdresses in a reversal of secular rules preventing the wearing of religious dress in state-owned premises. Read more>>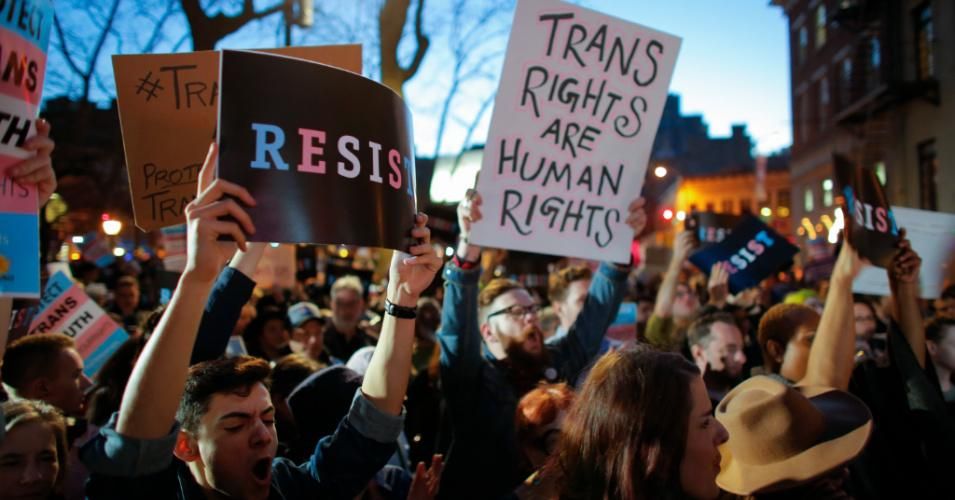 'This Victory Belongs to Trans Youth' – Move To Eliminate Gender-Affirming Care Loudoun, Virginia, School District Enacts Wide-Ranging 'Gender Identity' Policy: After a tumultuous campaign, and several protest resignations, the local school board in Loudoun County, Va., has enacted a permissive gender-identity policy, which allows students to use restrooms and locker rooms, as well as compete in sports, on the basis of the gender with which they identify rather than their biological sex. Read more>>
Stuck Down: "This victory belongs to the thousands of Arkansans who spoke out against this discriminatory bill, especially the young people, parents, and pediatricians who never stopped fighting this anti-trans attack." Read more>>
U.S. Adds Gender Neutral Checkbox To Passports: Now, without requiring medical documentation, you can choose Gender X instead of male/female on your US passport. It's considered a victory for transgender/gender fluidity rights. Read more>>
Tokyo Olympics Chief Resigns After Sexist Comments: International backlash forced the head of the Tokyo Olympics committee to resign after his sexist comments shocked the world. Read more>>
Another Male Chauvinist at Japan's Olympic Summer Games Forced To Resign: This is the second high-level resignation over misogynistic remarks made by Olympic Games officials in Japan. Grassroots outrage is responsible for making sure they're held accountable and kicked out of the Olympics. Read more>>
Indonesia Halts Virginity Tests On Female Cadets In Military: The Indonesian army has ended a controversial practice of virginity tests on women who apply to become cadets, according to its chief of staff, a move welcomed by activists who have long campaigned against it. Read more>>
Governor of New York Resigns Amid Sexual Harassment Scandal: Gov. Andrew Cuomo announced that he would be resigning amid a months-long sexual harassment scandal in which multiple women have accused him of exhibiting inappropriate and alarming behavior spanning years of his time in power. Read more>>
California to Pay Reparations to Victims of Forced Sterilization in State Prisons: California's forced sterilizations and other eugenics programs were so horrific, they served as a model for Nazi Germany. Variations of these programs continued to operate until 11 years ago. Now, as a result of grassroots organizing and the courts, the state is starting to pay reparations to the some of the victims of these programs. Read more>>
Women Ensure Resolution of 30-Year-Long Water Conflict In Yemen: When a water dispute put women and children at risk, these ten women in Yemen stepped forward to ensure that local leaders took meaningful action to sort out the decades-long conflict. Read more>>
US Ends Offensive Military Support In Yemen: This is the first – but not the last – step in ending the Yemen War. It's happening thanks to peace activists around the world. Read more>>
Swapping Maps of Landmines For Prisoners: For weeks, Azerbaijan had been demanding maps of the mines Armenia laid during its retreat from Karabakh last year. At least 20 civilians had died since the end of the war. But it wasn't clear Armenians soldiers had even mapped the mines. It turned out they had. Over the weekend, in a deal brokered by Georgia and the United States, Baku and Yerevan agreed to swap detainees for the maps. Read more>>
Crippling Sanctions Lessened In Syria, Iran, and Venezuela: Peace and justice groups, including World Beyond War and many others, have been trying to get U.S. sanctions lifted for COVID relief. At last, they have resulted in just that for Syria, Iran, and Venezuela. Read more>>
New Zealand Bans Australia's Nuclear Submarines: The New Zealand Government's announced continuation of its anti-nuclear policy, which will ban any future Australian nuclear submarines from entering New Zealand waters or ports, has been welcomed by long term peace activists, the International Affairs and Disarmament Committee of the Aotearoa /New Zealand Peace Foundation. New Zealand's world-leading Nuclear Free legislation was hard fought for by Peace Squadron sailors confronting nuclear warships, grass roots activists and the David Lange government. Read more>>
Canadian Peace Activists Secure Release of Chinese Businesswoman: Meng Wangzou was detained by the Canadian government for three years as a bargaining chip in Trump's trade wars. Activist pressure secured her release. Read more>>
Aichi Residents Win a Legal Victory for Takae, Okinawa and for Peace: The Nagoya High Court ordered a former prefectural police chief to pay about 1.1 million yen ($9,846) to the prefecture for 'illegally' deploying riot police to Okinawa Prefecture to quell anti-U.S. military protests. From 2007 until recently, some residents of Takae, Higashi Village, in the Yanbaru Forest, a remote area in the northern part of the Island of Okinawa, along with many peace advocates and environmentalists of the Ryukyu Islands and throughout the Archipelago of Japan, frequently and tenaciously engaged in street protests to disrupt the construction of helipads for the US Marine Corps. Read more>>
'Historic Victory': US Judge Rules Guantánamo Detainee's Imprisonment Illegal: Two weeks after a review board cleared Guantánamo Bay prisoner Asadullah Haroon Gul for release, a federal judge ruled this week that the Afghan's imprisonment by the U.S. military in Cuba for over 14 years without charge or trial is illegal. "This is a landmark ruling. For 20 years, successive U.S. administrations have asserted their right to imprison people indefinitely, without charge or trial." Read more>>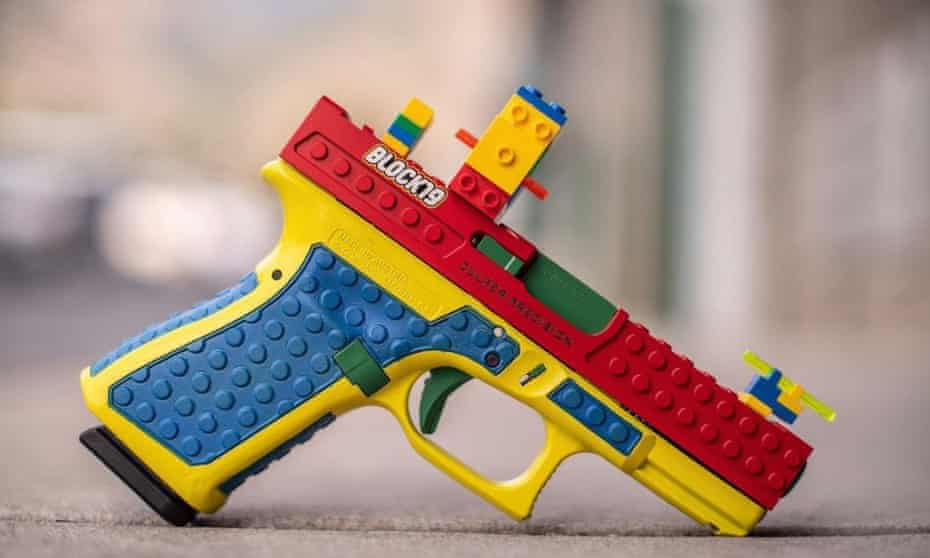 Lego Issues Cease-And-Desist Order To Handgun Kit Company: It's a bizarre story. A handgun company made Lego Block "coverings" kits for guns in a twisted push to promote gun rights. Fortunately, Lego didn't like that one bit. Read more>>
CBS' 'The Activist' Goes From Competition Show to Documentary After Harsh Blowback: The so-called 'Oppression Olympics' competition was originally poised to be a five-week competition show that pitted activists against activist in a battle for relevancy on social media. After activist outcry and an online petition, CBS has apologized for misrepresenting the important work of activists and is rethinking the show. Read more>>
EPA Bans Chlorpyrifos From All Food Crops: The EPA just took a huge step toward protecting kids and farmworkers from a toxic pesticide linked to lifelong intellectual disabilities. On August 18, the agency announced that it will ban chlorpyrifos from all food crops. Read more>>
Pablo Escobar's Cocaine Hippos Are Legally People, Court Rules: The drug kingpin's hippos have run wild in Colombia. A new court ruling could help pave the way for a humane way to deal with a dangerous invasive species and break ground for animals to sue in US court. Read more>>
In Win for Overdose Prevention, Rhode Island Approves Harm Reduction Centers: Biden is under pressure to prohibit law enforcement from targeting safe consumption sites that reduce drug overdose. Read more>>
Court Bans Pesticide Linked to Developmental Harm in Children: The 9th Circuit Court of Appeals ordered the Environmental Protection Agency (EPA) to ban all food uses of chlorpyrifos or retain only those uses it can find safe for workers and children. The court gave EPA 60 days from the end of the case to revoke the tolerances, meaning chlorpyrifos should be banned this summer. Read more>>
NYC Bans Round-Up From City Parks: The Church of Stop Shopping and The Black Institute helped ban the carcinogenic pesticide RoundUp from NYC parks. On Earth Day, the NY City Council unanimously banned this poison. 1,700 parks and 30,000 acres of greenery are filling up with children and picnics and lovers and joggers and birdwatchers. Now they won't have to risk getting cancer. Read more>>
Low Traffic Neighborhoods Make Fairer, Safer Cities: Low traffic neighborhoods (LTNs) involve using planters, camera gates, bollards or other measures to restrict motor vehicle use in residential streets. Read more>>
Blown away? Yeah, so were we.
Donate today to keep us mind-blowing>>