Editor's Note By Rivera Sun
As if a global pandemic weren't enough, doctors, nurses, and other healthcare workers have been rising up against injustice for a broad range of issues across the globe. In Myanmar, they continue to resist the military coup. In Sudan, they're demanding that the hospitals be spared from attacks by security forces bent on repressing protesters. In the US, they're taking action for better wages, hazard pay, and for affordable healthcare for the entire nation. And, they continue to take care of surging patient loads as Omicron rips through the world.
In North Carolina, citizen watchdogs aka "aerial detectives" are using drones to keep a close eye on the pollution run-off from enormous hog farms. Meanwhile, in Uganda, pigs are running hog-wild through parliament after the activist group, Jobless Brotherhood, set a couple of squealers loose in the building to call attention to the greedy corruption of officials. Unrelated to the pig escapade, Ugandans are also defending free speech with "radical rudeness" after a mean-spirited tweet put a novelist in jail for mocking the dictator's son.
A few other notable highlights in this week's news: a group of hotel housekeepers has won an impressive $25/hr and free family health insurance. A hundred people marched in frigid New York City to halt evictions. South African dairy workers are on strike and calling for the industry to be nationalized. French teachers are on strike over the mishandling of the pandemic's surge. In the US, where many state governments and school districts would like to go back to "business-as-usual", students are taking matters into their own hands and walking out of schools to demand a return to remote learning until the Omicron wave has passed.
For 2022, resistance is the only new normal. Keep it up, everyone. Our world needs you.
In solidarity,
Rivera Sun
Photo Credit: Myanmar healthcare workers, nurses, and doctors resist the coup.
THANK YOU! I'm so happy to receive your recent donations. It helps keep the stories coming.
If you'd like to contribute, here's where to donate>>
3,000 Columbia University Student Workers End Strike With Tentative Contract Promising Raises: After a 10-week strike, student employees at Columbia University have won a tentative contract from the university that grants many of their demands for higher pay, better healthcare and stronger legal protections. Read more>>  
Hotel Housekeepers Win $25/Hour: Ending a lengthy labor dispute, JW Marriott Le Merigot Santa Monica Hotel will pay its housekeepers $25 and provide free family health insurance after reaching an agreement with the local hospitality union. The agreement was announced on Wednesday by UNITE HERE Local 11, the labor union representing over 32,000 hospitality workers in Southern California and Arizona. Read more>>
Inspired By Success In Buffalo, Starbucks Union Drive Expands Rapidly: Four more stores have filed union papers in the last week alone, and one more store in Buffalo has now unionized. Read more>>
Lithuania Pays Guantánamo 'Forever Prisoner' Abu Zubaydah €100,000 Over CIA Torture: Lithuania has paid more than $110,000 to Abu Zubaydah, the Guantánamo detainee known as the "forever prisoner", in compensation for having allowed the CIA to hold him at a secret site outside Vilnius where he was subjected to forms of torture. Read more>>
New Housing Development Takes A Different Approach To End Homelessness: A new housing development trying to tackle homelessness is taking a new approach to the problem. While other housing options require residents to be clean of any drug or alcohol use, the new development, Hope Village, believes housing first is the solution to ending homelessness altogether. Read more>>
One Hundred People March To Stop Winter Evictions: A hundred people marched in New York City in sub-freezing temperatures to stop evictions. Landlords across New York State want to kick 250,000 families out of their homes starting on Martin Luther King's birthday. Read more>>
South African Dairy Workers Call For Nationalization Of Industry: Striking workers fear that corporate changes at the dairy giant will lead to reduced local production and increased imports of Israeli products. Read more>>
In Myanmar Coup, Doctors And Nurses Are Defying The Military: A significant proportion of healthcare in Myanmar is now being delivered outside state hospitals, by doctors and nurses who oppose the military and are loyal to the National Unity Government challenging the junta's legitimacy, medical workers in the country told the BBC. Read more>>
French Teachers Go On Strike Over Handling Of Pandemic: French teachers voiced anger at the way the French government is handling the pandemic in schools, denounced confusing rules and called for more protection during a nationwide strike. Read more>>
Los Angeles Rally Backs South Korean Workers' Struggle: The KCTU, the largest trade union organization in South Korea, is organizing a major demonstration in Seoul on Jan. 15 under the slogan, "Let's overthrow inequality through general unity with the people!" It may result in a general strike. Read more>>
Scores Of NYC High Schoolers Walk Out Of Classes Demanding Remote Learning During COVID Surge: Students at several high schools in New York City coordinated a walkout from classes to call for remote learning as they protest what they say are unsafe learning conditions inside school buildings as COVID cases surged just as the spring semester began last week. Read more>>
NYC Residents Protest Against Lead Dust In Homes: Roughly two dozen protesters were concerned with lead dust and other unsafe living conditions stirred up by ongoing construction. Holding homemade signs, they stood against the backdrop of a red brick apartment building, which many call home. Read more>>
San Diego Nurses & Supporters Mobilize For Universal Healthcare: The California Nurses Association (part of National Nurses United) organized a statewide day of action on Jan. 8 in support of single-payer healthcare legislation, Assembly Bill 1400. Read more>>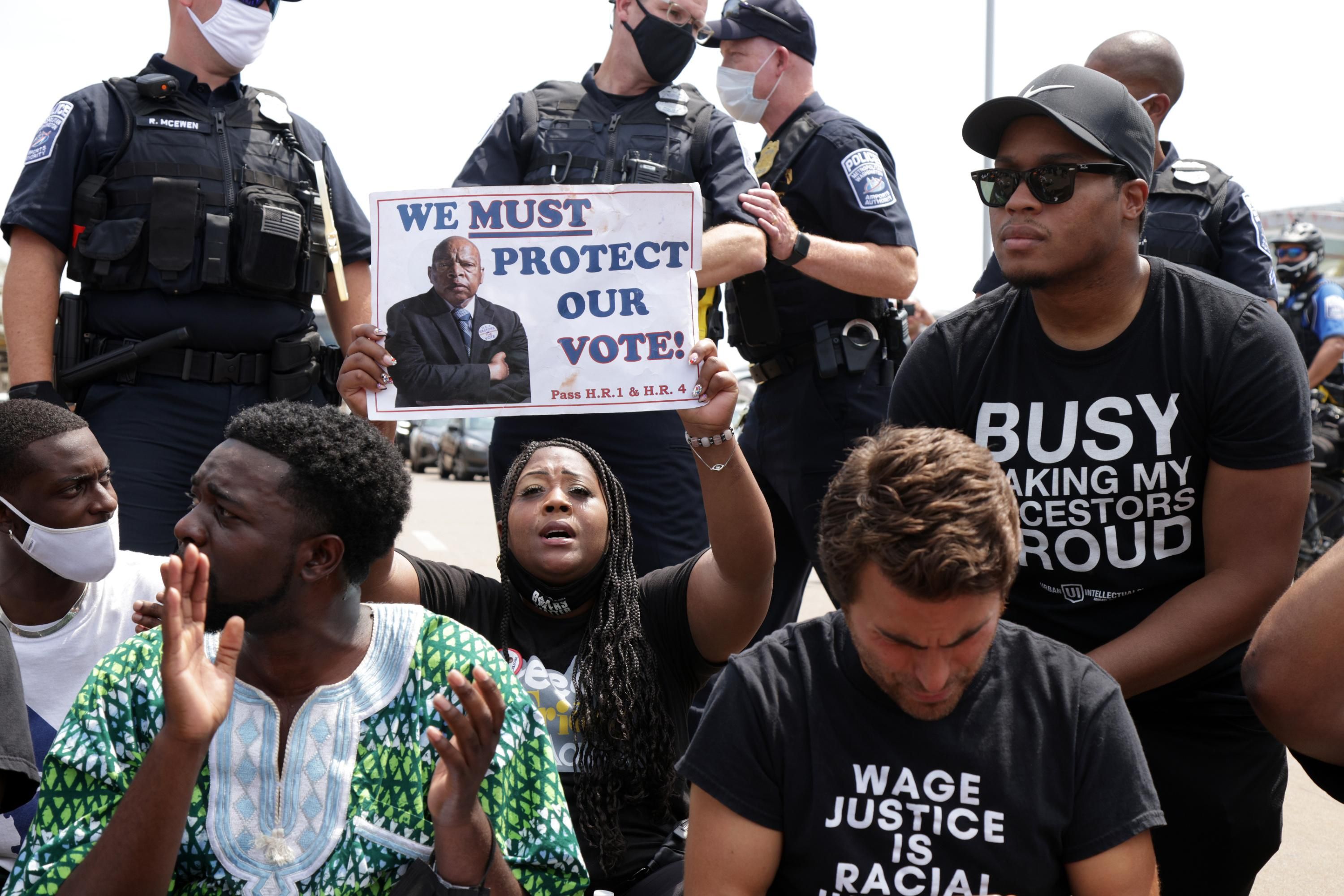 Georgia Voting Rights Groups to Boycott Biden Speech: Several prominent Georgia-based advocacy groups are planning to boycott President Joe Biden's voting rights speech in Atlanta on Tuesday, criticizing the event as yet another symbolic gesture in the face of concrete threats to the franchise nationwide. "We don't need even more photo ops," says the co-founder of Black Voters Matter. "We need action." Read more>>
Massachusetts Energy Efficiency Plan Reaches Out to Residents of Color: Environmental justice advocates are praising Massachusetts for a new energy efficiency plan which prioritizes outreach to improve health and comfort in underserved communities, especially the poor and communities of color. Read more>>
Inside The Landmark Push For Reparations For Black Californians: The first of its kind in the nation, the state reparations committee is tackling the daunting and unprecedented work of recommending reparations – whether they be monetary or through policy – for Black Californians, particularly those who are descended from enslaved people. Read more>>
How Maryland Prisoners Took On The Governor Over Parole Recommendations: Maryland was one of only three states that gave the governor the power to veto parole recommendations. Thanks to the work of Walter Lomax and other current and former inmates, that changed last year. Read more>>
Ida B. Wells Is the Latest Historical Black Icon to Be Turned Into a Barbie Doll: Her devotion to combating racism and sexism by challenging the status quo over her lifetime made her an obvious addition to Mattel's "Inspiring Women" collection, an initiative launched by the toymaker to help inspire young girls through representation and close what it refers to as the "Dream Gap." Read more>>
Student Debt Cancellation is a Racial Justice Issue: Presidential executive action to cancel up to $50,000 in student debts would increase Black wealth by 40 percent. Read more>>
Wet'suwet'en Water Protectors Vow to Continue Struggle after Announcing Strategic Retreat: "Before a large-scale mobilization by police, water protectors vanished into the woods, evading police violence and criminalization," read the Gidimt'en Checkpoint's statement. "We expect an imminent assault on our people at the direction of Coastal GasLink as we continue to occupy and utilize our yintah (land)," the statement added. Read more>>
Sauk-Suiattle Indian Tribe Brings First "Rights of Salmon" Case: The Tribe seeks recognition that salmon have inherent rights to "exist, flourish, regenerate…and restoration," and that the Tribe possesses the duty to "protect and save" salmon in the face of continued harm and decline, including from the City of Seattle's dams on the Skagit River. Read more>>
Donegal County Council Votes Unanimously To Adopt Rights of Nature: The Donegal County Council in Ireland voted unanimously to adopt the Rights of Nature as "an important statement of intention that imbeds the concept as a core value and a keystone concept." Read more>>
Water Protectors Lead Movement To Close Navy Fuel Site After Leak: In the wake of a major leak by the Navy that contaminated O'ahu's water supply, water protectors found unlikely allies among outraged military families. Read more>>
Activists Are Using the "Climate Necessity Defense" in Court — And Winning: The Climate Defense Project's engagement in the arena of climate necessity defense has also yielded dramatically tangible court victories, especially remarkable given the relatively short time the team has been working at what has been thought of as a pretty obscure legal argument — even kind of "out there." Read more>>
Under-Protected Abroad, Domestic Workers Find Ways to Resist: Southeast Asian domestic laborers often migrate to wealthier countries where they are excluded from labour protections and left vulnerable to abuse. While COVID-19 has made labour conditions worse, some migrant workers have found their own ways to resist. Read more>>
NYC Lets 800K Non-Citizens Vote – Other Cities May Follow: This action comes after a year marked by voting restrictions by state legislatures across the nation. "For New York City to do this really draws our attention to these questions: How do we think about democracy? Who's included? Who's excluded?" Read more>>
Immigration Reform Is Still Possible — With a Strong Social Movement: 2021 didn't bring anything like the progress many immigrants and their allies were hoping for. But sustained grassroots organizing could turn the situation around in 2022. Read more>>
Abortion Protests, For and Against, Flood Downtown Chicago: Abortion rights activists gathered at 219 S. Dearborn St. on Saturday afternoon, January 8, to counterprotest the anti-abortion March for "Life" rally across the street at Federal Plaza. Read more>>
Canada Bans Conversion Therapy: Conversion therapy is now illegal in Canada, marking a major milestone in LGBTQ2S+ rights in this country. After parliamentarians came together to unanimously pass legislation to eradicate the harmful practice in late 2021, the Criminal Code sanctions came into force on Jan. 7. Read more>>
Queen Strips Prince Andrew Of Military Roles And Royal Patronages: The Queen has sought to distance the monarchy from the Duke of York by stripping him of his military affiliations and royal patronages as the fallout from his sexual assault case continues. The move comes after more than 150 veterans requested the prince's removal amid US sexual assault civil lawsuit. Read more>>
Sudan's Doctors March To Protest Violence Against Hospitals: Hundreds of Sudanese doctors and medics marched in Khartoum and other parts of Sudan to protest against violence by security forces against the medical staff, healthcare facilities, and patients. The doctors' march comes as neighborhood-based resistance committees, political parties, and other pro-democracy groups carry out an ongoing campaign of protests against the military coup under a "no negotiation" slogan. Read more>>
More Than Ever, Food Not Bombs Needs To Become A Reality: Food Not Bombs was founded in 1980 to provide direct aid to people while educating about the perversion of spending so much on the Military-Industrial Complex (MIC) while tens of millions of people do not have the basic necessities. It has turned into a global movement to build food sovereignty and organize systems outside the establishment. Listen here>>
The Anti-War Movement Could Be Reignited By Gen Z: This op-ed argues that actively opposing imperialism and militarism is our collective responsibility. Read more>>
How Palestine Action Shut Down Arms Manufacturer: Huda Ammori of Palestine Action talks to Vijay Prashad about the group's campaign that shut down the factory of Israeli arms manufacturer Elbit in Oldham in the United Kingdom. Read more>>
The Treaty on the Prohibition of Nuclear Weapons and the World's Future: The most promising course of action for human survival might well lie in a mobilization to compel the nuclear nations to accept the Treaty on the Prohibition of Nuclear Weapons and to accept a restrained role in a cooperatively-governed world. Read more>>
Creative Protest Tells New Zealand Authorities To Stop Clowning Around About The Climate Transition: The advocates say the Transport Agency is clowning around with the climate by failing to provide walking and cycling across the critically important structure. The Auckland Harbour Bridge currently carries eight lanes of vehicle traffic and is one of the few major bridges in the world to preclude walking and cycling. Read more>>
Aerial Detectives Dive Deep Into North Carolina's Hog and Poultry Waste Problem: As concentrated animal feeding operations spread, airborne surveillance missions aim to protect nearby communities from the air and water pollution they release. Read more>>
Pigs in Parliament – Uganda's Anti-Corruption Struggle: Uganda's Jobless Brotherhood prefers to engage in disruptive protest to gain large media coverage. Marked by a raw sense of humor, symbolism and dramatic visuals, they call this approach "creative activism." Read more>>
Major Performers Dump Sydney Festival Over Israeli Sponsorship: At least 30 major artists, performers and organizations have pulled out of the Sydney Festival in Australia over a $20,000 sponsorship deal with the Israeli embassy. Read more>>
Ugandans Escalate Movement Of 'Radical Rudeness' Following Violent Arrest Over Mean Tweet: The so-called 'world's friendliest people' are finding power in vulgarity as they protest the brutal torture of a novelist for ridiculing the dictator's son. Read more>>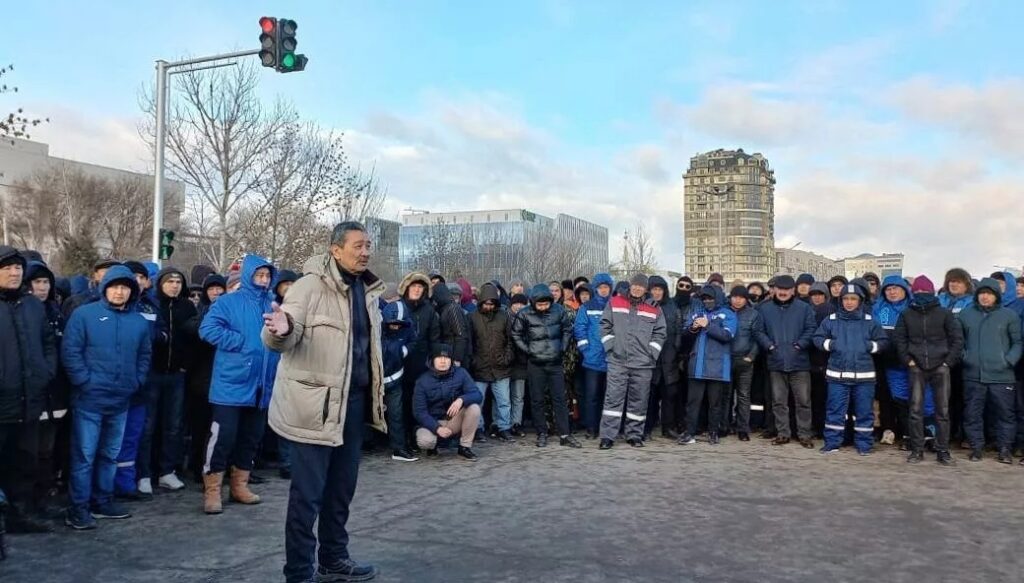 Protests In Kazakhstan – Color Revolution Or Working-Class Uprising? Today all post-Soviet mass-media and TV channels are riveted to the protests that suddenly engulfed Kazakhstan. To some they arouse hope, to others – horror and rejection. Read more>>
Students Walkout – Doing What Adults Won't in the Fight Against Omicron: Thousands of students are walking out of class to protest conditions at U.S. schools—and challenge adults who are placing profit over their well-being. Read more>>
Lessons Learned from the St. Vincent Hospital Nurses' Strike: Three lessons from the 301-day nurses' strike at St. Vincent Hospital in Worcester reveal the importance of community support. Read more>>
Start The Year Off Right – Digital Security Webinar w/ Live Q&A: "New year, new you!" applies to state surveillance, too. Start the year off right and join us to learn more about how you can keep yourself and your friends safe by using digital security best practices. Read more>>
Should Fighting For Democracy Take Priority Over Building Powerful Social Movements? Activists throughout history have put social movement work on hold for the electoral arena. Determining whether to do so is a matter of strategy and calling. Read more>>
How One Conscientious Objector Refused To Kill: In his engaging new memoir, Francesco Da Vinci chronicles a young man's principled encounters with the war system in which he refused to participate. Read more>>
Webinar – How Agent Provocateurs Harm Our Movements—And What Can Be Done About It: Provocateurs work to create disunity and scandals, disrupt effective strategic thinking, lower participation, and promote or engage in vandalism and violence that can be blamed on the movement. (Jan 18) Learn more>>
75th Anniversary of the Doomsday Clock: The Bulletin of the Atomic Scientists will host a live virtual news conference to announce the 2022 Doomsday Clock time and commence the 75th anniversary of the iconic Clock. (Jan 20) Read more>>
Men, Masculinity & Violence: Join us for the first of two community dialogues on the connections between masculinity and violence. We will discuss masculinity and media stereotypes and their ties to violence and desensitization to violence, especially in our community. This discussion is open to all community members and will take place virtually on January 20th from 5:30 – 7:30 PM. Learn more>>
Embodying Nonviolent Communication: Learning Nonviolent Communication offers one avenue for engaging deeply with ourselves and one another so we're better equipped to keep doing the work of building a future that works for all. Join us for five weeks of online exploration and practice in Nonviolent Communication through thought, speech, and embodied practices. (Starts Jan 27) Learn more>>
1-Year Anniversary Of Int'l Ban On Nukes: The UN Treaty on the Prohibition of Nuclear Weapons reached the required 50 states parties for its entry into force, and it became law on January 22, 2021. Let's celebrate the 1-year anniversary of nuclear weapons being banned on January 22nd. Learn more>>
Third Harmony Book Club: In this intimate, participatory book club with the author, dive into the startling new understandings of nonviolence articulated in Michael Nagler's book, The Third Harmony: Nonviolence & the New Story of Human Nature. Facilitated by Veronica Pelicaric, this 4-session, weekly book club will unpack the scientific and spiritual underpinnings of nonviolence, looking at the personal, interpersonal, and global applications.(Wednesdays in Feb) Learn more>>
Organizing 101: How To Be A (Powerful, Soulful, Effective, and Nonviolent) Activist: Have you ever wanted to be an effective organizer? Or more soulful, creative, caring [insert your favorite word here] activist? In this new 6-week course, Pace e Bene trainers Henry Cervantes and Rivera Sun will explore the heart and soul of what it takes to be a talented organizer. From nuts and bolts to nuances and subtleties, this online course will cover a range of highly-useful skills for making social change. (Feb 2-March 9) Learn more>>
Voluntary Simplicity: From Gandhi to Thoreau to Thich Nhat Hanh to Wally and Juanita Nelson, voluntary simplicity runs through the heart of nonviolence. In this 6-week course, we will examine how—and why—simplifying our lives supports nonviolence as a way of life. (Starts Feb 22) Learn more>>
Nonviolence News exists because of readers like you. Thank you.
Donate here>>