Editor's Note From Rivera Sun
"With great power comes great responsibility," is a line made famous by Spiderman, but activists could rephrase that as "with any power comes responsibility". The Sisters of St. Joseph are taking that bit of wisdom to heart as they take on the corporate giant Microsoft. They're leveraging their power as shareholders to pressure other shareholders into holding the beast accountable on its policies and practices. They've infiltrated the system to fight from the inside, which is one approach for pushing for change.
As Spiderman knows, it's about webs of connections. We all participate in systems, many of which involve some form of injustice. While one option is to withdraw individually, another option is to stay and "fight". From studying civil resistance campaigns around the globe, we know that movements that are connected to the power holders or oppressors are often more successful than groups that have distanced relationships. Think about it: workers can pressure employers by going on strike, consumers can boycott until their demands are met, government workers can refuse to serve a dictator. But when you aren't connected to the problem, what can you leverage?
Where we have connection, we have the chance to withhold our support … a powerful equation when it comes to nonviolent struggle. Think about this as you read this week's Nonviolence News. Notice which campaigns have a direct connection to the decision makers, power holders, or oppressors. How does this give them power?
There are so many heartening stories in the round-up this week. Workers at a tortilla factory walked out over the abusive policies that led to five of their coworkers dying of COVID. (They won Sundays off.) Octopi and lobsters are now recognized as sentient beings in the United Kingdom. (Thanks, My Octopus Teacher.) And, the rights of a forest in Ecuador were upheld by the courts, protecting its status as a being. (If the notion of animals and forests having beingness and rights sounds strange, just remember that corporations already enjoy these kinds of protections, and in the US are awarded a privileged personhood that often outstrips that of human beings.)
From replacing school detention with meditation to Myanmar's revolutionary movement launching its own bonds, this week's stories reflect the wild, unexpected power of nonviolence in transforming our world. And remember, with this great power comes our responsibility to learn about it, train in it, and wield it on behalf of people and planet.
In solidarity,
Rivera Sun
Photo Credit: Nuns are pressuring Microsoft to walk the talk on social justice, privacy and other issues.
Spiderman is a billion-dollar superhero franchise …
We're a small-but-mighty project that lifts up real-life superheroes each and every week.
Thank you for supporting us. Donate here>>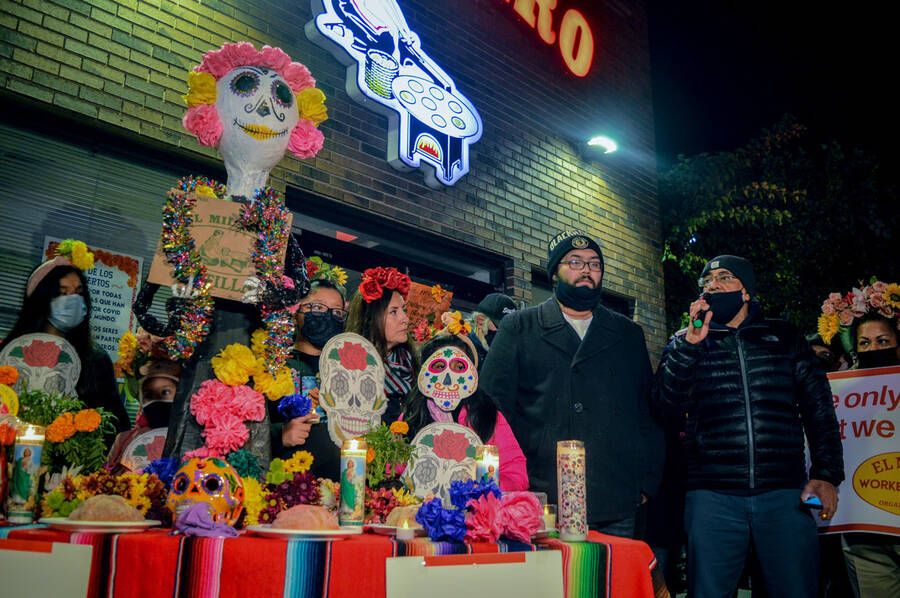 These Tortilla Workers Walked Out And Won 6-Day Work Week: Food production workers at El Milagro, one of Chicago's most popular tortilla companies, join with community allies for a Day of the Dead vigil Nov. 2, 2021, in honor of five coworkers who died after contracting Covid-19 on the job. The workers also celebrated a recent victory. In late October 2021, employees filed a complaint with the Illinois Department of Labor alleging violations of a state law prohibiting seven-day workweeks. In response, El Milagro management announced Oct. 27, 2021 that workers would have Sundays off. The win was modest, but important. Read more>>
Rights of Nature Victory in Ecuador – Constitutional Court Upholds Rights of Nature: Court rules that mining in a protected forest is unconstitutional, violates constitutional rights of nature. Read more>>
U.S. Labor Board Official Orders Amazon To Redo Union Vote At Alabama Warehouse: A regional director for the U.S. National Labor Relations Board on Monday called for a rerun of a union election at an Amazon.com Inc facility in Alabama, setting the stage for another high-profile organizing battle at the world's largest online retailer. Read more>>
Charlottesville Rally Organizers Found Liable By Jury: A jury on Tuesday found the organizers of the deadly 2017 "Unite the Right" rally in Charlottesville, Va., to be liable for violence, awarding $25 millions of dollars in damages. Read more>>
Honduras Elects First Female President: Honduras' ruling party conceded defeat Tuesday in presidential elections held two days earlier, giving victory to leftist opposition candidate Xiomara Castro and easing fears of another contested vote and violent protests. Read more>>
Pembina Gives Up On Jordan Cove Export Terminal, Thanks To Years of Pressure: A unit of Canadian energy company Pembina Pipeline Corp (PPL.TO) on Wednesday told U.S. energy regulators that it would not move forward with its proposed Jordan Cove liquefied natural gas (LNG) export plant in Oregon. Pembina paused development of the project in April as the company could not secure state-issued permits and authorizations from various Oregon state agencies. Read more>>
Octopi, Squid, and Lobsters Acknowledged As Sentient Beings: Lobsters, octopuses, and squid, welcome to the sentient beings club (if you're in the UK, at least). The UK government has officially included decapod crustaceans — including crabs, lobsters, and crayfish — and cephalopod mollusks — including octopuses, squid, and cuttlefish — in its Animal Welfare (Sentience) Bill. This means they are now recognized as "sentient beings" in the UK. Read more>>
Maine's Last Holdout On Derogatory Native Terms Changes Name: The last prominent place in Maine featuring a derogatory reference to Native Americans is in store for a name change. A group of investors working to buy a Greenville ski area called Big Squaw Mountain Resort has vowed to rename the ski area when the sale becomes final. The name is a racist, misogynist reference to Indigenous women. Read more>>
This School Replaced Detention With Meditation – The Results Are Stunning: Robert W. Coleman Elementary School has been doing something different when students act out: offering meditation. Instead of punishing disruptive kids or sending them to the principal's office, the Baltimore school has something called the Mindful Moment Room instead. Read more>>
Tens of Thousands of Sudanese Protest Against Military Rule: Sudanese security forces fired tear gas as tens of thousands of protesters gathered in central Khartoum on Tuesday to oppose military rule following a coup in October. Neighborhood resistance committees called the protests, demanding full civilian authority, casting aside an agreement last week that reinstated civilian Prime Minister Abdalla Hamdok and brought the release of most top politicians detained since the coup. Read more>>
Seven Day March In Defense Of Democracy Concludes In Bolivia: March for the Homeland reached a million persons before arriving in the Bolivian city of La Paz on November 29 after covering a distance of more than 180km over seven days. Read more>>
Protests For Affordable Housing Surge In The Netherlands: Various housing rights groups and progressive youth/students groups in major Dutch cities have formed coalitions and started mobilizations demanding affordable and dignified housing. Read more>>
In the Era of "The Great Resignation," Baseball Players Want to Choose Where They Work: Major League Baseball Lockout starts December2. The lockout is the first work stoppage since the 1994-1995 strike and will likely galvanize public opinion behind the players' union at a time when workers are striking in record numbers. Read more>>
Factory Workers Strike Against Poverty Pay And Abuse By Management: Since November 3, the group of well over 100 strikers has been on the picket line at the Rich Products-owned Jon Donaire Desserts plant, demanding better wages, improved retirement benefits, and changes to the company's abusive, punitive point system, which provides workers with only three days of sick leave per year. Read more>>
Columbia Student Workers Strike Is Biggest Running Strike: After an October so flooded with union activism the media christened it "Striketober," student workers at Columbia are continuing the rush of labor organizing. Teen Vogue speaks to three Columbia graduate and undergraduate student workers about how they got involved in the union and what's at stake for them, students across the country, and workers. Read more>>
2.5 Million Nurses Demand UN Probe Into 'Covid-19 Criminals' Blocking Patent Waiver: The European Union, the United Kingdom, Switzerland, Norway, and Singapore "must be investigated for blocking a faster global vaccine rollout leading to the loss of countless lives." Read more>>
How Child Care Providers Are Finding Their Union Voice: Child care providers play an indispensable role in our children's lives and help support our country's entire economy. But for far too long, they haven't been treated as the essential workers they are. That's why today, child care providers are organizing together to form strong unions and raising their voices like never before. Watch AFSCME child care providers talk about the difference a union makes. Read more>>
Why Nuns Are Taking On Microsoft Lobbying: Microsoft has survived brutal battles against Apple and Google, but the company now faces a more formidable foe: the Sisters of St. Joseph of Peace. The congregation is leading a group of Microsoft investors who want to hold the firm accountable for its tech. Read more>>
Meet The Co-op Activists Who Are Changing Oakland's Real-Estate Game: The 7th Street corridor in Oakland, California, was once a two-mile strip known as the "Harlem of the West" — home to a myriad of businesses, dry cleaners, cobblers, tax accountants, cafes, restaurants, and 250,000 Black residents. Decades of redlining, structural and environmental racism, widespread resource extractions, and the Silicon Valley technology-fueled economic boom have reduced it to "eleven blocks of liquor stores, trash, and empty, defunct buildings." This real estate co-op is changing that. Read more>>
Protests Slam Racist Rittenhouse Acquittal: People took to the streets from coast to coast to condemn the "not guilty" verdict of white supremacist and modern-day Nazi Youth Kyle Rittenhouse in Kenosha, Wisconsin, Nov. 19. "At the end of the day, this country needs to be overthrown. This is pitiful." — Samaria Rice, mother of Tamir Rice, after the acquittal of Kyle Rittenhouse. Read more>>
Okinawans Resistance To US Military Base Is Also An Indigenous Struggle Against Military Colonization: "We Okinawan people have to believe in ourselves and our Indigenous rights," insists one Okinawan land and water protector. "We can't rely on the political policies of the Japanese government." Read more>>
How Indigenous Communities In Paraguay Are Fighting Big Soy: Amid pesticide contamination and land evictions, tribal leaders say their villages in Paraguay are at a crisis point. Read more>>
'Like Putting A Lithium Mine On Arlington Cemetery': The Fight To Save Sacred Land In Nevada: Thacker Pass is rich in lithium deposits but is also a place of historical and cultural significance to the Paiute people. Read more>>
The War Within Canada's Borders: In Wet'suwet'en territory, Indigenous land defenders and their supporters say they are fighting for future generations. On November 14, members of the Gidimt'en Clan – one of five in the Wet'suwet'en Nation, with each clan being made up of several houses – along with members of other Wet'suwet'en clans and supporters, had served an eviction notice to CGL. The hereditary chiefs representing the five Wet'suwet'en clans have rejected the CGL, which only has the approval of the band council leaders. Read more>>
Line 3 Replacement Has Been Completed So Why Are Activists Still Camping Out? Life in the resistance camps is difficult, but activists say important work remains. The camp was — and is — one of several resistance camps formed to oppose Enbridge's now-completed Line 3 project, which replaced a corroding oil pipeline built in the 1960s with a new, larger pipeline. The pipeline runs through northern Minnesota to Superior, Wisconsin. Nearly a month and a half after oil-laden tar sands began flowing through the pipes, activists are still living at Camp Migizi and other sites. Read more>>
Australia's Push To Allow Detained Refugees Access To Library Services: Library services are yet to be provided to refugees detained in a Melbourne facility, despite efforts from librarians and City of Melbourne councillors and UN regulations. Read more>>
From "White Australia" To Stopping Refugee Boats: This year marks the 20th anniversary of three defining events in the history of Australia's refugee and asylum seeker policy. During this period a whole language was constructed to shore up this racist campaign. Read more>>
Pride, Power And Resilience – How Activism Helps Undocumented Immigrants Cope With Trauma: In Arizona, the epicenter of the US's immigration wars, those who have experienced the traumas of detention centers, family separation, deportations and more have also pioneered ways to respond to it and are training others seeking to treat it. Read more>>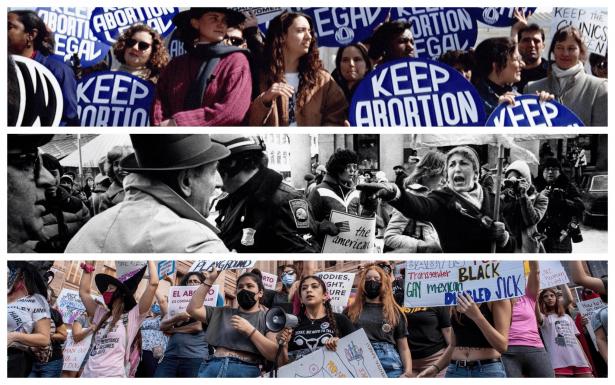 A 'Fundamental' Right – A Timeline of US Abortion Rights Since Roe vs Wade: The landmark 1973 supreme court case Roe v Wade guaranteed the right to an abortion in the United States. Now, nearly five decades later, that right is under threat as the court prepares to hear oral arguments in a new case, Dobbs v Jackson Women's Health Organization. How could a decision that was not met with widespread protest at the time be under threat less than half a century later Read more>>
How Activision Blizzard Employees Made CEO Bobby Kotick Powerless In Just 30 Minutes: A half hour after a damning article on the CEOs rampant sexual abuse was released, an employee walkout was formed. First it was 30. Then 50. And within two hours, over 150 people had walked out of the office. Hundreds more had joined virtually. Even people who had worked at the company as little as two days decided to join them. Everyone had enough. And the consequences are bigger than ever. Read more>>
Reproductive Rights Defenders Rally as SCOTUS Hears Challenge to Roe: "Any ruling upholding Mississippi's ban guts the central holding of Roe and our right to make fundamental decisions about our lives, our futures, and our families." Read more>>
Male Survivors Unite To Expose Sexual Abuse At College Football's Biggest Rivals: Michigan and Ohio State just played before 100,000 fans but a more important battle is being fought off the field – the history of sexual abuse perpetuated by team doctors. Read more>>
In This Sweet Norwegian Christmas Ad, Santa Claus Is Gay and Falls in Love with a Man Named Harry: The Norwegian Postal Service is celebrating the upcoming 50th anniversary of the decriminalization of homosexuality in Norway with their heartwarming holiday ad. Read more>>
Cricket Match Protesters Say State Bank of India Must Stop Funding Adani: Dressed in white cricket gear, with a plastic cricket set of bat and stumps and a grass mat for the pitch, a bowler, a batter and an umpire "played" a cricket match in the foyer of the State Bank of India (SBI) in Sydney on December 1. They were demanding that the SBI cut all ties with Adani. Read more>>
The Arts in Today's Movements – Insights from Nigeria's #EndSARS Campaign: There were many examples of beauty and constructive power in Nigeria's #EndSARS campaign. One of those was in the form of artistic resistance that emerged from diverse communities across the country. Read more>>
Myanmar Opposition Raises $6.3 Million On Launch Of 'Revolution' Bonds: A shadow government in Myanmar said it has raised $6.3 million on the opening day of its inaugural bonds sale, in its biggest move yet to generate funds for its "revolution" to topple the ruling military junta. Read more>>
Singing-While-Trespassing Choir Protests Consumerism On Black Friday: Reverend Billy, the pastor of the Church of Stop Shopping, and his group of musical activists spent Thanksgiving singing and trespassing and opposing consumerism's destructive impact on the Earth. The Stop Shopping Choir has staged performances in Walmarts, Disney Stores, Monsanto labs, the roof of Carnegie Hall, and at jails, pipe-lines and JPMorgan Chase lobbies across five continents. Listen and watch here>>
Hackers Spam Business Receipts With Antiwork Manifestos: Dozens of printers across the internet are printing out a manifesto that encourages workers to discuss their pay with coworkers, and pressure their employers. Read more>>
Fannie Lou Hamer – The Civil Rights Icon Who Embraced Youth Power: Civil rights activist Fannie Lou Hamer loved young people. She loved to be around them and loved to work with them, emphasizing their vitality, vision, and ability to lead. Her approach to working with younger activists was grounded in the belief that age, education, and experience were not prerequisites to political leadership. Read more>>
Teenager Claudette Colvin Explains Her Role in the Civil Rights Movement: On March 2, 1955, nine months before Rosa Parks refused to give up her seat to a white passenger on a bus in Montgomery, Alabama, Claudette Colvin, a 15-year-old Black teenager, did the same thing. Read more>>
Review – "Civil Resistance Against Climate Change": Over the last five years, groups and organizations like Extinction Rebellion and Fridays for Future emerged to mobilize against climate change and adopted more radical measures than the environmental movement has traditionally used. Although temporarily disrupted by the COVID-19 pandemic, a global nonviolent civil resistance movement is coalescing and it is clear that its leaders have been studying and drawing lessons from the field of civil resistance studies. This new book takes an empirical look at their success. Read more>>
The Sudan Coup – Analysis from the Ground: Hosted by the Middle East Centre of the London school of Economics, speakers will discuss the historical and political context of the latest coup, the effects of the military crackdown on the ground and the international response. (Dec 9) Learn more>>
How Do We End United States Sanctions on Iran? This free, public webinar will cover the history of U.S. sanctions on Iran, whether they have had the intended effects (and what those are), what effects they have had, what the status is of the JCPOA nuclear agreement, and new ideas for activism to end the sanctions. Read more>>
Join Reparations Sunday: December 2 commemorated the UN International Day for the Abolition of Slavery and began the Jubilee Period, which culminates with Reparations Sabbath on December 18 or Reparations Sunday, December 19. Learn how to organize your community to participate. Learn more>>
The First Rights of Nature Case Goes to Tribal Court-The Case for Manoomin (Wild Rice): The Center for Democratic and Environmental Rights (CDER), Honor the Earth, the Native Organizers Alliance, and Menīkānaehkem are pleased to present this "deep dive" workshop on the White Earth case to enforce the rights of manoomin (wild rice), Manoomin v. Minnesota Department of Natural Resources. (Dec 7) Read more>>
No Way To Treat A Child Webinar: Throughout 2021, Palestinian children continued to face violations of their human rights. That includes Israel's military detention of Palestinian children during the pandemic and its devastating attacks on Gaza in May. Join us for an update on our efforts to protect Palestinian children as part of working to end the Israeli occupation. (Dec 7) Learn more>>
The Border And Surveillance Industries – Divest For Immigrant Justice Webinar: How can you support the call to divest for immigrant justice? AFSC's Investigate Project has identified more than 60 companies with significant involvement in the militarization of the U.S.- Mexico border and in the surveillance and criminalization of immigrant communities. In this webinar, we'll discuss the first-ever divestment list designed to promote immigrant justice and how you can take action today. (Dec 14) Learn more>>
#FreeThemAll Phone Zap: Join us for a virtual phone bank to tell government officials: It's time to work for a future without prisons, jails, or detention centers! We'll provide background and training—all you need is a phone and internet access. Together we can make hundreds of calls to make our voices heard! (Dec 16) Learn more>>
Joy In the Dark – Winter Solstice Nonviolence Retreat 2021: Join Rivera Sun and Veronica Pelicaric for Pace e Bene Nonviolence Service's annual winter nonviolence retreat. You will learn skills for practicing nonviolence toward yourself and others. You will gain approaches for staying grounded and centered in these times of crisis. You will tap into the power of joy as a revolutionary force and explore how to be a midwife to changes we need, personally and politically, in these transformative times. (Dec 18) Learn more>>
Third Harmony Film Screening & Discussion Join Michael Nagler and Veronica Pelicaric for a special screening and discussion of the award-winning documentary The Third Harmony, which tells the story of humanity's greatest—and most overlooked—resource: nonviolence. (Jan 15) Learn more>>
Third Harmony Book Club: In this intimate, participatory book club with the author, dive into the startling new understandings of nonviolence articulated in Michael Nagler's book, The Third Harmony: Nonviolence & the New Story of Human Nature. Facilitated by Veronica Pelicaric, this 4-session, weekly book club will unpack the scientific and spiritual underpinnings of nonviolence, looking at the personal, interpersonal, and global applications.(Wednesdays in Feb) Learn more>>
Organizing 101: How To Be A (Powerful, Soulful, Effective, and Nonviolent) Activist: Have you ever wanted to be an effective organizer? Or more soulful, creative, caring [insert your favorite word here] activist? In this new 6-week course, Pace e Bene trainers Henry Cervantes and Rivera Sun will explore the heart and soul of what it takes to be a talented organizer. From nuts and bolts to nuances and subtleties, this online course will cover a range of highly-useful skills for making social change. (Feb 2-March 9) Learn more>>
Make your support tangible with a donation of any amount.
It's all appreciated. Thank you. Donate here>>