Editor's Note From Rivera Sun
This week, Extinction Rebellion's global newsletter highlighted the courageous climate protests in Tanzania, South Africa, Kenya, Rwanda, Uganda, and more. In Kenya, the organizers (pictured) received death threats and harassment before pulling off a march that was so popular that passing motorists spontaneously joined in.
In other parts of the world, international peace activists took action to end the genocide in the Tigray region of Ethiopia. Peruvian Indigenous women are turning the tables on Big Oil by asserting the Rights of Nature. In the United Kingdom, the last protesters were removed from a month-long encampment in a tunnel aimed to halt a high-speed rail line. Puerto Rican students are on strike against a number of challenges faced by the university system. And thousands of Thai citizens are demonstrating for the right to critique their monarchy.
Across the US, activists are rising up for a range of social justice demands. As the eviction moratorium ends, campaigns for housing are ramping up in Asheville, NC; Kansas City, OK; and Atlanta, GA. Recent migrant justice actions shut down roads across the US to insist that lawmakers create a path to citizenship for the millions of undocumented migrants. Meanwhile, the "Milk With Dignity" campaign is mobilizing college students to stand up for migrant workers in the dairy industry. In New York City, immigrant laundry workers are organizing for their rights. A young Diné Indigenous organizer is using her TikTok account to get rid of offensive mascots. Dr. Martin Luther King, Jr.'s granddaughter, Yolanda Renee King, is standing up for voting rights.
This is just the tip of the iceberg when it comes to this week's Nonviolence News. Find the weekly round-up here and boost your spirits with dozens of stories of brave and beautiful action.
In solidarity,
Rivera Sun
Photo Credit: XR Kisumu, Kenya stand in the local market and hold up their 'blood-soaked' hands.
Special thanks to the readers who donated last week.
You make my heart swell with appreciation.
If you'd like to make me do happy dances in gratitude, donate here>>
How Greek Delivery Riders Are Winning the Struggle Against The Gig Economy: Last month, a strike by Greek couriers for delivery company Efood saved the contracts of 115 of their colleagues. With the right tactics, their success could be replicated in Britain. Read more>>   
First Nations In Ontario Could Receive Billions In Back-Rent After Court Ruling: A treaty reimburses Indigenous communities for wealth extracted from their lands but payment has remained at C$4 a year since 1874. Canada could face compensation payments to Indigenous communities worth billions, after a court found it had willfully deprived First Nations of the immense wealth extracted from their lands. Read more>> 
Tenants Took On The Biggest Landlord In Minneapolis — And Won: A four-year campaign coordinated by Inquilinxs Unidxs Por Justicia (Renters United for Justice) organized across the Apartment Shop's 69-unit portfolio. A campaign that began in tenants' kitchens and living rooms ended up winning more than $13,000,000 in collective wealth for tenants, stopped more than 1,000 evictions, and put affordable housing on the map in Minneapolis. Read more>> 
Chilean Legislators Impeach President After The Whistle-Blowing Pandora Papers Revelations: Lawmakers in Chile voted to impeach President Sebastián Piñera Tuesday morning, accusing him of violating the constitution, following revelations in the Pandora Papers about a possible conflict of interest in the sale of a mining company by his children to a close associate. Part of the payment was contingent on the government not moving to enact new environmental regulations that would prevent the mining project. Read more>> 
In Uzbekistan, Outraged Netizens Win Partial Victory Over Social Media Blocks: The president signed legislation that shuttered the sites. Then, facing public outcry, the president reversed his stance and eased up on the stifling laws. Read more>> 
Federal Judge Approves $626 Million Flint, Michigan Water Settlement: A federal judge on Wednesday approved a settlement worth $626 million for victims of the lead water crisis in Flint, Michigan, in a case brought by tens of thousands of residents affected by the contaminated water.  Read more>>
Healthcare Workers Win Groundbreaking Agreement After 35-Day Strike: An agreement has been reached with Catholic Health System at Mercy Hospital in Buffalo, NY for a new four-year contract covering 2,700 union workers in the system. It was overwhelmingly ratified by members who work at Mercy Hospital, Kenmore Mercy Hospital, and St. Joseph's Hospital, ending the 35-day strike at Mercy. The agreement contains overdue wage increases and industry-leading safe staffing policies will help ensure patient safety and quality of care. Read more>> 
In Thailand, People Take The Streets To Demand The Abolition Of Royal Defamation Law: On 31 October, a protest was held by the Ratsadon group at Bangkok's Ratchaprasong Intersection to demand that the royal defamation law be abolished and those held for violating it be freed. Read more>> 
University of Puerto Rico Students Have Declared An Indefinite Strike: The first student general assembly 2021-2022 at the Rio Piedras campus of the University of Puerto Rico (UPR) has announced an indefinite strike starting today, while other universities are on strike. The university students, who arrived on stage at the main campus for the UPR, made the decision in light of the academic, administrative, social and economic problems that the campus suffers from. Read more>> 
Sudan Coup – More Persons Detained As Peaceful Protests And Civil Disobedience Continue: Resistance to the recent military coup of the transitional government of Sudan continues. The regime has been conducting mass and arbitrary arrests. Read more>>  
Applachian Mine Workers Arrested Outside Blackrock Headquarters In NYC: Striking workers are demanding higher wages and better health benefits — and voiced concerns about the future of their union in the transition away from coal. Watch here>>  
Thousands Protest About Privatization of Sri Lankan Power Station: Thousands of workers from the Ceylon Electricity Board (CEB), the Sri Lanka Port Authority (SLPA) and the Ceylon Petroleum Corporation (CPC) demonstrated against the Rajapakse government's agreement to sell the Kerawalapitiya power station to the US-based New Fortress Energy. About 4,000 CEB workers from all grades participated in the campaign, including 3,000 who travelled from districts across the island to join a protest outside the CEB's head office in Colombo City. Read more>>
Tunnel Encampment Protesters Evicted From Anti-High Speed Rail Occupation: Authorities have been trying to remove campaigners, who had been digging a tunnel, from the Wendover Active Resistance (WAR) camp since 10 October. The protesters opposed a highspeed rail line proposed from Birmingham to London, UK. Read more>>
St. Vincent Nurses Strike Reaches 8 Months While Tenet Healthcare Continues to Retaliate: Dallas-based Tenet Healthcare, a for-profit corporation that has spent more than $100 million and engaged in a number of unfair labor practices to retaliate against the nurses for exercising their right to advocate for safer patient care. Read more>>  
Teachers Strike Against 'Heartless' School Board In Biden's Hometown: It was a long time coming, but when 400 members of the Scranton Federation of Teachers marched out of the school board meeting Tuesday night singing "Solidarity Forever," they were strike-ready. Read more>> 
'We'll Never Be in This Position Again' – Striking Deere Workers Hold Out for Better Deal: A month into the nation's largest work stoppage, striking John Deere workers are holding out for a better deal. For the second time in a month, 10,000 Auto Workers at John Deere stunned both the company and the union leadership November 2 by rejecting a tentative agreement. Workers at the farm equipment manufacturer remain on strike. Read more>>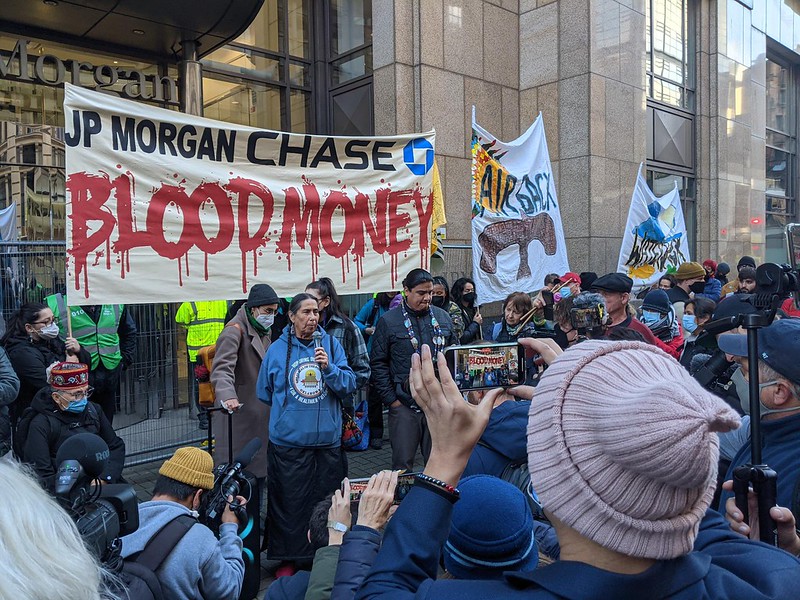 Frontline Communities Confront JP Morgan on Violating Indigenous Rights and Financing the Climate Crisis: Since the signing of the Paris Accords in 2015, the world's largest 60 banks have provided $3.8 trillion globally for fossil fuel extraction and related infrastructure, like pipelines. Of these financers, JP Morgan Chase is the worst with $316 billion in fossil fuel funding over the same time period. Read more>> 
This Diné Activist Wants to Stop the Use of Native Mascots in High Schools: Lily Joy Winder, a Diné activist from Albuquerque, New Mexico, was a junior in high school when she started using her TikTok account to make the world safer for Indigenous people. With the support of her hundreds of thousands of followers, Winder began the ambitious project of removing racist Native mascots from high school campuses. Read more>>
Stop Using My Grandpa's Words While Betraying His Legacy: Yolanda Renee King, MLK's granddaughter, wants lawmakers to act on voting rights. "I am activating kids my age, across the country, to protect our right to vote — a cause my grandfather took on decades before I was even born. My grandfather knew that we could not have freedom and equality without the right to vote. Yet today that right is under attack, just as it was during his time. It is my generation's turn to speak up." Read more>>
Indigenous And People Of Color Activists Take The Stage At #COP26 Demanding Action: Protests and actions by civil society organizations are stepping up at the COP26 conference as the event enters its second week in Glasgow, Scotland. Thousands of climate activists from all over the world have arrived demanding genuine change. Read more>>  
Extinction Rebellion Newsletter On Global Actions During COP26: The first week of COP26 is over and the signs are not good. So far, this conference has not been the climate gamechanger promised by politicians and promoted by the media. Each day brings a new pledge that looks like progress. But none are legally binding, few have stood up to scrutiny, and many offer so much wiggle room as to be meaningless. Read more>>  
Indigenous Women in Peru Seek to Turn the Tables on Big Oil, Asserting 'Rights of Nature' to Fight Epic Spills: Their lawsuit demands protection for the Marañón River from the million acre Lot1AB, an oilfield carved into the Amazon Rainforest with nearly 2,000 contaminated sites. Read more>>  
Climate Groups Call Out Banks Lobbying for Watered Down Net Zero Commitments: Stop the Money Pipeline organizations decried the news that on behalf of a group of 12 banks, HSBC lobbied Mark Carney's GFANZ to scrap mandatory science-based targets and delay a deadline. Read more>>
Massachusetts Takes On An Oil Giant For Greenwashing: The question of responsibility for the effects of global warming is – slowly – being tested in court. One case in Massachusetts is using consumer laws to take on oil giant ExxonMobil. If the US state wins, it will be the first case in the world to successfully prosecute a fossil fuel company for greenwashing and misleading the public. Read more>> 
Greenlining – How To Counter Redlining and Climate Change With Transformative Climate Communities: California has pioneered a unique approach to fostering community-led solutions that meet the needs of those hit first and worst by climate change through a program called Transformative Climate Communities. It could be a national model for climate action. Read more>>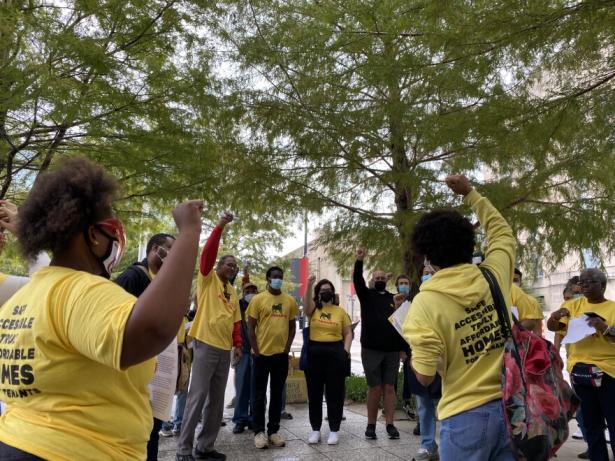 Kansas City Tenants Union – Organizing at the Speed of Trust: "We really do believe that organizing happens at the speed of trust. Trust takes a while to form. Our newest tenant Union, the McGee Schiffman Tenant Union, has been in development for like six months before they just became public this past weekend." Read more>> 
Community Begins Eviction Resistance To Combat Wave of Displacement: Community members, including tenants and precariously housed people, have come together on November 4 to resist an eviction in support of a multi-generational family experiencing forced displacement by Buncombe County. A number of people have occupied the property and have refused to leave until the city and county enact real solutions to the widely experienced housing crisis. Dressed as woodland creatures, the group brought a banner that says "Everyone needs a home". Read more>> 
Stopping Evictions In Atlanta: A federal moratorium on evictions during the pandemic has ended. Now millions of people in the U.S. could be forced from their homes. In Atlanta, tenants and community  members are organizing to stop that from happening, writes AFSC's Foluke Nunn. Read more>>
Immigrant Groups Frustrated By Inaction In D.C. Block Traffic: Immigrant rights activists blocked traffic outside of U.S. Sen. Bob Casey's Center City Philadelphia office for about half an hour on Thursday, frustrated that Democrats haven't delivered on pathway to citizenship legislation despite controlling Congress and the White House. Read more>>
Chicago Immigrant Rights Groups Shut Down Roads: Activists shut down a major artery calling for a pathway to citizenship for undocumented immigrants. With demonstrators lining the road and more holding a sit-in in the middle of the street, they halted traffic. Read more>>
Student Advocacy Groups Rally For Milk With Dignity Protest: Student organizations and environmental groups are working with the migrant farm worker advocacy group, Migrant Justice, to promote the Milk with Dignity program in Vermont and New England. A group of students traveled to Portland, Me. on Monday, Nov. 8 to join a Milk with Dignity protest outside of the Hannaford headquarters, which has been a focal point for Milk with Dignity's efforts in recent years. Read more>>
Ready for a Fresh Start – NY Laundry Workers are Fighting to Clean Up the Industry: Immigrant workers and their allies are cleaning up an industry rife with wage theft and abusive working conditions. Read more>> 
Día de Muertos Vigils Nationwide Remember Immigrants Who've Died In Immigration Custody:  Advocates have been remembering immigrants who've died while in federal immigration custody in Día de Muertos vigils across the country. The holiday, known in English as Day of the Dead and widely celebrated both in Latin America and the U.S., is rooted in indigenous traditions of Mesoamerica and honors the memory of loved ones who have died. Altars created as part of the observance commonly feature marigolds, incense, candles, and photographs of the deceased. Read more>>
Protesters Demand End to Genocide In Ethiopia: Hundreds of protesters demonstrated in Washington on Thursday to demand an end to what they called a "genocide" in Ethiopia's Tigray region, a year after the country's government launched an offensive there that sparked a devastating conflict. Read more>>
Demonstration To Stop Violence Toward Bangladeshi Hindus: Peace protesters assembled with their posters saying, 'Save Bangladeshi Hindu Temples', 'Stop Violence Against Hindus'  'Bangladeshi Hindus are Helpless' and many more. Two dozen speakers presented brief speeches in which they expressed their anger against the continued incidents of communal violence against the minority communities in Bangladesh and demanded rigorous actions from the Bangladeshi Prime Minister Sheikh Hasina. Read more>>
Veterans For Peace Celebrate Armistice Day 2021: Over one hundred years ago the world celebrated peace as a universal principle. The first World War had just ended and nations mourning their dead collectively called for an end to all wars.  Armistice Day was born and was designated as "a day to be dedicated to the cause of world peace and to be thereafter celebrated."  Read more>> 
Smoking Koalas and Dancing Skeletons – Creative Protest at COP26: A four-metre high skeletal koala puppet called 'Blinky', with wisps smoke floating off it and a grimace on its face, was the focal point of the morning's Extinction Rebellion protest against inaction on climate change in St Kilda. The sombre Extinction Rebellion procession through Catani Gardens was accompanied by a group of musicians playing Chopin's Funeral March. The group's signature, silent 'Red Rebels' – wearing flowing red dresses and white face paint – lead the protest. Read more>>  
From Pikachu To Mermaids, These Are The Best Protest Costumes From COP26: In pictures, we took a closer look at the performances and costumes being used by campaign groups such as Extinction Rebellion, to cause a stir in the name of climate justice. Read more>>     
The Last Supper – Final Meals of U.S. Death Row Inmates: An art project by Julie Green is reproducing the last meals of inmates using ceramic plates and cobalt blue paint as her medium. Read more>>  
Satirical Video Detailing Global Deceit of Net-Zero Pledges Shows 'How F**ked We Are.' "The good news is, we've promised to reduce our emissions, and if you take all our promises and add them together, that puts us on track for still very much f**ked by 2050."  Read more>>
#PizzaIsNotWorking – Inside the Pharmacist Rebellion at CVS and Walgreens: Workers and independent business people – even in the professional class – are supremely mad at monopolists. But they aren't looking to a political party for help. Read more>> 
Public Banking Has the Potential to Truly Revolutionize Our Economy: Revolution could be framed as transformation of our money system from one that is privately-managed for profit to a democratically-managed public utility. Read more>> 
Woke-Washing: What Is It and How Does It Affect the Fashion Industry? The term, discussed by Aja Barber and Slow Factory Foundation, speaks to the corporate co-opting of social movements such as Black Lives Matter. Read more>> 
What Your Boss Doesn't Want You to Know, and Where to Find It: Researching Privately Held Firms and Nonprofits. Over the past two decades unions, community organizations and NGOs have been conducting increasingly sophisticated research and building strategic campaigns against corporations around the world. Campaigns have focused on organizing low wage workers, fighting back against sweatshops and polluters, and supporting unions fighting for decent contracts in tough economic times. This toolbox aids in targeting corporations, NGO's etc. Read more>>    
Stop Insurance Companies From Profiting On – And Causing – The Climate Crisis: According to Stop The Money Pipeline, insurance companies are profiting from – and escalating – the climate crisis. They raise insurance rates on disaster-prone communities, then invest billions of dollars in the fossil fuel industry (which causes more climate disasters). The US Federal Insurance Office (FIO) is currently accepting comments from the public on this matter. Find a sample comment from Stop the Money Pipeline here and tell the FIO that insuring fossil fuels ensures climate chaos. 
Divest Your City From Weapons & Fossil Fuels: Take a few minutes to learn how people like you are getting their cities to move their money out of violence and into life-affirming industries. Learn about divesting from weapons here>> And find out about fossil fuel divestment here>> 
Collapse Total (Oil Company) – New Tactics and Strategies for the Climate Justice Movement: The Collapse Total campaign is focusing on one of the many and influential tentacles of fossil fuel capitalism. From the 15th to the 22th of November, in different countries, they are mobilizing, protests and blockades against one of the biggest oil & gas companies in the world: Total. (Nov 15-22) Learn more>>
Virtual Screening and Panel Discussion: Looking for something to do on a cool fall evening? Join us for the virtual screening and panel discussion fundraiser for "Necessity Part II: Rails, Rivers & the Thin Green Line," a film by Jan Haaken. Funds raised from this event will support the Necessity film series and Columbia Riverkeeper. (Nov 18) Learn more>>    
Tales Of Peaceful Protest: What do peaceful protests look like? Are they effective? How can I get involved? Join Canadian Friends Service Committee (CFSC) for a virtual discussion with stories and expert advice you can use in effective nonviolent direct action. Hosted by Matthew Legge, CFSC's Peace Program Coordinator with presentations by: author/activist/trainer Rivera Sun, activist organizer Ruth Walmsley, and Rachel Small of World Beyond War and the No Fighter Jets. (Nov 18) Learn more>>
Nonviolence In Action Online Conference: Presented by the War Resisters' International (WRI) network, the event will run between two weekends. Plenaries will be delivered by a number of speakers sharing their experiences and ideas. Discussion spaces will be participatory discussion spaces. (Nov 20-28) Learn more>> 
Joy In the Dark – Winter Solstice Nonviolence Retreat 2021: Join Rivera Sun and Veronica Pelicaric for Pace e Bene Nonviolence Service's annual winter nonviolence retreat. You will learn skills for practicing nonviolence toward yourself and others. You will gain approaches for staying grounded and centered in these times of crisis. You will tap into the power of joy as a revolutionary force and explore how to be a midwife to changes we need, personally and politically, in these transformative times. (Dec 18) Learn more>>
Congrats on reading ALL of the Nonviolence News headlines. I'm impressed.
If you discovered something uplifting, consider donating today>>