Editor's Note From Rivera Sun
The COP26 protests are loud, colorful, and over-the-top, but they're not as ridiculous as political leaders continuing to bury their heads in the sand over climate change. This week, as the COP26 climate summit gathers world leaders and thousands of global climate activists in Glasgow, Scotland, protesters are pulling out the stops to pressure officials to stop delaying. It's time – past time – to take immediate action to transition away from fossil fuels.
A block-long inflatable Loch Ness monster was arrested by the police. Giant Pikachu protesters brought Japan's climate message to the summit. A drum and brass "hot air band" played loudly outside a meeting to remind politicians that their empty words are not enough. There's something about absurdity in protests that reveals the greater foolhardiness of political posturing and stalling on the climate crisis.
In other Nonviolence News, here's a few victories to celebrate: the taxi drivers who shut down the Brooklyn Bridge last year and recently launched a hunger strike have won their demands for debt relief. Privacy and anti-facial recognition activists have won a major victory in forcing Facebook to delete the faceprints of close to a billion people. In a landmark methane-reduction pledge, 100 countries have agreed to reduce methane emissions by 30%.
From Day of the Dead memorials for healthcare to Howard University sit-ins for better housing, this week's collection of Nonviolence News stories will hearten, inspire, and perhaps even galvanize you to take action. Enjoy.
In solidarity,
Rivera Sun
Photo Credit: Protesters march for a range of climate solutions at COP26 in Glasgow, Scotland.
Each week, some of our readers donate to keep us going.
If it's your turn, thank you! Donate here>>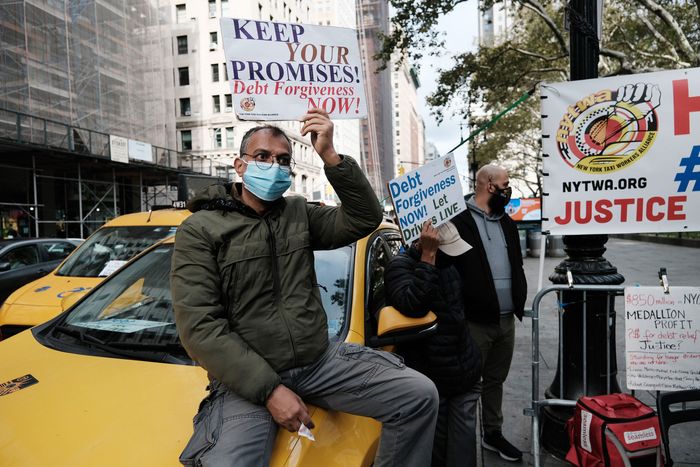 The Hunger-Striking Taxi Drivers Won: At City Hall Park this afternoon, dozens of taxi drivers broke out into chants of "TWA!" and waved victory signs in the air. Some even began dancing. The news that they had won their demands on debt relief had spread through the crowd, which has been protesting outside City Hall since September. Read more>>
Facebook To Shut Down Face-Recognition System, Delete Data: Facebook said it will shut down its face-recognition system and delete the faceprints of more than 1 billion people amid growing concerns about the technology and its misuse by governments, police and others. Read more>>
100 Countries to Cut Climate-Busting Methane 30% in Landmark Global Pledge: The agreement was greeted as a potential breakthrough, though it falls short of the target laid out in a United Nations-supported assessment in May. Read more>>
Maine Passes "Right To Food" Law: The voters of Maine passed the "right to food" state constitutional amendment on Tuesday, the first amendment of its kind in the U.S. The amendment to Maine's constitution would "declare that all individuals have a natural, inherent and unalienable right to grow, raise, harvest, produce and consume the food of their own choosing for their own nourishment, sustenance, bodily health, and well-being." Read more>>
How Activists Stopped Coal In England: Isobel Tarr of Coal Action Network speaks to activists at the forefront of the decades-long movement to end new opencast coal mining about how change was won. Read more>>
Detroit Voters Approve Launch Of Reparations Commission: Detroit voters favored launching a reparations commission, and also approved a proposal to decriminalize psychedelic plants passed by a wide margin. It was spearheaded by Mary Sheffield after talks with activists who pushed for the measure amid nationwide calls to compensate descendants of slaves. Read more>>
Three Cities Win Big For People-Powered Climate Action: An award of $1 million was given to the first three Cool Cities winners — Los Angeles, Irvine, and Petaluma — that were able to meet the award's demanding requirements. With a 10-year goal of helping hundreds of cities worldwide reach carbon neutrality by 2030, the Cool Cities challenge aims to accelerate the decarbonization of the world's cities, which emit 70 percent of the planet's carbon, via "moonshot" strategies that use bottom-up and top-down climate solutions at the local level. Read more>>
Top Hong Kong Court Rules Against Government Bid To Expand Riot Prosecutions: Hong Kong's top court on Thursday quashed attempts by the city's government to prosecute people for rioting or illegal assembly even without being present at the scene – a ruling lawyers described as a landmark. Read more>>
Bolsonaro Is Strongly Rejected By Italians In Anguillara Veneta: Italians gathered in Anguillara Veneta to reject the presence of Brazil's President Jair Bolsonaro, who went to his great-grandfather's town to receive the honorary citizenship granted by Mayor Alessandra Buoso. "Bolsonaro is fascist, homophobic, and racist. Besides devastating the Amazon forests with his policies, he has killed thousands of people … out with Bolsonaro," stressed Letizia, a young Italian woman who protested against the Brazilian president. Read more>>
Civil Disobedience Grows Across Sudan, As "Forces for Freedom and Change" Refuse To Negotiate With Coup': The wide public response to a campaign of civil disobedience in protest against the October 25 military coup in Sudan continues in the capital Khartoum, as well as other cities in Sudan and abroad. It is impacting on all aspects of life and reports continue of deaths and injuries from live ammunition used by the army and paramilitary forces against demonstrators. Read more>> 
Day of the Dead Protests Take Place In Front of US Speaker's House: The coffin they carried was fake, but the "68000" painted on it, the number of deaths suffered in the U.S. this year because of lack of health care, is all too real. In a Day of the Dead protest, protesters gathered in a slight drizzle at San Francisco's Alta Plaza Park and marched to Speaker Nancy Pelosi's house, a few blocks away. The signs they carried declared health care to be a human right and demanded Medicare for All. Read more>>
Ruling Party Dominates Georgian Local Elections, Sparking Protest: The opposition says the results were "totally rigged" and that it was taking its fight to the streets with a series of demonstrations. Read more>>
Massive Mobilization In Rome Protests G-20 Summit: Trade unions, progressive political parties, anti-imperialists, youth/student groups, climate activists, and others participated in the mobilization in Rome to denounce the neoliberal agenda of the 16th G20 summit that prioritize profits over people. Read more>>
UAW Members Reject Second Contract Proposal From John Deere, Strike Continues: John Deere & Co. employees will remain on strike after the United Auto Workers rejected a second contract offer Tuesday. Read more>>
1,000 W.V. Hospital Workers Strike to "Build Back Better": Huntington, the largest city in West Virginia, whose population hovers around 47,000, is a city with a proud union history. The Ohio River Valley town is now writing a new chapter in its history as these 1,000 healthcare workers, SEIU 1199 WV/KY/OH members, are on strike at Cabell Huntington Hospital. Three miles down the road, another 500 workers are on strike at Special Metals. Read more>>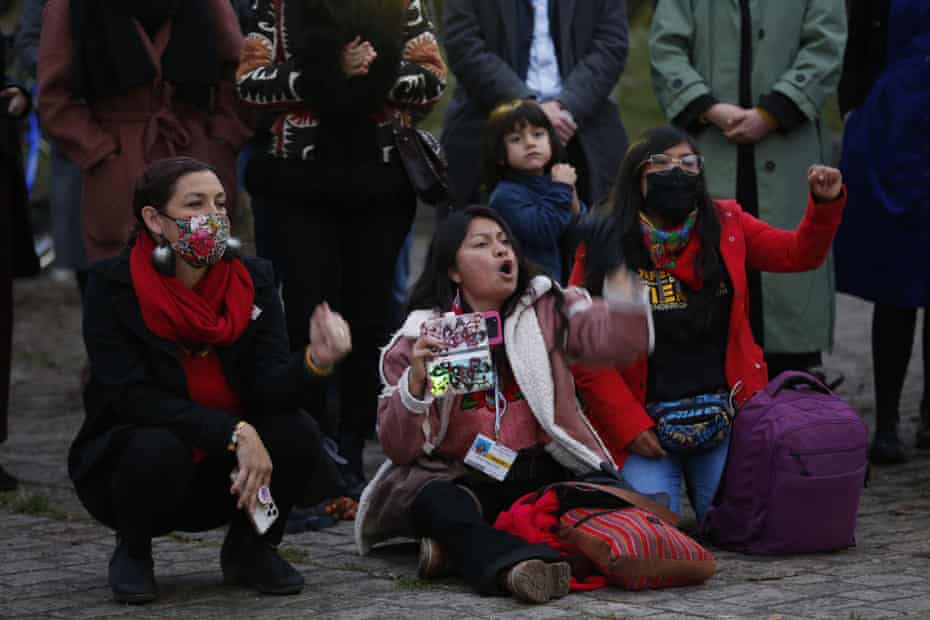 'A Continuation Of Colonialism': Indigenous Activists Say Their Voices Are Missing At Cop26: As world leaders inside the Cop26 conference centre in Glasgow boasted about pledges to slash greenhouse gas emissions and end deforestation, indigenous delegates gathered across the river Clyde to commemorate activists killed for trying to protect the planet from corporate greed and government inaction. Read more>>
Howard University President Condemns Sit-In By Students Protesting Housing Conditions: Students have occupied Howard's Armour J. Blackburn Center for two weeks, vowing to stay put until the university remediates mold in students' dorms; creates a housing plan for incoming freshmen; and reinstates student, faculty, and alumni members to the university's Board of Trustees, among other demands. Read more>>
Ahmaud Arbery Trial Of Accused Murderers Is Test For Racial Justice 'In The Heart Of White Supremacy.' Six months after Derek Chauvin was convicted of murdering George Floyd, the case of a Black man killed while jogging in Georgia is a sterner litmus test. Read more>>
How One Organizer Is Using Meditation to Help Sustain Activism for Black Lives: Micek hoped 20 people would come to a meditation session during the George Floyd Protests. 2000 showed up. After that first session, Meditating for Black Lives became a weekly event designed to help heal collective trauma. More than a year after the first meditation, Micek's effort has a small team and a clear mission. In the heat of organizing and protesting, her vision is a moment of respite, of stillness. Even so, Micek bumped up against an age-old issue for activists: How do you keep a movement going, and care for yourself at the same time? Read more>>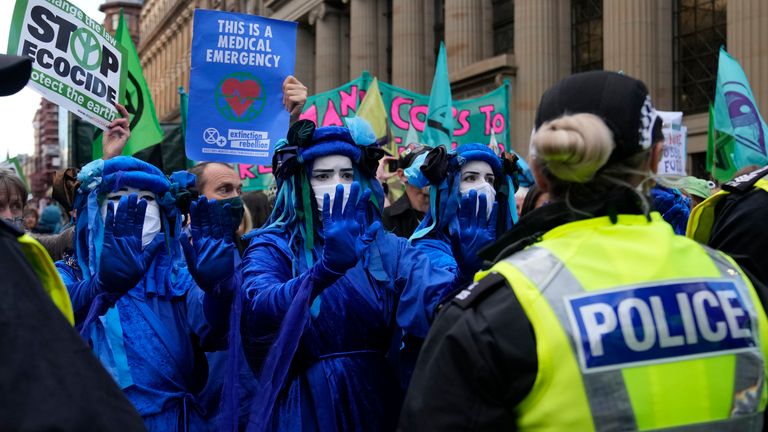 At COP26, Police Stand-Off With 'End Greenwashing' Protesters In Glasgow: What started out as a colorful rally against so-called "greenwashing" by industry and governments, and against the Cambo oil field off Shetland, turned into a city centre stand-off between demonstrators and police. Read more>>
'War In the Woods' – The Fight For Indigenous Lands In Ancient Fairy Creek Rainforest: Indigenous land protectors and non-Indigenous activists are being arrested and brutalized by Canadian police as they wage a heated battle to save Vancouver Island's last temperate rainforest from logging. Audio and transcript. Read more>>
U.S. Grassroots Leaders Greet Biden at COP26 With Push to End Fossil Fuel Era: Grassroots leaders from the Build Back Fossil Free campaign rallied ahead of U.S. President Joe Biden's remarks at the United Nations climate summit today in Glasgow, Scotland. Representatives of Indigenous, Black and frontline communities — along with dozens of other climate justice groups — demanded Biden take executive action to stop fossil fuel project approvals and declare a climate emergency. Read more>>
COP26 – Finance, Protest And Indigenous Voices – In Pictures: Mass protests, apron messages, weeping officials, and more. This photo-essay captures the scene at COP26. Read more>>
No Name Kitchen Shows Solidarity With Asylum Seekers In Western Balkans: Thousands of asylum seekers are being brutalized as they flee to Europe from places like Afghanistan, Syria, and Northern Africa. Bruno Morán talks about the refugee situation in the Western Balkans and how No Name Kitchen is doing a lot more than just feeding asylum seekers. Read more>>
Afghan Students Make Daring Escape To Kyrgyzstan: Over 180 Afghan students who became trapped when the Taliban took power have finally resumed their studies in Bishkek. The students vividly recount their troubles at the border with Pakistan. Read more>>
In Kazakhstan, Boys In Skirts Blame School Suicide On Conservative Staff: Boys at network of prestigious schools in Kazakhstan have been wearing skirts in solidarity with a classmate who killed himself after a costume party, allegedly following a stern reprimand from an administrator. The protests have spread to several of the prestigious schools around the country. Boys came to class wearing skirts and held protests under the slogan "Clothes Have No Gender." Read more>>
Egypt's Sexual Revolutionaries Tackle The Tyranny Within: Meet the women and queer people sparking a revolution against the patriarchy through Arabic-language online platforms and sex toys. Read more>>
'Her Heart Was Beating Too!' Protests Erupt in Poland After Woman Dies as Direct Result of Abortion Ban: Reproductive rights advocates across Poland on Monday carried signs reading, "Not one more woman" and "Enough" at candlelit vigils for a 30-year-old woman whose death has been identified as the first directly resulting from the country's extreme restrictions on abortion care. Read more>>
Clutching Graveyard Crosses, Hundreds Protest Violence Against Women In Mexico: Holding aloft crosses bearing the names of murdered women, hundreds of people marched in Mexico's capital on Wednesday to protest violence against women amidst a steady nationwide increase in femicides. Read more>>
Mexican Women Win Abortion Rights, State By State: Slowly but steadily, Mexican women are gaining access to legal abortion – despite right-wing politicians and conservative doctors who oppose it. Read more>>
Palestine Action Group Raises Awareness of Israeli War Crimes: Campaigners took to the streets of Oldham as they protested at the Elbit Ferranti weapons factory located in the northern English town. While the post-industrial town of 96,000 people might not seem like a likely flashpoint for the Israel-Palestine conflict, many of the weapons used against the civilian Palestinian population are actually manufactured there by the Israeli arms corporation. Read more>>
COP26 – Disarm for our Planet & Peace: Thursday was End Militarism Day to save the planet at #COP26. Peace activists took action to demand that agreements stop excluding the Pentagon from fossil fuel and pollution reduction plans. Read more>>
CIA Torture Program Condemned by Jury of Military Officers: Prosecutors, for the first time in the modern era, acknowledged in a public courtroom the defendant's torture. They told the military jury that Kahn is lucky to be alive – after what the CIA did to him, surely an understatement. Read more>>
Okinawans Demand Clean Drinking Water From US Military: From toxic PFAs to sewage, Okinawans are outraged over the poisoning of their water by the United States military. Without access to clean water Okinawans are calling this genocide. Fear has spread across Okinawa, especially among those in the central part of the island where the water has been contaminated. Read more>>
US Peace Prize Awarded to World BEYOND War: The 2021 US Peace Prize has been awarded to World BEYOND War "for exceptional global advocacy and creative peace education to end war and dismantle the war machine." Read more>>
"Risen From The Ashes" Mural Painted Using Ash Marks Brazil's Wildfire Tragedy: After a massive wildfire in the rainforest, 'artivist' Thiago Mundano used ash from Amazon fires to paint a towering monument to Brazil's firefighters in São Paulo. Read more>>
"COP26 Hot Air Band" Protest World Leaders' Climate Inaction: Dressed up as world leaders' and chanting "shame on you," activists rallied amid a heavy police presence outside a swanky reception for world leaders and others attending the United Nations Climate Change Conference in Glasgow, Scotland to protest their inadequate response to the planetary emergency. Read more>>
Nessie The Loch Ness Monsters 'Arrested' At Climate Summit Protest: The Loch Ness Monster has been taken away by police close to the COP26 climate summit in Glasgow. The 8m-long inflatable Nessie was part of a protest being held by the Jubilee Debt Campaign, who were trying to launch the famous monster. Read more>>
Cats, Crows, And Planet Earth – Drawings By Belarusian Political Prisoners: Mediazona, a media outlet reporting on law and justice, recently published a series of illustrations based on images by Belarusians who have found themselves behind bars over the past year – student activists, protesters, ideological opponents of the Lukashenka regime, and artists. Read more>>
Protesters Dressed As Pikachu Have Gathered Opposite the COP26 Conference: As climate protests continue in Glasgow, the giant Pokemon were demanding an end to Japan's support for coal power. Read more>>
This Feminist Group Put Hexes on Wall Street and Richard Nixon: The feminist group W.I.T.C.H. put hexes on Wall Street and Richard Nixon. The Women's International Terrorist Conspiracy from Hell (WITCH) was founded in 1968 as an offshoot of the radical feminist group New York Radical Women (NYRW), WITCH concentrated on coordinated acts of what radical feminist Susan Brownmiller called "hit-and-run guerrilla theater," a form of public demonstration known as a "zap" that combined poetry, witchcraft, and protest. Read more>>
A Blueprint for a Left That Wins: The Berlin referendum to expropriate big landlords shows how to organize majorities. Last month's successful referendum to "expropriate Deutsche Wohnen & Co." marks a milestone for the tenants' movement—in Berlin and beyond. For the first time in German post-war history, a majority voted in favor of socializing large real estate companies to combat displacement and housing shortages. Read more>>
What Climate Change Activists Can Learn From First Nations Campaigns: As the Glasgow climate conference begins, and the time we have to avert a climate crisis narrows, it is time to revisit successful First Nations campaigns against the fossil fuel industry. Like the current fight to avert a climate catastrophe, these battles are good, old-fashioned, come-from-behind, David-versus-Goliath examples we can all learn from. The Jabiluka campaign in Australia is a good example. Read more>>
Is Sabotage Needed To Save The Earth? "How to Blow Up a Pipeline" makes a passionate case for sabotage at the expense of a much better option: expanding the repertoire of nonviolent action. Read more>>
How Movements Are Staying Multilingual Amid The Pandemic's Shifting Conditions: The pandemic is only the latest invitation to re-think how we communicate. Language justice groups have been working for decades to help people fully participate in movement-building. Read more>>
COP26 – Can a Singing, Dancing Rebellion Save the World? The appropriate public response to governments that are ready to squander the lives of millions of people, whether by war or by ecological mass suicide, is rebellion and revolution. Read more>>
Month of Action Against AFRICOM: The Black Alliance for Peace's International Month of Action Against AFRICOM aims to raise the public's awareness about the U.S. military's existence in Africa, and how the presence of U.S. forces exacerbates violence and instability throughout the continent. Learn more>>
#UnmaskingFidelity: Demand that Fidelity Mutual's Donor Advised Fund disclose how it's funding organized bigotry, white supremacy, and hate groups. Racial justice organizers are asking Fidelity to meet with impacted groups and shift their funding program. Learn more>>
Creative Wildfire Showcase: Over the summer and fall, 19 amazing artists representing 14 projects participated in political education sessions to explore the Resist Manifesto we published with Movement Generation and Climate Justice Alliance earlier this year. Now on Nov 9th, they'll be presenting their final works and engaging in dialogue about what it means for artists and culture bearers to be agents of systems change. (Nov 9) Learn more>>
Collapse Total (Oil Company) – New Tactics and Strategies for the Climate Justice Movement: The Collapse Total campaign is focusing on one of the many and influential tentacles of fossil fuel capitalism. From the 15th to the 22th of November, in different countries, they are mobilizing, protests and blockades against one of the biggest oil & gas companies in the world: Total. (Nov 15-22) Learn more>>
Tales Of Peaceful Protest: What do peaceful protests look like? Are they effective? How can I get involved? Join Canadian Friends Service Committee (CFSC) for a virtual discussion with stories and expert advice you can use in effective nonviolent direct action. Hosted by Matthew Legge, CFSC's Peace Program Coordinator with presentations by: author/activist/trainer Rivera Sun, activist organizer Ruth Walmsley, and Rachel Small of World Beyond War and the No Fighter Jets. (Nov 18) Learn more>>
The Solidarity Fund Helps Labor Organizers Take On Big Tech: #Striketober may officially be over, but there's still much work to be done. This new mutual aid fund for worker organizers is making it possible. Learn more>>
Film Premier Of North/South Korean Feminist Peace Movement Documentary, Crossings: A new documentary film about the North and South Korean transnational feminist peace movement by Emmy-award-winning filmmaker Deann Borshay Liem is being released. As the film reveals, South and North Korean women have been quietly meeting for years to discuss achieving peace and reconciliation, if not reunification. (Premieres Nov 13) Learn more>>
Joy In the Dark – Winter Solstice Nonviolence Retreat 2021: Join Rivera Sun and Veronica Pelicaric for Pace e Bene Nonviolence Service's annual winter nonviolence retreat. You will learn skills for practicing nonviolence toward yourself and others. You will gain approaches for staying grounded and centered in these times of crisis. You will tap into the power of joy as a revolutionary force and explore how to be a midwife to changes we need, personally and politically, in these transformative times. (Dec 18) Learn more>>
We are reader-supported. That means people like you keep us rockin' and rollin'.
Thank you! Donate here>>