Editor's Note From Rivera Sun
Welcome to #Striketober, a month of worker strikes that are sweeping across industries. According to the Intercept, 10,000 John Deere tractor company workers are on strike, joining "2,000 hospital workers striking in Buffalo, New York; 1,400 production workers for Kellogg's in four states; 450 steelworkers in Huntington, West Virginia; and a one-day walk-off of 2,000 telecommunications workers in California, all since October 1. One thousand Alabama coal miners, 700 nurses in Massachusetts, 400 whiskeymakers in Kentucky, and 200 bus drivers in Reno, Nevada, were already on strike, in addition to recently settled strikes by 2,000 carpenters in Washington, 600 Frito-Lay workers in Kansas, and 1,000 Nabisco factory workers at five plants across the country."
But those 22,000 workers are just a fraction of the size of the labor movement flexing its muscles in South Korea. Gearing up for a massive strike, 500,000 workers showed they're ready for action with a 1-day walkout that rattled industries across the country. As people go on strike, we can support them in a number of ways, including public statements on social media in solidarity, grabbing a sign and heading down to the picket line, donating to strike support funds to help the workers' families, and more. Mutual aid in labor solidarity has a powerful history … it's up to us to build on that legacy today.
In other Nonviolence News, there's a lot to celebrate. Quebec put an end to fossil fuel extraction in the province. A rancher gave 10,000 acres of land back to Native tribes. Philadelphia banned traffic stops for minor violations, helping to prevent police brutality. NOLA city workers won $15/hr minimum wages. Minor league baseball players are finally getting affordable housing. And peace activists in Okinawa won an important legal victory supporting their right to use direct action to oppose a US military base.
Make sure you read the entire Nonviolence News round-up this week. You'll find dozens of exciting stories. Puerto Ricans are marching against power outages. Italians are mobilizing against fascist violence. New York City taxi drivers are on hunger strike for debt relief. Australian students held 40 strikes for climate action. In the US, Indigenous organizers occupied the Bureau of Indian Affairs for the first time in 50 years, demanding an end to fossil fuel extraction.
My favorite story? A climate activists hid in the bathroom of the Louvre Museum and crashed the Louis Vuitton fashion show. She hopped onto the catwalk and unfurled a large banner reading "Overconsumption = Extinction" as the models strutted past under the chandeliers.
In solidarity,
Rivera Sun
Photo Credit: South Koreans demonstrate before 500,000-person walkout.
Thank you to the readers who donated $25 last week.
It goes a long way in our streamlined, plucky operation.
Want to support us? Donate here>>
Quebec Declares End to Fossil Fuel Extraction in Province: Climate campaigners are welcoming Quebec Premier François Legault's Tuesday announcement that his government has decided to put an end to any further fossil fuel extraction in the province. "In Canada and around the world, the pressure to end the expansion of oil and gas production will only continue to grow." The announcement was "thanks to the millions of people and hundreds of groups who mobilized for decades against oil and gas drilling." Read more>>
Aichi Residents Win a Legal Victory for Takae, Okinawa and for Peace: The Nagoya High Court ordered a former prefectural police chief to pay about 1.1 million yen ($9,846) to the prefecture for 'illegally' deploying riot police to Okinawa Prefecture to quell anti-U.S. military protests. From 2007 until recently, some residents of Takae, Higashi Village, in the Yanbaru Forest, a remote area in the northern part of the Island of Okinawa, along with many peace advocates and environmentalists of the Ryukyu Islands and throughout the Archipelago of Japan, frequently and tenaciously engaged in street protests to disrupt the construction of helipads for the US Marine Corps. Read more>>
'Historic Victory': US Judge Rules Guantánamo Detainee's Imprisonment Illegal: Two weeks after a review board cleared Guantánamo Bay prisoner Asadullah Haroon Gul for release, a federal judge ruled this week that the Afghan's imprisonment by the U.S. military in Cuba for over 14 years without charge or trial is illegal. "This is a landmark ruling. For 20 years, successive U.S. administrations have asserted their right to imprison people indefinitely, without charge or trial." Read more>>
#LandBack – Rancher Returns 10,000 Acres of Land To Colville Tribes: Ernie Figlenski returned his 9,243-acre ranch to the Colville Tribes, via the Seattle-based Conservation Northwest, so long as the tribes agreed to a set of ownership stipulations (known as covenants) aimed at conserving the biodiversity of that land. Read more>>
Philadelphia Becomes First Large City To Ban Stops For Minor Traffic Violations: The city council passed a bill that bans traffic stops for minor violations, such as having a broken taillight or not having certain stickers displayed. Drivers who are guilty of those minor violations will instead receive a warning or a citation in the mail. "So that an expired license plate or fuzzy dice in the mirror isn't a death sentence that it can be in some cases." Read more>>
Union Victory For NOLA City Workers As Council Ratifies $15 Minimum Wage: After the firefighters' union and allies marched into the New Orleans city council chambers on July 1, right in the middle of a session, the officials have unanimously voted to approve a $15 minimum wage. Now they've ratified the wage increase and it's official. Read more>>
Ford Foundation Announces Plan To Divest From Fossil Fuels: After reducing fossil fuel investment in the last decade, the Ford Foundation has announced a plan to end further investment in fossil fuels and seek out additional climate-friendly investments. Read more>>
Minor League Baseball Players Win Free Housing: Unprecedented organizing led to baseball players raising a storm of public outcry against the lack of affordable housing for the players. Minor league players have grown increasingly outspoken about their working conditions, criticizing teams for salaries that leave some below the poverty line, and the financial issues that stem from having to provide their own housing for home games. Recently, team owners agreed to invest in housing. Read more>>
Beverage Workers Defeat Notorious Union Buster: A spontaneous protest quickly blossomed into a full-fledged union drive. In June, 15 months after the walkout, Refresco workers voted 114 – 101 to join the United Electrical, Radio and Machine Workers of America (UE). Their 250-person bargaining unit is one of the biggest victories of blue-collar organizing during the pandemic. They were up against aggressive, culturally-targeted anti-union propaganda. Read more>>
Fed Up Over Power Outages, Puerto Ricans Took to the Streets: Thousands of Puerto Ricans marched down a main highway in the capital of San Juan on Friday to protest the privatization of the island's public electricity grid, which has left them with unprecedented outages, longer than normal restoration times, and billing increases. Read more>>
Tens Of Thousands Take To The Streets of Rome In Anti-Fascist Rally: The protestors called on the government to dissolve the neo-fascist groups involved in last weekend's violent protests against the Covid-19 health pass. Read more>>
Half a Million South Korean Workers Walk Off Jobs in General Strike: At least half a million workers in South Korea — from across the construction, transportation, service, and other sectors — are walking off their jobs in a one-day general strike. And it is a warm-up for January actions. Read more>>
NYC Taxi Drivers Launch Hunger Strike to Demand Relief From Medallion Debt: A group of New York City taxi drivers launched a hunger strike Wednesday demanding the city provide debt relief from their taxi medallion loans. Since 9/11, thousands of taxi drivers have accrued massive debt largely due to the city artificially inflating the cost of taxi medallions, the permits required to drive a taxi. Read more>>
The John Deere Strike Shows the Tight Labor Market Is Ready to Pop: The 10,000 farm equipment workers who walked off the job are striking against John Deere for the first time in 35 years. They join 2,000 hospital workers striking in Buffalo, New York; 1,400 production workers for Kellogg's in four states; 450 steelworkers in Huntington, West Virginia; and a one-day walk-off of 2,000 telecommunications workers in California, all since October 1. One thousand Alabama coal miners, 700 nurses in Massachusetts, 400 whiskeymakers in Kentucky, and 200 bus drivers in Reno, Nevada, were already on strike, in addition to recently settled strikes by 2,000 carpenters in Washington, 600 Frito-Lay workers in Kansas, and 1,000 Nabisco factory workers at five plants across the country. The end of the national mobilization around Covid-19 is releasing built-up pressures in workplaces nationwide. Read more>>
Division Over IATSE Proposal Spurs Wildcat Walkouts: The tentative agreement announced late Sunday night contains many improvements over current measures. However, it is still controversial due to provisions that will still require workers to work 14-16 hours shifts in the film and television industry. In addition, the tentative agreement contains no concessions on health care nor retirement, while IATSE says the deal provides a significant wage increase for some of its lowest-paid members. Read more>>
In Europe, 'Days of Shame' Protests Pressures Leaders To Drop Patents Claims On COVID Vaccines: From October 9-13, activists organized actions to pressure the EU and various European countries to support the TRIPS waiver proposal, pointing out that people continue to die because governments do not want to stand up to Big Pharma. Read more>>
Incarcerated Workers Organizing Committee Prepares For Demonstrations: As 2021 comes to a close, the Incarcerated Workers Organizing Committee is collaborating closely with Jailhouse Lawyers Speak as they organize collective actions inside prisons and jails from August 21 to September 9, 2022. These actions will include labor strikes, work equipment sabotage, sit-ins, boycotts and hunger strikes. The campaign is called "Shut 'Em Down 2022." Read more>>
Howard University Students Begin 2nd Week of Protests, Sit-Ins Against Poor Campus Living Conditions: Howard students are standing firm in their demands to school officials to fix the issues of the terrible housing situation on campus. Some students say their rooms contain mold, rats and roaches, while others have experienced flooding and more. The #BlackburnTakeover sit-in started last week, with over 150 students protesting the school's living conditions. Some students have even resorted to sleeping in tents. Read more>>
Fighting For Food Justice In A Texas Food Desert: The Dallas Food Justice Coalition provides a simple but powerful model for addressing unequal access to healthy food, a problem that disproportionately impacts Black and Latinx neighborhoods. By bringing together community advocates from different areas of food justice, they've begun cultivating a grassroots solution to our broken food system that focuses on empowering and educating the community rather than simply providing aid. Read more>>
Students in Georgia Protested Against Racism. Only the Black Pupils Were Punished: Students planned a protest in response to white students flying a Confederate flag and using racial slur. The Coosa High School students in Rome, Georgia, were warned by administrators not to organize a protest against racist actions recently taken by their peers — and when they went forward with their plan anyway, only Black students were punished. Read more>>
Food Apartheid Threatens BIPOC Children's Health. Food Sovereignty Is the Fix: Food apartheid is just one way that racism enters our babies' bodies. Food insecurity rates for African American, Latinx and Indigenous families are disproportionally high. Food justice liberates Black, Indigenous and people of color (BIPOC) from the systems, policies and norms that deny us affordable access to healthy food. Read more>>
Netflix Launches New Palestinian Film Collection: Netflix released a new film collection, titled 'Palestinian Stories', consists in 32 films that are "either helmed by Palestinian filmmakers or about Palestinian stories. Read more>>
Thousands Demand Climate Action At Over 40 #ClimateStrike Events In Australia: More than 10,000 students participated in more than 40 different locations according to organizers. The actions demanded "deep, sustained and immediate emission cuts (net zero by 2030) ahead of the COP26". Read more>>
Frontline Indigenous Leaders Occupy the Bureau of Indian Affairs in D.C. for the First Time Since the 1970's: For the last week, there has been a historic surge of Indigenous resistance in the D.C. area starting on Monday, Indigenous Peoples' Day, where "Expect Us" was written on the Andrew Jackson statue outside of the White House ahead of 130 Indigenous leaders and allies being arrested outside of the White House on Indigenous Peoples' Day. Despite a proclamation declaring October 11th Indigenous Peoples' Day, Indigenous leaders were met with police violence and lrad was used on Indigenous matriarchs and youth being arrested on the White House fence. Read more>>
'Welcome To The Chamber Of Climate Chaos': Amid a wave of climate protests in Washington, D.C. this week, some campaigners scaled the U.S. Chamber of Commerce office to call out the nation's largest lobbying group for fueling climate chaos and urge members to cut ties with the business association. Activists flanked the building's entrance with a pair of banners that said: "Welcome to the Chamber of Climate Chaos" and "Your Business Costs the Earth." Read more>>
655 People Arrested During Climate Mobilization: Under a banner declaring "We did not vote for fossil fuels," Indigenous and youth climate activists led a march to the Capitol today for a mass civil disobedience action, demanding Congress and the Biden Administration take urgent action to stop all new fossil fuel projects and launch a just renewable energy revolution. 90 people were arrested on the fifth and final day of the "People vs. Fossil Fuels" mobilization, bringing the total arrested during the week of action to 655. Read more>>
Whistleblower Leaks Memo That Shows Fossil-Fuel Nations Are Sabotaging Climate Action: "They are using every opportunity to protect their corporate interests and continue with business as usual while the planet burns." Just ahead of a key United Nations climate summit, a major leak of documents reveals that some fossil fuel-producing nations are encouraging authors of an upcoming U.N. report to omit an assessment that the world must transition away from oil, gas, and coal to tackle the planetary emergency. Read more>>
Michigan Water Protector Shuts Down Line 5: This morning, in accordance with Governor Whitmer's order to shut down Enbridge's Line 5, a Michigan water protector has taken direct action to shut down the tar sands oil pipeline. Whitmer herself has stated, "Enbridge has imposed on the people of Michigan an unacceptable risk of a catastrophic oil spill in the Great Lakes that could devastate our economy and way of life." Read more>>
Backbone Campaign Is Everywhere: Showing up at actions to stop the climate crisis and respect Indigenous sovereignty was just one sliver of the incredible month-long run of actions organized by Backbone Campaign. They also engaged in overpass banners for rewilding the Snake River, dropped a 40-group letter in support of Solutionary Rail, and trained people in creative tactics, including light projections. Read more>>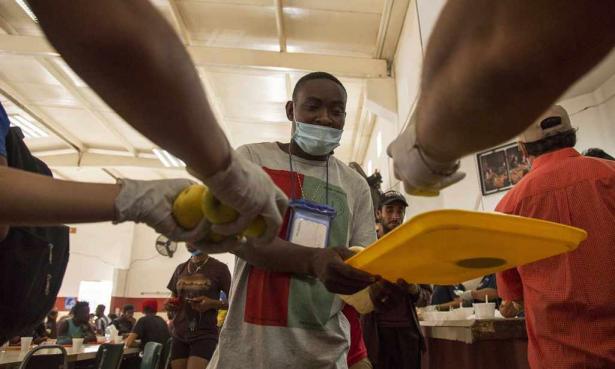 Advocates for Haitian Asylum Seekers Call for Humane Treatment: In the absence of humane federal policies for Haitians, some individuals have organized mutual aid efforts to assist the asylum seekers at the Texas border, bringing truck-loads of supplies. World Central Kitchen, a nonprofit organizing food aid for disaster victims, has supplied hot meals to thousands of people. But such efforts are piecemeal and not nearly enough to address the need. Read more>>
Deported to Haiti, Activist Jean Montrevil Returns to U.S. on Special Parole: ICE targeted Montrevil for his immigration activism, using a decades-old conviction as pretext to deport him. Read more>>
Editor's Note: We cover women's access to reproductive care and bodily sovereignty as a form of nonviolence toward and for women.
Dominican Feminist Leaders Reject Criminalization of Abortion: On Wednesday, feminist organizations in the Dominican Republic took to the streets of Santo Domingo to protest against the attitude adopted by the Senate, which did not remove the criminalization of abortion from the Penal Code bill. Read more>>
Free Abortion Across Borders: Following Mexico's Supreme Court ruling to decriminalize abortion, feminists in the country continue to help people access care. Their work can serve as a model for U.S. activists navigating the limits of state health services. Read more>>
Netflix Protest Rally Draws Hundreds As Trans Staffers Lead Walkout Over Chappelle Special: The Wednesday rally coincides with a walkout organized by trans staffers at the streamer offices to protest Ted Sarandos' handling of the comedian's special and other potentially harmful content. Read more>>  
Manslaughter Conviction For 21-year-old Oklahoma Woman Who Suffered Miscarriage Sparks Outcry: Pregnancy advocates and others on social media are expressing outrage after a 21-year-old Oklahoma woman was convicted of first-degree manslaughter earlier this month for having a miscarriage. Read more>>
International Peace Activists Slam Nuke Submarine Pact: "The primary purpose of AUKUS is to reassert US military control over the Indo-Pacific region. It is both a nuclear and a military pact. The peace movement is finding new energy in response to this aggressive pact. We will be building our anti-war coalition stronger in the future." Read more>>
A New Effort to Protect the Legal Right to Peace: The Platform for Peace and Humanity has launched its global advocacy program titled "Towards the enforcement of the right to peace." The advocacy program aims to strengthen the international legal framework on the human right to peace and crimes against peace by bringing the perspective of young leaders into the discussions. Read more>>
US Military Draft Registration – End It, Don't Expand It: Congress is trying to expand the US military draft registration to young women. A coalition of faith-based, human rights, and peace organizations opposes this expansion, which would bolster an immoral system that shouldn't exist in the first place. Read more>>
Divest From War, Invest In Peace: A four-part training in divesting from war and militarism, and investing in the peace economy, is now available. Watch here>>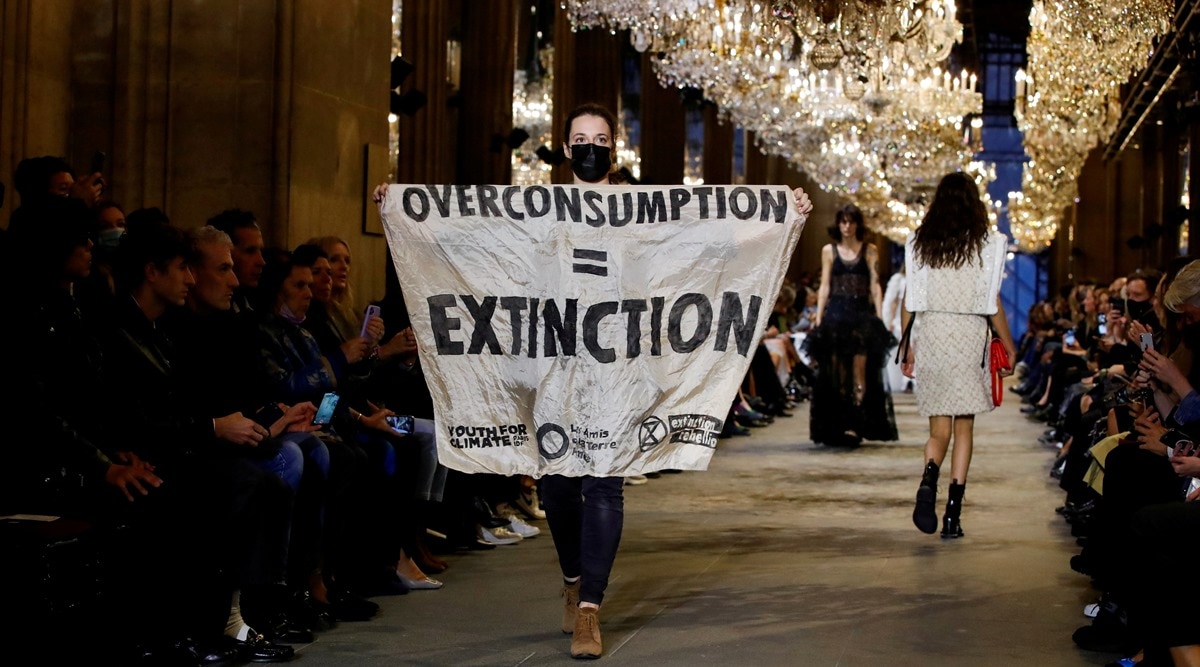 Green Activist Hid In Louvre Museum Bathrooms Before Gatecrashing Louis Vuitton's Fashion Show: Marie Cohuet hid in a lavatory inside the Louvre art museum for over two hours, plotting her gatecrashing of Louis Vuitton's Paris Fashion Week show in protest at the environmental damage that activists say is caused by the fashion industry. Read more>>
The Real-Life Auto Strike Behind the Runaway Netflix Hit Squid Game: Squid Game's hero, the fired union activist, represents the triumph of humanity and solidarity even against the brutal odds of capitalism. This animating principle of the labor movement is artistically portrayed in Squid Game's vivid imaginarium. The lead character is a laid-off union auto worker whose story is based on a real-life struggle: the 2009 SsangYong Motors strike, which ended in violent defeat when police beat down workers. Read more>>
Guerrilla Gardeners Challenge Dodgy Developer: Carrying banners saying 'Compost the Rich', an activist gardening collective called Growing Forward held an action dumping compost outside the offices of luxury developer Bluebird Property in opposition to a sham public submissions process for the contract bid. Read more>>
Welcome To La Lloreria, Or The Crying Room: "Enter and cry," one sign tells visitors who come to La Lloreria, the Crying Room. "I too have anxiety," glows another notice in pink. Anyone can drop in at the project, housed in a building in central Madrid, which aims to remove the stigma in society attached to mental health. Read more>>
Iqualuit Teen Spends Weekends Fixing Up Bikes for Local Kids: Gathering discarded bikes, strollers and toboggans from Iqaluit's landfill has become part of 13-year-old Joseph Takpannie's Saturday routine. Every weekend he gathers about seven bikes, give or take, to fix up throughout the week then give away to local kids. Read more>>
The Quiet Power of Everyday Resistance: The subject of "everyday resistance"—acts undertaken in a site of conflict or struggle that purposely make no public claim—remains puzzlingly understudied. How exactly does buying bread from someone on the opposite side of a social divide, passing medicine to a family interned in a camp or ghetto or deliberately misfiring during an attack on an enemy position—acts of individual solidarity or noncompliance that disrupt the divisive logic of conflict—affect the overall course of events? Read more>>
Strike Support – What Is It and How You Can Help Striking Workers: Because of how much is at stake for many workers and how few legal protections most of them have, strikes can be really scary to participate in. When the public actively and enthusiastically validates workers during a strike, it can provide a huge morale boost. Read more>>
Why Activism Needs To Be Part Of Any Meaningful Climate Education: Simply teaching kids about the science of the climate crisis isn't enough. To prevent feelings of disempowerment, they need to see how they can make a meaningful impact. Read more>>
Global Day of Climate Action By COP26 Coalition: To build pressure on rich countries, the 100-organization strong COP26 Coalition is hosting the People's Summit for Climate Justice, from November 7‒10, and has called a global day of protest action for climate justice on November 6. Learn more>>
Save The US Postal Service From Sabotage: The current US Postmaster General, Louis DeJoy, and the head of the Board of Governors, Ron Bloom, launched a ten year plan that will slow mail service and raise prices. This is the final blow to defund and destroy the US Postal Service so it will be ripe for privatization. Learn more>>
Month of Action Against AFRICOM: The Black Alliance for Peace's International Month of Action Against AFRICOM aims to raise the public's awareness about the U.S. military's existence in Africa, and how the presence of U.S. forces exacerbates violence and instability throughout the continent. Learn more>>
No Tech For Apartheid: 800 Amazon and Google workers, along with citizens, have demanded that the companies stop supplying technology to the Israeli military through Project Nimbus. Add your name>>
Acting In Good Faith – Religion, Peacebuilding, and Nonviolent Action: This webinar explores how, while some people of faith support oppression, division, and violent conflict, many others are searching for ways to make a positive contribution to broader movements for rights, freedom, and justice through the practice of peacebuilding and nonviolent resistance. (Oct 27) Learn more>>
Transnational Institute of Social Ecology International Conference: The Transnational Institute of Social Ecology is hosting an international conference dedicated to social ecologist Murray Bookchin's legacy, exploring social ecology and its future development. The online conference takes place on October 30 and 31. Read more>>
Film Premier Of North/South Korean Feminist Peace Movement Documentary, Crossings: A new documentary film about the North and South Korean transnational feminist peace movement by Emmy-award-winning filmmaker Deann Borshay Liem is being released. As the film reveals, South and North Korean women have been quietly meeting for years to discuss achieving peace and reconciliation, if not reunification. (Premieres Nov 13) Learn more>>
#DivestFromDeath Week of Action: This October 25th to 31st, Dissenters are calling on communities all over the U.S. to organize #DivestFromDeath actions and events against war and militarism in your community to demand our institutions to divest from endless wars and reinvest in what our communities actually need to be safe. (Oct 25 – Oct 31) Learn more>>
The Spirit of Nonviolence: This 6-week series is about nonviolence as organized love. You will tap into the heart and soul of nonviolence, exploring its stories, principles, and spiritual depth. We will look at the stories of Dr. King, MK Gandhi, Bacha Khan, Dorothy Day, Leymah Gbowee, and many more. (Starts Nov 6) Learn more>>
The Past And Future of Armistice Day: Armistice Day was originally a celebration of peace. Over the years, it's become more and more militarized. Here's how we can reclaim it. (Nov 4) Learn more>>
Dandelion Insurrection Book Group on Activism: Join Author Rivera Sun for a special, 4-session, small group book club on The Dandelion Insurrection, a novel that some call "THE handbook for the coming revolution!" It's one of the only novels centering a nonviolent movement for change. Proceeds benefit the artful activism of Backbone Campaign. (Nov 1, 8, 15, 22) Learn more>>
Joy In the Dark – Winter Solstice Nonviolence Retreat 2021: Join Rivera Sun and Veronica Pelicaric for Pace e Bene Nonviolence Service's annual winter nonviolence retreat. You will learn skills for practicing nonviolence toward yourself and others. You will gain approaches for staying grounded and centered in these times of crisis. You will tap into the power of joy as a revolutionary force and explore how to be a midwife to changes we need, personally and politically, in these transformative times. (Dec 18) Learn more>>
Excited about all these incredible stories?
Support us! Thank you. Donate here>>