Editor's Note From Rivera Sun
The repercussions of the pandemic lockdowns are still echoing in shockwaves through the global labor movement. Workers flexed their power during the early stages of the pandemic, walking out en masse for stronger health and safety protocols, going on strike for hazard pay, calling-in-sick to stop hasty reopenings, and much more. As the pandemic stretches toward its 18-month mark, workers haven't stopped organizing. It seems they're just getting started.
In South Africa, engineers are on an indefinite strike, frustrated that, after forgoing an annual pay hike during the pandemic, their bosses won't increases wages this year. Meanwhile in Hollywood, 150,000 film crew members are on the verge of an industry-wide strike. France's labor unions are mobilizing in a national strike as labor rights are being attacked. Factory workers at the cereal company Kelloggs are going on strike. And 2,000 nurses in Buffalo, NY, are on strike amidst grueling pandemic conditions, demanding better pay, staffing, and workplace conditions.
The pandemic's impact isn't limited to the labor sector, either. In Brazil, large demonstrations are demanding the impeachment of President Bolsonaro over his poor handling of the crisis. More than sixty protests for a rent moratorium and debt cancellation took place in the United States, driven by the economic meltdown of the pandemic. The health crisis has brought things to a head, and people are rising up with resistance.
In other Nonviolence News, Sudanese protesters that won a successful nonviolent revolution in 2019 are now demanding civilian control over the transitional government following a recent military coup attempt. The Pandora Papers release is sending shockwaves through the rich and powerful, as it reveals the offshore hoarding and illegal practices of the super-wealthy. In Canada, Wet'suwet'en land defenders used Coastal GasLink's own equipment to set up a trench and blockade to protect a river. In New Hampshire, the No Coal, No Gas Coalition planted a garden in a road and organized a kayaktivist flotilla to demand that a coal plant be shut down.
It's yet another remarkable week of Nonviolence News. Enjoy.
In solidarity,
Rivera Sun
Photo Credit: South African engineers demonstrate during their indefinite strike.
A $5 donation keeps us in tea & coffee. That means more great stories for you.
Thank you! Donate here>>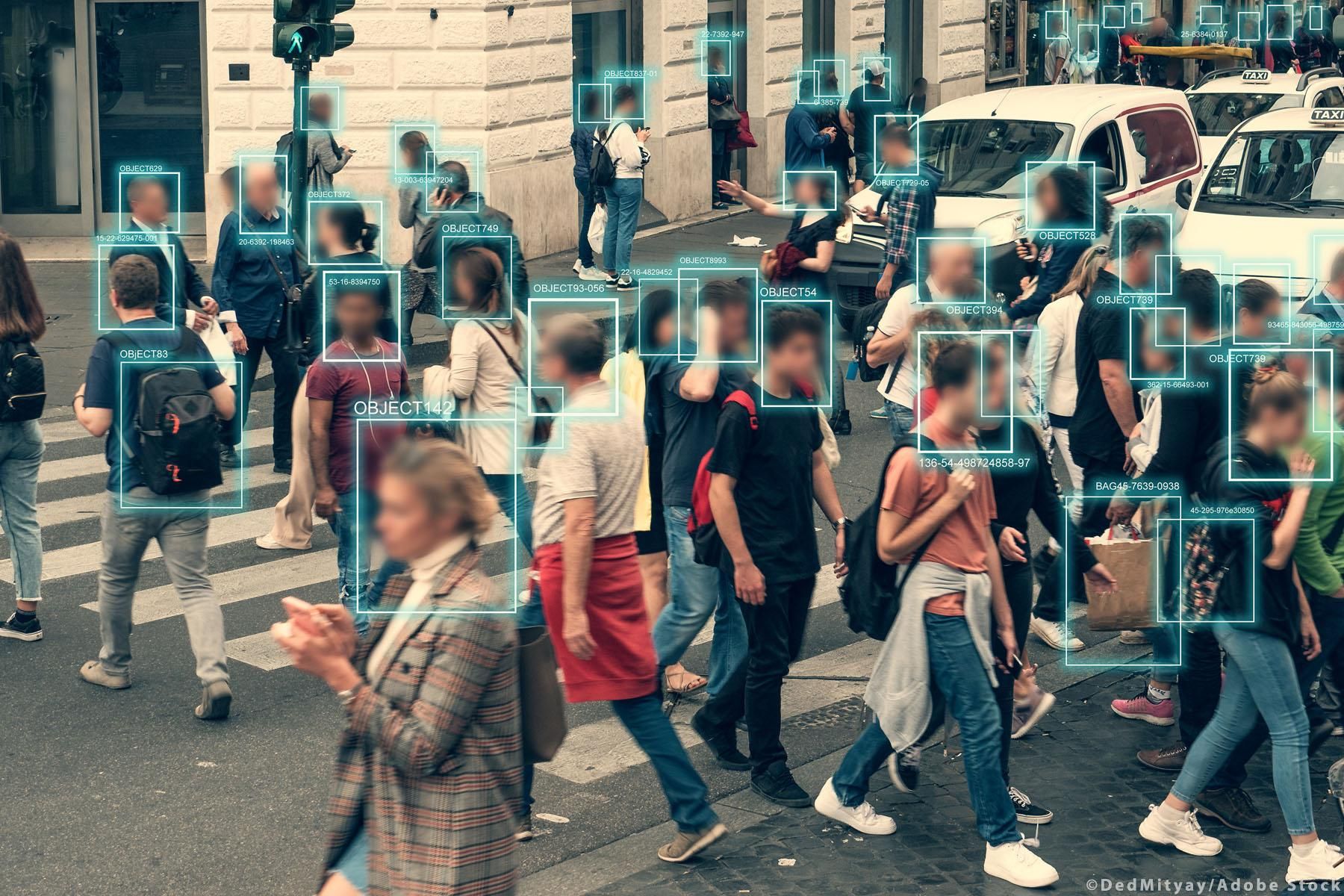 EU Approves Call for Sweeping Ban on Facial Recognition Surveillance: The European Parliament has overwhelmingly approved a call to ban facial recognition surveillance—a development heralded by the technology's foes as a "big win for human rights." Read more>>
Canadian Peace Activists Secure Release of Chinese Businesswoman: Meng Wangzou was detained by the Canadian government for three years as a bargaining chip in Trump's trade wars. Activist pressure secured her release. Read more>>
50 Years Later, Finally Justice for Brazil's Indigenous Krenak People: Half a century after Indigenous elder Jacó Krenak and dozens of fellow natives were bound and forcibly taken to concentration camps run by Brazil's military dictatorship, a federal court has ordered the government to apologize and deliver reparations to the Krenak people. Read more>>
Gas Appliances Are No Longer Eligible For Energy Star's Top Rating: In 2021, a bunch of environmental groups stepped in and convinced the agency to stop considering gas-burning appliances for the esteemed title. It's also a significant win for climate advocates who are pushing for a national transition to all-electric buildings. Read more>>
Birmingham, UK, Will Become A Super-Sized Low-Traffic Neighborhood: Council plans to divert car traffic from city via a ring road while providing more buses and cycle lines. The "transformative" transport plan that will see the car-centric city becoming a super-sized low-traffic neighborhood. City officials hope that closing roads to through motor traffic, introducing a fleet of zero-emission cross-city buses and building additional protected cycleways will create a more liveable city. Read more>>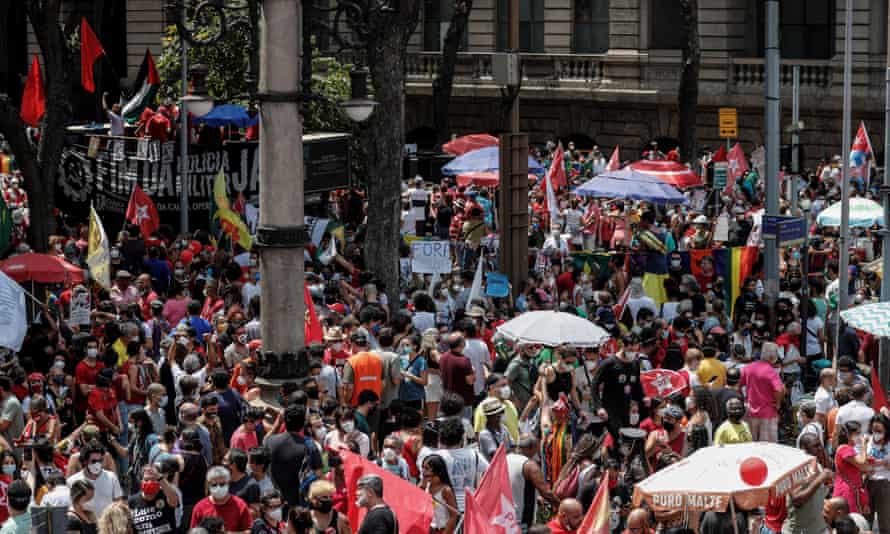 Mass Protests in Brazil Call For Jair Bolsonaro's Impeachment: Tens of thousands of protesters have returned to the streets of Brazil's biggest cities to demand Jair Bolsonaro's impeachment. Huge crowds paraded through downtown Rio on Saturday to voice their outrage at Bolsonaro's response to a Covid outbreak that has killed nearly 600,000 people and dealt a heavy blow to the South American country's economy. Read more>>
Thousands Join National Strike in France Amid Attacks On Labor Rights: Workers across France participated in a national strike on October 5, under the call of major trade unions. Mobilizations were organized at over 200 locations across the country. The unions gave the call for the general strike and protest mobilizations demanding higher wages, unemployment insurance, and pensions. Read more>>
Indefinite Strike Hits South Africa's Engineering Sector: The strike is being led by the National Union of Metalworkers of South Africa. The refusal by employers to address the demands for a wage hike is being seen as a betrayal by the workers who had foregone last year's wage hike to cushion the industry during the COVID-induced lockdown. Read more>>
Protesters in Sudan Demand Exclusive Civilian Control of Transitional Government: Following a failed coup attempt last week, political parties in Sudan have accused the military of trying to take full control of the transitional government formed in 2019. The transitional government is made up of both civilian and military members. Read more>>
IATSE Members Vote to Authorize a Strike With Over 98 Percent Support: Signaling overwhelming support for its union's battle with studios over two expiring contracts, as widely expected, tens of thousands of IATSE members have voted to authorize an industry-wide strike. This marks the first authorization of a nationwide strike in the union's history. Read more>>
Kellogg Workers On Strike: "For more than a year throughout the COVID-19 pandemic, Kellogg workers around the country have been working long, hard hours, day in and day out, to produce Kellogg ready-to-eat cereals for American families. Kellogg's response to these loyal, hardworking employees has been to demand these workers give up quality health care, retirement benefits, and holiday and vacation pay. The company continues to threaten to send additional jobs to Mexico if workers do not accept outrageous proposals that take away protections that workers have had for decades." Read more>>
9 Horrifying Facts From the Facebook Whistleblower's New 60 Minutes Interview: A 37-year-old whistleblower liberated "tens of thousands" of pages of documents from Facebook and even plans to testify to Congress at some point this week. Frances Haugen has filed at least eight complaints with the SEC alleging that Facebook has lied to shareholders about its own product. Fundamentally, Haugen alleges there's a key conflict between what's good for Facebook and what's good for society at large. Read more>>
Pandora Papers Prompt Action By Lawmakers and Regulators Around the World: The largest investigation in journalism history exposed a shadow financial system that benefits the world's most rich and powerful. Over 300 politicians, 35 presidents, 100 billionaires, churches, celebrities, and plundered countries are reported upon. Officials around the globe cite the Pandora Papers in moving forward with legislation and probes, and politicians named in the investigation continue to respond publicly. Read more>>
Activists Call For End To "Death By Incarceration": A movement of Pennsylvania activists are working to end the state's policy of sentencing incarcerated people to life without the possibility of parole (LWOP). They have coined the term 'death by incarceration' to describe this cruel punishment. Read more>>
From San Pedro to DC, Tens of Thousands March to Defend Abortion Rights: In the greatest outpouring of woman's right to choose supporters in the past five decades, from small cities to large, women and their allies took to the streets to protest a recent Texas law severely curtailing abortion rights and to send the Supreme Court a message: "My Body, My Life. Not the Church, not the state, women shall decide their fate. Defend Abortion Rights." Editor's Note: While there's an argument to be made that abortion is violent to the fetus, restricting women's rights and body sovereignty are forms of structural/systemic violence impacting women. We choose to report on actions for women's rights. Read more>>
More Than 2,000 Nurses And Health Care Workers Strike In Buffalo: Roughly 2,200 nurses, aides and health care staff walked off the job Friday morning in Buffalo, New York, to fight for better wages, staffing and working conditions at Mercy Hospital of Buffalo. Workers on the picket line describe horrific conditions at the hospital. Read more>>
This Coalition Is Resisting The Global Push For Land Privatization In Brazil: A campaign by U.S. and Brazilian activists challenging TIAA and other financial firms' complicity in land grabs and deforestation in Brazil is scoring major victories. Read more>>
Wave Of Labor Unrest Could See Tens Of Thousands On Strike In US Within Weeks: Tens of thousands of workers around the US could go on strike in the coming weeks in what would be the largest wave of labor unrest since a series of teacher strikes in 2018 and 2019, which won major victories and gave the American labor movement a significant boost. The unrest spans a huge range of industries from healthcare to Hollywood and academia, and is largely focused on higher wages, fighting cuts and better working and safety conditions, especially in light of Covid-19. Read more>>
60+ Cancel The Rents Demonstrations Demand Eviction Moratorium and Debt Relief For Renters: As part of national days of protest called by Cancel the Rents, more than 60 demonstrations took place in cities and towns across the United States September 24-26 calling on Congress to immediately pass an indefinite nationwide moratorium on evictions. Read more>>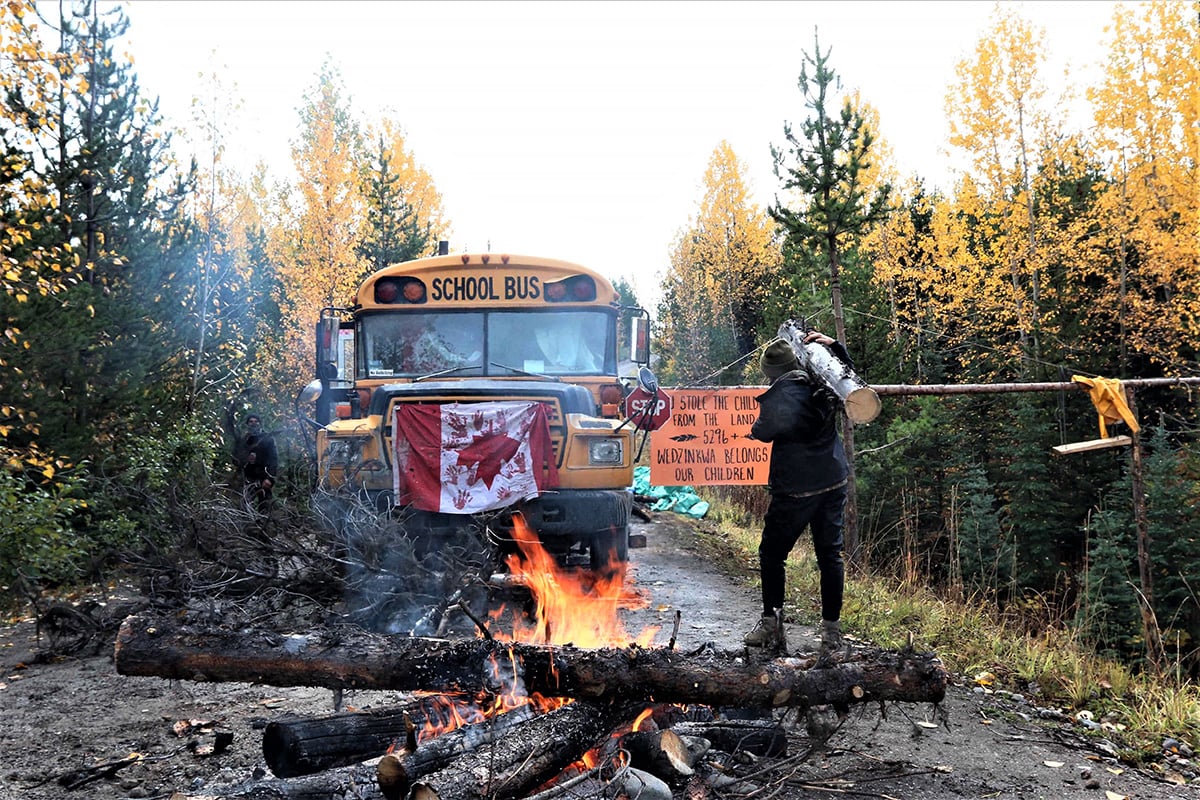 Pipeline Standoff – Wet'suwet'en Block Effort to Tunnel under Morice River: Coastal GasLink's plan to install pipe under the river bed has been halted for 11 days. On Sept. 24, protesters used Coastal GasLink's own machinery to dig up the rough resource road that connects this junction to a worksite two kilometres beyond. A camp was established at the site and a school bus used to block access. The school bus has since been removed — twice — by RCMP and Coastal GasLink before being returned to its place in the road, which has been roughly repaired by the pipeline company. Read more>>
'We Are Not Deterred' – Water Protectors Vow to Keep Fighting as Line 3 Completed: Indigenous and environmental activists on Wednesday vowed to keep up the fight against Enbridge's Line 3 pipeline expansion after the Canadian company announced the completion of the multi-billion-dollar tar sands project "Do not think we are going quietly into the night, we will continue to stand on the frontlines until every last tar sands pipeline is shut down and Indigenous communities are no longer targeted." Read more>>
Youth Climate Activists Slam Political Inaction at UN Summit Ahead of COP26: Young activists held a three-day youth climate conference ahead of the United Nations' COP26 climate summit in Glasgow. Activists at the Youth4Climate conference slammed political inaction on the climate crisis and world leaders' vague pledges to reduce carbon emissions. Read more>>
'Tear It Down': Climate Campaigners Arrested Outside New England's Last Coal Plant: Activists with 350 New Hampshire and the No Coal No Gas campaign on Sunday blockaded the entrance to New England's only remaining coal plant without a shutdown date, where they declared that they'll "do what must be done to close Bow and stop the climate crisis." Read more>>
Human Rights Attorney Sentenced to Prison After Winning Case Against Chevron: A pro-Chevron judge sentenced Steven Donziger to prison for refusing to hand Chevron confidential client communications. Read more>>
Community Orchards Bear More Than Fruit: From community building to free food to preserving heirloom varietals, community orchards bear more than fruit. No surprise that the free fruit movement thrives. Read more>>
UK Extinction Rebellion Continues Direct Actions: Extinction Rebellion activists blocked the entrances to private jet terminals, concluded a 500-mile march, and more. Read more>>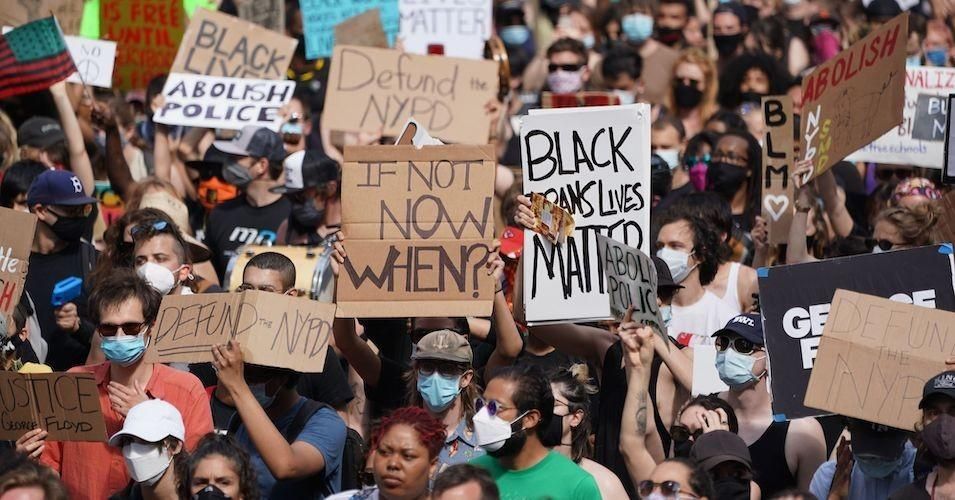 New Records Reveal Scope of DEA Spying on 2020 Racial Justice Protests: The Drug Enforcement Administration approved at least 51 requests from state, local, and federal law enforcement agencies to conduct covert surveillance during racial justice protests last summer, according to records obtained by CREW. The nationwide surveillance operation occurred in cities including Los Angeles, Tampa, Denver, and St. Louis, and involved agents infiltrating crowds undercover, as well as aerial and vehicular surveillance to monitor protesters. Read more>>
Tesla Faces Investor Test After Big Jury Award Over Racism: A contract worker has won a $137 million jury award over workplace racism against Tesla Inc (TSLA.O), raising pressure on the electric vehicle maker whose shareholders will vote on Thursday on a proposal to review how it addresses similar complaints for full-time employees. Read more>>
Massachusetts Activists Try To Change the Conversation On Israel-Palestine: Massachusetts activists are trying to shift the political stance on Israel, and get US politicians to hold Israel accountable for its treatment of Palestinians. Palestine advocates held a rally in Boston and delivered a petition to representatives from Markey and Warren's offices, demanding that the state end its complicity in Israel's apartheid. Read more>>
Protestors From 12 States Converge At Creech Air Force Base For Week Of Protest To Demand An End To Remote Drone Killing, And Ban On Killer Drones: Anti-war/anti-drone demonstrators from the East and West coasts announced they are converging here Sept. 26-Oct. 2 to hold daily protests – which will include efforts to interrupt "business as usual" – at the U.S. Drone Base at Creech Air Force Base, an hour north of Las Vegas, Nevada. Read more>>
Black Alliance For Peace Launches Month of Action: The Black Alliance for Peace's Africa Team and the U.S. Out of Africa Network are organizing an international month of action to raise the public's awareness as a contribution to the effort to build a popular movement for demilitarization and anti-imperialism on the African continent. Read more>>
Iraq War Veteran Disrupts Former President George W. Bush At Speech: Iraq War veteran and Empire Files producer Mike Prysner disrupted a speech by George W. Bush in Beverly Hills on Sept. 19, 2021. Read more>>
Bearing Witness In Afghanistan — A Conversation With Kathy Kelly On Ending War And Listening To Its Victims: Nonviolence Radio interviews antiwar activist Kathy Kelly discusses the need for empathy and reparations in Afghanistan, drawing on over 30 visits to the country. Read more>>
Climate Activists Plant Garden To Block Coal Plant: Aiming to reclaim the coal-fired power plant in Bow for life-affirming purposes, a group of activists used pickaxes, shovels, and rakes to plant a garden in the middle of one of the plant's access roads on Sunday afternoon. After a few dozen state police in full riot gear showed up, 18 people were arrested. The gardening action followed a rally attended by about 200 people in the ballfield opposite Merrimack Station, New England's last operating coal-fired power plant. Read more>>
XRUK Releases New Subvertising Guide To Brandalism: 'Subvertising' – the art of subverting advertising has a long and noble history. The new XR Subvertising Guide focuses on ad-hacking campaigns targeting big polluters and financial institutions that support fossil fuels. It brings together inspiration, advice and instructions about how to carry out a subvertising campaign to critique corporate power. The guide starts with simple ideas for disrupting ads, then looks at subvertising bus stops and billboards. Read more>>
Students Take Part in "Rainbow Out" Opposing Ban On Pride Flags: Instead of a blackout, students organized a rainbow out with flags, tee-shirts, and banners at a sports game after the school proposed banning "quasi-political" symbols and slogans like Black Lives Matter or Pride flags. Read more>>
Berlin's Car Ban Campaign: 'It's about how we want to live, breathe and play'. Activists in Berlin, Germany, have launched a petition to forbid private car use in a large area of the city. It has 50,000+ backers. Read more>>
Why The Far Right's Use of Nonviolent Action Should Be Questioned: Research shows why right-wing actors trying to reap the tactical benefits of nonviolent action often fail to meet its standards. Read more>>
What a Peaceful Build-Up That Evades Ecological Breakdown Would Look Like: Facing the coronavirus and climate crises, a shift in awareness to our interdependence offers a way to build back up peacefully. Read more>>
Ten Years Later, Lessons For Today From the Occupy Movement: Margaret Flowers speaks with Bill Moyer of the Backbone Campaign and Chris Hedges, a noted author and host of On Contact, about the political and economic environment in 2011 that gave rise to the Occupy Movement, the lessons learned and what is happening now. Read more>>
A New Deal For Eds & Meds: Universities and associated hospitals are now the largest single employers in 10 US states. A new wave of labor organizing has swept through the educational and medical industries, and organizers now recognize that to remake higher education as a public good, they must fight and win at the national level. Read more>>
COVID-19 Strike Wave Interactive Map: Over 1,350 strikes that happened since the beginning of March. Check out this interactive strike wave map from PayDay Report to see the scope and scale of this sea change of a labor movement. Read more>>
No Way to Treat a Child: Join the No Way to Treat a Child campaign for our monthly webinar. We'll discuss U.S. military funding for Israel, share updates from Capitol Hill, and hear from grassroots activists working to advance Palestinian human rights. (Oct 12) Learn more>>
Policing And The "War On Terror": The post-9/11 "war on terror" framework legitimized the targeting and criminalization of Muslim and immigrant communities. It also produced new techniques, agencies, and concepts of policing that are increasingly being used on other communities of color and protesters. We will look at militarized policing, the development of Immigration and Customs Enforcement (ICE), fusion centers, "pre-crime," the use of community leaders and organizations in surveillance, and how local communities are pushing back. (Oct 14) Learn more>>
Countering Violence & Building People Power in Afghanistan: A webinar discussing historical grassroots activism and nonviolent campaigns and movements in Afghanistan and potential for use now. (Oct 14) Learn more>>
Build Back Fossil Free Week: Hundreds of groups are gathering in DC to demand that President Biden stop approving fossil fuel projects and instead take action on the climate crisis. If you're in DC, join the resistance. If you're distanced, sign the petition amplifying their demands. (Oct 11-15) Learn more>>
Divest From Death Week Of Action: Dissenters invites you to join us for a #DivestFromDeath Week of Action — a week of movement building, action, and solidarity for the global liberation of all Black and Brown people, here and around the world. Divest From Death is a campaign to pressure institutions to divest from war profiteers led by young people who will turn the tides of endless war and continue to fight for the life-affirming future we deserve. Learn more>>
Every editor needs a cup of tea once in a while. Chip in to support Nonviolence News here>>