Editor's Note From Rivera Sun
Ten years after the Occupy Protests erupted on Wall Street on Sept 17th, the Guy Fawkes mask has shown up at another monetary rebellion, this time in El Salvador. Thousands of citizens are protesting against the roll-out of Bitcoin as a legal tender; they feel the digital currency is risky and poorly regulated. Meanwhile, in another protest that has strangely familiar overtones to Occupy, Chinese citizens are protesting a cash-strapped major real estate developer that is about to either go bankrupt or be bailed out by the government. To see how the themes of decades past are haunting us today, check out the oral history of the Occupy Protests included in this week's Nonviolence News round-up.
In other Nonviolence News, Harvard divested its huge endowment funds from fossil fuels. Los Angeles plans to phase out 1,600 oil wells. Extinction Rebellion held global direct actions including road blockades, tripod street shut-downs, and more. Kazakh artists are invoking the spirits to protect an endangered ecosystem.
Swaziland's citizens are protesting the world's last remaining absolute monarch. Palestine is erupting in protests against "collective punishment" measures rolled out by Israel after six political prisoners escaped. US peace activists launched 100-day campaign to cut the military budget. And, US representative Alexandria Ocasio-Cortez crashed the Met Gala with a dress that said #TaxTheRich.
Lastly, be sure to scroll down on our website to see the Knowledge Section. There is a treasure trove of articles examining everything from the legacy of the Occupy Protests to how post 9/11 surveillance spawned a new generation of Muslim activists. Knowledge is power, so stock up!
In solidarity,
Rivera Sun
Photo Credit: Thousands of El Salvadorans protest the president for authoritarianism and for his Bitcoin measures.
It's the Campaign Nonviolence Action Week, Sept 18-26th, and Nonviolence News will be building a culture of active nonviolence by doing daily teach-ins on Facebook. We plan to occupy the platform known for cat pics and dinner photos with a dose of nonviolence-in-action, all drawn from our work to collect and share these inspiring stories. Find out more about Action Week here.
Love that Nonviolence News is occupying social media?
You can support our efforts to mainstream nonviolence with a donation.
Donate here>>
Harvard Will Divest From Fossil Fuels: Following years of public pressure, Harvard said Thursday it would allow its remaining investments in the fossil fuel industry to expire, paving the way for it to eventually divest from the sector. The move marks a stark twist in a decade-long saga that has pitted student activists against University administrators and dominated campus politics for years. Read more>>
Los Angeles County Votes To Phase Out Oil and Gas Drilling: Los Angeles County supervisors voted unanimously Wednesday to phase out oil and gas drilling and ban new drill sites in the unincorporated areas of the nation's most populous county. Over 1,600 active and idle oil and gas wells in the county could be shuttered after the 5-0 vote by the board of supervisors. A timetable for the phaseout will be decided after the county determines the fastest way to legally shut down the wells. Read more>>
CBS' 'The Activist' Goes From Competition Show to Documentary After Harsh Blowback: The so-called 'Oppression Olympics' competition was originally poised to be a five-week competition show that pitted activists against activist in a battle for relevancy on social media. After activist outcry and an online petition, CBS has apologized for misrepresenting the important work of activists and is rethinking the show. Read more>>
Growing Food Justice in Brooklyn: Located in eastern Brooklyn, a culturally diverse and underserved community, East New York Farms! (ENYF!) operates two farms and two community gardens that work to provide solutions to pressing food-justice issues by promoting local, sustainable agriculture and community-led economic development. Read more>>
'A Win for Civil Rights' – Federal Judge Blocks Florida GOP's Anti-Protest Law: Civil liberties and racial justice advocates are celebrating after a federal judge ruled Thursday that Florida's anti-protest law is unconstitutional and therefore unenforceable. Read more>>
'Momentous' Moratorium on Deep Sea Mining Adopted at Global Biodiversity Summit: Governments, NGOs, and civil society groups voted for a moratorium on deep sea mining, as well as putting pressure on International Seabed Authority to overhaul its policies. Read more>>
'Historic Victory' – California Passes Bill to Improve Conditions for Amazon Workers: Labor rights experts and workers praised the passage of a first-of-its-kind bill in California aimed at empowering warehouse employees at Amazon and other companies that use algorithms to enforce quotas—often pushing them to skip breaks and work unsafely in order to "make rate", which impedes workers' health and safety. Read more>>
Water Shutoff Protections Prevented Covid Infections and Deaths: Activists and citizens campaigned hard to halt water shut-offs during the pandemic. New research show, it helped save lives. A new report in The American Journal of Preventive Medicine shows significantly lower Covid infection and death rates in states that imposed water shutoff moratoria. Read more>>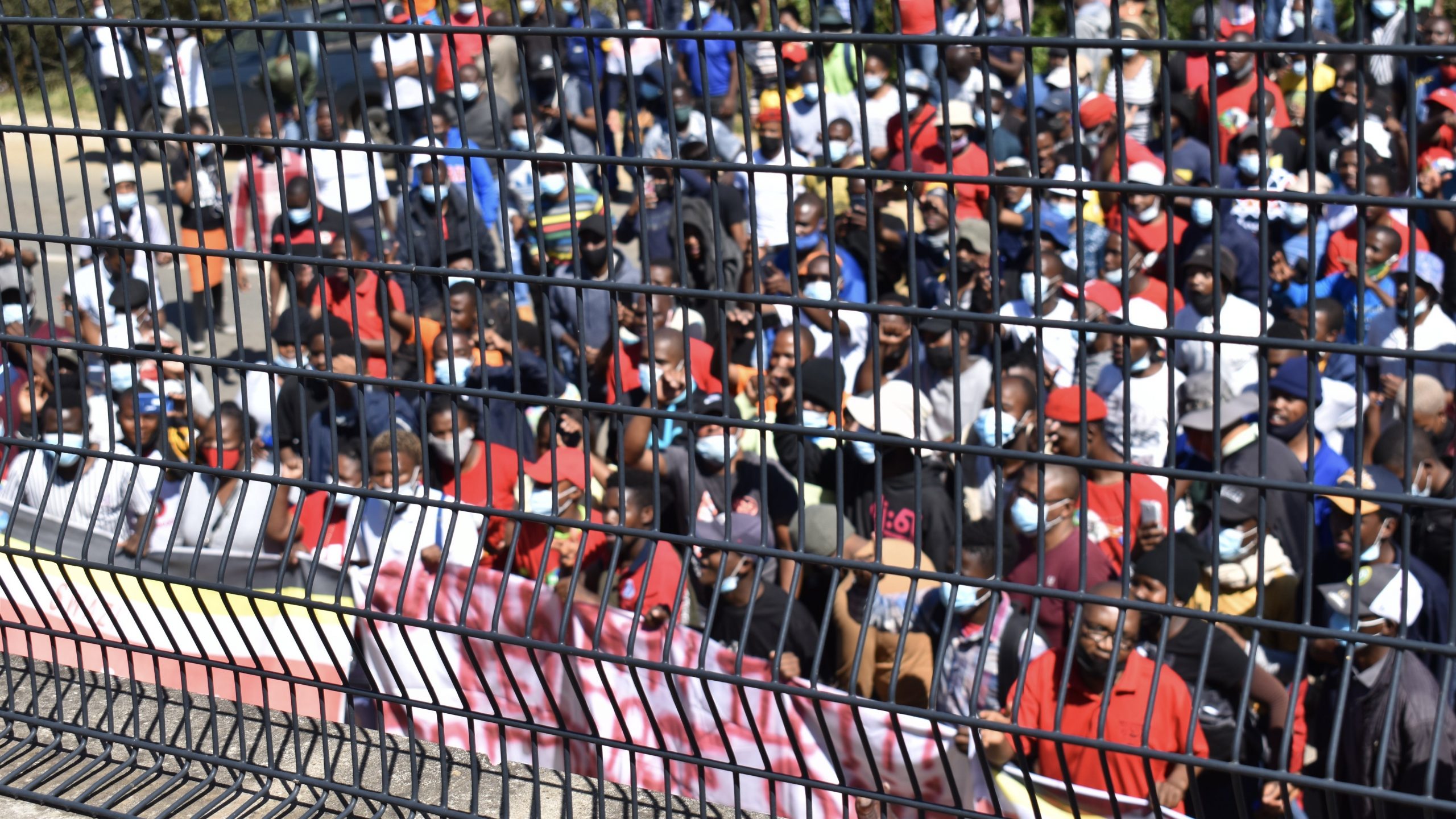 Swaziland's Pro-Democracy Protesters Demonstrate Outside UN: Protesters are calling on the international community to isolate King Mswati which they say would be the real recognition of the will of the ordinary people agitating for democracy. Read more>>
US Labor Strikes & Actions Heat Up: 10,000 John Deere Workers are poised to go on strike, 400 Kentucky Whiskey Workers are on strike, Rural Pennsylvania Teachers are on strike. 340 auto supply workers are striking, the Seattle Carpenters just voted to strike, and more labor actions are brewing. Read more>>
Thousands of Salvadorans March Against President Bukele: A the heart of their complaints is the recent law making bitcoin legal tender alongside the U.S. dollar and the firing in May of the judges on the constitutional panel of the Supreme Court, among the most senior jurists in the country, as well as the then-attorney general. Read more>>
Chinese Protesters Arrested While Demonstrating Against Bankrupt Housing Company: China's second largest property development company is cash-strapped and investors are demanding repayment of loans and financial products. Protesters outside the building were taken away amidst a series of on-going demonstrations. Read more>>
Facebook Office Cleaner Who Led Protests At London Site Fears For His Job: Facebook's facilities management firm has demanded the removal of a union activist leading a campaign against "impossible workloads" imposed on exhausted cleaners at the US tech giant's London offices. "It is disgusting that low-paid cleaners are being worked to the point of exhaustion in the building of a fabulously wealthy firm that is making billions of dollars in profit every year." Read more>>
No Justice? No Bourbon! Distillery Workers In Kentucky Go On Strike: Echoing similar demands from Frito-Lay, Amazon, and Warrior Met Coal workers around the country, around 400 union distillery workers in Bardstown, Kentucky, want respect, fair compensation, and work schedules that ensure time to spend with their families. Read more>>
Striking Nabisco Cookie Workers Refuse to Crumble: "The company just refuses to hire more workers," says Flowers-Lewis, "They'd rather work us to death than pay the benefits for more employees." She has worked at the former Nabisco plant for 21 years and is the first shift steward in the plant. Read more>>
Revolt of NYC Delivery Workers: Exploited by apps. Attacked by thieves. Unprotected by police. The city's 65,000 bikers have only themselves to count on. Read more>>
Students Walk Out After Black Principal Put On Leave Over Critical Race Theory: Over 100 students walked out of their Friday morning classes at Colleyville Heritage High School to show their support of James Whitfield, the high school's first Black principal who was placed on paid administrative leave last month suspecting he is accused of teaching critical race theory. Read more>>
Mass Protests Continue As Israel Recaptures Four of Six Political Prisoners: Palestinians across West Bank, Gaza and East Jerusalem organized protests on the third consecutive day on Friday demanding the end of "collective punishment" measures carried out by the Israeli authorities since the escape. Read more>>
Palestinian Prisoners Plan Protests Against Israeli Prison Repression: Palestinian political prisoners under Israeli detention will start a set of measures, including a hunger strike, this upcoming week in protest of the ongoing Israeli regime's repressive measures, prisoners' advocacy groups say. Read more>>
Pipeline Developers Claim Historically-Black Town Is White, Just To Build Pipeline: A historically Black town stood in the way of a pipeline – so developers claimed it was mostly white. They ignored the survey that said 17% of residents self-identified as white, while nearly two-thirds were Black. Read more>>
Philadelphia To Pay $2M to Black Woman Beaten By Officers, Separated From Toddler During Protests Against Police Brutality: Rickia Young was driving home from work when she encountered a protest against the police killing of Walter Wallace, Jr. in Philadelphia. When she attempted a 3-pt turn to leave the area, officers smashed in her windows, pulled her from the car, beat her, and separated her from her toddler. The union later claimed on social media that officers rescued her "lost" toddler. Now, the city is paying $2 million in damages to Young for this horrific incident. Read more>>
All Charges Dropped Against Activists Who Fought For Justice For Elijah McClain: The 12 remaining charges against Joel Northam, Lillian House and Terrence Roberts were dropped close to a year after their arrest. The decision comes weeks after the indictment of three police officers and two paramedics for the murder of Elijah McClain. Read more>>
Teachers' Union, Education Groups Unite to Resist Critical Race Theory Bans: Some of the country's most prominent education organizations are pushing back against efforts to restrict teaching students about racism and oppression. The Learn From History coalition, put together by the Stand for Children Leadership Center, a nonprofit advocacy group, plans to publicize "first-person accounts of the harm and costs of efforts to restrict what is taught in classrooms across the country." Read more>>
Police Treatment of Indigenous Protesters Differs Starkly From White Protesters: Indigenous people and criminology experts say the hands-off police treatment of people protesting mandatory vaccinations, many of whom are white, starkly differs from the way they treat Indigenous and Black protesters. Read more>>
The Kaepernick Effect – The Other Athletes Who Kneeled In Protest: In his new book, Dave Zirin explores the ripple effect of the NFL quarterback's protests, and how he inspired activists at all levels of American sports. Read more>>
Extinction Rebellion Global Newsletter #55 Power to the People! Rebellion Returns! With direct actions in the United Kingdom, Germany, Argentina, and beyond, Extinction Rebellion continues to creatively disrupt the rush toward extinction. An artist poured fake oil over herself. Activists demonstrated on top of statues. A huge table shut-down intersections. Tripods stopped roadways. And so much more. Read more>>
Campaigns Against Climate Change Build On Decades Of Experience: Transnational movements using nonviolent resistance tactics to demand action on climate change have emerged from a foundation of decades of persistent and diverse environmental activism. What are the features of this nonviolent resistance that differentiate it from previous activism? What response is this resistance prompting from political and financial entities? Learn more>>
Farmers and Civil Society Reject Corporate UN Food Systems Summit: Clearing the FOG speaks with Patti Naylor, a family farmer in Iowa who works on agroecology and food sovereignty. Naylor describes the failures of the current global food system, how it is unprepared for the crises we are experiencing and that will occur and why it is headed in a dangerous direction. Read more>>
2020 Was Deadliest Year For Environmental Defenders: Global Witness, an international human rights group, which has been tracking and reporting lethal attacks on environmental activists since 2012, said it recorded an average of more than four such killings per week in 2020, "making it once again the most dangerous year on record for people defending their homes, land and livelihoods, and ecosystems vital for biodiversity and the climate." Read more>>
Tunisian Seed Sovereignty: In the face of intensifying climate and economic crises, women and youth in Tunisia have organized an association of seed-saving cooperatives in order to build climate resilience, food sovereignty, and economic security. Read more>>
Indigenous-Led Logging Blockade Is Canada's Largest Act of Civil Disobedience: The protest has been underway for two years, led by environmental and First Nations activists. Canadian authorities have arrested nearly 1,000 people at Fairy Creek in British Columbia, and the protests show no sign of slowing down. Read more>>
Haitian Migrants In Mexico Protest: Hundreds of migrants stuck in the southern Mexican state of Chiapas on Wednesday protested against the country's immigration policies that have frustrated their efforts to travel to the United States. Read more>>
Folkestone Struggles To Welcome Refugees and Thwart Far-Right Animosity: Refugee crossings and anti-immigrant sentiment spark a historical reckoning in an English seaside town. Folkestone has become a frontline for the far-right — but some residents are fighting back by recalling its long tradition of welcoming refugees. Read more>>
On 9/11 Anniversary, Anti-War Group Says 'Cut the Pentagon for People, Planet, and Peace': CodePink, Food Not Bombs, and other partners rallied in DC to launch a new 100-day national campaign to Cut the Pentagon for the People, Planet, Peace, and a Future, featuring a teach-in and the cutting and sharing of a Pentagon-shaped cake and Ben & Jerry's ice cream. Participants will then march to McPherson Square to feed unhoused residents "from the cuttings off the Pentagon." Read more>>
British Soldier Arrested For Protesting Yemen War, Arms Support To Saudi Arabia: Ahmed Al-Babati was a lance corporal in the British Army until last August, where he staged a public protest in London, demonstrating against British complicity in the violence. Read more>>
The Only Way to Effectively Counter Terror is to End War: As we approach the 20th anniversary of 9/11, U.S. citizens must insist on paying reparations and choose to lay aside the cruel futility of our forever wars. Read more>>
Activists Protest Against RENACER Act and Meddling In Nicaragua: On Monday, September 13, solidarity activists protested outside the US Congress against the RENACER Act, which stands for the Orwellian title, "Reinforcing Nicaragua's Adherence to Conditions for Electoral Reform." The bill is part of the United States' effort to undermine the presidential election in Nicaragua this November to prevent President Ortega from being re-elected. Read more>>
The Antidote To Endless War Is Peace Organizing: In the long run, peace activism is essential for overcoming militarism. And organizing is what makes that possible. Read more>>
The Fierce, Enduring Impact Of the Protests Against War In Afghanistan: In those dark days after the September 11, 2001, terror attacks, a majority of Americans did support military intervention in Afghanistan. But there was also widespread grassroots resistance. From the first cries for war, tens of thousands of people went into the streets in cities across this country to call for it to stop even before it began. The fact that these pleas for peace and sanity ultimately went unheard does not mean that they should be forgotten. Read more>>
Show The World What Nonviolence Means With These Visionary Posters: A new poster series by Pace e Bene/Campaign Nonviolence illuminates what systemic, structural and cultural nonviolence looks like in our communities. Read more>>
Man Turns Car Into Message "Every Child Matters": Bernard didn't want the conversation to stop about residential schools and the possible unmarked graves across the county, so he decided to vinyl wrap his car orange — the colour associated with the Every Child Matters movement — and put those three words on his Hyundai. Bernard said his vehicle is creating conversations and getting support everywhere he goes. Read more>>
Dress For Success? AOC Met Gala Dress Said "TAX THE RICH":  Rep. Alexandria Ocasio-Cortez (D-NY) took to the red carpet at the  Met Gala 2021 and, as always, she had something to say. Except for this time, she let her gown do the talking. Wearing an off the shoulder, cap-sleeved long white gown made by Brother Vellies designer Aurora James, it was the back of AOC's dress that turned heads.  Why? In big, bold red letters the words, "TAX THE RICH" were painted on the back of her dress. Read more>>
Kazakhstan's Artists Invoke Spirits To Save Endangered Ecosystem: City authorities plan to turn the area into a landscaped park. Campaigners striving to save a rare ecosystem dubbed the "lungs of the city" in Kazakhstan's capital have resorted to desperate measures after their pleas fell on deaf ears. They are conjuring up spirits. Read more>>
Zimbabwean Artists Turn Worthless Bank Notes Into Art: Zim dollars were abandoned in 2009, after inflation caused by rampant money printing under the late President Robert Mugabe erased everyone's savings and pushed millions into poverty. Most bills ended up in the trash, but Zimbabwean visual artist Prudence Chimutuwah has found value in the unloved old bank notes – by using them to make art. Read more>>
An Oral History of Occupy Wall Street, 10 Years Later: On the 10th anniversary of Occupy Wall Street, interfaith activists reflect on both the movement's failings and immense legacy and impact. Read more>>
Think Outside the Protest Box: Protest. Petition. Call your senators. Nothing changes, right? No matter how large our demonstrations get, no matter how many millions of people write and petition politicians, no matter how many people get arrested in front of the White House or at our state capitols, it seems that our (supposedly) elected officials keep turning a blind eye and deaf ear to our cries for change. Read more>>
Refusing To Pledge Allegiance Post-9/11: Although reciting and standing for the pledge is no longer legally enforceable, within the past 10 years, students have been bullied, expelled, and even arrested for refusing to do so. Read more>>
Was AOC's #TaxTheRich Dress Performative – or Perfect – Protest? The left is currently dividing very publicly over a viral clip on social media of AOC – Alexandria Ocasio-Cortez – arriving on Monday night at an exclusive gala event in New York in a slinky, white satin, off-the shoulder, Marilyn Monroe-style gown with large red writing across the back demanding: "Tax the Rich."  Some say it was merely a performative stunt. Read more>>
How The Police Stand To Benefit From Abolition: Although extending compassion to police officers might seem like a heavy lift, it is necessary if we want movement work to succeed. Read more>>
'Hope or Terror,' 20 years On: A pamphlet written shortly after 9/11 underscored humanity's choice: violence or nonviolence. Despite the former's prevalence in the years since, there are hopeful signs. Read more>>
Resistance To Post-9/11 Surveillance Spawned A New Generation of US Muslim Activism: Grassroots groups serving heavily Muslim and South Asian communities, like the Taxi Workers Alliance, Desis Rising Up and Moving and South Asian Youth Action, were all created or expanded in the post-9/11 era. And this year, more Muslims ran for local office in New York City than ever before. Read more>>
Campaign Nonviolence Action Week Sept 18-26: Over 4,375 actions and events are planned to build a culture of peace and active nonviolence, free from war, poverty, racism, and environmental destruction. Find an event near you>>
Regenerative Communities Summit: Transition US, together with dozens of partner organizations who are leading the transition to a more just and sustainable society, will be offering an abundance of inspiring plenary sessions, skill-building workshops, dynamic discussion spaces, and engaging activities, tracing an arc from "What Is" to "What If" to "What's Next." (Sept 24-Oct 10 – Online) Learn more>>
How Nonviolent Movements Increase Pressure on a State Through Demand Escalation: ICNC is pleased to host Dr. Sooyeon Kang to discuss her recent research on how and why movements escalate their demands—from asking for government reforms to demanding that the government itself must go.  Learn more>>
Intro To Kingian Nonviolence: Kingian Nonviolence is an approach to conflict and community leadership that offers values and methods useful for anyone who wants to use conflict constructively in your personal life, in group settings, or in community issues and building a reconciled world. (Sept 23) Learn more>>
Fridays For The Future: Student climate strikes are calling the kids out of the classrooms and everyone else into the streets in solidarity. (Sept 24) Learn more>>
Nonviolence Cafe on Khudai Khidmatgar: Join Safoora Arbab, scholar of feminist nonviolence, for a conversation on how we can move away from militarism as our first (and often only) option in a crisis. She will draw on her expertise on women in the Khudai Khidmatgar movement that took place in what is now Afghanistan. (Sept 30) Learn more>>
Dandelion Insurrection Book Group on Activism: Join Author Rivera Sun for a special, 4-session, small group book club on The Dandelion Insurrection, a novel that some call "THE handbook for the coming revolution!" Proceeds benefit Backbone Campaign. (Oct 4, 11, 18, 25) Learn more>>
Love that Nonviolence News is occupying social media for Action Week?
You can support our efforts to mainstream nonviolence with a donation.
Donate here>>