Editor's Note From Rivera Sun
Thanks for your patience with this Nonviolence News round-up. Over Labor Day Weekend, I rested, honoring the millions of workers who went on strike, organized boycotts and mutual aid networks, and struggled for the 40-hr workweek, the concept of the weekend, and Bread and Roses, too. But, now we're back with more news than ever. It's a nonviolent-action-packed issue with stories from Colombia, Syria, China, Ivory Coast, Australia, El Salvador, Guatemala, Kazakhstan, India, Mexico, and beyond.
Today is 9/11 and in a poignant reminder of the failed war in Afghanistan, our opening image is of Afghan women on a march for their rights. Taliban police responded with tear gas and beat them with rifle butts. Unknown assailants also attacked the women and were later arrested by the Taliban. Like the Syrians who are organizing for democracy and human rights, they face daunting circumstances with stunning courage and commitment.
In more Nonviolence News, Extinction Rebellion UK just wrapped up two wild weeks of actions. Line 3 Pipeline resistance took the struggle to the state capitol as well as the pipeline site. The Māori in New Zealand are using occupations to reclaim land. The Haida Nation signed a treaty with Canada that protects their autonomy. Indigenous Peoples in Brazil are opposing a Grain Railway that might be constructed through the rainforest. Twitch lost thousands of viewers as Black, Queer, and Disabled users launched a 1-day boycott over harassment on the platform. Window washers in Minneapolis won a 10-day strike. Nonviolent Peaceforce helped rescue civilians caught in the crossfire in the Philippines.
And all of this is just for starters. Check out the full round-up and get inspired by all that's going on!
In solidarity,
Rivera Sun
Photo Credit: Afghan women protest for rights.
We're the only place where you can scan 30-50 headlines and feel uplifted by the end.
Doesn't that deserve a little support? Donate here>>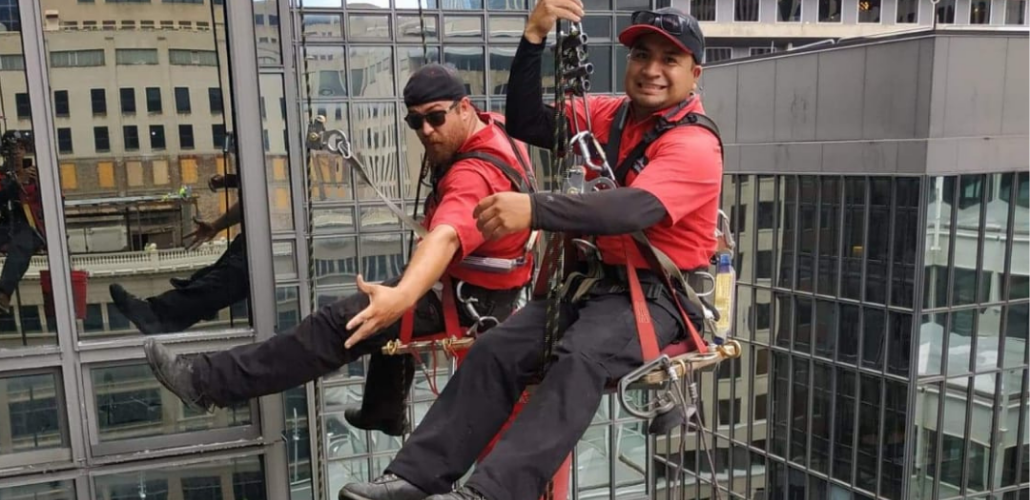 Twin Cities Window Cleaners Declare Victory in 10-Day Strike: After 10 days on strike, high-rise window cleaners in the Twin Cities secured a new contract that creates an employer-funded, state-recognized apprenticeship program, bolsters sick days and disability pay, and includes 12 percent wage increases. Workers will earn over $30 an hour by the end of the four-year contract—wages second only to window cleaners in New York City. Read more>>
Indigenous Resistance Disrupts Over 3 Billion Tons of Greenhouse Gases Annually: Indigenous Resistance has stopped or delayed greenhouse gas pollution equivalent to at least 25% of annual U.S. & Canadian emissions. A new report analyzes the impact Indigenous resistance to fossil fuel projects in the United States and Canada has had on greenhouse gas emissions over the past 10 years. From the struggle against the Cherry Point coal export terminal in Lummi territory to fights against pipelines crossing critical waterways, Indigenous land defenders have exercised their rights and responsibilities to not only stop fossil fuel projects in their tracks, but establish precedents to build successful social justice movements. Read more>>
'Activism Works': EU Returns Covid Vaccines to Africa After Backlash: The European Union has agreed to return to Africa millions of Johnson & Johnson coronavirus vaccine doses that were shipped out of Africa under a contract arrangement that drew widespread backlash from vaccine equity campaigners and African officials. Read more>>
Watershed Moment for Unionization In China's Tech Sector: Chinese ride-hailing giant Didi Global Inc (DIDI.N) has set up a union for its staff while e-commerce powerhouse JD.com (9618.HK) has also established one – landmark moves in the country's tech sector where organised labour is extremely rare. Read more>>
Outraged Viewers Force Ivory Coast TV Presenter To Resign Over Glorifying Rape: Yves de Mbella, a television presenter in Ivory Coast, was convicted of glorifying rape and given a one-year suspended prison sentence for asking a convicted rapist he invited onto his prime-time show to simulate a sexual assault using a mannequin. An online petition calling for de Mbella's show to be cancelled received nearly 50,000 signatures. Read more>>
How Clayoquot Sound's Anti-Logging Campaign Transformed a Region: Almost 30 years after the 'war in the woods' stopped most industrial logging in Clayoquot Sound, the area has experienced a massive tourist boom. This is thanks to the Indigenous-led blockades and protests that halted logging. Read more>>
Letter from Haida Gwaii, As History Is Made: After decades of struggle, the Haida Nation signs a landmark agreement with BC and Canada aimed at autonomy. Read more>>
Ag-Gag Laws Suppressing Whistleblowers Experience Defeat In Kansas: Ag-gag laws are intended to suppress journalism, whistleblowing, and speech on the food and agriculture industry. The Tenth Circuit Court Of Appeals ruled against the ag-gag law in Kansas, which became the first state to pass such a law in 1990. The Animal Legal Defense Fund (ALDF) was one of the plaintiffs. The ruling comes as Iowa tries to expand their ag-gag laws. Read more>>
New Australian Coal Mine Rejected: In a rare win for Australian community environmental campaigners, environmentalists are celebrating a victory over a proposed coal development in the Australian state of New South Wales (NSW) after 11 years of debate and community protests. The Independent Planning Commission (IPC) for the NSW Southern Highlands blocked the plans for the proposed mine, saying the potential impacts of the project were 'too great to be reasonably managed, and the social risks to the community are high.' Read more>>
El Salvadorans Protest Bitcoin Takeover: 300 protesters marched on El Salvador's Congress to demand repeal of the new bitcoin law. The law makes bitcoin legal tender, but citizens and merchants have not had any training or outreach to explain the new currency. Confusion abounds, as well as concerns about currency volatility, corruption, and money laundering. 3 out of 4 El Salvadorans don't want Bitcoin. Read more>>
Hong Kong Activists Jailed For Illegal Assembly In 2019 Protests: Seven Hong Kong democracy activists were sentenced on Wednesday to up to 16 months in jail for their role in an unauthorised assembly at the height of anti-government protests in 2019. They had pleaded guilty to charges, including organising and inciting others to take part in the illegal assembly on Oct. 20, 2019, when tens of thousands took to the streets and police fired tear gas and water cannon to disperse them. Read more>>
Guatemalan Generals Responsible For Disappearances Sent To Trial: On the International Day of the Victims of Enforced Disappearances, after nearly two years of investigations, Guatemalan High-Risk Court Judge Miguel Galvez decided to send to trial former Guatemalan generals Benedicto Lucas and Manuel Callejas for the massacre and violation of the human rights of over 1,700 Ixil Mayan Indigenous people between 1978 and 1982, during the civil war. Read more>>
58 Years After Historic Rally, Thousands March on Washington for Voting Rights, DC Statehood: A summer marked by rallies, motorcades, and pressure campaigns targeting lawmakers standing in the way of voting rights legislation culminated on Saturday in the 2021 March on Washington, where thousands demanded that Congress pass far-reaching measures to protect and expand the right to vote. Demonstrators traveled from across the country to mark the 58th anniversary of the historic 1963 March on Washington for Jobs and Freedom. Read more>>
Abolitionist Library Workers Want Library Access for All. That Begins with Getting Cops Out: Library staff are working to remove the need for police officers within libraries and focus on de-escalating training instead. Public libraries have, in many places, become a last refuge for people without other access to basic resources — a place to use a computer, read and write, rest. Addressing the needs of these patrons — who may be experiencing homelessness, for example, or navigating drug abuse problems — requires training for the library staff (including how to handle sexual harassment and mental health-related out- bursts), not the heavy hand of the law. Read more>>  
Colombians Resume Protests Against Duque's Far-Right Government: This Thursday, as a part of a new national strike, thousands of Colombians took to the streets across the country in rejection of a new tax reform bill promoted by the national government and in support of the ten bills presented by different sectors last month. Read more>>
Fifty Starbucks Workers Strive To Form Coffee Company's First Union: In Buffalo, New York area, fifty Starbucks Workers are trying to form a union, which would be a first for the coffee chain. Starbucks claims its workers don't need a union due to its pro-worker environment. Read more>>
Louisiana Activists Mobilize to Prevent "Shock Doctrine" Policies in Wake of Ida: Organizers and activists in Louisiana and Mississippi are regionally coordinating their relief response in the wake of Hurricane Ida, and linking the immediate survival needs of people with a coherent set of political demands. Read more>>
Kazakh Language Activists Oppose Primary Schools Teaching In Russian: A decision reportedly adopted by Kazakh-language primary schools near Kazakhstan's capital to allow instruction in some classrooms to take place in Russian is angering local champions of the native language. Activists opposed to the plan said they have tried to pressure educational authorities into backing down, but their efforts may have been in vain. Read more>>
After Hurricane Ida, Mutual Aid Provides Safety And Survival in New Orleans: Based on the principle that no one should be left behind, mutual aid networks are supporting those most in need in New Orleans following Hurricane Ida. Read more>>
India's Farmers Plan To Intensify The Struggle: As the farmers' protest entered its ninth month, the massive gathering of hundreds of thousands of farmers was organized to give the months-long agitation a new direction and re-energize the movement. The farmers have now called for a nationwide strike on September 27 to protest against the three contentious farm laws. Read more>>  
A New Indigenous-led Student Movement Is Protecting Sacred Waters: In the midst of the state's water crisis, Native-led school curricula in Northern California are empowering youth to fight for the future of their waterways. Read more>>
Temaca Village In Mexico Refuses To Be Drowned By Megadam: For 16 years, the residents of Temaca have been fighting a megadam, El Zapotillo Dam, that would serve the larger city of Guadalajara. They've designed water saving programs for the city, including repairing the water lines that lose 40% of the water running through them. After playing his campaign promises on repeat over a loudspeaker in the square, they won a partial victory from President Obrador. But many say just building a shorter, smaller dam isn't enough. Read more>>
Young PR and Ad Professionals Demand Industry Ditch Fossil Fuel Clients: "If agencies want to remain relevant, and attractive places to work for top young talent, they need to end their work for the worst polluters on the planet." That's the first line of an open letter released Tuesday by 71 young professionals and students in the advertising and public relations industry calling for an end to contracts with fossil fuel companies, given their significant contributions to the climate emergency. Read more>>
Extinction Rebellion Thanks Metropolitan Police For Blocking Tower Bridge For Them: Extinction Rebellion protesters planned to block the Tower Bridge in London using a van and caravan of cars. Their biggest (inadvertent) allies, however, turned out to be the Metropolitan Police who shut down the entire roadway with a mass of cops who wound up stalling the traffic they claimed to be getting moving again. This action was part of a week of actions happening all over the city. Read more>>
'Treaties Not Tar Sands' Rally Convenes at Minnesota State Capitol: More than 1,000 people led by Indigenous leaders convened at the Minnesota State Capitol grounds in Saint Paul to oppose the ongoing construction of Enbridge's Line 3 tar sands oil pipeline in northern Minnesota. For hundreds of demonstrators, their arrival at the state Capitol marked the conclusion of a 235-mile walk that started at the headwaters of the Mississippi River in Backus, Minn. on August 12, 2021. Read more>>
Nearly 70 People Arrested for Resisting Line 3 at Rally Outside Minnesota Governor's Mansion: "Water protectors marched 256 miles from the headwaters of the Mississippi River to speak with this gentleman," an Indigenous organizer said of Gov. Tim Walz. "He has not come to listen to their voices and so we came here." Read more>>
Climate Activists Denounce Amazon's Massive Shipping Carbon Footprint: Climate activists with the Ship It Zero coalition gathered near the nation's largest ports today, Tuesday, August 31, as part of two separate events demanding that retail giant Amazon transitions to zero-emissions cargo shipping vessels. From a mock shipping container stunt in Seattle to climate justice event in Long Beach, the Ship It Zero coalition highlights growing consumer demand for zero-emissions cargo shipping. Read more>>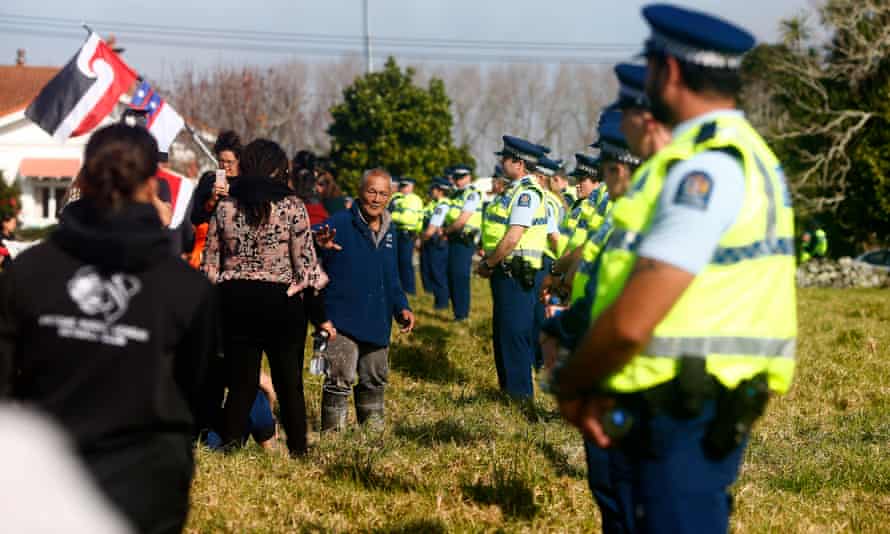 An Unstoppable Movement – How New Zealand's Māori Are Reclaiming Land With Occupations: An estimated 8.3m hectares (20.5m acres) of land in the North Island – nearly 73% of the landmass – as well as almost the entire South Island were taken from Māori through confiscation and inequitable purchases between 1840 and 1939. But occupations – though participants call themselves protectors rather than protesters or occupiers – similar to that in Ihumātao have increasingly cropped up across New Zealand. And they're literally gaining ground. Read more>>
Australian Land Owner Returns Land to Traditional Owners: About 30 people attended a hand-back ceremony recently where Aunty Zarna officially signed the property (30 acres) over to the Nukunu Wapma Thura (NWT) Aboriginal Corporation. As a result, Ms Carter has been welcomed into the Nukunu nation's family and was called Aunty by the elders. Read more>>
Twitch Loses Thousands of Viewers After Black, Queer, and Disabled Viewers Hold 1-Day Boycott: The #ADayOffTwitch campaign asked for as many streamers as possible to avoid streaming on Sept. 1 to put pressure on Twitch to do something about hate raids, which is when trolls use bots and fake accounts to flood the chats of marginalized users with hateful messages. Read more>>
Brazil's "Grain Railway" Alarms Indigenous Groups: The 933 km-long line planned to run through the Amazon rainforest is planned to be funded by "Green Bonds", cerified sustainable investments. The indigenous groups are protesting the international agribusiness companies who export to China and Europe, who will gain a cheaper route to the international ports on the Amazon river. Read more>>
How To Give Land Back: Humboldt County's Community Land Trust returns land to the Wiyot people's control. Here's what we can learn from that example. Read more>>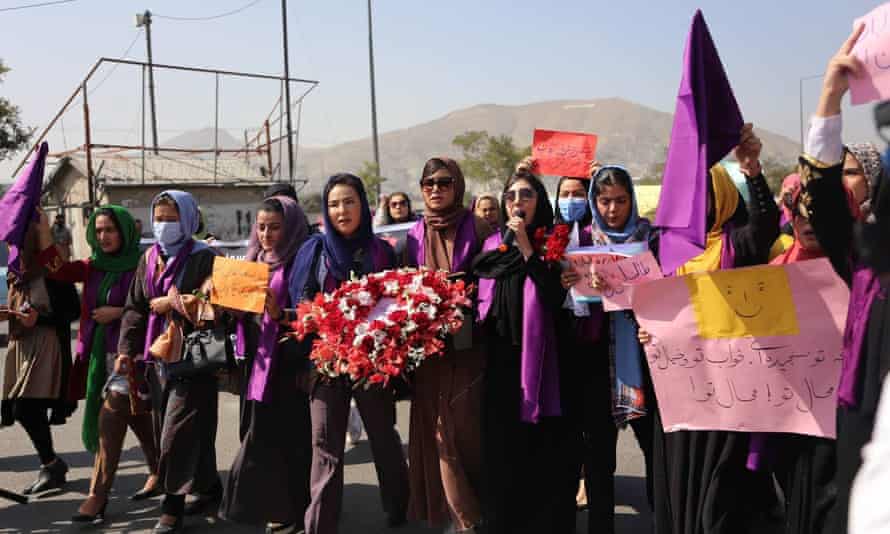 Afghan Women Protest Met With Violence, Gunfire: Afghan women protesting for their rights said Taliban fighters used teargas and beat them with rifle butts. Four other men who assaulted the women have been arrested by the Taliban for their violence. Read more>>
Uzbek Schoolgirls & Families Win Right to Wear – Or Not Wear Headscarves: The strictly secular dress code was ditched after large numbers of petitions from parents. Education authorities in Uzbekistan have decreed that schoolgirls are to be permitted to wear Islamic headdresses in a reversal of secular rules preventing the wearing of religious dress in state-owned premises. Read more>>
Kidnapped, Raped, Wed Against Their Will – Kyrgyz Women Fight Against A Brutal Tradition: At least 12,000 women are still abducted and forced into marriage every year in Kyrgyzstan. But pressure is growing to finally end the medieval custom. Read more>>
Mexican State of Yucatán Recognizes Gender Diversity & Legalizes Equal Marriage: Yucatán became the third state, after Sinaloa and Baja California in June, to decriminalize same-sex marriage this year, and the twenty-second state to recognize the rights of gender diverse people in Mexico. Read more>>
Resisting The Coup And The Patriarchy – An Interview With Myanmar's Feminist Activist Nandar: Citizens from all over Myanmar mobilized to form the resistance against Myanmar's military government, including, unsurprisingly, artists and feminists. One of these resisters is the exiled prominent women's rights advocate Nandar. Read more>>
Amidst Escalating Violence, Syrians Continue To Organize For Democracy And Human Rights: Forced to adapt in the face of multiple challenges, Syria's civil society is in jeopardy. But activists are not giving up. Read more>>
Afghan Peace Workers In Peril: Exempted from refugee status for refusing to assist either the US military or the Taliban, those working for peace in Afghanistan face a bleak situation. Read more>>
The Roar of Military Jets Triggered A Crusade For Quiet: Even as a campaign seeks to designate the Hoh National Forest as a "Quiet Space", the US Navy plans to expand the painfully loud jets that train in the Olympic Peninsula from 82 to 114. The jets, called Growlers, specialize in jamming enemy radar and communications, are named for their very loud, low-frequency roar. Read more>>
Drones Are Being Used As Weapons of Terror and Oppression Throughout the World: Clearing the FOG Radio speaks with Nick Mottern, one of the founders of the Ban Killer Drones campaign, about the impact of drones on communities and the work to end them. Listen here>>
Nonviolent Peaceforce Helps Women, Children, Civilians Flee Conflict Zone: In the Philippines, a team of unarmed peacekeepers found a caravan of thirty cars trapped between violent groups. They escorted the group safely through the conflict zone. Read more>>
Protest At Blue Angels Air Show: While the jets roared overhead, peace activists held a protest against the military air show. Watch a video>>
'Mexico Had Enough' – Protesters Block President From Daily Televised Address: Taking their protest from the state to the nation, Mexican teachers in the southern Mexican state of Chiapas blocked President Andres Manuel Lopez Obrador from entering a venue in the regional capital where he was due to hold his daily televised news conference. Read more>>
Extinction Rebellion Activists Glued to Science Museum Site In Protest Against Shell Oil: Demonstrators attached themselves to railings in reaction to the museum taking funding from the Shell Oil Company for Our Future Planet show. Read more>>
Art Installations Remind Los Angeles Residents They're on Indigenous Land: Art billboards have gone up in the Los Angeles area to send the message that the region was built on "Tongvaland." Seven billboards featuring six artists will stay up through at least Sept. 2, 2021. Read more>>
Anxiety And Biscuits – the Climate Cafes Popping Up Around The World: As the effects of climate change become harder to ignore, and climate anxiety continues to rise, more and more climate cafes are cropping up around the world for youth activists and retirees alike to process their climate angst. Read more>>
Remembering Gloria Richardson: Gloria Richardson was a fierce activist who led a multi-year campaign against segregation in Cambridge, MD. Richardson, who died July 15, 2021, was not as widely known as other civil rights leaders like Martin Luther King Jr. or Fannie Lou Hamer. Nevertheless, she was an important figure in the story of the struggle for civil rights both in the United States and all over the globe. Read more>>
What's Happening With Nonviolent Cities? The Nonviolent Cities Project is uniting communities around the country working to bring nonviolence to schools, buses, and everyone in their neighborhoods. Read more>>
South African Shack Dwellers Show How Grassroots Democracy Is Done: In South Africa's transition to democracy two competing approaches to democracy emerged. One was a traditional representative form of liberal democracy that was to shape Parliament. The other was a more direct form of participatory democracy that has persisted in the hundreds of "committees" scattered throughout the shack settlements of South Africa. Read more>>
How the Cooperative Deliveroo Alternative Could Help Strengthen the Wider Co-op Economy: Wings is a new worker cooperative alternative to Deliveroo, boasting superior ethical credentials. Unlike Deliveroo, Wings have committed to paying London Living Wage, currently £10.85 and provides their workers the right to sick pay and other benefits. Read more>>
How The Far Right Tried To Exploit Spain's Anti-Austerity 15-M Protests: Spain's anti-austerity 15-M protestors, also known as the Indignados, famously inspired Occupy demonstrations from New York to London. But – according to documents recently released by WikiLeaks – the Far Right also tried to exploit the moment and public anger in order to build their own movements. These ultra-conservative campaigners also copied tactics from Greenpeace and Oxfam, and falsely claimed left-wing support for their plans. Read more>>    
Why Are Playmobile Toys Glorifying Authoritarianism, Surveillance, and Policing? Playmobile toys, known for kits with plastic people doing fun things like boating, farming, or biking, also has a less savory line of products. These include riot police, surveillance centers, prison guards, and roadblocks. They're part of an array of childhood playthings that are normalizing the concepts of surveillance and state control for the youngest of minds. Some of them are even bugged. Read more>>
Celebration to Honor David Hartsough, Recipient of the 2021 Clarence B. Jones Award for Kingian Nonviolence: A life-long peace activist who cofounded Nonviolent Peaceforce, World BEYOND War, and launched many other campaigns, Hartsough has been called the "Forrest Gump of the Peace Movement" for how he gets around – and his many wild adventures waging peace. Watch the video tribute here>>
Mutual Aid for Just Ida Recovery: Grassroots mutual aid efforts get relief and assistance to real people impacted by the hurricane. Learn more>>
LaborNotes Presents Secrets of a Successful Organizer: This labor journal will present a series of webinars on Sundays in September, including sessions on Beating Apathy, Assembling Your Dream Team, Turning an Issue into a Campaign, and a Workshop Session that pulls it all together. (Sundays in September) Learn more>>
Campaign Nonviolence Action Week Sept 18-26: Over 4,000 actions and events are planned to build a culture of peace and active nonviolence, free from war, poverty, racism, and environmental destruction. Find an event near you>>
Intro To Kingian Nonviolence: Kingian Nonviolence is an approach to conflict and community leadership that offers values and methods useful for anyone who wants to use conflict constructively in your personal life, in group settings, or in community issues and building a reconciled world. (Sept 23) Learn more>>
Fridays For The Future: Student climate strikes are calling the kids out of the classrooms and everyone else into the streets in solidarity. (Sept 24) Learn more>>
Nonviolence Cafe on Khudai Khidmatgar: Join Safoora Arbab, scholar of feminist nonviolence, for a conversation on how we can move away from militarism as our first (and often only) option in a crisis. She will draw on her expertise on women in the Khudai Khidmatgar movement that took place in what is now Afghanistan. (Sept 30) Learn more>>
Dandelion Insurrection Book Group on Activism: Join Author Rivera Sun for a special, 4-session, small group book club on The Dandelion Insurrection, a novel that some call "THE handbook for the coming revolution!" Proceeds benefit Backbone Campaign. (Oct 4, 11, 18, 25) Learn more>>
We're supported by readers like you. Others have pitched in recently. Now it's your turn.
Thanks for donating today. Donate here>>