Editor's Note From Rivera Sun
Extinction Rebellion is shaking up the United Kingdom this week. They shut down the City of London, calling attention to the fact that, if the financial district was a country, it would be the 9th worst climate polluter in the world. They poured buckets of red dye "blood" into squares, blockaded intersections, and much more. Other action pressured banks financing fossil fuels, politicians for inaction on the climate crisis, media outlets for their silence or misinformation, the fashion industry for its obscene consumerism and environmental destruction, McDonalds for the impact of animal meat, and other nonviolent direct actions. More campaigns are happening worldwide, too. We'll have those stories for you next week.
Extinction Rebellion isn't the only ones taking action. Line 3 Pipeline protesters are still resisting. A Black-led struggle against Formosa Plastics massive toxin-producing plant project won a delay in construction. Hikers dropped a bus-sized banner off the top of the Grand Tetons to oppose fossil fuels. Extreme weather ads on billboards call attention to the climate crisis by making a mockery of classic tourism advertisements across the United States.
In other Nonviolence News, Polish journalists are opposing a restrictive media bill. Brazil's Indigenous groups occupied Brasilia to stop a legal maneuver that would steal their land. CODEPINK told US news media to stop antagonizing an unnecessary war with China. Guatemalans are back in the streets, demanding the president's resignation. You can find more stories in this week's round-up on our website. Be sure to check it out!
In solidarity,
Rivera Sun
Photo Credit: Extinction Rebellion shuts down London.
I'm grateful to everyone who donated last week, through the Donate Page or at the For Goodness Sake Music Festival. Your support keeps these stories coming. Donate here>>
Garment Workers Protection Pact Renewed: Major global retailers agreed on a two-year pact with garment workers and factory owners in Bangladesh, extending a pre-existing agreement that makes retailers liable to legal action unless their factories meet labour safety standards. The pact protects 2 million workers in 1600 factories. Read more>>
Glasgow City Council Bans Big Polluters From Public Venues During COP26: Corporations that "contribute towards catastrophic climate change" have been banned from public buildings during the COP26 conference this November by Glasgow City Council. The motion passed unanimously at a full council meeting as the result of citizen campaigning. Read more>>
Louisiana Plastic Plant Stalled: The US government has placed further delays on a proposed multibillion dollar plastics plant in south Louisiana, marking a major victory for environmental activists and members of the majority Black community who have campaigned for years against construction. Read more>>
Win for Gig Workers – California Rules Uber Can't Hack Labor Laws: Labor groups refused to give in after rideshare companies won an anti-worker state ballot initiative last year through a heavily funded disinformation campaign. Read more>>
Activists Celebrate Win in Fight Against Chemical Oil Dispersants: A federal court ordered the EPA to update its regulations on the use of toxic chemicals in oil spill responses. There is well-documented evidence that dispersants are hazardous to humans, marine ecosystems, and wildlife — and that, when mixed with oil, they can be more toxic than oil alone. Read more>>
Colorado River Runs Again: Famous for no longer reaching the ocean, the Colorado River now reaches the delta for at least part of the year. A broad-based, community-led effort replaced nonnative, water-guzzling plants with drylands plants, removed a dam, and worked across borders to restore the water flows. Read more>>
Climate Win As Judge Blocks Alaska Drilling: A federal judge tossed out construction permits for a sprawling, multibillion-dollar Alaska oil drilling project that the Trump administration approved and the Biden Interior Department defended in court earlier this year, infuriating Indigenous groups, climate advocates, and scientists. Read more>>
15 Insurers Drop Transmountain After Activist Pressure: Over the last five years, 26 of the world's major insurance companies have limited their coverage for coal, and 10 for tar sands. Lloyd's of London, an insurance giant, has committed to backing out of the tar sands sector at the end of last year. Recently, another insurance company ruled out coverage for Trans Mountain — the 15th in a wave of companies exiting the project. Read more>>
Polish Journalists & Citizens Oppose Controversial Media Bill: More than 1,000 journalists in Poland have signed an open letter to oppose a controversial media bill in the largest ever initiative of the country's journalistic community. Citizens are taking to the street to protest the bill, which targets a popular, American news outlet. Read more>>
Guatemalans Back On Street Demanding President's Resignation: President Alejandro Giammattei and the Attorney General of the Public Ministry did not respond to the people demanding their resignation. In this context, the population has resumed the demonstrations and various sectors call for an indefinite strike." Read more>>
Murders Of Colombian Human Rights Workers Decrease, Though Violence Persists: Murders of human rights and community activists in Colombia were down to 78 (from 90 this time last year) in the first half of the year, the country's human rights ombudsman said on Wednesday, but the attacks persist. The killing of activists is a top problem for the Andean country, with President Ivan Duque vowing he will not rest in the fight against those responsible amid criticism little concrete action has been taken. Read more>>
'We're Peons To Them': Nabisco Factory Workers On Why They're Striking: While the CEO of Nabisco's parent company is paid nearly $17m a year, plants are closing, jobs outsourced to Mexico, and older workers are unable to retire on weakened pension benefits. Read more>>
Voting Rights Groups Launch Civil Disobedience Campaign Against Filibuster: With the Democratic-led House of Representatives expected to pass the John Lewis Voting Rights Act, pressure is growing on the Biden administration and Senate Democrats to abolish the filibuster, without which new voting rights legislation and other Democratic priorities have no hope of passing the Senate. Groups are doing civil disobedience outside the White House to put pressure on politicians. Read more>>
Cancel Rent Demonstrators Arrested After Supreme Court Strikes Down NY Eviction Moratorium: More than 300 people rallied, and 17 people were arrested, at an anti-eviction protest. The demonstration in downtown Brooklyn took place outside a public hearing on the State of New York's failure to release billions of dollars in pandemic rent relief to tenants facing eviction proceedings as soon as the end of this month. Read more>>
Brazil's Indigenous Protest Over Court Ruling On Ancestral Lands: Hundreds of indigenous people danced and chanted outside Brazil's Supreme Court on Wednesday to urge the justices not to rule in favor of a cut-off date of 1988 for their land claims, a proposal backed by the farming sector. The protest has drawn an unprecedented 6,000 indigenous people from 176 tribes to camp out in the Brazilian capital to press the court to reject the timeframe. Read more>>
New Report Shows How the US Government Persecutes Black Movements Today: This report looks at information from 326 criminal cases and shows how the federal government deliberately targeted supporters of the movement to defend Black lives during the summer of 2020 uprisings in order to disrupt and discourage Black organizing. Read more>>
Hundreds Join Final Leg of Residential School Survivor's 79-Day 'Walk of Sorrow': Patricia Ballantyne walked from Saskatchewan to Ottawa after learning of unmarked residential school graves at Kamloops. Forced to attend a residential school for nine years from 1978-1987, the walk was intended to help her heal her own trauma and that of her community. Read more>>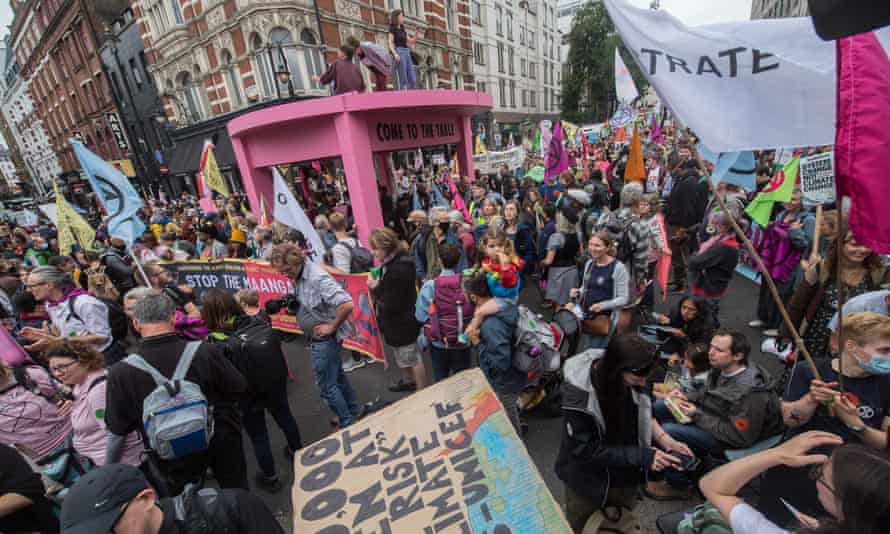 Extinction Rebellion Blocks Busy Junction In First Day of New London Campaign: Extinction Rebellion protesters have blocked one of Covent Garden's busiest junctions on the first day of the group's latest wave of protests targeting London, erecting a giant pink table and inviting everyone to it to discuss the climate emergency. Read more about day one here and day two here>>
Extinction Rebellion Rebels Hold McDonald's Slumber Party Against Meat Consumption: "There are now 3 rebels glued on at our McSleep-in as we occupy McDonald's Leicester Square for the slumber party of the year! We'll be here all night to send a message to McDonald's that it's time to stop sleeping on the job and transition to a plant-based food system. Glue yourself to a chair at your local McD's." Read more>>  
Extinction Rebellion Targets City of London With Blood Money Protest: Extinction Rebellion protesters poured red paint over the entrances of City institutions as they marched through London's financial district in a protest against the '"blood money" on which they say the UK economy is built. In what appeared to be the biggest mobilization so far this week by the environmental protest group, several thousand demonstrators took a tour of the City, stopping off at the banks and law firms they saw as most culpable in the climate crisis. Read more>>
Inside The Struggle To Defend Fairy Creek: 'I am using my body to delay the death of these beings': Fairy Creek land defender. Rainbow Eyes, a First Nation activist, has rebuilding, resilience, and relationships in her DNA. A member of the Da'naxda'xw-Awaetlala First Nation near Knight Inlet on Vancouver Island, Angela believes it is her responsibility to defend the Fairy Creek watershed from old-growth logging. Read more>>
Residents Speak Out Against Controversial Plan to Bulldoze Park To Raise It Above Rising Seas: Activists gathered outside City Hall to protest Mayor Bill de Blasio's override of Comptroller Scott Stringer's recent rejection of roughly $1.4 billion in construction contracts that will allow the East Side Coastal Resiliency (ESCR) project to proceed. The controversial flood control project would bulldoze, then bury East River Park under an industrial soil landfill and build a new park on top, in order to raise the site eight feet above the floodplain. Read more>>
Climate Activists Drop Giant Banner Off Grand Tetons: Ski mountaineer Zahan Billimoria, his son Alyosha, and professional skier Kai Jones dropped a huge banner at the summit of Mt. Teewinot to tell financial leaders: it's time to #StopTheMoneyPipeline. They teamed up with Protect Our Winters to make the message clear ahead of the Economic Policy Symposium. Watch a video here>>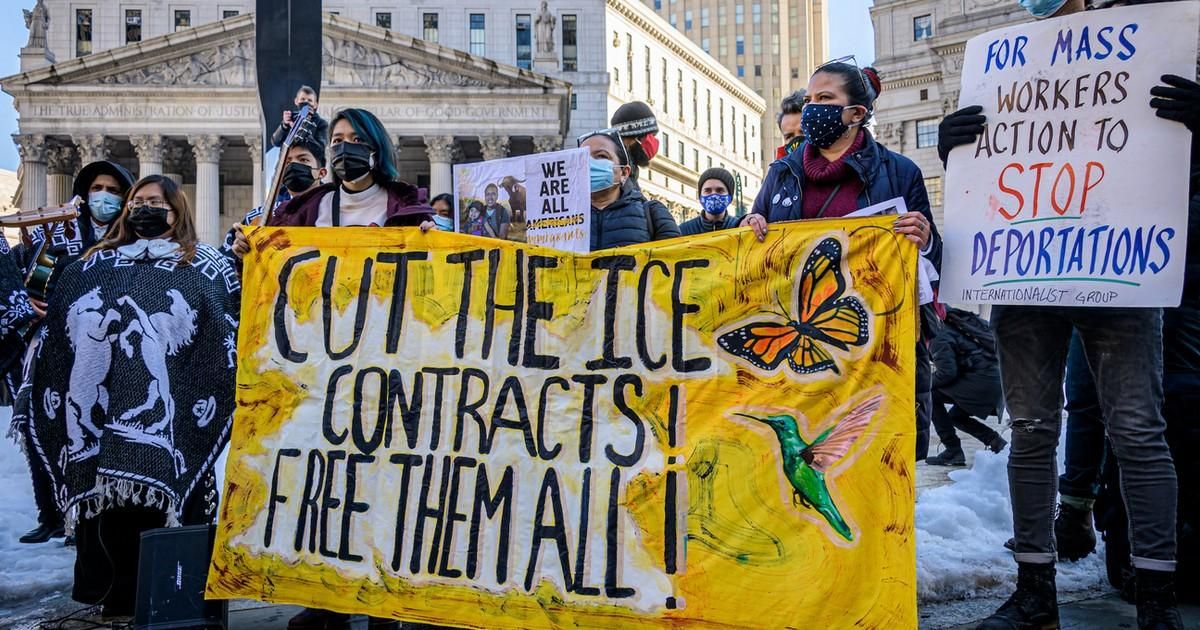 LGBTQ+ Immigrants Must Be Released from Detention: The violence of the detention system falls hardest on people already facing persecution and bias because of their sexuality or gender identity. Read more>>
Under Biden, Migrants Continue Fighting for the Right to Return to the US: As family separations continue under the Biden administration, unjustly deported migrants are fighting to be reunited with their families. Read more>> 
Don't Use Girls As An Excuse For Bombing Afghanistan, Again: Feminists, how could you have forgotten already? We've been here before. "I've been shocked by the knee-jerk and lazy reactions across social media, with many calling for intervention to 'rescue' women and girls in Afghanistan. There is no feminist case for sending UK troops to another country." Read more>>
Texas Governor Abbott Wants Teachers to Police Trans Students: Texas officials are threatening teachers with jailtime if they don't report suspicions that trans students have undergone surgery. Activist group pushes back. Read more>>
The Fight to Redefine Safety in Texas: Even as their budgets have climbed upward, police departments have deprived sexual assault units of proportional funding for decades. Today, advocates in Texas are trying to transform the state's approach to sexual violence. Read more>>
Trans Activism Isn't Just About Pronouns And Bathrooms. It's About Class Struggle: While pronouns and bathrooms are important issues, the focus on them can come at the expense of a more fundamental struggle – not just for trans rights but for trans liberation. In academia and at the grassroots level, the new field of trans Marxism understands the oppression of trans people as not just the result of individual people's prejudice, but as a part of capitalist exploitation. Read more>>
CODEPINK Delivers Signatures to PBS Urging Them to Stop Censoring the Truth About China: Much to their disappointment, PBS, a PUBLIC broadcasting service, chose to call the police on these four peace activists members of the public, who were calmly and respectfully representing the opinions of the taxpayers — who fund PBS to the tune of over $26 million annually. Read more>>
What A Truly Humanitarian Response In Afghanistan Would Look Like: While there are no guarantees of success in the short-term, here are five proven steps that can be taken to mitigate violence as the Taliban consolidate power. Read more>>
Anti-War Sentiment In US Military Is Stronger Than Ever: "After fifteen years in the antiwar struggle, I'm actually more optimistic than I've ever been. We don't have a mass antiwar protest like we did during the height of the Iraq War, but I think antiwar sentiment is more widespread and mainstream because of people's experiences with Iraq and Afghanistan." Read more>>
Extreme Weather Ads Appear In Five States: More than two dozen advocacy groups launched "extreme weather ads" in five state newspapers on Monday to pressure right-wing Senate Democrats to stop giving taxpayer money to the oil, gas, and coal companies most responsible for the climate emergency. Read more>>
Debtors Unions Reframe Indebtedness: In 2019, more than three quarters of U.S. households were holding some type of debt. In the wake of the Covid-19 pandemic, 1 in 4 adults are now struggling to pay household bills. But debt in U.S. culture is typically treated as an individual liability or a personal failure. The idea of a debtors' union turns that experience on its head — reframing indebtedness as a shared problem and a source of collective power. Read more>>
Yes Men Pranksters Take Over Prime Time To Say US' Afghanistan Budget Was A Waste of Money: "Next time around, let's spend it on something to be proud of, one of the activist pranksters called the Yes Men, impersonating Secretary of Defense Paul Wolfowitz said. NewsmaxTV allowed a fake Paul Wolfowitz to spend 11 minutes telling its hundreds of thousands of viewers that the $2.1T war in Afghanistan, begun by his administration in 2001, was a complete waste of money. Read more>>
The White Lotus Is a Perfect Satire of Today's Rich: HBO's brilliant The White Lotus reminds us that class society permeates everywhere, even on a tropical island — something that US television traditionally does its best to hide. Read more>>
Tribes Get Creative In Teaching Tradition And Community: Native nations are creating vibrant children's programs, using the most up-to-date and culturally appropriate means to keep their youngsters involved in tradition and community—while still ensuring their safety in these dangerous pandemic times. Young tribal members have virtual links with top-notch artists and teachers; distanced heritage activities such as running, archery, dancing, and storytelling; and much more. Read more>>
How to Prevent Crime Without Relying On Police: Many cities have implemented measures such as drug and mental-health courts, treatment for mental health and drug issues, restorative/transformative justice practices, and wraparound services for the most troubled youth and adults. But they have never been fully or adequately implemented across the country, especially in areas where such comprehensive programming is most needed. Read more>>
Intersectional Class Struggle – From Shared Oppression To Unified Resistance: The history and practice of intersectional class struggle harbors a rich tradition of working class resistance against white supremacy, patriarchy and imperialism. Read more>>
As the US Empire Declines, What Openings Exist For Progressive Movements? Hard as it may be to see beyond the chaos and suffering in Afghanistan, the larger picture reveals real opportunities for social change. Read more>>
What The Sunrise Movement Can Do Better: The Sunrise Movement deserves enormous credit for putting the Green New Deal on the national political agenda. But the organization seems to have hit a wall as of late. It may be time for Sunrise to pursue a new direction in its tactics. Read more>>
Join Extinction Rebellion: Get active in the world's largest nonviolent rebellion against catastrophic climate crisis. Learn more>>
Teach Truth Pledge Days of Action: Lawmakers in at least 28 states are attempting to pass legislation that would require teachers to lie to students about the role of racism, sexism, heterosexism, and oppression throughout U.S. history. Educators in more than 115 cities have signed up so far to host events on Aug. 27 – 29, 2021. Join one of the events or plan your own! Learn more>>
The Spirit of Nonviolence: This 6-week series with Rivera Sun and Veronica Pelicaric is about nonviolence as organized love. You will tap into the heart and soul of nonviolence, exploring its stories, principles, and spiritual depth. We will look at the stories of Dr. King, MK Gandhi, Bacha Khan, Dorothy Day, Leymah Gbowee, and many more. (Sept 2-Oct 7) Learn more>>
Campaign Nonviolence Action Week: Join the movement in all 50 states and around the world to build a culture of peace and active nonviolence, free from war, poverty, racism, and environmental destruction. Over 3,700 actions and events have already been planned. Everyone is welcome! (Sept 18-26th) Learn more>>
Call for ICNC's Free 2021 Moderated Online Course on Civil Resistance: For the tenth consecutive year, the International Center on Nonviolent Conflict (ICNC) will host our annual free, moderated online course, "People Power: The Strategic Dynamics of Civil Resistance." In this course, over 50 highly motivated and collaborative participants from around the world will join with selected moderators. Learn more>>
World BEYOND War Holds International, Virtual Film Festival for International Day of Peace: Leading up to Peace Day on September 21, World BEYOND War will be hosting a virtual film festival to expose the impact of militarism around the world and the power of nonviolence. The festival will span 3 weekends — Saturday, September 4, September 11, and September 18 — covering a multitude of themes, from colonial violence in Canada and military base pollution in Washington State, to a coup d'état in Haiti and nonviolent peacekeeping in Bougainville. Learn more>>  
A little support goes a long way. How long of a way? All the way around the world to thousands of readers. Thank you. Donate here>>