Editor's Note From Rivera Sun
A herd of one hundred, sculpted elephants took over London. They're "marching" to raise awareness of the critical need for conservation efforts. Each sculpture was handmade by Indigenous communities in India. In a similar vein, Yalata women in Australia made a giant right whale sculpture from "ghost nets" and other plastic waste in the ocean. The whale has been touring museums in Spain, France, and beyond. Meanwhile, in Papua New Guinean, locals are reviving an ancient tradition of "calling the sharks", but not to hunt them as they once did. Now, the ceremony was held to galvanize the community to resist deep sea mining.
In other Nonviolence News, thousands of Yemenis protested the war, sanctions, and the US-backed, Saudi-led military coalition. Paraguayans, Malaysians, and Thais are all rising up against the failed pandemic policies of their leaders. Indigenous organizers in Mexico occupied a water bottling plant that threatens their water supply. A rebellious teen punk with a cane led a digital movement for disability rights. A German train drivers strike caused massive delays across the rails. A Nigerian stay-at-home strike emptied the usually-busy streets.
You'll find all these stories and more in our weekly round-up.
In solidarity,
Rivera Sun
Photo Credit: A herd of 100 sculpted, life-size elephants made by Indigenous communities in Tamil Nadu takes over London to raise awareness for conservation efforts.
FREE Music Festival (online) on Saturday, Aug 21st. If inspired to donate, use the code NVNEWS to send us 25%. The event celebrates and supports the growing movement for a culture of active nonviolence, which Nonviolence News is proud to be part of. Get your free pass here>>
Louisiana Grandmother Awarded Prize For Taking On Cancer Alley "Like a Roaring Lion": Teacher-turned-environmental champion Sharon Lavigne was recently awarded the prestigious Goldman Environmental Prize for stopping a $1.25 billion plastics plant from coming to her community. Read more>>
Canada To Implement Historic Fisheries Agreement With First Nations: Years of negotiation to develop a collaborative fisheries governance model between Canada and eight First Nations along the West Coast came to fruition this week. The first of its kind in B.C., the agreement between Canada and First Nations on the north and central coast and Haida Gwaii — whose territories make up 40 per cent of the province's coastal waters — provides the nations an enhanced role in fisheries governance in their regions. Read more>>
Governor of New York Resigns Amid Sexual Harassment Scandal: Gov. Andrew Cuomo announced that he would be resigning amid a months-long sexual harassment scandal in which multiple women have accused him of exhibiting inappropriate and alarming behavior spanning years of his time in power. Read more>>
Student Debt Cancelled For Virginia State University Students: Students at Virginia State University have officially joined a wave of other HBCU scholars who have had their student debt cleared. The Petersburg-based university announced it would cover outstanding balances for students who enrolled during the COVID-19 pandemic. "We care about our students and their academic success and want to provide them the privilege of moving forward with a zero balance," said the Senior Vice President of Academic and Student Affairs. Read more>>
Family Who Lost Trees To Failed Pipeline Gets Land Back: A Northeastern Pennsylvania family who watched as work crews, accompanied by armed federal marshals, destroyed their budding maple tree farm to make way for the failed Constitution Pipeline has settled with the company for an undisclosed amount. A federal court has also vacated the eminent domain taking of about five acres, reversing an order it made more than five years ago. Read more>>
Hawaiian Elders Arrested During Telescope Protests Found Not Guilty: Four Native Hawaiians arrested in 2019 while protesting against construction of a giant telescope on Hawaii's highest peak were found not guilty of obstructing the mountain's access road. Those who oppose the $1.4-billion project say it will desecrate land on Mauna Kea held sacred to Native Hawaiians. Hundreds of protesters gathered at the base of the mountain in July 2019 to block construction of the telescope. Read more>>
Irish Death Metal Baron Rewilds His Estate: People thought he was an idiot, but this death-metal-loving Irish baron has rewilded his estate and seen biodiversity increase. The cattle and sheep are gone, so too are the lawns and many of the crops. In their place is a riot of shrubs, flowers and trees, along with insects and creatures that call this fledgling wilderness their home. Read more>>
British Petroleum Pays $23 Million to Gambia To Not Drill: You read that right. Due to a "shift in corporate strategy to low carbon energy", British Petroleum abandoned oil wells in Gambia, and even shelled out millions of dollars to do so. Read more>>
Paraguayans Take To the Streets To Reject President Abdo: The economic crisis has forced 42% of the citizens to go into debt to cover food, education, and health expenses. This week, farmers, doctors, teachers, and truckers took to the streets to demand that Paraguay's President Mario Abdo make increases in the minimum wage and improvements in the budget for health and education. Read more>>
Thai Police Face Off With Protesters Near Prime Minister's Residence: Thai police clashed with protesters for a second successive day after hundreds sought to rally near the residence of Prime Minister Prayuth Chan-ocha to demand his resignation for mismanaging the country's coronavirus crisis. Read more>>
Southeastern Nigerians Hold Stay-At-Home Protest For Separatist Leader's Freedom: Residents of southeastern cities in Nigeria held a stay-at-home protest to show solidarity with a detained separatist leader and to express broader grievances about how the country is run. Usually busy markets were quiet, roads clear of traffic and even some students who were due to sit exams had not turned up. Read more>>
Nicaraguan Activists Seek Asylum In Costa Rica As Government Cracks Down: Costa Rica received the highest number of refugee applications from Nicaraguans in July since the 2018 protests in Nicaragua, according to Costa Rican government data, following a wave of arrests against opponents of President Daniel Ortega in June. Read more>>
700 Trains Halted As German Train Drivers Go On Strike: A strike by train drivers over pay severely disrupted services across Germany, added pressure to European supply chains, and frustrated passengers at a time of high demand during the summer holiday season. Read more>>
TikTok Gives a Voice To Turkey's Laborers: 'I felt I existed in this world.' With posts from factories, fields and construction sites, workers in Turkey are going viral on TikTok. The app's staples such as challenges, dancing and comedy abound, but amid the joy it is hard not to miss the criticism of dire working conditions. Read more>>
Malaysians Protest Against COVID Mishandling: Hundreds of activists marched in Malaysia's capital to demand the resignation of Prime Minister Muhyiddin Yassin over his government's handling of the COVID-19 pandemic. Read more>>
Medicare For All Campaign Files Human Rights Violation Complaint Against the US: The March for Medicare for All Movement released a statement today that the group is filing a human rights violation complaint with the United Nations and will hold a public UN panel discussion later this month. On July 24, thousands of people across the United States in 56 marches and vigils demanded the United States Federal Government to take immediate action on three demands by August 6, 2021. Read more>>
LGBTQ+ Students At Religious Schools Are Suing Over Discrimination: LGBTQ+ students and recent alumni of Christian universities are filing a lawsuit with the Department of Education. The Religious Exemption Accountability Project is the group behind a class-action suit of 40 LGBTQ+ students and recent alumni of Christian universities who allege that the schools discriminated against them. Read more>>
A Global Anti-Olympics Movement Rises To Challenge The Games' Darker Side: From Tokyo to Los Angeles, groups are protesting to end the displacement, policing and militarization faced by cities that host the Olympic Games. Read more>>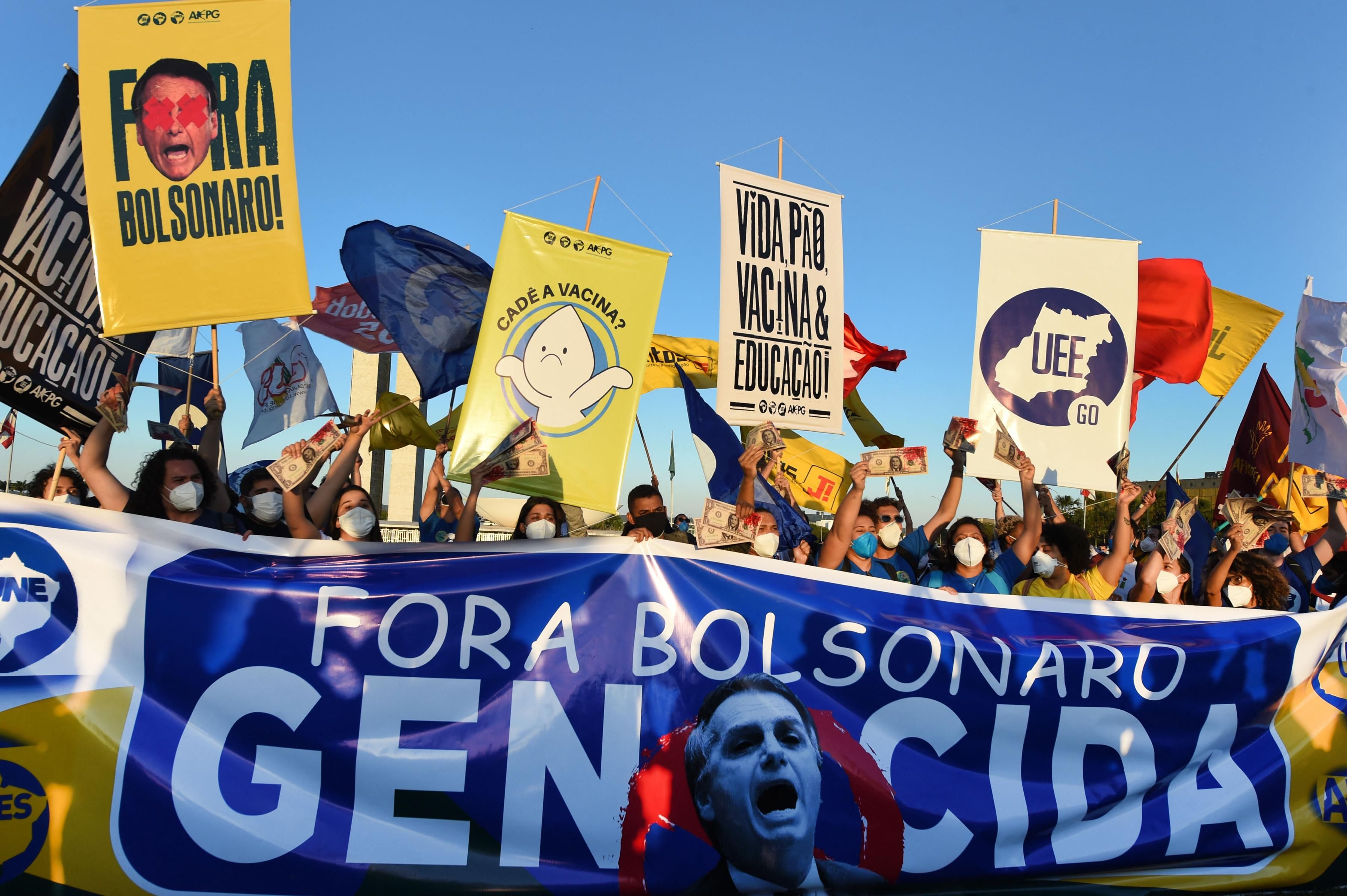 Indigenous Group Accuses Bolsonaro of 'Genocide' and 'Ecocide' at The Hague: A coalition of Indigenous organizations filed a complaint at The Hague on Monday accusing Brazilian President Jair Bolsonaro of carrying out an "explicit, systematic, and intentional" assault on native peoples, pointing specifically to his systematic dismantling of environmental protections and aggressive campaign of deforestation in the Amazon rainforest. Read more>>
Wegmans Grocery Distribution Complex Project Faces Fresh Opposition: A huge grocery distribution complex planned for a forested area in Virginia faces community opposition over air quality concerns and impacts on the town's historic designation. The surrounding area is also home to a community founded by freedmen and freedwomen after the Civil War. "In the past, we have been the community of least resistance," said Renada Harris, who grew up in Brown Grove and is related to most members of the Brown Grove Preservation Group that formed over concerns about the project. "But now, we're learning to fight back." Read more>>
Slavery Still Exists. These Organizers Are Working To End It: The 13th Amendment outlaws slavery except as punishment for a crime. That means that Black and Brown people in prisons all over the country are forced to work for low or no wages, while others profit. In this episode of Rattling the Bars, Eddie Conway speaks with California organizers Jeronimo Aguilar and John Cannon about why we must fight to eradicate the last vestiges of slavery and how they are using legislation and other methods to get the job done. Read more>>
Seattle Vigil Against Racist Medical Negligence: 'No Justice, No Peace, It's The Doctors and The Police!' chanted the slogan of hundreds of protesters who gathered in Seattle for the Healthcare Equity March. This was the most recent of a series of protests centered around Kaloni Bolton, a 12-year-old Black girl who died tragically at the beginning of this year as a result of medical negligence. Read more>>
Still Fighting for Liberation – Unpacking the Revolutionary Spirit of Black August: August is well underway, and for those who are in activist circles, Black August is month of great significance. Read more>>
Glen Ford and the Black Radical Critical Tradition: Glen Ford carried on his devotion to the liberation struggle until the end of his life. Glen made it quite clear how he wanted to depart this earth. "Ajamu, I am going out struggling." Read more>>
Three Predominantly Black Neighborhoods Face Environmental 'Nightmare': Three predominantly Black north Birmingham, AL, neighborhoods are part of the 35th Avenue Superfund site. They are archetypal "environmental justice" communities that are covered under an Biden executive order to assist areas disproportionately harmed by pollution or the adverse effects of climate change. However, residents' demands to have the 35th Avenue Superfund site placed on the National Priorities List didn't see action. Instead, their opponents launched a bribery scandal to keep it from happening. Read more>>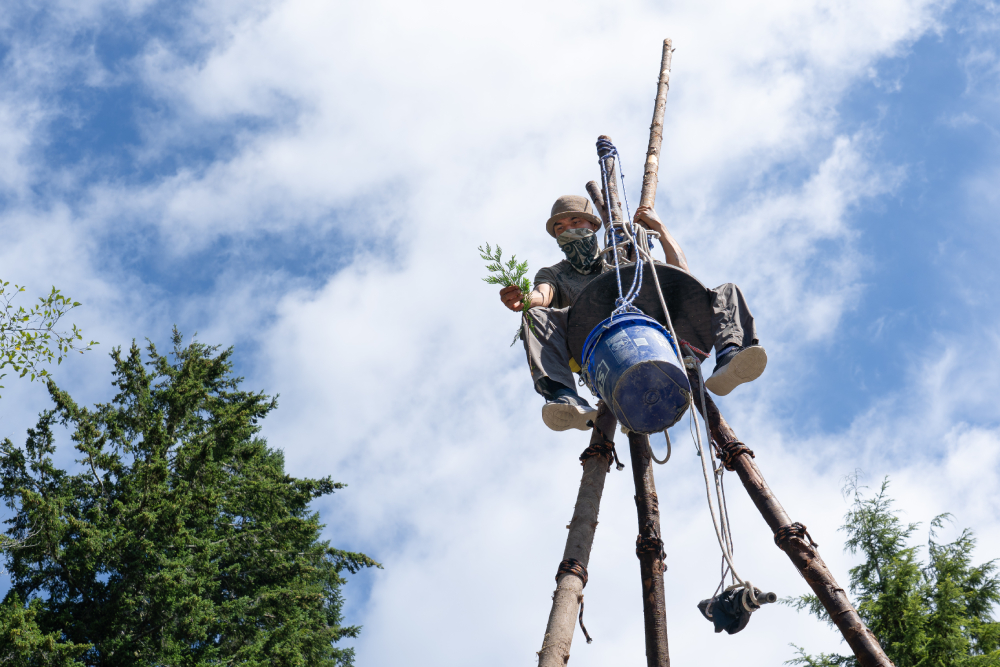 Police Raid Fairy Creek Blockader Hub: The escalation occurred as blockaders were preparing to mark their one-year anniversary occupying the forests in Pacheedaht Territories surrounding Port Renfrew. A number of blockaders had left the area to travel to the rally planned that day at the B.C.'s parliament buildings in Victoria. Read more>>
Mexico's Indigenous Communities Take Over Water Bottling Plant: For four months, Indigenous and local communities in Mexico have managed to blockade and shut down the Bonafont plant in Cuanala in Puebla state. Bonafont is a bottled water brand owned by Danone, a Paris-based food corporation. Now, they have occupied the plant. "We have to defend what our ancestors left us with — this mother Earth." Read more>>
Shark Harvest Ceremony Repurposed To Oppose Deep Sea Mining: The shark harvest ceremony used to be held to attract sharks that would be killed and eaten. Now, it's being held to rally a campaign to stop the relentless attempts of deep-pocketed mining investors to tear up the local sea bed in search of minerals. Read more>>
Protesters Against Line 3 Tar Sands Pipeline Continue To Face Arrests and Rubber Bullets: More than 600 people have now been arrested or received citations over protests amid growing opposition to the Line 3 oil sands pipeline currently under construction through Minnesota. Enbridge has been directly paying local police to protect their pipeline against Indigenous-led resistance. Read more>>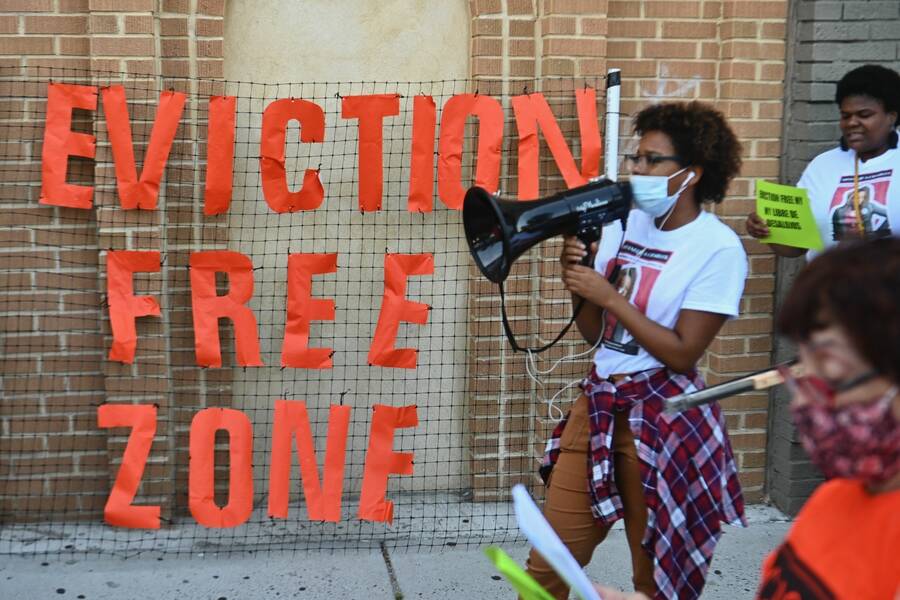 Tenants Aren't Waiting for the Biden Admin to Save Them: From "Just Cause" Eviction laws to expediting relief measures, here's how tenant organizers are mobilizing locally to stem the housing crisis. Read more>>
Housing Advocates Welcome CDC Eviction Moratorium But Say It's Not Enough: The new CDC moratorium is "a band-aid over a bullet wound," says Tara Raghuveer, director of KC Tenants, a tenants' rights organization in Kansas City. "This is a very small step. It's the bare minimum. And for many tenants … this will actually not offer the protections that are needed to keep them in their homes." Read more>>
Azerbaijan Women's Rights Activists Protest Outside Ministry: A coffin covered with the names of domestic abuse victims was placed at the entrance of the Ministry of the Interior in Baku on July 30. The installation was organized by three representatives from a local feminist collective to combat increasing gender-based violence in Azerbaijan. At least five women were killed in Azerbaijan in July due to domestic violence. Read more>>
Indian Women Use Social Media To Call Out Caste-ist Actions and Abuses: After a shocking incident, women took to social media to denounce caste-based abuses. A 9-year-old girl was allegedly raped, killed and cremated against her parents' wishes. Protesters demand "justice for Gudiya" and capital punishment for the four accused who have been arrested. One of them is a Hindu priest. Read more>>
Indonesia Halts Virginity Tests On Female Cadets In Military: The Indonesian army has ended a controversial practice of virginity tests on women who apply to become cadets, according to its chief of staff, a move welcomed by activists who have long campaigned against it. Read more>>
Yemenis Protest Against Saudi-led Military Coalition And US Blockade: Thousands of Yemeni civilians staged a protest in the capital Sanaa on Sunday, August 8, against the Saudi-led Gulf coalition's years-long blockade of the war-torn country. The blockade has caused extensive economic damage and hardships for Yemenis. The protesters also railed against the United States for supporting the coalition. Through its large-scale military operations, it has killed thousands of civilians and deliberately targeted civilian infrastructures. Read more>>
Shining Canoe At Toronto's Harbor Honors Haudenosaunee Peacemaker: A canoe covered in geometric mirrors floating in Toronto's Harbour Square Park basin is bringing the traditional Haudenosaunee story of the Peacemaker to new audiences. Read more>>
Hiroshima Marks 76th Anniversary Of U.S. Atomic Bombing: Mayor Kazumi Matsui urged world leaders to commit to nuclear disarmament as seriously as they tackled the pandemic that the international community recognizes as a "threat to humanity." "Nuclear weapons, developed to win wars, are a threat of total annihilation that we can certainly end, if all nations work together," Matsui said. Read more>>
A Hiroshima Grandmother's Plea To Americans: As the United States pushes the world closer to nuclear war, stories of atomic bomb survivors continue to urge us to resist idolatry and dismantle our nuclear weapons. Read more>>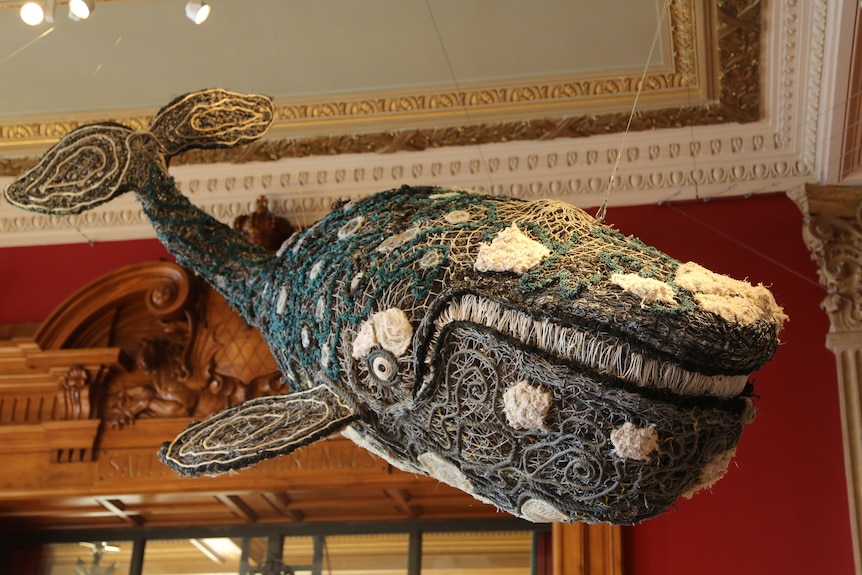 Migrating Whale Sculpture Made From Ocean Plastic Waste: A southern right whale sculpture made from ghost nets and marine debris collected from beaches along the Nullarbor (Australia) has been migrating through art galleries in Europe, showcasing the Mirning people's seven sisters dreaming story. Read more>>
Elephant Sculptures Take Over London: A herd of 100 sculpted elephants took over London streets to raise awareness of the dire need for conservation efforts. Read more>>
Afghanistan's ArtLords Use Concrete Barricades As Canvases To Promote Social Change: The ArtLords mission statement says "the organization is a grassroots movement of artists and volunteers motivated by the desire to pave the way for social transformation and behavioural change through employing the soft power of art and culture." Read more>>
Indonesian Robot Converts Trash Into COVID-19 Care: A homemade robot designed by Indonesian villagers and scientists for fun has found a new use during the pandemic – bringing food, and hopefully a smile, to self-isolating residents who have contracted COVID-19. Read more>>
"Solarpunk" Offers Hope For a More Sustainable Future: "Minimum Viable Planet" is a weeklyish commentary about climateish stuff, and how to keep it together in a world gone mad. It is a form of "solarpunk" a genre of writing that deals with the climate crisis. Read more>>
'Reservation Dogs' Is 'a Real Story About Real People': Two Indigenous filmmakers are smashing the caricatures and stereotypes of Native people, who since the earliest days of film and TV have often played supporting roles or been portrayed as bloodthirsty killers standing in the way of white, westward expansion. "There's been 130-something years of cinema and we're finally showing ourselves as human beings, which shouldn't be radical, but it is pretty radical today." Read more>>
How a Teen Punk Led a Movement For Disabled People Online: From Tumblr to TikTok, young disabled people are deciding how to represent themselves. "Cripple punk" grew into not just a movement, but a community. The tag flourished as people with disabilities celebrated each other, shared art, discussed feelings of shame, told stories of their experiences with ableism, and swapped tips about medications and mobility aids. Read more>>
Feminist Protests in Palestine: Palestine has long history of women organizing that dates back to as early as 1917. Nevertheless, the coordinated feminist protests that took place on 26 September 2019 took some by surprise. On that day, thousands of Palestinian women – some of them for the first time in their lives – hit the streets of 12 cities across the Occupied Palestinian Territories, as well as in refugee camps and the diaspora, in response to a call issued by the activist group Tal'at to protest the rise in gender-based violence (GBV), most notably so-called 'honour killings', in Palestinian society. Read more>>
Ben & Jerry's Boycott Was A BDS Breakthrough For Palestinian Rights: Ben & Jerry's boycott "may be our most important BDS win to date," says Sandra Tamari, executive director of the U.S.-based Palestinian advocacy organization Adalah Justice Project. "The over-the-top response by Israeli leaders to the company's announcement, including threats to compel U.S. states to apply unconstitutional state laws limiting boycotts against Israel, shows that immaterial victories such as these can make a vast empire tremble, and that is the power of organizing." Read more>>
The New Era of Extractivism & How To Defeat It: El Salvador had to fight a multinational mining firm to protect its own water. It's a sign of struggles to come — but also an inspiring example of how to win them. Read more>>
Open Bargaining Brings Democracy And the Power of Members To the Union Negotiating Table in Berkeley: After years of salary scales that don't keep up with the cost of living, an SEIU 1021 bargaining team for city of Berkeley workers decided to do something different at the bargaining table this year. They decided to go big—by opening up bargaining to all members. At first the city refused. Read more>>
Six Months After Coup, the World Has Failed the People of Myanmar: Brave activists in Myanmar are still resisting the coup — at great cost. An international campaign to ban arms sales and target gas sales could help. Read more>>
Hackers' Collective Counters Invisible Spyware: Pegasus is almost invisible – the most recent versions of the spy software from the Israeli company NSO hide in the temporary memory of Android phones or iPhones. But detecting it is not impossible. Amnesty Tech, the collective of hackers and researchers from the human rights association, has developed Mvt, the Mobile Verification Toolkit, a free and downloadable online tool that lets you know if the spyware has attacked your Android or iOS device. Read more>>
Enough For Everyone — a Nonviolent Approach To Economics: Nonviolence Radio interviews political philosopher Michael Allen on the intricacies and promise of Gandhi's humanized approach to economics. Read more>>
End The Selective Service For Everyone: Join WAND, AFSC, and the Center On Conscience and War to learn why it's time to abolish the US military draft and draft registration system for everyone. And, find out how we can stop congress from expanding the current male-only system to women. (Aug 18) Learn more>>
Extinction Rebellion UK Launches Two Weeks Of Action: Extinction Rebellion UK has launched plans for 2 weeks of civil disobedience in London, beginning Monday 23 August, "Because the future we fear is already here and there's nothing left to do now but act." They plan to disrupt the City of London, demanding that the UK Government 'stop all new fossil fuel investment immediately'. (Aug 23-Sept 6) Learn more>>
Day of Action Opposing Modern Slavery: A day of global action against modern slavery will occur on Aug 20th. Modern slavery is the severe exploitation of another person for economic or personal gain. It looks like forced domestic servitude and sexual exploitation; like forced marriage and human trafficking and more. (Aug 20) Learn more>>
Turn It Up – Music In the Movement Training: In this participatory session, we will share inspiring examples of music as a force of change, listen to creative uses of music in nonviolent movements, and look at how to weave music in our actions. (Aug 20) Learn more>>
For Goodness Sake Music Festival: On Saturday, August 21 enjoy music from around the world to support the movement for a culture of active nonviolence free from racism, poverty, environmental destruction, and war. Register to attend Pace e Bene's For Goodness Sake: Music for the Nonviolent Future, an online music festival featuring scores of artists and brief presentations on the power of nonviolent change. (FREE – Aug 21) Learn more>>
Bus-Sized Nonviolence: How MK Gandhi Institute Plastered Giant Nonviolence Ads On Public Transit: Why hold a sign when you can make a GIANT billboard? Or, better yet, stick it on the side of a bus and roll it around town! The M.K. Gandhi Institute in Rochester, NY, launched a successful program to plaster nonviolence-promoting advertisements on the sides of city buses. Find out how they did it. (Aug 26) Learn more>>
MLK's Family and Civil Rights Leaders Call for Voting Rights March on Washington: August 28 will mark the anniversary of the 1963 March on Washington for Jobs and Freedom, the mass rally in Washington, D.C. that brought us Martin Luther King Jr.'s "I Have a Dream" speech and set the stage for the Voting Rights Act and other civil rights victories in Congress. King's family and other civil rights leaders are now calling for another mass march on Washington on August 28 that will turn up the heat on Democrats who have so far failed to pass three voting rights bills languishing in a divided Senate. (Aug 28) Learn more>>
Honor Native Land Tax Organizer Training Series: The training series offers settlers a space to learn more about HNLT, build relationships through shared values, skill up in organizing and grassroots fundraising, and engage in political education around settler colonialism. (Sept-Nov) Learn more>>
The Spirit of Nonviolence: This 6-week series with Rivera Sun and Veronica Pelicaric is about nonviolence as organized love. You will tap into the heart and soul of nonviolence, exploring its stories, principles, and spiritual depth. We will look at the stories of Dr. King, MK Gandhi, Bacha Khan, Dorothy Day, Leymah Gbowee, and many more. (Sept 2-Oct 7) Learn more>>
It's a labor of love (okay, and mild obsession) putting together these round-ups.
Keep me going with a donation of any size. Donate here>>