Editor's Note From Rivera Sun
Humanity's homes – in all their shapes and sizes – are increasingly endangered. From the climate crisis to the housing crisis to struggles for homelands, people are trying to protect their right to shelter, safety, homelands and housing. It's a poignant theme, heartbreaking to see under repeated attack.
The United States is gripped by a housing crisis. While there are plenty of buildings, rents outstrip wages and people can't afford to keep a roof over their heads. In NYC (pictured above), people demonstrated against the relocation of unhoused encampments. As the end of the pandemic eviction moratorium looms, other drastic actions are taking place to extend it. Congress members slept on the Capitol steps while their colleagues went on vacation. They narrowly secured a two month extension of the moratorium. It's not enough.
Meanwhile, Palestinian residents of Sheik Jarrah are refusing to pay rent for homes they already own. The Nez Perce Tribe has reclaimed a tiny fraction of the land they were forcibly removed from over 100 years ago. Wild Rice (yes, the plant that won legal personhood) has filed a lawsuit to stop Enbridge Line 3 Pipeline from contaminating the waters of its only home. Citizens in both California and Italy are rescuing people from the fires destroying their communities. To protect the only planet we all call home, climate activists are gearing up for the struggle of a lifetime, pushing an anti-methane and fossil fuels message ahead of the Glasgow, Scotland, climate summit.
In other Nonviolence News, Nigeria doctors went on strike, Canadian Border Guards launched a work-to-rule strike, a Chinese artist turned the lens around on surveillance cameras, a pop-up minigolf course is teaching people about climate change, and so much more.
Enjoy this week's round-up,
Rivera Sun
Photo Credit: Housing justice advocate in NYC shouts "housing is a human right" as she's arrested.
On Aug 21st, support Nonviolence News by rocking out to good music! Nonviolence News is a proud co-sponsor of For Goodness Sake – Music For The Nonviolent Future, an online music festival on Aug 21st. Registration is free, but if you choose to donate, use the code #NVNews and 25% will go to supporting Nonviolence News! Register for the festival here. Donate at goodness-sake.org/donate.
100 Years After Forced Removal, Nez Perce Tribe Celebrate Reclaiming Part Of Their Land: More than 150 Nez Perce (Niimiipuu) people returned and blessed part of their homeland, a hundred years after the U.S Army drove them from the Wallowa Valley in eastern Oregon. For years, the tribe has worked to keep a connection to the ancestral land they were driven from. Now, they've successfully reclaimed part of that land. Read more>>
Grassroots Fight For $15 Movement Has Won $150 Billion In Raises For Millions of Workers: The Fight for $15 grassroots labor rights movement has been applauded for years by progressive lawmakers and advocates for its tireless efforts to secure fair pay and the right to organize for all workers—and on Wednesday, new research showed how the group has been instrumental in changing the lives of tens of millions of people across the country. Read more>>
Cori Bush, Progressive Lawmakers and Activists Hailed for New CDC Eviction Moratorium: Pressure from progressive lawmakers and grassroots activists to extend the expired federal eviction moratorium paid off Tuesday when the Biden administration took action to shield most—but not all—U.S. renters at risk of losing their homes. Read more>>
Mexico Phases Out Imports of Glyphosate and GMO Corn: The Mexican president's decision builds on more than a decade of grassroots resistance from a coalition of Mexican social and environmental justice advocates, smallholder farmers, beekeepers, and scientists who filed a class-action to halt further permitting of GE corn. Read more>>
Bayer Confirms End Of Sale Of Glyphosate-Based Herbicides: Bayer Monsanto stated Thursday that "the company and its partners will replace its glyphosate-based products in the U.S. Residential Lawn & Garden Market with new formulations that rely on alternative active ingredients beginning in 2023." Read more>>
Luanda Leaks Whistleblower Leads To Return of $500 Million to Angola: Isabel dos Santos, at one time the wealthiest woman in Africa, must surrender one of her last remaining major assets, a stake in the Portuguese energy company Galp worth an estimated $500 million, an international tribunal in the Netherlands has ruled. An international tribunal ruled that the billionaire and her late husband corruptly obtained a lucrative stake from the state oil company Sonangol. Read more>>
Spurred By Pandemic, Barcelona Backs Greener, Car-Free Future: Originally described as provisional by city authorities, the changes to car-free streets are still in place a year later despite opposition from some business groups. Now, a new plan is converting 21 streets, totaling 33 km (20 miles), into pedestrian green spaces. The project illustrates how the pandemic has influenced urban planning across the world, accelerating changes such as more bike lanes and fewer cars amid growing concern about climate change. Read more>>
Italian Citizens Rescue Beachgoers From Forest Fire: A fleet of citizens boated to the rescue of beachgoers threatened by intense forest fires, augmenting the coastguard to save people's lives. Read more>>
Guatemalan Communities Turn Out For Indigenous-Led Nationwide Shutdown: Guatemala's attorney general fired a top prosecutor of corruption last week. Now, Indigenous peoples and social movements are calling for both her and the president to resign. Read more>>
Rev. Barber & Hundreds More Arrested at DC Protest For Voting Rights & Higher Wages: Thousands of people from 47 states, including faith leaders from 37 denominations and low-wage workers, many of them considered "essential" during the pandemic, attended Monday's protest, Barber said. A spokesperson for the Capitol Police said Tuesday that 204 people were arrested during the protest after being told three times to leave the street. Read more>>
Grieving And Angry, Lebanese Mark One Year Since Horrific Blast: United in grief and anger, families of the victims and several thousand Lebanese marked one year since the horrific explosion at Beirut's port with a moment of silence and prayers at the foot of the silos that was shredded by the blast on that fateful day. A few blocks away, a group of stone-throwing protesters clashed with security forces near Parliament, which they accuse of blocking the investigation into the port blast by refusing to lift immunity of senior politicians implicated in negligence that led to the explosion. Read more>>
Nigerian Doctors Begin Strike Over Salary: Resident doctors in Nigerian public hospitals began an indefinite strike on Monday over grievances that include the delayed payment of salaries and allowances, the doctors' union said, as coronavirus infections rise. Nigerian doctors frequently strike over what they say are poor conditions of service. Last year they walked out from their jobs three times, including over demands for an allowance for treating COVID-19 patients. Read more>>
Thai Protesters Demand PM Resign Amid Surge in COVID Cases: In Bangkok, drivers honked horns and motorcyclists raised three-finger salutes – a gesture of resistance inspired by "The Hunger Games" movie – as they headed along a 20 km (12 miles) route. Read more>>
Canadian Border Staff To Begin Work-To-Rule Strike Action: Almost 9,000 Canadian border staff will begin "work-to-rule" strike action starting on Friday, the union announced on Wednesday, days before Canada begins allowing fully vaccinated U.S. visitors in the country for the first time in 16 months. Read more>>
Global Health Activists Say It's Time We Ask Big Pharma To Make a Sacrifice: After making billions on subsidized vaccines, the access to medicines movement is calling on Biden to intervene more forcefully with pharmaceutical companies to end the pandemic. Read more>>
This Amazon Grocery Runner Has Risked Her Job to Fight for Better Safety Measures: Courtenay Brown knows she could be on the streets if she loses her job at an Amazon Fresh unit. She's speaking out about scant Covid-19 safety measures and lack of workplace benefits anyway. Read more>>
Massive Union Rally For The Promise of a Better South: Several thousand people showed up for what was billed as the ​"Biggest labor rally in Alabama history". This was not a single rally for a single local of a single union. This was the entire labor movement, showing up to say that they have not forgotten a long and grinding struggle. Read more>>
Fresh Wave of Climate Protests to Target Gas Ahead of COP26 Summit: Fridays For Future and Extinction Rebellion climate protests are set to resume in coming weeks ahead of November's COP26 summit. Climate activists will try to shut down gas terminals and protest fracking plans in several countries this weekend, as a post-lockdown push to influence the agenda ahead of November's COP26 climate summit in Scotland kicks off in earnest. Read more>>
Wild Rice And Ojibwe Band File Lawsuit To Uphold Treaty Rights: On August 5, an action was filed in the Tribal Court of the White Earth Band of Ojibwe in Minnesota, by Manoomin (wild rice), the White Earth Band of Ojibwe, and several tribal members, to stop the State of Minnesota from allowing the Enbridge corporation to use five billion gallons of water for the construction of the oil pipeline known as "Line 3." Read more>>
Vigil Held For Dying Sockeye Salmon: "The Columbia and Snake rivers are too hot for salmon and steelhead to migrate safely upstream," Johnson told a group gathered on shore. "They are too hot because the dams have made them too hot, and with climate change that is pushing our salmon over the brink of extinction." Read more>>
Everyone Has a Role To Play In Stopping the Line 3 Pipeline: Indigenous water protectors and allies are effectively engaging all four roles of social change — just what's needed to beat a company as powerful as Enbridge. Read more>>
'We Do What The Red Cross Won't' – a Day In The Life of a Wildfire Relief Angel: As the largest wildfire in the US burns, a team of volunteers is supplementing the work done by larger aid groups – seeking out the most desperate and hardest to reach. Read more>>
How Replanted Seagrass Is Restoring The Oceans: Two decades in to the world's largest seagrass restoration project, Virginia's coastal waters are once again vibrant and healthy ecosystems. Read more>>
The Best Climate Solutions Come From Listening: Too often, climate change policies are top-down approaches that forgo meaningful exchanges with the people who will have to live with solutions created for them. Read more>>
Indigenous Rights Are A Counterforce To The Climate Crisis: A recent analysis by Indigenous Climate Action of Liberal climate policies outlines how current plans included increased oil and gas production as well as clear structural exclusion of Indigenous peoples from decision-making. That is not only bad for our collective future, but it is also a violation of rights of Indigenous peoples' as outlined in the government's own reports and commissions. Read more>>
'Civil Disobedience Is Our Duty' – Swiss Climate Campaigners Occupy Zürich Financial Center: Climate justice campaigners occupied the center of Zürich's financial district Monday to demand that the two biggest banks in Switzerland divest from oil, gas, and coal. Dozens of "singing and chanting activists" blocked entrances and police officers arrested about 30 people. Read more>>
Climate Activists Target a Retrofitted 'Peaker Plant' in Queens, Decrying New Fossil Fuel Infrastructure: The peaker plant's advocates claim it will help the transition to renewable energy. But activists say the new natural gas plant would lock the state into relying on fossil fuels for decades, fly in the face of the state's climate law that requires a drastic reduction in carbon emissions by mid-century and continue to pollute in an already overburdened community where many residents are immigrants and live below the poverty line. Read more>>
1500 March In Support Of Penelakut Tribe's March For Children: More than 1,500 people from many walks of life gathered together for the Penelakut Tribe's March for the Children in Chemainus Monday in a show of force for desired change and to call on governments to acknowledge the truths about Canada's residential school system. Read more>>
For Black Women, Self-Care Is a Political Act: "In order to move away from being the kind of strong Black women who are merely surviving rather than thriving, we must embrace both our strengths and vulnerabilities and give ourselves permission to be human rather than expect to be superhuman. That means pulling back the mask of strength and showing the world the beauty in the core essence of our being." Read more>>
How Immigrant Communities Are Addressing Colorism and Anti-Blackness: The #BlackLivesMatter protests in 2020 sparked hard conversations within immigrant communities on how internalized biases based on skin-color remain prevalent. Read more>>
No, Minneapolis Did Not Defund the Police. But We're Not Done Trying: We understand that abolition is the long game. We're in it for as long as it takes. Read more>>
The Future of the Movement For Black Lives: History does not judge a movement by the sheer number of its protests, the wittiness of its slogans or the creativity of its actions. Instead, social movements are judged by their analysis of the underlying power dynamics and social issues, the demands they pursue to rectify those issues and the extent to which they achieve their demands. Read more>>
40 Acres and a Mall – Crenshaw Community Protests at Homes of Gentrifiers: Downtown Crenshaw Rising (DCR) has taken its actions national, engaging in simultaneous protests in New York and L.A. to stop the sale of the Baldwin Hills Crenshaw Plaza (Crenshaw Mall). The international conglomerates eyeing the mall are business associates of Donald Trump and Vladimir Putin. For over a year, the Crenshaw Mall, a landmark Black economic and cultural hotspot that sits on 40 acres, has been the target of numerous outside White developers seeking to gentrify Black Los Angeles. Read more>>
Women Farmers Hold Parallel Parliament In India: A contingent of women farmers from Delhi's neighboring states gathered on Monday, 26 July at Jantar Mantar in the national capital for a 'Kisan Sansad' or farmers' parliament. The action also marked the completion of eight months of the farmers' agitation against controversial farm laws. Read more>>
South Africa's National Beauty Pageant Sees Its First Transgender Contestant: 24-year-old Lehlogonolo Machaba hopes she will inspire greater acceptance of the LGBTQI community with her entry into South Africa's National Beauty Pageant. Machaba, a fashion model, is competing for the Miss South Africa title, which opened to transgender contestants in 2019. Read more>>
New York Governor Andrew Cuomo Pressured to Resign After Report On Sexual Harassment: A new report from the New York state attorney general found that Governor Andrew Cuomo sexually harassed multiple women. At a press conference on August 3, investigators and AG Letitia James revealed the findings of an investigation into the high-profile Democrat and the culture around him, described as one of sexual harassment, fear, intimidation, and a lack of accountability. The report included testimony from eleven women who stepped forward, interviewed 179 people, and examined 71,000 documents. Read more>>
City Hall Protest Over NYC Homeless Relocations Leads To 11 Arrests: In response to the mayor's "empty promises," several organizations held the "de Blasio Broken Record" Action, during which they demanded a halt to the transfer of unhoused individuals from hotels to shelters. They also called for immediate action on Intro. 146, a City Council bill requiring the City to pay higher amounts of rental assistance vouchers for homeless New Yorkers. Read more>>
'We Are the Owners' – Palestinians Refuse to Concede Land Rights to Israelis in Sheikh Jarrah: "The minute we pay rent for our homes, it means we have given up ownership," said one woman who could be expelled to make way for Jewish settlers. Read more>>
New York's "Cancel Rent" Movement Isn't Over: The call to cancel rent won widespread support and helped advance a vision of housing justice we can build off of for years to come. Read more>>
US Representatives Bush, Pressley, and Omar Sleep Outside Capitol to Demand Extension of Eviction Moratorium: Rep. Cori Bush, who was formerly unhoused, slammed her Democratic colleagues who "chose to go on (a 7 week) vacation early today rather than staying to vote to keep people in their homes." Read more>>
'Block The Boat' Hits New Jersey: Activists held an action at a port in Elizabeth, New Jersey, attempting to block an Israeli-operated cargo ship from unloading. The Haifa-based shipping company ZIM has been targeted by the BDS movement over its connection to Israeli apartheid and last month Bay Area protestors successfully stopped ZIM from offloading in Oakland. Read more>>
Top Paramilitary, Guerrilla Leaders in Colombia Ask Forgiveness: Salvatore Mancuso and Rodrigo Londono, former enemies from Colombia's internal conflict, appeared together before the country's truth commission on Wednesday to ask victims for forgiveness and recognize mistakes they made during the war. Read more>>
Tokyo's Games Are Harming the Nuclear Weapons Ban Movement: By paying lip service to the Fukushima disaster and the nuclear bombs dropped on Japan, these games are downplaying the growing danger of nuclear catastrophe. Read more>>
How Nonviolent Resistance Fostered Peace In Nepal: In February 2006, as Nepal entered its tenth year of civil war, with several failed ceasefires, there was little prospect for peace with the Maoist rebels. Yet two months later, after forming an alliance with Nepal's Seven Party Opposition, the Maoists joined a national strike. This initiated a pro-democracy nonviolent movement that successfully removed King Gyanendra from power and led to a peace agreement, achieving in a few months what the armed rebellion had failed to achieve in ten years. Read more>>
Activists Protest US Nukes In Germany: At German Air Force Base at Büchel in the Eifel Mountains an "International Week" of protests against the approximately 20 US nuclear gravity bombs known as B61s kept at the base in a "nuclear sharing" agreement with the United States. Read more>>
After Decades-Long Grassroots Push, Key Senate Panel Votes to Repeal Iraq War Authorization: Rep. Barbara Lee, the only member of the U.S. House to vote against the AUMF in 2001, called the vote "a major victory in our fight to end forever wars." Read more>>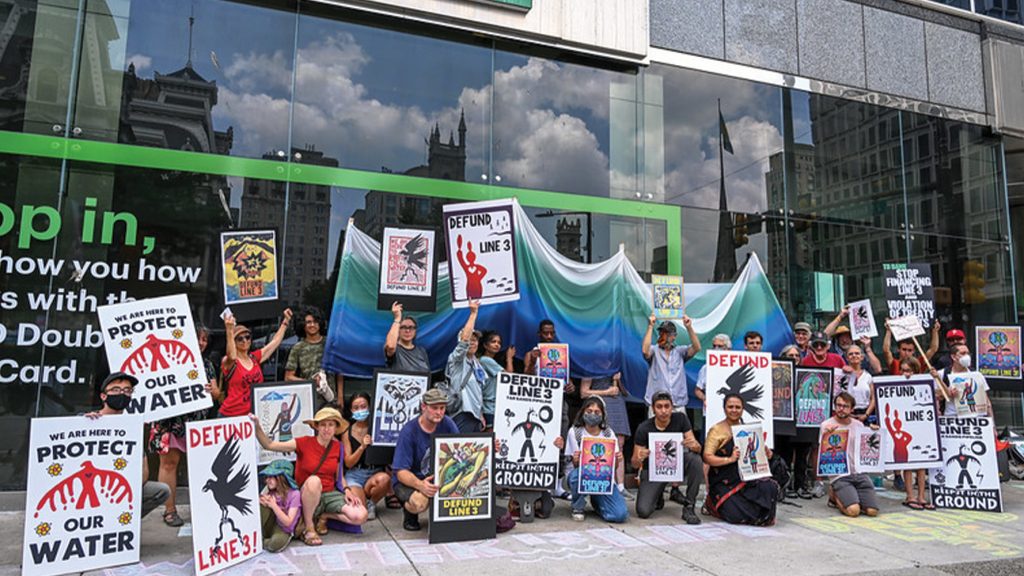 Art As Activism To Stop Line 3 Pipeline: During the week of July 12th through July 18th, Stop the Money Pipeline and NDN Collective co-organized the #DefundLine3 Arts Visibility Week of Action— a call to artists and allies to step forward and utilize their art to decry the continued development of the Line 3 tar sands pipeline. Read more>>
Cree Youth Create Board Game To Teach Culture: Ryan Schaefer and Eyzaah Bouza, both 20 years old from Fort Smith, created the game to be like Snakes and Ladders, with a traditional twist. Named Trails and Overflow, the game takes players through a trap line where their knowledge of Cree animal names and numbers are tested in a race to the finish line. They developed the game at a 2018 workshop joining language revitalization with game development. Schaefer said he never expected the product to come to fruition. Read more>>
Bread and Puppet Theater's Elka Schumann Dies at 85: Elka Schumann, a pivotal figure in Bread and Puppet Theater and the wife of the theater company's founder, Peter Schumann, died at age 85. "She embodied the spirit of the theater, this combination of great sympathy and hospitality and openness," said John Bell, a longtime Bread and Puppet company member. "Her commitment to radical betterment of humanity was very deep and consistent." Read more>>
Hong Kong Museum Commemorating 1989 Tiananmen Victims Reopens Online: Hong Kong's June 4th Museum, dedicated to the victims of China's 1989 crackdown on pro-democracy protesters in and around Beijing's Tiananmen Square, reopened online on Wednesday as "8964 Museum", a pro-democracy group said. The launch was crowdfunded and organized overseas after a "political risk assessment". Read more>>
Turning The Lens Around On Surveillance: For years, Ge Yulu had been constantly aware of the fact he was being watched by the surveillance cameras installed all over Beijing. One day, the young artist decided to turn the tables. He erected a makeshift scaffold next to a camera near his home, clambered on top of it, and sat down directly in front of the bulbous white security device. Then, he started staring. Read more>>
Twin Cities Chefs Team Up To Combat Racism: Asian American chefs are sharing their stories the best way they know how—through food. "We're trying to get people to start that conversation about anti-racism, but start it by inviting people to the table," Minnesota Rice founder Nguyen says. Read more>>
"Cousins" Film Highlights Maori Struggle: A new film examines the struggle of the Maoris to retain ownership of their age-old lands in the face of settler colonialism dating back to the British invasion of Aotearoa/New Zealand in 1840. It is a unique, beautiful movie made by Maoris that presents an Indigenous point of view about family separation and land rights. It is a good movie for viewers interested in the subject of Native rights and on a more general level, for moviegoers who enjoy family-oriented productions. Read more>>
Pop-Up Installation Uses Mini-Golf to Raise Issues Of Climate Change: PUTTING GREEN is an 18-hole mini golf course open to the public on the waterfront in Williamsburg, Brooklyn. This neighborhood pop-up is designed to showcase the problems and solutions for some of the most pressing climate change issues facing our planet. Each of the 18 holes has been designed by a community partner, including artists and designers, community and school groups, environmental advocacy organizations and public agencies. Read more>>
Making Our Demands Both Practical and Visionary: How social movements are employing the concept of the "non-reformist reform" to promote far-reaching change. Read more>>
Civil Resistance Against Climate Change – What's Happening and What Works? Nonviolent action against climate change has been taking place in many countries for many decades. What can this past experience tell us about the capacity for nonviolent action to help stop the drivers of climate change? Read more>>
Have Faith In Tunisians To Defend Their Democracy: President Kais Saied's constitutional moves may prove troubling, but eyes should be on Tunisian civil society and its people. Read more>>
Why We Need a Movement To Abolish COVID Vaccine Patents Now: While the call by activists to waive TRIPS is an important first step to scale up COVID vaccines, it actually needs to be abolished. Read more>>
We Need a Big National Strike Fund: More successful strikes help the entire labor movement. We should pay for them together. Read more>>
Grief Belongs In Our Movements. Can We Embrace It? A Black activist reflects on intergenerational trauma, community, and coming to terms with death in movement building. Read more>>
Protesting Shouldn't Be Banned at the Olympics: An important debate is brewing about free speech at the Olympics. After years of the International Olympic Committee restricting the free expression of athletes at the Games, some prominent athletes are calling for the unlimited right to speak freely—including the right to protest. Read more>>
How Civil Rights Leader Bob Moses Used Math Literacy To Push For Racial Equality: The Algebra Project sprang directly from Bob Moses' civil rights work in Mississippi, which transformed the state from a segregationist stronghold into a focal point of the civil rights revolution. Read more>>
Digital Authoritarianism and Nonviolent Action – Challenging the Digital Counterrevolution: This report examines the increasingly sophisticated set of tools—such as facial recognition and surveillance of social media platforms—authoritarian regimes are using to stifle nonviolent movements, and provides recommendations for how policymakers and activists can develop creative strategies for overcoming digital authoritarianism. Read more>>
Incarcerated Organizers Call for Mass Actions in August to Abolish Prisons: Organizers with Jailhouse Lawyers Speak (JLS), a national collective of imprisoned people fighting for human rights, are calling on non-incarcerated people to share the baton by holding "National Shut 'em Down Demonstrations" on August 21 and September 9. Learn more>>
Denounce, Divest, Defund Formosa Plastics: A grassroots environmental justice organization that was founded in Sharon's living room in 2018, RISE is leading the fight to stop the Formosa plastics plant, including the powerful Denounce, Divest and Defund Formosa campaign. Learn more>>
Secrets of a Successful Organizer Training Series: A new online training series will examine three helpful topics for organizers: Beating Apathy; Assembling Your Dream Team; and Turning an Issue into a Campaign. (August 10, 17, 24, and 31) Learn more>>
Turn It Up – Music In the Movement Training: In this participatory session, we will share inspiring examples of music as a force of change, listen to creative uses of music in nonviolent movements, and look at how to weave music in our actions. (Aug 20) Learn more>>
For Goodness Sake Music Festival: On Saturday, August 21 enjoy music from around the world to support the movement for a culture of active nonviolence free from racism, poverty, environmental destruction, and war. Register to attend Pace e Bene's For Goodness Sake: Music for the Nonviolent Future, an online music festival featuring scores of artists and brief presentations on the power of nonviolent change. (FREE – Aug 21) Learn more>>
Honor Native Land Tax Organizer Training Series: The training series offers settlers a space to learn more about HNLT, build relationships through shared values, skill up in organizing and grassroots fundraising, and engage in political education around settler colonialism. (Sept-Nov) Learn more>>