Editor's Note From Rivera Sun
These are tumultuous times. And that's a good thing. People around the world are defying injustice-as-usual. Guatemalans took to the streets after the president fired a top anti-corruption official for looking into the president's wrongdoings. The Olympics are – yet again – a platform for unexpected protests, from Simone Biles and Naomi Osaka making mental health a priority to the women from Turkey, Germany, and Norway defying sexist dress code expectations.
An imprisoned writer in Bahrain is on hunger strike for his freedom and the return of a confiscated manuscript. Ugandan activists are resisting car tracker technology, saying that the tech won't be used to stop crime, it will be used to stop organizers. Indigenous rights activists finished a thousands-mile journey in DC, speaking in the capitol about the dozens of Indigenous sacred places at risk from dams, mining, oil and gas drilling. In the United Kingdom, an Extinction Rebellion activist blew the whistle on attempts to recruit him to spy on the movement. Meanwhile, US whistleblower Daniel Hale was sentenced to 45 months in prison for revealing the horrors of the US drone program.
And all this is just a taste of the many powerful stories of people taking action across the world. Nurses on strike. Restaurant workers walking out. Unarmed peacekeepers replacing cops in schools. And the one not to miss: video gamers held a virtual sit-in to stop online sexual harassment on World of Warcraft.
Enjoy all these and more stories,
Rivera Sun
Photo Credit: Guatemalans protest after president fires anti-corruption official.
Thousands of readers rely on Nonviolence News. We rely on YOU. Thanks for donating today>>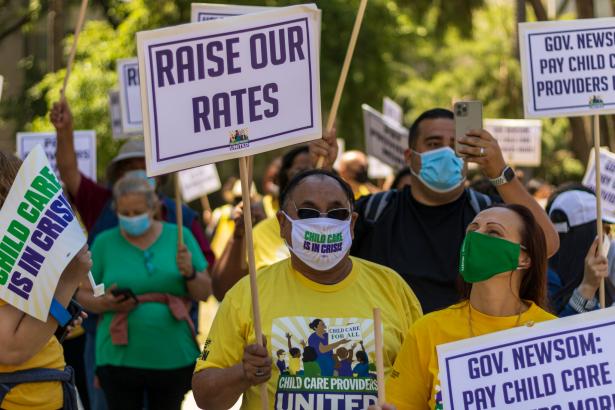 California Inks Contract with New 40,000-member Child Care Union: Some 40,000 child-care workers across the state will receive a 15 percent raise in their new contract. The contract settlement coincided with a state budget agreement to fund 200,000 child-care slots over five years. Read more>>
Washington County's New Rules Against Fossil Fuel Expansion Celebrated as 'Blueprint' for Nation: In a move that comes as wildfires ravage the Western United States and could serve as a model for communities nationwide, the Whatcom County Council in Washington voted unanimously on Tuesday night to approve new policies aimed at halting local fossil fuel expansion. "This is a landmark victory for the local communities who have stood up and held firm for over a decade to protect the climate, the Salish Sea, and their own health and safety." Read more>>
Non-Police Mental Health Program Reduces Unnecessary Hospitalizations: A New York City pilot program to respond to 911 calls for mental health crises with social workers instead of cops appears to be reducing unnecessary hospitalizations, while increasing the percentage of people who accept help when offered. Read more>>
Major Old Growth Forest Logging Stopped In the Tongass National Forest: Three timber sales were slated to happen within the Tongass. Now, thanks to the Biden administration's decision to restore and broaden protections to the temperate rainforest, those harvests will no longer take place. Learn more>>
Cleveland Major League Baseball Team Renamed the "Guardians": The fight to have the "Indians" name dropped by the team began more than 50 years ago by the Cleveland American Indian Movement (AIM) in response to the wishes of the local Native community, elders and leaders in the Nations. Finally, Cleveland's baseball team has shifted its name to the Guardians. Read more>>
South Portland Wins Pipeline Suit, Upholds Clean Air Ordinance: The city of South Portland, Maine, is "elated" about the outcome of its six-year legal battle with the Portland Pipeline Co. over a proposal to import tar sands oil from Canada. Citizen action was responsible halting the pipeline initially. Read more>>
How Oakland Teachers Took Control of the Return to School: A union contract isn't worth the paper it's written on if it isn't enforced. So after teachers bargained an agreement to reopen Oakland schools, they decided on an ambitious plan to conduct union-led safety walkthroughs at over 100 schools and early childhood education centers within three weeks. Read more>>
Thousands of Guatemalans Protest For Resignation of President: Anti-government protesters on Friday blocked intersections across Guatemala for the second day in a row as calls intensified for President Alejandro Giammattei and the attorney general to step down after the ousting of a top anti-corruption official. Read more>>
Alabama Miners Take Strike to BlackRock's NYC Headquarters: Chanting "Warrior Met has no soul—no contract, no coal," over 1,000 United Mine Workers of America members and their allies picketed outside multinational asset management firm BlackRock's headquarters in New York City to demand better pay and benefits. Read more>>
Tunisians Demonstrate In Support of Return To Secular Government: On Sunday, thousands of Tunisians took to the streets to celebrate President Kais Said's decision to dismiss Prime Minister Hichem Mechichi and suspend Parliament. Said also announced the immediate withdrawal of parliamentary immunity of all lawmakers "to restore social peace and save the State and society". Advocates of the existence of an Islamic State, however, denounced the action as a constitutional coup d'état. Read more>>
Polish Amazon Workers Are Organizing: Ever since Amazon arrived in Poland in 2014, the country has been a laboratory for the company's strategy of pitting workers of different nations against one another.  But there are efforts to counter that strategy, with some workers across Europe building connections and the capacity to organize together. It is still an uphill battle as Amazon creates individual contracts for its locations, doing its best to pit workers against one another not only from country to country, but from warehouse to warehouse. Yet the efforts remain, pointing toward possibilities for the future of international organizing. Read more>>
China Pushes For Food Delivery Workers Rights: New guidelines state delivery workers must be paid above minimum wage, receive adequate insurance, and be freed from unreasonably tight delivery time limits. Read more>>
Ugandan Activists Oppose Car Tracker Surveillance: A move by Uganda's government to install digital tracking devices on vehicles to help fight rampant crime has been denounced by rights advocates and the opposition who say it will be used to monitor activists, government opponents and critics. Read more>>
Cuba's Allies Send Food and Medical Supplies To Ease Crisis: Cuba received shipments of food and medical supplies from allies Mexico, Russia and Bolivia in a bid to ease shortages and discontent amid the island's worst economic crisis in decades and a surge in coronavirus cases. Read more>>
What It's Like To Work In A Restaurant Right Now: Workers say they're struggling in the short-staffed environment. Servers are stepping into other roles as overworked back-of-the-house employees quit, and sometimes seeing their tips ebb as they scramble to keep up with the new responsibilities. Fed-up colleagues sometimes quit in the middle of their shifts. Read more>>
Six Months After Coup, Myanmar Protests Continue: Small groups of students protested against Myanmar's military junta on Saturday in Mandalay and a human rights group accused the armed forces of crimes against humanity as the country approached six months since the army's takeover. Read more>>
'We're Back, Baby': How Australia's First Pride Centre Is Restoring the Hope of a Neighborhood: The new Victorian Pride Centre is Australia's first purpose-built LGBTIQ+ community hub. It celebrates the community's achievements, as well as Australia's cultural and social diversity. Read more>> 
Imprisoned Bahrain Writer On Hunger Strike: A prominent imprisoned Bahraini opposition figure has lost 10 kg during the first three weeks of a hunger strike, a family member said on Friday, as rights groups called for his release and the return of a confiscated manuscript he had written. Read more>>
'WE ALL QUIT': How America's Workers Are Taking Back Their Power: Something remarkable is happening in fast food establishments, retail stores, and restaurants across America. You may have seen photos of it go viral. You may have even experienced it as the hostess apologizes for extra-long wait times. Read more>>
Dozens Arrested While Demanding Filibuster Repeal Outside Sinema's Phoenix Office: Thirty-nine people, including civil rights champions Revs. Jesse Jackson and William J. Barber II, were arrested Monday during a sit-in outside the Phoenix office of Sen. Kyrsten Sinema, a conservative Democrat whose opposition to filibuster reform is enabling Senate Republicans to obstruct the passage of progressive legislation on voting rights, the minimum wage, immigration reform, climate action, and more. "We've got to get these shackles off of our democracy," said Rev. William Barber. "On the way to jail, we're gonna let it shine!" Read more>>
Cafe Workers Strike For Higher Wages: "Workers on strike! Don't cross the picket line!" they yelled. Picketing outside of Aviary Cafe in Springfield, MO, about a dozen workers protested for higher wages and health benefits after "being overworked like slaves." The strikers were not unionized, and all were fired after walking off the job. Read more>>
US Nurses Launch Strikes Against Chronic Understaffing & Deteriorating Work Conditions: Last April people across America came out of quarantine each night to cheer the healthcare workers fighting to save lives at the height of the coronavirus pandemic. Sixteen months on, nurses around the US are holding strikes and picket actions amid claims of deteriorating working conditions and severe understaffing issues. "Most of us felt like we went from heroes to zeroes quickly." Learn more>>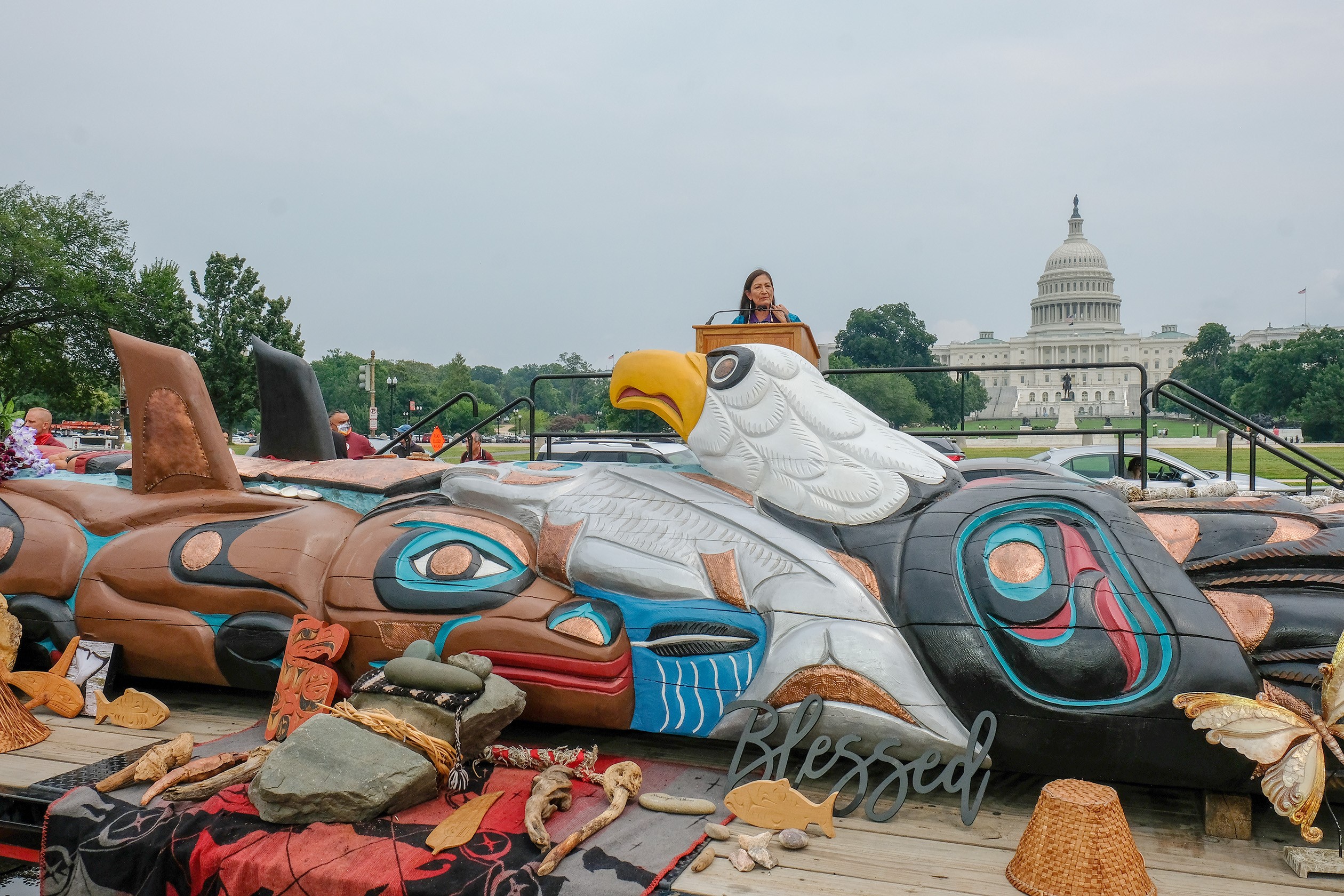 The Red Road To DC Campaign Arrives: The Red Road to DC – a campaign for Indigenous Rights – traveled thousands of miles with a 25-ft, 5000 pound totem pole, visiting dozens of Indigenous sacred places at risk from dams, mining, oil and gas drilling–from the Snake River to the Missouri River, Bears Ears to the Black Hills, Chaco Canyon to the Grand Canyon, and tribal treaty lands and waters impacted by the Dakota Access, Line 3, and Line 5 pipelines. The Red Road to DC journey came to an end as they delivered the pole, petition signatures, and the prayers and messages of supporters to the Biden Harris Administration. Watch the video here>>
Indigenous Americans Demand A Reckoning With Brutal Colonial History: From Canada to Colombia, protests erupt against legacies of violence, exploitation and cultural erasure. And while contexts and histories vary drastically across the region, a common experience of marginalization, poverty and low life expectancy has prompted many Indigenous people to draw parallels across colonial borders. Read more>>
6 Filmmakers Explore COVID Impacts On Black, Indigenous, People of Color (BIPOC) Communities In South: "Hindsight," a six-part PBS documentary series that centers the experiences of marginalized people in the American South and Puerto Rico, addresses topics including police violence against Black people, social isolation, medical racism and the impact of travel restrictions on immigrants attempting to relocate to the United States. Learn more>>
Collaborative Village Uplifts Minority-Owned Small Businesses: Tyler Station is a 100,000-square foot remake of the former Dixie Wax Paper factory. The site houses some 70 small businesses in what Southern Dallas County developer and human connector, Monte Anderson, calls "a collaborative village." Read more>>
A Very Necessary Conversation About Anti-Blackness in the Arab Community: "Most of the time immigrants, when they come to the U.S., they lean into the structural prejudice of racism that exists in this country," said Elsadig Elsheikh, a program director in California. Read more>>
Lakota Man Sets Out To Heal Men Of His Tribe: Frank Runs Before Them, a member of the Hunkpapa Lakota tribe, has launched the Common Man Project will use Indigenous life skills – anything from processing a buffalo to building headstones with the same granite that built the Crazy Horse monument – to reconnect the men of his tribe to the physical, emotional, mental and spiritual aspects of humanity. Read more>>
Winona LaDuke Released From Jail After Arrest During Direct Action To Stop Enbridge Line 3: White Earth Ojibwe activist and former Green Party vice presidential candidate Winona LaDuke was released from jail Thursday after her arrest Monday while protesting construction of an oil pipeline in northern Minnesota. She and six other women were sitting together praying, protesting construction of the Enbridge Line 3 oil pipeline near Park Rapids at the Shell River when they were arrested for trespassing. Read more>>
Iran Water Protests Continue: Angry Khuzestan residents are rising up against decades of neglect. The water crisis that has been intensifying for years has affected all aspects of life for Iranians in the southwestern province. The protesters chanted slogans such as "The river is thirsty," "I am thirsty." Read more>>  
Senegalese Plant Circular Gardens To Stop Desertification: A project in Senegal aims to create hundreds of circular gardens – known as 'Tolou Keur' in Senegal's Wolof language. Organizers hope will boost food security, reduce regional desertification and engage thousands of community workers. The project marks a new, more local approach to what is known as the Green Wall initiative, launched in 2007, that aims to slow desertification across Africa's Sahel region, the arid belt south of the Sahara Desert, by planting an 8,000-km line of trees from Senegal to Djibouti. Read more>>
Byhalia Pipeline Activists Celebrate, But Continue To Mobilize: As the dust settles on their victory, the coalition of activists and community members that opposed the Byhalia Connection oil pipeline in greater Memphis, Tennessee — which developers officially canceled on July 2 — are continuing to mobilize, because they say a risk to the land, water, climate and community remains. Read more>>
Thousands of Scientists Sign Letter Warning Climate Tipping Points Are 'Imminent': The researchers, part of a group of more than 14,000 scientists who have signed on to an initiative declaring a worldwide climate emergency, said in an article published in the journal BioScience on Wednesday that governments had consistently failed to address "the overexploitation of the Earth", which they described as the root cause of the crisis. Read more>>
London Police Try To Spy On Extinction Rebellion: Metropolitan Police attempted to recruit a former detective to spy on his fellow Extinction Rebellion activists. "He asked if I wanted to come on the books – to become a covert human intelligence source [Chis]," Stephens said. "But I turned him down straight away. I joined XR to make those in power do something about climate change, not to spy on peaceful people doing their bit for the planet." "The police are desperate to find out who the organizers of Extinction Rebellion are, but there are no organizers. It is a fluid movement – not hierarchical, which the police seem to find very hard to understand." Read more>>
Edinburgh Activists Rally To Protect Green Space: The grounds of the city's 100-year-old convalescent hospital, under threat from development, are home to thousands of trees, some endangered. People are adopting the trees to protect them and stop the development. Read more>>
Quebec Resident Hopes Acts of 'Horticultural Disobedience' Will Urge Others To Rethink Lawns: Dany Baillargeon is committing what he describes as "horticultural disobedience" by letting his front yard grow naturally — despite the risk of running afoul of local bylaws. Despite the advantages, it is still forbidden to grow vegetables or natural grass and flowers on front yards under local bylaws in many cities, which require residents keep lawns weeded and cut short. Read more>>
Eritrean Refugees In Ethiopian Capital Protest Insecurity At Refugee Camps: Hundreds of Eritrean refugees protested in the Ethiopian capital on Thursday, calling on the United Nations refugee agency to relocate friends and family who they say are trapped in two refugee camps by fighting in the Tigray region. Clashes between armed groups have escalated in and around the camps – Mai Aini and Adi Harush – and two refugees have been killed this month. Read more>>
Immigrant Rights Activists Mobilize to Vaccinate Their Community: In the halls of the Pittsburgh Hispanic Development Corporation, salsa music blares from speakers as people hand out popsicles from Alquisiras Paleteria and dozens of immigrants line up to receive a COVID-19 vaccine.  It's part of a concerted effort to help the immigrant and migrant community access the vaccines. Read more>>
The Royal National Lifeboat Institution (RNLI) Resists Xenophobic Slander: The Royal National Lifeboat Institution responded to accusations that it is operating a "migrant taxi service" by rescuing people at risk of dying in the water as they cross the English Channel in small boats. Opponents say they're facilitating illegal immigration, but the volunteer lifeboat charity said it was "very proud" of its humanitarian work and it would continue to respond to coastguard callouts to rescue at-risk Channel migrants in line with its legal duty under international maritime law. Read more>>
Farmer Co-Ops Give Latinx Immigrant Communities Room To Grow: In addition to building economic security, small-scale cooperative farms in North Carolina are strengthening community and a sense of home-grown pride. Read more>>
First Indigenous Woman to Preside Over Chilean Constitutional Assembly Rocks Political Establishment: In a stunning election that was centuries in the making, a 58-year-old Mapuche academic named Elisa Loncón took the helm of a strategic political body in Chile. Loncón won the presidency of an assembly that will oversee the writing of a new constitution Chile's path to transformation can be directly attributed to grassroots organizing and relentless demands for fundamental change. Read more>>
Olympics Athletes Push Back Against Patriarchal Dress Codes:  From Norway's women's handball team being fined for refusing to wear bikini bottoms to Turkey's female volleyball team being criticized for "indecency" to the German gymnastics team opting for unitards to counter sexualization, female athletes at the Olympics are pushing back against the expectations of patriarchal dress codes. Read more on Norway, Turkey, and Germany>>
Older Women Look To Live Together To Avoid Homelessness: Older women increasingly find individual rentals beyond their ability to afford. Sharing With Friends helps pair them with housemates, but the organizers warn that this is not a blanket solution to the housing crisis. Read more>>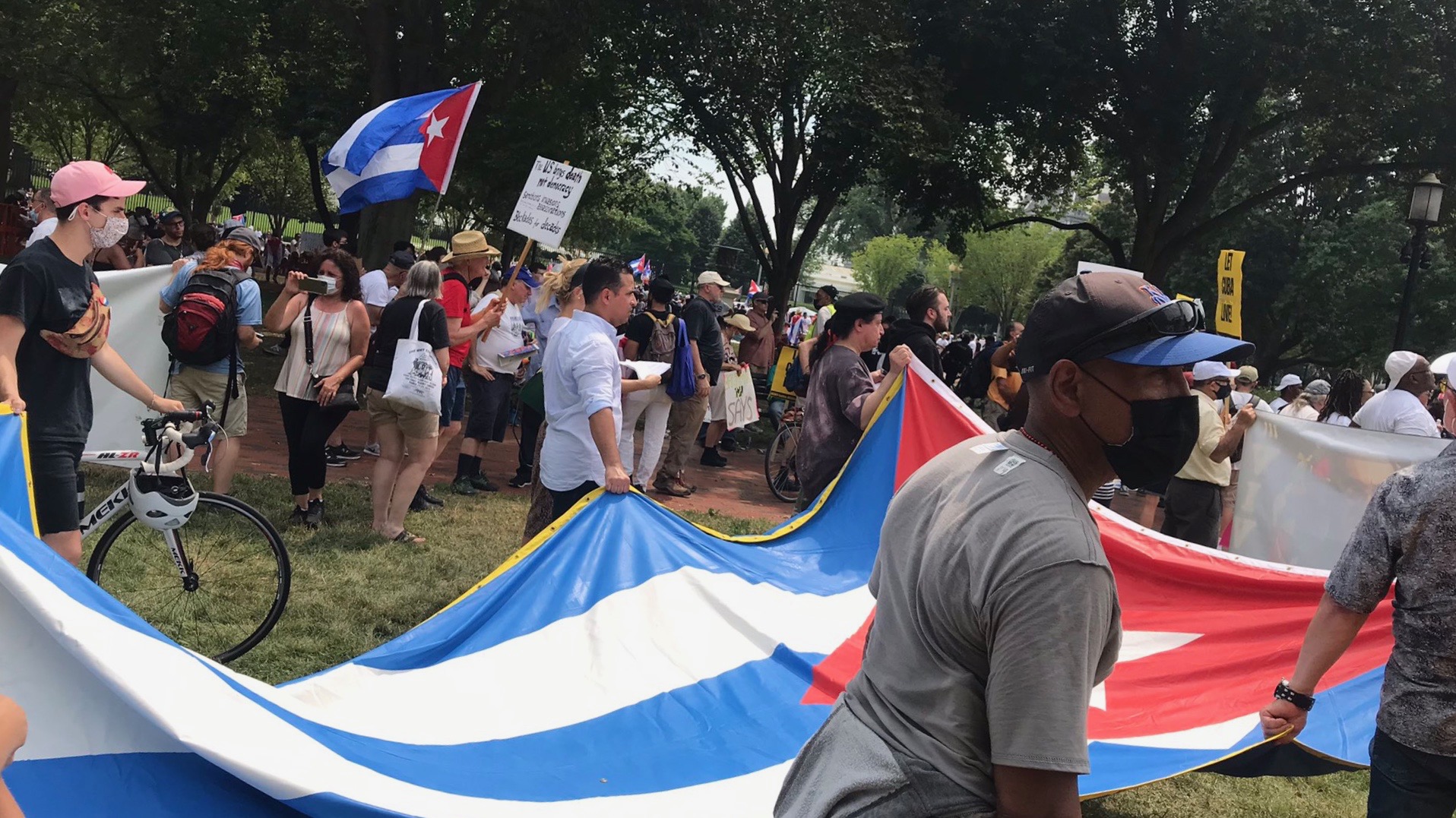 People Across the US Demand an End to the Blockade of Cuba: Anti-war protesters participated in the nationwide demonstrations against the Biden administration's escalation of tensions with Cuba and the "criminal" sanctions imposed on the island nation. Read more>>
40 Youths Train as Peace Influencers in Cameroon: The goal is to use social media for good purposes, to train peace influencers to promote harmonious living together and social cohesion through online sensitization on nonviolence. Read more>>
By Learning Each Other's Stories, We Earn Each Other's Trust: In a deeply divided society, rehumanizing is the first step towards opening communication and forging a way forward together. Recent studies show that interacting face to face with a group you consider to be "other" can help to reduce prejudice. How? By learning each other's stories and earning each other's trust. Read more>>
Drone Whistleblower Gets 45 Months in Prison for Revealing Ongoing U.S. War Crimes: Daniel Hale is the first person sentenced under the Espionage Act on Biden's watch and he probably won't be the last. Read more>>
Video Gamers Hold Virtual Sit-In Against Sexual Harassment: World of Warcraft players are hosting sit-in protests after Blizzard allegations. World of Warcraft's current social hub of Oribos is packed with players, but it's not due to a new raid or update. Hundreds of players are participating in an in-game protest against Activision Blizzard after a lawsuit was filed Tuesday by the California Department of Fair Employment and Housing. The court documents include allegations of a "frat boy culture" that subjected female employees to "constant sexual harassment." Read more>>
Metta Center Creates Climate Action Animation Narrated By Buzz the Bee: A short animation with a bee as narrator warns humanity to shape up. Five stories of climate action, inspired by true events, accompany the film as a creative resource to share with young people. Learn more>>
Battleground Baltimore Spotlights NIMBYism In Noise Ordinances: A local cafe and music hub is embroiled in a noise ordinance battle. The local community supports the music. But the city doesn't. Read more>>
Value Chains + Ecosystems – Solidarity Economies Now: Highlighting the unique power and autonomy that these value chains foster, they zoom-in on three present day examples in NYC: a burgeoning food (justice) chain in Central Brooklyn, a credit union/housing coop/CSA/garden loop in the Northwest Bronx, and finally a very coop networked – and just-launched! – city-wide driver-owned ride-hailing platform. Read more>>
Nonviolent Security And Cop-Free Schools Are Not A Utopian Dream: Emerge and Twin Cities Nonviolent show us how to use nonviolent security to create safer, more hospitable schools. Replacing cops, young peacekeepers use unarmed peacekeeping skills at a Minneapolis, MN, school. Read more>>
How Haunani-Kay Trask Shaped Her People's Struggle for Independence: The Hawaiian movement for self-determination was forever changed by the fierce and unapologetic leadership of the late Haunani-Kay Trask. In her life and work, she was fierce and articulate about the evils of American Empire and the need for Hawaiians to fight against its presence on the islands. Read more>>
New Documentary – How the Women of Standing Rock Inspired the World: "A nation isn't defeated until the hearts of the women are on the ground." That quote's commitment and invincibility pulses through the film as women at Standing Rock describe their motivations and experiences at the camp, and, importantly, their hopes for maintaining solidarity into the future. Read more>>
The Bay of Tweets – Documents Point to US Hand in Cuba Protests: The U.S. government can cause economic misery for the Cuban people, but it cannot, it appears, convince them to overthrow their government. Cuba was rocked by a series of anti-government street protests earlier this week. The U.S. establishment immediately hailed the events, putting its full weight behind the protestors. Yet documents suggest that Washington might be more involved in the events than it cares to publicly divulge. Read more>>
Nonviolence News Editor Rivera Sun Speaks About Strategy For Activists: In this radio interview, Rivera Sun speaks about the history and practice of nonviolence in all its dimensions. Learn more>>
What To Do If You're At Risk of Eviction In The US: Renters struggling with housing costs because of the pandemic have been shielded from eviction for nearly a year, but now the national ban on such proceedings will expire on July 31. Millions of families could be at risk at that point. Here's what to do. Learn more>>  
Debt Resistance – Convert "Can't" Pay to "Won't" Pay: US citizens hold over $15 Trillion of personal debt. This level of debt peonage is not accidental. It is by design, an effective form of social control by a ruling elite that sees $8 out of every $10 we produce go into the pockets of the richest 1%. This is the bad news. The good news is that there is organized effort to fight back. Learn more>>
ICNC's Free 2021 Moderated Online Course on Civil Resistance: In this course, over 50 highly motivated and collaborative participants from around the world will join with selected moderators to study civil resistance (nonviolent action). Details here>>
Turn It Up – Music In the Movement Training: In this participatory session, we will share inspiring examples of music as a force of change, listen to creative uses of music in nonviolent movements, and look at how to weave music in our actions. (Aug 20) Learn more>>
Thousands of readers rely on Nonviolence News … and we rely on you.
Donate here>>