Editor's Note From Rivera Sun
Examples of creative nonviolence are why I spend hours searching for Nonviolence News stories each week. Take this report from Finland, for example. 4,000 reindeer die each year in car collisions in Finland. Finally, reindeer protection groups came up with a surprising solution: paint antlers with reflective paint. When cars aren't present, the antlers look normal. But when headlights shine, the antlers gleam brightly, warning drivers to hit the brakes. Brilliant.
As our world faces compounding crises, we need this kind of creative problem-solving more than ever before. We're facing numerous catastrophes. Iran erupted in protests over water shortages this week. Hungary's right-wing president passed anti-LGBTQIA laws, prompting 30,000 people to march in the recent PRIDE parade. Cubans are protesting the challenges caused by decades of sanctions. Workers in home care, delivery and transportation, and factories are demanding long overdue wage increases.
In this week's Nonviolence News, you'll also spot a number of stories about surveillance, leaks, and whistleblowing. The Pegasus leak revealed how an Israeli private firm is spying on organizers and political figures – and that the company sold the software to numerous US police departments. (The Civil Liberties Defense Council has a video on how to protect yourself and your movement.) Meanwhile, someone leaked the newest United Nations' climate report, likely to prevent uncomfortable – and terrifying – truths about catastrophic climate crisis from being edited out of the final version. Without whistleblowers, our world would be left in the dark on so many issues. And speaking of whistleblowers, you'll find an article in this week's news about demonstrations supporting Daniel Hale, who is being persecuted for revealing the scope and damages of the US drone warfare program.
What was my favorite article this week? I've got two. One take a look at the role of quilting in social change movements from the AIDS Quilt to Black Liberation to a new COVID-19 Memorial Quilt. The other article explains how nonviolent action actually won the Russian Revolution. (Yes, you read that right – organized strikes and resistance formed the backbone of the revolutionary struggle, much more so than the oft-touted violence.)
What was your story this week? Share it with a friend and spread Nonviolence News.
In solidarity,
Rivera Sun, Editor
Photo Credit: Opposing recent anti-LGBTQIA laws, 30,000 people marched in the PRIDE Parade in Hungary.
What is good news worth to you? Make a donation today>>
Spraying Reindeer Antlers With Reflective Paint Protects Them From Car Collisions: Finland has estimated that over 4,000 reindeer die each year due to car accidents. The sad occurrence is also a costly one; the damages are estimated to be €15 million (almost $18 million) a year. This has inspired groups like the Finnish Reindeer Herders Association to mitigate fatalities and cost with a variety of solutions. One simple-yet-ingenious idea was to spray the creatures with reflective paint so that they glow when light hits them. Read more>>
Ben and Jerry's Ice Cream Ends Sales In Occupied Palestinian Territories: After ten years of citizen action and a growing threat of national boycott, Ben and Jerry's Ice Cream social media went dark for two months. They recently returned to tweet the announcement that they would no longer sell ice cream in Israeli-occupied Palestinian territories. This is a victory for the BDS (Boycott, Divest, Sanction) movement. Read more>>
Chicago Wins Increased Community Control of Police: Chicago's City Council approved a community oversight system this week giving representatives chosen by the community a solid measure of control over Chicago police following years of protests and mobilizations over law enforcement misconduct. The 36-13 vote capped more than two years of struggle by a broad coalition of groups including unions, community organizations, civil rights groups and others. The demonstrations and actions demanding community control of the police, although having gone on for years, increased after the police murder of George Floyd in Minneapolis and the continuation of fatal police shootings by Chicago cops. Read more>>
California to Pay Reparations to Victims of Forced Sterilization in State Prisons: California's forced sterilizations and other eugenics programs were so horrific, they served as a model for Nazi Germany. Variations of these programs continued to operate until 11 years ago. Now, as a result of grassroots organizing and the courts, the state is starting to pay reparations to the some of the victims of these programs. Read more>>
The Drivers Cooperative Built A Worker-Owned Alternative to Uber and Lyft: A union organizer, a Black car driver, and a former Uber executive came together to build a new ride-hailing platform that gives profit and control to drivers. Co-op Ride, the app from the Drivers Cooperative, takes the freedom and independence that Uber and Lyft promised rideshare drivers, and adds in worker ownership. Each driver is also a member who owns one share of the company, with one vote toward leadership and business decisions. And importantly, profits will be shared among all those driver-owners. Read more>>
Don't Use Cuba Protests to Justify US Intervention, Say Activists in Mexico: Singing songs of revolution and chanting slogans in support of the Cuban Revolution, hundreds of demonstrators gathered outside the Cuban Embassy in Mexico City on Saturday, July 17, in an expression of solidarity with the Cuban people and their right to self-determination. Read more>> 
30,000 Demonstrate In Hungary PRIDE March To Protest Anti-LGBTQIA Laws: An estimated 30,000 people took to the streets of Budapest, Hungary, to celebrate the capital's annual Pride event and protest the country's recent passing of an anti-LGBTQ law. Participants and speakers at the Pride event, which had been held virtually in 2020, spoke out against the Prime Minister Viktor Orban-backed law, which bars schools from discussing LGBTQ issues or teaching books with LGBTQ representation or themes. Read more>>
Home Care Workers Hit The Streets To Demand Living Wages & Respect: Thousands of home care workers and their allies took to the streets from coast to coast on July 13 to demand living wages and respect on the job. At least 28 rallies and events were scheduled, including a bus caravan from West Virginia to DC, a six-hour rally in downtown Washington's near-100 degree heat, and rallies in Chicago, Los Angeles, Hartford, Conn., Orlando and Tampa, Fla., Anchorage, Alaska, Denver, Oakland, Calif., St. Paul, St. Louis, and seven in Washington state, including Seattle. Read more>>
Frito-Lay Management "Shocked" By Strike Vote. Workers On 84-Hr Work Weeks Unsurprised: Stagnant wages, hazardous work conditions, and long hours led workers to strike against inhumane conditions. After the death of a coworker, management simply moved the body and made someone else step in to keep the line moving. Is it any wonder the workers won't stop striking until justice is won? Read more>>
Puerto Rico Truck Drivers Begin Strike Demanding Higher Rates: Puerto Rico's largest truck-driver's union began an indefinite strike Wednesday, demanding increased cargo rates on the island where 80% of all food is imported. The strike "will be permanent until we reach an agreement," said Union representative Marrero. Read more>>
Eswatini Pro-Democracy Protests Against Monarchy Continue: The last remaining monarchy in Africa, Eswatini, is facing a growing number of pro-Democracy protests that bring into question its existence. Read more>>
Rideshare Drivers In California Strike For PRO Act: On Wednesday, July 21, across California, rideshare drivers with Rideshare Drivers United went on a one-day strike against the exploitative practices of tech giants Uber and Lyft, and to demand Congress pass the PRO Act. Read more>>
Medicare for All Rallies in 50 Cities Show Big Support for Universal Health Care: The common strategic thread for success is building a strong, popular social movement demanding health care for all. Read more>>
Building Tenant Power with the Housing Justice for All Coalition: As the federal eviction moratorium expiration date looms, housing organizers in one of America's most unequal states offer a new, equitable path forward. "We stand up, we shout as loud as we can, we did our car caravans and banner drops, honking, knocking on pots and pans, calling awareness to the fact that we should not have been forced to pay rent in a locked down city."  Read more>>
Israeli Spyware Targets Activists, Journalists, and Political Leaders Globally:  NSO Group's spyware has been used to facilitate human rights violations around the world on a massive scale, according to a major investigation into the leak of 50,000 phone numbers of potential surveillance targets. These include heads of state, activists and journalists, including Jamal Khashoggi's family. Read more>> Learn More >>
New Yorkers Demonstrate in Support of Whistleblower Daniel Hale: Demonstrators showed support for Daniel Hale, a whistleblower who pled guilty to one count of committing espionage for giving the press details of America's atrocities in its drone warfare program. Read more>> 
UK Protesters Tell MP "It's Time For Reparations": Protesters demanded that a Conservative MP hand over his 621-acre sugar plantation to the people of Barbados as compensation for his family's 200 years of slave owning and trading on the island. Read more>>
Tokyo 2020 U-turn Allows Olympics' Social Media Teams To Show Photos Of Athletes Taking A Knee: A crude attempt at censorship by the Olympic Committee was overturned. The committee had banned their social media teams from posting any photos of Olympic athletes engaged in a Take A Knee protest for racial justice. The ban was echoed through the media networks, including major newsjournals, and resulted in censorship of Take A Knee protests by athletic teams from Sweden, USA, and New Zealand on opening day. Pushback and outcry reversed the decision. Read more>>       
After 140 Years, Native Youth Lead Return of 10 Children's Remains from Carlisle Indian School:  In 1879, the first Indigenous children, sons and daughters of Rosebud Sioux chiefs, arrived at the Carlisle Indian Industrial School they were forced to attend in Pennsylvania. Many of the kids died and were buried in a cemetery on site instead of being returned to their parents. In the past week, 10 of them, their remains were returned home. One was returned to the Alaskan Aleut Tribe. The other nine were returned to representatives of the Rosebud Sioux Tribe of South Dakota. Read more>>
Japanese Americans Call For Reparations For Black Americans: Los Angeles was one of multiple cities where Japanese Americans were meeting to work on the redress campaign for Black Americans. The goal was the same here as it was in San Jose, Oakland, Portland, St. Paul, Chicago and Brooklyn: mail hundreds of letters in support of reparations legislation to top House leaders before Congress enters its August recess. For these volunteers, supporting Black reparations is a moral imperative both as humans and as descendants of people who won redress from the U.S. government for false imprisonment during World War II. Read more>>
Iranians Protesting Water Shortage Face Deadly Police Repression: Protesters angered over water shortages in the southwest of Iran were met with a deadly police crackdown that left at least four dead. Read more>>
Seven Water Protectors Protesting Line 3 Pipeline Arrested at the Shell River: At least seven water protectors from the Indigenous-led movement to stop Enbridge's Line 3 were arrested on Monday while protesting at the Shell River in Minnesota, which the partially completed tar sands pipeline is set to cross in five places. Read more>>
New Zealand Farmers Stage Huge Protest Over Environmental Rules: Calling for urban/rural equity and local control in climate and environmental regulations, New Zealand farmers staged tractor rallies in 51 towns and cities. Read more>>   
'Deadline Glasgow': As Climate Summit Looms, Campaign Targets Complicity of Banks and Biden: Scores of groups are "calling on all financial institutions and the U.S. government to end their support for companies engaged in climate destruction and human rights abuses." Read more>>
Climate Report Leaked To Warn Public Of Dire Crisis: The United Nation's latest IPCC climate report – and its terrifying warnings – was leaked prior to approval and before the Glasgow summit. The upshot? We're passing dangerous thresholds. Immediate action is required. Why was this leaked? Some surmise that it was leaked to prevent suppression or revision of information. Read more>>
In Kazakhstan, Social Media Posts Sound The Alarm About Drought, Livestock Die-off. The months-long drought gripping Central Asia has turned into catastrophe for herders in western Kazakhstan. Without grass or fodder, thousands of cows and horses are starving to death. The government has been slow to acknowledge the crisis, though officials are beginning to act after months of pleas for help on social media. Read more>>
Consumers Demand Sustainable Seafood In Stores: Love for the ocean is translating into a desire to protect it — especially when Americans go to the grocery store. According to the 2020 Globescan survey, 55 percent of U.S. seafood consumers agreed that in order to protect the ocean, fish and seafood should be consumed only from sustainable sources. Furthermore, the study found 65 percent of Americans believe supermarkets should remove all unsustainable fish and seafood products from their shelves. Read more>>  
Immigrant Leaders Shut Down "Black Site" To Demand #ReleasesNotTransfers: Immigrant leaders and immigration justice organizers chained themselves together and blockaded the entrance of the Newark SAC office in response to escalating abuses by ICE. Protesters are calling this unidentified office located in a desolate industrial neighborhood in Newark, NJ an "ICE black site"; and are demanding #ReleasesNotTransfers as detainees continue to be transferred out of New Jersey jails to detention centers across the country and away from their families. Read more>>
Marching for Licenses in the Rain: Migrant activists are marching through pouring rain for a simple demand: make drivers licenses accessible to undocumented workers. Read more>>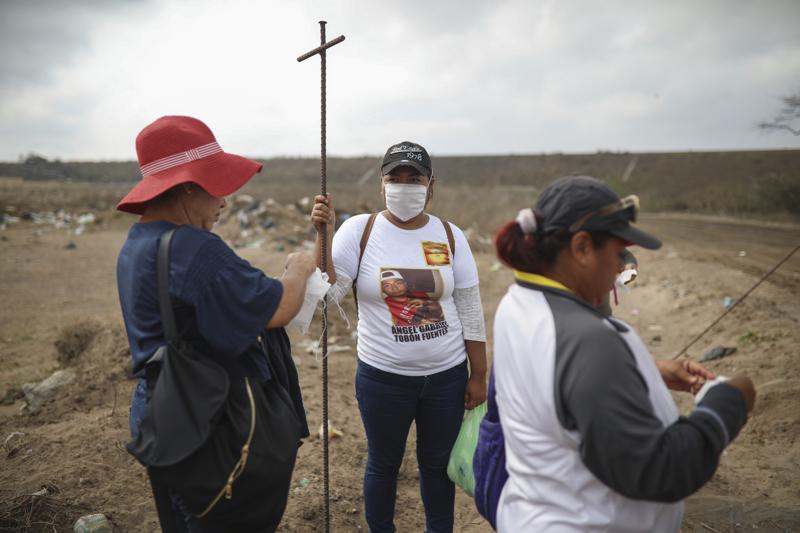 Mexican Women Organizing To Find The Bodies of the Disappeared Are Being Targeted: The mainly female volunteers who fan out across Mexico to hunt for the bodies of murdered relatives are themselves increasingly being killed, putting to the test the government's promise to help them in their quest for a final shred of justice: a chance to mourn. These searchers have long dealt with threats, but increasingly, threats have turned into bullets in the heads. Read more>>  
Minnesota Opens "Missing and Murdered Indigenous Relatives Office": On July 1, as part of Minnesota's COVID-19 Recovery Budget, a Missing and Murdered Indigenous Relatives office was confirmed to be established. The budget is $1 million biennium and will hire four full-time staff. It will be located within the Department of Public Safety in St. Paul, Minnesota. The name change from MMIW to "Missing and Murdered Indigenous Relatives Office" is to include the two spirit community. This is a victory for the Missing and Murdered Indigenous Women's Movement and for the two spirit community. Read more>>  
Police Fire Rubber Bullets At Trans Rights Protesters Screaming 'Don't Shoot': Police in Los Angeles are facing strident backlash after they fired rubber bullets at trans rights protesters who were taking a stand against transphobia and the far-right. Read more>>
Tidal Wave of Transphobic Lies Around Sports Must End, LGBT+ Groups Plead Ahead of Olympics: A group of LGBT+ organizations have called on the media to cover queer Olympians "responsibly and respectfully", and to help end the "transphobic discourse currently surrounding sports". Read more>>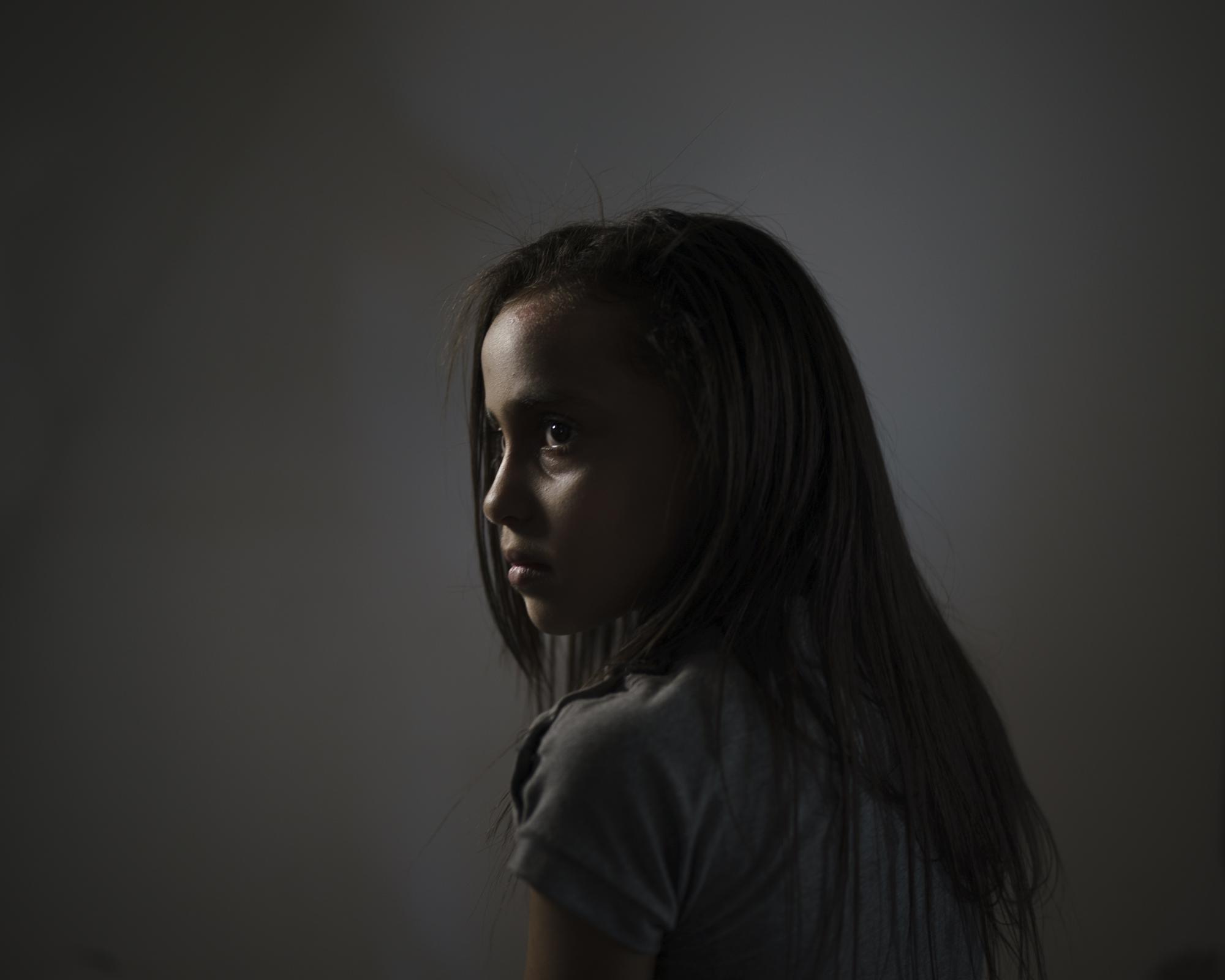 War's Trauma Expressed in Photos of Children of Gaza: A photojournalism series portrays the trauma carried by children in Gaza. Despite widespread signs and symptoms of war-related trauma, there is only one child psychologist for the entire populace. Read more>>
Dozens Of Organizations Call For End of U.S. Support for the Saudi-led War And Blockade On Yemen: Civil society groups rallied at U.S. legislators' offices in New York, Boston, and San Francisco on Friday, July 16th as part of a National Day of Action for Yemen. They called for U.S. senators & representatives to introduce a new War Powers Resolution to end U.S. participation in the 6-year war and blockade on Yemen that has created the world's largest humanitarian crisis, according to the U.N. Read more>>
Beating Nuclear Arms Into Plowshares: The US nuclear arsenal gobbles up massive resources for death that should be used for human life. For decades, Catholic activists have put their bodies on the line to insist we dismantle that arsenal. Read more>>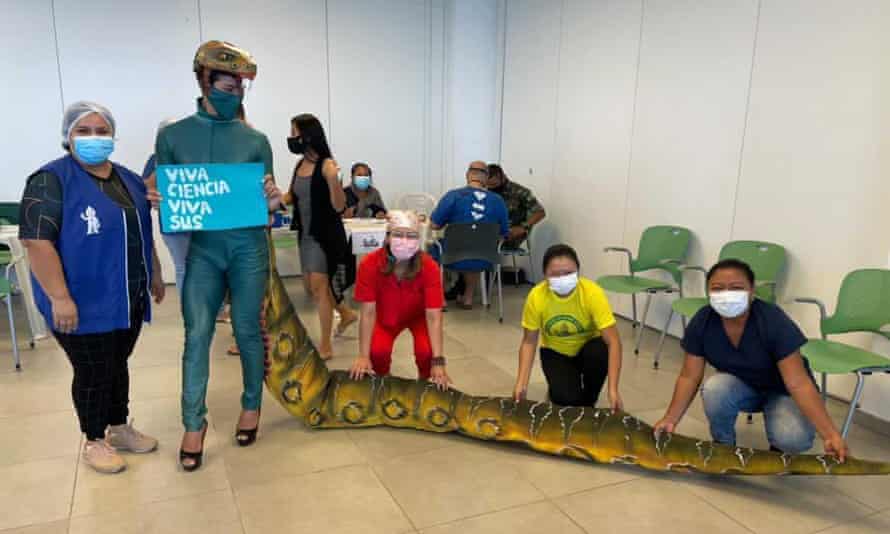 Angry Brazilians Dress As Reptiles To Mock Bolsonaro: People are wearing costumes as a protest to the government's handling of an outbreak that has killed more than 545,000. Last year Bolsonaro, who has disrupted vaccination efforts by buying insufficient vaccines and refusing to get one himself, claimed sarcastically that Pfizer's shot might turn recipients into alligators. In response, pro-science opponents, furious at Bolsonaro's denialist conduct, have been getting vaccinated clad as different kinds of reptiles. Most come as the jacaré: the scaly alligator native to several parts of Brazil, including the Amazon, a region which has come under growing attack from illegal loggers and miners since Bolsonaro took office in 2019. Read more>>
Telling Kalief Browder's Devastating Story Through Art Activism: Artist Coby Kennedy constructed a plexiglass cell to show people the confined space that a wrongly imprisoned teen was placed in for almost two years at Rikers Island Prison. The teen was confined in a 6 x 8 foot box, for 23 hours per day for 2 years. "The average person doesn't … realize this country is committing torture daily, hourly, on so many people," said artist Coby Kennedy. Read more>>    
Hong Kong Documentary Defies Repression Of Dissent To Show 2019 Protests: Kiwi Chow's documentary presents a chronology and overview of the 2019 anti-China extradition protests and a close-up look into seven groups of protesters including frontline protesters, elders, first-aid responders, journalists, parents and more. He kept his name on the film, defying the repression on dissent that has followed the Hong Kong protests. 'Courage is accumulative,' said director of Hong Kong protest documentary at 2021 Cannes Festival. Read more>>            
Comic Books Are Treason, Says Hong Kong Government: Hong Kong police arrested five people on sedition charges, saying that children's books they had published featuring wolves and sheep as characters were aimed at inciting hatred towards the city's government amongst youngsters. The arrests have raised fears about the shrinking space for dissent since Beijing imposed a national security law in June 2020 to put an end to pro-democracy protests. Read more>>
"Feed 'em all!" Food Fridge Opens In Chicago: The community fridge — which sits in the front yard of the Hampton House in Chicago— officially opened July 19. The fridge now joins a growing list of over 200 fridges, as cities near and far have picked up on the global trend which aims to help those facing food insecurity. Read more>>
From AIDS Quilt To COVID-19 Quilt, Quilting Is An Act Of Resistance: Though the AIDS Memorial Quilt is the most famous example, quilts have been utilized as a medium for protest, storytelling and preserving a people's version of history for centuries. Because fabric strips can be handed off to individuals and assembled later, quiltmaking is a uniquely communal art form. This makes it especially powerful for building collectives and bringing people together.   Read more>>
Why the Russian Revolution Actually Owes Its Success To Nonviolent Resistance: Despite conventional wisdom, Russians relied principally on a sophisticated and diverse array of nonviolent methods to end centuries of tsarist rule in 1917. Read more>>
"Keep Your Cell Phone Safe & Keep Our Movements Safe": Civil Liberties Defense Center shares an informational webinar on how to keep activists and movements safe from cell phone surveillance.   Read more>>
Media Play Up Protests, Play Down Effect of US Sanctions in Cuba: US corporate media was quick to focus on the Cuba protest, something extremely unusual for demonstrations in Latin America. Far larger and more deadly movements in Chile and Ecuador, for example, were mostly ignored by the corporate press. However, while giving the protests a great deal of coverage, the corporate press across the political spectrum consistently downplayed one of the primary causes of unrest: the increasingly punitive US blockade. Read more>>
ICNC's Free 2021 Moderated Online Course on Civil Resistance: In this course, over 50 highly motivated and collaborative participants from around the world will join with selected moderators to study civil resistance (nonviolent action). Details here>>
Turn It Up – Music In the Movement Training: In this participatory session, we will share inspiring examples of music as a force of change, listen to creative uses of music in nonviolent movements, and look at how to weave music in our actions. (Aug 20) Learn more>>
Poor People's Army Asks You To Stand With Families: Sign this petition to stand with the homeless families of the Poor People's Army that are currently residing in houses that have been taken over (Takeover Houses), houses that are owned by Housing and Urban Development (HUD) but are abandoned. Learn more>>
Online Photo Action to End the Korean War: Take an action shot (selfie) holding a sign for Korea Peace. Print your choice of sign from here or make your own creative sign. Post on Twitter, Facebook, or any social media platform with this caption: 70 years is enough. Let's End the Korean War! Learn more>>