Editor's Note From Rivera Sun
Indigenous climbers representing 10 nations scaled a grain silo in Kansas to demand #Landback (above). While four were arrested, the action comes amidst news of the US Department of the Interior finally returning 18,000 acres of the National Bison Range to the Salish and Kootenai Tribes. The move follows a transfer in June of Hawai'ian lands and a project in Alaska to give land back to Native veterans.
Other returns are happening: a museum in Germany is repatriating a Lakota chief's shirt, Harvard is returning Chief Standing Bear's tomahawk, and the Presbyterian Church returned land to the Cherokee Nation. Meanwhile, Wabanaki activists prevented a replica of Christopher Columbus' ship from adding an a-historical dose of colonialism to some of Maine's bicentennial celebrations. As more graves of First Nation children are identified in Canada, the Kaska Nation held a ceremony to mark the dismantlement of the residential school that stole their children from them.
In other Nonviolence News, remember how the citizens of Venice jumped into the harbor to stop cruise ships from docking? They just won a ban on the megaships, protecting the harbor's fragile ecosystem. In Georgia, the usually fractious media companies united to oppose how the government has fomented anti-media, far-right violence. Cuba is erupting in mass protests against austerity (driven in large part by US embargoes). Indian girls in Rajasthan are resisting child marriages. Undocumented migrants are marching across Indiana for drivers licenses. And so much more.
You haven't caught up with the "news" until you've read Nonviolence News.
Enjoy,
Rivera Sun, Editor
Photo Credit: Indigenous climbers hang a US flag upside down (symbol of distress) with the words #Landback on it from the top of a grain silo in Kansas.
Nonviolence News is proudly co-sponsoring the For Goodness Sake – Music For The Nonviolent Future, an online music festival on Aug 21st. Registration is free, but if you choose to donate, use the code #NVNews and 25% will go to supporting Nonviolence News! Register for the festival here. Donate at goodness-sake.org/donate.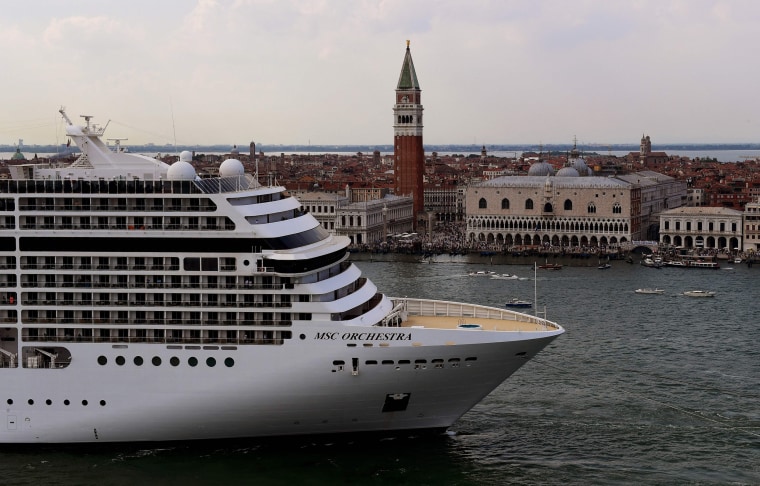 Venice Bans Big Cruise Ships: Italy banned big cruise ships from sailing into Venice Tuesday after years of rallying cries from residents, culture bodies and environmentalists. The ban applies to ships weighing more than 25,000 tons, longer than 590 feet or with other characteristics that would make them too polluting or overwhelming for Venice's marine environment. Cruise liners typically weigh four times the new limit and can reach more than 200,000 tons. Read more>>
US Returns More Than 18k Acres of Land to Native American Tribes: The U.S. Department of Interior announced Wednesday the restoration of more than 18,800 acres of land, known as the National Bison Range, so it can be returned to Indigenous tribes in Montana. This has been long-promised by the DOI. Earlier in June, the Interior also initiated a land transfer returning Hawaiian lands to the native Hawaiian Community, with the express purpose of using the land for housing for people of Native Hawaiian descent. The Interior is also engaged in the process of restoring land to Alaskan Natives who served in the Vietnam War. Read more>>
Charlottesville Confederate Statue Comes Down: Nearly four years after white supremacist and neo-Nazi groups stormed the Virginia college town to protest the city's plan to remove the Lee monument, about 200 residents, spectators and Black Lives Matter supporters came out to witness the moment the first two statues were taken down. Read more>>
German Museum Repatriates Lakota Chief's Shirt: With German institutions placing a renewed emphasis on the repatriation of various objects in their holdings, the Weltkulturen Museum in Frankfurt said this week that it had given the leather shirt of Chief Daniel Hollow Horn Bear (Mato He Oklogeca), of the Teton Lakota, to his great-grandson Chief Duane Hollow Horn Bear. In a press release, the museum cited "moral and ethical reasons" for the return. Read more>> 
Burt's Bees Founders Return 735 Acres To Penobscot Nation: The land lies between two parcels already under stewardship of the Penobscot Nation, to the west of the Pleasant River and north of Brownville, and creates a contiguous block of 5,000 acres held by the tribe. The area includes a river ecosystem that is a critical habitat for Atlantic salmon. Read more>>
Lego Issues Cease-And-Desist Order To Handgun Kit Company: It's a bizarre story. A handgun company made Lego Block "coverings" kits for guns in a twisted push to promote gun rights. Fortunately, Lego didn't like that one bit. Read more>>
In Win for Overdose Prevention, Rhode Island Approves Harm Reduction Centers: Biden is under pressure to prohibit law enforcement from targeting safe consumption sites that reduce drug overdose. Read more>>
Native Tribes Win Cancellation Of Columbus Ship Replica At Maine Bicentennial Celebration: Protesting colonization, Wabanaki organizers and allies forced Maine cities to cancel the presence of a replica of Christopher Columbus' ship that was scheduled to appear at several bicentennial celebrations. Columbus had nothing to do with Maine state history. Read more>>
Harvard To Return Standing Bear's Tomahawk: A tomahawk once owned by Chief Standing Bear, a pioneering Native civil rights leader, is returning to his Nebraska tribe after decades in a museum at Harvard. The university's Peabody Museum of Archaeology & Ethnology says it's been working with citizens of the Ponca Tribe in Nebraska and Oklahoma to repatriate the artifact. Read more>>
Presbyterians Return Land To Oklahoma Cherokee Nation: The recent land transaction involves an historic, 86-acre parcel – the first mission to the Cherokee people west of the Mississippi River – that is now being returned to Cherokee Nation, plus the purchase of 120 acres the mission added on over the years. Read more>>
Georgia's Media Rally As Government Fosters Right-Wing Violence: Following the death of a cameraman who was attacked by a far-right mob amid anti-media and anti-LGBTQ+ pogroms, dozens of Georgian media outlets and thousands of supporters gathered in protest, blaming the government for condoning the violence. The unprecedented July 11 rally brought together virtually every Georgian television network, even traditionally pro-government channels. Read more>>
Thousands in Cuba Protest Amid Deep Economic Crisis and Ongoing U.S. Blockade: The biggest protests Cuba has seen in decades come as people face shortages of medicine, food, and other resources. Read more>>
Barbers At Fort Lee Military Base Go On Strike: At Fort Lee military base in Virginia, over 20 barbers employed as contractors at the base have gone on strike this week over changes in their pay structure, resulting in some barbers making $1,000 less a month. Read more>>
In Texas, 'Fleeing' Democrats Take Courageous Stand for Democracy: Only by preventing a legislative quorum can they prevent the passage of the anti-democratic legislation that guts voting rights. So, the Democratic legislators in Texas are literally fleeing the state to stop it. Read more>>
Hundreds Risk Arrest To End Vaccine Apartheid: Hundreds of demonstrators, led by Justice is Global, Health Global Access Project (GAP), and more, held a mass demonstration in New York City calling to end vaccine apartheid and save lives everywhere. Read more>>
Advocates Rally Against NYC's Moving Homeless From Hotels To Shelters: A march and rally against New York City's decision to move about 8,000 homeless individuals from hotels to shelters was held Saturday. The process has been put on hold, but many say it shouldn't have happened to begin with. Homeless advocates blasted the city for pushing those sheltered in hotels back to congregate living. "Don't you know housing is a human right?" one speaker said. Read more>>
2,000 Service Workers Strike In Illinois: SEIU Local 73, which represents custodians, technicians, and administrative assistants, is demanding better pay and advancement opportunities. Read more>>
Community Members And Businesses Show Support For Frito-Lay Strikers: Community support is rolling in for Frito-Lay workers on strike in Topeka, KS. Going into the second day of the first strike outside Topeka's Frito-Lay plant in nearly 50 years, a local relief fund had been set up to cover some union members' utility bills, as area businesses showed support for those on the front line. The workers are opposing 84-hr work weeks. Read more>>
First Nation Holds Ceremony As Residential School Torn To Ground: After a decades-long fight, the former residential school in Lower Post is being torn to the ground. On June 30, the 46th anniversary of the school's closure, a ceremonial demolition and ground-blessing ceremony was witnessed by the Kaska Nation and Indigenous people from across the North. Deputy Chief of the Daylu Dena Council Harlan Schilling made clear before the ceremonies began that the day wasn't a sad one, instead, it was a joyous day. Read more>>
Reckoning With US Indigenous Residential Schools: For some people, the idea of a boarding school might invoke images of affluent college prep schools, or repositories for disobedient students. For Indigenous people in the US and Canada, the term brings forth terror. Indigenous boarding schools were a tactical experiment, supported by the US War Department and the Department of Interior. After hundreds of years of attempted ethnic genocide, the U.S. government used boarding schools to make a targeted effort to obliterate the ties children had between their culture and land before they were fully developed. Find out more and what you can do about it here>>
Re-Lighting The Night After The City Repossessed Their Streetlights: In 2011, city officials removed roughly 1,200 street lights from a predominantly Black city to settle a utility debt. Reports suggest the repossessed lights were sold for scrap. Since then, Highland Park remained in the dark figuratively and literally. Residents had no clue what happened. Ten years later, they're now re-lighting their streets. Read more>>
Four Indigenous Activists Arrested During #Landback Action: Indigenous climbers representing 10 different Nations from Turtle Island and Palestine were arrested for confronting the legacy of white supremacy that is commemorated every 4th of July. Climbers ascended the 100-ft Dakota Mills Grain silo situated on Lakota lands in downtown Rapid City and mounted an upside down American flag with "LANDBACK" written prominently across it. Read more>>
Police Stole Sacred Objects From Afro-Brazilian People. Now Museums Hoard Them. There is now a growing movement in Brazil to reclaim sacred objects and collections from museums. Read more>>
Black English Soccer Stars Supported by Fans After Racist Outburst: In the latest reminder that racism isn't just a U.S. problem, soccer fans have rushed to defend three young, Black players for the English national team after their misses led to Italy's win – and unleashed an outpouring of remarks. Read more>>
As District Attorney Rejects Charges, Bayou Bridge Water Protectors Vow 'We Will Not Stop Our Work': Free speech, environmental, and Indigenous advocates on Tuesday welcomed a Louisiana district attorney's decision to reject all criminal charges against 16 activists and a journalist, some of whom were the first defendants tried under an amendment to the state's critical infrastructure law that criminalized peaceful protests of fossil fuel projects. The 16 water protectors were arrested in 2018 while protesting the Bayou Bridge Pipeline, the tail end of Energy Transfer Partners' (ETP) highly controversial Dakota Access Pipeline. Read more>>
To Protect Themselves From Heat Waves, the Working Class Needs to Get Organized: There is growing awareness among climate activists that workers' rights and the future of the climate are inseparable. Read more>>
An Indigenous Group's Objection to Geoengineering Spurs a Debate About Social Justice in Climate Science: The Sámi people of Northern Sweden say blocking out the sun with reflective particles to cool the earth is the kind of thinking that produced the climate crisis in the first place. Read more>>
Pennsylvania Town Battles To Shut Down Toxic Waste-To-Energy Plant: So-called waste-to-energy plants are the waste management industry's way of describing toxic incinerators that burn trash and leave extremely toxic ash containing dioxin, mercury, arsenic and more. The Covanta incinerator in Chester, Pennsylvania, is the largest one of its kind in the U.S. Chester is a low-income community near Philadelphia, with a population of 33,000 people, 72 percent of whom are African American. Read more>>
Movimiento Cosecha Marches Across Indiana: Cosecha Indiana launched a 7-day, 300-mile walk across the state of Indiana to push for drivers licenses for undocumented persons. "For so long, Indiana immigrants have had to live with fear whenever we get behind the wheel of our cars without a license. (We are concerned the)police will pull us over, detain us for driving without a license, and separate us from our families." Read more>> 
Abolition Made Practical: How does a society go from 7,147 jails, prisons, and detention facilities nationwide down to zero? Well, it's not by scrolling and wishing. The fight for prison abolition is being won by local people and organizations who are weaving together the frayed fibers of community care. Read more>>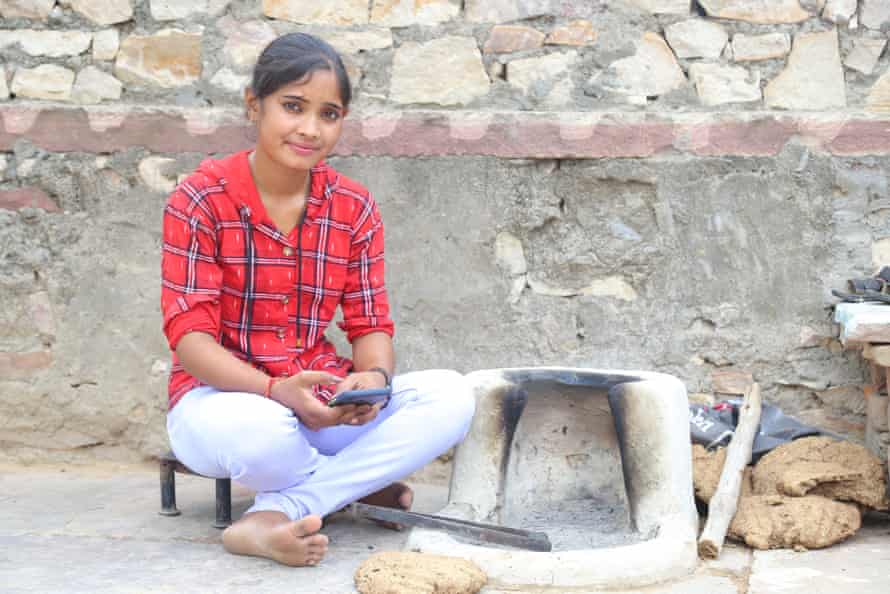 The Indian Girls' Movement Fighting Child Marriage: At 17, Priyanka Bairwa refused her arranged marriage. Instead, she started Rajasthan Rising to help thousands of others and call for free education. Read more>>
Chinese Artist's Photo Installation Triggers Scandal Over Misogyny In Art World: A "Bad Boy" of Chinese art created a photo installation that ranked women as "Uglier and Uglier". The outcry against the crass and demeaning project has renewed outrage at sexism in China's contemporary art world. Read more>>
Korean-Americans Raise Their Voices For Peace With Korea: Increasingly, Korean-Americans are calling upon the US to end the Korean War. While Korean Americans aren't a monolithic political group and don't share the same opinion on what to do about North Korea—in fact, the four Korean Americans in Congress are divided equally on this issue—there is a growing and vocal contingent advocating for a peace-first approach. Read more>>
After 10 Years Of Conflict, South Sudan's Women Seek Trauma Healing & Peace: The country's first 10 years has been marred by civil war, sexual violence and poverty. But women are working to gain justice for victims and hope for change. The Titi Foundation tackles a range of issues, from basic humanitarian needs, such as food insecurity and child nutrition, to more ambitious projects to reduce gender-based violence and boost female employment. Read more>>
Kansas Activists Share Impact of Peace Walk: Journeying hundreds of miles, peace activists in Kansas share the impacts of their annual peace walks. To protest against nukes and for peace, their next action will pilgrimage from an urban center to the factory that produces 80% of all non-nuclear components for the US nuclear arsenal. Read more>>
For Goodness Sake – A Music Festival For The Nonviolent Future: To fire up our hearts and fuel our solidarity for the long haul of making change, Pace e Bene is holding a nonviolent music festival on Aug. 21. Musicians from around the world and in all genres of music will share their songs about peace and nonviolence. People from cities, towns, tiny villages and more will tune in, together. Read more>>
Editor's Note: Nonviolence News is proudly co-sponsoring the For Goodness Sake Music Festival. Registration is free, but if you choose to donate, use the code #NVNews. Each time someone donates with the #NVNews donation code 25% goes to supporting us! Donate at goodness-sake.org/donate or text GOODNESS to 833-440-1989.
3 Seconds Films Blends Spoken Word and Film To Deliver Climate Message: Prince Ea and creative team crafted an epic presentation of where humanity stands today and how we must all work together to make it to the fourth second. Watch here>>
The Collective Resilience – We Rise Podcast Launches: A new podcast launched last week that shares stories and strategies to inspire action to build resilience and community transformation. We Rise will help community leaders and members learn to forge a new path toward creating resilience and true transformation. One person at a time, one community at a time, one region at a time, the quilt of transformation can grow piece by piece until resilience becomes the norm instead of the exception. Learn more>>
Burger King Workers Change Sign To Read "We All Quit": After months of ill-treatment, these Burger King workers quit en mass. Before they left, they changed the large sign outside the fast food joint to announce their decision. One worker, Rachael Flores, said the Burger King had employees working in the kitchen with no air conditioning for weeks. At one point, the kitchen reached over 90 degrees. Flores ended up in the hospital for dehydration. She said her boss reacted, saying she was being a "baby." Read more>>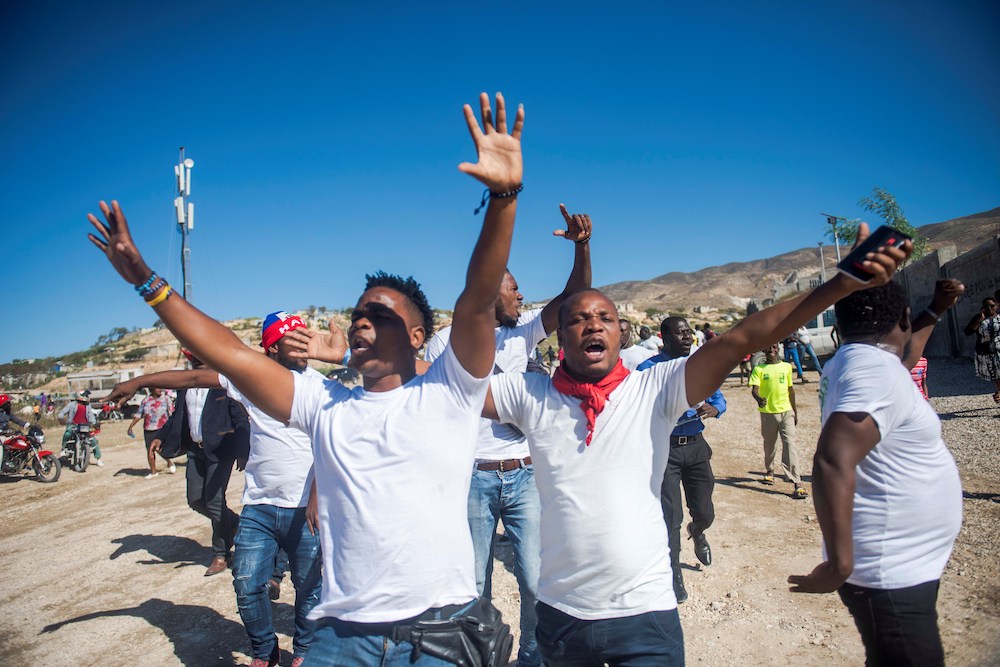 In A World Of Radical Inequality, Solidarity Is A Cornerstone Of Justice: An organizer of a human rights clinic based at a well-resourced law school in the United States reflects on how her profession and field can – and should – stand in greater solidarity with activists in the global South. Read more>>
The Hidden Hand of the US Blockade Sparks Cuba Protests: The protests should be understood in the context of a brutal economic war waged by the United States against the island nation for more than 60 years. Read more>>
How One Union Uses Kitchen Table Economics To Advance Medicare For All: Using kitchen table economics is critical for winning workers over to Medicare for All. Before this training, members may be wary of trading something they're familiar with for something that's unknown. But in the workshop, they see for themselves that what they have now is robbing them blind—and that Medicare for All would bring them real economic gains. Read more>>
"Beyond Transition – Appalachia's Pathway to Justice and Transformation": The report features a Vision for Transformation crafted from input shared from dozens of Appalachian organizers, case studies highlighting radical examples of the region's transformative organizing work, and resources to address the opportunities, challenges, and strategies lifted up by the interviewees. Read more>>
Nonviolence International Shares New Videos Showcasing The Power of Nonviolence: 10+ short videos share the power of nonviolent action in shaping change. Read more>>
How adrienne maree brown Held Change And Inspired a Generation of Movements: The author and activist discusses the evolution of her career, the partnerships that inspire her work and writing from the edges of her life. Read more>>
Highlander Center's Septima Clark Learning Center Webinars: The Highlander Center's staff librarians are hosting a monthly series online to dig deeper into the Septima Clark Learning Center's many offerings. Learn more>>
Creative Wildfire – Building The Regenerative Economy: We know we cannot go back to normal. Join this effort to advance regenerative economy projects. Learn more>>
Poor People's Army Asks You To Stand With Families: Sign this petition to stand with the homeless families of the Poor People's Army that are currently residing in houses that have been taken over (Takeover Houses), houses that are owned by Housing and Urban Development (HUD) but are abandoned. Learn more>>
Online Photo Action to End the Korean War: Take an action shot (selfie) holding a sign for Korea Peace. Print your choice of sign from here or make your own creative sign. Post on Twitter, Facebook, or any social media platform with this caption: 70 years is enough. Let's End the Korean War! Learn more>>
No More War Games In the Pacific! Please join with people from across the Pacific to declare peace and oppose war games, as well as learn about the situation at an upcoming webinar organised by the Pacific Peace Network (PPN). You will hear representatives from the Philippines, Guåhan, Aotearoa/NZ, West Papua, Jeju Island, Okinawa, Hawai'i, Australia, and more. (July 24) Learn more>>
Turn It Up – Music In the Movement Training: In this participatory session, we will share inspiring examples of music as a force of change, listen to creative uses of music in nonviolent movements, and look at how to weave music in our actions. (Aug 20) Learn more>>
THANKS to our new monthly donors! $10/month goes a long way to keeping the good news coming.
Want to become a monthly donor? Here's how>>