Editor's Note From Rivera Sun
The world's last absolute monarch is being run out of Swaziland by pro-democracy protesters. Seventy thousand health and social workers in India won a pay raise after going on strike. US climate activists blockaded all ten doors to the White House. Kenyans are resisting a major development project and organizing youth-led peacebuilding efforts to dismantle extremism. In Canada and the United States, forest protectors are perched in tree-sits and tripods to stop logging. Migrant justice activists are shutting down freeways for undocumented worker relief funds and also buying land in rural areas for climate refugees.
My favorite stories this week are wildly creative. In France, community members occupied an abandoned McDonald's, painted it bright colors, and ran a food bank out of it. The French government just purchased the building to prevent the police from evicting the successful food bank operation. Meanwhile, a father whose son was murdered in a school shooting tricked the former head of the National Rifle Association (NRA) into giving a graduation speech to 3,044 empty chairs representing students killed by gun violence. In Austria, an art collective made a short film about pacifist soldiers trying to desert in a war-themed video game. In the game, they invent new and unusual forms of pacifistic disobedience for their user-controlled soldiers.
Give yourself a treat and at least scan all the headlines. The photos alone will make you smile. The stories will make you cheer.
In solidarity toward a nonviolent world,
Rivera Sun, Editor
Photo Credit: Pro-democracy protesters in Swaziland push to end the world's last absolute monarchy.
Chip in … and keep the good news rolling! Donate here>>
Week-long Strike Compels Authorities To Increase Wages of Health Workers in Maharashtra, India: Around 67,000 Accredited Social Health Activists (ASHAs) and 3,000 block workers will get a pay rise after they went on strike for a week. Read more>> 
Workers in Australia Launched a Strike Against General Mills. They Just Won. On June 25, the workers at General Mills celebrated a remarkable victory. The company had stubbornly refused to countenance their claims, offering them an average pay rise of just 1.5 percent. After three weeks on strike, the global food giant backed down, offering a wage rise of 9 percent over three years without any trade off in conditions. The workers also won a $1,500 bonus and protection for all labor hire casuals and contractors who participated in the strike. Read more>> 
Crippling Sanctions Lessened In Syria, Iran, and Venezuela: Peace and justice groups, including World Beyond War and many others, have been trying to get U.S. sanctions lifted for COVID relief. At last, they have resulted in just that for Syria, Iran, and Venezuela. Read more>>
U.S. Adds Gender Neutral Checkbox To Passports: Now, without requiring medical documentation, you can choose Gender X instead of male/female on your US passport. It's considered a victory for transgender/gender fluidity rights. Read more>>
More US Farmland Transitions to Organic: Growing interest in regenerative land practices and demand for organic food have led to consistent expansion of acres devoted to organic farming. Read more>>
Kazakhstani Couriers Push Back Against The Gig Economy: Workers pushed into unstable jobs by the pandemic are fighting against repressive local rules to set up their own trade union. They, like gig workers and delivery workers around the world, are increasingly mobilizing for fair pay, safety protections, and an end to the grueling demands of the industry. Read more>> 
King Msawati Flees Swaziland, But Pro-Democracy Struggle Against Monarchy Continues: The Swaziland government has issued a statement denying reports that the king has fled the country. Instead, they are assuring the people and "the international community" that "His Majesty" is in the country. However, this has not convinced the banned, pro-democracy opposition parties, whose organizers are still mobilizing an unprecedented wave of protests against the last absolute monarch in Africa. Read more>>  
Tokyo Youth Protest To Get Olympics Cancelled: The vast majority of Japanese citizens don't want the Olympic Games to happen this summer. And, many young Japanese people are taking to the streets and to their social media platforms to voice frustration with their government and the International Olympic Committee (IOC). Read more>>
As Key Suspect Goes To Trial, Protest Encampment Demands Justice for Murdered Activist Berta Cáceres: In response, social movements are occupying land outside the Supreme Court of Justice. Every day, hundreds have joined from all different parts of the country to remember Berta's legacy. They share meals made from foods carried from Indigenous territories. They share equal parts in laughter and resolve as the smell of traditional herbal burnings fills the air around them. And they aren't giving up. Read more>>
From Black Lung to BlackRock: Striking Alabama Coal Miners Protest Wall St. Financiers of Warrior Met: More than a thousand coal miners at Warrior Met Coal are now in the third month of their strike in the right-to-work state of Alabama. This is the first strike to hit the state's coal mining industry in four decades. Workers are fighting for improvements to wages and benefits. Today a group of striking mine workers traveled from Alabama to Wall Street to protest the investment firms backing Warrior Met. Read more>>
From Appalachia to DC, Low-Wage Workers Rise: Last week, with Congress and the White House deep in tense negotiations over the latest infrastructure proposal, hundreds of low-wage workers, faith leaders, and advocates from Kentucky and West Virginia joined the Poor People's Campaign for a "Moral March on Manchin and McConnell" in the nation's capital. Read more>>
Despite Facing Brutal Repression, Colombians Continue Historic Mobilization: Tired of violence and living in poverty, protests sparked by a tax reform bill have morphed into calls for deep systemic change in Colombia. Read more>>
New Orleans Public Works Employees Strike: Last week, the New Orleans City Council voted to raise the wage for city contractors to $15 an hour. However, some city employees make as little as $11.21 an hour. To draw attention to their plight, two-thirds of the Department of Public Works workers, some of whom are employed by the city fixing potholes and making only $11.21 an hour, decided to go on a wildcat strike. Read more>>
Seed-Sharing Around The World Resists Ag Corporations: From Brazil to Palestine to India, communities are resisting corporate seed patents and building food sovereignty by saving and sharing seeds through co-ops and libraries. In Brazil, members of Movimento dos Trabalhadores Rurais Sem Terra created their own organic seed co-op. In India, an organization called Navdanya has intervened to establish over 100 seed banks and educational programs. Read more about these seed sharing projects from around the world. Read more>>
Police Violence Against Protesters In Dusseldorf, Germany, Condemned: On Saturday, hundreds of people including journalists were injured in police action in Dusseldorf against those who were opposing a law that would penalize certain kinds of protest. Read more>>
Heat Dome Inspires Voodoo Doughnut Worker Walk-Off: As the heat dome in the Pacific Northwest led to temperatures reaching 117 degrees, workers at the Voodoo Doughnut shop decided to walk off the job rather than work in record heat. Read more>>
Riding To Protect Voting Rights: As the national debate over voting rights intensifies, Hernandez boarded one of four buses that left Phoenix, AZ, on June 18 for Washington, D.C., stopping to hold rallies along the way. The Freedom Ride, scheduled to arrive in the nation's capital June 26, is modeled after a 1960s tactic used by civil rights movement volunteers, who rode buses over state lines to challenge racial segregation in the South. Sixty years after the original bus rides, modern-day passengers from Arizona, California, Georgia, and other states will lobby members of Congress to support federal legislation that would ensure protection of voting rights. Read more>>
Honoring The Movement To End Discrimination Against LGBTQ People: June is Pride Month – a time set aside to honor the Stonewall uprising, which launched the movement to end discriminatory laws against LGBTQ people – and to remember the many important cultural and legislative victories since that pivotal summer in 1969. This year, the celebration occurs under the cloud of more than 125 anti-LGBTQ bills that have been introduced in state legislatures, many targeting children who identify as transgender by denying them access to lifesaving medical treatment, banning them from participating in sports or using the restroom. Read more>>
India Farmer Protests Completes 200 Days, Undaunted: "Resilience is in our blood. Every year after sowing seeds, we wait patiently for months on end to reap the harvest. It is back-breaking work in difficult conditions. Often, a drought or an untimely hailstorm wreaks it all and smashes all our hopes for a better yield and income. Yet, we persist. We do not give up. We do not run away. Come winter, and we plant again. In one village of Rajasthan, my people have waited 12 long years for rain. Farmers are the epitome of patience. Our farm is our life. If we can wait for rain for 12 years, what are these three farm laws? We will wait, but we will not accept defeat." Read more>>
United Arab Emirates Company Cracks Down On 'Block The Boat' Picket Line In Canada: A small town in northern British Columbia was recently the backdrop for a chilling display of how Emirati influence and power can be used to attempt to suppress popular support for Palestine. A picket line for "Block the Boat" was preventing an Israeli ship from docking. The dockworkers were slapped with a 3-day suspension for their actions – a move driven by UAE company pressure. Read more>>
British Activist Climbs 600ft Crane In Solidarity With Palestinians: A 69-year-old activist has scaled and spent the night atop a 200 metre high crane near the United States embassy in London, in solidarity with Palestinians. Nick Georges, who is a grandfather, climbed up the crane in the Battersea area of south London at 4am on Tuesday, unfurling a Palestinian flag from the summit. Read more>>
Canada's Indigenous Genocide Is Ongoing: The mass graves at former Indian residential school sites are not the whole story. Colonial violence is far from over. Read more>> 
Teachers Resist Bans On Discussing Race in School: Despite right-wing lawmakers introducing bans on Critical Race Theory, teachers and students support the curriculum. In recent weeks, more than 4,400 educators from across the United States have signed a pledge stating that they "refuse to lie to young people about U.S. history and current events — regardless of the law." Read more>>
Black US Olympic Athlete Caught Amidst Anthem Controversy: Gwen Berry is a hammer thrower who draped a sweatshirt reading "Activist Athlete" over her shoulders during the National Anthem. Now, conservatives are screaming. She says the whole situation feels like a set-up. Read more>>
Preserving Black Historical Resorts Is A Radical Act: Amid the violent segregation of the Jim Crow era, leaning into Black joy, leisure, and recreation was a form of quiet radical resistance. Today that resistance is ongoing through retaining the memory and actual historical sites that held space for it as we continue to reckon with anti-Blackness in the United States. Read more>>
Why Black Doulas Matter & Where To Find Them: Black pregnant people are the most likely to die from pregnancy-related complications, three to four times the rate of non-Latinx White mothers. While the real solution to reversing these statistics is an end to structural racism in medicine, Black pregnant people are now relying on another way to make their birthing experience safer. Read more>>
Sunrise Activists Arrested During 'No Climate, No Deal' Blockade of All 10 Doors To The White House:  Dozens of youth activists with the Sunrise Movement were arrested by Secret Service agents on Monday while blockading all 10 entrances of the White House. The demonstrators had three core demands: stop negotiating with Republican politicians who don't care about climate action; meet with Sunrise executive director Varshini Prakash and other youth organizers who handed Democrats control of the White House and Congress; and pass a bold jobs and climate package that includes a fully funded Civilian Climate Corps (CCC). Read more>>
How Kenyans Are Resisting One of the Largest Development Projects in East Africa: After making little progress on their own, climate justice organizers in Kenya came together with youth, farmers and women to fight for sustainable development. Read more>> 
Police Escalate Line 3 Standoffs at Indigenous, Water Protector-Led Treaty Sites: Red Lake tribal monitor Sasha Beaulieu says it's not the tribe's Water Protectors who are trespassing; it's Enbridge. Read more>>
500+ Groups Rally At Indigenous-Led Action Outside White House Urges Biden to 'Protect People, Not Polluters': Protesters are calling on the president and Congress to "prioritize climate justice, racial justice, Indigenous rights, housing justice, and transit justice in the infrastructure discussions." Read more>>
Stop the Byhalia Pipeline Campaign Delivers 128,000 Signatures: Hip Hop Caucus supported local organizers in Memphis, TN to stop the Byahlia pipeline. They collected over 128,000 signatures opposing the Byhalia Pipeline, and are making sure that Memphis City Council knows that the eyes of the nation are on them. Watch the delivery action and learn more>>
Hundreds Of Anti-Logging Protesters Arrested: Police in western Canada have arrested more than 270 people as a conflict over old growth logging in British Columbia's ancient rainforests continues to grow. At the protest blockades in the remote woodland, hundreds of activists have been chaining themselves to giant tripods made from the trunks of felled trees, suspending themselves in trees for days or more at a time, and even securing their arms inside devices called "sleeping dragons" cemented into the roadway. Read more>>
How Laid-Off Coal Miners Are Reclaiming Their Own Economy: For over a century, the coal industry dominated Appalachia's economy and psyche, preventing much else from taking root. Coalfield Development seeks to restore and diversify economic development in the region by retraining coal miners in land restoration. Read more>>
Since May, Tree Sitters & Community Members Have Been Stopping Redwoods Logging: Logging has begun in Jackson State Demonstration Forest, 48,000 acres of state owned redwood forestland in Mendocino County in Northern California. Opposition to the plan is widespread and also diverse – ranging from bands of Pomo Indians to school kids from the village of Mendocino. In May, two tree sitters set up shop in a grove of giant trees, one in the "Mama Tree" the other in the "Papa Tree"; they're still there. Since then, there have been blockades, invasions of sites to be logged, as well as demonstrations and appeals to local, county and state representatives. Read more>>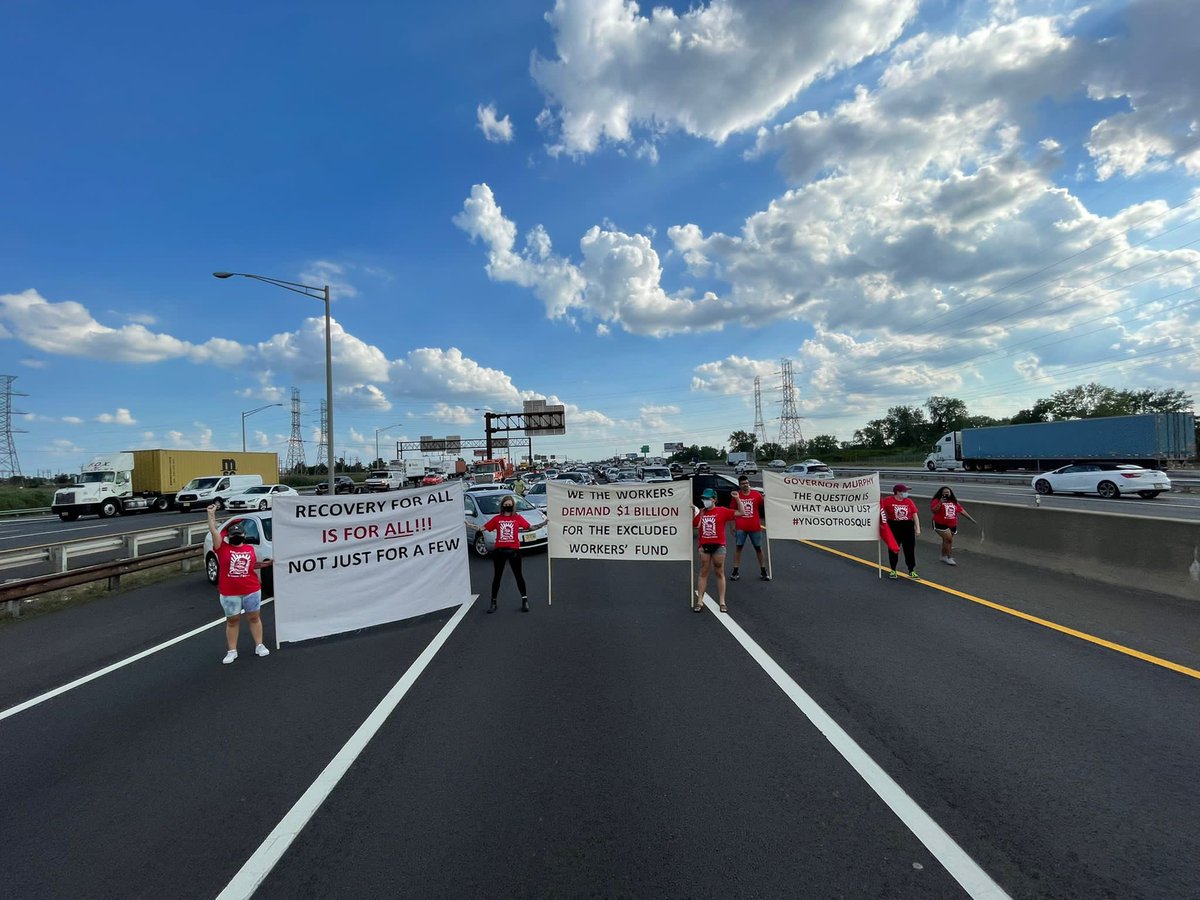 Immigrant Rights Activists Shut Down Freeway For Undocumented Worker Funds: In New Jersey, immigrant rights activists shut down the New Jersey Turnpike to call on New Jersey Governor Phil Murphy to add $1 billion to the state's excluded worker fund. Read more>>
Report on ICE Reveals 'Cruelty and Coercion' Against Hunger Strikers: The U.S. agency's systemic response of "coercion and violence," said an ACLU attorney, "speaks to the inherently abusive and inhumane nature of immigration detention." Read more>>
Activists Are Sharing Land In Vermont With People Escaping Climate Disaster: As heatwaves rise across the US, mutual aid organizations are building a pipeline to help a new generation of climate migrants. Read more>>
Refugee Stories, Told By Refugees: In the interview and photo-documentary project, One Thousand Dreams, award-winning photographer Robin Hammond hands the camera to refugees. Often reduced by the media's toxic or well-meaning narratives, the portraits and interviews capture a different and more complex tale. Read more>>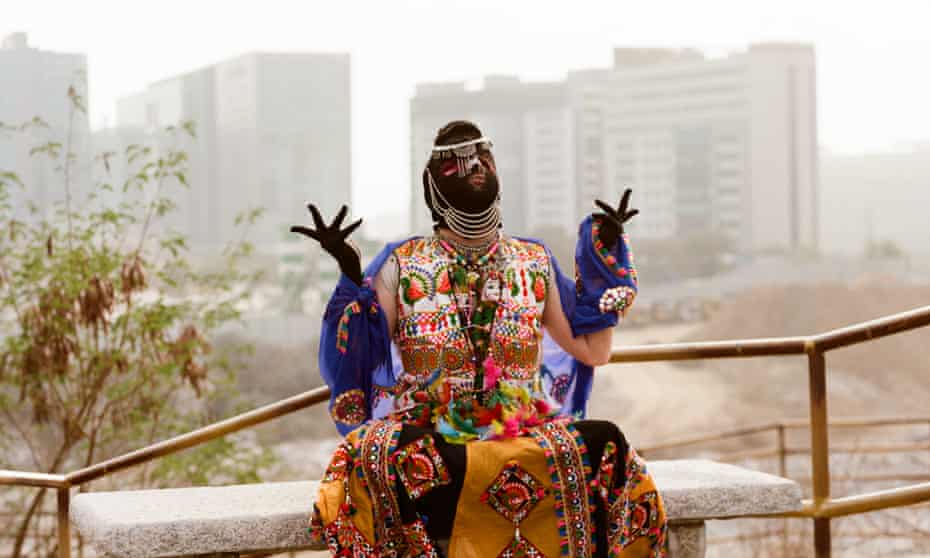 'Drag Is Political' – Pioneering Indian Event Unites Art and Activism: There have always been traditional drag performances in various Indian communities, such as launda naach in Bihar and eastern Uttar Pradesh and kaniyan koothu in Tamil Nadu. But a new wave of drag has emerged in India in the past 10 years, with influential artists like Maya the Drag Queen and Miss Bhenji at the forefront. Now, the organizer of a pioneer event estimates that there are more than 100 artists scattered across the country. Read more>>
Egypt Will Finally Appoint Women Judges. But Is The Move Really Progress? If the plans to install female judges in Egyptian courts go ahead in the expected form, they will anger both women's rights activists and female law school graduates. Read more>>
#MeToo Laws On Preventing Violence & Harassment Struggle In China: Chinese women spoke out in huge numbers during #MeToo, leading to a new set of international policies aimed at reducing violence and sexual harassment. But, those laws are struggling in China. Here's why. Read more>>
Beijing Subway Adopts Anti-Sexual Harassment Ads To Educate Public: The city's state-run women's rights organization has installed posters and videos at subway stations to educate and inform riders about sexual harassment. Read more>>
Behind the Scenes Of Youth-Led Peacebuilding Efforts In Kenya: This video documents an initiative undertaken in Kenya in 2017 and 2018 and explores the utility and effectiveness of youth-led peacebuilding in marginalized communities marked by violent extremism. Watch here>>
Veterans For Peace & Peace Activists Protest F-35 Jets: Local organizers, government officials, and community members gathered to protest the placement of F-35 fighter jets at Truax Field by the U.S. Air Force, citing resident health and safety concerns. Read more>>
Existing And Resisting In The Nuclear Submarine Capital of the World: In New London, Connecticut, where potential world-annihilating nuclear submarines are built, resident peace activists manage existential discomfort by being a small, but visible voice saying, "No." Read more>>
How Communal Living Benefits Peace: Nonviolence Radio explores communal living. 'You can't create peace around you without having peace within you.' Founded by an Italian follower of Gandhi, the Community of the Arc in Southern France is a model for simple living rooted in nonviolent ideals. Read more>>
Inside The Effort To Disrupt Australia's Land Forces Weapons Expo: Zelda Grimshaw is one of the key organizers of Disrupt Land Forces, a mass mobilization to hinder, hamper and eventually halt Australia's biennial weapons expo. Land Forces which was held on 1-3 June 2021 in Brisbane. Listen to an interview with her about this campaign. Read more>>
Activists Hang Anti-Nuke Banner Over Seattle Freeway: "Abolish Nuclear Weapons," read a banner opposing these weapons of mass destruction. Activists held the banner and signs over a busy Seattle freeway during the morning commute to remind people of the imperative to abolish nuclear weapons. Read more>>
A French 'Fast' Food Bank: Solutions sprout in unexpected places. Like in an abandoned McDonalds in the city of Marseille, France, which workers occupied and transformed into a community food bank last year. This month, the government in Marseille announced it would buy the building to prevent its closure by police. Read how the food bank has become a "defacto social center" for workshops and events, and how the community plans to turn it into a jobs training hub in the future. Read more>>
Meet the Dad Who Tricked Ex-NRA Head Into Making A "Graduation Speech" for Empty Chairs: A dad asked the former head of the NRA to make a graduation speech. The trick? Each of the 3,044 empty chairs represented a student killed by gun violence who could not graduate this year. Read more>>
Black TikTok Creators Strike To Protest Uncredited Viral Dance Trends: Black TikTok creators are "striking" in an effort to gain recognition for choreographing dance trends that have been co-opted by white creators, furthering the debate over cultural appropriation online. Read more>>
Defund Line 3 Movement Artists Release Free Poster Series: Can't make it to Minnesota to #StopLine3? You can still play a big role in shutting it down. Movement artists have put together an incredible FREE #DefundLine3 poster package to put up all around your city or town. The more people know about the injustice happening, the stronger the movement will be to stop it. Read more>>
How Can Pacifist Soldiers Search For Peace In War Video Games? For as long as there have been wars, there have been soldiers refusing to fight in them. The experimental short film, How To Disappear, examines the history of military desertion via the online war video game Battlefield V (2018), drawing wry and provocative contrasts between digital and real-life combat. Created by the Austrian art collective Total Refusal, this thoughtful film also asks: what does it mean that you can't desert within this computer-generated world? Read more>>
How Undocumented Workers Took On The New York Establishment – And Won: After 23 days on hunger strike, undocumented workers in New York won access to COVID relief funds. Now others across the US are following their lead. Read more>>
Colombian Protesters Find Ways To Break The Stigma of Dissent: Colombia's media and politicians have cast activists as the enemy for decades. One group is trying to change that. Read more>>
How LGBTQ Persons Found Joy In The Struggle, Even Amidst The AIDS Crisis: "Despite all of the grief and loss, I remember those times as some of the most joyful of my life because every day mattered. We knew that every hug, every smile, every touch, every protest mattered. Pride Celebrations were not just limited to one weekend/year. For us, it was a daily occurrence as we shepherded our friends across the rainbow. As survivors, we committed to laugh, sing, dance, work, and love with a ferocity to redeem all of the lives that had been cut short." Read more>>
How Deaf Suffragettes Fought For Voting Rights In the US: Despite harsh, discriminatory conditions, countless deaf women fought with brilliance and dedication for personal and professional recognition, including for the right to vote. Read more>>
Bob Marley's Peace Gesture Supported Radical Change in Jamaica: An iconic 1978 image shows Bob Marley uniting left- and right-wing party leaders on stage, calling for a truce. Misread as apolitical, his gesture was actually meant to rescue the social movement that had carried the left-leaning political party to power six years earlier — and save their vision for a new Jamaica that the street violence, which many suspect was the result of a covert CIA destabilization program, threatened to destroy. Read more>>
Rebel Hearts – The Story Of The 1960s Nuns Who Challenged The Church: A new documentary explores how a group of LA-based nuns took on the Catholic church by pushing for more independence and the rights of minority groups. Read more>>
The Roots Of The US White Collar Union Wave Are Deeper Than You Think: Before the recent wave of organizing among media workers, adjunct professors and nonprofit workers set the world talking about the promise of white collar unions, there had already been decades of quiet organizing among the white collar creative underclass. Read more>>
#Defund Line 3 Action Week: There are $4.6 billion in loans to Enbridge, the company behind the toxic Line 3 pipeline, that are due to expire on July 22nd and July 23rd. This is the moment when banks can legally and easily walk away from Line 3. The week before the three major loans to Enbridge expire, July 12th-18th, activists around the country will organize art actions & protests at the branches, offices and headquarters of the banks funding Line 3. Learn more>>
Tell Government To Divest Public Retirement Savings From Fossil Fuels: State pension funds are giant pools of money that invest. We don't think of these investments as policy choices, but they absolutely are. Learn more>>
Take Action To Repeal The AUMF: In 2001 and 2002, the U.S. Congress passed the Authorization for the Use of Military Force (AUMF). For nearly two decades, the AUMFs have effectively become a blank check for any president, at any time, to wage endless global war without oversight or meaningful national public debate. Take action today to urge US senators to REPEAL THE 2002 AUMF>>
Highlander Center Virtual Children's Justice Camp: Children's Camp has been a part of Highlander's culture since 1985 and is still going strong. Camp was born out of the love and joy families like yours put into creating a place where movements and change can breathe into the lives of our children, and our Directors are proud to continue that legacy. (July 19-23) Learn more>>
#SaveSilwan: This week, Israeli authorities began the demolition of 100 homes in the neighborhood of Silwan, threatening 1,500 Palestinians with forced displacement to make way for a theme park. Tell your representatives to stop funding Israel's ethnic cleansing of Palestinians. Learn more>>
Strikes to the Streets – Political Education Series: This training series will introduce our youth-led movement to the world, and kick off a series that will prepare organizers like you to take on Wall Street and mobilize for the climate finance movement. (July 7) Learn more>>
Growing A Nonviolent Community – a 6-week Training with the Nonviolent Cities Project: This 6-week, online course will explore how you can start building a nonviolent community in your neighborhood, city, or region. We will look at nonviolent solutions to social challenges. We will share real stories of how people have replaced systems of violence with bold, nonviolent alternatives. Participants will gain hands-on tools for helping friends and neighbors understand the possibilities that exist. (Starts July 8) Learn more>>
Anti-Militarism Organizing: We know that more money for war, cops, cages, and all forms of militarism only means safety for the ruling elites. We know that real safety comes from caring for each other and our environment. So, let's get organized. (July 10) Learn more>> 
Cop-Free Schools – How Twin Cities Nonviolent & The Brothers Created Nonviolent Security at Ascension Catholic School: Faced with the mandate to provide security, the principal refused to hire cops and instead hired the Brothers, a group of community members who de-escalate conflicts. At a time when two thirds of US students want cops and private security off their school campuses, this endeavor should inspire us all—and help us take similar actions in our communities. (July 13) Learn more>>
Social Housing—A Path to Housing for All? Join Nonprofit Quarterly for its latest Remaking the Economy webinar on Social Housing—A Path to Housing for All? Panelists will detail what social housing is, why the time is right for a framework that prioritizes housing co-ops and community land trusts, and how to achieve housing for all. (July 15) Register here>>
MK Gandhi Institute's Nonviolence Retreat: Join us from near and far (virtually) to explore the wonders of the world of Nonviolence within, between, and among ourselves. Participants will spend part of each morning learning about and discussing different aspects of Nonviolence. We will continue in the afternoon to include several practice and debrief sessions. (Aug 9-13) Learn more>>
Thank you to our recent donors! And THANK YOU if you're the next donor to contribute!
Donate here>>