Editor's Note From Rivera Sun
It's a week of reflecting on the rise and fall of global movements. Some are making headway, like Colombia's national strike. Others have nearly vanished, like Hong Kong's mass protests. In Spain, the Catalonian independence movement's secession attempt took a hard hit with the imprisonment of its leaders for sedition in 2017. Now, Spain is considering pardoning the organizers – a divisive maneuver opposed by those who oppose Catalonia independence. In El Salvador, tens of thousands of people are rising up for land and home rights. In Puerto Rico, people are resisting colonialism. In the United States, nursing home workers and graduate students won major gains using bold nonviolent action.
We can learn a lot from examining each movement's strengths and challenges. In the Knowledge Section, you'll find an interesting article on what helps movements gather resources to weather the storms – messaging has a lot to do with it. You'll also find stories about Japan's 1960s student movement, and what today's vaccine patent campaign can learn from AIDS-drugs mobilizations in the 90s. And, don't miss the intriguing story in the Creative Action Section about how ping-pong players helped to diffuse the Cold War!
Nonviolence News exists to circulate these stories, build our collective wisdom, and inspire us to keep going. Enjoy.
In solidarity,
Rivera Sun
Photo Credit: A woman in Colombia speaks through megaphone during national strike.
Nursing Home Workers Win Historic Agreement For Higher Wages And Safer Jobs: By threatening to strike and engaging in a bold civil disobedience campaign, Connecticut health care workers with SEIU District 1199 won their demands for safety and a living wage. Read more>>
A National Strike Has Reignited in Colombia — and Is Winning Some Victories: The strike forced the government to withdraw a tax on basic necessities and subsidize college for low-income students. Read more>>
After 21 Years Of Protest, Elder Activist Gets Confederate Monument Removed: Willie Hudspeth was protesting before many of the BLM activists were born. Hudspeth – a retired middle school teacher, Vietnam veteran, and leader of the local NAACP – was already 54 years-old when he started his protests against a local Texas confederate monument; by the time he watched it come down, he was 75. Read more>>
Swapping Maps of Landmines For Prisoners: For weeks, Azerbaijan had been demanding maps of the mines Armenia laid during its retreat from Karabakh last year. At least 20 civilians had died since the end of the war. But it wasn't clear Armenians soldiers had even mapped the mines. It turned out they had. Over the weekend, in a deal brokered by Georgia and the United States, Baku and Yerevan agreed to swap detainees for the maps. Read more>>
New Jersey Activists Halt Two Deportations: Protesters blocked an ICE van in an attempt to stop the deportation. They were successful in halting the deportation of Marvin Jerezano Peña as well as a Dominican man named Carlos, who was also scheduled for deportation that day. Though ICE was unable to go through with the deportations as scheduled, both men remain in ICE custody and have been transferred to Genesee County Jail in Batavia, New York. Read more>>
DIY Mobility Justice Builds a Bench: After officials ignored requests for benches for elderly residents, one man got out his tools and built a bench for his wife during her daily walk. She has osteoarthritis and benefits from a resting spot. Read more>>
How NYU's Grad Student Union Went On Strike—And Won: The graduate student union's new contract, which includes higher wages and expanded health care, highlights what's possible when a union commits to deep organizing. Read more>>
Unable To Claim Titles To Homes They Paid To Own, Salvadorans Unite To Fight Developers For Land Rights: A new campaign for land rights is working to end the decades-old practice in El Salvador that has denied more than 350,000 families title to their property. Read more>>
50 Years Later, a Majority of Americans Want the Drug War to End: The drug war's contradictions are impossible to ignore. The nation is ready for a nonviolent approach. More than two-thirds of voters say drugs are a public health issue and criminal penalties should be removed for all drugs, not just cannabis, so the money spent on drug enforcement can be reinvested into addiction treatment and mental health services. Read more>>
BDS Is Gaining Momentum With #BlockTheBoat Actions in Oakland and Seattle: The current protests build on a long history of port shutdown organizing. The mobilizations in Seattle and Oakland are part of a coordinated, international #BlockTheBoat campaign that has been taking place across both U.S. coasts, in Canada, South Africa, Lebanon and at European ports. They are part of a global response to the renewed calls for Boycott, Divestment and Sanctions (BDS) made by Palestinian civil society following the most recent Israeli attacks. Read more>>
Resisting Settler Colonialism For a Just, Sovereign and Sustainable Puerto Rico: Abandoned billboard signs overlooking the Caribbean Ocean are spray-painted with #yankeegohome along Highway 2 in Puerto Rico. The stories of displacement have become increasingly common since 2019. Entire communities, including elders, must find new homes as millionaires from Silicon Valley, the rest of the United States, and Europe buy up property. Read more>>
'When They Take 100 Trees, We Plant 4,000' — A Conversation With Mubarak Awad On Nonviolence In Palestine: The renowned activist and nonviolence scholar discusses his path from Palestine to the United States and recent violence in the Middle East. Read more>>
To Celebrate Pride, We Must Honor Its Roots as an Anti-Police Protest: Ongoing police violence against LGBTQ people has led to a nationwide movement to limit or ban cops from Pride events. While some see this as controversial, many remember that Pride has its roots in anti-police protests. Read more>>
In Spain, Thousands Protest Against Pardons For Catalonia's Pro-Independence Organizers: In 2017, a large nonviolent campaign for Catalonian independence rose up. It was crushed by Spain's arrest of the leaders for sedition. Now, many of those leaders may gain a pardon from Spain. Tens of thousands of people demonstrated against the pardons, however. Read more>>
New Campaign to Fight Amazon's Push for World 'Dominated by Total Corporate Surveillance': "Amazon's surveillance-driven police state is fundamentally incompatible with racial justice, civil rights, and democracy," said Fight for the Future's Evan Greer. A new campaign for digital justice has begun to push back at Amazon's role in surveillance. Read more>>
The Colombian Government's War on Protesters: After six weeks of massive protests against neoliberalism and state violence in Colombia, right-wing president Iván Duque is relying on brute force to stay in power. Read more>>
Volvo Truck Workers In Virginia Return To The Picket Lines: Viewing the contract negotiated by United Auto Workers as a sellout, workers have issued a massive repudiation. 3,000 workers at the Volvo Truck North America's New River Valley Plant in Dublin, Virginia, are back on the picket line. Read more>>
Climate Protesters Hit The Beach At G-7: Hundreds of environmental protesters took to the Cornish seaside Saturday morning in a bid to draw the attention of world leaders and the international media outlets that have descended on southwest England for the G-7 summit. Some protesters paddled out to sea, while others sunbathed on the beach wearing masks of leaders' faces. Read more>>
Civil Resistance Against Climate Change – Insights from Australia: A new report looking at climate action campaigns in Australia shows that 50% have achieved important goals. This article looks at what's working for those campaigns. Read more>>
Life In The Low-Car City – Healthy, Peaceful And More Equitable: Numerous campaigns to shift away from car traffic exist. This article explores the difference between focusing campaigns on the freedom to bike safely and paying more attention to the benefits of a low-car city for those who are not, at any given time, on bikes. Read more>> 
Line 3 Water Protectors Launch Occupation at Mississippi River Pipeline Easement: Indigenous leaders and allies have launched a treaty encampment at a pipeline easement site on the Mississippi River. Read more>>
From Pollution To Policing, Asian-Americans Expand Environmental Justice In the Bay Area: Because of the way issues like a growing housing crisis, immigration, and police violence intersect in the San Francisco Bay area — where more than 350 refineries and fossil fuel companies are based — Asian-American organizers in Richmond, CA, have been at the forefront of reframing the environmental justice movement to incorporate all aspects of residents' encounters with their lived environments, whether that's unwanted interactions with the police or gentrification and the displacement of poorer people from their home communities. Read more>>
How Returning Lands To Native Tribes Is Helping To Protect Nature: From California to Maine, land is being given back to Native American tribes who are committing to managing it for conservation. Read more>>
Solidarity With Resistance To Extraction: People the world over are opposing fossil fuel extraction in an incalculable number of ways. It is now clear that burning fossil fuels threatens millions of Life forms and could be laying the foundation for the extermination of Humanity. But what about "alternative" energy? As progressives stand shoulder-to-shoulder with those rejecting fossil fuels and nuclear power, should we despise, ignore, or commend those who challenge the menace to their homes and their communities from solar, wind and hydro-power dams? Read more>>
How Fairy Creek Forest Defenders Deal With Settler-Indigenous Relationships: The blockades to protect an old-growth forest in what is called Canada have brought thousands of people together. It's a cauldron of learning for non-Indigenous environmentalists. Read more>>
Menominee Tribe Remains Vigilant Over Sulfide Mining: The Aguila Mine is on the ropes, thanks to the tribe's lawsuit against it, but Indigenous organizers are remaining vigilant, knowing other threats to the river loom. Read more>>
Thousands of US Teachers Protest Against Laws Restricting Racial Justice Education: The right-wing legislators are trying to roll back an expansion of critical race theory in the classroom. Teachers are protesting this effort by the thousands all across the country. Read more>>
Car Attack On Racial Justice Protesters Kills One, Injures Several in Minneapolis: A Minneapolis woman is dead after a man drove his car into a group of people who were peacefully protesting against police violence. The group had gathered to protest the death of Winston Smith, who was fatally shot by U.S. Marshals earlier this month. Zachery James, one of the protesters who was at the scene, told the Times that there were 40 to 50 people gathered at the protest and they barricaded the area with their own cars. James said they were "occupying peacefully" when a car approached at a high speed, hitting one of the parked cars so hard it struck the woman and sent her flying several yards into a pole. Read more>> 
Fight Against Femicides Continues Across Latin America: June 3 marked the sixth anniversary of the formation of the Ni Una Menos or 'Not One (Woman) Less' movement in Argentina. Since 2015, every year, the movement organizes massive marches across the country to raise voice against violence against women and non-binary people and demand justice for numerous of its victims. This year, like last year, due to the COVID-19 pandemic, the collective called on the people to mobilize virtually with hashtags and photos. Read more>>
"Vala, Ljeposava" – Organizing and Nonviolent Action against Mistreatment of Women in the Balkans: The campaign has bridged the online-offline divide by amplifying lived experiences onto online platforms. "We encourage women to complain whenever they are mistreated. It's instrumental that we keep demanding accountability, keep the pressure up—otherwise, nothing will change," noted the women's movement, Ljeposava. Read more>>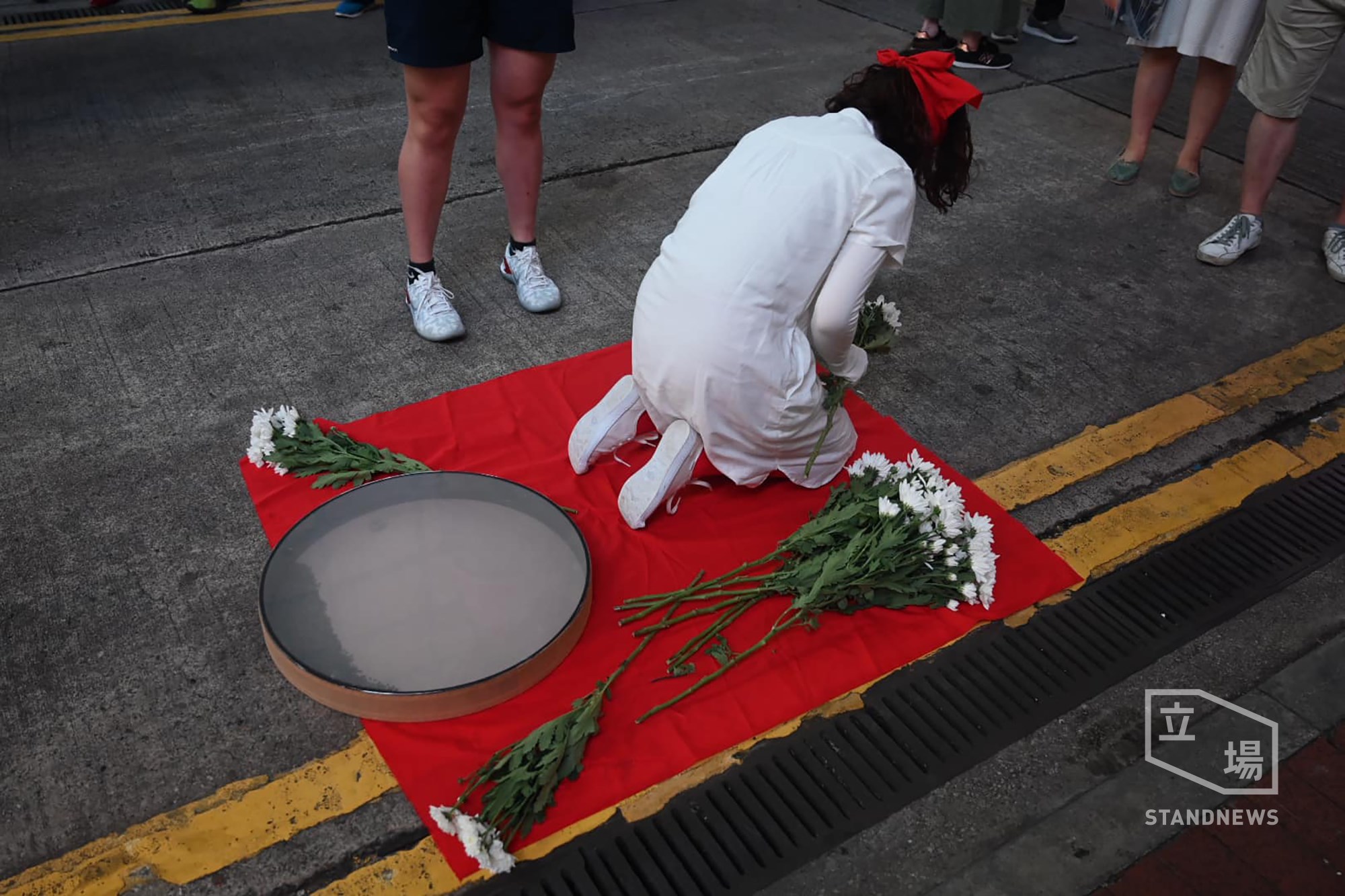 Hong Kong Finds New Ways To Remember Tiananmen Square Amid Vigil Ban: A man walked down a Hong Kong street on Friday wearing a shirt hand-painted with "There is nothing to say". The previous night an artist held a placard aloft reading: "Don't go to Victoria Park and light candles". On any other day these sights would have been confusing, but on Friday they were a small symbol of resistance to authorities' efforts to stop anyone from commemorating the 4 June 1989 massacre of student protesters in Beijing. Other residents lit candles, laid flowers and painted messages as police enforced ban on the annual vigil for the Tiananmen Square massacre. Read more>>
How Two Ping Pong Players Helped End The Cold War: Two young ping-pong players — the American Glenn Cowan and the Chinese team captain, Zhuang Zedong — helped break the ice between the two Cold War powers while on a bus in Japan between tournaments. Read more>>
What The Global Struggle For COVID Vaccine Access Can Learn From AIDS Treatment Protests: The global fight for affordable COVID vaccines is becoming one of the defining issues of our time, and it has many lessons to learn from the struggle to win global access to AIDS treatment drugs. Read more>>
How The 1980s Queer Punk Movements Inspires Poland Organizers: Many queer punks and anarchists who recently pushed back against police repression in Warsaw, Poland, drew inspiration from a North American movement called "queercore" that began in the early 1980s in Chicago, San Francisco, Los Angeles, and Toronto. Queercore — a play on hardcore — was a movement of radical gay punks who sparked an explosion of music, literature, film, and art that changed the face of punk rock and gay activism alike. Read more>>
The Role of Transformative Reparations in Building Justice and Sustainable Peace: Transformative reparations goes beyond compensation for individual harms. They seek to create societal redress of structural inequalities in a manner that changes the underlying causes of the harm. This new report looks at how this approach can be crucial to meaningful change. Read more>>
How Civil Resistance Movements Mobilize Resources: Civil resistance movements generate resources at the right place and the right time because of the strategic way in which they craft their messages. Almost every resistance action is simply the tip of the iceberg in terms of what is going on in the broader organizing effort. Underneath it lies the collective mobilization of resources that appear uncoordinated. Read more>>
50 Years Ago, the Pentagon Papers' Success Hinged On A Personal Conversion To Nonviolence: Without the friendships he forged in the antiwar movement, Daniel Ellsberg might not have found the courage and support he needed to help end the Vietnam War. Read more>>
Mass Mobilization From Sheikh Jarrah To Historical Palestine: The recent uprising showed once again that there is a third way to end the occupation, which is popular nonviolent resistance across Palestine and Israel. Read more>>
Palestinian Workers Have a Long History of Resistance: The Palestinian general strike of May 18 fits into a much longer history of mobilization by Palestinian workers. From the British colonial years to the present, those struggles have faced harsh repression, but kept a spirit of resistance alive. Read more>>
The Two Sides of Satyagraha: As Badshah Khan explained, "satyagraha stands for both the means and the ends, the struggle and the force that is generated in the struggle." Read more>>
Japan's Student Movement and the Revolutionary Politics of 1968: Historians often neglect Japan's New Left protest movement in the late 1960s, but it was one of the largest in any country. Radical student activists brought the university system to a halt — and changed the future of Japanese politics. Read more>>
Documenting the Rise and Fall of the Hong Kong Protests: A photojournalist covered the lengthy protests. Here are her images from the packed streets to the eerie silence. Read more>>
International Conference on Peace & Development on the Korean Peninsula: Korean Sharing Movement, Civil Peace Forum, Korean Women's Movement for Peace, and American Friends Service Committee are jointly hosting the 2021 International Conference on Peace & Development on the Korean Peninsula. This conference will serve as a forum to seek strategies for reestablishing linkages with the DPRK, to see how cooperation expands beyond the humanitarian sphere, and to see how this cooperation becomes a platform for building peace on the Korean Peninsula. (June 21- June 22) Learn more>>
National Poor People's Assembly: The hybrid online/in-person National Poor People's and Low-Wage Workers' Assembly will raise a chorus of voices demanding a moral revolution that puts the suffering of the 140 million+ and low-income people in the U.S. at the center of every policy debate. (June 21) Learn more>>
Power, Self, Interest and Tenant Organizing: A workshop on power, self-interest, and tenant organizing that pulls from our movements' history and how we won many of the rights that we have today. (June 24) Learn more>>
Campaign Nonviolence Skillbuilding Webinar – Media Matters: Learn how to do skillful outreach. Dig into simple tricks for greater impact. Explore how to have fun while doing it. We'll look at how everything from press releases to action roles can help get media to cover your actions and events. (June 29) Learn more>>
Activist Lab For Endangered Species: If you have a passion for protecting biodiversity, advancing environmental justice, and making an impact through grassroots organizing, apply now! Marginalized communities are often "hurt first and worst" due to biodiversity loss. Therefore, we especially encourage you to apply if you identify with a traditionally marginalized community, including (but not limited to) people of color, Indigenous people, youth, senior, and LGBTQ+ , low-income, and/or immigrant community. Applications are due June 30th, 2021 and the program will start in September 2021. Learn more>>
Hosting An Imagination Session: A training on how to play a critical role in our Period of Radical Imagination by organizing an imagination session with your friends, family, and neighbors. (July 1) Learn more>>
Introduction to Engaging Nonviolence: This eight week online course provides the basics of principled and strategic nonviolence. It will familiarize participants with the overall contents of the Engaging Nonviolence Study Program which will serve to foster personal growth, healthy relationships and work for world peace. (Starts July 1) Learn more>>
Growing A Nonviolent Community – a 6-week Training with the Nonviolent Cities Project: This 6-week, online course will explore how you can start building a nonviolent community in your neighborhood, city, or region. We will look at nonviolent solutions to social challenges. We will share real stories of how people have replaced systems of violence with bold, nonviolent alternatives. Participants will gain hands-on tools for helping friends and neighbors understand the possibilities that exist. (Starts July 8) Learn more>>
Cop-Free Schools – How Twin Cities Nonviolent & The Brothers Created Nonviolent Security at Ascension Catholic School: Faced with the mandate to provide security, the principal refused to hire cops and instead hired the Brothers, a group of community members who de-escalate conflicts. At a time when two thirds of US students want cops and private security off their school campuses, this endeavor should inspire us all—and help us take similar actions in our communities. (July 13) Learn more>>
MK Gandhi Institute's Nonviolence Retreat: Join us from near and far (virtually) to explore the wonders of the world of Nonviolence within, between, and among ourselves. Participants will spend part of each morning learning about and discussing different aspects of Nonviolence. We will continue in the afternoon to include several practice and debrief sessions. (Aug 9-13) Learn more>>