Editor's Note by Rivera Sun
When we've had enough of destruction and injustice, nonviolence gives us tools to push back. With strikes, boycotts, protests, and more, people like us are standing up to powerful regimes, systems, and institutions. Around the world, courageous people are getting in the way of everything from bulldozers to cruise ships using nonviolence to take a stand.
In Venice, Italy, people are fed up with environmental destruction and public health risks. From boats, on the shores, and even by jumping into the water, hundreds of Venetians protested the arrival of the first cruise ship since the pandemic began. They're not alone in their frustration with business-as-usual. In the United States, one long-standing campaign is celebrating the cancellation of the Keystone XL pipeline. Another is in the throes of resistance to Enbridge Line 3 Pipeline. In British Columbia, Canada, Fairy Creek forest defenders have won a 2-year reprieve on old-growth logging thanks to First Nation organizers.
In Colombia and Puerto Rico, citizens are rising up against poverty, austerity, and police brutality. In Greece, a nationwide strike has shut down public services. Myanmar workers continue strikes despite the military junta's repression. A few years ago, Algerians waged nonviolent struggle to oust a corrupt president. Now, the movement is facing retaliatory arrests as the old regime's cronies strive to take power. You'll find all these and more in this week's Nonviolence News.
In solidarity,
Rivera Sun
Photo Credit: Venetians protest arrival of first post-pandemic cruise ships.
Did you see a story that gave you hope? Help us keep sharing them.
Donate here>>
'Keystone XL Is Dead!': After 10-Year Battle, Climate Movement Victory Over Tar Sands Pipeline Is Complete: "Keystone XL is now the most famous fossil fuel project killed by the climate movement,' said one veteran campaigner, "but it won't be the last." Read more>>
Trans Mountain Insurer To Cut Ties With The Pipeline Company: Trans Mountain insurer Argo Group has pledged to cut ties with the existing Trans Mountain tar sands pipeline when its current insurance policy expires on August 31, 2021, and to not insure the Trans Mountain Expansion Project. Following the Canadian authorities' decision to hide the project's insurance backers from public scrutiny, Argo is the first insurer to drop the pipeline in this year's round of policy renewals, joining more than ten insurance companies that have vowed not to touch Trans Mountain. Editor's Note: This "success" story is just part of a longer, unfolding campaign to stop the Trans Mountain Pipeline. By celebrating this milestone, we remind one another that campaigns like this can succeed – and that they're important. Read more>>
New Nevada Law Bans Racial Mascots In Schools: Nevada Gov. Steve Sisolak signed legislation removing racially discriminatory identifiers or language from schools. Additionally, counties can no longer sound "sundown sirens," which once signified it was time for certain people to leave town. The law will require schools to change any name, logo, mascot, song or identifier that is "racially discriminatory" or "associated with the Confederate States of America or a federally recognized Indian tribe." Read more>>
Fairy Creek Wins Reprieve – Old Growth Logging Paused, For Now: B.C. has accepted a request by the Pacheedaht, Ditidaht and Huu-ay-aht First Nations to defer old-growth logging for two years in the Fairy Creek watershed and Central Walbran areas on southwest Vancouver Island. The B.C. governor said the decision to defer logging while the three nations prepare resource management plans is consistent with the government's commitments to reconciliation with Indigenous Peoples and to protecting old-growth forests. More than 180 people have been arrested during the months-long road blockades. Read more>>
Migrant Workers In Malaysia Win Labor Suit Against Goodyear: A Malaysian court on Thursday ruled in favor of 65 migrant workers who sued U.S. tiremaker Goodyear for underpaying them, their lawyer said, calling it a victory for foreign employees. The workers from Nepal, India and Myanmar are entitled to benefits under a collective labor agreement that includes shift allowances, annual bonuses and pay increases. Read more>>
'A Gift to the Planet': Maine Lawmakers Pass Landmark Fossil Fuel Divestment Bill: Maine state lawmakers on Tuesday passed a groundbreaking bill committing the state to divesting its assets from the fossil fuel industry. Read more>>
Public Services In Greece Disrupted By Widespread Strikes: Members of the country's largest unions have protested against employment reforms they argue will make workplace changes introduced during the pandemic more permanent. They fear it will allow employers to get out of paying overtime and set schedules that are disruptive to workers' lives. The 24-hour protest also disrupted public hospitals and ferry services to the Greek islands. Read more>>
Protests in Mexico Surround US Vice President Kamala Harris' Visit: Members of a group called Angels Without Borders staged a demonstration this week outside the U.S. Consulate in Tijuana to protest what they call is intrusive American influence over Mexico. Among several things, they're afraid Vice President Kamala Harris will convince Mexico's government to send troops to the border and prevent migrants from crossing into the U.S. Read more>>
Puerto Rican Workers: No Peace If Energy Is Privatized: Union organizations today warned Governor Pedro Pierluisi and the Financial Oversight and Management Board that they will paralyze the country if the LUMA Energy contract — that increases rates, allows the consortium to leave Puerto Rico if a hurricane strikes and displaces thousands of workers — is not canceled. Read more>>
Protests In Brazil After Pregnant Influencer Killed By Stray Bullet During Shootout: Hundreds of people marched on the streets of Brazil after a social media influencer and her unborn baby were killed by a stray bullet during a police shootout with alleged criminals. Read more>>
Indian Medical Students Protest Against In-Person Only Exams: Medical exams will begin today amidst widespread protests from students after a court refused to support their demand for virtual exams amidst the pandemic. Medical students had been pressuring the university to either hold the examination online or only after all the support staff, students and teachers are vaccinated. Read more>>
Algeria's Protest Movement Struggles For Meaningful Elections: Amid widespread arrests of movement organizers, Algeria will elect a parliament. Many Algerians are disenchanted with the maneuvers of politicians. For the protest movement, Tebboune's status as a former prime minister under the ousted President Bouteflika dovetails into its narrative that the old guard remains unashamedly at the helm. Read more>>
Julian Assange's Family On Whistle-Stop Tour of US: Organized by Assange Defense, John and Gabriel Shipton, Julian Assange's father and brother, will begin the #HomeRun4Julian tour in Miami on June 6 via a live-streamed event. The Shiptons are scheduled to make stops on both coasts and the Midwest before concluding the tour in the nation's capital. Assange's family members will meet with activists, press, and policymakers to raise awareness of the importance of protecting whistleblowers and journalists, and to advocate for the release of Julian Assange. Read more>>
African Women Organize To Stop Surge In Female Genital Mutilations During COVID: When schools were closed during Covid, cutters were going into homes to convince mothers that their daughters should be cut. In response, Ahmed's foundation trained 80 women in settlements for internally displaced people and distributed radios to receive broadcasts of anti-FGM messaging. Over the past five years, her foundation has trained more than 5,000 university students, MPs, community groups and religious leaders to speak out against the practice, debunking myths around the idea that FGM is a requirement under Islamic law. Many campaigners use their personal stories of being cut in their activism, sharing testimonies that enable more powerful and impactful work. Read more>>
Israel Carries Out Detention Campaign Against Prominent Palestine Activists: Israeli occupation forces and police carried out a detention campaign against journalists and activists in Sheikh Jarrah over the weekend. Those targeted were either detained, summoned or beaten by police. Read more>>
Portland, OR, Painters On Strike: Commercial Painters started assembling outside under-reconstruction Madison High School in Northeast Portland, and picked up picket signs instead of paint sprayers. For the first time in over 40 years, members of Painters Local 10 went on strike. On the picket line were the 21 members scheduled to work there that day plus others who came to back them up. The presence of other unions gave them solidarity and confidence. Read more>>
Workers Are Still Launching Nationwide Strikes Against Myanmar's Military Coup: Workers in Myanmar have been on strike for more than 100 days, bravely resisting the military junta. In this interview, three members of the anti-coup movement explain why they're still fighting despite dire economic straits and widespread violence. Read more>>
The Baltimore Group That Steers Kids Off The Streets And Away From Violence: In the last 15 years, 16- to 25-year-olds accounted for the largest share of Baltimore's fatal shooting victims. Roca, a violence prevention program, is part of a public health response to violence within this age group, an approach that isn't new nationally or in Baltimore. They approach violence interruption as a long game, targeting 16- to 24-year-olds who have had at least brushes with the criminal justice system, and are likely to be either a perpetrator or a victim of gun violence. Read more>>
US Amazon Workers Demand Tax Fairness: Minnesota workers unfurled a "Tax the Rich" banner outside Amazon's MSP1 fulfillment center here today. It was a not-so-subtle suggestion to state lawmakers about how they might pay for investments in child care, paid family leave, education, infrastructure and other supports for working families. Read more>>
Casa Latina Closes Seattle Worker Center, Citing Protests Over Sexual Misconduct: A month of protests — now taking the form of an encampment and hunger strike at migrant worker rights organization Casa Latina's campus — has also led the nonprofit to stop in-person programs, including ESL classes and food distribution. The escalating campaign against the nonprofit is due to its handling of sexual misconduct allegations. Read more>>
Thousands of Colombians In Fresh Protests Against President Duque: The demonstrators demanded an end to police repression and more supportive public policies to alleviate the economic impact of the Covid-19 pandemic, which has plunged more than 40 percent of the country's 50 million inhabitants into poverty. The protests were peaceful and colorful during the day but after nightfall deteriorated into clashes with police. Read more>>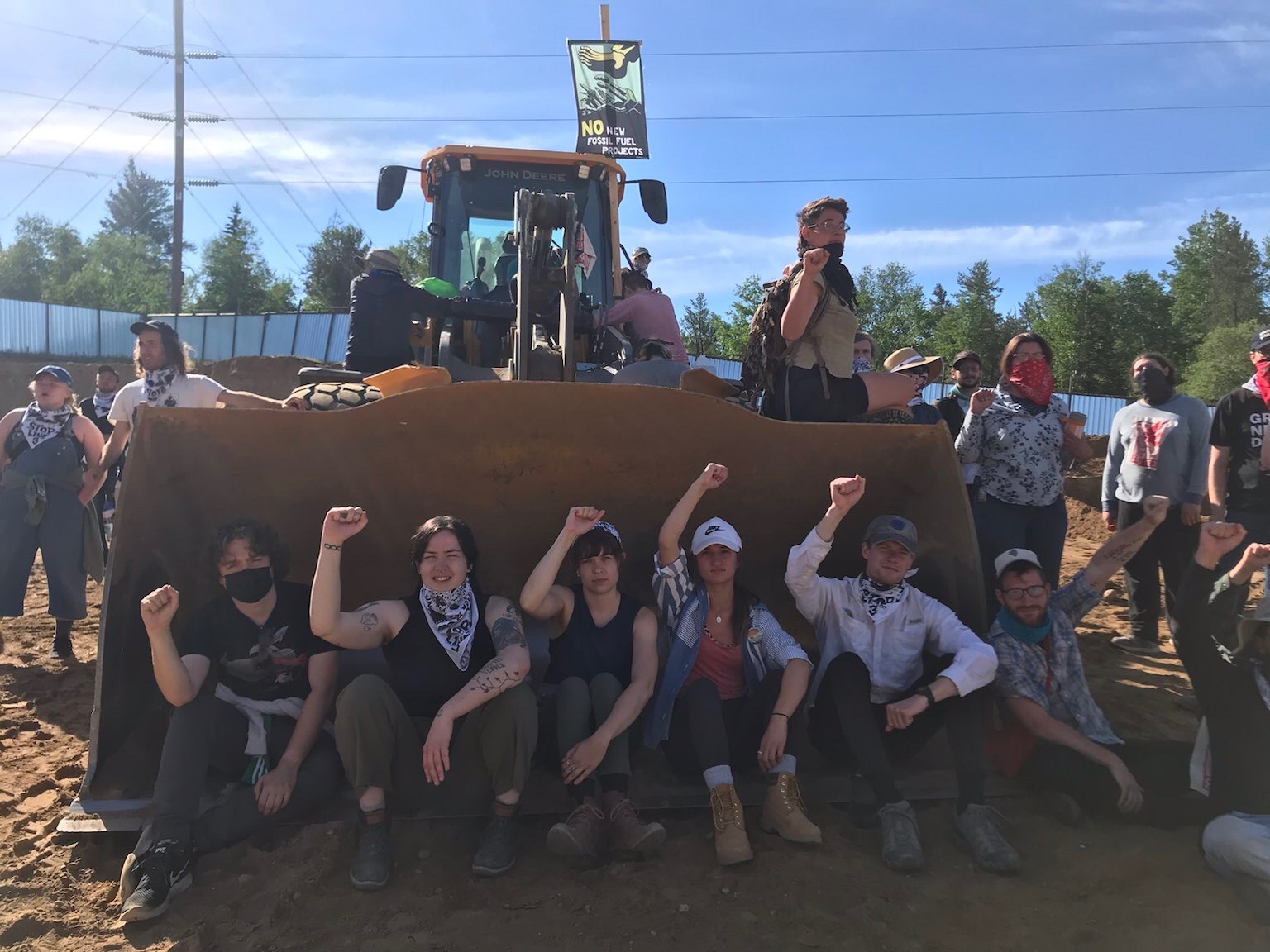 Mass Direct Action By Water Protectors Halts Construction Of Line 3 Pipeline: In Minnesota's largest ever anti-pipeline mobilization, water protectors Monday morning halted construction of Enbridge's Line 3 toxic tar sands pipeline. Over 1000 people marched with Indigenous leaders to the headwaters of the Mississippi River for a treaty ceremony at the site where the pipeline is proposed to cross. Further south, over 500 Indigenous people, allies, and celebrities shut down an active Line 3 pump station in a massive direct action in solidarity with the Giniw Collective. Read more>> 
Hundreds Protest In Venice At Return Of Giant Cruise Ships: Anti-cruise ship campaigners in Venice claim they were "deceived" by the Italian government as hundreds protested against huge vessels docking in the historic city's port on Saturday. Residents were caught by surprise when a cruise liner sailed into the lagoon city for the first time since the pandemic began, despite prime minister Mario Draghi's promise that they would not return. Read more>>
The Human Cost of Plastic Pollution: All too often, the issue of plastic pollution is reduced to plastic straw bans led by clipboard-carrying college students, VSCO girls, and bracelets made with a promise of saving turtles. The problem is that plastic pollution isn't just an issue of waste accumulation—plastics are also manufactured and often incinerated in communities where poor people and people of color are rarely consulted or alerted to the risks. Read more>>
Why I Marched 400 Miles From New Orleans to Houston: Life is becoming unlivable in the Gulf Coast. "I am only 17 years old, and I have lived through the kind of climate disasters that I know are not going to stop. I often wonder what the next 17 years will bring. Who's going to help us? Will I have to relocate again?" Read more>>
Black Women Seek Out Black Obstetricians to Avoid Medical Racism: For Black women, the impact of systemic racism can show up starkly in childbirth. Increasingly, they are resisting medical racism by seeking out Black obstetricians. In addition to shared culture and values, a Black physician can offer Black patients a sense of safety, validation and trust. Research has shown that racism, discrimination and unconscious bias continue to plague the U.S. health care system and can cause unequal treatment of racial and ethnic minorities. Read more>>
Communities Of Color Want Wood Pellet Byproducts Out Of Their Neighborhoods: At a recent rally and press conference, North Carolina residents, community leaders, and activists gathered to discuss how the state's poorest communities are impacted by wood pellet companies such as Enviva Biomass. Speakers addressed their criticisms of environmental policies issued by Gov. Cooper and state government agencies. Read more>>
Black Birders Week: Black Birders Week – a series of events and activities meant to highlight Black birdwatchers, scientists and nature enthusiasts. The first week-long celebration grew out of a hashtag started by BlackAFInStem, a community of Black scientists who were responding to the video Cooper recorded of a white woman threatening to call the cops on him in Central Park. The hashtag grew into a space for Black birders to talk about their passion for the outdoors, share photos of striking birds and tell stories of their most memorable birdwatching experiences. Read more>>
150 Oxford Lecturers Boycott University Over Failure To Remove Racist Statue: Around 150 Oxford University academics are refusing to teach at one of its colleges after it decided to keep the controversial statue of Cecil Rhodes. For years campaigners have been calling for the statue at Oriel College to go, saying Rhodes stood for white supremacy and racism. But last month the college decided not to take it down for practical reasons.Now, some academics are boycotting Oriel and have signed a petition saying the statue "glorifies colonialism". Read more>>

Growing Movement Pushes Museums to Cut Ties With Colonialism and Apartheid: Museums have profited from colonial violence for centuries. Strike MoMA and other activists worldwide say, "no more." Read more>>
The Power of Art To Stop Evictions: Street Spirit, a journal dedicated to the rights of unhoused people, published a set of posters. Activists used them at demonstrations. People wheat-pasted them in public spaces. Unhoused persons decorated their encampment with them. Everywhere they went, they lifted up justice and dignity and advocated for the rights of those without houses. Read more>>
In Spain, Defiant Teachers Wear Skirts To School After Student Cruelly Sent To Psychologist: Teachers across the country have joined the Clothes Have No Gender movement (#laropanotienegenero), sparked when 15-year-old Mikel Gómez was punished for wearing the clothing in October last year. In a now-viral TikTok video, the teen explained that he wore the skirt to challenge gender norms and support women's liberation, but was promptly pulled out of class and taken to a psychologist who grilled him on whether he identified as a woman. Read more>>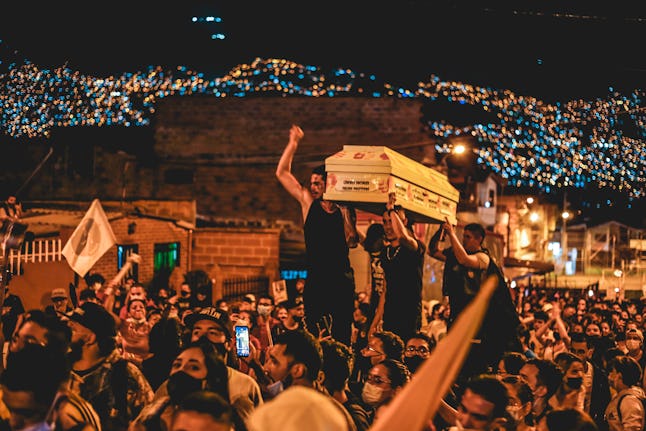 Why Are There Protests In Colombia? In response to a pandemic and government-induced economic downturn, Colombian President Iván Duque, who was elected in 2018, announced in late April that taxes would be raised on everyday goods in order to fund social programs. While the tax plan increased the cost of staple goods like milk and cheese, it maintained exemptions for the rich and supported a costly purchase of weapons from the U.S. These have exacerbated long-standing frustration with the gross inequality in Colombian society. Read more>>
Great Britain's 1800s Consumer Campaign To Abolish Slavery: After Britain passed the 1807 Act that prohibited direct involvement in the slave trade, a woman organized a campaign to boycott all goods made via slavery. It would, she hoped, lead to immediate, not gradual, abolition globally. Read more>>
In the US, Harvey Milk Brought LGBTQ Citizens Into the Streets: Harvey Milk was the first openly gay man to hold public office in California. Elected in 1977 to the San Francisco Board of Supervisors, he was assassinated at age 48, in 1978, by an ex-coworker, barely a year into his first term as an elected official. "His whole point was that (this country) had to see that we were everywhere." Read more>>
Peace Vigil Marks 40th Year At The White House: The Activists at the Peace Vigil cut cake and shared stories of their experiences at the nation's longest running vigil for peace near the White House on June 3. Read more>>
Labor Strikes Were Once Big National News. Why Aren't They Now? It used to be that strikes were big news. Every local newspaper, no matter what size, had a labor reporter the same way that they all have finance reporters today.Nothing measures the decline of influence of the US' labor unions more than the decline of attention to labor issues. Read more>>
Stop Insuring Trans Mountain Action Week From June 14-21, 2021, activists around the world will organize actions and protests at the branches, offices and headquarters of the insurance companies that are backing the Trans Mountain pipeline. You can attend a street action or support other activists online. (June 14-21) Learn more>>
Tell US Congress To Cut Military Spending 10% And Support The People: President Biden announced a huge military budget. Tell US congress that this is wrong. Ask him to support the "Third Reconstruction Act" demanded by the Poor People's Campaign that redirects 10% of those funds. For peace and people, this is a better option. Learn more>>
Join Gamers For Peace: Veterans For Peace has formed a Gamers For Peace site on Discord. Using this virtual platform, a community of veterans and allies are organizing to counter recruitment in online spaces, particularly the gaming world, (an area that military recruiters have been expanding even before the pandemic). Find out more and join in. Learn more>>
Metta Center's Nonviolence Certificate Program Is Open: This program is open to anyone who is ready to develop their understanding of one of the most important, and often overlooked, powers at our disposal: nonviolence. The program is taught by college-level professors who will expect deep engagement with the course topics in exchange for support and mentorship in your learning. We are especially eager to work with earnest students who will engage thoughtfully with required assignments, participate in in-person course sessions, and are prepared to do self-exploration with the concepts and topics covered (June 13-December) Learn more>>
90-Minute Intro To Kingian Nonviolence: Kingian Nonviolence is an approach to conflict and community leadership that offers values and methods useful for anyone who wants to use conflict constructively in your personal life, in group settings, or in community issues and building a reconciled world. Facilitated by Sandra Davila and Marie Benner-Rhoades. (June 15) Learn more>>
Host A Food Feast On World Localization Day: The localization movement is made up of initiatives on every continent working to rebuild community fabric, reduce ecological impact and increase human wellbeing by bringing the economy back to the local level. Think farmers' markets, permaculture, community gardens, small-business alliances, micro-grids, alternative education projects, and much more. Here's how you can join their campaign by hosting a food feast, tuning into online events, and more. (June 15-20) Learn more>>
National Poor People's Assembly: The hybrid online/in-person National Poor People's and Low-Wage Workers' Assembly will raise a chorus of voices demanding a moral revolution that puts the suffering of the 140 million+ and low-income people in the U.S. at the center of every policy debate. (June 21) Learn more>>
Activist Lab For Endangered Species: If you have a passion for protecting biodiversity, advancing environmental justice, and making an impact through grassroots organizing, apply now! Marginalized communities are often "hurt first and worst" due to biodiversity loss. Therefore, we especially encourage you to apply if you identify with a traditionally marginalized community, including (but not limited to) people of color, Indigenous people, youth, senior, and LGBTQ+ , low-income, and/or immigrant community. Applications are due June 30th, 2021 and the program will start in September 2021. Learn more>>
MK Gandhi Institute's Nonviolence Retreat: Join us from near and far (virtually) to explore the wonders of the world of Nonviolence within, between, and among ourselves. Participants will spend part of each morning learning about and discussing different aspects of Nonviolence. We will continue in the afternoon to include several practice and debrief sessions. (Aug 9-13) Learn more>>
Thanks for reading Nonviolence News. You're among the 90,000+ who do!
Want to join the small but mighty group that keeps us going? Donate here>>