Editor's Note From Rivera Sun
We rarely discuss it directly: is nonviolent action a right? Should the ability to strike, protest, boycott, engage in civil disobedience, etc. be considered a political freedom? Our governments could – and should – respect our rights to use these tools, making it easier and safer to organize for social justice. Unfortunately, we're seeing the opposite trend around the world. Faced with immense protests, governments, police and military, and powerful institutions are repressing people, limiting the right to organize, and cracking down on protests.
In London, a thousand people marched against a draconian anti-protest bill that expands police power. In the United States, 81 anti-protest laws have been introduced in state legislature. Activists blockading the Mountain Valley Pipeline face outrageous charges of kidnapping for locking down to a truck. In Colombia, mass protests have been met with horrific violence from the police. In Myanmar, the military junta continues to grip its power via murders and violence. In Noway, Extinction Rebellion activists have been slapped down with heavy fines to try to keep them from taking action. In Kenya, communities are having to use grassroots action to protect frontline activists from torture, murders, and more.
Whenever, wherever we can, we must protect, defend, and expand space for the freedoms of speech and assembly, the right to unionize, the ability to strike and boycott. We must increase cultural respect for civil disobedience, and societal tolerance of nonviolent action. Don't get me wrong: nonviolent action works even under repressive and intolerant situations. But our work is made easier by remembering to expand the envelope of permission in our society's laws, views, and attitudes toward social movements. It's work for the long haul, and in the short and long haul, it benefits not just us, but everyone who stands up for justice.
As you read this week's Nonviolence News stories, imagine how this approach could help delivery workers secure better wages and safety, or humane immigration policy for undocumented immigrants, or hunger strikers calling for Yemen sanctions to be lifted, or water protectors blockading pipeline construction trucks, or the peace activist who disrupted a weapons manufacturer's shareholder meeting. If we protect and defend our rights to use nonviolent action, we help uncountable people just like us, striving for a better, more just and humane, world.
In solidarity,
Rivera Sun
Photo Credit: Over a thousand people assembled in London, UK, in opposition to a bill that limits the right to protest.
90,000 readers need more supporters! Donate today to help everyone enjoy Nonviolence News.
Thank you. Donate here>>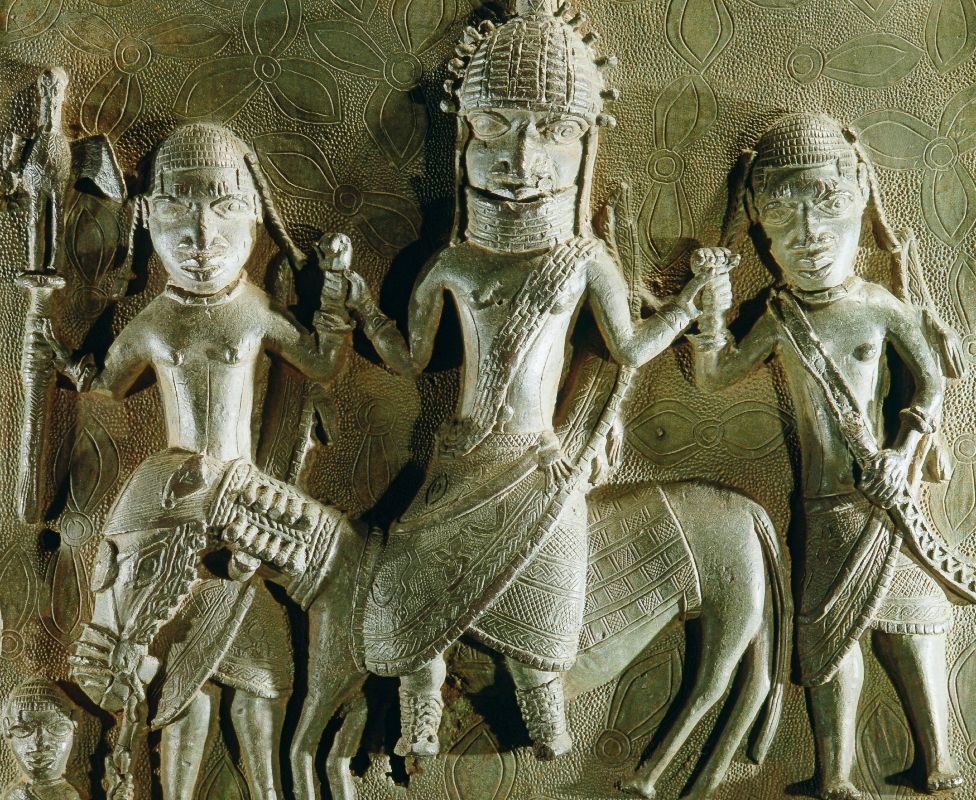 Benin Bronzes: Germany To Return Looted Artifacts To Nigeria: British troops looted thousands of artworks known as the Benin Bronzes from the Kingdom of Benin, in present-day Nigeria, in 1897. Campaigns to gain their return from European museums have taken bold direct action, including literally taking the pieces and also putting up "wanted" posters for the artifacts. An effort in Germany has achieved the return of several pieces at an art museum that were stolen through colonization. Read more>>
After Strong Backlash, NYPD Kicks Robotic Dog "Spot" to the Curb: A spokesperson for New York City Mayor Bill de Blasio, who called the Boston Dynamics device "creepy" and "alienating," said he was "glad the Digidog was put down." Read more>>
Indian Point Nuclear Plant Shuts Down: At 11 p.m. on April 30, employees shut down the nuclear reactor at Indian Point Energy Center Unit 3, marking the end of a power plant that has been an essential part of New York City's energy supply since the 1960s. It has killed fish in the Hudson River and been a long-standing concern for nuclear disasters – it lies only 40 miles from the Empire State Building. Read more>>
Hawaii Becomes First US State To Declare Climate Emergency: Hawaii became the first state to declare a "climate emergency," joining 1,933 cities, town councils, and countries, including the European Union. According to The Climate Mobilization, a U.S.-based advocacy group, almost 13 percent of the global population now lives in a jurisdiction that has made a similar declaration. Read more>>
Wildlife Expert Ordered To Tear Down Garden Full Of Endangered Species Wins Reprieve: In March his local council gave him less than a month to clear the garden near Eastbourne, East Sussex, over "possible environmental health concerns", describing it as "untidy land". But 46,000 people spoke up on behalf of the garden … and saved it. Read more>>
Trump Border Wall Projects Cancelled: The Pentagon announced that the Biden administration is canceling all barrier construction projects along the U.S.-Mexico border for which former President Donald Trump used emergency powers to divert billions of dollars in military funds. Read more>>
Court Bans Pesticide Linked to Developmental Harm in Children: The 9th Circuit Court of Appeals ordered the Environmental Protection Agency (EPA) to ban all food uses of chlorpyrifos or retain only those uses it can find safe for workers and children. The court gave EPA 60 days from the end of the case to revoke the tolerances, meaning chlorpyrifos should be banned this summer. Read more>>
NYC Bans Round-Up From City Parks: The Church of Stop Shopping and The Black Institute helped ban the carcinogenic pesticide RoundUp from NYC parks. On Earth Day, the NY City Council unanimously banned this poison. 1,700 parks and 30,000 acres of greenery are filling up with children and picnics and lovers and joggers and birdwatchers. Now they won't have to risk getting cancer. Read more>>
One Thousand March Against Police Powers Bill In London: Police arrested nine people who took part in protests in London on Saturday demanding that the government reverse planned legislation that would increase police powers. More than 1,000 people marched through central London and chanted "Kill the Bill" outside government buildings, as well as dancing to music played from a bus. Read more>>
Thai Students In Deteriorating Health After Hunger Strike: Two Thai students imprisoned for leading mass protests that called for reform of the monarchy are in deteriorating health after spending up to six weeks on hunger strike, their lawyers have said. They have fatigue, constant dizziness and are unable to stand. Read more>>
Why Delivery Workers Across The Planet Are Rising Up: Even Before The Crisis Of The Pandemic, Food Delivery Companies Have Seen Their Profits Skyrocket While Their So-Called "Self-Employed" Workers Suffer Rights Violations And Were Banned From Unionizing. Read more>>
Graduate Workers at NYU Are on Strike for Living Wages and Cop-Free Campuses: Strikers are demanding better wages, better benefits and the eviction of the NYPD from their campuses. Read more>>
Montreal Dockers Defy Back-To-Work Legislation With Strike: The Canadian government has been using back-to-work legislation to crush worker strikes. The Montreal dockworkers are striking anyway. Read more>>
Rights Groups Blast Deadly Repression of Colombia National Strike: "The people of Colombia are being executed at the altar of austerity by a government that has lost its legitimacy in their eyes," said Progressive International. Read more>>
Undocumented Immigrants Risk Arrest and Deportation To Protest: Thousands of immigrant workers and families took the streets of D.C. to kick off the next phase of their fight for permanent protection, dignity, and respect. Read more>>  
Deb Haaland Tackles Violence Against Native Women: The US' first Indigenous Secretary of the Interior is forming a commission to study the crisis of missing and murdered Indigenous women, weeks after launching a unit to investigate cases. Read more>>
Students Resist University of California's Pushes to Militarize and Expand Its Police Force: A campus-based movement is growing in response, to abolish police presence and transform safety infrastructures. Read more>>
Want Fewer Police Shootings? Get Armed Cops Out of Traffic Enforcement: Removing armed police officers from traffic enforcement and turning it over to civilians should be a major goal of the racial justice movement. Read more>>
Protests Grow In South Korea Over Japan's Fukushima Water Plan: Marine protests (pictured) and land-based demonstrations have been opposing a plan to release treated radioactive water from Fukushima Nuclear Plant into the ocean. Fishing communities worry water will contaminate the seas despite promises it will be cleaned of radioactive substances. Read more>>
Texas Grandmother On Day 22+ Of Hunger Strike: Texas shrimper, fisherwoman and internationally known environmentalist Diane Wilson is on Day 22+ of her hunger strike to gain national solidarity and publicity for pressure on the U.S. Army Corps of Engineers to rescind its permit for big oil to dredge a channel in mercury laden Matagorda Bay, Texas. The dredged channel would allow massive oil tankers into the bay to take on crude oil that will be exported from the U.S. Read more>>
Welsh Drivers Forced To Go Around Extinction Rebellion Protesters: Extinction Rebellion protesters across Swansea stopped traffic across the city after staging a sit down protest on busy roads. Read more>>
Women Run 415 Miles To Protest The Mountain Valley Pipeline: The Mountain Valley Pipeline protest community in Virginia held a feast to celebrate the women who are running and cycling 415 miles from West Virginia to Virginia, paralleling the pipeline in protest of its construction. Read more>>
Indigenous Peoples Are The Original Environmentalists. It's Time We Start Treating Them That Way: Indigenous peoples' knowledge and their history of conservation efforts could set the standard for sustainable development, but these groups constantly face threats of displacement and even death. Read more>>
Mountain Valley Pipeline Resisters Charged (Outrageously) With Kidnapping After Locking Down To Truck: Thomas Adams blocked a pipe truck just before it crossed a bridge over Sinking Creek in Giles County, and locked himself to the underside of the truck. The bridge is less than two miles away from the site where the pipeline is slated to cross the creek (although MVP currently lacks the permits to do so). A rally of over a dozen people gathered to support Thomas at the scene. Now he and another protester face outrageous charges for their completely nonviolent action. Read more>>
Yemeni People Are Being Starved — So This Detroit Organizer Went On Hunger Strike In Solidarity: Iman Saleh of the Yemeni Liberation Movement discusses her recent 24-day hunger strike to end U.S. support for the Saudi fuel blockade on Yemen. Read more>>
From the Hills to the Streets to the Table – Civil Resistance and Peacebuilding in Nepal: In this recorded webinar, researchers explore how Nepalese have organized for change. Read more>>
As Hatred Festers, Some Armenians And Azerbaijanis Fight For Friendship: After the war, a number of new grassroots initiatives have emerged bringing together Armenians and Azerbaijanis who want to try to build, or rebuild, ties. Read more>>
Peace Activist Disrupts General Dynamics Shareholder Meeting: With a stark reminder of the deadly business of war, Medea Benjamin disrupted General Dynamics' shareholder meeting. Read more>>
How 1971's Mayday Actions Helped Keep Vietnam From Becoming a Forever War: Unparalleled in its size and variety of actions, the last and largest national anti-Vietnam War demonstration offers lessons for challenging U.S. militarism today. Read more>>
'Golden Rule' Peace Boat Sets Sail From Hawai'i: After 21 months in the Hawaiian Islands, the historic anti-nuclear sailboat Golden Rule will depart from Honolulu, Hawai'i for the West Coast of the U.S. Read more>>
Anti-War Activists Release Guide To Ending Militarized Policing In US: In an effort to curtail police militarism, anti-war group Win Without War on Thursday released an activist guide titled Stop Militarizing Our Communities: 5 Things You Need to Know About the 1033 Program. The activist guide was authored by Tanaya Sardesai and centers on the Department of Defense's 1033 program, which is responsible for supplying military weaponry to domestic law enforcement. Read more>>
Militarism & Climate Change, A Disaster in Progress: Both anti-war and climate movements are fighting for justice and life for all people on a livable planet. It's increasingly clear that we can't have one without the other. No climate justice, no peace, no planet. Watch more here>>
Grassroots Activists And Protection in Kenya: Research shows that protection strategies of victims, survivors, and activists are embedded in everyday relationships. Read more>>
Mississippi Failed its Residents During a Crisis, So They Helped Themselves: When a winter storm knocked out water service to tens of thousands of Mississippi residents, it was Black families that were hit hardest—and who organized their own relief efforts. Read more>>
Barbara Deming's Revolutionary Feminist Nonviolence: She is well-known for her "Two Hands of Nonviolence" framework in which one opposes injustice while still treating one's opposition with respect. But Deming's revolutionary nonviolence emerged from a distinctly feminist approach, one that is worth knowing more about. Read more>>
How Denmark Transformed Their Conflict Around Wolves: As wolves made a comeback in Denmark, wildlife lovers and farmers headed toward increasingly intense conflict, including shooting wolves while naturalists were filming them. Here is how they broke through the gridlock to productive resolution. Read more>>
Support Colombian Protesters: A severely repressive crackdown by police has left 26 dead, perpetrated 1181 cases of police violence, sexually violated nine women, shot 17 people in the eyes, committed 988 arbitrary detentions, and 56 persons had been reported missing. You can take action by supporting urgent relief efforts and street medics, and by contacting congress. Outside international pressure to stop human rights violations has already had an impact. Learn more>>
Tell Your State Treasurer To Divest From Fossil Fuels: Collectively, State Treasurers manage funds worth trillions of dollars. The California state pension fund alone is worth over $400 billion. State Treasurers can use their own voting power to help pass climate-critical resolutions and vote incompetent corporate directors out of positions of power. Learn more>>
No New Fighter Jets In Canada! Call on the Canadian government to cancel their planned purchase of 88 new fighter jets. Learn more>>
Take the Abolition May Pledge To Get Cops Off Campuses: A vast majority of students are demanding that schools and campuses get rid of cops and armed private security. Here's how you can support them. Learn more>> 
Endangered Species Chalk Art Event: We're holding an all-ages chalk art competition! You're invited to create chalk art in your neighborhood depicting threatened or endangered species. If you post a photo of your chalk art on Instagram you can win prizes, including a $250 grand prize – and raise awareness of the importance of protecting wildlife. Learn more>>
Support Changemakers In Iran: Win Without War is hosting a webinar with leading human rights experts who are going to talk through how sanctions impact civil society and marginalized communities in Iran. We're also going to talk through what meaningful sanctions relief could look like — and how you can support making it happen. (May 12) Learn more>>
White Supremacy Characteristics Webinar: 20 years ago, inspired by and collaborating with dozens of movement leaders, Tema Okun wrote the article, "White Supremacy Culture Characteristics." Join Tema, SURJ and special guests from around the country to launch the new "white supremacy characteristics" website and share what we've been learning about white supremacy culture in these last two decades. (May 13) Learn more>>
Complementary Paths to Peace? Tracking Peacebuilding and Civil Resistance Strategies in Liberia: Throughout years of dictatorship and civil war, many Liberians worked tirelessly and under great duress to bring peace to their country. This webinar outlines the complimentary strategies of peacebuilding and civil resistance that were employed by various actors over the years and showcases the courage of average Liberians in the face of violence. (May 19) Learn more>>
Pollinator Party: We're also inviting you to get outside for Endangered Species Day and identify pollinators and native plants in your community, using the app iNaturalist. This is a fun, COVID-safe way to spend Endangered Species Day outdoors and learn about pollinators. You'll also be helping collect data that's important for scientists! (May 21) Learn more>>
Disarming Conversations, Connecting Across Divides: In this 8-week program, you (and an amazing cohort of participants) will explore practices for connecting across divides, disarming conversations, unlearning hate, dealing with toxic polarization, applying interpersonal nonviolence, de-escalating political tensions, unpacking misperceptions, opening space for change, peacebuilding, using radical empathy, and more. The series will be practice-oriented, helping you learn and develop new skills and apply them in real time. (May 25) Learn more>>
War And The Environment Online Course: Grounded in research on peace and ecological security, this course focuses on the relationship between two existential threats: war and environmental catastrophe. (June 7 to July 18) Learn more>>
Thank you! If you enjoyed Nonviolence News, be a superstar and donate today!
Donate here>>