Editor's Note From Rivera Sun
Happy May Day! Today, workers around the world mark the long-standing importance of the global labor movement with strikes, protests, walkouts and more. We'll have a full round-up of those stories next week. This week, Nonviolence News contains some extraordinary tales of tree-sits, forest defenders, and water protectors from Fairy Creek in Canada to the Rio Pescados In Mexico to a Sámi blockade of logging in Sweden. In Australia, locals crowdfunded the money to protect a much-beloved 400-year-old Grandmother Tree by returning the land to the Dja Dja Wurrung people. Meanwhile, in the north, a tiny hummingbird ally has stalled the Trans Mountain Pipeline for months.
You'll also find ten interesting and exciting success stories in this week's news. These achievements range from Oxford University's divestment from fossil fuels to the quiet failure of anti-trans legislation in the United States due to widespread outcry. In Kazakhstan, grassroots organizers have stopped land grabs by foreign buyers (notably China), and Newark, NJ, has seen police brutality and crime rates drop since overhauling its police department. You'll find all these and more in this week's Nonviolence News.
My favorite story? People are co-opting the #BackTheBlue hashtag. Instead of posting in support of police officers, they're celebrating other blue things … like whales, postal workers, nurses in blue scrubs, dyed blue hair, and even the blue-tongued skink.
In solidarity on May Day,
Rivera Sun
Photo Credit: Rally against Trans Mountain Pipeline in Vancouver, Canada, 2019.
We keep this project going with the help of readers like you.
Thank you! Donate here>>
Kazakhstan's Land Ban Prevents Selling or Leasing Agricultural Land to Foreigners: Kazakhstan is on the cusp of imposing a permanent ban on the sale and lease of agricultural land to foreigners. It is a rare victory for grassroots campaigning, coming after years of mass protests. Citizens were worried that large land leases and sales to Chinese companies would leave them as little more than poorly-paid laborers on their own land. Read more>>
Crowdfunding Saves 400-Year-Old Grandmother Tree: A sacred "grandmother tree" and culturally significant land in Central Victoria (Australia) will be protected for future generations after crowdfunding raised enough money for an Indigenous group to buy back the land from its private owners. Read more>>
After Reforms, Newark Cops Didn't Fire A Single Shot In 2020: Newark Police officers did not fire a single shot during the calendar year 2020, and the city didn't pay a single dime to settle police brutality cases. That's never happened, at least in the city's modern history. At the same time, crime is dropping, and police recovered almost 500 illegal guns from the street during the year. Nearby Camden, NJ, also is seeing results from a robust overhaul of policing. Read more>>
Oxford University Pledges To Divest From Fossil Fuels: There are signs Oxford University is slowly "getting it" when it comes to climate change. Last year, it committed to selling its multimillion-pound investments in oil and gas companies, after years of student campaigning, and more recently it launched an ambitious Sustainability Strategy. But a 12-month-long investigation shows how much deeper the ties between the oldest university in the English-speaking world and the industry run. Read more>>
Republicans Are Quietly Giving Up On Anti-Trans Bills: Bills targeting the transgender community have stalled all over the country this week as legislators debate the effects these laws will have on trans youth. While several have passed, multiple bills in at least six states have been set aside or gotten veto threats from governors this week. Read more>>
Landmark Ruling Grants Sinixt Nation Land Rights Across US-Canada Border: Canada's highest court has upended the federal government's 65-year-old claim that an Indigenous nation from British Columbia's Interior no longer exists. In a 7-2 decision, the Supreme Court of Canada said the Sinixt Nation, whose reservation is in Washington state, has constitutionally protected Indigenous rights to hunt in their ancestral territory north of the border. Read more>>
Trans Mountain Anti-Pipeline Activists Win Reprieve Thanks To Unexpected Ally: A Rare Hummingbird: Activists and protesters have worked tirelessly for years to stop the construction of the controversial TransMountain oil pipeline in western Canada. Now, a tiny hummingbird has forced construction on the multibillion-dollar project to halt for the next four months. Read more>>
Biden Formally Recognizes Armenian Genocide: The unprecedented White House statement was welcomed by Armenians around the world, and viewed in the Caucasus through the lens of last year's war with Azerbaijan. Read more>>
Biden to Sign Executive Order Raising Federal Workers' Wages to $15 an Hour: The raise will go into effect for federal employees in 2022. Tipped federal contractors will see a gradual raise, reaching a $15 minimum in 2024. Is it too little, too late? Read more>>
Gun Control Laws Work – Massachusetts Brought Gun Deaths To A Record Low With Them: Restrictions save lives. Massachusetts began passing a series of sensible gun control laws and now has one of the lowest gun violence death rates in the United States. Read more>>
Jordan Cove LNG Paused Again: The embattled Jordan Cove liquid natural gas export terminal has faced relentless activist pressure that has stalled it for years. Like a zombie, it seems to rise from the dead. Then activists stop it again. Here's their latest achievement. Read more>>
One Year After Epicurious Took Beef Off Recipes Listings, Readers Are Loving the Vegetarian Options: Switching to a plant-based diet helps save the planet and halt the climate crisis. This online recipe site is supporting climate-friendly diets by delisting beef in favor of vegetarian options. Read more>>
Food Delivery Workers Protest For Better Work Conditions: Deliveristas Unidos is a growing group of food delivery workers in New York City. A group of more than 2,000 food delivery workers biked from Times Square to Foley Square as part of a protest calling for improved work conditions. Their ongoing list of demands includes higher pay, increased bathroom access, and expansions to protected bike lanes. Read more>>
Equal Pay for Migrant Women Farmworkers: The national campaign in support of essential workers during the Covid-19 pandemic has largely ignored one of our most invisible and underappreciated labor forces: migrant women farmworkers. These women play a vital role in keeping food on American families' tables, but systemic inequalities within the agriculture industry place them at an ongoing disadvantage. Justice for Migrant Women, led by executive director Monica Ramirez, is working to change that. Read more>>
Gen Z and the Battle for Democracy in Myanmar: Young people are leading this struggle against a stolen election and ongoing repression. They face intense repression and increasing dangers as certain factions turn to violence and police crackdown even harder. Read more>>
Russia's Protest Volunteers Provide Important Support For Arrested Protesters: In recent years, people have responded to the growing need to help those detained at peaceful protests by setting up mutual aid networks – food, water, informal advocacy with the police, legal advice and moral support. Read more>>
Famous Hollywood Hotel Facing Protests Over Unjust Labor Practices: Dozens of former employees of Chateau Marmont staged a protest outside the famed Hollywood hotel Friday, ahead of Oscars weekend. Many of those gathered Friday said they've been mistreated by management, claiming that owner André Balazs has abandoned them during the coronavirus pandemic. Union representative Maria Hernandez says more than 200 workers were fired from the hotel in March 2020. Now the former employees are calling for a boycott of the once-charmed getaway. Read more>>
The Women of the Warrior Met Miners' Strike: In Alabama, 1,100 mine workers at Warrior Met Coal began a strike for a fair contract and better working conditions. The strike is now entering its third week, and already the workers have surmounted their first significant obstacle: they voted overwhelmingly to reject a wretched deal presented by the company, one that many workers called "a slap in the face." Read more>>
Staff of Book Publisher – And Thousands More – Campaign To Get Company To Drop Mike Pence's Book Deal: Petition signed by more than 200 Simon & Schuster employees delivered to publishing house also calls for end to deals with members of Trump administration. Thousands of supporters have signed it. Read more>>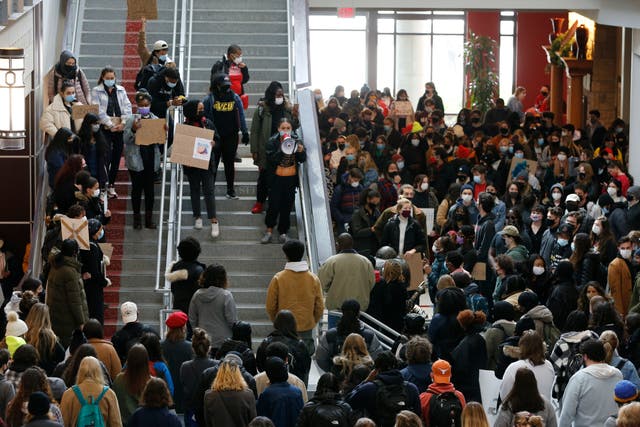 Ohio Students Sit-in To Demand University Cut Ties With Police: Students at Ohio State staged a sit-in protest and demanded that the university cut ties with Columbus Police in the wake of the killing of Ma'Khia Bryant. The protest took place one day after a police officer shot and killed the 16-year-old girl in the city, just as the verdict in the George Floyd trial was reached. Students staged their Wednesday protest in the Ohio Union before taking to the streets to march. Read more>>
Lessons From Chauvin's Verdict Have Parallels In Palestine: In two cases, that of George Floyd and murdered-Palestinian Abu Khdeir, the murderers were never shown as part of a larger framework of systemic racism in Palestine as well as Turtle Island. In both places, a culture of resistance is the only path toward any sort of justice. Read more>>
How Baltimore Continues Fight For Racial Justice: Since the Baltimore Uprising in 2019, there is a growing acknowledgement that decreasing police power and dealing with racial injustices like lead poisoning, segregation and redlining, underfunding of public schools and public transit are all critical steps to eliminating racism. Read more>>
Defund Police Movement Takes Aim At Fusion Centers and Mass Surveillance: From Maine to Minnesota, racial justice movements are working to dismantle mass surveillance. Read more>>
10 Facts About Environmental Racism: Environmental racism is a term which refers to environmental injustice that occurs both in practice and policy. Factors like rising temperatures and a pandemic affect how comfortably people can live in their communities, and more often than not discomforts fall disproportionately on communities of color. Read more>>
Robert E. Lee High School Students Are Fighting to Rename Their School: The backlash at community meetings has been intense. Some older white alums are pushing back. The students – 70% Black – feel ignored and unheard. Read more>>
Xernona Clayton, A Civil Rights Legend, Befriended a KKK Leader – And Changed His Mind: An extraordinary activist, she fought for integrated hospitals, helped organize the March on Washington and became the first Black TV presenter in the south. Read more>>
Minnesota Workers Took on the National Guard to Defend Black Lives: During protests against Daunte Wright's murder, union members evicted the Minnesota National Guard from their union building. Read more>>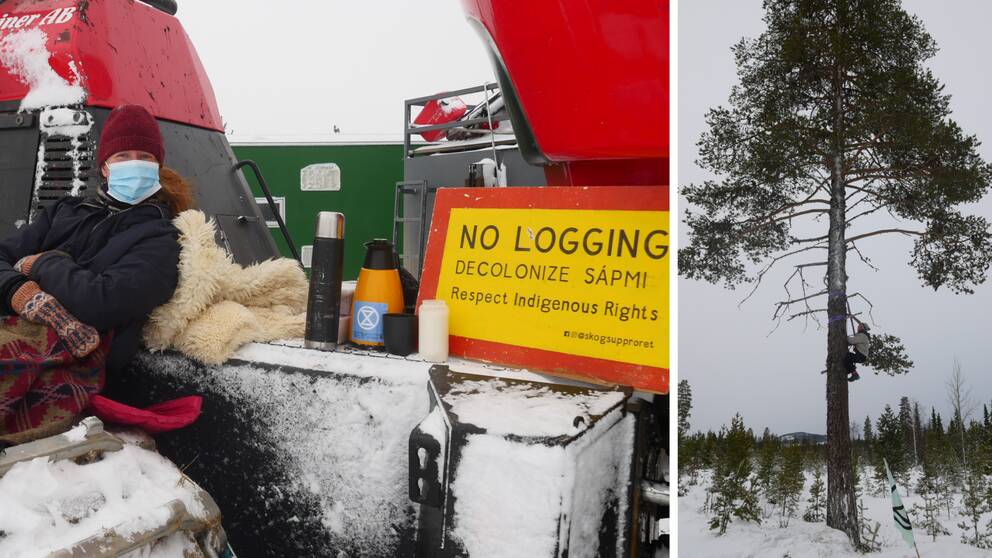 Swedish And Sámi Activists Blockade Logging: Sámi and non-Sámi activists have blocked forest machines and roads to stop logging in reindeer pastures. These forests have both high ecological importance and strong Sámi historical and cultural heritage. Read more>>
Can the Resilience Movement Learn from Thacker Pass? For over 100 days now, protestors have occupied Thacker Pass, NV in opposition to plans for the largest lithium mine in the United States. As "resilience" becomes a buzzword, this campaign for ecological protection has many lessons to offer. Read more>>
The PR Industry Is Trying To Demobilize Environmental Movements: Public relations poses distinct threats to environmental movements, but activists are becoming more savvy and developing new forms of resistance. As greenwashing threatens to take the steam out of campaigns, here's what activists can do about it. Read more>>
It's Time To Save the Redwoods (Again): Corporate logging has destroyed much of California's once vast and majestic redwood forests. As environmental crises collide, the imperative to save the remaining trees is stronger than ever. That means challenging those who profit from the trees' destruction. Read more>>
XR Activists Took On Oil Giant Shell – And Won A Significant Court Victory: Six Extinction Rebellion activists have been acquitted in a landmark verdict at Southwark Crown Court this afternoon. The jury delivered its not guilty verdict for each defendant, despite Judge Perrins ruling that five of the six had no defense under the law. Read more>>
The Red Deal – Indigenous Action To Save Our Earth: The Red Deal is a manifesto and movement — borne of Indigenous resistance and decolonial struggle — to liberate all peoples and save our planet. Read more>>
Pacific Islanders Reject Japan's Plan To Dump Toxic Waste Near Them: Japan's plans to discharge radioactive wastewater into the Pacific Ocean is a callous act that would do catastrophic harm. Pacific Islanders are pushing back. Read more>>
Save Fairy Creek And The Ancient Forests: Organizers of the forest blockade say, "We must come together now to take action in solidarity, peaceful civil disobedience to defend and protect these forests, for future generations to come." Read more>>
How to Kill the Oil Hydra—and Other Lessons From the Fight Against Keystone XL: Here's what we can all learn from the KXL campaign and what the Indigenous-led victory tells us about the struggle to stop all other oil pipelines. Read more>>
For Our Families, Armenian Genocide Recognition Is One Step Towards Justice: Formal recognition of the Armenian Genocide by the Biden administration is key to stopping widespread disinformation and a step toward reparation. Read more>>
Earth Day Is Peace Day: At an Earth Day/Peace Day event in New Haven, CT, united organizations that promote anti-gun violence, climate justice, and peace/antiwar causes. Earth/Peace Day also served as a public response to a non-binding referendum on the 2020 municipal election ballot, in which 83 percent of voters approved a call for redirecting national military spending to cities for an environmentally sustainable economy, jobs, and human needs. Read more>>
New Agreement in South Africa Includes More Peace Education: The Prem Rawat Foundation (TPRF) is partnering with the South Africa Department of Correctional Services to expand the Peace Education Program at correctional facilities throughout the country. A new Memorandum of Understanding (MOU) formalizes the partnership and builds on years of positive results with the program to help inmates rehabilitate and successfully reintegrate into society. More than 1,000 inmates have already participated in the program. Read more>>
People Are Co-opting the 'Back the Blue' Hashtag: Taking over a slogan can be powerful. People are pushing back against police supporters by using the #BackTheBlue hashtag to show support for postal workers and whales. Read more>>
Creativity Is Our Superpower — 13 Stories Of Inventive Nonviolence: This collection of stories from Nonviolence News showcases the incredible versatility, imagination, and super creativity of nonviolence in action. Read more>>
On a Chinese Mountaintop, Families Are Building A Community Just for People With Autism: In China, care facilities to support people with autism are scarce. So families are banding together to build their own. Read more>>
Sweden's Radical Comics Community: Over the past 15 years, a new genre of comics has developed in Sweden. Some of the works are neatly drawn autobiographies, others cut-and-paste, satirical collages. But what's unique is that the genre is dominated by women, feminists and the politically radical. This is the story of a cultural movement. Read more>>
How A Mexican River – And Its Community – Said NO To Dams: In 2015, the PUCARL Collective in Veracruz, Mexico, booked a historic victory and successfully halted the construction of a dam that was threatening the entire region. Read more>>
Ahimsa, Labor, and the Struggle For Economic Justice: This video covers how nonviolence and nonviolent action have supported the movements for economic justice and labor rights. Read more>>
The Solution to America's Gun Problem Is Noncooperation: Substantive change will only come from protests and marches against the same global forces that brought us slavery and racism. Read more>>
Daniel Berrigan And His Fearless Nonviolence At 100: Five years since his death and 100 since his birth, legendary priest, author, poet and activist Daniel Berrigan continues to offer wisdom and insight on living a life of creative nonviolence. Read more>>
Stop the Byhalia Pipeline! A resilient Black community in Memphis, Tennessee is fighting for their health and safety against multi-billion dollar Texas oil companies. Access to water is a human right, and when it comes to Black communities this will not be the first time that right has been violated. Help empower the people, and ensure that Memphis doesn't become the next Flint. Learn more>>
Black Mama's Bail Out: For the fifth consecutive year, the National Bailout Coalition will mobilize resources to bail out Black Mamas and caregivers in connection with Mother's Day. Learn more>>
Tell Congress: Don't Draft Women – Or Anyone! A new bill before Congress calls for the end of the Selective Service system for everyone. Tell your representatives and senators that it's time to ditch the draft, once and for all. Learn more>>
Meta Peace Team Skills Trainings: There are numerous Bystander Intervention and Violence De-escalation trainings coming up this month. Find one that works for you! Learn more>>
End Militarized Policing: Join efforts to repeal the 1033 Program, which is responsible for providing military grade equipment to police departments. Sign this petition from Black Lives Matter>>
Support Alabama Justice Activists In Resisting 3 Private Prison Plans: CoreCivic, one of the largest private prison companies in the world, is currently attempting to raise private investment to facilitate the construction of two new mega prisons in Alabama. Thanks to pressure from organizers in Alabama and partners from far and wide, two of the three banks financing the project (Barclays and KeyBank) have pulled out of the deal. Sign this letter to stop the financing of the prisons>>
Help the Tambruaw People Resist A Military Base: The government of Indonesia is planning to build a military base (KODIM 1810) in the rural area of Tambrauw West Papua without consultation or permission from the Indigenous landowners who call this land their home. To stop its development, local activists are launching a comprehensive advocacy campaign. Learn more>>
End Racist Sacrifice Zones: Redlining and environmental racism has left Black and Brown communities exposed to deadly levels of toxins and pollutants. We need laws that protect Black and Brown communities. Join us in telling Congress to put an end to sacrifice zones. Learn more>>
Digital Nonviolence: Technology has a unique capacity to offer a sense of greater connection, even as its actual workings may yield deeper forms of dislocation and alienation. While the marketing of new tech often highlights the potential for enhanced mobility, access, equity, and opportunity, the emerging evidence on the full range of impacts is beginning to tell another story. How can we collectively repurpose emerging technologies to activate the positive potentials and minimize the negative ones? In a wired world, we need the core tenets of nonviolence to be a new source code and go viral. (May 3) Learn more>>
Our Challenge – Breaking Through Fear and Hate to Forge a New Way: Featuring Peter Dougherty. In our current dangerous "political" climate, we need to stretch ourselves – to better understand how and why "the other half" of people think and act the way they do, and better understand evidence of our own biases that can be part of the problem. This webinar presents a big picture framework that can be helpful in our efforts to confront violence and heal our broken world. (May 6) Learn more>>
Defund Line 3 Day of Action: Since the #DefundLine3 campaign launched in February, bank executives have received more than 700,000 emails, 7,000 calendar invites and 3,000 phone calls, demanding that they stop funding Line 3. There have been protests at bank branches in 16 states. Collectively, we've raised more than $70,000 for those on the frontlines. Now, we're pulling all of that energy together for one powerful, coordinated day of action. (May 7) Learn more>>
Virtual Mobilization For Children At The Border: There is an invisible war on children, which is a war on the future of humanity. Through abuse and neglect, humanity has trapped our own children inside of a burning building. On Mother's Day weekend, a coalition facilitated by Occupy Faith will host the "for ALL Children @ ALL Borders" virtual summit. This program will focus on building a movement to remove incarcerated refugee children out of harm's way and to place them into the safety of beloved community. (May 8-9) Learn more>>  
90-Minute Intro To Kingian Nonviolence: Kingian Nonviolence is an approach to conflict and community leadership that offers values and methods useful for anyone who wants to use conflict constructively in your personal life, in group settings, or in community issues and building a reconciled world. (May 15) Learn more>> 
How Public Libraries Are Part Of The Solution To Food Insecurity: Shareable and Let's Move in Libraries will host a free interactive dialogue with librarians who manage farmers' markets, summer feeding programs, community fridges, and culinary literacy centers. The discussion will focus on building an understanding of the unique roles of local librarians in community food systems. If you care about food, health, or community development, this event is for you. (May 20) Learn more>>
THANK YOU for donating to support Nonviolence News. It goes a long way.
Donate here>>