Editor's Note From Rivera Sun
Justice. Heart. Soul. Humanity. Respect. Dignity. When society forgets its responsibility toward these values, movements rise up to hold them accountable. When I looked at the stories in this week's Nonviolence News, I see thousands of human beings using protests, strikes, boycotts, and more to lift the moral standard of their workplaces and societies. I see people taking action to repair harm and dismantle violent institutions. I see citizens pushing their country to be better, more just and fair, more respectful and compassionate.
Our world needs nonviolent movements for change. Who else has such a track record of insisting that humanity live up to the best of its ideals and rout out the worst of its tendencies?
This week, as the police officer who murdered George Floyd goes to trial, another police officer just ten miles away shot a young father, Daunte Wright. Days later, 13-year-old Adam Toledo was killed by police in Chicago, IL. The Movement for Black Lives has been calling upon us all to end this deadly cycle of violence, police brutality, and institutional racism. Their efforts now involve millions of people pushing for racial justice. This is what movements do, over and over again. When institutions, systems, and power holders eschew their duty to respect people and planet, everyday people stand up to demand it. The same pattern shows up in campaigns to dismantle mass incarceration, halt prison abuse, make reparations, and end environmental racism. These efforts push ourselves and our country to turn away from its history of abuse and violence. We owe them a great debt.
To take a stand against abuse requires courage. You'll see this courage in the stories about Water Protectors blockading oil company gates, Kenyan forest dwellers resisting displacement, women in Kyrgyzstan speaking out against the epidemic of gender-based murder and violence, students in Turkey withstanding police repression as they oppose an unjustly-appointed university official. All of these stories remind us that our strength as human beings comes not from oppressing others, but from standing in solidarity with anyone striving for greater justice, respect, dignity, and compassion.
In solidarity,
Rivera Sun
Photo Credit: Demonstrators decry the murder of Daunte Wright in Brooklyn Center, MN.
As always, your donations are appreciated. You keep Nonviolence News going.
Donate here>>
Los Angeles Prison Abolition Coalition Is Racking Up Victories: JusticeLA's activists have halted plans for two jails. And they're not stopping there. Using direct action and bold demands, they're rewiring what justice looks like in Los Angeles. Read more>>
Kazakhstan Bolsters Protections For Rare Animal Species: Kazakhstan has expanded the list of animals in its Red Book, a state document listing endangered and protected species, to include Caucasian leopards, Przewalski's horses and even tigers. Hunting any of these creatures is now a criminal offense. Read more>>
New Mexico Passes Marijuana Legalization — Including Racial Justice Provisions: The legislation includes automatic expungement for those with past cannabis arrests or convictions. This affects 150,000 New Mexicans, 10% of the population. Read more>>
Inside The Winning Fight For Reparations in Athens, Georgia: The city seized property and land held by Black families and relocated them. Nearly six decades later, the county began its first attempt to offer redress. Read more>>
Black Cop Who Intervened In Brutality Will Receive Backwages & Pension: Cariol Horne intervened in her fellow officer's chokehold. She was fired. Years later, the city banned chokeholds. Finally, she also won a lawsuit for backwages and pension. Read more>>  
Restrictive Camping Ban Law Is Rescinded After Protests: People from all corners of Santa Cruz, CA, protested, organized and rallied against the "temporary outdoor living ordinance" that restricted camping in a confusing set of laws that cracked down on the unhoused. Read more>>
Another Male Chauvinist at Japan's Olympic Summer Games Forced To Resign: This is the second high-level resignation over misogynistic remarks made by Olympic Games officials in Japan. Grassroots outrage is responsible for making sure they're held accountable and kicked out of the Olympics. Read more>>
Citing Climate and Investment Risks, NY State Pension Fund to Ditch Tar Sands: In a development climate campaigners welcomed as a harbinger of more institutions ditching fossil fuel investments, New York state's pension fund will divest $7 million from seven tar sands companies. Read more>>
Renewables Met 97% of Scotland's Energy Needs: In 2011, renewable technologies generated just 37% of national demand. Now, Scottish Renewables says output has tripled in the last 10 years, with enough power for the equivalent of seven million households and more than 97% of Scotland's energy needs. Read more>>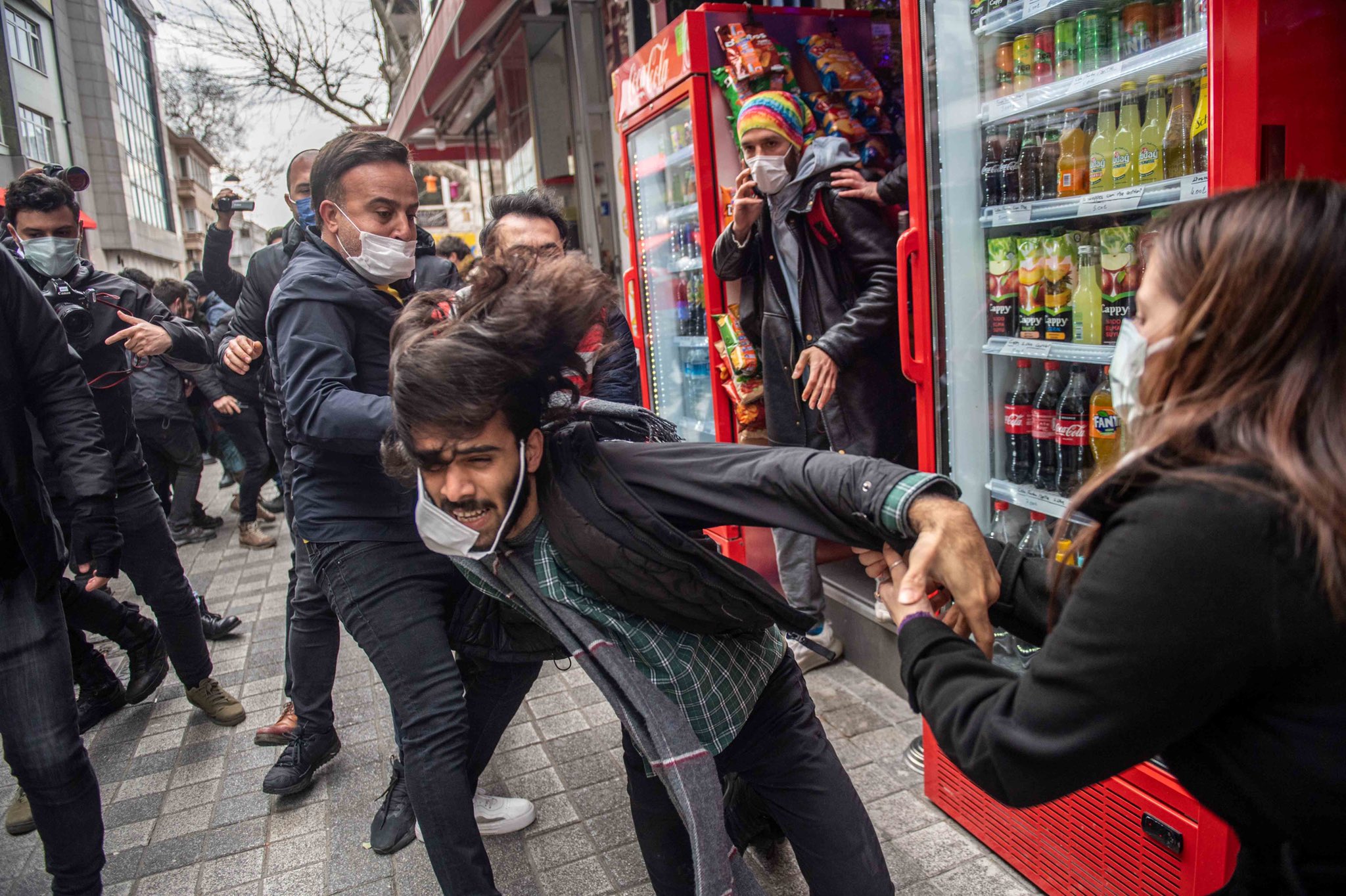 Turkish University Students Continue To Oppose Dictatorially-Assigned Official: The students' protests have entered their four month against an Erdogan-appointed university rector. They face increasingly heavy police repression. Read more>> 
Xinjiang Cotton Boycott: In recent years, China has witnessed waves of patriotism that have extended to the economy. Today, several foreign brands are being targeted in a fierce boycotting campaign over their decision to suspend the use of Xinjiang cotton in their products, as evidence by human rights organizations and media outlets has shown the use of Uyghur forced labour in the production chain. In response, Beijing has mobilized its online patriots to support the use of cotton produced in this western province of China that is the homeland of the Uyghur people. The Chinese authorities continue to brush off allegations of forced labour and other human rights violations as false information. Read more>>
600 Teachers "Sickout" Strike in East Baton Rouge: In the East Baton Rouge Parish, more than 600 teachers (or one-sixth of the total workforce) participated in a "sickout strike" to protest a proposed school reopening plan. Read more>>
Striking Alabama Miners Push Back on Contract Settlement: The contract offers certain concessions, but does not address the central demands workers say they require. Read more>>
Protect Care Workers — You'll Need Us Someday: Care workers are organizing for the same rights and protections other workers enjoy. They've been cut out of worker protections by a nasty legal loophole. Read more>>
Montana Airport Workers Walkout: At the Missoula Airport in Montana, workers employed by contractors of Delta and United airlines walked out of the airport, protesting wages that start as low as $9.65 an hour. Read more>>
Police Officer Who Killed Daunte Wright Will Face Manslaughter Charge: People have flooded the streets of Brooklyn Center for the third night in a row to protest Daunte Wright's killing. Read more>>
Minneapolis Transit Union Refuses to Transport Arrested BLM Protesters: The transit workers of Amalgamated Transit Union Local 100 issued a statement saying that they refuse to aid police by transporting protestors. These workers stand in solidarity with the Black Lives Matter movement following the murder of Daunte Wright by police in Brooklyn Center, MN. Read more>>
Minnesota Twins & Timberwolves Won't Play in Solidarity with BLM: Both sports teams refused to play after the murder of Daunte Wright. Read more>>
Protesters Gather Every Day To Demand Justice For George Floyd: A small but determined group rise early to take their spot outside the Minneapolis courthouse – and they stay all day. Read more>>
Inside This City's Historic Move to Provide Reparations: The funding comes from a tax on legal marijuana. Evanston, IL, uses the resources to repair historic harm done to the Black community. Read more>>
Seattle Asian Community Answers Hate With Love And Support: A year into the pandemic, local Asian activists work to protect and help community members fearing for safety and facing economic strain. Read more>>
Infiltrating The Proud Boys: People are resisting fascism and racism by infiltrating white supremacist/neo-nazi encrypted chat streams and reporting plans for organizing rallies to the media. Read more>>
33 Black San Antonio Men Featured In Street Mural: Lionel Sosa felt a personal challenge when he found out about the difficulties for Black men in San Antonio, so he turned that into a 100-foot mural. Read more>>
Black Foodie Celebrates Black Food Culture: When the Black Lives Matter movement inspired protests around the world in response to the murder of George Floyd, the online platform BLACK FOODIE gained a ton of new followers. The founder of the popular website and social media force, Eden Hagos, attributed it to non-Black people looking for ways to engage with and uplift the Black community. Read more>>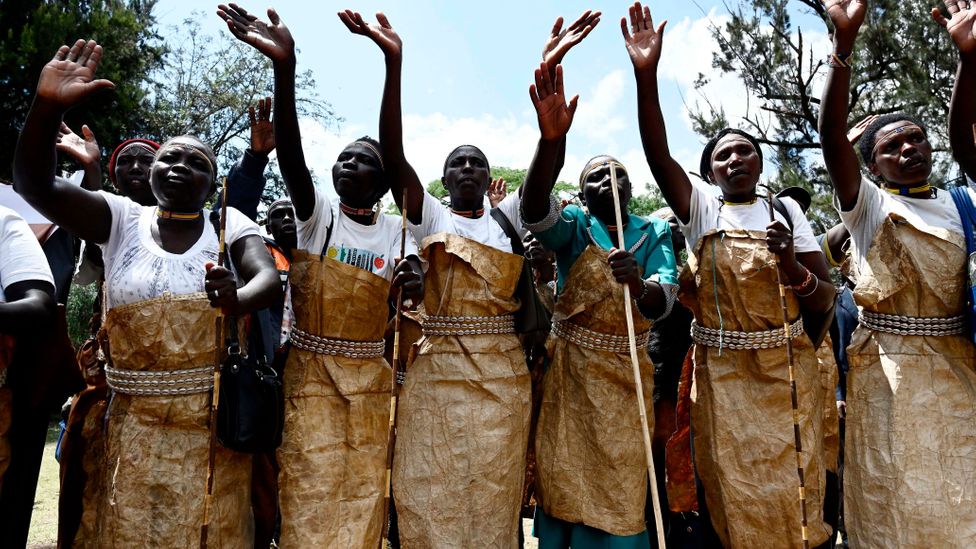 The Indigenous Struggle For Land Rights in Kenya: The Sengwer have lived in the Embobut Forest for centuries, but they lost a vast proportion of their territories to British colonial administration in the early 1900s. Since, the land rights of the 33,000 Sengwer have been limited and precarious. They have spent the past few decades battling against forced eviction, after safeguarding the region's forests for hundreds of years. Read more>>
PEAK Coalition Works To Phase Out Fossil Fuels In Most-Impacted Areas First: The coalition works to end fossil fuel plants in low-income and communities of colors, arguing that environmental racism has forced these areas to bear the burden of toxins and pollutants. Read more>>
Catching Poachers To Save Italy's Songbirds: With five million birds a year illegally caught in Italy, activists in Brescia are teaming up with local police to trap the hunters. Read more>>
Extinction Rebellion Scrubbers Demand Barclays Bank Clean Up Its Act: Bringing a washing machine to the bank offices, protesters demanded the bank ditch fossil fuels for cleaner renewable energy. Read more>>
Protesters Block Entrances To Enbridge Office In Opposition to Line 3: Despite cold temps and freezing rain, a group of around 40 protesters blocked off the entrances at Enbridge's Bemidji office in opposition to the oil company's Line 3 replacement project. Read more>>
When It Comes to the Climate Crisis, Those Responsible Should Be Held Accountable: Majority Action, has released a list of 30 corporate directors who are obstacles to climate progress—directors who should be voted out of positions of power to make way for people who are more climate literate. Read more>>
Citizens Protest Proposed Oil Drilling In Big Cypress With Hike & Talks: The group embarked on a hike, following a marked trail through wet prairies, pinewood flats and dwarf cypresses. The 8-mile journey was part of an effort to inform and educate the public on Burnett Oil Co.'s permits to begin exploratory drilling in Big Cypress National Preserve. Read more>>
Why I Cut Ties With Insurance Giant Liberty Mutual: Sarah Van Gelder talks about how she wanted protection not just for her car but also for life on Earth. Liberty Mutual is one of the biggest insurers of fossil fuels. Read more>>
In Kyrgyzstan, Protests Demand Police, Authorities Act To End Violence Toward Women: After another woman was kidnapped and murdered, protesters are pressuring authorities to take action. Read more>>
Turkey and Azerbaijan Reject Domestic Violence Law: Despite women rising up in defense of the law, Turkish President Recep Tayyip Erdogan abruptly withdrew his country from the Istanbul Convention. This withdrawal from the landmark international agreement to prevent domestic violence led to Azerbaijan rejecting it as well. Read more>>
Photojournalism Essay Highlights Indigenous Two-Spirit Pride: "Our younger generation needs to be acknowledged for who they are. It's important for them to know that they are who they are and that it's OK," Mousseau says. "It's time to acknowledge we have always been here, and we will always be here." Read more>>
New Zealand Law Granting Paid Leave for Miscarriage Sparks Organizing in U.S.: The win in New Zealand has fueled U.S. efforts to extend paid medical and family leave protections to all 50 states. Read more>>
Former Google Worker Resists Pregnancy Discrimination: She spoke up at work and got fired. Now she's battling Google's army of lawyers. Chelsey Glasson alleged she had been discriminated against while pregnant and had witnessed others being treated similarly. Read more>>
Art Show Centers The Female Gaze: In art history, women have traditionally been pigeonholed as objects of desire – beautiful creatures that enchant, entice and inspire as "the muse". But walk into the Museum of Fine Arts in Boston at the moment, and the male gaze has been replaced, with women's work rather than just their appearance taking centre stage. It's part of the museum's current exhibition Women Take the Floor, with more than 200 artworks on view. Read more>>
As Activists' Hunger Strike Reaches Day 13, Calls Mount for Biden to End US Complicity in Starvation of Yemen: "My pain cannot amount to that of Yemenis under siege," said one hunger striker. "I am starving, but I am not being starved. I am suffering, but I can choose to end that suffering." Read more>>
US Plans Withdrawal From Afghanistan: President Biden plans to withdraw all US troops (not including NATO) from Afghanistan by 9/11, 2021. "With today's decision, President Biden recognizes what the people of the United States and Afghanistan have long known: we simply cannot bomb our way to peace." Read more>>
Pressure on Biden to End Yemen Blockade Builds With New Letter From Lawmakers: A bipartisan letter that members of Congress sent Tuesday to Secretary of State Antony Blinken increased growing pressure on the Biden administration to fully end U.S. support for Yemeni suffering and push the Saudi Arabia-led coalition to "lift its obstruction of commercial and humanitarian imports" to the war-torn country. Read more>>
Tax Resisters Divert Their Money From War to Human Welfare: "It is because we consent and pay our taxes without much thought that half the money we pay the government is for war." Read more>>
Inside the Dangerous World of Prison Organizing: Incarcerated activists are risking their lives to send a wake-up call to those outside. They worked amidst dangerous and difficult conditions to organizing the largest prison strike in US history in 2016. Since then, organizing has not relented, inside or outside prison walls. Read more>>
How Hollaback! Is Creating A Culture of Community Accountability And Mutual Respect: Hollaback! Co-founder and Executive Director Emily May speaks with Nonviolence Radio on bystander intervention, showing up for community and not calling the police. Read more>>
How Can Civil Resistance Win Well? Breakthroughs and Breakdowns on the Road to Democracy: Civil resistance is a powerful force for democratic transitions, but how can activists navigate the uncertain road from bringing down a dictator to bringing up a more just and free political order? Dr. Pinckney discusses a critical factor: the breakthrough mechanisms (such as negotiations, elections, coups, or international intervention) by which civil resistance campaigns bring down authoritarian regimes. Read more>>
Georgia's Voter Suppression Is Sparking Boycotts. History Shows They Can Work: Anti-racist organizations have been pushing corporations to demand repeal and to "put their full weight behind" voting rights legislation at the federal level. Some Black clergy leaders called for a boycott of Coca-Cola, Delta and other Georgia-based corporations that had not publicly opposed the law. Within two days of that call, many companies broke their silence and condemned it. Read more>>
Daniel Berrigan's Hidden Acts of Mercy: Berrigan was one of the best-known American peace activists of the 20th century. But there's a lesser-known aspect of his Christian commitment worth noting as we celebrate the centennial of Berrigan's birth on May 9: his work on behalf of the material and spiritual needs of New York City's "discarded souls," in particular those suffering the ravages of cancer and HIV/AIDS. Read more>>
The Man Behind London's Mass Kiss-In: On July 1, 1972, Ted Brown walked through central London, stopped at Trafalgar Square for a kiss – and made history. He was at the event he had helped to organise, the UK's first official Gay Pride, in which more than 2,000 people marched through the capital before holding a mass kiss-in. Half a century later, his memories of the day are euphoric. Read more>>
New "Hoodwinked Vs. Hothouse" Toolbox of Climate Solutions Released: As a pop-ed toolbox, Hoodwinked promises to be instructive for activists, impacted communities, social movements, educators and students, and anyone who seeks to engage in a deeper discussion about climate solutions. It also offers elected officials with a critical lens to examine a complex, technocratic field of climate change policy strategies, from local to national and international arenas. Read more>>
Nonviolence News Happy Hour: Join the conversation! Once a month, readers gather online to have a fun and informal conversation about the stories we've been reading in Nonviolence News. Everyone is welcome at this free event. (April 30) RSVP here>>
Help Care Workers Earn Fair Wages: Choosing care as a career shouldn't be a poverty sentence. And needing care shouldn't be one either. For too long the important work we do—"women's work" done mostly by Black, brown and immigrant women—hasn't been valued. Call 877-689-2371 and tell the Senate to invest in home care so everyone has access to good quality care and so home care work can be a good union job.
End US Support Of Yemen Blockade: Support hunger strikers in calling upon Sec. Blinken to end the blockade of Yemen. Learn more>>
Tell Congress to End Draft Registration: The U.S. government is going to either expand draft registration to young women (signing them up to be forced against their will to kill and die) in the name of "equal rights," or it is going to end this outdated barbarism of forcing people into wars. A federal district court has ruled that male-only draft registration is unconstitutional. Contrary to popular myth a draft does not decrease the chances or duration or extent of wars. Learn more>>
Tell Liberty Mutual To Stop Insuring Fossil Fuels: Resistance to Arctic drilling, Line 3, Trans Mountain, and Dakota Access Pipeline continues to escalate. Every single one of these projects is insured with multi million dollar deals. Sign this petition today to Liberty Mutual to tell them to back off from these harmful oil and gas projects. Learn more>>
Know Investors? Tell Them To Vote Out Climate Deniers: Majority Action urges investors to vote against these directors at companies failing to implement plans consistent with limiting global warming to 1.5ºC. Learn more>>
Intersectional Feminist Perspectives on the U.S. Military Draft: The Politics of Inclusion, Compulsion, and Progress: As grassroots opposition to the military draft and draft registration seems to be systematically ignored by Congress, this panel will feature student activists, academics, and intersectional activists outside of the university who have varying views on why the draft should not be expanded to women. Learn more>>
The Historic Vietnam Veterans Protest in Washington & Lessons for Today: Many veterans came home from Vietnam with a mission: to tell the truth about the wartime atrocities being committed and demand an immediate end to the killing. Now, 50 years later, what lessons can we learn from this historic protest? (Apr 23) Learn more>>
Bringing Fierce Vulnerability To the Struggle For Racial and Climate Justice: Two day webinar on the Yet-To-Be-Named Network. This training offers an overview of the network, from principles to practices, from organizational structures to what it means to be a member, and more! (April 24 & 25) Learn more>>
Campaign Nonviolence Skillbuilding Webinar – Get Creative! Join Pace e Bene trainer Rivera Sun for a skillbuilding webinar on creative actions to build a culture of peace and active nonviolence. Shake up your go-to protests, unpack the tactical toolbox, explore new action ideas, dig into how creative actions enthuse and energize people for making change. (April 27) Learn more>>
From the Hills to the Streets to the Table – Civil Resistance and Peacebuilding in Nepal: This presentation introduces a new ICNC case study on Nepal's transformation from a decade-long civil war that killed 17,000 to a civil resistance campaign that overthrew the monarchy and set in motion a transition to democracy. (April 27). Register for the webinar>>
Digital Nonviolence: Technology has a unique capacity to offer a sense of greater connection, even as its actual workings may yield deeper forms of dislocation and alienation. While the marketing of new tech often highlights the potential for enhanced mobility, access, equity, and opportunity, the emerging evidence on the full range of impacts is beginning to tell another story. How can we collectively repurpose emerging technologies to activate the positive potentials and minimize the negative ones? In a wired world, we need the core tenets of nonviolence to be a new source code and go viral. (May 3) Learn more>>
Housing Solution Summit 2021: These 80+ sessions and panel discussions are the powerful training that can help your community address the housing crisis. Participants will learn how communities can bring many partners together to implement high-value, economical, and practical strategies for housing that is "naturally" affordable without requiring large, on-going subsidies to make it affordable. (May 12-13) Learn more>>
World BEYOND War's #NoWar2021 Conference Goes Virtual! Save the date for June 4-6, 2021. #NoWar2021 is a unique event that brings together a global grassroots coalition of individuals and organizations around the topic of stopping the global arms trade and ending all war. Get your tickets! Learn more>>
If you (and every other reader) donated $10, we'd be set for the whole year!
Donate here today>>