Editor's Note From Rivera Sun
Nonviolence News offers us all ways to learn from our fellow humans around the world who are standing up for justice. From Myanmar to El Salvador to Iran, you'll find stories in this week's issue that will open your eyes, inspire you into action, and give you skillful – and often hard won – lessons that you can use in your change-making efforts.
In this week's issue, teens in Chicago's South Side (pictured) are tired of being the dumping ground for the city's toxic projects. Garment workers have won an impressive victory with the #PayUp campaign that secured $22 billion from apparel companies by organizing consumer-worker solidarity. Racial justice campaigns for Black lives, Asian/Americans, and Australian Black Indigenous are making strides this week. One excellent story was shared with me by someone who joined the Nonviolence News Happy Hour on Friday: Black Lives Matter in Birmingham held a bank's feet to the fire to get them to drop funding for a private prison project – and to make sure the bank's statement during the George Floyd protests wasn't just empty words. I love it when readers tell me about impressive campaigns like this. There's always more happening than we know.
You can read about how the Herring Protectors are stopping overfishing and how Chinese women are resisting the latest female-body-objectifying social media challenge. Find out how a decade-long campaign against torture is renewing the struggle to close Guantanamo. Check out the article about why your city should be planning a nonviolent and creative "Social Emergency Response Plan". And, as always, if you're looking to get involved, you'll find many opportunities to support nonviolent campaigns in the "Call-To-Action" section.
In solidarity,
Rivera Sun
Photo Credit: Chicago Teens Stand Up Against Environmental Racism on the South Side.
Pssst … 90,000 readers like YOU love these stories.
Support Nonviolence News with a donation today. Donate here>>
Garment Workers Win Historic Victory In Effort To Transform Fashion Industry: The PayUp campaign has clawed back $22 billion from apparel companies owed to factories and workers, and they're just getting started. This success is due to consumer-worker solidarity. Read more>>
Black Lives Matter Birmingham Gets Regions Bank To Ditch Private Prison Project: Last summer, racial justice activists got a statement of support from Regions Bank. When they found out the bank was backing a new prison project, they demanded that the bank honor its commitment and ditch the project. They succeeded in getting the bank to pull funding out of CoreCivic private prisons. Read more>> 
Allied Media Needed A New Home – And It Had To Be Found With Justice: When a social justice media group was squeezed out of their old home, they wanted to change locations without becoming yet another gentrifier. Here's how they did it. Read more>>
Cancellation of Fracking Project in Texas Shows Power of Grassroots Organizing: The project was one of three proposed fracked natural gas terminals in the Rio Grande Valley. Read more>>
New York City Council Approves Series of Police Reforms, Including Ending Qualified Immunity for the NYPD: The New York City Council passed five bills and three resolutions all aimed at police reform. The most notable includes ending qualified immunity for New York police officers. Read more>>
Stanford Students Finally Win an African American Studies Department: "This was not a gain that was granted, it was a gain that was demanded." Read more>>
Black Hills Land Back Defenders Win Reprieve After Arrests: The charges against the Indigenous Land Defenders arrested on July 3 in the Black Hills will be dropped. This announcement comes after months of political pressure from grassroots groups, including petitions, social media campaigns, and local and national media coverage of the cases. Read more>>
Iran's Decade of Protests: In the past few years, Iran has witnessed waves of popular protests involving large parts of the population making economic and political demands. "Everyone, particularly in the poorer classes, has a good reason to be angry with the system. It could be because of the economy, the political crisis or different forms of discrimination." Read more>>
Locals Are Taking On Billionaire Landlords In the Twin Cities: Private equity firms snatched up rental properties, then neglected them. So Minneapolis activists organized the tenants to fight for their rights. Read more>>
Pittsburg Bus Drivers Picket In Solidarity With Alabama Amazon Workers: On a warm Saturday in spring, nearly three dozen protesters are shouting "Unionize Amazon!" as they picket outside of a Pittsburgh Whole Foods on Centre Ave. Read more>> 
45 Events Organized Across the Country to Show Solidarity with Amazon Workers: A massive coalition of more than 150 labor and community groups are organizing solidarity events across the country to show their support for unionizing workers in Alabama. Read more>>  
GoodRx Starts Initiative to Provide Free Prescriptions: GoodRx, a popular website and mobile app that compares drug prices, launched a charitable initiative this month focused on getting costs down even more. Many eligible low-income people will have the opportunity to get necessary medications for free. Read more>>  
Parisians March Against Police Brutality: Organized by several activist groups to mark the International Day Against Police Brutality (15 March) and the International Day for the Elimination of Racial Discrimination (21 March), people are demanding the creation of an independent entity to monitor the use of force by police officers and reparation for victims of police brutality. Read more>>
Amazon Workers on Strike in Italy: As Amazon workers fight to unionize in Alabama, this week Amazon workers in Italy held the first nationwide strike in the company's history. The strike strategically involved all Amazon logistics workers — from warehouse employees to outsourced delivery drivers — and a reported 25,000 workers participated across the country. Read how the Amazon strike in Italy shows how workers can unite across the supply chain. Read more>>
'This Goes Way Beyond Brutality': Myanmar Coup's Violent Suppression of Democracy: February became a bloody month as the military and police violently attacked anti-coup protesters. Read more>>  
Teamsters Coca Cola Workers Strike in Mass: In Westborough, Massachusetts, 80 Coca-Cola workers, members of Teamsters Local 170, went on strike. The workers are upset over the company's decision to propose a contract that would eliminate union seniority rules. Read more>>  
How a Queer and Trans Latinx Gardening Collective Is Working to Reverse Food Insecurity in Atlanta: Mariposas Rebeldes members hail from all over the Atlanta area in search of equitable solutions to a calamitous problem: America's food insecurity epidemic. Across the most populous area of the Deep South, residents struggle to find nutritious food within their own neighborhoods, with clusters of fast-food restaurants occupying real estate where a grocery store could be. This gardening collective is working to resolve these problems. Read more>>
"I Can't Breathe" Is a Cry Well Known to Black Indigenous People in Australia: Police brutality is a worldwide problem that disproportionate impacts people of color. David Dungay Jr., a Black Indigenous man in Australia, also cried "I can't breathe" as he died in police custody. Read more>>  
'Breonna's Law'-Style Bans On No-Knock Warrants Are Growing: A year after Breonna Taylor was fatally shot when police entered her home with a no-knock warrant, experts and activists push for more accountability. Read more>> 
Banking Co-ops Run By Black Women Have A Long History Of Helping People: Ajo, Osusu, Sandooq, Chit or Arisan? These are cultural names for systems of mutual aid and collectivity — known by academics as rotating savings and credit associations, or ROSCAs for short. ROSCAs are hidden forms of co-operatives that Black and other marginalized people practice all over the world, including in Canada and the United States. They make a big difference. Read more>>
Detroit Teamsters Strike Over Two-Tiered Pay: Race was a topic of discussion surrounding the two-tier system, as the Teamsters said most of the higher-paid tier workers were white, while second-tier workers were Black. Read more>>  
Activists Counter Anti-Asian Racism Through Community Safety Initiatives: As anti-Asian attacks soar, stoking fear, grassroots groups are creating safety initiatives that don't rely on policing. Read more>>
In Georgia, Doing Your Job As a Black Woman And Legislator Is An Act Of Resistance:  As the state governor signed a racist, discriminatory voter suppression law, this Black legislator knocked on his door and asked to bear witness to this wrongful action. Unlike the handful of white Republicans already in the room, she was arrested and charged with two misdemeanors. Read more>>
Donations to Black-Led Food and Land Organizations Shift From Charitable Giving to True Reparations: The national discourse on reparations tends to narrowly fixate on government-to-individual payouts, but within Black communities, reparations have long been intertwined with the liberation of all Black people through food justice and land sovereignty. Read more>> 
What You Can Do To Counter Anti-Asian Violence: The rise of anti-Asian hate incidents and violence since the beginning of the pandemic is spreading trauma and fear across our country. Racism targeting Asians has an ugly, painful history in the U.S., and the current manifestation has created a crisis of safety and security. This eruption of racism is not an "Asian problem" but a call to action for EVERYONE. Read more>>  
'You Are So Missed' / Voicemails Celebrate The Birthdays Of People of Color Murdered By Law Enforcement: An online audio project is collating birthday messages to focus on the lives of those Black and Brown people killed by police. Read more>>
Project Say Something: We empower our community to confront racial injustice through Black history by using communication, education, and community empowerment to reconcile the past with the present. Read more>>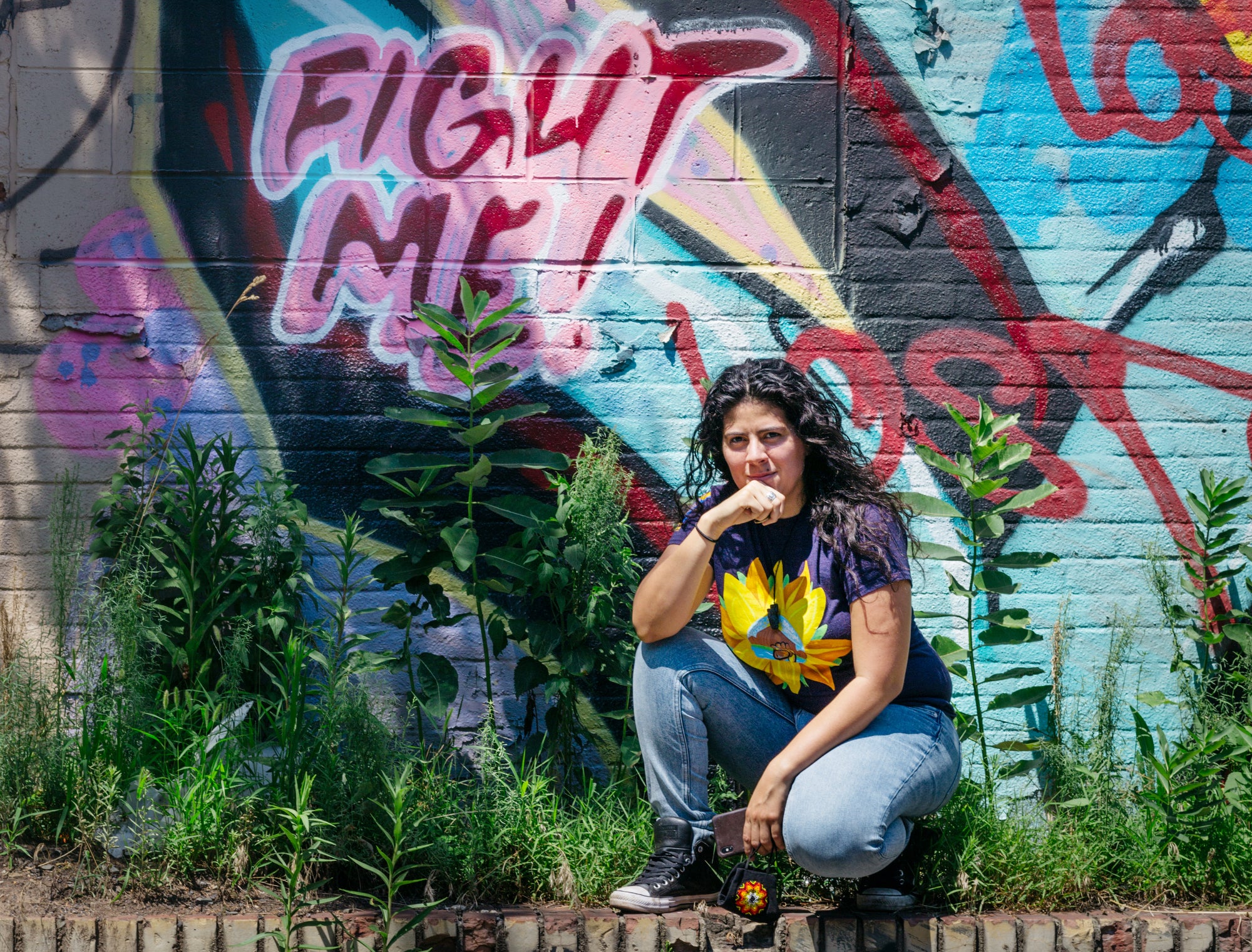 These Women Are Fighting For Their Communities: "Women have to be the fiercest," says Maria Lopez-Nuñez, who is fighting to make polluters take responsibility for their toxic waste in Newark, NJ's Ironbound neighborhood. "We're often the caretakers of our communities and with that comes a strong sense of having to defend our communities from harm, to keep them safe." Read more>>
Enbridge Line 3 Is Buying Police Repression: Ask anyone working to oppose Enbridge's Line 3 pipeline project in any capacity in Northern Minnesota, and they will tell you they've been followed by cops while driving alone. Most will tell you they've been intimidated—verbally, physically, or both. Some will tell you they suspect they are being surveilled. Others report violence and brutality. Read more>> 
Chicago Teens Stand Up to Environmental Racism on the South Side: "We are tired of the city treating us like a garbage can." Read more>>
60 Herring Protectors Push Back Against Overfishing: The demonstration was organized by a local activist group called the Herring Protectors. The group advocates for herring and subsistence harvesters, and calls into question the state's management of the commercial herring fishery. They've chosen to demonstrate here because the Alaska Department of Fish and Game office is inside the courthouse, and they want to catch the department's attention, as the commercial herring season approaches. Read more>>
Plant-Based Diets Can Help Save the Planet: Adopting a vegan diet could be the biggest individual contribution to preventing climate breakdown—but we also need systemic change. Read more>>  
Intersectional Feminism Is Something Everyone Should Know About: Learn about the history of the term intersectional feminism, why it is important in our society, and why it matters to you. Read more>> 
Bendy Pose Social Media Challenge Meets Feminist Backlash: Loud opposition to the latest body competition fad reflects increasing awareness of gender issues among Chinese social media users. Read more>>  
Toolkit Helps People Protect And Defend Sex Workers: With the shootings in Atlanta on everyone's mind, organizers are sharing this toolkit for protecting sex workers. Read more>>
Obama Promised To Close Guantánamo — Activists Push Biden To Finish The Job: What should have been an end to the Guantánamo saga in 2012 was only the beginning of more grueling work for this anti-torture coalition. Read more>>  
Nonviolent Peaceforce And Security Without Violence: Members of Nonviolent Peaceforce join Nonviolence Radio to discuss unarmed civilian protection in South Sudan and the Philippines. Read more>>  
Veterans For Peace  Responds to Anniversary of Iraq War: VFP members in New York joined other anti-war activists gathered on March 19, 2021, the 18th anniversary of the invasion of Iraq, at the Manhattan Bridge Plaza at Bowery and Canal holding banners and signs facing the late afternoon Friday rush hour traffic across the bridge as well as pedestrians in the neighborhood, to oppose the United States' endless cycle of war and militarism. Read more>>
One Man's Search For Peace Through Africa: He grew up among war refugees and studied peace in Cameroon, dodged bullets in Chad, and got on the radio in Cote de Ivoire, participated in peace dialogues in Ethiopia. His journey for peace traversed a continent and hasn't stopped. Read more>>
Public Fast Meant to Give Langley Food for Thought on Jet Fighter Purchase: Canadian peace advocates are organizing these public displays on April 10th to help persuade the Government of Canada to invest in our children's future rather than in bomber jets. We should promote employment which builds up communities rather than jets that bomb infrastructure like electrical grids, and water plants, hospitals and school buses in addition to direct killing of human beings. Read more>>
Peace Activists' Toolkit; Organizing 101: In this webinar video, Greta Zarro from World Beyond War introduces the basic tools of organizing for peace. Read more>>  

Poems For Peace: This International Poetry Day, 21 March, children and young people living through conflict are sharing the harsh reality of a childhood defined by war through their Poems for Peace. Their powerful words must serve as a wake-up call, spurring global action to achieve peace. Read more>>
Myanmar's Citizens Unite In Creative Opposition To Military Junta: In the streets and online, citizens, and especially members of 'Generation-Z', have been the driving force behind the protests. Read more>>
Camden Future Journal Envisions A Climate Future: This transition group convinced their local newspaper to publish an issue from the future – a future after we've made a climate transition. Read more>> 
Solidarity Not Charity – Grantmaking In The Solidarity Economy: This report, commissioned by Grantmakers in the Arts, is about the ways that arts and culture grantmakers can engage in systems-change work. The cultural sector is actively seeking alternatives to business-as-usual to create economic and racial justice in the sector and beyond. Grantmakers can play a role in the transformation of the sector by following the lead of Black, Indigenous, People of Color, disabled, queer, trans, and working class creatives who are innovating models for self-determination and community wealth. Read more>>
Native American Coffee Movement Is Brewing: This Native American brewing company keeps coffee money in the local community, particularly Native American circles. Read more>> 
What Salvadoran Activists Can Teach Us About Building Coalitions: With international allies, Salvadoran water activists defeated a lawsuit by OceanaGold, a multinational firm that argued the Salvadoran government did not have the right to prohibit mining. How Salvadorans achieved such major wins against enormous odds has a great deal to teach people around the world. Read more>> 
Asian Americans Have a Long, Radical History of Resistance: Connect to the radical history of Asian Americans through this in-depth, historical timeline. Read more>>
A Case For Social Emergency Procedures: Design Studio for Social Intervention make the case for responding to "social emergencies" with a set of procedures that include gathering our folks, connecting to our collective truth, recognizing the big picture, and taking action. Read the whole piece here. Read more>>
Start Where You Are – Addressing Four Common Questions about Civil Resistance Training: For over a century, movement organizers have recognized the importance of developing knowledge and skills in civil resistance. Scholarship increasingly validates this view by showing the importance of training and strategy in movement success. Reflecting this convergence of research and practice, activist training is now widely considered a foundational movement activity. But how do you implement this insight? Read more>>
How To Start A Housing Co-op: Although problems can come up as in any housing situation, the issue most likely to destroy the co-op is internal conflict. Finding the right people and teaching others willing to learn how to get along is key. Read more>>  
We Know We Need Civil Resistance Training. Now Where Do We Start? In the face of rising authoritarianism, people worldwide are increasingly turning to civil resistance to fight for their rights. This is an empowering choice, but it can also feel overwhelming for those involved. When people seek to build a movement, the first big question is often: Where and how should we start? Read more>> 
#ShareMyCheck: If you've received a stimulus check that you don't need urgently, please consider sharing the wealth! Millions are still facing food insecurity and eviction during the pandemic, and local mutual aid networks need community support. Learn more>> 
Building Leaderful Groups: This Peoples Hub training will support your ability to tap into your power and the power of your team, recruit new members, delegate intentionally, and create a healthy leadership culture within your group. Join this workshop to learn how to acknowledge and leverage this power and privilege to create a strong and sustainable impact in your community, group or organization. (March 31) Learn more>>  
Live Tour of the Beautiful Trouble Toolbox: Want to learn more about one of the best online toolboxes for making change? Join a Beautiful Trouble virtual tour to find out what you're missing and connect to great tools. (March 31) Learn more>> 
Healing Resistance Book Talk w/ Kazu Haga: Join this book talk and discussion with Kazu Haga. It is part of a series of practical dialogues on the intersections of peacebuilding, social justice, and democracy through the Horizons project, an initiative of the PartnersGlobal Institute and Humanity United. Horizons Project Senior Advisor Maria J. Stephan will be interviewing author and Kingian nonviolence practitioner Kazu Haga on his new book.(March 31) Learn more>>
NoDapl & Line 3 Pipeline Resistance Is Headed To DC in April: Here's a social media toolkit that you can use to spread the word and support the action. (Now-April) Learn more>>
Labor and a Jobs Guarantee: Join this three-part popular education training on the Jobs Guarantee, which will look at the potential of a JG through the lenses of racial justice and climate justice, while building links with the labor movement. (April 1, 8, 15) Learn more>> 
Shut Down Creech Action Week: Peace activists in California are taking action to oppose a major drone warfare military base. (April 4-10th) Learn more>>
Breaking the Silence: Public readings and discussions of Dr. King's "Triple Evils" speech offer ways to see the parallels between when it was written and today. (April 4) Learn more>>
Nonviolence In Education Workshop: Robin Wildman, founder of the Nonviolent Schools Project and a leading organizer of Kingian Nonviolence in Education, will present an engaging lecture, with opportunity for Q and A, about how classrooms and schools can be transformed into "Beloved Communities", places where all students are loved, included, and valued as human beings. (April 6) Learn more>>
Nonviolent Global Liberation Announces New Trimester Apprenticeships: The Nonviolent Global Liberation (NGL) Provider Apprenticeship Program is now open for applications for the upcoming trimester with the topic of Purpose and Values: Collaborative Organizational Systems, Agreements, and Seeding the Future, starting on May 10, 2021. (Applications due by April 7) Learn more>>
 Ahimsa, Labor, and the Struggle for Economic Justice: A public talk and lecture looking at the labor movement through the lens of "ahimsa", non-harming or nonviolence. (April 7) Learn more>>
Good vs. Toxic Polarization – Insights from Activists and Peacebuilders: Which aspects of polarization are good and normal, and when does polarization tip over into dangerous toxicity? In this Horizons Project event, we will hear from scholars, activists and peacebuilders. (April 9) Learn more>> 
#HearThePeople: The Southern Movement Assembly is calling on communities to take actions that #HearThePeople on April 10 as a culmination of The People's First 100 Days. Commit to organizing a public, creative action that names what community safety needs to look like in a time of rising state and social violence." (April 10) Learn more>>  
Bringing Fierce Vulnerability To the Struggle For Racial and Climate Justice: Two day webinar on the Yet-To-Be-Named Network. This training offers an overview of the network, from principles to practices, from organizational structures to what it means to be a member, and more! (April 24 & 25) Learn more>> 
Nonviolence News Happy Hour: Join the conversation! Once a month, readers gather online to have a fun and informal conversation about the stories we've been reading in Nonviolence News. Everyone is welcome at this free event. (April 30) RSVP here>>
Buddhist Peace Fellowship Announces Block, Build, Be 2021 Retreats: Block Build Be (BBB) is a gathering for activists, organizers, healers, and seekers who desire spiritual tools and community support to keep engaging in change work from a resourced place. Learn more>>
Housing Solution Summit 2021: These 80+ sessions and panel discussions are the powerful training that can help your community address the housing crisis. Participants will learn how communities can bring many partners together to implement high-value, economical, and practical strategies for housing that is "naturally" affordable without requiring large, on-going subsidies to make it affordable. (May 12-13) Learn more>>
Thank you to each and every person who donates.
Your support makes finding these stories possible. Donate here>>