Editor's Note From Rivera Sun
Violence is an epidemic. Nonviolence offers many remedies. From community safety teams replacing militarized police to Active Bystander training to intervene in Anti-Asian (and other) harassment, the tools and practices of nonviolence give us ways to work personally and politically to dismantle the many dangerous and deadly forms that violence takes in our world. As the murders in Georgia propelled growing awareness of Anti-Asian hate crimes, the tools of nonviolence are needed with increasing urgency and widespread application.
This week's Nonviolence News lifts up some remarkable stories. In Yemen, women took unexpected action to ensure a decades-long water dispute was resolved. In Syria, a collective of underground librarians is bringing hope, knowledge, and community to a city under siege. In Germany, a surge of forest defenders are occupying the woods to protect them. In the state of Georgia, racial justice activists are pressuring corporations to end their silent complicity in voter disenfranchisement. In Australia, women are outraged about sexual violence toward women. And you'll find so many more incredible stories in this week's round-up. Don't miss the Call-To-Action section; it's truly jaw-dropping. You'll find opportunities to learn, connect, and take action for justice and change.
I want to celebrate two special stories from our close colleagues at the M.K. Gandhi Institute in Rochester, NY. First, they've created a special youth intern position that pays young people to turn Nonviolence News articles into TikTok videos. How amazing is that? (Find out more below.) Second, they also created a "Youth Healing Hate" grant program that funds youth ideas for ending hate in the Rochester, NY, community. From a peace garden to a student club, the concepts were brilliant and heartening. Find out more about them here and consider if your organization or community could do something similar. If there's one take-away message from the 30-50 stories of nonviolence in action we share each week, it's that we have more power than we think, and the time is always right to make a difference in our world.
In solidarity,
Rivera Sun
Photo Credit: Protests and rallies against Anti-Asian/American hate were held across the United States in the wake of the mass shootings in Georgia.
Spotlight: MK Gandhi Institute's TikTok Project w/ Nonviolence News
When you support Nonviolence News, you support a ripple effect of fostering nonviolence in our world. This newsletter is a resource used by educators, activists, community groups, and more. Nonviolence News works in bold collaboration with these groups to make sure these stories reach far and wide. Today, we're celebrating our incredible colleagues at the MK Gandhi Institute for Nonviolence. Their newest great idea is to create summer jobs for young people turning the heartening stories you read about in Nonviolence News into TikTok videos. We believe in the power of occupying online spaces with stories that interrupt expectations of violence. We know that young people are some of the best ambassadors for conveying the power of nonviolent action. This amazing project is poised to have a tremendous impact. We hope you're as excited about it as we are!!
"Are you a TikToker between the age of 14-17? The MK Gandhi Institute for Nonviolence is hiring 3- 4 youth to create a TikTok account for Nonviolence News. Our goal is to share how people everywhere are using nonviolence to fight and expose injustice and to create positive social change." More info here>>
Women Ensure Resolution of 30-Year-Long Water Conflict In Yemen: When a water dispute put women and children at risk, these ten women in Yemen stepped forward to ensure that local leaders toook meaningful action to sort out the decades-long conflict. Read more>>
Wisconsin Teamsters Pensions Are Secure After Seven Year Fight: For the first time in seven years, thousands of Wisconsin Teamsters don't have to worry about their pensions being cut in half. The American Rescue Plan, which President Joe Biden signed into law on Thursday, included the Butch Lewis Emergency Pension Plan Relief Act of 2021. The act directs the Pension Guaranty Benefit Corp. to allocate billions of dollars to avoid the drastic cuts. Read more>>
Detroit Citizens Halt Attempts To Squash Dissent: City officials attempted to limit citizens' right to protest and dissent. The move was viewed as retaliatory for anti-police brutality organizing efforts. Fortunately, citizens succeeded in getting the city to back down. Read more>>
Utah Agency Reverses Course, Pulls Back Energy Leases In Original Bears Ears Monument: A Utah agency that came under fire last year for leasing land in the original boundaries of Bears Ears National Monument has refunded fees to the two oil and gas companies involved in the deal. Last month, the agency refunded the leasing bonuses, first-year rental costs and filing fees charged for the over 2,000 acres of trust land. Read more>>
Nursing Home Workers Block Traffic To Protest Low Wages: More than 100 long-term care workers blocked traffic in Hartford, CT, in a protest calling for better wages, more affordable health care and other changes to their working conditions, saying they have put themselves at great risk to care for the vulnerable during the coronavirus pandemic. Read more>>
Martial Law Extended in Myanmar After Junta Kills More Than 50 Protesters: "Junta leaders don't belong in power, they belong behind bars," said United Nations special rapporteur Tom Andrews. Read more>>
A New Generation of Activists Is Keeping Syria's Revolution Alive: Kesh Malek, a movement organization created in the early days of the Syrian uprising, continues to run young citizen workshops in which young men and women can learn about the principles of democracy, human rights and non-violent resistance that underpinned the revolution. The organizers also see the program as an important bulwark against extremism. Read more>>
Reimagine Safety – Police Do Not Stop Cycles of Violence. Communities Do. Aqeela Sherrills, who negotiated a truce between L.A. street gangs and lost his son to gun violence, says police are not the solution to public safety. Now the director of the Newark Community Street Team, Sherrills says grassroots groups need more money and power to stop cycles of violence. Read more>>
Oakland's Gun Violence Surge Stress Tests Alternatives To Police: A recent surge in gun violence is delivering a stress test for Oakland's defund the police campaign. Supporters of defunding the police hope non-police prevention programs will better address the root causes of violence. What they don't want to see is knee-jerk reactions to gun violence increases sabotage these meaningful efforts. Read more>>
Activists Rally to Demand Biden Issue Nationwide Ban on 'Inhumane' Utility Shutoffs: "We need a national moratorium on utility shutoffs so everyone has access to water, electricity, and broadband." Read more>>
San Diego Protesters Stand In Solidarity With Migrant Caravan: A banner drop and demonstration was held in solidarity with the migrant caravan making its way to the border through Mexico. Thousands of migrants are currently fleeing violence and persecution that are a direct result of U.S. intervention. Read more>>
Northwest Georgia Firefights "Sickout" Strike: In rural northwest Georgia, firefighters went on a second sickout strike (where they call-in-sick en masse) to protest low pay. Some firefighters are making as little as $11.67-an-hour in this high-risk, critically important line of work. Read more>>
'Not in 2030 or 2050…Now!': Climate Strikers Worldwide Demand Urgent Action: Returning to the streets a year into the coronavirus pandemic, youth campaigners are calling for "no more empty promises." Read more>>
Caravan Disrupts Line 3 Construction: A family-friendly caravan disrupted traffic at several Line 3 construction routes. During the event, authorities announced a baseless bomb threat via FEMA's Wireless Emergency Alerts system. The Carlton County Sheriff's Office also made unsubstantiated connections between the water protectors and the "potential explosive hazard." Around noon, before the caravan started, a dozen people protested near the pipeline construction just feet away from Camp Migizi on the Fond Du Lac Reservation. Read more>>
Nature Needs A Pronoun. "It" Doesn't Suffice: Anishinaabe author Robin Wall Kimmerer recommends "ki" and "kin". "Ki" to signify a being of the living Earth. Not "he" or "she," but "ki." So that when we speak of Sugar Maple, we say, "Oh that beautiful tree, ki is giving us sap again this spring." If a plural pronoun is needed, Kimmerer recommends that this new pronoun be "kin." Read more>>
The Forest Occupation Movement In Germany: Since February 26, 2021, people have been occupying a forest near Ravensburg called Altdorfer Wald. A gravel pit is threatening the forest's existence and some activists who had earlier built climate camps and tree houses in the inner city of Ravensburg decided to live in the forest to protect it. Read more>>
As Big Environmental Agencies Fail To Protect; Citizens Are Stepping Up: Over the last decade a new generation of activists has significantly grown, focusing on "the intersection of race, class, environment and colonialism – how they're all interconnected," said Jan Victor Andasan, an East Yard organizer. This approach to environmental organizing strives to protect communities as big agencies fail to stop destructive industries from poisoning and polluting. Read more>>
Stop Line 3 Mural Paints The Street In Oakland: Activists from Idle No More SF, 1,000 Grandmothers for Future Generations and the Climate Justice Street Mural Project gathered together for another mural action. Led by members of Extinction Rebellion SF Bay, they blockaded the street outside of the Oakland Federal Building and painted a beautiful mural with a clear message to the Biden and Harris administration: STOP LINE 3 & DAPL – BUILD BACK FOSSIL FREE!!! Read more>>
An Investment Company Has Turned To Activism To Get Exxon To Shape Up: The activist investor leading a proxy fight to reshape Exxon Mobil Corp on Monday named the four directors it wants shareholders to remove at the oil company's upcoming annual general meeting. The investor, Engine No. 1, is a small fund that last year took on the top U.S. oil producer for what it said was poor financial returns and a lagging approach to cleaner fuels. Exxon since has vowed to cut its debt, invest more in low-carbon initiatives, and improve returns. Engine No. 1 says that's not enough. Read more>>
Tribal Nations Fight Gold Mine Near Death Valley: Spurred by the rising price of gold, K2 Gold Corp., of Vancouver, Canada, is drilling and trenching in hopes of selling its findings or partnering with a bigger company that would, perhaps, transform the public lands into an open pit cyanide heap leach mine, just a few miles from Death Valley. Tribal Nations are resisting the plan. Read more>>
Racial Justice Groups Demand Georgia Corps End Silent Complicity Voting Rights Erosion: Racial justice activists in Georgia this week intensified a pressure campaign aimed at forcing major corporations headquartered in the state's capital—from Coca-Cola to Home Depot to UPS—to end their complicity in the GOP's sweeping assault on voting rights. They demand that the big companies actively combat the draconian disenfranchisement efforts currently making their way through the legislature. Read more>>
Asian Americans, Allies Rally Against Racist Violence and White Supremacy After Atlanta Murders: "We're out here because people who look like me are being killed. Our Black, brown, and Indigenous siblings are also being killed. This collective power is what we need." Read more>>
The Answer to Anti-Asian Racism Is Not More Policing: Policing is rooted in upholding white supremacy while enabling racist systems to inflict harm on communities of color. Read more>>
'Say Her Name': Rallies and Marches Mark One-Year Anniversary of Breonna Taylor's Killing: "This is not a celebration. This is the anniversary of something that should not have happened." Read more>>
Minneapolis and This Moment: Nearly a year after George Floyd's death, many activists, citizens and people of color are still on edge. Read more>>
Black Workers in Alabama Aim to Slay the Trillion-Dollar Behemoth That Is Amazon: Unionizing the Amazon warehouse workforce, which is 85 percent Black, is above all a civil rights issue, say organizers. Read more>>
Anti-Asian Violence Is Rooted In A Long History of Racism and U.S. Policy: Violence against Asian Americans is not just isolated violent attacks by bad actors; it is also a system of policy and a legacy of dehumanization. Individual actions feed into the larger system of violence and, in turn, the racist foundation of the American system empowers additional acts of violence. Read more>>
Same Struggle, New System: How the Movement for Black Lives Is Holding Police Accountable: An activist and former police officer explain what must be done to create lasting changes. Read more>>
'Tidal Wave of Rage': 100,000+ Australian Women March Against Sexual Violence: "Evil thrives in silence," said survivor and Australian of the Year Grace Tame. "But (this action) gives me hope because the start of the solution is also quite simple—making noise!" Read more>>
How Do We Stop Graphic Portrayals Of Violence Against Women? Boycott It: From porn to movies, violence toward women is frequently portrayed. One way to stop it is to boycott it. Read more>>
Women in Peace and Nonviolence Work: "Often when we think of peaceful leaders who practiced nonviolence, we think about individuals such as Nelson Mandela and Dr.King, and while the work of these individuals has been massively important, this immediate jump to men leaves out the important work of women in the field. Women have been essential to peace work and have helped to create a more peaceful society. In honor of Women's History Month, I want to highlight important women in the peace work field and what they have done for the greater global society." Read more>>
Shocked by Sexism In School, Dad Writes Letter Asking that the 1968 Timewarp In the Building Be Fixed: When boys were sent on a field trip to a hardware store and girls went to get their hair done, this modern dad didn't get mad, he got hilarious. He wrote a letter notifying the school that there was a rift in the time space continuum somewhere in the school … and it should be fixed immediately. Read more>>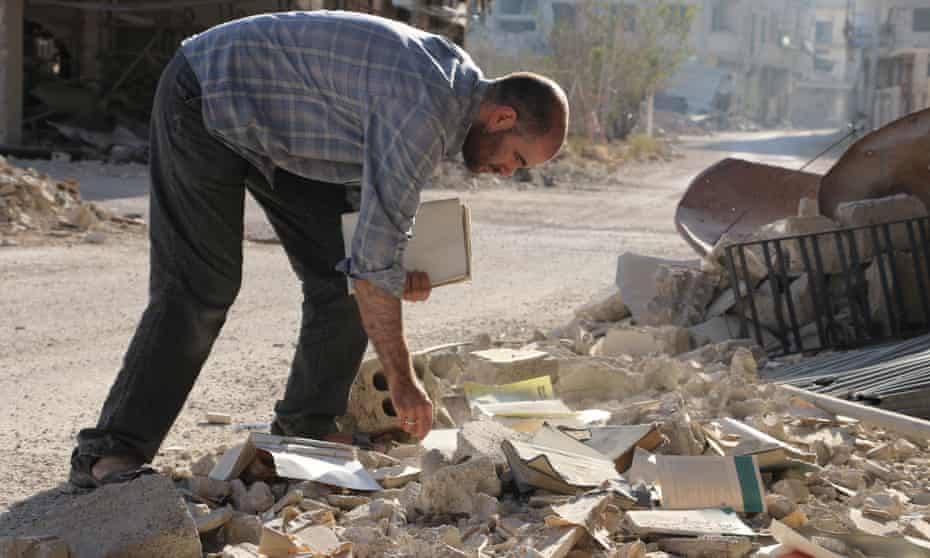 Syria's Rebel Librarians: In a town under siege from Assad's regime, a small group of revolutionaries found a new mission: to build a library from books rescued from the rubble. For those stranded in the city, books offered an imaginative escape from the horrors of war. Read more>>
MK Gandhi Institute Invests in Youth Healing Hate Grants: From a student club to a peace garden to a mural and more, these youth projects are aimed at healing hate. Read more>>
Street Spirit Releases Anti-Eviction Art Kit: Six bold and beautiful, downloadable posters teach how to resist evictions. Read more>>
Gamers For Peace: Gamers For Peace is a new initiative of Veterans For Peace. The endeavor is dedicated to confronting military recruitment in gaming hobby spaces such as video gaming. The group hopes to use this alternative medium as a way to talk about the intersections of peace and social justice activism with the gaming universe. Read more>>
Leave No One Behind: The Leave No One Behind Mural Project is led by a coalition of veteran support groups, immigrant organizations, and academics. Through a multi-sited public art project entitled "Leave No One Behind," the coalition urges the Biden-Harris administration and Congress to enact immigration policy to repatriate Deported Veterans, protect Childhood Arrivals, end family separation, and reunite families. Through a multi-sited public art project, the project seeks to uplift the stories of Deported Veterans, Dreamers, childhood arrivals, and permanent residents. Read more>>
Make Art, Not War! Tens of thousands of Haitians have been taking to the streets to protest neo-colonialist US-backed dictator Jovenel Moïse, who has refused to step down after the official end of his term two weeks ago. Code Pink and others are mobilizing art and creative action in solidarity. Read more>>
Three Women Discuss Relearning Their Native Languages During the Pandemic: For many, the practice of reconnecting with their native tongues has reinforced cultural connections. Read more>>
Resisting Occupation – Connecting Palestine and Western Sahara: Palestinian and Sahrawi voices share their experience of nonviolent resistance to occupation in Palestine and Western Sahara. Read more>>
Reflecting on a Lifetime of Progressive Victories at 90-Years-Old: Social Security pensions, the right of workers to organize, the 40-hour week, halting child labor, racial integration, separation of church and state, ending censorship, one man, one vote, Medicare, Medicaid, the great civil rights movement, women's equality, acceptance of LBGTQIA —a liberal tsunami occurred in a single lifetime. Read more>>
Remembering Bayard Rustin: He organized the March on Washington. He convinced Dr. King to get rid of his gun. Bayard Rustin was a powerful Civil Rights organizer. Learn more about him here>>
Rejecting Settler Logic— An Indigenous View of American Borders: Decolonizing our view of American borders is necessary to achieving justice and ultimately healing on Turtle Island and across Abya Yala. Read more>>
The Bloody Road to Today's Borders in South Asia— And How to Move in the Direction of Peace: Nation-states will likely be with us for some time, but there are ways in which the damage of national borders in South Asia can be reduced. Read more>>
Nonviolence News Happy Hour: Next Friday, join Editor Rivera Sun and our cohosts from the MK Gandhi Institute for a friendly and informal discussion of what's interesting and exciting in Nonviolence News this month. (March 26) Learn more>>
Interrupt Anti-Asian Violence: In response to the rise in Anti-Asian/American and xenophobic harassment, Hollaback! has partnered with Asian Americans Advancing Justice to adapt their free bystander intervention training and offer a de-escalation training to meet this moment. Sign up for one of Hollaback's trainings here>>
Lift Sanctions Campaign: U.S. economic sanctions technically exempt humanitarian items — but banks, insurance companies, and other corporations are afraid that if they make loans, provide insurance for shipments, or send goods, the U.S. government will accuse them of violating the sanctions, levy hefty fines, and place them on a banned business list. This campaign urges President Biden to lift medical sanctions against other nations during the pandemic, and encourage those groups to help humanitarian causes. Learn more>>
#FreeTheWomen: In Solidarity With Female Political Prisoners: Support female political prisoners worldwide in their efforts towards freedom and justice with these social media posts that need uplifting. Learn more>>
Boycott Illegal Occupation In Western Sahara: Please support boycott efforts targeting companies that benefit from illegal occupation and theft in the Western Sahara, as well as companies doing the same in Palestine. Learn more>>
Palestine Is A Feminist Issue: Join this conversation about emerging Palestinian feminist organizing from Tal'aat in Palestine and the Palestinian Feminist Collective in the United States to understand how there is no free homeland without free women. Learn more>>
World Beyond War + Rotary Action Group For Peace Announce New Youth Organizing Project: World BEYOND War (WBW) is excited to announce the Peace Education and Action for Impact project, a cross-cultural, intergenerational project conceived and developed in collaboration with the Rotary Action Group for Peace (RAGFP). Join an upcoming informational webinar to find out more. (March 22) Learn more>>
Capitol Calling Party – Solidarity with Haiti & Closing Guantánamo: Guest speakers will analyze recent events in Haiti from an anti-colonial perspective and ask listeners to organize actions to support the upcoming International Day of Solidarity with Haiti on March 29th. Following the discussion of Haiti, the call will hear from Chris Anders, senior legislative counsel at the ACLU, on the next steps in the campaign to close Guantánamo Bay Detention Center. (March 23) Learn more>>
Campaign Nonviolence Skillbuilding Webinar "Building Momentum": Learn how to build participation in your nonviolent actions with creativity, art, humor and best practices from both historic and current movements. (March 23) Learn more>>
Backbone Campaign Monthly Call: Creative Action On the Frontlines: Yvette Arellano of Fenceline Watch will speak about their work holding the fossil fuel industry accountable to the communities it disproportionately affects on the fenceline. Speakers will also talk about the Break Free From Plastics Bill in Congress. Jacob Johns, having just returned from MN, will give an update on the #StopLine3 Resistance. (March 23) Learn more>>
Civil Resistance Tactics in the 21st Century: A new monograph and webinar on innovations in nonviolent tactics will be presented upon by Michael Beer of Nonviolence International. (March 24) Learn more>>
Black Resistance in the Belly of the Beast: For centuries, Black folks have resisted empire, broken free from chains, built community and movements that transcend borders, and forged understandings of ourselves and our position in the world in a global context. Building on such a rich legacy of resistance, we are excited to dive into the history and future of Black internationalism on the path toward liberation for all. (March 24) Learn more>>
Making Digital Organizing Accessible: This virtual training focuses on the best tools, teachings and practices for ensuring involvement from low-digital literacy and low-digital access folks in digital organizing. The session will look at how these groups can use digital tools to engage in building community, weighing in on government decisions and building power for change. (March 24th) Learn more>>
Live Tour of the Beautiful Trouble Toolbox: Want to learn more about one of the best online toolboxes for making change? Join a Beautiful Trouble virtual tour to find out what you're missing. (March 24, 26, 31) Learn more>>
#HaitiArt: Join CODEPINK for an online exhibit to express solidarity with the people in Haiti who are in struggle for democracy, justice, and reparations. (March 25th- March 31st) Read more>>
Building Bridges & Mediating Conflict: Join YES! Executive Director Shilpa Jain for an interactive experiential learning workshop for building bridges and working with conflicts. (March 29) Learn more>>
Healing Resistance Book Talk w/ Kazu Haga: Join this book talk and discussion with Kazu Haga. It is part of a series of practical dialogues on the intersections of peacebuilding, social justice, and democracy through the Horizons project, an initiative of the PartnersGlobal Institute and Humanity United. Horizons Project Senior Advisor Maria J. Stephan will be interviewing author and Kingian nonviolence practitioner Kazu Haga on his new book.(March 31) Learn more>>
NoDapl & Line 3 Pipeline Resistance Is Headed To DC in April: Here's a social media toolkit that you can use to spread the word and support the action. (Now-April) Learn more>>
Shut Down Creech Action Week: Peace activists in California are taking action to oppose a major drone warfare military base. (April 4-10th) Learn more>>
Nonviolence In Education Workshop: Robin Wildman, founder of the Nonviolent Schools Project and a leading organizer of Kingian Nonviolence in Education, will present an engaging lecture, with opportunity for Q and A, about how classrooms and schools can be transformed into "Beloved Communities", places where all students are loved, included, and valued as human beings. (April 6) Learn more>>
Bringing Fierce Vulnerability To the Struggle For Racial and Climate Justice: Two day webinar on the Yet-To-Be-Named Network. This training offers an overview of the network, from principles to practices, from organizational structures to what it means to be a member, and more!(April 24 & 25) Learn more>>
Buddhist Peace Fellowship Announces Block, Build, Be 2021 Retreats: Block Build Be (BBB) is a gathering for activists, organizers, healers, and seekers who desire spiritual tools and community support to keep engaging in change work from a resourced place. Learn more>>
Thank you to all our recent donors!
If today's your turn to contribute, THANK YOU! Donate here>>