Editor's Note From Rivera Sun
It's been a week of David and Goliath struggles with "little guys" around the world standing up to horrible regimes and destructive corporations. Haiti and Myanmar's resistance to coups has been gaining international attention, but major struggles are also happening in Algeria (against austerity), First Nations in Canada (against fossil fuel extraction), Australia (against logging), and the on-going farmer protests in India. In Kazakhstan, workers are finding success through strikes. Azerbaijan's LGBTQ community is organizing digital art festivals to carve out space to exist. Meanwhile, El Salvador's trans individuals are protecting their voting rights by training poll workers to respect them.
Throughout the United States, Black and Brown-led movements are challenging low wages and unfair labor practices at McDonalds and Amazon. Also, campaigns like the Enbridge Line 3 Pipeline resistance and the effort to stop the North Brooklyn Pipeline are picking up steam. In Cancer Alley, Louisiana, local residents (pictured above) are organizing to thwart Big Oil's next toxic survival strategy as we head into the post-fossil fuel age. A new report indicates that Black Lives Matter protests are having a direct, local impact on reducing police killings.
In the Knowledge Section, don't miss the "Letter To Young Activists" from the Council of Elders, a group of life-long activists that includes Rev. James Lawson and Dolores Huerta. They offer a hard-earned sense of perspective on the Capitol Insurrection on January 6th, and remind us that maintaining our nonviolence is possible even amidst rising violence by our opposition. In the Call-To-Action Section, you'll find both ways to show solidarity and a long list of upcoming courses through which you can deepen your understanding of nonviolence.
Last, but not least, Nonviolence News exists to increase our collective understanding of how nonviolence works. To that end, I wrote an article pulling out nine recent campaigns and the important lessons they offer us, including how Argentina's workers won big, how boldness can propel your cause forward, how civil disobedience resists colonialist laws, and more. Read it here and share it with a friend or a classroom.
Enjoy this week's Nonviolence News!
In solidarity,
Rivera Sun
Photo Credit: Cancer Alley residents won't let Big Oil get away with murder – again.
Story of the Week:
Using Nonviolence News As A Current Events Resource For High Schools
"Rivera Sun's Nonviolence Newsletter is a bonus to our school curriculum! Each week in Current Events class, our students review the newsletter and find a story that they report on. It was particularly insightful this year while the students have seen so many violent protests. The global peaceful protests that are successful teach them a new way to protest and to raise awareness about injustices. It is an amazing tool that they can learn by seeing images and reading stories globally that offer a nonviolent way to be heard. This speaks very much to their hearts. It has been a staple for the class and I am very grateful! Great work to Rivera Sun and the newsletter efforts!" ~Jill Jefferson, Upper School Teacher, Hearthstone School
As you can see, your support for Nonviolence News
has a huge ripple effect! Donate here>>
Kazakh Workers Increasingly Resorting To Strikes, And Succeeding: The year has started uncomfortably for Kazakhstan's mining and oil companies as workers – who often earn less than impoverished pensioners – grow more vocal in their demands for higher salaries. Companies and local authorities are going out of their way to avoid confrontation. Read more>>
Sealaska Heritage Settles Ravenstail Coat Case With Neiman Marcus, Other Defendants: A settlement has been reached around a notorious theft of an Indigenous design by fashion giant Neiman Marcus. The settlement reflects changing power dynamics around respecting Indigenous rights and will follow Tinglit law and practices. Read more>>
Activists & Advocates Get $90 Million Fracked Gas Project Dropped: A Maine natural gas company is withdrawing plans for a $90 million project announced earlier this year. In announcing the withdrawal, Summit Natural Gas alluded to political opposition to the gas pipeline that would have expanded natural gas access in nearby Waldo and Knox counties. Read more>>
City of Little Rock Unveils Harriet Tubman Sculpture: Mayor Frank Scott opened the ceremony with detailing the importance of this commemoration taking place during this month. "On this day, the twenty-fourth day of February, we all know we are in Black History Month. We all know that Black history is American history. One of the iconic, critical, everlasting figures in Black history, American history, is the woman by the name of Harriet Tubman," said Scott. Read more>>
USDA Pauses Land Transfer Of Oak Flat To Mining Company: U.S. Dept. of Agriculture (USDA) has put on hold the transfer of 5,439 acres of high-value conservation land in Arizona to Resolution Copper. The acres include Chich'il Bildagoteel, known as Oak Flat, which is the heart of several southwest tribal religious and cultural beliefs. During the last days of the Trump administration, federal officials attempted to speed up the transfer to Resolution Copper that would mine the land. Read more>>
Magpie River Becomes First Canadian River To Have Legal Personhood: In a first for Canadians, a river in Côte-Nord, Que., has been granted legal personhood by the local municipality of Minganie and the Innu Council of Ekuanitshit. The Magpie River, (Muteshekau-shipu in the Innu Coet) is an internationally renowned whitewater rafting site, winding nearly 300 kilometres before emptying into the St. Lawrence. Read more>>
New Report Gives Credit To Climate Activists For Ending Coal: The demise of coal in the USA was driven by civil resistance – not lower market prices for gas as industry says. Read more>>
69 Dams Removed From US Rivers In 2020: Nothing restores a river like removing a dam. Read more>>
Haitians Continue To Resist: Protests continue in Haiti against the dictatorship of Jovenel Moïse and the neo-colonialist, imperialist forces that back him. Tens of thousands took to the streets in Haiti's capital Port-au-Prince, on February 21, two weeks after the official end of the presidential term of Jovenel Moïse. Read more>>
Dozens of Anti-Coup Resisters Killed In Myanmar: At least 38 people have been killed after Myanmar's security forces opened fire on peaceful anti-coup protesters in multiple towns and cities, in the worst day of violence since the military coup last month. Crowds have continued to take to the streets daily in defiance of the military junta, with just goggles, hard hats and homemade shields for protection. Protesters are demanding that the military restore democracy and for their elected leaders to be released. Read more>>
Kazakhstan Cracks Down On Xinjiang Activists: After granting asylum to Chinese Turkic and Muslim activists, Kazakhstan is now denying them basic human and legal rights. Read more>>
Thousands of Algerians Protest For Economic Justice: Thousands of people demonstrated in central Algiers on Friday for a second time this week, confirming the resumption of street protests that had stopped for nearly a year because of the coronavirus pandemic. Protesters were met by security forces who used truncheons and fired tear gas. Read more>>
Transgender People in El Salvador Are Defending Their Right To Vote: LGBTQI people are giving sensitivity training to polling station staff in order to uphold their right to vote. Read more>>
Protest, Prison And Politics – The Making Of An Activist In Kazakhstan: "I did not serve four-and-a-half years in prison to come out and keep quiet." Weeks after his release, activist Maks Bokayev resumed his protests this weekend in western Kazakhstan, setting authorities on edge. Read more>>
Silicon Valley Bus Drivers Take Public Health and Free Ride Service Into Their Own Hands: A pandemic protocol of providing free rides and not dealing with money had kept bus drivers safe. When management tried to force the drivers to resume collecting fares, the bus drivers took matters into their own hands and refused to open the front doors. Passengers got free rides and boarded more safely at the back door. Read more>>
Mutual Aid Steps Up As Systems Fail: As winter storms rocked Texas and others across the South last week, Southern organizers waited for no one to do what they do best: stepping up to make it happen. Volunteers signed up to phonebank for wellness checks, and mutual aid networks continue to expand their capacity to intervene where policy has failed. Read more>>
Bystander Intervention Trainings Combat Hate Crimes Against Muslims and Asian Americans: Several nonprofit organizations in Chicago are collaborating to fight back against hate crimes and discrimination, providing free bystander intervention trainings for the public. The organizations leading the effort are focusing specifically on protecting Muslims and Asian Americans, who have consistently been the target of hate during the COVID-19 pandemic. Read more>>
Louisiana Hunger Strikers — Already in Solitary — Are Being Brutally Punished: The reprisals against the hunger strikers have included being "sprayed down" with mace within an enclosed cell block. Read more>>
North Brooklyn Pipeline Fight Is About Ending NYC's Connection To Fossil Fuels: While activists chaining themselves to pipelines have attracted media attention, the work in Brooklyn communities has gone much deeper. Throughout the year, organizers have used old-school tactics — like flyering the areas where the pipeline was being built with information about the project, working with neighborhood groups, and coordinating teach-ins — to build local support for their work. Read more>> 
Cancer Alley Rises Up: Local neighbors in the US' most toxic area are fighting what many believe to be the largest proposed industrial facility yet — one that represents Big Oil's toxic survival strategy in a future where dirty energy is finally dead. Read more>>
Vancouver Demonstration Over Jailing of Pipeline Protester Ends With 4 Arrests: Indigenous youth temporarily blocked and forced the shutdown of a major Vancouver intersection to protest a 90-day jail sentence handed to an anti-pipeline protester. About 75 people were involved in the blockade at a key entrance to the Port of Vancouver, and four were arrested when they refused to leave the intersection. Read more>> 
Forest Defenders In Australia Launch Tree-sits & Road Blockades: A campaign to protect forest lands from logging is ramping up down under. Activists have launched tree-sits and road blockades to stop the logging company from entering the area. Read more>> 
Enbridge Escalates Local Tensions Over Pipe Dream: As resistance to Enbridge Line 3 heats up, some locals, feeling the pipeline is inevitable, think protests and actions are causing more harm than good. Water protectors say otherwise. Enbridge, of course, is more than happy to add fuel to the fire and stoke divisions. Read more>> 
Stop The Money Pipeline Calendar Jam For Line 3 Floods Calendars of Corporate CEOs: Activists are filling the calendars of Chase CEO, Jamie Dimon, as well as the CEOs of Bank of America, TD Bank, Citi and two other key Chase executives, with hundreds of invitations to remind them to break up with Enbridge and defund Line 3. Read more>>
Classroom Launches Effort To Protect Peatlands: Stumbling across a proposed peat mining project while preparing a lesson plan, this teacher wound up launching a community-wide effort to protect the peatlands. Read more>> 
Arrest Made At Trans Mountain Site In Burnaby After 'Prayer Circle': A dozen "faith-based pipeline opponents" are risking arrest in an attempt to block Trans Mountain construction in Burnaby. Read more>>
Law Students Announce Boycott Of Chevron Law Firm Seward & Kissel: Students from over 50 leading U.S. law schools — including Stanford, Harvard, Yale, and New York University — have announced a recruiting boycott of a prominent Chevron law firm to protest its "unethical" private prosecution of U.S. human rights lawyer Steven Donziger after he helped win a $9.5 billion pollution judgment against Chevron. Read more>>
The Greek Island Where Renewable Energy and Hybrid Cars Rule: Islands, which usually lack fossil fuel resources, have become places for experimentation with new energy sources. Tilos is now the first island in southern Europe to build a hybrid power station with battery storage. Read more>>
How Big Tech Helps India Target Climate Activists: Naomi Klein reports on how companies such as Google and Facebook appear to be aiding and abetting a vicious government campaign against Indian environmental campaigners. Read more>>
The Climate Crisis Fuels Violence Against Women: Without women's full participation and freedom from violence, oppression, and discrimination, our efforts to address the climate crises will be an absolute failure. Read more>>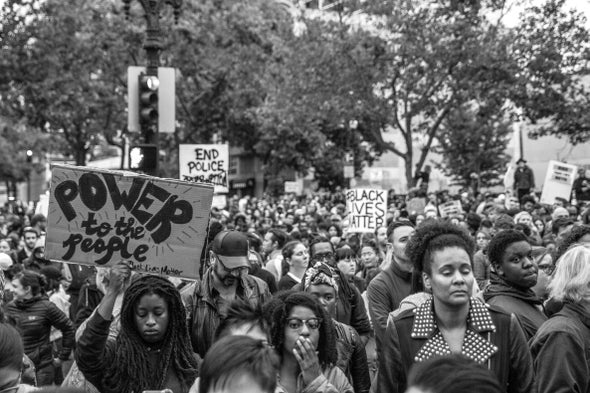 Black Lives Matter Protests Have Decreased Police Killings: Since Black Lives Matter protests gained national prominence following the 2014 police killing of Michael Brown in Ferguson, Mo., the movement has spread to hundreds of cities and towns across the U.S. Now a new study shows police homicides have significantly decreased in most cities where such protests occurred. Read more>>  
30 years After The Brutal Beating Of Rodney King, Activists Say LAPD Is 'Still Corrupt And Violent': Advocates who lived through the riots are now fighting to defund the police and dismantle unions that thwart accountability. Read more>>
90-Day Protest Kicks Off At McDonald's Headquarters: Chicago community organizers kicked off 90 days of picketing at McDonald's world headquarters in the West Loop, hoping to call attention to what they say are discriminatory practices against Black-owned franchises. Read more>>
How Can Architecture Help Rather Than Harm Blackness? In a new exhibition, the damaging impact architecture has often had on communities of color is explored along with ideas of how to move forward. Read more>>
Marshall Islanders Remember Nuclear Bombing: Marshall Islanders living on O'ahu joined members of Veterans For Peace, Hawai'i Peace & Justice and Refuse Fascism in protesting on the anniversary of the 1954 U.S. detonation of the "Castle Bravo" nuclear bomb on Bikini Atoll. After sharing words and song, five Bikinians went sailing on the historic Golden Rule anti-nuclear sailboat, a project of Veterans For Peace. Read more>> 
Making Waves – The Rebirth of the Golden Rule Boat: The Golden Rule was the very first of the environmental and peace vessels to go to sea. The Veterans For Peace have recovered and restored the original peace ship, which set sail in 1958 to stop nuclear testing in the atmosphere, and which inspired the many peace makers and peace ships that followed. The reborn Golden Rule is sailing once more, to show that nuclear abolition is possible, and that bravery and tenacity can overcome militarism. Read more>>
Students At Fordham University Fight For Their Right To Support Palestine: After a four-year legal battle, Fordham University is still refusing to allow a Palestinian rights club on campus. But students are not letting up. Read more>>
Medical Delegation Reflects On Cruelty of Gaza Blockade: On a medical delegation to Gaza Tom Foster was struck by Israel's appalling indifference to Palestinian life. "What possible security do you realize by denying a breast cancer patient the standard of care for her disease?" he asks. Editor's Note: Medical Delegations and Peace Delegations are both forms of nonviolent action aimed at revealing hidden truths and providing aid across forms of systemic violence and oppression. Read more>>
Festivals Bring Queer Art To Azerbaijani Audiences: Queer-rights activists in Azerbaijan have organized two online festivals, refusing to let the pandemic stop their fight against discrimination, hate speech and gender-based violence. Organizers hope that art can help start a conversation about inclusivity in the country, consistently rated the least tolerant in Europe. Read more>>
Myanmar Protesters Hang Skirts Across Streets To Slow Police: Protesters in Myanmar have taken to stringing up women's clothing on lines across the streets to slow down police and soldiers because walking beneath them is traditionally considered bad luck for men. The wraparound cloths, known as longyi, are hung on washing lines. Sometimes women's underwear is used too. Read more>>
Rugby Team Sings From Balcony To Thank Staff: The Kaiviti Silktails, a rugby league team from Fiji, have thanked hotel staff after their mandatory quarantine by singing from their balconies. Read more>>
Turtle Island Without Colonization Role Playing Game: A crowdfunding campaign has raised 10x its goal for a role playing game that imagines a future on Turtle Island – a future without colonization. Read more>>
Baking Homemade Bread Becomes a Public Good: For today's mutual-aid societies, the catch line is often "solidarity, not charity." Community Loaves, too, draws on the model of neighbors helping neighbors. Read more>>
'Our Work Is About Joy' Say Artists Redesigning Hospitals For Kids: Non-profit organization RxArt uses artists such as Derrick Adams and Jeff Koons to try and make the medical experience less stressful for children. Read more>>
Website Imagines Snake River Without Dams: An advocacy group angling for a free-flowing Snake River has released a detailed multimedia website envisioning what the removal of four dams could mean for the region. Read more>>
Letter To Young Activists From Council of Elders: Offering a unique perspective on the January 6th events, elders from decades of resistance struggles remind us that we can persist and succeed. "We are still learning the intentionality required to create a culture of peace. We understand the importance of embracing the philosophy of non- violence as the heart of a new culture. Out of our commitment to non-violence we were able to understand the distinction between violence and self-defense, between acting out of hate, or out of love for one another and our communities." Read more>> 
9 Skillful Struggles We Can Learn From: Nonviolence News Editor Rivera Sun uplifts nine campaigns from recent issues of Nonviolence News that offer pearls of wisdom for our efforts to wage nonviolence for peace, justice and change. Read more>>
Fight For $15 Is About More Than Minimum Wage: The campaign's February strike marks the Fight for $15's second major strike of 2021. In a press release, organizers stated they wanted to coordinate an action during Black History Month to highlight the multiple overlapping crises that Black communities are forced to navigate — all of which are exacerbated by the COVID-19 pandemic. Read more>> 
What Are Identity Politics? A Vision of Solidarity Rooted in Black Feminism: Black feminists have long advanced the argument that since our freedom is tied together, we must develop liberation strategies to free everyone. Black feminism has produced an influential analysis and approach to combating all forms of oppression — particularly patriarchy, white supremacy, and capitalism — within a common struggle known as identity politics. Read more>>
McDonald's Spies On Union Activists: Scared of workers' rights, the fast food company has stooped to spying on union activists. Read more>>
India's Farmer Protests: Since November of 2020, hundreds of thousands of Indian farmers, laborers, and allies have flooded the Delhi border to protest against new agricultural bills that they feel will undermine their livelihoods. Despite the reports of police brutality, questionable detentions, and repression of free speech, the protestors remain undeterred. Read more>>
Kazakh Authorities Use Pandemic To Squash Protests: The government of Kazakhstan is proving highly efficient in rapidly and nimbly adopting lockdown rules. Not to prevent the spread of COVID-19, though. To stop people from holding peaceful demonstrations. Read more>>
Is Foreign Support The Kiss of Death For Movements? Erica Chenoweth and Maria Stephan unveil a new in-depth report on what kinds of external support help nonviolent movements – and what kinds cause harm. Read more>>
How Pop Culture Can Help Explain The Coup In Myanmar: Disney's "The Lion King" offers critical insights into how coups work — and the causes and mechanisms behind the recent coup in Myanmar. Read more>>
Nonviolence In The Justice System: Legal scholar and activist Dr. Fania Davis explains the power of restorative justice and its ability to heal fractured communities. Read more>>
Support Amazon Workers: Don't cross the virtual picket line as Amazon workers are fighting an uphill battle to unionize. Organizers are requesting solidarity by not shopping at Amazon. Learn more>>
Demand the FBI Stop Lying and Spying On Black Activists: The FBI is denying its surveillance of Black activists. Tell them to stop lying and spying. Learn more>>
#MeToo at McDonald's: Demand that McDonald's deal with its sexual harassment problem – and that these major job advertising platforms stop placing McDonald's ads until they do. Learn more>>
Kingian Nonviolence Introduction Series: The Kingian Nonviolence workshops are transformational experiences that have helped thousands of people from around the world understand the depth of the philosophy of nonviolence, and learn to begin to bring the practices into their lives and their work. (Starts March 9) Learn more>>
Resisting Occupation – Connecting Palestine and Western Sahara: Join Nonviolence International to hear Palestinian, Sahrawi and other voices share their stories of nonviolent resistance to Moroccan and Israeli occupations. (March 10) Learn more>>
Embodying Nonviolent Communication: Join Gwen Olton, Bianca Pointner and Jonathon Jones for six weeks of exploration and practice in Nonviolent Communication through thought, speech, and embodied practices. (Starts March 11) Learn more>>
Third Harmony Screening: Join Gandhi Institute staff for a virtual screening of the Metta Center's film, The Third Harmony. Following the screening, participants are invited to join a Q&A discussion with the film's writer/director, Michael Nagler, and the Metta Center's Executive Director, Stephanie Van Hook. (March 13) Learn more>>
Campaign Nonviolence Skillbuilding Webinar "Building Momentum": Learn how to build participation in your nonviolent actions with creativity, art, humor and best practices from both historic and current movements. (March 23) Learn more>>
Nonviolence News Happy Hour: Join Editor Rivera Sun and our cohosts from the MK Gandhi Institute for a friendly and informal discussion of what's interesting and exciting in Nonviolence News this month. (March 26) Learn more>>
Lay Down My Sword and Shield – Source of and Resistance to Modern Wars: This self-paced course designed by peace activist Kathy Kelly helps participants clarify their views about participating in, paying for or in any way tolerating warfare. Learn more>>
Nonviolence In Education Workshop: Robin Wildman, founder of the Nonviolent Schools Project and a leading organizer of Kingian Nonviolence in Education, will present an engaging lecture, with opportunity for Q and A, about how classrooms and schools can be transformed into "Beloved Communities", places where all students are loved, included, and valued as human beings. (April 6) Learn more>>
Big thanks to all our recent donors! If you'd like to support us, here's how>>