Editor's Note From Rivera Sun
Myanmar's anti-coup campaign is spectacular in its persistence, size, scope, and ingenuity. Banned from protesting, citizens have started blocking roads by "accidentally" dropping bags of onions and rice, or pausing to tie their shoelaces in crosswalks. People's cars are mysteriously breaking down all over the country, backing up traffic for miles. Their bold resistance is infusing the global field of civil resistance with new tactics. We can learn a lot from their undaunted and persistent refusal to allow the military coup to remain in power.
This week's Nonviolence News shares many stories that will make your eyes widen and your jaw drop. Water protectors resisting Enbridge Line 3 Pipeline blockaded over a dozen construction sites. Indigenous activists blocked the doors to an insurance office backing the Trans Mountain Pipeline. A New Zealand community worked tirelessly for two days to rescue stranded whales with a human chain guiding them out to sea again.
This week's news also contains some long-awaited successes. Remember the story last fall about how Mashpee Wampanoag Tribal Members occupied traditional lands the Trump Administration had seized? They've regained those lands, successfully convincing the new administration to drop the seizure attempt. Nonviolence News also reported on a series of bold direct actions in Europe where Nigerian and Congolese activists were on trial for "stealing" (aka reclaiming) stolen art. Did those actions have an effect on the Dutch Government's recent decision to return artworks taken through colonization? Let's hope so.
Don't miss the article in the Knowledge Section on the savvy ways that 2020 labor organizing broke new ground. It was eye-opening and informative, full of pro-tips I'll be applying to my own organizing work. What Nonviolence News story will give you fresh energy and bright ideas for your work? Read onwards and find out.
And, please, if you can donate this week, it is greatly appreciated. Nonviolence News is supporting numerous other groups, organizations, and classrooms in showing how practical and powerful nonviolence is in our world. Your donation helps all of us keep going. Thank you!
In solidarity,
Rivera Sun
Photo Credit: Myanmar citizens resist the military coup.
Hope. Skills. Inspiration. Nonviolence News delivers it all.
Thanks for supporting us. Donate here>>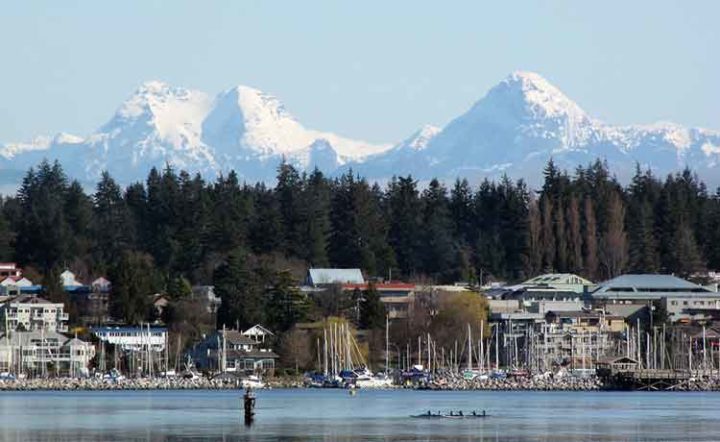 How One Community Creatively Kept Residents Fed During The Pandemic: Given the lack of substantial response by many governments to food insecurity, it has often fallen to individuals to step in and feed their communities. Here's how Comox Valley turned to people-power, mutual aid and community mobilizing to take care of its community. Read more>>
How A Black And Latinx Coalition Turned Utilities Back On In LaGrange: A coalition of Black- and immigrant-led organizations, individuals, legal support, and media coverage ended a bevy of policies that kept utilities out of reach for families. Read more>>
Feds Drop Legal Battle Against Mashpee Lands: Last fall, Indigenous organizers re-occupied stolen Mashpee Lands as the federal government under Trump tried to seize the land and deny the tribe's existence. Just recently, the Mashpee Wampanoag Tribe scored a legal victory as the Department of Interior withdrew the lawsuit. Read more>>
Fracking Banned In Delaware River Basin: In a historic move, the Delaware River Basin Commission—the body responsible for safeguarding the water quality of the Delaware River Basin—voted to outlaw fracking in the region. Four of the five Commissioners, including the governors of New York, New Jersey, Pennsylvania, and Delaware, voted for the ban. Read more>>
Miami Will Use Federal Aid To Cover One Year Rent for Struggling Tenants: The City of Miami voted to dedicate about 90% of the city's $14 million in federal COVID-19 relief funds to emergency rental assistance that will provide up to $24,000 for eligible households. About $12.7 million will go toward rent and utility payments. Read more>>
The Dutch Government Promises to Return Stolen Colonial-Era Objects: The government has agreed to adopt recommendations issued by the country's top museum experts and return stolen colonial-era items back to their countries of origin. Read more>>
160 Confederate Symbols Removed From Public Spaces In 2020, New Count Shows: Southern Poverty Law Center released the latest figures from a project that tracks how many Confederate or slave-owner monuments have been removed from public spaces. Read more>>
People Crowdfunded $150,000 For Mother Who Was Arrested For Having To Leave Her Children In Motel Room To Work: Shaina Bell, a 24-year old mother of three, was arrested in Liberty Township, Ohio, and charged with two counts of misdemeanor child endangerment after she left two of her children alone in a motel room while she worked her job at Little Caesars. Now, a GoFundMe page set up by Bell to help her find permanent housing and other financial support—with a goal of raising only $5,000—has raised more than $150,000 in funds. Read more>>
Miami Justice For Janitors Strike: Workers at SFM Janitorial Services say they are routinely exposed to dangerous chemicals for inferior pay. When they raised their concerns, they said they often faced retaliation from the higher-ups. Now, they have gone on strike seeking union recognition. Read more>>
As Farmers Expand Their Agitation, Indian Government Intensifies Repression: Pushed on the back foot by the popular support for the farmers' agitation against its pro-agribusiness farm laws, India's right-wing Bharatiya Janata Party (BJP) government is systematically intensifying state repression against protesters and their supporters. Read more>>
Fight Until We Win': Despite Threat of Deadly Force, Hundreds of Thousands Continue Protests Against Myanmar Coup: "We don't want the junta, we want democracy," said one protester. "We want to create our own future." Read more>>
Texans Rally To Help Neighbors As Officials Are Caught Cold: With huge gaps in the state and local response to the winter crisis, volunteers are stepping up to provide vital services. As systems fail to care for the people, ordinary people are stepping up to take care of one another with mutual aid, direct action, and volunteer assistance. Read more>>
LA Teachers & Community Resist COVID-19 Risky Re-openings: A 100-car caravan stretched through downtown Los Angeles to oppose open risky school reopening plans. Cars were adorned with bilingual signs saying Not My Child, Schools Are Not Safe; End Educational Racism; Teachers Lives Matter; AND Don't Save the Economy by Risking a Child's Life. Read more>>
Fast Food Workers Went On Strike For $15 An Hour In 15 Cities: Fast food workers in 15 cities across the country went on a one-day strike on February 16, to demand that their employers—including McDonald's, Burger King, and Wendy's—pay them $15 an hour and give them union rights. Read more>>
After Grisly Murder, Azerbaijan Women Hold Protest In Baku: Femicide in Azerbaijan remains a pressing, unaddressed issue. After a recent murder, protesters rallied in front of the Government House holding posters that read "femicide is political." Police took away the posters after observing the scene for a few minutes. Police also escorted women out of the site. Protestors said the demonstration was given impetus by the brutal murder of Banu Maharramova. Read more>>
As Colleges Reopen, Higher Education Workers Are Organizing for Their Own Safety: Economic disparities and unsafe working conditions are motivating staff on campuses to build power through unions. Read more>>
Oregon Long-Term Care Workers on Strike for Union Recognition: Fed up at inadequate pandemic responses by management, workers are unionizing at a long-term care facility. However, so far, the company has refused to recognize the union, which has led workers to go on strike. Read more>>
"What Are We Going to Do About It?" Mariame Kaba Talks Abolition in Action: To create a world without prisons and policing, we must first push past the ceiling oppression puts on our imagination. Read more>>
'Piecing Together a Broken Heart', Native Americans Rebuild Lost Territories: Tribes across the US are buying back land lost during and after the colonization period. Read more>>
Eugene Community Residents Rally Behind Family Targeted By Hate: After someone hung a noose outside a Black family's house, more than 100 community members rallied to demand justice for the family. They said it's upsetting someone brought hate to a family that has shown nothing but love to their neighbors. Read more>>
'Black and Asian Unity': Attacks On Elders Spark Reckoning With Racism's Root: A spate of pandemic-era violence has shined a light on anti-Asian bias, stoking concerns of division between two minority communities. Read more>>
US Soccer's Stand or Kneel Rules Turn A Corner: The overwhelmingly white and male board that banned kneeling during the national anthem has now changed its tune – thanks to 20 million protesters in summer 2021 and female soccer players like Megan Rapinoe. Read more>>
Prayer Walk Aims To Defend the Everglades: A group of 26 people circled the 118-mile circumference of Lake Okeechobee in seven days on a Prayer Walk. The purpose was to draw attention to conservation efforts in the Everglades and show opposition to what's called 404 permitting, which takes regulation of dredging activity away from the United States Environmental Protection Agency and hands it to the much more permissive state of Florida. Read more>>
Fighting 'Disease of Greed and Destruction,' Water Protectors Blockade Over a Dozen Line 3 Worksites: Anti-pipeline campaigners locked themselves to an overturned car and engaged in other forms of civil disobedience as the fight against the tar sands project in Minnesota continues. Read more>>
As Millions in Texas Lack Safe Water, Activists Rally for Green New Deal: Youth leaders with the Sunrise Movement rallied at Texas' capitol in response to the state's cascading crises. Read more>>
Why a Tiny Island Created the Biggest Marine Sanctuary in the South Atlantic: Tristan da Cunha was first inhabited to keep an eye on Napoleon; now residents are looking out for lobsters. Read more>>
Tiny Costa Rica Issues Big Challenge To The World: When it comes to the environment, few countries rival Costa Rica in terms of action and ambition. They're aiming for total decarbonization by 2050, not just a "net zero" target. It has regrown large areas of tropical rainforest and much more. Now Costa Rica has turned its attention to securing an ambitious international agreement on halting biodiversity loss. Read more>>
Investors Managing $250 Billion in Assets Call on Big Banks to Stop Funding Mountain Valley Pipeline: Citing the Mountain Valley Pipeline's negative social and environmental impacts as well as its financial risks, a coalition of investors managing nearly a quarter-trillion dollars on Thursday sent a letter to some of the largest U.S. banks calling on them to end any and all funding for the fossil fuel project. Read more>>
Baltimore Continues Incinerating Trash, But Activists Launch A New Tactic: One environmental activist who's been battling incinerators in the city for a decade has a new strategy: "starving the beast" through recycling and composting. Read more>>
Indigenous Youth Demand End To Trans Mountain Insurance: A group of Indigenous youth took their fight against the Trans Mountain Pipeline expansion project to the Vancouver offices of insurance companies backing the controversial venture, blockading the doors and demonstrating. Read more>>
Campaign Kicks Off For 30 Million Solar Homes in the US: Among many pressing issues, the United States currently faces three major challenges: rebuilding the economy, addressing the climate crisis, and rectifying racial injustices. Building local solar to serve 30 million homes — the equivalent of one in four American households — can help solve all three. In addition, solar on 30 million homes will put people in charge of their own power and reduce the ability of monopoly utilities to favor their shareholder and fossil fuel interests. Read more>>
Human Chain Rescues Whales: In a tireless, two-day effort, volunteers in New Zealand joined together to successfully refloat a pod of long-finned pilot whales stranded on the beach. Editor's Note: We often thinking nonviolence as something humans practice toward one another, but nonviolence toward the Earth and our fellow species is critically important in our world today. This story illuminates how humans can aid and assist other species, rather than harming them. Read more>>
Myanmar's 'Civil Disobedience Movement' Has Produced Many Inventive Ways of Protesting: Even broken-down cars, picking up onions and tying shoelaces have become anti-coup actions. Read more>>
Anonymous Artist Installs Bust of York, Enslaved Explorer Who Accompanied Lewis and Clark, in Portland Park: An anonymous guerrilla artist surreptitiously installed a monument honoring York, a black man who accompanied Lewis and Clark on their famed 1804 expedition, at Mount Tabor Park in Portland, Oregon. The new statue replaces one of a conservative editor who opposed many progressive social movements. Read more>>
2020 Was A Pivotal Year For Labor Organizing. Here's How: From support for labor organizers to mass protests and surging strike actions, 2020 was a pivotal year for labor organizing. This article takes a look at what went right in an insane year of pandemics and protests. Read more>>
Glossary of Civil Resistance Offers Key Terms & Global Translation Codes: The field of civil resistance is dedicated to understanding how people can fight for rights, freedom, and justice without the use of violence. This glossary provides definitions and expansive commentary on civil resistance terminology to support sharing of lessons learned and research across different languages. Read more>>
Did #BringBackOurGirls Hashtag Delay The Release of Boko Haram Captives? "The small team that ultimately answered the global demand to rescue the Chibok girls worked in secret for one of the world's most discrete governments and smallest states. Its success relied not on loudly expressing moral judgment but on suspending it. They tried to reason with Boko Haram instead of denouncing it," he said. Read more>>
American Pop Culture Feeds the War on Peace: U.S. pop culture's honoring of soldiers above all others shapes and reinforces a deadly militarism. Read more>>
Claudette Colvin Refused To Give Up Her Bus Seat 9 Months Before Rosa Parks: It was a spring afternoon in 1955 when a teenager's spontaneous act of defiance changed US history. Why did it take 40 years for her to get any credit? Read more>>
Revolutionary Nonviolence & Black Struggles Have Deep Connections: Back in the 1930's, Black newspapers were reporting on the Indian Independence movement with great interest. Transnational solidarity between Black and white clergy in the U.S. and Indian activists abroad brought the strategies of revolutionary nonviolence stateside. In 1940, the Harlem Ashram was established as a place for spiritual leaders, organizers, and activists to gather and work together using these strategies to dismantle racial segregation. This incubator of nonviolence gave rise to others. Read more>>
Support Amazon Workers! Amazon workers are campaigning for the first-ever union at a US Amazon facility, against one of the most anti-union companies in the world, owned by the richest man in the world. To spread the word and show your solidarity, sign this Petition to Stop Union-Busting and find social media graphics to share here>>
Troops Out of Afghanistan: Sign and share this new petition that will be delivered to 35 nations' governments demanding that they remove troops from Afghanistan, and thanking the seven nations that have removed their troops. Learn more>>
Five Action Items to Stop Anti-Trans Bills: Over the past six years, state legislatures have made it a priority to attack transgender youth. This year, we are witnessing a record number of bills proposed in states across the country with many moving quickly through the legislative process. Here's how you can help stop this trend. Learn more>>
Defund Line 3: Indigenous Water Protectors and allies have been using nonviolent direct action to halt the construction of Enbridge Line 3 oil pipeline. You can support them by pushing banks and investors to #DefundLine3. Learn more>>
Kingian Nonviolence Introduction Series: The Kingian Nonviolence workshops are transformational experiences that have helped thousands of people from around the world understand the depth of the philosophy of nonviolence, and learn to begin to bring the practices into their lives and their work. (Starts March 1) Learn more>>
The Role of External Support in Nonviolent Campaigns: Poisoned Chalice or Holy Grail?: Erica Chenoweth and Maria Stephan unveil a new groundbreaking study, examining the ways that external assistance impacted the characteristics and success rates of post-2000 revolutionary nonviolent uprisings. (March 3) Learn more>>
Your support keeps Nonviolence News reaching tens of thousands of people.
That's a big impact for a small operation. Thanks for making it possible. Donate here>>