Editor's Note From Rivera Sun
It's a (nonviolent) action-packed edition of Nonviolence News. Teachers in Columbus, OH, are on a "sick-out" strike to keep their community healthy. Taxi drivers shut down the Brooklyn Bridge over the debt burdens of their licensing fees. Haitians launched a 48-hr general strike against austerity and corrupt political leaders. In St. Louis, incarcerated persons have seized their units in protest of abhorrent prison conditions. In Myanmar, tens of thousands are trying to stop a military coup. Inuits are blockading an iron mine in -30 C weather. The Anishinaabe and allies are locking down to the Enbridge Line 3 Pipeline in Minnesota. Indigenous youth running in below zero temperatures to protest the DAPL pipeline. Women in Iraq and Syria working to dismantle violent extremism. And that's just for starters.
What stories inspired you this month? Keep a collection. On Feb 26th, we'll be holding our first virtual Nonviolence News Happy Hour of the year. Bring your questions. Bring your insights. Most of all, bring your friends. It's free, but please register here>>
What was my favorite story this week? A pair of stories about Exxon. An engineer just quit, fed up with Exxon's destruction of our one-and-only planet. Meanwhile, Exxon stockholders are disgruntled with the company, urging the fossil fuel giant to hurry up and diversify its energy portfolio. The handwriting is on the wall.
In solidarity,
Rivera Sun
Photo Credit: Taxi Drivers protest in New York City.
We appreciate your support! Thank you. Donate here>>
Maori Lawmaker's Civil Disobedience Changes Dress Code: In New Zealand, a Maori lawmaker was thrown out of the building for refusing to wear a necktie. He called it a "colonial noose". His refusal to obey an unjust law resulted in the law being overturned.  Read more>>
US Doubles Size Of Healthiest Coral Reef Marine Sanctuary: The Gulf of Mexico's largest coral sanctuary just got 200% bigger, now that the U.S. government formally approved the expansion of the Flower Garden Banks National Marine Sanctuary. Read more>>
Denver's #DefundPolice Is Working: A program that replaced cops in responding to mental health calls is showing signs of success. Here's what they did and how it's working. Read more>>
Students Halt "You Matter" Campaign, Opposing Cooption of Black Lives Matter Slogan: A campaign aimed at mental health was protested by students for diminishing the impact of Black racial justice efforts. It was dropped by the school district. Read more>>
Haiti Launches General Strike: In the midst of a devastating economic crisis and rising crime wave, unions across Haiti have called a general strike against both the spate of kidnappings and the corrupt regime of Jovenel Moïse. Read more>>
In Myanmar, Tens of Thousands March Against Military Coup For Second Day: Large demonstrations across country despite junta blocking internet access and restricting phone lines. Read more>>
In Turkey, Students Protest Against Erdogan's University Rector: When President Erdogan appointed a new rector of the university without any consultation with students and faculty, it set off a student revolt. The position was traditionally filled by democratic election. Read more>>
Columbus Teachers "Sick-Out" Strike With Covid Cases Still High: A week after Columbus, Ohio schools returned to in-person instruction, teachers at three elementary schools there refused to return to the in-person instruction because COVID cases were still high. The teachers declined to comment directly on the "sick-out" strike and the union denied that they were directly coordinating it. Read more>>
Released Kazakh Activist Vows More Demonstrations: Max Bokayev served five years in prison after forcing the government to backtrack on land reforms. Read more>>
NYC Taxi Drivers Shut Down the Brooklyn Bridge: In New York City, taxi drivers shut down the Brooklyn Bridge demanding federal and local relief from the excessive debt they've accrued from purchasing the required medallion certification to drive taxis in the city. Read more>>
Nearly A Hundred Kurdish Activists Detained By Iran's Security Forces In 2021: With the turn of 2021, the Islamic Republic of Iran has unleashed the latest chapter of repression against its Kurdish population, carrying a wave of arbitrary arrests targeting Kurdish civil society activists. These include human rights activists, environmentalists, and artists. Read more>>
Saudi Human Rights Activist Released, But Fight Continues: Prominent Saudi human rights activist Loujain al-Hathloul was released Wednesday after over 1001 days in prison—a development welcomed by her supporters worldwide who stressed that the release must be accompanied by her full, unconditional freedom. Read more>>
Philadelphia Teachers Bundle Up To Protest Back-to-School Plans With Outdoor Teach-ins: Philadelphia public school teachers bundled up in winter coats, gloves and hats sat outside on folding chairs on a bitter cold Monday morning as a show of solidarity over concerns about coronavirus safety amid a planned return to classrooms. Read more>>
75 Striking Workers Halt Construction of Amazon Facility: Workers walked off the job at the site of a future Amazon warehouse in Oxnard, California on Thursday because Amazon's contractor hired non-union, out-of-state workers for the project, union officials said. Read more>>
St. Louis Inmates Take Over Prison Units: The inmates of the St. Louis Justice Center staged an act of civil disobedience because of the inhumane treatment by CJC Management concerning COVID-19 along with other issues. Expo StL was made aware that more than 50 inmates participated in a peaceful protest that took place on December 29. Nothing was done to address those issues and the escalating uprising is the natural evolution of the actions of living and feeling human beings. Read more>>
Cop Free Libraries Program Aims To Reduce Policing In Public Libraries: For the poor, public libraries provide critically important resources of warm, restrooms, running water, and internet access. But public libraries are policed heavily. Here's how some communities are changing that. Read more>>
Indigenous Protest Super Bowl "Chiefs": About two dozen activists stood on the sidewalk in Sunday's early evening light, with the stadium looming behind them as pregame festivities ramped up. They held signs and called out to passing fans over the thump of stadium music, hoping to call attention to the harm of using Native American names and imagery that perpetuate stereotypes. Read more>>
Phoenix, AZ, Police Officers Invented A Gang To Target Anti-Police Brutality Protesters: Police are claiming that anti-police protesters are part of a dangerous criminal gang. The gang charges, based on broad and easily-abused statutes, are a clear "political prosecution" intended to silence dissent and scare protesters from organizing, according to community activists, defense attorneys, and legal groups like the ACLU. Read more>>
Ben & Jerry's Ice Cream Honors Colin Kaepernick With Super Bowl Billboards: The socially conscious ice-cream brand has put up a mural and billboards in Tampa, Fla. — where the Super Bowl football game is happening — dedicated to the work of the embattled professional football and activist. Read more>>
Inuit Hunters Block Iron Mine in -30 C Weather: They traveled two days on snowmobiles, set up encampments in the proposed mine site and blockaded construction for a full week. Why? Because mining is driving the animals out of the region. Read more>>
Water Protectors, Wild Rice, And the Resistance To Line 3: "We are digging in for the winter. After all, we've got good genes and warm clothes, and being outside during the pandemic is a good idea. But, really, we are looking to Washington now. This is the Pandemic Pipeline Project, and it shouldn't happen. It's the end of the tar sands era and it's time for a just transition." Read more>>
Indigenous Youth Embark on Sub-Zero, 93-Mile Run to Protest Dakota Access Pipeline: Despite sub-zero temperatures, group of Indigenous youth on Tuesday kicked off a 93-mile run to protest the Dakota Access Pipeline and demand that the Biden administration #BuildBackFossilFree. The run began shortly after 8am CST from a drill pad in Timber Lake, South Dakota—where the youth braved a wind chill of -26°F (-32°C)—and will end at the Oceti Sakowin Camp site, the center of heated resistance to the pipeline in 2016. Read more>>
Black Communities Fight Racist And Polluting Pipeline Project: Black communities in Memphis, TN are leading a growing opposition campaign to the Byhalia Connection Pipeline, a proposed crude oil pipeline funded by the fossil fuel corporations Valero and Plains All American. Read more>>
Exxon, Under Pressure, Says it Will Take More Steps to Cut Emissions. Investors Are Not Impressed: Shareholders want the oil giant to reduce spending on new production and add clean energy expertise to its board, but the company's responses have seemed incremental. Read more>>
Exxon Mobile Engineer Quits To Live Low-Carbon Life: After 16 years of working for the oil giant, Dar-Lon Chang said Exxon would not address climate change. So he quit the sector for good, and began a new low-carbon life. Read more>>
Critics Skeptical As Alberta Reverses Course On Open-pit Coal Mines: After months of ignoring a grassroots protest movement opposing plans to allow open-pit coal mining in Alberta's Rockies, Energy Minister Sonya Savage said today the provincial government made a mistake and is now prepared to fix it. Read more>>
Returning to the Roots of Community Resilience in Hawai'i: Hawai'i is "showing the rest of the country how circular and regenerative and local food systems can support the economy, strengthen cultural heritage, and improve the overall health of the community." Read more>>
Women Acting to Dismantle Violent Extremism: Women in Iraq and Syria have engaged in preventing and countering violent extremism (P/CVE) work in different capacities—as individual activists or government officials, or through women-led CSOs or activist-run media—and are thereby challenging taboos against women's activism, opening space for other women to become engaged, and demonstrating the value of their peace and security advocacy. Read more>>
I'm on Hunger Strike in Guantánamo. I Dream of Cooking for My Family. Before I was kidnapped, tortured and flown halfway around the world in chains, I loved cooking. Read more>>
50 Years Ago, Winter Soldier Exposed the Vietnam War As One Long War Crime: Despite being largely ignored, the powerful testimony by vets at Winter Soldier alerted the American public that the whole war in Vietnam was an atrocity. Read more>>
The Bloody Road To Today's Borders In South Asia — And How To Move In The Direction of Peace: Nation-states will likely be with us for some time, but there are ways in which the damage of national borders in South Asia can be reduced. Read more>>
The Black Antiwar Movement Demands Biden Take Concrete Steps To End The Wars At Home And Abroad: The Black Alliance for Peace (BAP) recently launched two new campaigns calling for specific actions the Biden administration can take to end militarization of black and brown communities and to end the 'forever war' on Afghanistan. Read more>>
How Pots & Pans Became Tools of Protest From Chile To Myanmar: The cacerolazo has a long and impressive history of shaking up change. Read more>>
Russians Plan Lightshow Of Love For Navalny On Valentine's Day: Despite warnings against small protests from the government, Russian citizens are still planning to hold up cellphone lights in a creative demonstration supporting journalist Navalny. Read more>>
Tiny House Villages Grow During Housing Squeeze: Tiny house villages throughout the U.S. are expanding despite a pandemic-led recession and zoning challenges for owners. Read more>>
Buddhist Monks Ordained Trees To Save The Forest: By ordaining the trees, they became sacred, stopping clear-cutting and deforestation. Ultimately, this led to a wider conservation effort in the area. Editor's Note: This article is from 2018, but it was too good not to share again. Read more>>
How A Climate Activist Is Mapping Out The Vatican's Climate Transition: Molly Burhans wants the Catholic Church to put its assets—which include farms, forests, oil wells, and millions of acres of land—to better use. But, first, she has to map them. Read more>>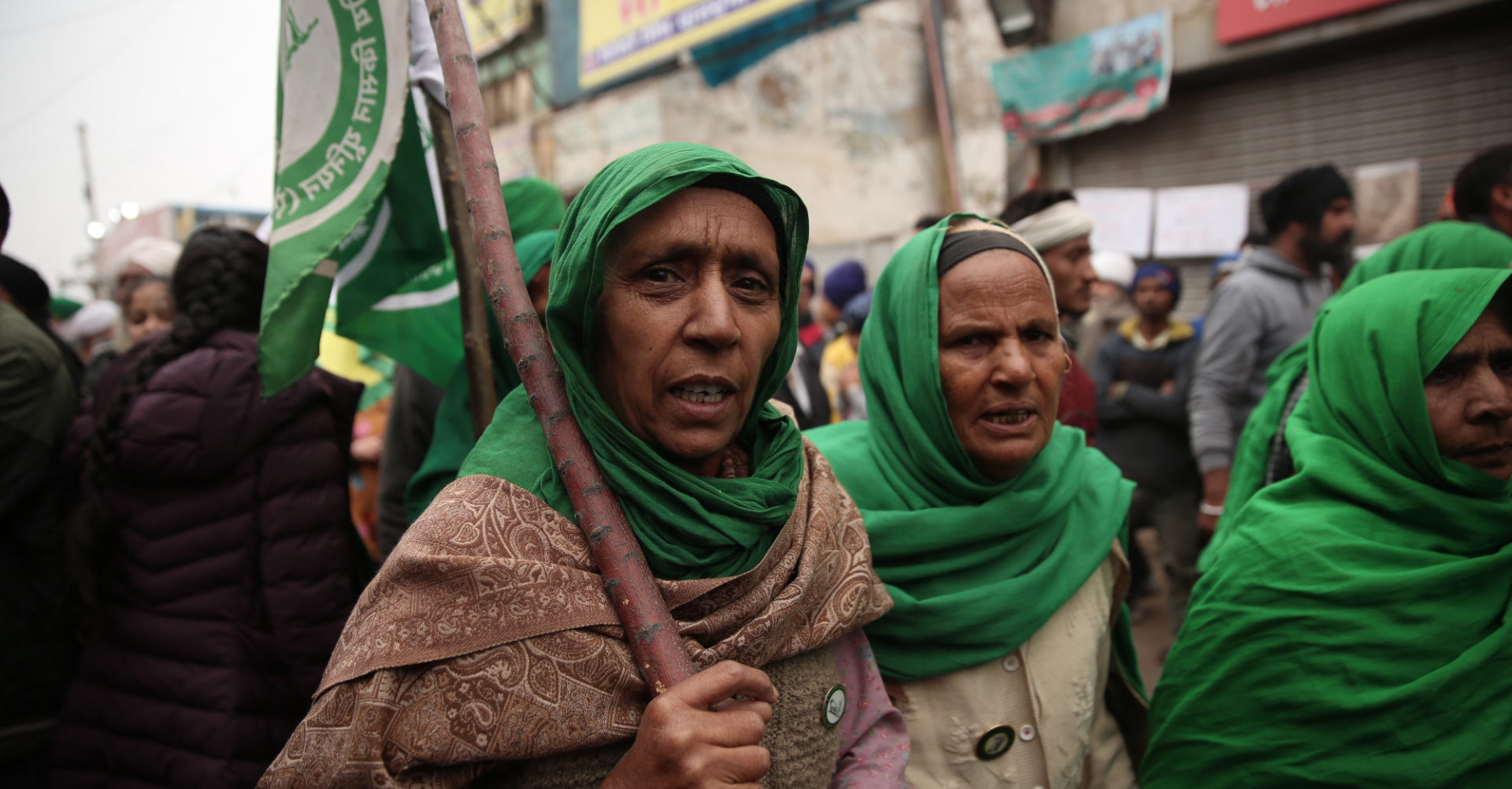 Lessons From the Front Line Of India's Historic Farmer Protests: Recent protests in India broke world records for size – and they're winning partial gains. Take a look inside the movement with one of its organizers and learn from the best practices and missteps. Read more>>
Beyond The Dreamer – King's Vision For Economic Justice: Dr. Martin Luther King, Jr. spoke out not only on civil rights concerns, but on general economic justice and the flawed democracy of our current system. Alperovitz discusses how King's words relate to the need for profound change towards a democratic, participatory system, as is still needed and fought for today. Read more>>
Striving For Dignity In Homelessness Research And Outreach: "I was stigmatized as a queer female in rural Kentucky. My personal quest for equal rights now informs my push for a revamped public health approach to homelessness." Read more>>
Meet The Trailblazing Nuns Who Took On The Patriarchy Of The Church In The 1960s: A new documentary tells the story of the Los Angeles nuns who stood up for the people and faith they served, paying a high price for change. Read more>>
Defusing Political Violence: Across the United States, organizers are applying lessons in conflict mediation learned from dealing with gang disputes and contested foreign elections. Read more>>
Why Aren't China's Overworked Blue Collar Workers Protesting? Already this year, a string of high-profile worker deaths in China's tech sector has set off yet another debate about overtime culture and toxic competition-fueled "involution" at the country's white-collar workplaces. But there's one voice largely absent from the recent rage against overtime: that of China's blue-collar workers. Why? Read more>>
Nonviolence News Happy Hour: Join the M.K. Gandhi Institute and Nonviolence News Editor Rivera Sun and others to explore this week's Nonviolence News stories. Share your favorite headlines, your burning questions, the most creative tactics, and ideas for taking action in your own community. During this welcoming and low-key online conversation, we discuss nonviolence in small and large groups. We learn from and with one another. Join us! (Feb 26) Learn more>>
Defund Line 3: Indigenous Water Protectors and allies have been using nonviolent direct action to halt the construction of Enbridge Line 3 oil pipeline. You can support them by pushing banks and investors to #DefundLine3. Learn more>>
Civil Resistance Struggles: How Ordinary People Win Rights, Freedom, and Justice: this participant-led, online course from the International Center On Nonviolent Conflict starts March 1st. It is free, but you need to apply. (Apply by Feb 15) Learn more>>
Nonviolence Skills Practice: Join Meta Peace Teams and the Metta Center for Nonviolence for a 1-hr online skills practice for violence de-escalation and active bystander training. (Feb 18) Learn more>>
Ahimsa – A Way of Life: Ahimsa or nonviolence is not just a philosophical concept. It is a way of life, a life that is rooted in respect for all beings, including respect for nature and the environment. It is a life informed by love, empathy, trust and elegant simplicity. In this context, Kumar will also discuss the basic lessons and insights he gained, while he was a young monk, from his teacher, Acharya Mahapragya (Feb 21) Learn more>>
Broken Bridges: Unity, Accountability, and Peace: How do we move forward in peaceful coexistence when there are deep societal divides? What are some steps we can take as individuals? How does Nonviolent Peaceforce play a role? Featuring Kazu Haga (East Point Academy, U.S.) and Rocky Ambago (Nonviolent Peaceforce, Iraq and South Sudan). (Feb 25) Learn more>>
Fear and Resistance In Belarus & Tunisia: The resistance actions in the wake of Belarus' 2020 presidential election have now been occurring for around six months. Early on in this process, much was made in the media and among some resisters of a 'barrier of fear' to open resistance against the regime being dismantled or dropping away. There are striking similarities with the rhetoric around the barrier of fear during the 2010/11 Tunisian revolution. This presentation explores how Belarusian and Tunisian resisters characterize and explain fear, and explores fear's deeper relationship to resistance. Learn more>>
Fasting For Justice: Fasts and hunger strikes are a time-honored form of political resistance and non-violent protest. Join our webinar to learn more about this powerful tool for justice from those who have used it to campaign against violence, and for prisoner justice, climate action, and demilitarization. (Feb 27) Learn more>>
Kingian Nonviolence Introduction Series: The Kingian Nonviolence workshops are transformational experiences that have helped thousands of people from around the world understand the depth of the philosophy of nonviolence, and learn to begin to bring the practices into their lives and their work. (Starts March 1) Learn more>>
Aw, I love it when you support Nonviolence News! Thank you. Donate here>>