Editor's Note From Rivera Sun
It's impossible to read this week's Nonviolence News and not feel a surge of love and respect for ordinary humans around the world. Low-income schoolchildren took on an Internet giant and won. Myanmar is rising up against (yet another) military coup. Japanese cosmetic customers are boycotting a racist company. Fifty water protectors locked down to pipes and construction equipment to stop the Line 3 oil pipeline. Over and over, the "little guys" are flipping the switch on political power using nonviolent action.
It's the Knowledge Section that, once again, fascinated me this week. One of the joys and gifts of Nonviolence News is finding these treasures of articles. This week, I learned whether ear plugs or headphones are better for countering LRAD dispersal technology. I discovered how the Arab Spring has impacted women's rights issues in Tunisia, Algeria, and Morocco. I found out that employees are increasingly pushing corporations to be more socially just and that new laws just gave shareholders new power to push for change. In the Knowledge Section, you'll also find an article from me on how the US' anti-coup campaign taught a small organization that I work with how to leverage cooperation and collaboration to play its part in a vast ecosystem of organizing groups.
My favorite story this week? It's small and profound. We've all realized how destructive media can be, how it can foment antagonisms, and agitate political polarizations to the point of violence. But what happens when news journals draw upon the robust field of conflict mediation for strategies to help their readership sort out their differences? That's an idea with powerful potential. What if every news organization saw its mission as "presenting information in ways that help us understand our divisions and move toward solutions rooted in justice for all"? Read more about how the Laconia Daily Sun is transforming its opinion content here>>
In solidarity toward a nonviolent world,
Rivera Sun, Editor
Photo Credit: Myanmar has a long history of military coups … and resistance to them. This week, people are rising up to stop the latest coup.
Short On Money? Here's Another Way To Support Nonviolence News
The Write4Nonviolence Project
Want to help spread nonviolence? I'm putting together a team of writers who want to write short op-eds based on some of the articles in our round-up. Is this you? The Write4Nonviolence Project is a collaboration between Nonviolence News and Peace Voice, a program that circulates short nonviolence, peace, and justice op-eds to editors across the country. Contact Editor Rivera Sun for more info>>
Bowing To Pressure, Comcast Doubled the Speed of Internet Essentials: Baltimore, MD, schoolchildren and community members forced a multibillion dollar corporation to respect their right to a public education. Using meetings, letters, resolutions, shaming and pressure, they forced the company to provide higher Internet speed at the same rate. Read more>>
Tasmania 100% Renewable Powered: The Tasmanian government has declared that it has become the first Australian state, and one of just a handful of jurisdictions worldwide, to be powered entirely by renewable electricity. Read more>>
Court Orders Shell To Pay Nigerian Farmers Over Oil Spills: The case was initiated by four farmers and the Friends of the Earth campaign group, who were seeking reparations for lost income from contaminated land and waterways. They won. Read more>>
Largest US Restaurant Supplier Refuses To Handle Genetically Engineered Salmon: Aramark foods – which has been under pressure over its use of prison labor and prison supply chains – has taken a stand against genetically engineered salmon, refusing to handle or distribute them. The rollout of GE salmon is projected to being in the next few months. Could megacorporations put a stop to it? Read more>>
US Ends Offensive Military Support In Yemen: This is the first – but not the last – step in ending the Yemen War. It's happening thanks to peace activists around the world. Read more>>
After Blockading A Logging Operation, First Nation Members Create Healing & Language Center: After halting a destructive use of a sacred area, Sherry Moon launched Nawalakw as an alternative enterprise. This language revitalization and healing centre in Hada (Bond Sound) will support and employ the Indigenous community of Kwakwa̱ka̱'wakw and be funded by an adjoining wellness eco-tourism lodge that operates in the summer months. Read more>> 
Austin Leads the Way in Cutting Police Funding and Using the Money for Housing: The county's District Attorney is also rolling out bail reform and diversion policies. These policy changes point the way forward for a nation struggling to overhaul policing, social supports, and the justice system. Read more>>
Poultry Workers – Not Bosses – Are Calling The Shots: Poultry factory owners are not happy with the rollout of changes long sought by poultry workers, including blocking owners' efforts to increase the line speed. Workers also won increased safety guidelines and COVID-19 protections. Read more>>
General Motors Plans To Phase Out Gas Vehicles & Go 100% Electric By 2035: This is good news for a climate in peril … even if it came two decades later than it should have, and needs to pick up the pace of its transition. Read more>>
Memorial To John Lewis Will Replace Confederate Statue In DeKalb County, Georgia: Lewis represented the district for decades. Now, a statue at the courthouse will honor him instead of a Confederate monument. Read more>>
Nonviolent Resistance To Myanmar Coup: Nonviolence International's Michael Beer reports, "The people of Myanmar are resisting the military coup d'etat. Government doctors are going on strike. Myanmar citizens responded last night by engaging in a mass nonviolent tactic of cacerolazo which involves the banging of pots and pans. Many governments, including South East Asian nations, are protesting. Ethnic minorities in the country are united in opposition. World-wide, citizens are planning to re-launch global boycotts. This coup will not succeed if enough pressure can be brought upon the coup plotters." Read more>>
India Blocks Mobile Internet At Sites of Farmers' Protest: India's farmers' movement won a temporary pause on the laws they oppose – but they vow not to halt nonviolent action until its permanent and all their demands are met. To try to squelch them, the government cut cellphone internet access amidst the mass protests. The demonstrators also launched a hunger strike outside Delhi after week of clashes with police. Read more>>
Economic Woes Drive Russians To Protest: While the arrest of journalist Navalny has prompted a surge of protests and arrests, Russians are demonstrating for a lot of reasons, including economic hardship. Read more>>
Connecticut Snow Plow Drivers Call-In-Sick During Contract Negotiation Feud: As a blizzard loomed over the region, snow plow drivers organized a call-in-sick strike to leverage weather and worker power for pay increases. Only, there's a plot twist: the drivers say it wasn't coordinated; the mayor says it was. Read more>>
Strikes Loom For Public Schools: Across the United States, a growing number of students, teachers, and parents are resisting pressure to return to the classroom before all teachers and students are vaccinated. Notably, youth are threatening to organize student strikes. Read more>>
Protesters Call On John Hopkins University To Drop Nuke Research: Members of Prevent Nuclear War Maryland, a Baltimore-based anti-war, anti-nuclear weapons organization, protested the University's involvement in nuclear weapons research with the U.S. government. Read more>>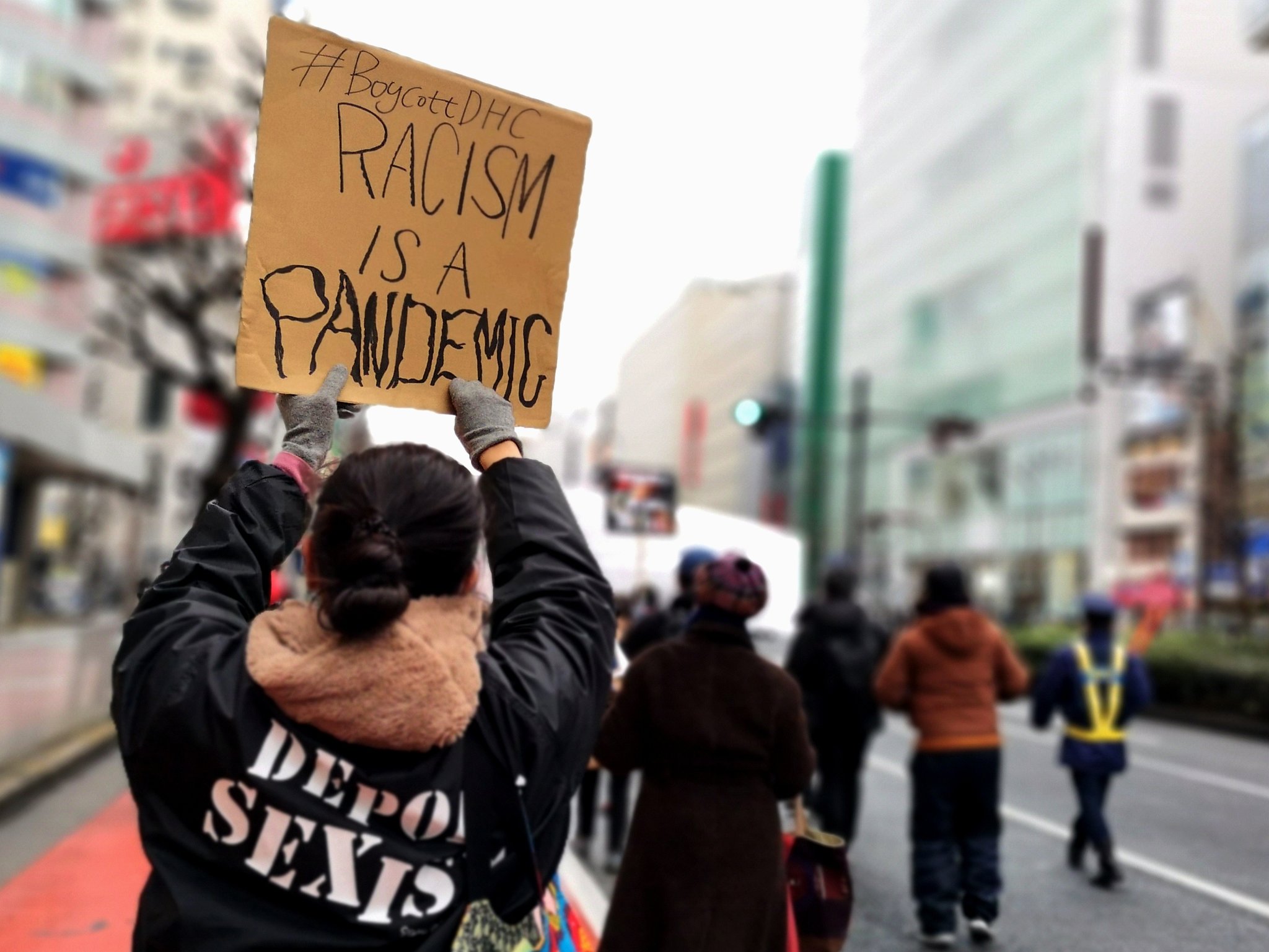 Japanese Skincare Company Faces Boycott After CEO's Racist Remarks: The Japanese cosmetics giant DHC is facing an online backlash after the made CEO racist remarks. The company also has prominent connections to the Japanese far-right. Consumers are now boycotting them. Read more>>
Brooklyn Experiments With 5 Days Of No Cops: A Brooklyn community's experiment to deal with a longstanding crime hotspot in a busy commercial corridor took a new approach last month: They pulled back on policing. Cops from Brownsville's 73rd Precinct withdrew from their regular posts on Mother Gaston Boulevard for parts of a five-day stretch in early December, while violence interrupter and crisis management groups watched over the two-block zone. Read more>>
Latinx Farmworkers Are Purchasing Farms From White Owners: The next generation of farmers in the United States might be unexpected. There is a rising class of farmworkers who now own their craft with the help of incubator programs across the country. Latinx farm owners stand at the intersection of racial justice and food justice and offer new hope in the future of sustainable farming in the U.S. And, they bring a wealth of historic knowledge to our food system in terms of organic farming and a cooperative management style. Read more>>
Students Pushed Harvard to Cancel Course on Policing: Students objected to a course that aided police departments in seeing if military data surveillance and counterinsurgency tactics could be used in police districts. After outcry, the course was cancelled. Black and Latinx communities aren't "laboratories for experimentation," one student said. Read more>>
Mutual Aid Networks Have Origins In Communities of Color: Before the pandemic, a coordinating hub for mutual aid networks had 50 listed. Now it has 800. Here's the history of connection to communities of color. Read more>>
50 Water Protectors Lock Down To Line 3: This pipeline campaign is not going away. In fact, the struggle is escalating. Here's how water protectors are heating up their efforts in a frigid winter resistance campaign. Read more>>
Four Arrested During Vancouver, BC, Climate Action Against Trans Mountain Pipeline: Extinction Rebellion–a grassroots movement that uses nonviolent action to drive systemic change in the face of the climate crisis–blocked access to the Ironworkers Memorial Bridge to demonstrate their opposition to the Trans Mountain Expansion Pipeline. Read more>>
Dakota Access Pipeline Loses Fire Insurance Bond: The DAPL pipeline is losing key pieces of financial infrastructure as water protectors continue to push for its full shutdown. Read more>>
Overwhelming Odds, Unexpected Alliances And Tough Losses — How Defeating Keystone XL Built a Bolder, Savvier Climate Movement: From frontline battles to large national mobilizations, tar sands resistance developed new tactics and organizing strategies for the larger climate struggles ahead. Read more>>
Harnessing People Power to Protect Alaska's Last Remaining Wilderness: A new social movement is bringing together Indigenous activists and TikTok creators to prevent drilling in the Arctic National Wildlife Refuge. Read more>>
Hong Kong's Kim Jong-un Impersonator Uses Political Caricature To Push For Change – But It Can be Risky: Howard X impersonates Kim Jong-un on the streets of Hong Kong. But last October, he was falsely accused of possessing an illegal firearm and arrested. Howard X says his political performances are to blame. Read more>>
A California Cooperative Tackles Inequality by Reimagining the Future of Housing: By working towards creating 'land without landlords,' this East Bay cooperative is helping communities build pathways to collective property ownership and community wealth. Read more>>
Envision Or Perish — Why We Must Start Imagining The World We Want To Live In: Without a bold, inclusive vision that makes intuitive sense to most Americans, not even the best strategies will be enough to carry the day. Read more>>
New Orleans Creates Mardi Gras House Floats: While the rest of the country debates whether the Superbowl should fill the stands during a pandemic, New Orleans cancelled Mardi Gras – but locals still know how to lift the spirits and celebrate – they're turning their front porches into House Floats. Read more>>
Chinese-Australian Cartoonist Badiucao Walks a Fine Line To Avoid Being Politically Hijacked: His art seeks to act as a voice of reason, denounce political instrumentalization and support human rights globally. But, it's a tricky business to walk that fine line. Here's how he does it. Read more>>
In Algeria, Morocco, and Tunisia, Here's How the Arab Spring Impacted Women's Rights: It has been a decade since the Arab Spring uprisings and the subsequent calls for reform that resonated across North Africa and the Middle East. But how has life changed for women in the Maghreb in the years since? Read more>>
What Works To Protect Yourself From LRAD? Police are increasingly using loud sound to disperse crowds – but activists are testing out how best to counter the eardrum-splitting sound cannons. Read more>>
Employees Are Increasingly Pushing Companies To Be More Socially Just: Employees, inspired by investors, are increasingly calling for companies to address environmental, social and governance problems. Read more>>
Despite The Surge of Executions In The US, The Collapse of Capital Punishment Is Inevitable:
To abolish the death penalty, we must create a movement that is grounded in relationship building and truth telling. Read more>>
How One Small Town Paper Is Using Conflict Mediation Skills to Its Opinion Content: The Laconia Daily Sun had always tried to publish all the letters-to-the-editor, but when a Holocaust-denying op-ed set off a storm of controversy, the local paper decided it was time to up their game in terms of helping their community navigating conflict and contentious issues. Here's how they put the best practices of solutions journalism to work. Read more>>
Shareholders, You've Got Power. Now, Use It: New strategies help investors hold corporations accountable on human rights. A sustainable business model could help human rights groups apply shareholder pressure to improve corporate human rights behavior. Read more>>
Border Surveillance Technology is Neither Smart Nor More Humane Than Trump's Metal Wall: An invisible wall of drones and motion sensors may ease the consciences of politicians claiming to support immigration, but the cruelties of border security are far from over. Read more>>
My Name Is Pauli Murray: This new documentary film explores the intersectional activism of Pauli Murray, a Black, Queer woman whose remarkable contributions to movements and organizing deserve far more recognition and engagement. Read more>>
What The Anti-coup Campaign Taught Us: Social movements saved the United States from a coup attempt by uniting hundreds of organizations to protect the election. Here's how one small organization leveraged its strength in collaborative ways to do it's part. Read more>>
How The Wet'suwet'en Solidarity Actions Changed Lives: The protests, shut-downs, road and rail blockades rattled Canada. Here's how they impacted people involved in organizing them. Read more>>
Japanese Diplomat In Europe Saved Thousands Of Jews: We've all heard about Schindler (thanks the movie), but here's a stunning, courageous tale of resistance by Chiune Sugihara, who helped thousands of Jews flee to safety during WWII. Read more>>
Food Not Bombs Aims To Do More Than Serve Food: Connecting food access to peace, and mutual aid to community building, the decades-old group continues its radical work. Read more>>
'A Lost History' of the US Women in the 1970s Who Fought For Better Working Conditions: PBS documentary on 9to5 shows how women's organizing efforts in the 1970s to better working conditions echoes many of today's social justice movements. Read more>>
Freeway Revolts Helped Create National Environmental Policy Act: In the summer of 1969 a banner hung over a set of condemned homes in what was then the predominantly black and brown Brookland neighborhood in Washington, D.C. It read, "White man's roads through black men's homes." Earlier in the year, the District attempted to condemn the houses to make space for a proposed freeway. Today, Brookland is not home to an interstate. The community's protest forced the government to cancel its construction plans and it paved the way for important legislation, instead. Read more>>
Teach In On Money-Handling and Taxes for Mutual Aid Groups: This online teach-in is for mutual aid groups facing nuts and bolts issues that come with the work we've all been doing. How should we store money we raise? Do we need to consider incorporating, having a fiscal sponsor, or becoming a non-profit? What are the costs and benefits of each potential approach? What should mutual aid groups know about banking? (Online – Feb 9) Learn more>>
War Abolition 101 Online Course: The 6-week course will debunk the myths that war is inevitable, beneficial, just, or necessary, and offer its alternatives. We'll dig deep into the environmental impact of war, which is a leading contributor to the climate crisis. We'll also discuss the economic cost of war, to the tune of $2 trillion a year. War isn't going away on its own. What must we understand about the war system if we are to dismantle it? How can we become more effective advocates for peace? (Starts March 1) Learn more>>
Stay Informed About AFRICOM Resistance: Sign up to join Black Alliance For Peace's "U.S. Out of Africa Network" to receive the bi-weekly AFRICOM Watch Bulletin in your inbox. Learn more>>
Stand With Families In Takeover Houses: Families have been occupying vacant houses all year, countering evictions and houselessness with bold direct action. You can support them. Sign the "Housing is a Human Right Petition" here>>
How to Start a Climate Assembly: In this People Powered Hub course, leading practitioners and advocates will share best practices and help participants identify next steps to advocate for and start a climate assembly in their home city or country. (Online – Feb 18) Learn more>>
Have you learned something new from Nonviolence News?
Support the power of stories with a donation. Thank you! Donate here>>